pCloud is a relatively new entrant in the cloud storage industry but is already rubbing shoulders with well-known brands like Dropbox. This is because of the unique features it offers and reasonably priced packages to cater to all needs. It uses a virtual drive that will expand your space by 2TB, allowing you to sync files effortlessly.
The provider lets you choose the files to protect with zero-knowledge encryption. However, you will have to part with a fee to use the feature. This is a major disadvantage as other services offer it for free.
I set out to research the claims that it is the most secure cloud storage service. This unbiased review of pCloud covers everything from features, ease of use, support, and much more.
pCloud pros and cons
Pros:
Based in a privacy friendly jurisdiction Switzerland
Zero-knowledge encryption
Supports Bitcoin payments
Fast syncing
Convenient file management
User-friendly mobile apps
Cons:
No document integration
You cannot share encrypted files
pCloud key features
One of the most significant factors to consider when choosing cloud storage is file syncing. pCloud does it very well compared to its rivals like Nextcloud. However, it also offers many additional features to improve your experience. pCloud is an extremely user-friendly service that lets you store up to 10GB of data on the cloud for free. Here are its key attributes:
Music player
Well, only a handful of cloud storage services offer a music player. The pCloud audio player allows you to play your music files within the mobile app or web interface.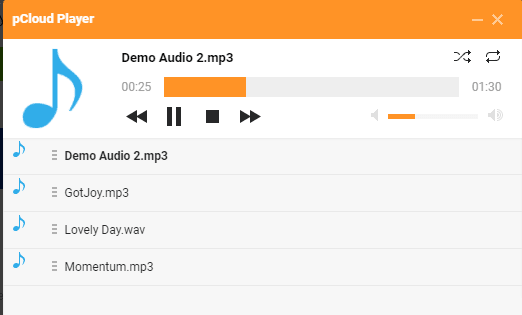 It has a lot of valuable features like the ability to search songs by artist name or album. Moreover, you can create and edit playlists as well as shuffle songs and loop playlists or albums.
The best part is that these features are available on the mobile app too. In fact, you can download music into your phone to listen offline. Besides audio files, pCloud lets you also watch videos. It will convert the video to the appropriate format before playing.
You'll be impressed to know that pCloud is compatible with Kodi if you'd like to store your media collection on pCloud. There is an unofficial Kodi add-on that lets you stream straight from your pCloud account.
---
pCloud rewind
This unique feature allows you to restore files that you had previously deleted or become corrupted. It is not available on the pCloud free account but only on the Premium and Premium Plus accounts. However, you can rewind your account for up to 15 days. As a result, you can access your content at a precise date and time.