Whether you wish to watch your favorite movie or show unavailable in your country or to keep your streaming activities on your favorite video player private, you need a free Firestick VPN.
Amazon Firestick is a great device to enjoy watching your favorite content on your TV without hassle; this tiny device allows you to access thousands of channels. You only need to plug this USB flash drive-like device into your TV's HDMI port to stream the content.
However, the main limitation of Firestick is that you can't watch everything you want. Because most channels and apps are geo-blocked, you might miss your favorite movies or shows if you are not living in the permitted region.
The most significant loss comes to those outside the US, as they'll miss out on much more content. (Interestingly, the US content library is the largest, with lots of desirable stuff.)
That is where a VPN helps you. Once you have it, you can unblock your favorite content on your Fire device and enjoy complete privacy and security from online threats.
But, of course, you might be hesitant to risk your money on a VPN, mainly if you haven't used one before on your Firestick. So, you won't be wrong if you're looking for a free option.
This guide has got you covered. Read along to find out the best VPN for Firestick, how to choose only the top-notch free provider, the caveats of using free VPNs, and more.
Quick list – Best free VPNs for Firestick
In a hurry to learn about the best free services supporting your streaming experience in detail? Here's a quick list for you. Yet, if you wish to know more about them before subscribing, scroll down to find the details.
ProtonVPN – Unlimited data, decent security features, private logging policy, fast speeds on nearby servers.
Windscribe – Reliable free VPN, 10 GB monthly free data, P2P allowed, unblock geo-blocked content.
ExpressVPN – High-quality VPN for streaming with the latest security and privacy features. While it isn't completely free, the provider offers a risk-free trial via 30-day (no-questions-asked) money-back guarantee; hence, you can try it without any risk.
Why you need a VPN for Firestick
Isn't VPN a security tool? We hear you ask.
Well, a VPN is more than just security software. In fact, for avid streamers, a VPN is the worthiest utility facilitating binge-watching, especially when installed on your Firestick.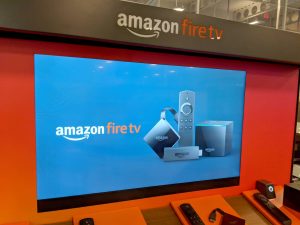 To answer your query more precisely, here is a quick list of all the good reasons you should equip your streaming device with a VPN.
Never miss out on your favorite shows
The biggest plus of using an Amazon Firestick is taking your favorite movies and shows anywhere with you. Regardless of where you travel, as far as you get an HDMI port, you can connect your Firestick to any TV set and start watching your favorite content.
However, it isn't true if you travel abroad, given the location-based restrictions. Nonetheless, if you have a VPN, you can easily change your online location to your home country and enjoy streaming just as you did back home.
---
Stream geo-blocked content