15 most secure Email providers to use in 2021
This post features the top 15 secure email providers to help you keep your email communications private, confidential data safe, and ensure better email privacy.
Are your emails safe from the ever-growing prying eyes?
The answer is no unless you're using a secure email provider that respects your privacy.
It is a bit surprising that even in this age of social media, emails remain one of the primary forms of digital communication across the world.
Unfortunately, you may not have much privacy in an all-seeing internet of today. Governments, hackers, big corporations, everyone is going after you online.
You don't have to be a criminal to mind your emails being watched. There are many reasons why you should care about your email privacy.
By protecting your email communications, you make sure that your personal data can not be misused ever.
The good news is that you can get a secure email service to provide you with security for your email activities.
So, if you want your email messages and conversations to remain as private as possible, you're at the right place. In this article, I will provide you with the best email services to take your email security to the next level.
But before that, let's cover some basics.
Factors to consider before going with a secure Email provider
There are a plethora of secure email providers out there, which makes it overwhelming for anyone looking to choose the best service.
Some out there may be looking for a service with the greatest security or robust encryption. While others may fancy simplicity and convenience.
Thus, to help you come out with the "best" secure email service, here are some of the factors you need to consider:
Email Encryption – Before making a switch, ensure that the emails are end-to-end encrypted. The provider must encrypt attachments as well.
Jurisdiction – You should be aware of where the service is located. And how it will affect user privacy – where is your data stored physically?
Security and Privacy – Make sure you're aware of the provider's security standards as well as policies. Also, you should know how the email service will protect your privacy, the collected data, for how long, and why?
Features – Look for some essential features such as calendars, inbox search, contacts, and file storage. A secure email provider should also support DAV services and collaboration tools.
PGP Support – Some services support PGP, while some don't use PGP due to the vulnerabilities as well as weaknesses. It is recommended to go with a PGP-supported secure email provider.
Key Feature – Check if you can import existing contacts and emails. There is no harm in compromising this essential feature for security. But if you get both (email security plus essential features) with one provider, that is an excellent win for you.
Email Apps – Most email services, due to encryption, won't be used with third-party email clients. Yet, some offer dedicated apps. Prefer such services.
15 most secure Email services for privacy in 2021
So, now you know what to consider before opting for any secure email service provider. It is time to finally discover what are the most secure email providers.
Please note the list contains both the free and paid providers. But these are the top 15 best email services you can use today to protect your email privacy:
1. Protonmail
ProtonMail is a Switzerland based, encrypted email provider. It works with iOS and Android mobile applications. The program is built as an open-source service and includes end-to-end encryption.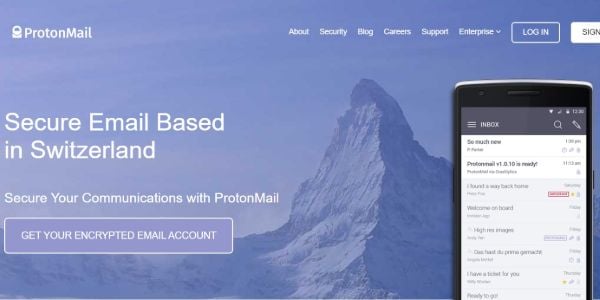 ProtonMail appeared on the scene following Snowden's revelations. There are some good reasons why it is on top of our most secure email providers list.
The service has been even promoted by the USA media (Forbes to be specific) as "The Only Email System The NSA Can't Access."
They have pride with datacenters in under 1000 meters of granite rock, which can survive a nuclear attack.
This secure email service is also designed with the principle of zero knowledge and zero access. That means even the staff and email servers cannot read or share your emails.
The ProtonMail free version supports 500 MB of email storage and limits your usage to 150 messages a day.
You can pay for the Plus service for more space, email aliases, priority support, tags, and custom filtering options.
In Plus plan, you also get the ability to set automatic responses, send more e-mails every day alongside built-in VPN protection. There also are a couple of other plans (Professional and Visionary) available.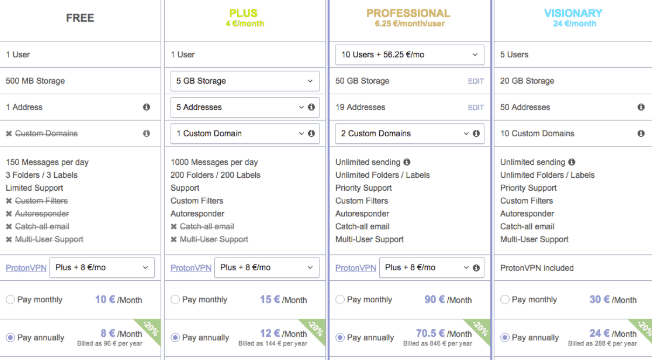 Significant Features:
500MB free storage as well as 150 emails per day
You use your very own domain
Features two-step verification
End-to-end encryption
Free and paid options
Self-destruct message functionality
Mobile apps (Android and iOS)
Swiss-based servers, hence excellent protection from Swiss privacy
Zero-access construction
Cons:
Premium version is a bit on the expensive side
Limited cloud storage space
2. Tutanota
Tutanota is a well-protected email service based in Germany that values the privacy of its users a great deal.
Although their service aims to offer the maximum level of email security, it remains easy to use and has quality features.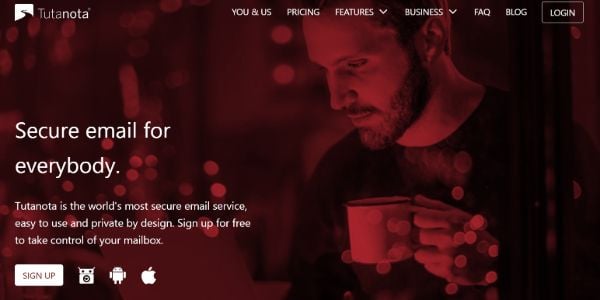 While comparing Tutanota vs Proonmail, we found that it is similar to ProtonMail in design and the level of security.
All Tutanota emails get encrypted from the sender to the receiver (the email recipient) and decrypted directly on the device. The private encryption key is not accessible to anyone else.
An email account is all you need to exchange secure emails with other Tutanota users.
For emails encrypted outside the system, you can simply specify a password for the email to be used by recipients when viewing the message in their browser. The very interface also allows them to respond securely.
Tutanota web interface is easy to use and navigate, allowing you to make an email private or non-private with just one click. However, there is no search function, so it is impossible to search for previous emails. Tutanota uses AES and RSA encryption standard.
You can get to know better about how it works by reading our Tutanota guide.
Significant features:
Applications for iOS and Android.
No phone number required for verification.
Automatic encryption of the entire mailbox and address book.
Includes 1 GB of storage space.
Open Source.
The subject line, headers, body, metadata, and all attachments are automatically encrypted; the IP address is deleted.
Support for spam filtering.
Cons:
Features like aliases and messaging rules are only available for paid accounts.
It does not support IMAP.
Users cannot import contacts in bulk.
3. Mailfence
Mailfence, headquartered in Belgium, is a security-focused email provider. Like other providers featured in this article, it offers end-to-end encryption. The service ensures that no one can read your messages (except you and the recipient).
It is an excellent private email provider offering 500 MB file storage for free alongside added features.
On top of standard features, this private email provider offers a built-in Keystore. Which helps in managing your OpenPGP encryption keys. You also get to send encrypted messages to anyone who doesn't use PGP.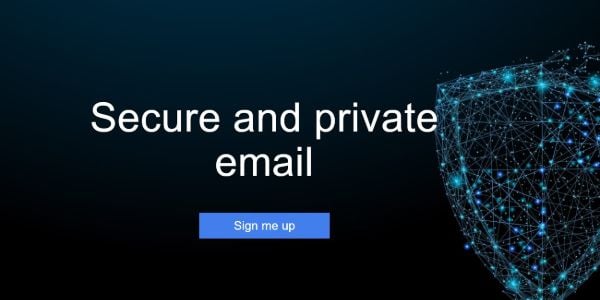 As noted above, Mailfence includes OpenPGP public-key encryption, and a free account gives you 500MB of storage.
Understandably, paid accounts offer more space alongside the option to use your very own domain name for emails.
Mailfence software is not available for inspection as it is not open source. This might undermine the security and confidentiality of the system for some users.
Mailfence stores the private encryption key of users on its servers. But claims that they cannot read it because it is encrypted with users' passphrase (via AES-256).
As per the researchers, no root key would allow them to decrypt encrypted messages. A huge number of users online have reported Mailfence to be the most private email service.
Significant features:
Digital email signatures prove the authorship of the author.
Support for two-factor authentication.
Includes a spam blocker.
You can import contacts from Outlook, a CSV file, vCard, LDIF, or Gmail.
Includes a calendar and storage files for documents.
Cons:
Free online storage is limited to 500 MB only.
Requires another email address to receive the activation key.
Private keys are kept on Mailfence servers.
Encrypted emails can only be sent to Mailfence or OpenPGP users.
The email encryption code is not available for inspection.
4. CounterMail
CounterMail is a Sweden based secure email service provider that is up and running for more than 10 years.
For those who are concerned about email privacy, CounterMail allows secure execution of OpenPGP encrypted email. And that with 4096-bit encryption keys in a browser.
CounterMail servers store only encrypted emails.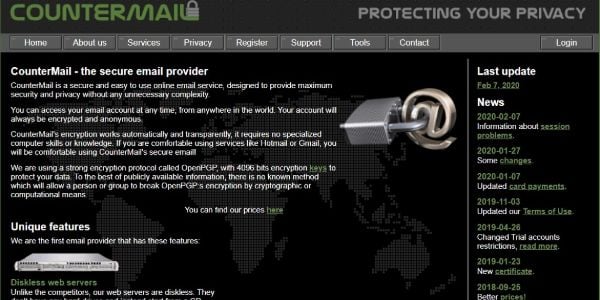 The Sweden servers do not store your emails on hard drives. All data gets stored on CD-ROM only.
That helps prevent data leakage. And by the time someone attempts to alter the server, there is a chance that the data will be lost.
Another thing that you can do with CounterMail is to configure a USB key to further encrypt your emails.
The decryption key gets stored on the device while the service still requires users to log in to their accounts. That makes decryption impossible even if a hacker steals your password.
The extra physical security with the USB device makes CounterMail a little less simple and convenient to use. At least compared to most of the other secure email services.
You also do get IMAP and SMTP access, which you can use with any OpenPGP-compatible email program.
Significant features:
Supports IMAP.
It does not keep IP address logs.
Includes an integrated password manager (called Safebox).
All emails and attachments are stored encrypted on secure servers (and without logbooks) in Sweden.
Compatibility with custom domains.
Message filter and autoresponder functions.
Cons:
You cannot send encrypted emails to non-users.
Free trial for a limited time. After a week's free trial of CounterMail, you must purchase a plan to continue using the service. The test includes the only 3MB of space.
Expensive than other secure messaging options.
5. Hushmail
Hushmail is an encrypted email service designed for users who do not want to complicate life much. And at the same time, keep their emails confidential.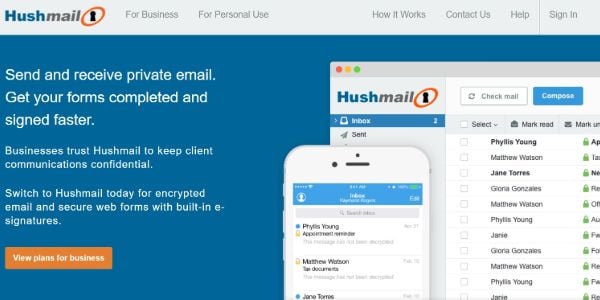 The provider uses the OpenPGP protocol to encrypt the content of your emails. It does that by securing connections using SSL / TLS.
Hushmail is based in Canada, so it is protected by Canadian laws. The service offers both personal and business plans. You can try any plan for 14 days for free without even providing your credit card information. The annual cost is $ 49.98.
Significant features:
Supports IMAP and POP.
Optional two-step verification.
Contacts can be imported using a CSV file.
Includes spam filter and autoresponder.
10 GB of storage.
Cons:
The free account includes little storage.
Must use a different email address as well as a phone number when registering and verifying.
6. Runbox.com
Runbox is a Norwegian company that offers secure email solutions since 2000. It is regulated by strong laws of privacy and consumer protection deployed within the country.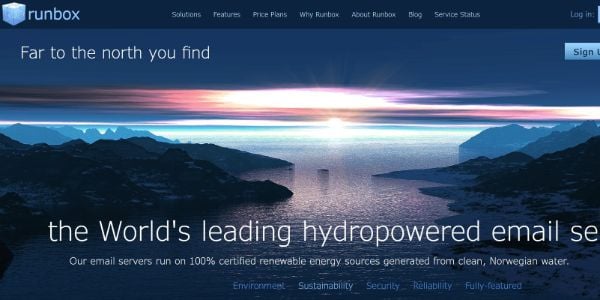 Runbox Mail Manager is the main product of the company. Unless an order from a Norwegian court requests your data, it will never be shared with any third party without your permission.
They use encryption for communication between servers and do not scan your emails. The provider does not even use cookies to track the use of the service.
Besides, the provider does not store information about your traffic. It uses SSL security certificates to verify the identities of website links. Runbox is a paid service that also offers a free one-month trial.
Another impressive thing about this secure email client is, it offers a 60-day money-back guarantee. On all its plans.
Significant features:
The servers run on the energy from renewable hydroelectric plants.
Up to 100 email aliases.
Up to 25 GB email storage space.
Offers a free trial.
Cons:
The provider does not offer a completely free account even with limited storage and features.
7. Mailbox
With more than 20 years of being in the business, Mailbox is one of the classics of the sector.
It boasts a native web client that users can access from anywhere. The email provider also offers useful add-ons such as calendar and task manager.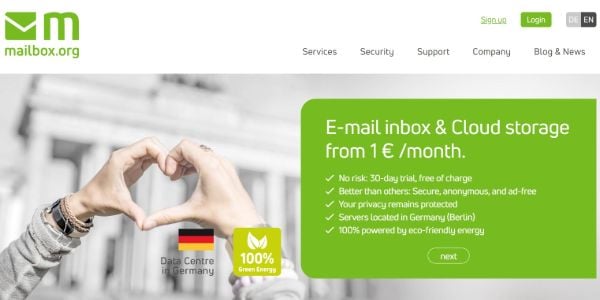 The provider has a simple and affordable account for individual users. It also has advanced plans for groups and giant corporations on offer.
Significant features:
Simple and easy user interface.
30-day no-risk free trial.
Anonymous, ad-free, and secure.
Powered by eco-friendly energy (100%).
Useful add-ons.
Cons:
A limited-time free trial.
More expensive than some of the other secure email services available today.
8. Posteo
Posteo is an affordable, German-based encrypted email app. This secure email provider has been around for a decade.
It works like other email services featured in this article. Like others, Posteo also offers end-to-end encryption to keep your emails safe.
Although Posteo offers strong built-in encryption options, they also support IMAP. That allows you to use it on any device you want with different email clients.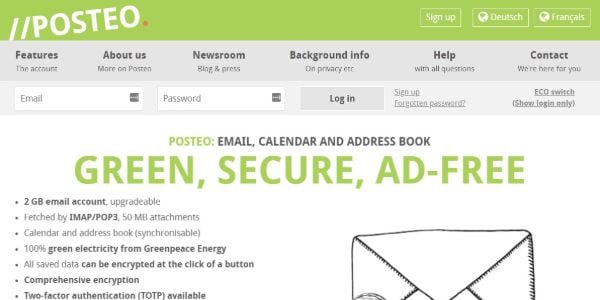 Posteo goes beyond most email services to protect the privacy of its users. The service automatically removes IP addresses from emails.
So anyone who monitors your email traffic cannot see the location from which you sent an email. Or the location from which the email you received was sent. Notably, the service keeps no logs at all.
Posteo goes even further in respecting the anonymity of its users. The provider allows you to pay for your email account via not only bank card or PayPal but also by paying money through courier. That guarantees an account owner leaves no digital traces.
Yes, mostly the journalists and activists working in countries ruled by oppressive governments use this option. But it shows how seriously Posteo takes your privacy.
And if you're paying with PayPal or credit card, they separate account information from payment details. The same stands true if you use any other digital payment method. That allows the provider to further protect user privacy.
Posteo doesn't have a free account, but its entry-level plan offers you 2 GB of email storage for € 1 per month. If you need more email storage, you can add an extra gigabyte for € 0.25 per month, up to a limit of 20 GB.
Significant features:
Subject, headers, body, metadata, and attachments, everything is encrypted.
Mail, attachments, calendar, and contacts are encrypted with OpenPGP on secure servers in Germany.
Completely open-source.
Supports anonymous payment (in cash).
Strong commitment to the protection of privacy, sustainable energy, and other social initiatives.
Self-funded; good results (in operation since 2009).
Maximum confidentiality: no logs, deletion of the IP address, secure storage of e-mails with daily backups.
Cons:
Unauthorized custom domains.
No spam folder (spam is either rejected or sent to a normal inbox).
9. StartMail.com/en
StartMail is a secure email service based in the Netherlands. Privacy enthusiasts who also operate the private search engine Startpage.com manage this service.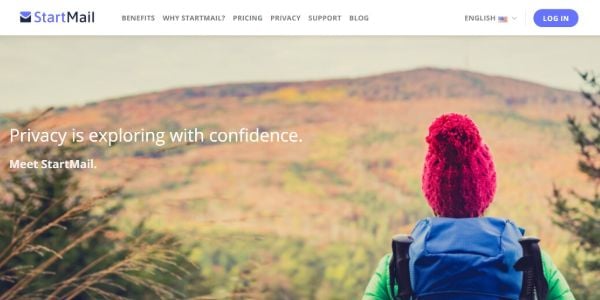 It is completely interoperable with other PGP clients due to its integrated use of PGP. That enables the users to send encrypted emails to a non-PGP user, who knows a secret question to decrypt the email.
StartMail allows you to create an unlimited number of disposable email addresses (aliases).
It has no dedicated mobile applications. But complete SMTP and IMAP support allow you to use any third-party email application with the service. On almost all operating systems including Windows, Android, iOS, Linux, macOS.
StartMail does not have a free account but allows you to test its service for free for 30 days.
If you wish to upgrade after the trial, it will cost you € 49.95 (around 57 USD) per year. That stands true whether you choose the "Personal" (10 GB of storage and 10 addresses) or "Business" (1 mailbox, 10 GB, your own domain) option.
Significant features:
PGP encryption in one click.
You can send encrypted emails to anyone.
2fa support.
Unlimited disposable email addresses.
IMAP and SMTP support.
Complies with GDPR.
Possibility to import contacts from many email services.
IP addresses and hostnames are obscured.
Qualys SSL Rating: A + with HSTS and PFS.
Cons:
No real end-to-end encryption (e2e).
Uses a mixture of open and closed source code.
The Netherlands' recently adopted surveillance laws might cause privacy issues ahead.
10. Disroot.org
Disroot provides secure email accounts that you can use either in your desktop client or through a web interface.
Communication between you and the mail server is encrypted with SSL. That provides the highest possible level of privacy.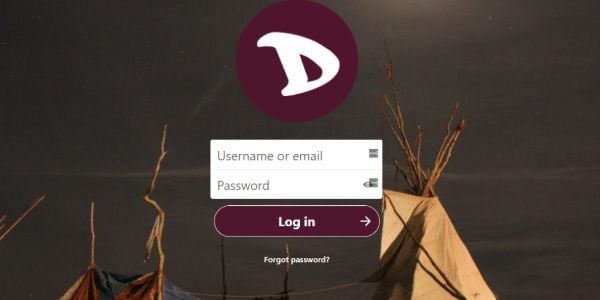 Besides, all emails that are sent from your server get encrypted (via TLS protocol). But only if the recipient's email server supports it.
It means, in essence, the emails are no longer sent as a traditional "postcard," but are entered in an "envelope."
Significant features:
A free 2 GB storage mailbox.
Allows up to 10MB for documents attachment at once.
Accessible by POP3, IMAP, and web page.
Boasts a multi-lingual user interface.
Open-source software.
Offers useful additional services including cloud storage, a social network, forums, and chat to name a few.
Cons:
Limited storage space.
A project maintained only by volunteers.
11. Criptext.com
Criptext is a free encrypted email service with open source applications for Windows, Linux, macOS, Android, and iOS devices. The service is still in the Beta phase.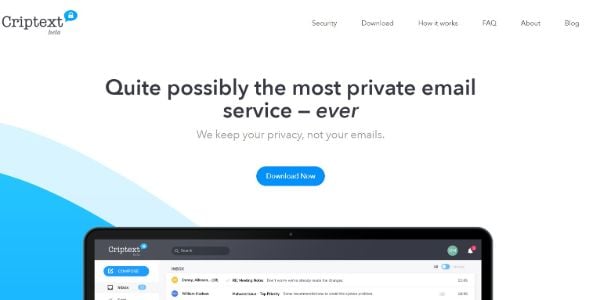 Criptext began its journey in 2014 as a simple encryption extension for the Gmail. It allowed users to have more security in their mailbox.
But, in 2015 the company became a victim of state intervention by the government of Panama. This, together with the increase in privacy invasions around the world, motivated them to create a secure email service like no other.
Significant features:
One of the pioneers of secure email service solutions.
Completely free.
No ads or no gimmick.
Allows sending emails to people who do not have a Criptext account.
Unsend email feature.
Cons:
You cannot use a Criptext email on Mail or Outlook.
Stores user information including name, primary and recovery email addresses, approved devices, and the last active date.
12. KolabNow.com
This Swiss-based company is possibly the most competitive alternative to free email service providers.
Users have access not only to email service but to a whole suite of online apps (without adverts). The provider offers file editors, calendars, and many more features. You can also synchronize the data with all your devices and access collaboratively like Google Drive.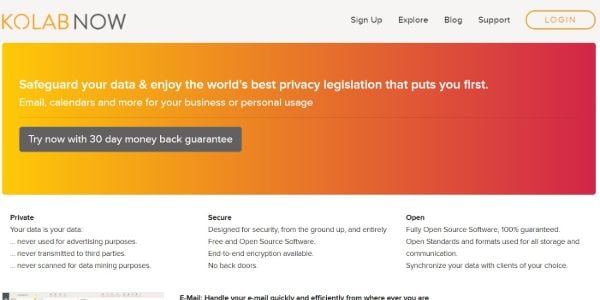 Kolab Now guarantees that your files and data are safe from the interference of ad companies.
There are two packages available for users to choose from. First up, a group plan (approximately $ 5.56 per user, per month) that offers custom domain support, admin tools, and support for up to 100 users in a single plan.
The second one is an individual plan (approximately $ 4.56 per month based on currency conversion) that includes all the features mentioned above. You can also try any of the options for with its 30 days money-back guarantee.
Significant features:
Open-source program.
Based in Switzerland, a country generally seen an incredible one for privacy.
Powerful tagging and text search.
Cons:
The service only saves its debug report records when necessary.
A bit on the expensive service.
13. FastMail
FastMail is a private mail service based in Australia (has offices in the US, too). The provider uses encryption for every operation. That includes sending your emails and store them, accessing your account, and everything else.
The company does not take part in or cooperate with any government surveillance program. And they are committed to being transparent with their users if any authority asks them to provide some type of information.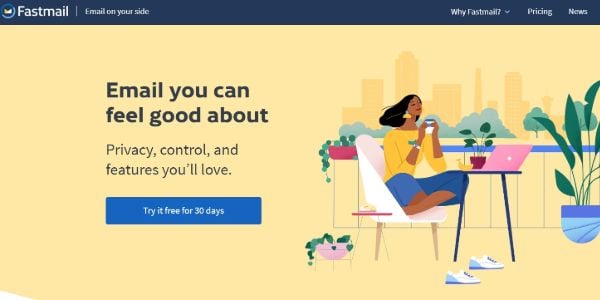 Fastmail is not free. The provider has different payment plans that range from $3 per user per month to $9 for up to 100 GB of storage.
You can try the service for free for 30 days before committing to pay anything. I recommend you read their privacy policy in detail as they are based in Australia. That is a country that is part of the FVEY (Five Eyes surveillance agreement).
Significant features:
IMAP access.
No hidden or complicated policies.
Simple and easy to use interface.
Got launched 20 years ago, back in 1999.
Cons:
14. Librem Mail (Librem.one)
Librem Mail is an end-to-end encrypted email service.
It is among the most private email services out there and uses K-9 Mail alongside OpenKeychain. This combination simplifies the use of encrypted mail.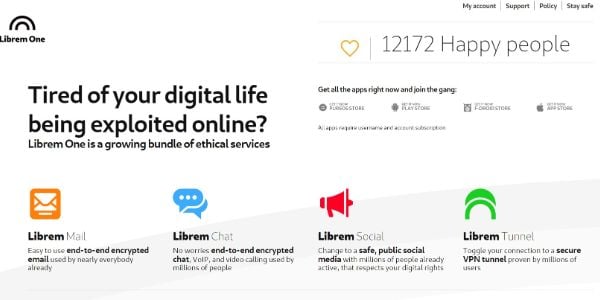 Librem Mail users can exchange encrypted emails with anyone whose email is encrypted using OpenPGP.
The provider offers two premium packages as well as a free plan. If you intend to make use of its secure email solution, the free plan offered by the provider will not be of any help to you.
Its free plan, dubbed as the basic bundle, only offers social and chat services to the users. The two paid plans range from $7.99 to $14.99.
Significant features:
Not just secure emails, Librem One is a one-stop-shop for confidentiality and digital security.
The Android application uses the code from OpenVPN. The iOS application is based on an open-source Private Internet access client, too.
Built-in VPN for maximum security.
It does not track users.
Decentralized.
Cons:
Librem Mail (the end-to-end encrypted email provided by the firm Librem One) is not available for iPhone users yet.
Librem One is entirely based on existing free software projects.
15. SCRYPTMail.com
ScryptMail went out of business on January 31st, 2020. The provider deleted entire databases available on all its servers on March 31st, 2020. I included this in my list of best secure email providers because many users might still search for this service even after its discontinuing. So, for that reason, I thought it is worth listing alongside a notice to help people know it operates no more. And they should not fall prey to any scam because of similar names (if any, ever). The good news is, all the providers listed in this article are quality ScryptMail alternatives anyone can use.
Founded in the USA by a group of people obsessed with security, this private email service provider offered top-level encryption. Before shutting down, it allowed sending encrypted messages to any web user.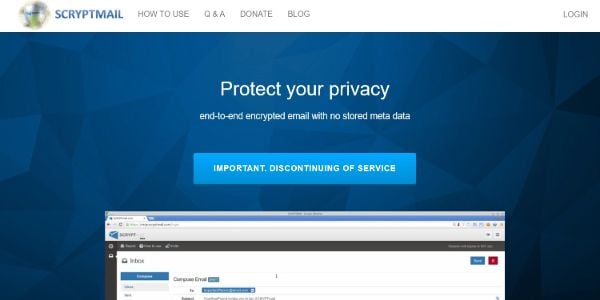 It worked like other secure email services. SCRYPTMail would encrypt metadata on its servers, putting a barrier between hackers (or government agencies) and user data.
Significant features:
Storage limits were generous, and almost all services offered by SCRYPTMail were free. That is why they were doubly attractive when the service was still on offer until January 2020.
Accepts Bitcoin, which means users can pay anonymously using cryptocurrency.
Cons:
Its paid plans were a little bit on the expensive side.
Additional steps for keeping your Emails private and secure
If you are using a secure messaging service that boasts end-to-end encryption, you have taken an important step to make your messaging truly secure and private.
To make life difficult for even the most passionate hackers, you can take a few extra precautions:
Beware of keyboard recording software that captures what you type directly from your keyboard. Such software, dubbed as keyloggers, can completely defeat encryption if the password is all that a hacker needs to access your account.
Do not leave your mobile devices and computers unattended. Also, make sure that your devices are protected by strong passwords or biometric data and do not allow guest accounts or similar unprotected access.
Be careful of social engineering. Remember, phishing attempts often occur via email, instant messaging, VoIP, or social media. Also, keep in mind that a hacker can design them carefully or adapt to your case.
Do not write or share any password. Never write down the password that allows you to decrypt secure emails. However, you can store it in a secure password manager.
Need extra protection? The VPN can help a great deal
Gaining complete internet security is like assembling numerous pieces to complete a puzzle.
And a VPN is probably the most vital tool to complete your internet security puzzle for thorough protection online.
Virtual Private Network (VPN) is a connection method utilized to add privacy and security to the public as well as private networks (e.g. WiFi and the mobile internet).
Using a VPN is becoming more and more popular with corporations and individuals. Because this security tool protects a user's information while it travels through the internet.
With a VPN, you can increase your privacy to the maximum level possible. That is because you get to change your real IP address with a fake one provided by the VPN provider.
In simple words, the VPN is just a way to join a network without being physically in it.
Advantages of using a VPN
And now that you understand what a VPN is, it's time for you to know all the benefits of using it:
Bypass geographical restrictions
Avoid censorship
Teleworking
Makes your browsing more private as a whole
Encrypts your data transfers
Masks real IP (hence location)
Enables users into accessing the blocked websites
As you can see, alongside enabling you to surf the internet securely, a VPN provides an accountable number of other benefits.
But here, you might be wondering which VPN provider I may go with for optimum results? The answer is ExpressVPN (if you ask me). ExpressVPN is one of the most renowned companies in the world of VPNs.
But why is that fame? What does the rest do not offer? What are its main characteristics? What can you do with your service? Is it really safe to use?
Let's find that all together (quickly).
ExpressVPN
ExpressVPN is a company founded in 2009 in the British Virgin Islands. And as you may have guessed by the name, the firm offers a super-fast VPN service worldwide.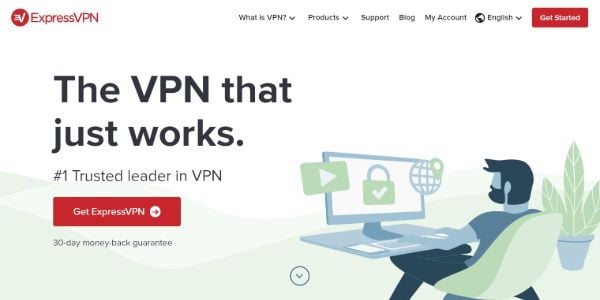 It is a premium VPN provider that allows you to surf the internet anonymously through a Virtual Private Network (hence its acronym). It boasts apps that are secure, user-friendly, reliable, and well-designed.
What does the ExpressVPN offer?
So you already know the advantages offered by any VPN, but what makes ExpressVPN superior to others? All this:
Super-fast connection speeds

: It has more than 3,000 servers spread all over the world. So you can be sure to get a faster connection speed no matter where in the world you are.

Unlimited bandwidth

: No bandwidth restrictions for the users, meaning you can browse and download content you love without any fear.

Dedicated applications

: This VPN provider works with literally all the devices on the planet and has dedicated apps for all the major operating systems. That means you can get started with it in a flash.

You can be sure about our data safety

: The British Virgin Islands is a country with no data retention laws. That, together with not keeping records of your activity or connection, ensures your privacy.

Has not been compromised eve

r: ExpressVPN servers have the latest technology to prevent hacking attacks.

Money-back guarantee

: You have 30 days to get your money back if the service does not live up to your expectations. No questions. We tested their money-back promise during our ExpressVPN extensive review, and the service stood true to its words.
Conclusion
The ever-growing email privacy and security concerns have made one thing very clear. In standard free email services (Gmail, Hotmail, Yahoo Mail, Outlook, etc.), you pay dearly with your data.
Typical email providers are free because they generate profits by spying on your inbox to collect and sell your data.
Of course, not everyone does that. But the point is you cannot trust a typical email service for the security of your emails.
If you want to maintain your privacy, you must turn to secure email providers that emphasize privacy and security.
Many free email providers do not take measures to protect your privacy, or even take steps to undermine it.
Switching to an encrypted email account is a change worth making. When choosing, it is essential to evaluate the provider on their encryption methods, how they finance the service, and where the servers are located.
Each of the secure email services listed above is way better at keeping your communications private than Outlook, Yahoo, Gmail, and others.
Of course, no online service is completely secure, regardless of ethics narrated by the provider. There will always be hackers and surveillance agencies looking to expand their constantly growing databases.
To increase your email safety, don't forget the basics and always use your common sense.
And as noted in the article above, on top of using a secure email provider, use a quality VPN service. That way you will have peace of mind during your email communications and all other activities online.
About the author
Ali Qamar
Ali Qamar is a seasoned, versatile writer. He is a geek. He is crazy (and competent) about cybersecurity, online privacy, and technology. Ali is naturally attracted to transforming things.