Pokémon GO is one of the most famous mobile games, with millions of players globally. However, depending on where you live, you may not enjoy the game sufficiently. Fortunately, a workaround exists for changing your location to any region globally.
Combining a GPS spoofing app and a decent VPN service like ExpressVPN makes it possible to change your location on Pokemon GO. As a result, you'll be able to hunt in your locality and find creatures in other countries.
Disclaimer: The GPS spoofing may necessitate you to jailbreak or root your phone. This can invalidate your warranty or damage your phone. Therefore, proceed with caution.
Why do you need a VPN to change the Pokemon GO location
Although it isn't clear how the game can trace your location, it will likely rely on your IP address. So the game can also check whether your IP address matches the GPS coordinates of your mobile device. If Pokemon GO finds discrepancies, it can ban you from playing for a week or more.
This is where a virtual private network (VPN) comes in. It will mask your actual IP address, making it challenging to identify your location. This will help you to access Pokemon GO in countries that would have been otherwise impossible.
A VPN also uses encryption to hide your activities. As a result, hackers and malicious third parties will not see what you are doing online. This adds an extra protection layer when playing Pokemon GO.
Top 5 apps to spoof Pokemon GO GPS
Usually, a VPN will come in handy to change your location when you connect to a server. However, as mentioned earlier, Pokemon GO also uses coordinates to determine your whereabouts. Therefore, you need a GPS spoofing app to stop the game from noticing that you have changed your location.
Hundreds of Pokemon spoofing apps exist today, so choosing the right one may be challenging. That's why we did thorough research and chose the top 5 location spoofers for Android and iOS devices.
1. Fake GPS location – Android
This is perhaps the best Pokemon GPS spoofing app for Android devices, with over 10 million installations and a 4.6/5 rating on Google Play Store. The app effectively changes your Pokemon GO region, although it hasn't been updated recently. Thankfully, it is absolutely free.
Your current residence will show on the interface when you open the app. Now, tap the search function on the top right and input your desired region. This will alter your location on the map. So, go ahead to play in whatever region of the world you want without getting noticed.
It's worth mentioning about a not-so-cool thing regarding how the app works during our tests. That is, with every restart of the Fake GPS location app, the last position is lost. We feel it would be great if the developers give an option to let users choose to remember and re-use their last position. That said, such feature is not available in other similar apps either but we thought it would be great to mention.
---
2. Dr. Fone – iOS
Dr. Fone will help you change your Pokemon GO location without compromising your iOS device security. The game won't notice the effects of this tool if you act wisely. Fortunately, it has a user-friendly interface, enabling you to spoof your location with a button click. Besides, the app will help you simulate walking between two or multiple spots.
---
3. iOS Roaming Guide – iOS
Finding a dependable Pokemon GO location spoofing app for iOS is not a walk in the park. This is because most of them lack updates and are easily detected by the game. The iOS Roaming guide is an excellent option and does the job well. What's more, you can get it totally free.
Moreover, the app is effortless to use. For example, you'll only need to drop the pin in your preferred location, and it will do the rest. Another easy method is by using the search function. The problem is that the app is not available on Apple App Store. You'll have to install Cydia first to get it. We've explained the whole process below.
---
4. Fake GPS – iOS
Fake GPS is another popular app for spoofing GPS on Android devices. It has been downloaded over 5 million times and received a 4.3/5 rating.
The app was recently updated in April 2021, indicating that the developers are still maintaining it. Remarkably, you can change your location by entering the exact coordinates. In addition, there is an option to tweak the GPS settings to check for accuracy, altitude, and update interval.
Another notable feature of this Pokemon GO location spoofer is the Movement simulation. It randomizes your location frequently to make you appear like you are hunting Pokemon. It's worth noting that the app supports ads and in-app purchases, which might turn off some users.
---
5. iTools by ThinkSky – iOS
This GPS spoofing tool for iPhone has many features to enable you to manage your device like a pro. The best thing about iTools is that it doesn't require jailbreaking to use it on your phone. However, there isn't an iOS app, so you'll have to use the desktop version instead.
The location spoofing feature is reliable and straightforward. Launch the map interface, drop the pin to your desired location, and begin the simulation. iTools will retain your chosen location even if the device disconnects from the system. You can now have multiple virtual locations, yes.
---
Pokemon GO spoofing apps to avoid
The internet has hundreds of apps that claim to spoof Pokemon Go. While most require a subscription fee, not all are reliable and up to the task.
So, you should be cautious when dealing with third-party apps for spoofing in Pokémon GO, as some may be untrustworthy.
These are some of the spoofing apps to avoid:
Tutu App – This app's website appears questionable and has received a low rating on the app store. Additionally, other sources have reported that the app requests sensitive information from users.
PokeGo++ – This app is unavailable in app stores and can only be downloaded from a website associated with the Tutu App. The APK file for this app is likely to be malicious and contain malware. Therefore, it is not safe to download or install this app.
Fake GPS GO Location Spoofer Free – According to the app, it will only function on a rooted phone and directs you to a website where you must pay to proceed.
Other apps with bad ratings and reviews collect sensitive data or ask for suspicious permissions. The general thumb rule is to avoid apps that aren't available on the Google Play Store or App Store and that have been flagged as potentially risky or untrustworthy. We also recommend avoiding an app that requires jailbreak unless there is no other way around it.
How to change the Pokemon GO account region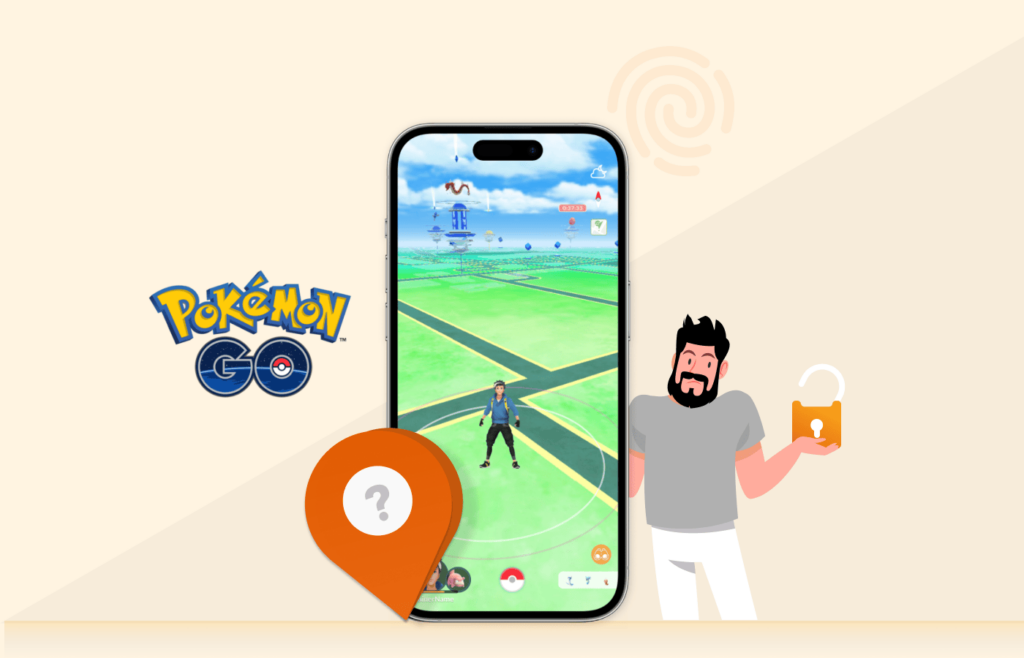 Spoofing the Pokemon GO region is pretty simple, especially when using an Android device.
Go to 'Settings,' then 'About device,' and click the 'Build number' seven times to activate the developer mode.
Next, return to 'Settings,' and you'll find the 'Developer options tab. Tap on it and check the box that reads 'Allow mock locations.'
In addition, you'll have to install a masking module known as Mock Locations. It is intended to prevent Pokemon GO from noticing that you have enabled mock locations in your device's settings. However, you must root your Android device, which can be risky. So, proceed cautiously.
The final step is to set up a VPN (as recommended above, ExpressVPN is our number one recommendation). A geo-blocked Pokemon GO can detect the IP address of the device you are using does not match your coordinates. However, a VPN encrypts your connection and routes traffic through your chosen server. It will help to hide your IP address.
After installing the VPN app on your device, select the server in the location where you want to hunt Pokemon. Then, open the spoofing app and match the location. At this point, your Pokemon account will change.
On the other hand, you'll have to jailbreak your iPhone or iPad to change your Pokemon account region. Next is to download Cydia. After that, go to 'location' and tap 'Protect.' This will make using a map to set a fake location easy. Finally, you can connect to a VPN server and play Pokemon GO to catch Pokemons!
Tweaking Pokemon GO GPS location on your device
Spoofing your Pokemon GO location will depend on the device you are using. Remember, as covered in the previous sections, you need to install a GPS spoofing app besides the VPN. We'll highlight the process for Android and iOS below.
Spoofing Pokemon GO region on Android
You cannot spoof Pokemon GO without rooting your Android device, but it's easy if you have no problem rooting it. Just use the easy-to-follow steps below:
Choose a reliable VPN service and subscribe. We recommend ExpressVPN as it's the best VPN for gaming on Android.
Download and install the VPN app.
Visit Google Play Store and install a GPS spoofing app.
Go to your device settings and click 'About Phone.
Tap on the 'Build Number' seven times to switch on the developer mode.
Return to settings and click 'Developer options.
Check the box on 'Mock Locations App' or 'Allow Mock Locations.
Root your device.
Download a module known as 'Mock Locations' and turn it on.
Log in to your VPN app and connect to a server where you'd like to play Pokemon GO.
Turn on the spoofing app and choose the exact location as well.
Start playing Pokemon GO.
There are multiple reasons why we recommend getting ExpressVPN to spoof your location in Pokemon game. Gaming on your mobile with ExpressVPN keeps your data safe while also protecting you from Distributed Denial of Service (DDoS) attacks. A VPN will also lower ping times among gaming servers by connecting you to locations that are closer to the network hosts.
---
Spoofing Pokemon GO on iOS
Spoofing your Pokemon GO region on an iPhone is also straightforward. However, you may need to jailbreak your phone and install third-party apps. Here's the step-by-step guide on how to do it:
Pick a dependable VPN provider and register for the service. ExpressVPN is still the best option and comes with a 49% discount.
Download and install the VPN app on your device.
Jailbreak your phone to change your location.
Go to Cydia, a third-party app store that's only accessible with jailbroken devices.
Download tsProtector to mask your phone's jailbreaking status.
Install an iOS Roaming guide or any other location-spoofing app.
Confirm the tsProtector and iOS Roaming guide are running simultaneously.
Select a location in the iOS Roaming guide.
Log into your VPN and match the location on the iOS Roaming Guide app.
All is set, and you can start to play Pokemon GO.
---
Top 5 Pokemon GO locations for hunting rare Pokemons
Sydney, Australia: Sydney is known to be an excellent location for hunting rare Pokémon, with particularly high concentrations found around the Sydney Harbor, Circular Quay, and Opera House areas.
Orlando, United States: Despite its relatively small size, the Walt Disney World Resort has many Pokestops and water-rich areas, making it an ideal location for Pokémon hunting.
Tokyo, Japan: As the country where Pokémon originated, Japan is home to many exclusive and rare Pokémon species. Shibuya, Tokyo Tower, and the Imperial Palace are some of the best places to check.
London, United Kingdom: The city is home to numerous Pokestops and has a Pokemon gym located at Big Ben. Additionally, the Savoy Hotel is known to offer Pokeballs and other valuable items for Pokémon trainers.
New York City, US: The Metropolitan Museum of Art in New York City is a great place to find the rare Pokémon Zubat. Additionally, Central Park is known to be full of Pokestops and water-type Pokémon.
Using a VPN and still can't access the Pokemon GO location
One common issue most Pokemon GO Players face is 'error 12: failed to detect location'. This glitch may be a result of several reasons, including;
Your device is incapable of receiving GPS signals because of your coordinates.
You have enabled 'Find My Device' on your phone.
Mock location is not enabled in your phone's settings.
The easiest way to address these problems is by rebooting the location service on your phone. Just go to settings to access the location option. Then, tap to disable and enable it again.
Alternatively, you can try to clear the data and cache in your game. To do it, go to your phone's settings and navigate to the Pokemon GO app. Then, head over to storage and select clear cache and data.
Best VPNs for Pokemon GO
A VPN is your best bet if you don't want Niantic to see that you are spoofing your location. There'll be slight suspicion that your location is fake if your IP address matches your coordinates. With a VPN, your IP address will even become undiscoverable.
1. ExpressVPN

The best VPN to hide your IP address when playing Pokemon GO. It has a long-standing reputation for reliability and security as well as an easy-to-navigate interface.

3,000 servers in 94 countries

AES-256-bit encryption

DNS/IPv6 leak protection

P2P optimized servers

Network-lock feature

TrustedServer technology

Zero-logs policy

Allows up to 5 simultaneous devices

30-day money back guarantee
Pros
Robust security suite

Bypasses all geo-restrictions

Reliable speeds
Cons
Higher-than-average prices
ExpressVPN's server network is massive, with over 3,000 servers spreading across 94 countries worldwide. Fortunately, the provider has servers in countries with weak VPN presence, such as Turkey, Venezuela, and Hong Kong. This allows you to play Pokemon in more regions.
It can be unpleasant for your connection to slow down while you are catching Pokemon. However, ExpressVPN is one of the fastest VPNs we have tested lately. In fact, your speed will remain consistent on both local and long-distance servers. Also, it provides unlimited data and bandwidth, giving you a smooth Pokemon GO gaming experience.
ExpressVPN will protect your IP address and traffic with military-grade AES 256-bit encryption. It also uses a 4096-bit RSA key, AES 256-bit cipher, SHA-512 HMAC, and perfect forward secrecy. So in layman's terms, Niantic cannot see when you are spoofing your Pokemon GO location.
Besides the industry-standard OpenVPN, IKEv2, and L2TP/IPSec protocols, ExpressVPN also offers a proprietary protocol known as Lightway. It is lightweight, so it'll drain less battery, making it a great choice for mobile phones.
The VPN also provides an automatic kill switch known as Network Lock. It is designed to prevent traffic from leaking if the VPN connection drops. This will ensure that your IP address is not exposed when playing Pokemon.
ExpressVPN works well with almost all devices, including Android, iOS, Windows, and macOS. Thankfully, all the apps are effortless to use. It allows you to use five devices simultaneously, but you can get unlimited connections if you install the app on your router.
---
2. Surfshark

It gives you all the VPN features you may need and more without breaking the bank. Its app has a minimalist and intuitive interface, making it easy to connect and switch servers.

3,200 servers in 65 countries

AES-256-bit encryption

P2P sharing

MultiHop mode

DNS leak protection

Automatic kill switch

CleanWeb ad-blocker

Camouflage-mode

Allows unlimited simultaneous connections

30-day money-back guarantee
Pros
Reasonably priced packages

Impressive geo-unblocking capabilities

Blazing-fast servers
Cons
A little disappointing tech support
Surfshark recently improved its services by expanding the network to over 3200 servers in 65 countries. In addition, it has a 'Quick Connect' feature that automatically chooses the fastest server for your connection. Alternatively, you can select the location you want and connect manually, which is also straightforward.
Is Surfshark fast enough to handle Pokemon GO? Yes, under certain circumstances. We didn't experience any connection issues, especially when using nearby servers. However, the speed dropped slightly when we connected to distant servers like New Zealand. Also, the ping rate increased significantly, resulting in lagging when playing Pokémon.
Surfshark safeguards your IP address with AES 256-bit encryption in conjunction with OpenVPN, IKEv2, and WireGuard protocols. The VPN also supports a chaining mechanism with the MultiHop feature. Furthermore, it allows you to route your traffic through two servers instead of one, adding an extra security layer.
When using a VPN, your IP address can be exposed if the encrypted connection drops unexpectedly. Surfshark offers a kill switch that prevents this from happening. Unfortunately, unlike other VPNs, the feature is not enabled automatically, so you must activate it manually. Luckily, it is easily accessible on the base connection screen.
The camouflage mode is another impressive feature that Surfshak provides. It conceals that you protect your traffic with a VPN and makes your connection seem normal. This is helpful if you live in a country that restricts VPNs.
In contrast with ExpressVPN, Surfshark offers an inbuilt ad blocker. In addition, it prevents malware and trackers that might compromise your security and privacy.
As we've mentioned in this article, Pokémon uses your GPS to trace your location besides your IP address. Surfshark offers a GPS spoofing feature that makes you seem physically located in the same place as the VPN server. Your GPS and IP address are hidden so that nobody can track your whereabouts. Unfortunately, it doesn't work with Pokémon GO.
Surfshark allows you to have unlimited simultaneous connections on a single subscription. This means you can play Pokémon on as many devices as you want. It is compatible with major operating systems such as Windows, Android, macOS, and iOS.
---
3. NordVPN

It deserves a spot on our list for the best VPNs for Pokemon for many reasons, including affordable packages. Also, the apps are super easy to install, and the whole process will take only a few minutes.

5,240 servers in 60 countries

Supports P2P servers

AES-256-bit encryption

Allows up to 6 simultaneous devices

CyberSec ad-blocker

Double VPN

DNS/IPv6 leak protection

No-logs policy

30 days money-back guarantee
Pros
Strong security

Extremely fast

Huge global server presence
Cons
Some servers are unreliable
NordVPN runs over 5,240 servers in 60 countries, even in hard-to-reach locations. The US and the UK contain most of the servers, but you'll still find reliable connections in Australia, Asia, and Africa. Moreover, it's one of the best VPNs to bypass geo-restrictions, enabling you to unblock more Pokémon features.
Pokémon GO involves fast-paced battles, so you need a VPN with sufficient speed. Fortunately, NordVPN maintains a steady speed on most servers, regardless of the distance. This makes it easy to play Pokémon from anywhere lag-free.
Some countries, such as China, have strong firewalls that detect VPN traffic. NordVPN has a solution for this with a feature known as obfuscation. It hides your VPN traffic to make you look like you are accessing the internet without a VPN.
When it comes to security, NordVPN uses AES 256-bit encryption. This ensures that Niantic or any other third party does not access your IP address. In addition, it has Perfect Forward Secrecy that changes the encryption key with each new session.
One of the reasons why the VPN offers great speed is because of the proprietary NordLynx protocol. It is based on the speed-improving WireGuard protocol, and NordVPN has set it as default on all the apps. Other protocol options include OpenVPN UDP/TCP, PPTP, IKEv2, and L2TP/IPsec.
The kill switch feature of NordVPN will allow you to play Pokémon GO safely without worrying about your IP address getting leaked. It will completely cut your internet access if the VPN connection drops. Although it is not enabled by default, the setup process is straightforward.
---
4. ProtonVPN
It has gone to greater lengths to improve security, making it a good option to play Pokémon. In addition, it is run by the same company that manages ProtonMail, one of the most secure email services available.

1,315 servers in 55 countries

AES 256-bit encryption

P2P optimized servers

DNS leak protection

Zero-logs policy

Allows up to 7 simultaneous connections

30 days money-back guarantee
Pros
Open-source apps

Bypasses geo-restrictions effectively

Excellent unlimited package
ProtonVPN has a modest network of over 1,350 servers in 55 countries. We did a speed test on some servers to ascertain whether the speed is as fast as the provider claims. First, we used the quick connection feature that should connect us to the fastest server.
Unfortunately, it didn't work properly and even caused our speed to slow down. Luckily, the selection list shows the traffic load on each server. We manually chose the server with the lowest traffic, and our speed improved significantly.
ProtonVPN has advanced security features to secure your traffic when playing Pokémon GO. First, it masks and keeps your IP address safe with the in-built DNS leak protection. Second, AES 256-bit encryption and 4096-bit RSA key will ensure that Niantic does not trace your location. Finally, Perfect Forward Secrecy secures connections by generating a new encryption key for each session.
Unlike established services like ExpressVPN, ProtonVPN offers an ad blocker dubbed NetShield. Apart from blocking intrusive advertisements, it also prevents malware and trackers.
ProtonVPN provides a free version and three paid packages. Unfortunately, the free plan is limited, allowing you to access three servers and connect one device. Also, the connection speed is relatively slow. However, you can use all servers and get better speed if you upgrade your subscription.
---
5. IPVanish

One of the best VPNs for gaming on the market. It is affordable but still provides a long list of helpful features.

1,900 servers in 75 countries

Supports P2P servers

AES-256-bit encryption

Automatic kill switch

DNS leak protection

Allows unlimited connections simultaneously

30-day money-back guarantee
Pros
Decent speeds on some servers

Unlimited device connections

Dependable security
Buffering can be very frustrating when playing Pokémon GO. This is a common issue with most VPNs because of the encryption process. However, you'll barely notice any speed loss when you connect to IPVanish servers.
Furthermore, IPVanish is compatible with all major platforms, including iOS, Android, Windows, and macOS. In addition, the provider allows you to connect unlimited devices on a single account. This makes it an excellent option for tech enthusiasts or large families.
Sometimes, your DNS requests can leak accidentally, exposing your IP address even when using a VPN. This will cause Niantic to see that you are spoofing your location, resulting in a one-week ban or worse. IPVanish provides DNS leak protection to prevent this from happening. It also uses unbreakable AES 256-bit encryption and an automatic kill switch to keep you safe.
---
Ineffective Pokemon GO spoofers and methods to avoid
Searching for ways to spoof Pokemon GO locations may lead you to videos claiming to offer a quick and easy solution through programs like PokeGo++. However, these claims are often false. The supposed apps found on websites such as injectme.online, OkTweak.com, or appskd.com do not exist in reality. Attempting to download these apps may result in being bombarded with advertisements. However, they will not give you access to spoofing locations in Pokemon GO. Our extensive tests show that this method has proven unreliable and ineffective.
Next, here are some popular but unreliable, not recommended, Pokemon GO spoofing methods to avoid:
Fake GPS apps in the Google Play Store
Third-party modified Pokemon GO APKs
Jailbreaking your iOS device
Using a mock location setting on Android
Using bots or macros
Using any of these methods can get your account banned permanently by Niantic, the developer of Pokemon GO.
Will Pokemon GO spoofing injection APKs do the trick too?
A rumor is circulating that an injection APK can help you spoof your Pokemon GO location. Is there any truth to it? Let's find out.
Spoofing locations has become a big thing in the Pokemon community. So, why would people want the game to think that they are in a different location?
The ongoing Covid-19 pandemic has hindered traveling. However, trainers might want to go after Pokemon locked in a different location. This is why new ways to spoof the location are becoming popular. Could the injection APK be the latest spoofing innovation?
Unfortunately, this method does not work. It is a scam and will not help you to change your Pokemon GO region. Installing a joystick to control your avatar and move around to whatever location you want is the idea.
This is not the truth, as the app does not have a joystick. Instead, it will prompt you to install other apps., which sometimes won't download correctly. Also, if you return to Pokemon GO, there'll be no way to change your location.
Allegedly, injection APK developers earn money for each download. So, they highly advertise it to capitalize on a useless function.
Moreover, the app is associated with fraud. For example, some Reddit users claim they have noticed unauthorized purchases from their financial accounts after downloading the app.
It is essential to know that Pokemon GO prohibits spoofing in general. In fact, the game treats it as cheating, and you can get three strikes. For instance, you'll get a week-long ban for the first offense and a monthly ban for doing it the second time. You risk getting your account banned permanently if caught for the third time.
Consider spoofing Pokémon Go in a safe manner
Spoofing locations in the game can also trigger a soft ban. Since Niantic's algorithms for Pokemon Go are powerful and can detect a player's location, it's critical to be cautious. An account can get permanently banned if it falls under the radar.
The following recommendations will help you adjust your location while you play Pokemon Go safely:
First things first, try not to change your location too often in Pokemon Go.
Using reliable spoofing software is essential. The apps that we have recommended in this article are competitive and trustworthy.
Managing your GPS movement is crucial when playing Pokemon Go. Otherwise, the servers might detect and ban your account. Use features like 'Realistic Mode' that almost all the top apps offer. By adjusting your walking speed and overall GPS location, the feature will help you avoid suspicion.
Avoid relying on applications (such as iPogo) that require device jailbreaking, as they are largely unreliable.
Conclusion
Although Pokemon GO is available worldwide, your location may hinder you from enjoying the game thoroughly. However, spoofing your GPS and changing your region with a VPN gives you a realm of opportunities. For example, you can unblock characters and access new cities and streets to catch Pokemons in areas you want.
The trick is to match your GPS with your IP address so that Niantic (the American software development company behind Pokemon GO) cannot see that you've spoofed your location. Besides hiding your IP address, a VPN protects you from hackers and malicious third parties.
FAQs
It is perfectly legal to change your Pokemon location. However, you may face some game consequences if you are caught. For example, you can get a 7-day ban. We advise you to use a virtual private network (VPN). It will mask your IP address and encrypt your data so Pokemon will never catch you spoofing your location.
The first thing you need to do is install a GPS spoofing app. Secondly, download a VPN to mask your IP address and activities. Also, you need to activate the Developer Mode on your Android device and jailbreak your iOS device.
Yes. Simply connect to a server in whichever country you want. Also, you have to turn on the GPS spoofing app and ensure its location is aligned with the VPN. Note that some VPNs can still leak your IP address and DNS requests. So, it is crucial to choose a reliable VPN service like ExpressVPN.
Technically yes. However, many free VPNs are unreliable and might even harvest your data to sell to third parties. Therefore, we recommend you use the free version of premium services such as ProtonVPN or TunnelBear.
Besides using your IP address to determine your location, Pokemon also relies on your device's coordinates. So when you use a GPS spoofing app with a VPN, the game won't know that you have changed your location.
Yes. If you are using an unreliable VPN, it leaves you vulnerable because your actual location can quickly be revealed. That's why you need a VPN with robust security features to change your Pokemon Go locations. However, remember that Niantic considers any techniques to falsify or change your location in Pokémon GO to be cheating, and you may be warned or banned for doing so. It is best to avoid using any methods to cheat in the game to protect your account.
You can use a GPS spoofing app and a joystick to select your desired location. Then, allow Pokémon to spawn above you or use a Curveball to catch them. As a result, you'll be able to virtually visit different locations, such as Times Square in New York, Shinjuku in Tokyo, and Piccadilly Circus in London, all from the comfort of your own home.
It is possible. You can use a VPN to change your location and access the Google Play store in other countries. This allows you to access premium Pokémon GO subscriptions, such as Poke Genie, Pokemon HOME, and Pokedex, which may be cheaper in certain regions.
Arceus is, without a doubt, the strongest legendary Pokemon. It is considered the creator of the universe, making it the closest thing to a god in the Pokémon world.