If you didn't know, your email's content is continually monitored. One way to secure your communication is by using an encrypted email service like ProtonMail. It employs end-to-end encryption together with other security features to protect the messages you send or receive.
The only people who can access the emails are you and your recipient. Even the provider itself cannot read them, which helps to maintain your anonymity.
Having said that, how safe is ProtonMail? Do you need a subscription to get started?
Fortunately, I have done extensive testing and presented you with an honest review of ProtonMail. Read through to get everything you need to know about this secure email service.
ProtonMail background information and funding
Before I continue further with this ProtonMail extensive review, let's look at its history. ProtonMail is a product of Proton Technologies AG, a Switzerland-based company. The founders are a group of scientists who met at CERN and shared a vision of safeguarding civil liberties online. So, they created ProtonMail, a user-friendly email service secured with end-to-end encryption.
The company receives funding from various sources. Apart from the regular customer subscriptions, ProtonMail got funds from the following ventures.
Indiegogo crowdfunding campaign brought in over half a million dollars in 2014
$2 million investment from Charles River Ventures (CRV) in 2015
Received €2 million from the EU to develop a suite of encrypted services
ProtonMail pros and cons
Pros
It is based in Switzerland, a privacy-friendly jurisdiction
End-to-end and zero-access encryption
Provides apps for both iOS and Android mobile devices 
Open-source web client and encryption algorithm
Support for custom domains
Cons
Requires personal information to verify new accounts
Does not encrypt email subject lines
Unclear and expensive packages
How does ProtonMail work?
The one thing that sets ProtonMail apart from the rest is the end-to-end encryption. So, it will scramble your email content to make it unreadable. The recipient will have to use the correct encryption key to decrypt and read the message.
Besides, you can use ProtonMail to send messages to a recipient with other email clients securely. All you will have to do is to create a password that will act as the encryption key. The person on the other end will only need to input the password to open and read the content.
ProtonMail key features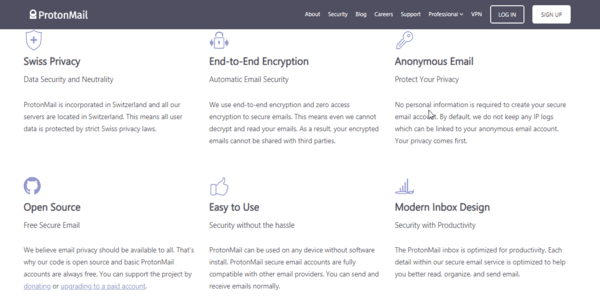 Short domain address
If the protonmail.com domain is too long, you can shorten it. ProtonMail allows you to keep your mailbox name and change the domain name. For instance, if your email address reads ruheni.mathenge@protonmail.com, you can make it shorter to ruheni.mathenge@pm.me.
All of your recipients will receive your emails with the pm.me variation. However, you can only respond to pm.me addresses if you upgrade to the premium packages.
---
Custom labels
Many email services don't care about user experience, and organizing the mailbox is always tedious. Some have a folder option where you can group your emails. Besides the folders, ProtonMail also offers custom labels to increase its flexibility. Fortunately, you can add emails to labels without affecting your folder arrangement. For example, removing a label from an email will not interfere with the rest of the folder.
---
Migration tools
Usually, you will have to start from scratch if you want to migrate from one email service to another. Copy-pasting contacts in your mailbox one by one can be tedious and time-consuming. However, ProtonMail has an app that enables you to export and import your data from other email services like Gmail, Yahoo, etc.
---
Free VPN
Upon registering for ProtonMail, the provider will also give you a free ProtonVPN. It will encrypt your connections such that no one can steal your data or see what you are doing online. When you connect to a server, the VPN will assign you a new IP address, thus maintaining your privacy.
---
Two-factor authentication
Apart from the end-to-end encryption, ProtonMail provides two-factor authentication as an additional protection layer. This means that no unauthorized person can access your account even if you have lost your password. However, you have to first install an authenticator app like Google Authenticator for the two-factor authentication to work.
---
Keyboard shortcuts
Mastering ProtonMail shortcuts is a great way to improve your navigation speed. You can use them conveniently to show messages, open previous messages, save drafts, etc.
The key combinations are easy to learn, even for novice users. The feature gives flexibility and is easy to get used to if you stick with them for a long time.
---
Quick filters
ProtonMail's search and filter tool was very convenient and recently updated to include more keywords. You can use the tool to search for keywords, dates, inboxes, email addresses, and messages that are read or unread. This is a unique feature among encrypted email services.
It is important to note that the search and filter tool capabilities are limited because they cannot search the email content. This is because the messages are stored in secure servers behind zero-knowledge encryption. So, they cannot be indexed and, therefore, cannot be searched.
---
Multiple layouts and themes
ProtonMail recently revamped its user interface with six stylish templates of different colors. This gives you options to customize the appearance of your account, whether you prefer a classic feel or darker themes.
Additionally, you can separately customize different layout components like icons, composer, inbox, and more without affecting each other. In fact, you can make your ProtonMail account look like Gmail with a few customization tweaks. Previously, ProtonMail had one layout that wasn't really appealing.
---
Advanced search
ProtonMail allows you to search by email address, subject, sent or received date, folder location, and whether or not they include attachments. Thankfully, the advanced search feature is encrypted and will safely search for emails with these inputs. However, you'll have to upgrade to the premium plan to search for a term in an email's body text.
---
Proton Mail Bridge
Proton Mail Bridge is an open-source application that you can integrate with all major email clients to access Proton Mail features via SMTP and IMAP protocols. Once integrated, it works under the hood encrypting and decrypting emails on the non-ProtonMain email client. This improves your email security, and you don't have to dump your provider for ProtonMail completely.
Apart from your email password on your third-party provider, you will need another password to access the application. Also, the app allows you to download and access your emails offline. Unfortunately, this feature is only available on paid Linux, MacOS, and Windows accounts.
---
Expiration dates
ProtonMail allows you to decide how long emails can live in your inbox or sent folder before they are automatically deleted. This includes emails sent to non-proton email accounts like Gmail. However, non-ProtonMail users can only receive end-to-end encrypted emails that are self-destructing.
Non-ProtonMail users receive a password-protected link that they use to read the email message. The link remains in their account even after expiration but cannot open the message. The service has a maximum self-destructing time of 28 days and starts counting immediately after sending the email.
---
Email aliases
Once you have created your primary ProtonMail account, you can create additional email addresses with Proton domains or custom domains. These are called email aliases and are connected to your email account. All emails sent to email aliases are automatically forwarded to your primary account for easier management.
With the new '+Aliases,' you don't have to create new email addresses for different purposes. All you have to do is add any word of your choice after your ProtonMail address and use it to receive emails. For example, your username+word@proton.me.
---
Newsletter auto-unsubscribe & autoresponder
ProtonMail has an auto-reply feature that notifies your contacts you are unavailable by sending out automated messages. To set it up, activate the auto-reply feature, type your message, and select a start and end date with your specific time zone.
Moreover, you can customize the feature by choosing how frequently it will send the message to your contacts. This could be monthly, weekly, daily, indefinitely, or for a fixed period.
Additionally, ProtonMail allows you to unsubscribe from an annoying email list. All you have to do is click the 'unsubscribe' button in the email header. The best thing about this feature is that it works with both your primary account and other email aliases.
---
Email & mobile signatures
You can customize your emails to bear your professional contact information, like name and position, at the bottom. Additionally, you could use one email signature for each email account. This is good news for people who use different signature formats depending on the client or department.
Unfortunately, ProtonMail does not allow you to add social media links to your email signature block. Free ProtonMail applications for iOS and Android have a default 'Sent from ProtonMail mobile' signature. You can only disable this signature with a premium account.
---
Is ProtonMail safe?
With the end-to-encryption, ProtonMail is one of the safest email services available. In addition, it is based in Switzerland, which doesn't share any intelligence information with other countries.
Also, there is two-factor authentication that prevents unauthorized access to your account. The combination of these security features will ensure that no one monitors your email or intercept your communication. Here are some of the features ProtonMail uses to keep you safe.
Encryption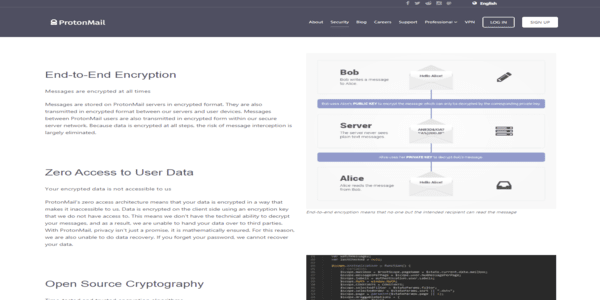 Encryption is a good way to ensure that third parties cannot access your information over the internet. ProtonMail encrypts your data throughout the whole communication process. Only you and the recipient of the email will see the message.
In fact, the provider stores your email in encrypted form. This means that not even email service developers can access anything in your inbox or outbox.
The best part is that you can use encryption even when sending emails outside ProtonMail. All you'll need to do is send a link that will open on the recipient's side. However, they can only decrypt the message with your password.
---
Supports PGP
Pretty Good Privacy (PGP) is a security feature commonly used in email communications. Although it's an excellent way to encrypt your messages, the process is too complex to set manually. That is why ProtonMail offers in-built PGP encryption making it easy to use the feature even if you are a novice.
The PGP feature is not on default, so you and your email receipt have to enable it. Once the feature is active on both sides, it will encrypt all the emails you send or receive.
---
ProtonMail anonymity
Another remarkable thing about ProtonMail is that it gives you complete anonymity. Actually, you won't need to provide your personal data when setting up an account. Additionally, it doesn't track your IP address, so no one can trace anything back to you.
---
Self-destructing messages
ProtonMail allows you to set an expiring time on any email you send. The email will self-destruct automatically from the recipient's inbox after the time you have specified has elapsed. This feature works even when you send emails to people outside ProtonMail.
---
Secure data centers
When you hear about the security measures that ProtonMail has employed, it sounds like something from a sci-fi movie. First, it manages its servers at various secure locations around Switzerland. Second, its primary data center is placed in a heavily guarded bunker under 1000 meters of granite rock.
Furthermore, Switzerland is the safest place to host data as it is not a member of the 14-Eye Alliance. The Federal Data Protection Ordinance (DPO) and the Swiss Federal Data Protection Act (DPA) are some of the most robust protection laws in the world. So, you are assured that nobody will ever read your messages.
---
Enhanced tracking protection
ProtonMail uses enhanced tracking protection to protect your sensitive information. It shields your IP address, date and time of opening email, and device information from being embedded with trackers. Your personal information and location cannot be tracked when you open the email, and you can also view how many trackers have been blocked in the tracker icon.
Unfortunately, this feature only works with unencrypted emails like promotional emails. ProtonMail also has a PhishGuard feature that gives you anti-phishing protection. The feature works with Domain-based Message Authentication Reporting & Conformance (DMARC)to identify scammers and then alert you with a red warning on the email's header. It also protects you against malicious links and prompts you for permission to open an external link.
---
Is ProtonMail trustworthy?
ProtonMail's privacy policy is completely trustworthy. Firstly, it uses a zero-knowledge encryption approach that prevents even its own employees from accessing your emails and personal information. Also, it scans your emails for spam and has a PhishGuard feature to protect you against phishing.
ProtonMail does not keep logs about your account activity or IP address. It logs very little non-identifying information like URL access times and last login, which are not used for advertising.
Swiss privacy laws
Switzerland has some of the best privacy laws that forbid international and domestic organizations from collecting customers' personal data. Since ProtonMail is headquartered in Switzerland, it must comply with these regulations.
Further, ProtonMail is HIPAA compliant and follows GDPR regulations. However, it does not comply with French and EU data collection laws, making it one of the best email services to protect your privacy.
It is important to note that the Swiss criminal investigation authorities may force ProtonMail to log your IP address if you are suspected of being involved in illegal activities.
---
Ownership – Proton AG
ProtonMail is owned by Proton AG, formally known as Proton Technologies. It is a reputable company with many contributions to the online privacy and security industry. It is based in Geneva, Switzerland, and its primary data center is in Zurich.
Switzerland is a privacy-friendly jurisdiction without strict data retention laws. It is not a member of any international digital surveillance alliance like Nine Eyes and Fourteen Eyes. Therefore, you can rest assured a pro-privacy email client handles your emails.
---
ProtonMail usability
ProtonMail is easy to create an account with and straightforward to use. Below, we will take you through the process, layout, and mobile app to show how effortless it is.
Setting up an account
All you have to get started with ProtonMail is to go to the main website, select a plan and follow the instructions. The best part is that you don't have to input your personal information to create an account. This is meant to protect your anonymity.
---
Layout and design
Compared to other email services, the ProtonMail layout is easy to navigate. All the essential functions like adding contacts, creating a new message, and accessing drafts are within reach.
It highlights new messages in bold so you can differentiate them from the ones you have already read. Furthermore, you can activate notifications on your mobile or desktop to be alerted whenever a new email comes in.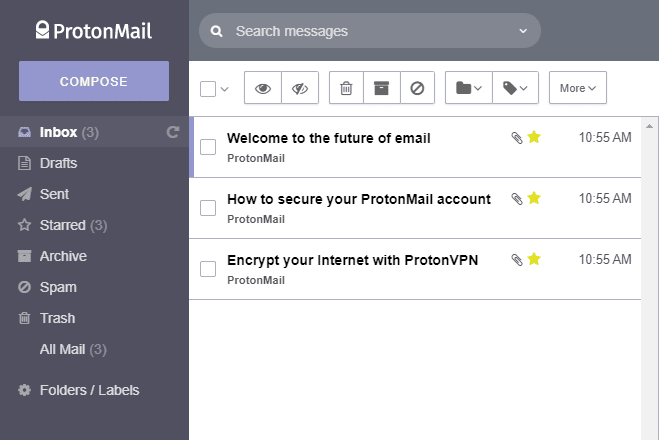 The free version will allow you to create basic folders and labels. In fact, you can color-code them so you can find whatever you are looking for easily.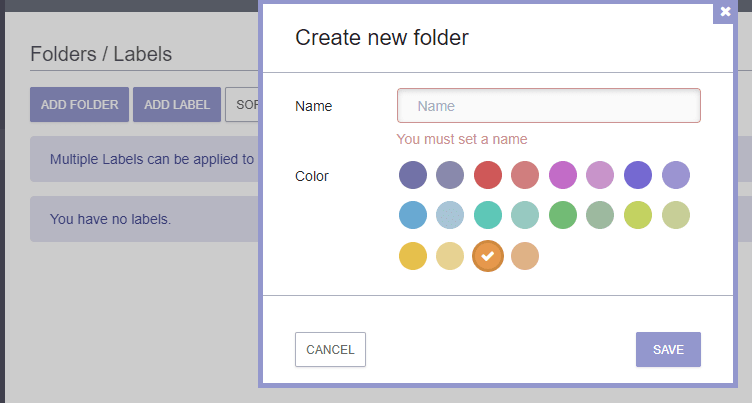 ---
Mobile app
Besides the user-friendly desktop client, ProtonMail also offers useful.' apps for Android and iOS devices. The top-rated Android app has been downloaded over 1 million times on Google Play Store with over 28,000 reviews. I tested the app and found it smooth, fast, and easy to use.
---
ProtonCalendar
ProtonMail has a calendar app, like the majority of email services. However, the ProtonCalendar is different from the rest as it has end-to-end encryption to safeguard your schedule. Remarkably, it protects everything from the occurrence title, description, and location. As a result, no third party (including ProtonMail) can view the details of your events.

---
ProtonMail performance
Regardless of the strict security measures employed by ProtonMail, it still works exemplary. You will send and receive emails without any lags or buffering. Additionally, uploading and downloading files is super fast, depending on the size.
It is difficult to tell if it will start to lag after accumulating thousands of emails. However, early signs show that the extra security features do not affect its performance.
ProtonMail pricing
For individual
| Plans | Features | Price |
| --- | --- | --- |
| Free | 1 user, 1 GB storage, 1 address, 150 messages per day, 3 folders/labels. | 0 |
| Mail Plus | 1 user, 15GB storage, 10 email addresses, 1 custom domain, unlimited messages per day, unlimited folders/labels, auto-responder, unlimited custom filters, and support. | €3.99/month |
| Proton Unlimited | 1 user, 500 GB storage, 15 addresses, 3 custom domains, unlimited sending, unlimited folders/labels, unlimited custom filters, auto-responders, catch-all email, multi-user support, and email client support. | €9.99/month |
Proton plans for business
| Plans | Features | Price |
| --- | --- | --- |
| Mail Essentials | 15 GB storage, 10 email addresses per user, 3 custom email domains, unlimited messages per day, unlimited folders, unlimited custom filters/labels, password-protected emails, auto-reply, catch-all email. | €6.99 / per month |
| Business | 500 GB storage, 15 email addresses per user, unlimited messages per day, unlimited folders, password-protected emails, auto-reply, catch-all email. | €10.99 / per month |
| Enterprise | Customizable | Customizable |
Free plan
There is no need to break the bank to send, receive, and store your emails securely. On the contrary, you can use ProtonMail for free and still enjoy its advanced features. Although it limits the number of emails you can send and receive daily, you'll get full protection.
The daily allowance is pretty generous. However, you can always upgrade to the rationally priced packages if it is not enough for your needs.
---
ProtonMail plus
Instead of calling it a subscription fee, ProtonMail terms it a 'donation.' This is to help the company continue offering secure email services. Regardless of what ProtonMail calls it, you will have to pay a monthly or wholesome annual fee to enjoy the premium features.
Nonetheless, its packages are reasonably priced. The Plus package is available at only € 4 a month and has more features than the free version. For example, the storage size and daily email allowance increase. You'll get 5GB storage, and you can send/receive up to 1000 emails per day.
What's more, you can create up to five email aliases and have a custom domain name. So, instead of sticking with protonmail.com, you can personalize your email to your liking. The package also has the option to contact support if you face any issues.
---
ProtonMail visionary
ProtonMail Visionary has a bigger storage space and extra features that will be helpful when sending many emails. It offers storage of 20GB, and you can set up to 50 email aliases and 10 domain names. The good news is that there is no limit on the number of emails you can send or receive per day.
---
ProtonMail professional
If you are looking for an email service for your business, ProtonMail is an ideal option with its Professional package. It lets you create a custom company domain name and even add employee accounts.
---
Things about ProtonMail we didn't like
Since its establishment in 2014, ProtonMail has been growing steadily and adding more features to improve user experience. However, even the best email service has faults.
Search function
The ProtonMail search function is not the best compared to other email clients' search as Gmail. It is still helpful, allowing you to input keywords, sender, and time. However, the surface results may not be what you are looking for.
---
Customer support
It isn't easy to contact ProtonMail's customer support, especially on the free version. An FAQ section addresses some of the common issues but might not be adequate to help with all problems. In addition, you can also send an email to support@protonmail.com if you need a specific matter addressed. However, if you upgrade to the Professional and Visionary plans, you'll get priority support.
---
ProtonMail alternatives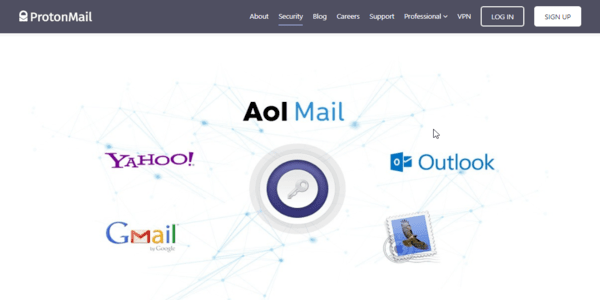 Although ProtonMail is the most popular secure email service, you can choose other reputable alternatives.
Fastmail
Fastmail guarantees to safeguard your data from unauthorized persons. The company also has complete transparency on how it handles data. On the downside, Fastmail does not have end-to-end encryption like ProtonMail, so it is not entirely secure.
Additionally, it doesn't offer a free version, and the cheapest plan starts at $3 per month. It is for these reasons that make ProtonMail a better option.
---
Tutanota
Tutanota employs end-to-end encryption on emails together with subject lines, making it arguably more privacy-oriented than ProtonMail. It also has a free version that is more generous, with up to 1 GB of storage compared to ProtonMail's 500 MB.
Nonetheless, ProtonMail allows you to customize some features, such as importing themes, setting auto-responses, etc. Generally, the two services are similar in many ways, although I'll recommend ProtonMail because of the easy configurations.
Read also: How to use Tutanota secure email
---
Gmail
Gmail is perhaps the most famous email service in the world. It provides reasonable security but is not anywhere close to ProtonMail. As I have mentioned severally, with end-to-end encryption, nobody can see your emails except the recipient. Besides accessing your data, Gmail shares the information with third parties, such as advertisers, to send targeted ads.
Nonetheless, the email service also has a good side. For example, it is owned by Google, and the desktop and mobile apps are straightforward to use. Moreover, its customer support is way better. However, if you are concerned with your privacy, ProtonMail is an excellent choice.
Read also: Privacy-focused Gmail alternatives
---
Do I still need a VPN when using ProtonMail?
From the above information, ProtonMail is safer than many email services. However, it can only encrypt the emails you send or receive. The only way to ensure that your data is completely safe is to pair ProtonMail with a reputable VPN. ExpressVPN and NordVPN are two of the best options, as they are committed to providing the utmost user security.
Pairing a secure email service with a VPN adds an extra security layer to your online activities. For instance, ExpressVPN employs military-grade encryption to protect the entire connection, not just emails. Also, it has an automatic kill switch and DNS leak protection to prevent your data from leaking. Thanks to the 30-day money-back guarantee, you can use the service risk-free.
Conclusion
Chances are, your email service does not use end-to-end encryption. This is what makes ProtonMail different from other emails, such as Outlook or Gmail. As you can see from our ProtonMail review, the company offers more privacy and security to its users.
I would recommend using it because ProtonMail boasts a clean interface, is straightforward to use, and offers end-to-end encryption you can actually count not. With this secure email provider, you can be sure that no one except you and the one you're emailing doesn't read your emails. Nonetheless, combining it with a reliable VPN is better for protecting your internet data at full.
FAQs
The use of end-to-end encryption makes ProtonMail the most secure email service available. Since all of your emails will be encrypted, no one can access your data, not even ProtonMail. On the other hand, Gmail keeps logs of your IP address and can see the emails in your inbox.
If you are on a budget, you can start with ProtonMail's free version. Although some of the features are limited, end-to-end encryption will protect your communication. However, you'll get more features if you upgrade to the paid packages that include Plus, Professional, and Visionary.
One of the perks of using ProtonMail is that you can send secured messages to non-users. You will only need to create a password and send it to the recipient to open the email. This is a great feature to stop great giants from snooping on your online communication.
No. First of all, your emails are encrypted, and even ProtonMail cannot decrypt them. Second, you don't have to provide your personal information when creating an account. So, in any case, nothing can be traced back to you.
There are so many free email services, and paying you can send and receive emails might seem strange. Subscribing to ProtonMail gives you the peace of mind that your messages are completely anonymous with end-to-end encryption.
According to the support, ProtonMail does not have contact with Chinese authorities. The company states that being on the government's radar is very insignificant. However, it is impossible to speculate how the Chinese firewall works and can block ProtonMail anytime.