If you didn't know, your email's content is continually monitored. One way to secure your communication is by using an encrypted email service like ProtonMail. It employs end-to-end encryption together with other security features to protect the messages you send or receive.
The only people who can access the emails are you and your recipient. Even the provider itself cannot read them, which helps to maintain your anonymity.
Having said that, how safe is ProtonMail? Do you need a subscription to get started?
Fortunately, I have done extensive testing and present you with an honest review of ProtonMail. Read through to get everything you need to know about this secure email service.
ProtonMail background information and funding
Before I continue further with this ProtonMail extensive review, let's look at its history. ProtonMail is a product of Proton Technologies AG, a Switzerland-based company. The founders are a group of scientists who met at CERN and shared a vision of safeguarding civil liberties online. So, they created ProtonMail, a user-friendly email service secured with end-to-end encryption.
The company receives funding from various sources. Apart from the regular customer subscriptions, ProtonMail got funds from the following ventures.
Indiegogo crowdfunding campaign brought in over half a million dollars in 2014
$2 million investment from Charles River Ventures (CRV) in 2015
Received €2 million from the EU to develop a suite of encrypted services
ProtonMail pros and cons
Pros:
It is based in Switzerland, a privacy-friendly jurisdiction
End-to-end and zero-access encryption
Provides apps for both iOS and Android mobile devices
Open-source web client and encryption algorithm
Support for custom domains
Cons:
Requires personal information to verify new accounts
Does not encrypt email subject lines
Unclear and expensive packages
How does ProtonMail work?
The one thing that sets ProtonMail apart from the rest is the end-to-end encryption. So, it will scramble your email content to make it unreadable. The recipient will have to use the correct encryption key to decrypt and read the message.
Besides, you can use ProtonMail to send messages to a recipient with other email clients securely. All you will have to do is to create a password that will act as the encryption key. The person on the other end will only need to input the password to open and read the content.
ProtonMail key features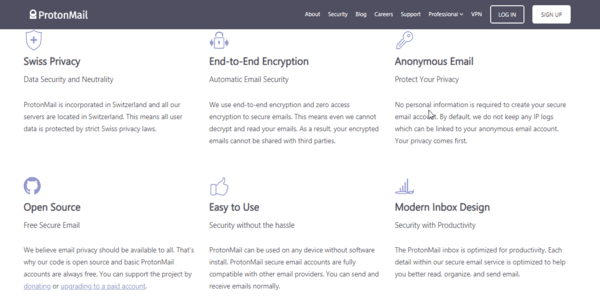 Short domain address
If the protonmail.com domain is too long, you can shorten it. ProtonMail allows you to keep your mailbox name and change the domain name. For instance, if your email address reads ruheni.mathenge@protonmail.com, you can make it shorter to ruheni.mathenge@pm.me.