Are you considering cutting off your digital cord to your cable provider? It's a great idea! We like it! There are plenty of excellent video streaming platforms offering the best content you could want in more cost-effective ways.
HBO Max keeps releasing the most sought-after TV series, while Netflix, the streaming king, has almost everything. Moreover, Amazon Prime is hitting the jackpot with Wheel of Time. Also, other platforms like Paramount Plus, Disney Plus, and more have not exploded yet, but it's unavoidable that they will, sooner or later. And these are just the most standard options; we haven't mentioned live TV or sports websites.
Top 5 streaming services in 2023 – Quick list
So, precisely, numerous excellent streaming platforms are there, enabling you to cut the cord. In addition, website or app subscriptions give you greater flexibility to cancel and come back at your pleasure, better pricing, personalized content choices. Most importantly, web streaming empowers you to pay for the content you want to see instead of paying for a package that includes most channels that won't appeal to you.
The trend in entertainment is clear: Smart TV and web streams are gradually replacing the cable boxes in every home. The future belongs to the Rokus and the Chromecasts. The cable services are indeed lucky that, since they tend to be the world's ISPs, they won't go out of business altogether.
Having a good panorama of the best streaming services is essential in this context. This information enables you to build the ultimate TV menu, tailored to your taste, in which every cent you spend is justified by the content you are consuming. Your ideal menu will include the standard video platforms and live TV, news, and sports channels. So, there is no reason for you to miss out on any content you like.
Best video streamers on the internet: Who are they?
Netflix dominates the online web video streaming niche decisively. However, HBO Max has a solid place because it provides a unique alternative regarding its content.
However, Netflix's position in the industry is not a fact of nature. It can and will be challenged by competitors soon because Netflix has grown complaisant, and they've bought their publicity — they believe they are invincible. The recent spike in Netflix pricing shows how the giant is abusing its advantages. This kind of behavior, which we've seen in the past from IBM, Microsoft, Intel, and other supposedly unbeatable forces, tends to be punished by the digital markets.
And there are some chinks in Netflix's armor that are starting to show. For example, think about Matrix Resurrections. Let's not discuss how good (or terrible) it is. The point is that it had two decades of fan expectations behind it. So it came online, and it became the central item in the industry, even if for a short period. And it had little to do with Netflix.
Yes, Netflix has Squid Game and a few other series that are the talk of the town worldwide. But none of its movies can come close to the noise Matrix Resurrections made, and this is an industry in which perception is everything.
We don't mean that Netflix is going out or that we're about to cancel our account. Squid Game remains a hit, and then there's Locke and Key's third season. Also, Netflix enjoys the massive advantage of having arrived there first. All its features are "standard," although most of the competition is still struggling to achieve them or even realize that matters to users. And there's the issue of the broad catalog it still has. Nobody comes close, at least within the legal services.
Sling TV is one of the best options in the live TV realm. It's customizable and relatively accessible, even as it increased the subscription price by five USD since January 2022. But the new app is not exactly impressive.
FuboTV is a bit pricey, but the wide variety of sports events it offers makes it stand out.
9 best streaming platforms in 2023 – Detailed list
1. HBO Max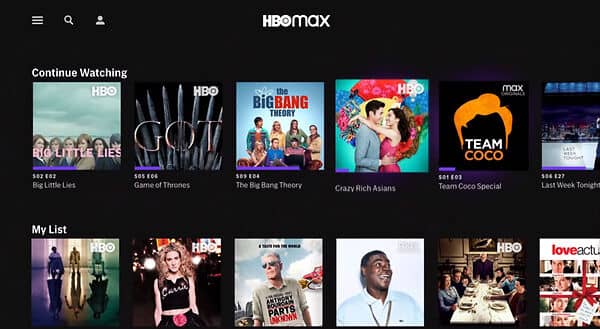 It may not be the biggest, but it's the best.
Pros: It has the whole Warner Brothers catalog (including friends), collections from Sesame Street, Adult Swim, and TCM, and blockbuster movies as they are in theatres.
Cons: The fee is higher than the market's average, and the 4k resolution options are meager.
HBO Max gives you everything HBO could and much more! Both services have many currently running favorite shows (Insecure, for example) and the complete Westworld, Curb Your Enthusiasm, and Veep.
HBO Max's fee of 14.99 USD monthly (9.99 USD if you allow the ads) adds enough content to your experience so it can rival Netflix head-to-head.
Some noteworthy additions include Wonder Woman 1984, The Flight Attendant (Kaley Cuoco's comeback after The Big Bang Theory), Friends, and Studio Ghibli. Additionally, HBO is the final destination for Warner Brothers Pictures' most important motion films. That feature in itself is enough for many users to choose it — yes, Matrix Resurrections is among those pictures.
Then there's The Peacemaker (a spinoff from James Gun's The Suicide Squad), Dune, Godzilla vs. Kong, Space Jam 2, and many more.
Of course, the price is a bit of a drawback because it's higher than the market average. But it has content you won't get anywhere else.
HBO Max works now with Roku and Fire TV, and you can test it for seven days for free. A single account is good for three concurrent streams.
Internationalization remains a pending issue with HBO Max, though. Netflix and Disney Plus are already available for the world to see, while HBO Max is still bound to the US audience. That is supposed to change, but while it does, it puts this service behind the times — except for users who access it with a premium VPN. (Read this guide to learn how you can unblock HBO Max in your country.)
---
2. Netflix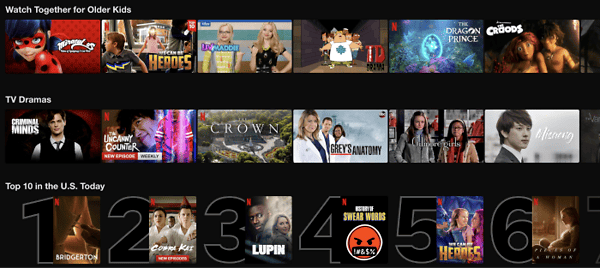 The king is not keeping up with the times, but it's still among the best options.
Pros: Unique catalog of original shows, the industry's technological leader, excellent app support, no ads, and exceptional attention to kids' content.
Cons: A little more expensive than the rest. The movie catalog lags behind some others.
If you get there first, you get there twice. Nobody made a name for itself in the web streaming business before Netflix. That gives this platform a unique advantage over everybody else, and the wide offer of content and high-quality service also supports Netflix's position in the market. So if you are going to have only one video streaming service in this day and age, Netflix is still the one you should pick.
With Netflix, you get an unlimited number (or time) of streaming movies, TV shows, comedy specials, and original programming. Stranger Things and The Witcher are recent big hits in Netflix's original content with production values that can rival HBO itself. The catalog is continually expanding (and some of it is going away, too). So, you need to keep up with Netflix if you don't want to miss anything.
Netflix's recent adventure into producing original content has been quite a success, but also a deviation from the company's business model. The original idea was to make other studios' content available to the world through the internet. But now, Netflix is becoming a content provider in its own right.
However, Netflix remains the most powerful distribution platform on the web, and it keeps getting licensed to offer newer shows (think Hannibal or Moesha and Community). So Netflix is still the go-to platform for those who missed the first season of a beloved show or full shows they didn't get to see as they were active.
Also, the website includes hidden treasures that have not exploded in popularity so far but provide fantastic entertainment at no additional cost. Cheer, Train to Busan, Halt and Catch Fre, Tiger King: Murder, Mayhem, Madness, and Obvious Child are but a few examples. (Did you know you can also watch your all-time favorite Harry Potter on Netflix?)
The interface is probably the best in the industry; the recommendation system will provide you with options that make sense, and the content selection is extensive and well-curated.
Of course, if you want to extract all the juice Netflix contains, you have to be a US-based user. The catalog changes with your jurisdiction because of the licensing agreements Netflix has. It can't offer every movie or show in every country. So, if you're not in the US, you'll surely miss out on the many best films and shows that this platform has. Of course, this problem goes away if you connect to the website through a good Netflix VPN.
Are you surprised that we had Netflix in our second position instead of the first one? The competition is working hard every day to get closer to Netflix, and it seems that the red giant is not taking them too seriously. So, you shouldn't be surprised if you find Netflix to be even lower in many lists in the next few months. But, on the other hand, Netflix is still the most critical force in this market, and a couple of hits could launch it back to number one on everybody's list.
---
3. Disney Plus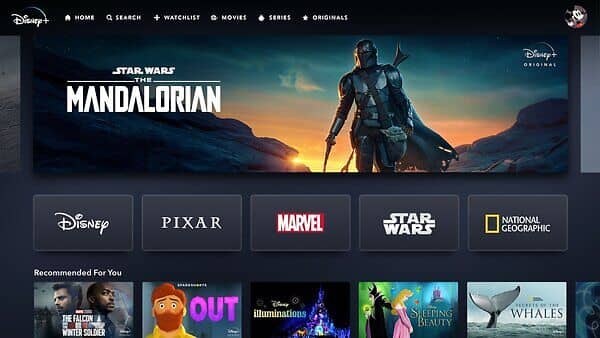 The world's primary provider of family-friendly entertainment can also compete online.
Pros: Access to the entire Disney catalog of classic movies and shows. 4K HDR support. Titles from the Star Wars and the Marvel universes.
Cons: Excessive focus on children's entertainment.
Disney is the chief of family entertainment worldwide. Walt Disney invented the concept practically, and time has made the company's position bigger and stronger.
The current Disney catalog is far beyond Fantasia and the movies traditionally associated with the brand. Marvel, Star Wars, and even the Simpsons are now Disney properties, too, and they all have extensive fan bases. So when Disney decided to join the web streaming market, it was sure to become a leading player in a short period, which is exactly what we've seen.
The Disney Plus standard monthly fee is 8.00 USD, thus becoming one of the most cost-effective options in the market. In addition, the service is of very high quality, with most of the content available in 4k resolution. So this is an option that will not surprise you with something like "The Witcher." But with Disney, you know what you will get from the beginning.
Disney Plus is also testing the potential of the PPV niche. It offered the live-action version of Mulan for 30 USD from September to December 2020, and they will try the same with Marvel's Black Widow.
The Mandalorian was a massive hit for the network, followed by WandaVision. But then, Loki was even better. So if you're a Marvel, Star Wars, or Pixar fan, you'll have to join Disney Plus sooner or later.
The web page's primary design is reminiscent of Apple TV. No, it's not as good, but it still has lots of great features. The site's performance is excellent overall, and although some problems exist for Fire TV stick users and Apple TV HD users, they will surely disappear soon.
Disney's announcement about Disney Plus created a lot of hype, as expected. And given its diverse catalog, service quality, international availability, pricing plans, and everything about this streaming option, it has not only visibly met the hype but transcended it in many ways.
Disney Plus is worth its fee. The catalog keeps expanding, the service keeps improving, and the parent company keeps producing new content that's blowing the minds of both fans and critics (like Loki and The Mandalorian).
Disney is not just a studio or ESPN's parent company. It's a pillar of western popular culture, which neither Netflix nor HBO can claim. So if you have a kid at home or like any of the hallmark products in the Disney extended world, this is a service you can't afford to miss.
---
4. Hulu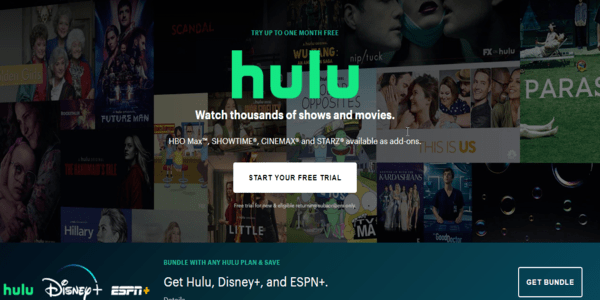 The one service that will help you cut the cord once and for all.
Pros: On-demand library. Can add subscriptions to ESPN+, Disney Plus, or HBO.
Cons: The basic plan still has commercials. The two-device limit in the basic plan.
Maybe, you want to be updated on all the latest and coolest TV shows to join the chat at the office, or just because you like them. But you are not in the mood to get a cable subscription or an HD antenna. Then, congratulations! Hulu was made for you!
Hulu will give you access to the shows of all the major networks (CBS excluded), and a few cable shows the day after its initial airing. There is also access to a show's entire current season (and, in most cases, every season).
You will also find some original shows (including a few joint productions with the BBC), offbeat movies, and more classic anime series that you'd expect from a "general content" website. So there is something for everybody here.
"Vacation Friends" is the latest Hulu hit, a comedy with Lil Rel Howery and John Cena. Yes, you have to see the commercials on Hulu, too, even as a paying customer. But they are not as frequent as in cable TV.
It is the first service on our list that includes LiveTV streams, and it's a solid element in Hulu's entertainment offer. The good news is that the LiveTV option does have CBS.
---
5. Sling TV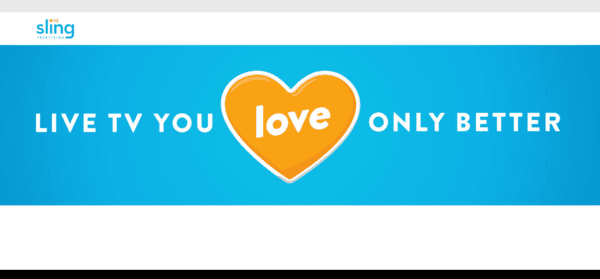 The best live TV streaming platform in the market.
Pros: Relatively affordable in the live TV niche.
Cons: Support for a single device only in the Orange package.
Sling TV is one of the best streaming services for all those wanting to consume diversified content like cable TV subscriptions but doesn't want the cords.
The Sling TV model looks almost like a standard cable TV bundle on the surface: you pay a monthly fee, and it gives you access to 47-53 channels in real time.
So what's the difference? First, you don't have to pay for the rental of the box you would need for every TV or device. Second, there's no contract –and let's face it, if you don't agree to sign a 12 to a 48-month contract with most cable providers, you'll end up paying too much for your service. Yes, we hate that too, but it's how the market works, and it's not about to change anytime soon.
Sports enthusiasts will be delighted with Sling TV as it offers several ESPN channels. This feature alone will be enough for many users.
Other networks in Sling include the Cartoon Network, TBS, the Food Network, BBC America, NBC, CNN, and most of the usual suspects. Also, the 35 USD monthly fee makes Sling a reasonably-priced service that offers a lot of content. (Most of the more similar streaming services start at 65 USD.)
Another good feature of Sling is the customization option. Once you have a plan, you can choose to add several channels a la carte for an extra monthly fee. (For example, you can have the nine Showtime channels for an additional fee of 10 USD.)
Each subscription gives you 50 hours of DVR storage (you can increase it to 200 hours for 5 USD).
The video quality is good but not great. 720p resolution is the standard option for most of the content on offer, which is more or less standard in this niche.
So if you want to keep out of cable TV contracts, rentals, additional modems and routers, and all that jazz, Sling TV is a good option. It's affordable, offers much content, flexible with ala carte channels that include premium networks, and has DVR storage, even if it's limited to USA users only. And, it is cheap.
---
6. Amazon Prime Video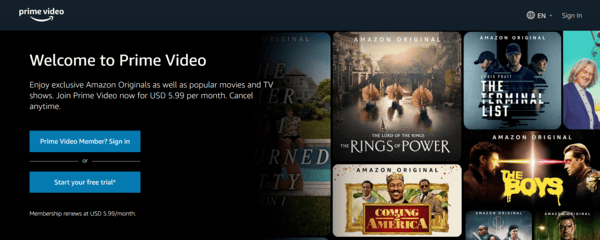 An excellent video streaming service. And you're probably already paying for it.
Pros: It's included with the bundle of services in Amazon Prime. Movie rentals and purchases are available. Can add streaming channels. 4K HDR from the basic plan onwards.
Cons: The video library is not as extensive as others.
The Covid 19 pandemic has markedly increased demand for online entertainment, but that hasn't been the only effect it's had on the digital markets. The need for cloud services, software licenses, and bandwidth for zoom meetings has also increased like there's no tomorrow. But no industry has benefited as much as e-commerce, and the most outstanding winner there is, of course, Amazon.
If you are one of Amazon's frequent clients, opting for Amazon Prime is the most obvious choice you'll ever make. As an Amazon Prime subscriber, you get free two-day shipping on some purchases, a free Kindle book monthly, unlimited access to Amazon Music, and, most notably for this guide, unlimited access to Amazon Prime Video. So, as an Amazon user, you may already have the credentials to enjoy Amazon Prime Video that you had not noticed!
The Amazon Prime catalog is extensive enough to compete with Netflix. It includes movies, TV Shows, and original material like Jack Ryan, Bosch, The Man in the High Castle, or The Marvelous Mrs. Maisel. But the platform's trump card is The Boys, which became a massive hit with its second season and had a spinoff in the works already.
Amazon Prime also has an advantage in the comedy and children's categories. A recent deal with Viacom (think Nickelodeon, MTV, Comedy Central) gives this platform a special status regarding humor and younger audiences. Access to an extensive collection of HBO's shows (The Wire, The Sopranos) is also available and adds value to your subscription. Unfortunately, movie rentals and purchases are á la carte –which means you have to pay extra for them.
So, if you want an excellent video streaming service with a plus (several pluses in this case), Amazon Prime won't let you down. Mind you, most subscribers are in Amazon Prime for the commercial advantages it offers, and that could be your case as well. So maybe you've had Amazon Prime Video access for months already, but you had not used it because you were unaware you had it.
Hopefully, now that you know you're already subscribed, you'll start enjoying one of the best streaming services on the internet. One that you had already paid for!
---
7. Peacock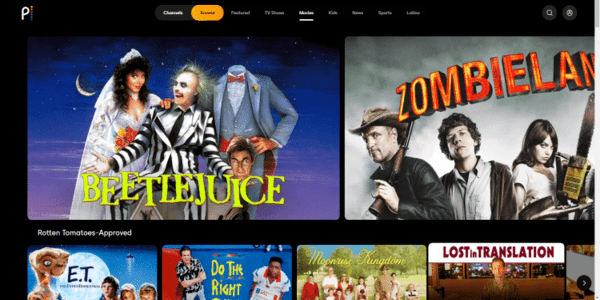 The best streaming option includes a free plan.
Pros: It's free, and it includes live news and sports.
Cons: Nothing too exclusive about the Premium plan. Not much newer content in the catalog. No 4k or HDR support.
NBCUniversal video streaming platform had a hard time initially securing the alliances and agreements to join the industry as a meaningful competitor. For example, the deal with Amazon to feature Peacock with Fire TV took the best part of a year. Also, the Tokyo Olympics broadcast was one of the platform's most vital selling points, so as it got delayed for a long time, it damaged the general public's interest in joining it.
If your ISP or cable TV provider is Comcast, then Peacock is free for you already.
Peacock's beginnings didn't promise much, despite its support from NBC, Universal, Comcast, and the corporate machinery behind it. Some industry observers thought that the platform couldn't last for very long. The technical difficulties we all saw as it was streaming the WWE Money in the Bank didn't help matters either, even if they fixed the quality problems quickly.
However, that checkered beginning is over, and things seem to be going well for Peacock today. First, girls5eva, one of the network's original shows, has proved popular enough to bring new paying members into the platform. Next, saved by the Bell surpassed expectations. Then Peacock became the exclusive WWE pro wrestling distributor online within the US.
And one feature about Peacock that we can't underestimate is that it's the only service on this list that grants you free access (although with ads).
As the platform's beginning was admittedly slow, its international presence was significantly delayed. Nevertheless, the company is working hard at it, and it's going to become available in most European countries shortly. Then it will seek to be present in Latin America, Australia, and Asia.
Other streaming platforms have an appealing catalog (Disney has The Mandalorian, Netflix has The Witcher, and more), so how is Peacock's offer in this regard?
First, it's very extensive when it comes to classic shows. The options include exceedingly popular shows such as The Office, The King of Queens, Everybody Loves Raymond, Frasier, Charmed, Monk, 30 Rock. And there is also a wide offer of original shows with Curious George, We Are Lady Parts, MacGruber, The Lost Symbol, and One of Us is Lying. And you don't have to pay for most of it! Even if you opt for the Premium or the Plus plan, the prices are relatively low.
So maybe Peacock won't be the best service for every user. However, let's say you take the time to see the platform's catalog closely. For example, the variety isn't as comprehensive as Netflix, but the shows and movies on offer are chosen carefully. As a result, you could find that Peacock is all the video streaming you need to have to fulfill your spare time — and at a meager cost.
---
8. Fubo TV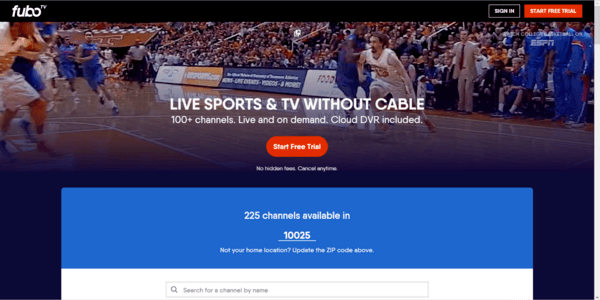 The best sports streaming service on the internet.
Pros: Extensive sports coverage and channel catalog.
Cons: Expensive, no NBA playoff coverage.
If access to live sports without cable contracts is your thing, then Fubo TV is going to become one of your favorite web streaming services by far.
The standard Fubo TV plan costs 65 USD monthly, which could seem a bit steep as online video services go. However, that fee gets you more than 120 channels that include almost every major network in the industry. And there's a feature that puts Fubo above everybody else: it has 4k streaming for selected content on demand.
The channel menu in Fubo is the most extensive among the best web streaming services. Until recently, it lacked ABC and ESPN, but that gap got filled already.
The inclusion of the ESPN channels to the Fubo family makes this vendor the top streaming option if you're an NFL fanatic, as it includes all the matches in the major networks and the NFL network.
Besides the football content, on Fubo, you'll find channels like NBC, Fox, AMC, Food Network, MTV, Syfy, and many more. The only chink in Fubo's sports coverage is TNT which is the one network you need during the NBA playoffs.
Your primary plan includes 250 hours of Cloud DVR. It is a limited amount of recorded time for many users, but you can expand it if you wish.
So there is plenty to like about Fubo. It has the best sports coverage online and most channels you could want in other niches. So if you're seeking a streaming service that provides almost everything you can get from a premium cable provider without the cable itself, Fubo is as close as you can get.
Fubo's fee is steep, and the DVR time is limited. But the vast offer of channels and almost total sports coverage are unique in the industry. Yes, Sling TV is similar and cheaper, but it has fewer networks on the menu.
It all comes down to the content: if Fubo gives you the channels you want, sports or otherwise, it will be the way to go because of the high video quality in its streams, the variety, and other advantages.
As we write this, no streaming platform can replace a cable subscription 100%. Several options come close to different degrees, but all of them have limitations that keep them relatively incomplete.
But until that perfect option pops up on the market, Fubo will probably be your best pick. But yes, like many platforms out there, it is not available to access worldwide. So, you'll need a VPN to unblock Fubo TV outside the US.
---
9. Crackle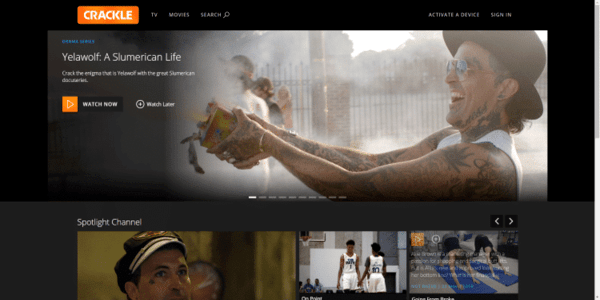 A top free streaming platform.
Pros: It's free. A few good original shows.
Cons: Most of the content is pretty dated.
Once upon a time, life was simpler, the grass was greener, and cable TV was fraught with crappy action movies and anime shows. If you can identify with the previous statement, Crackle is the time machine you've been waiting for! It will take you back to that simple time for free.
The Sony-owned Crackle offers movies, TV shows, and original programs. You need no account, registration, subscription, or fee. Instead, you will pay for your service by watching commercials — very frequently.
It is not a website that will give you the best in the movie industry. No blockbusters, pieces of art, or things like that. Instead, it has a lot of free content that you can watch as you eat industrial amounts of popcorn.
Still, it has some interesting original series. Snatch, for example, adapts the Guy Ritchie film with Rupert Grint as the show's star (yes, Ron Weasley has a career beyond Harry Potter!). Likewise, Adam Brody was StartUp's star. And there are a few more original shows with improbable starts that will give you new things to watch.
Crackle is neither the best, the most advanced, nor an exciting video streaming platform. Instead, it's like an average website offering a moderate service with average content. However, it's free, and that counts for something.
---
Other video streaming options
Besides the platforms we have covered above, you can use other smaller and cheaper streaming platforms to access extensive entertainment libraries. For instance, RetroCrush, Hidive, and Crunchyroll are great options for streaming anime content.
Use Vimeo to access select indie films and video projects through its on-demand section. Also, Twitch is your go-to platform if you are a gaming enthusiast and you would like to watch people play games live.
Plex is a popular streaming platform featuring extensive on-demand content libraries and live TV streaming services. It has now been revamped with different genres of movies and TV shows from Amazon Crackle's library.
We recommend using a reliable and trustworthy VPN to enhance security and privacy when accessing all streaming services. A VPN will also enable you to access blocked streaming platforms and bypass geo-restrictions. For instance, you can connect to a VPN server in the UK in order to access BBC TV live for free. However, some streaming platforms use anti-VPN technology to identify and block VPN connections. Therefore, you need a reliable VPN service capable of bypassing the anti-VPN software without detection.
Choosing the best streaming providers for you
So now, you have nine good video streaming platforms that can help you cancel your cable TV service and spend less money paying for content you enjoy on your phone, computer, or TV.
No, we don't mean that any singular option described above will do the trick alone (although some come close). But you don't have to limit yourself to a single service. Instead, depending on your budget and the content that interests you more, you can join several platforms so you can have the best of every world within your reach.
Take Netflix as an example. It has a vast catalog, but it caters to nobody. It's all about regular content for general audiences (with the possible exception of its original shows). In contrast, Disney Plus is for three specific market niches: family, Marvel fans, and Star Wars fans. And then there's HBO Max, which always offers the latest and most exciting movies and the best TV shows in the industry.
So it's not about hoping that Hulu will solve all your problems. Instead, it's about figuring out which other two or three websites will complement it perfectly so that you don't need to keep paying for content you do not consume.
Catalog is everything
A streaming platform should have a unique and quality catalog if it wants to compete with other top-performing streaming services. Therefore, most streaming services have changed their approach and are now producing their own original films. Good examples are the award-winning The Handmaid's Tale, The Marvelous Mrs. Maisel, and Stranger Things, developed by Hulu, Amazon, and Netflix, respectively.
The creativity and diversity the streaming services embrace give them a competitive edge over mainstream entertainment programs. Modern streaming platforms also include live TV channels and sporting events in their catalogs. For example, Philo is a custom-built streaming service for lifestyle and entertainment fans. Also, DirecTV offers extensive live TV channels, including the regional sports network (RNS), while YouTube TV and Hulu are popular for lifestyle, sports, and news channels.
---
How did we pick the best streaming services?
We enjoy putting video streaming providers to the test. It's a lot of work, of course. But it's also a lot of good fun. We try them on several devices, including Xbox and Play Stations, web browsers, tablets, and smartphones. (You have no idea how different it is to see Disney Plus in a Roku device than in an Apple TV box. We do! We did it!)
When comparing different platforms, we consider the number of concurrent connections they allow with a single account. We also look at the 4k capability it has. Is it free? Does it cost extra? What other features does it have? We also examine closely the newest channels and content that recently came online with each service.
Another important consideration is how the big picture looks. The pricing is constantly changing in ways that do not seem to have any apparent logic. The package availability pricing alters the aforementioned big picture, and those perturbations to the system need to come into context. Take Sling TV. It's been at the low end of the general audience-oriented niche for most of the time. But it's slowly shifting upwards too.
We also invest a lot of energy in keeping up with the newcomers. For instance, Philo TV (which didn't make it into our list) gives you 59 channels for 25 USD monthly. So it's a relatively low-priced service, but its content to offer is proportional to the cost.
Peacock deserves an honorable mention. It had a rough start, but the corporate support behind it allows the platform to offer a unique business model: a lot of excellent content, already known and beloved by the audiences, that you can enjoy for free within an ad-supported system. And if you choose to pay for the Premium package, it only gets better. If that's not good enough for you, this network is the exclusive home for many Premier League matches and WWE. Since the English Premier League is the world's top soccer competition, this gives NBC a competitive edge even in the sports niche, which is not its specialty by any means. And then there's The Office, Saturday Night Live, and many more titles.
HBO Max came into the business wielding the Warner Media catalog (Friends is there) and the wildly popular HBO original shows. But those are not even its main selling points. Instead, this platform will deliver you the biggest blockbusters on the very day they hit the theatres.
What else should I know?
The nine services reviewed above are among the best on the internet. That means they're also among the best-known, so we're not discovering anything. There are other streaming providers out there. Hundreds, literally, so you should not consider our list exhaustive by any means. On the contrary, we are trying to show you the tip of the iceberg only to know the best streaming services to get started.
We ordered the websites and services according to our preferences. It's arbitrary. Each mini-review tells you why we like (or not) each option. Our appreciation includes considerations of functionality, accessibility, resolution, and other elements. But if you are, for instance, a Star Wars geek, Disney Plus will always be your top option. It's all about what you want to see, so refer to our reviews to determine which one gets you closer to your goals.
Using any of the services on our list requires a good internet connection and a compatible device. Moreover, you could also need a premium VPN service at your disposal.
Some of our reviews mentioned how some platforms have pending work to do in terms of internationalization. But even Netflix has issues with overseas uses. Every legal streaming service offers a different catalog for each country it serves. It happens because of licensing agreements that authorize them (or not) to distribute a given title to a given country.
We wrote this article from a user's point of view based in the US. If you're in a different country, your experience will be different in that you will have much fewer titles available to you. That is where the VPN comes in. A VPN can spoof your IP address, so Netflix's servers will think you're in the US, even if you're really in Madagascar. And this will grant you access to the same content as any US-based Netflix client.
Do I need a VPN for video streaming?
You don't necessarily need a VPN for streaming since you can easily stream videos without one. But you should still get a premium VPN account for added benefits like bypassing content restrictions.
Legal video streaming services must negotiate licensing rights with copyright holders to offer any given title online. And those rights include the regions where the service can broadcast the title in question. Consequently, the catalog in every video streaming platform changes from country to country. The countries best served by all services are the UK and the US — Netflix is the most dramatic example. And the difference in content between the US and, say, Argentina can be abysmal.
So suppose that you joined HBO Max because you wanted to see Friends. But you're not in the US, and HBO Max doesn't have the right to show Friends in your country. HBO already charged you your monthly fee, so what are you supposed to do now?
The answer is to get an account for a good VPN service.
How to stream online content with a VPN
Connecting to a streaming service through a VPN is a straightforward process. Follow these steps to do it;
Subscribe to a reliable and trustworthy VPN. We recommend ExpressVPN.
Download and install the application on your device.
Launch your VPN application and connect to a server in a country where your preferred content is available.
Open your streaming application and start streaming. You can also use your browser on your PC to open the streaming platform's website and start streaming.
Once you have the VPN account, log into the network, pick a US-based server (because that's where HBO Max can show Friends), and connect again to HBO via your VPN's US server.
Et Voliá! Now, HBO will consider you a US user and give you all the content available to other US users. That's how using a VPN can help you in video streaming anyway.
---
The difference between streaming services and sites
When looking for some video streaming sources, you'll often find two different terminologies – streaming 'services' and streaming 'sites' (or 'websites'). You might think of them as being interchangeable terms for the same thing. But in fact, they are different. And as a rightful binge-watcher, you must know the difference between the two.
Streaming service
If you've read this far into this article, you must have noticed that a corporation backs up all the services recommended above. Besides, most of them will charge you for the videos they offer, and they're all legal. So these are what a "service" means.
Specifically, a "service" is a platform that has done all the legal work required to distribute content legally. It means they've negotiated copyright agreements with the copyright holders. They abide by those agreements, and they pay the copyright owner every time a user streams or downloads their content.
So, in short, the category of websites we're referring to as "services" are full-fledged businesses that play the game by the book and ensure legality and security in everything they offer. This approach limits their possibilities because they can't provide you with any content without legal rights.
---
Streaming website
While the Netflix catalog looks massive, finding a "website" with an even broader offer of movies and TV shows isn't difficult at all. Such websites typically fall in the category of streaming "sites" that have their own game rules.
Most streaming sites typically offer free content. Plus, you don't even need to register an account or provide any additional information in most cases.
The list of free "websites" is endless, and it keeps growing all the time. As soon as a new website in this category becomes successful, third parties start producing mirrors and clones. So, there's an army of imitators pullulating the internet before you know it.
(It's similar to what we see with good torrenting sites all the time. The new mirrors and clones increase the access to the material in these "sites," thus providing additional options. Unfortunately, while it sounds cool, it brings its own problems.)
---
Problems with free streaming sites
Upon comparing streaming services vs. sites, you might wonder how the latter manages to put so much material online without charges.
Well, free streaming sites have a different business model, commonly known as "piracy." They don't have any legal right to the content they stream. But they still make a buck usually by showing you ads.
Also, the audiovisual quality in most websites is barely usable because the provider aims to invest as little as possible. Nonetheless, the low quality hardly matters because users already expect that when using the platform for free.
But are you really giving nothing away when you use these free streaming websites?
The answer to this question brings us to mirrors and clones. When a brand-new free streaming website breaks into the scene, it becomes successful only if it adds some value to the user experience available on other existing sites.
So, the first version of any given free streaming website is usually excellent. It has good content, decent resolution, fewer ads, and a clean (non-malicious) site code.
Then the success of the initial website inspires an army of imitators by different developing teams. That's when things start to go down. Although, the catalog largely remains the same. But the streaming speeds get poor, audiovisual quality suffers, and you have to withstand much more ads than before. In worst cases, some new sites may have a malicious agenda, like malware distribution, thus becoming a security threat.
At this point, you're not paying "nothing" for the content you stream for "free." Instead, you inadvertently pay for it with your online security, anonymity, and privacy.
---
Use a VPN to protect yourself on a streaming site
Agreeably, free streaming websites (not services) offer pirated material, are illegal, and pose security risks.
But, on the other hand, they have the seductive power of being utterly free of charge. Still, remember that whenever you are not paying money for a given product in the digital world, the most probable scenario is that YOU are the product on offer for somebody else.
We have devoted plenty of articles and guides to deal with free streaming websites so that every user can minimize the risks they pose. But, reiterating the trick briefly, we can say that VPNs are your friends whenever you're streaming videos from any kind of platform. Typically, a VPN expands your options if you're using a legal service. Whereas if you're using an illegal service (where you shouldn't face any legal risks for the sake of watching movies), then the VPN will minimize the security risks involved with it.
---
Consolidation and new channels
The competition among streaming platforms is now tougher than ever. Some platforms have already closed down, others have been sold to competitors, while others have merged to survive the heat.
For example, Amazon bought MGM for $9 billion to improve Prime Video's library; Werner Bros merged with Discovery to form a giant streaming platform, and CBS merged with Viacom to form Paramount+. Crunchyroll absorbed VRV and Funimation to become the most popular streaming platform for anime content. ESPN+, Hulu and Disney+ have all been forced into one bundle to provide entertainment on all fronts. The competition in the industry has also affected consumers negatively. It is more difficult for consumers to navigate through a constantly changing and crowded environment where complicated streaming rights have increased costs. It is also a challenge for live TV streaming services to adjust from the classic cable TV because of the increased costs of broadcasting rights imposed by cable channel owners.
Can I stream live sports online?
Sports fanatics are also not left behind in this massive migration from cable TV to online streaming services. Most of the streaming platforms we have reviewed in this article allow you access to live sporting events of different categories. The platforms also provide commentary for live sports events and offer on-demand content for replays of select matches.
However, some sports events may be blacked out or unavailable on various streaming channels. However, since you have options, you can switch to another channel on the same streaming platform to watch your favorite matches. Streaming platforms allow more than one simultaneous connection and fully featured apps which is a huge advantage over classic cable TV.
Conclusion
Cable services are good things to have for the most part. In most cases, the vendor that gives you cable TV content is also your ISP and landline provider.
However, the usual scenario with Comcast, AT&T, or any other players is that you have to choose a plan from a tiny menu in which nothing fits your needs. So you have to select the thing that comes closest to what you want. That means you're always paying for a lot of stuff that you don't like or need.
Additionally, the only way to get value for your money with most providers is to commit to a contract that could last several years. And yes, it's cost-effective, but it makes you feel tied.
In this context, it's good to know there are alternatives.
The legal websites listed in this article can help you break your cable TV chains. In addition, a selection of the services on offer can help you cut the cord once and for all. These options allow you to pay only for the content you consume and always keep your options open and flexible. With these services, you can alter your menu every month at your will and keep adding and subtracting all kinds of content.
So if you only watch soccer in World Cup years, why pay for soccer channels for the other three years? If you only wanted HBO to see Game of Thrones, why keep paying for it for the rest of the year? These web streaming services empower you, as you can pick and choose whatever you want at every moment, no questions asked, no strings attached, no contracts, and no obligations. They give you the best of all possible worlds: live news, sports, children's shows, movies, classic tv shows, and films. You can design a digital entertainment menu that fits your budget and wishes like a globe instead of relying on the one-size-fits-all approach typical in cable TV plans.
And, of course, there's the issue of VPNs. You should always have one. With the services in this article, you don't need to worry about security. Still, you could find that the catalog available to you significantly expands if you connect to their servers through a VPN — the US or UK-based servers are the ones that usually give you the most content.
We hope the information in this article helps you improve your digital life with the best entertainment, save some money, and above all, to stay safe at all times. That's always our priority.
FAQs
That's because they maximize the user's power and freedom. Many of these have no ads, and you can watch anything you want on any device you own, regardless of the time and location. Additionally, you pay for things you want to see in these services, not for content that comes with the package but doesn't attract you.
Netflix is the market's most prominent player boasting 216 million users worldwide.
Not really. That is because legal streaming services must abide by their copyright agreements, which specify the jurisdictions they can offer a title. Negotiating a deal in which you can have the rights for every country and every title in your catalog is impossible in practice. Thus the roster in every service depends on the country you're in. The UK and the US are the lucky countries that get the best, most extensive catalogs in most streaming services.
No. Each platform follows its globalization plan. Some have made a lot of progress in this regard, and some remain pretty behind the times. There is no rule for this; it follows its business plan and leadership decisions.
No, that's the beauty of it. You can cancel your subscription whenever you want and renew it in the future too.
That depends upon the dates, but for the most part, that will never happen. For instance, let's say you signed up now. Then, after a few days, you decide to cancel. Generally, you would retain access until February 17th in most services.