10 best VPNs for China to use in 2021 (the providers that actually work)
Thanks to these best China VPNs, you will be able to bypass the country's aggressive internet censorship and unblock all the sites you want.
China plays host to arguably the largest censorship regime across the globe and blocks access to a plethora of the globe's best websites. As the country's so-called Great Firewall is getting less permeable and more sophisticated, using the internet in the country could be very frustrating.
The state has tight policies regarding the online content the citizens access. Unfortunately, the policies apply to visitors too.
Therefore, it's a no brainer why Virtual Private Networks are so much popular in China. Visitors and locals use a VPN to get around the strict policies and access restricted websites.
Unfortunately, too, China is not fooling around, and they have gone the extra mile to block some VPNs in the country.
For years, the Chinese government has been enacting a dastardly plan of blocking access to VPN websites completely.
Ironically, even though the country knowns professionals are using VPNs to carry their duties (and for better online safety) while being pushed to work from home due to the coronavirus outbreak, it reportedly has become even aggressive towards cracking down on the Virtual Private Networks.
Therefore, it's now more challenging to get a working VPN in China. However, some still work in China. In this article, I list the best VPNs that still work in China.
What really is a VPN?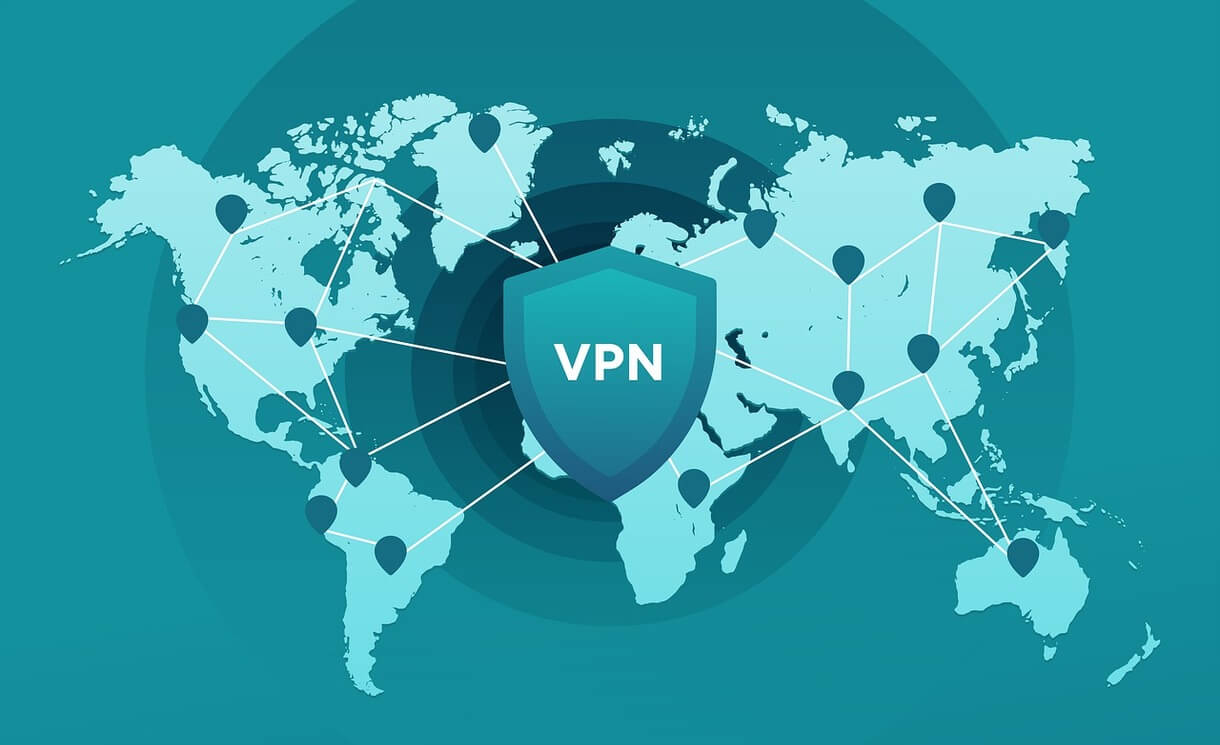 Perhaps, a good number of individuals have used a VPN at some point.
Still, it's surprising that only a few of them know really what a VPN is and its significance in accessing the internet, especially in China.
Simply put for you, a VPN (Virtual Private Network) allows not only for a private but also an encrypted connection in any public network.
Moreover, you can protect your privacy when you're in a public network such as WiFi by using an encrypted VPN.
Why do I need a VPN in China?
China has got strict policies that block access to content on the internet of several websites.
In brief, while in China, you won't be able to access your favorite TV shows of a particular website, leave alone obtaining updates from sites like Facebook, WhatsApp, and YouTube.
The country boasts its own social media platforms and has disallowed foreign social media from operating in the country.
Therefore, if you like surfing the internet, it's not rocket science that you need the best VPN that works in China to allow you to bypass the country's censorship as well as the geo-blocking of some services.
A VPN gives the impression that your computer is located in a country where the VPN server is located.
Therefore, it means that if the VPN server is in the US, you can access websites in the US even when they are blocked in China.
However, you should ensure that before setting your foot in China, you should have your computer or mobile device set up with the best VPN for China.
The reason is that most of the websites for the VPN providers (where you download the software) are blocked in China.
How come China's Firewall is the world's most sophisticated censorship system?
In China, you don't have the freedom to do what you can do best on the internet as everything is not only seen, tracked, or recorded but also what you access is highly restricted.
Basically, the Great Firewall of the country blocks you from accessing virtually anything online, and that's where VPN comes in handy.
But why is China's Firewall so great?
What makes it so powerful is the fact that it does have other restrictions, such as regulating the use of VPNs. In China getting onto a VPN website is almost impossible; leave alone downloading the app into your device.
Therefore, a China VPN will help you to bypass the blocks without getting detected, ensuring that you regain your internet freedom as well as shield your anonymity.
Is using a VPN in China legal?
Although several VPNs are blocked in China, still, using a VPN in the country is legal. The reason is that there is no official ban on VPNs in China.
In January 2017, there was an announcement from the Chinese ministry on a campaign to go down hard on VPN across the country.
However, the notice didn't say that using a VPN is illegal.
VPN providers are not allowed to operate in the country legally, but as a user, you're not affected despite the fact that VPNs keep getting blocked often.
How to pick the best China VPN
When picking your VPN for China, consider the following criteria;
Speed – a good VPN should have the best download speeds. Therefore, ensure that you choose a VPN with unlimited bandwidth as well as fast servers.
Should Work in China – it's a no brainer that you're looking for a VPN that will work for you in China. Therefore, the VPN must be the one that will help you bypass the Great Firewall of China.
Number of Connections – how many devices will you be able to connect to your chosen VPN? Perhaps, you have several devices you want to connect, and hence you should look for a VPN that will allow you to connect to several devices with one subscription. At least six simultaneous connections are the best.
Supported Apps – not all VPNs can be compatible with all platforms. Therefore, ensure that your VPN is compatible with all your devices; the reason being, the manual configuration could hardly work in China.
Servers Locations – when the servers are located nearer to China, they offer the best speeds. Therefore, ensure that the VPN has servers in countries close to China, such as in Hong Kong, Japan, Malaysia, and Singapore.
Unblocking – the main reason you're looking for a VPN is to access various sites online. Therefore, the VPN should be able to unblock several websites that you're interested in, such as Netflix. The VPN should simply be able to unblock an unlimited number of websites.
Security – you definitely want to roam around accessing restricted sites without being detected. Therefore, the security capability of the VPN should be a priority. Consequently, you should consider things like no-logs policy, encryption protocols, and private DNS servers of a VPN.
The best VPNs for China
After researching and testing for weeks, I have finalized ten exceptional VPN service providers (keeping the above criteria in mind) that will let you access your favorite websites in China safely and anonymously.
Please note; have your VPN downloaded before you arrive in mainland China because the local networks will have VPN services blocked and you could not get onto their sites.
That being said, here are the 10 best China VPNs you can use;
ExpressVPN
SurfSharkVPN
NordVPN
VyprVPN
PureVPN
Astrill
PrivateVPN
Ivacy VPN
Buffered VPN
Hotspot Shield
1. ExpressVPN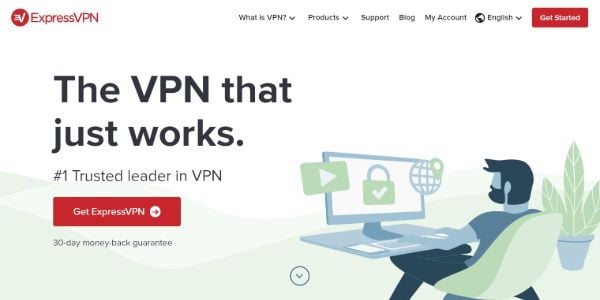 ExpressVPN is, without a doubt, your best VPN to use in China. It may not be the cheapest option available, but make no mistake; it's what you need in China.
First, the ExpressVPN app works excellently with several devices such as Windows, Android, macOS, Linus, and iOS. Almost all the apps provide split-tunneling to help you connect to certain apps and leave others directly connected to the internet.
Also, the provider has several server locations in China, which are equally fast, and allows up to 5 simultaneous device connections.
ExpressVPN features the best security as it has an automatic kill switch as well as leading encryption. You'll also enjoy the 24/7 live chat support to all your questions, claiming a 99.9% uptime.
It unblocks several websites in China, such as Facebook, Google, WhatsApp, YouTube, Netflix, Amazon Prime Video, BBC iPlayer, and more.
ExpressVPN uses obfuscation protocols as well as advanced technology to ensure that it provides the best experience possible for Chinese users.
Pros
No logs
Fast and reliable connections
Over 160 server locations across 94 countries
Works with most devices in China
Excellent customer support
A 30-day money-back guarantee
Safe and secure
Cons
Relatively expensive
5 simultaneous connections (not the best in this regard)
2. SurfSharkVPN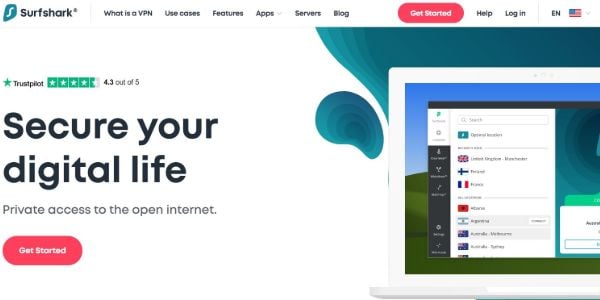 SurfSharkVPN will help you to open a new digital world in China, thanks to the several servers spread across the World. It has more than 1000 servers across over 60 countries.
Interestingly, it supports an unlimited number of devices and apps at a time such as iOS, macOS, Android, Linux, Xbox, Windows, and PlayStation.
It comes with an extra range of privacy features with a fast-growing speedy service in Taiwan, Hong Kong, Vietnam, and Singapore.
The connections are fast and reliable across all the servers. The VPN is capable of easily bypassing the Great Firewall of China thanks to its no borders mode that evades even the toughest geo-blocks.
SurfShark features AES 256-bit encryption that offers you the maximum security. Besides, the security is even tightened by the presence of an automatic kill switch as well as a complete zero-logging policy.
The SurfShark's cyber web feature ensures that your devices are protected from trackers, ads, malware, or any phishing attempts. Moreover, it allows you to whitelist some apps and websites to bypass the VPN, meaning you can access domestic websites while viewing uncensored internet.
Pros
MultiHop feature
No borders mode to go through the Great Firewall of China
Over 1000 servers across the World
Camouflage mode, adding extra security
Up to 28% on average expected throttling
Unblocks several websites in China
A 30-day money-back guarantee
AES-256 encryption
Unlimited simultaneous connections
Fast downloads
Automatic kill switch
Cons
Could be too basic for some
3. NordVPN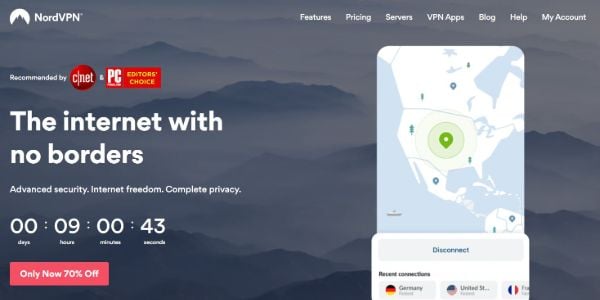 If you're looking for a reliable VPN for China, then you should give NordVPN a try.
It supports a plethora of platforms such as Windows, Android, Mac, Linux, Router, and iPad, among others. Besides, manual configuration is possible.
The VPN has over 5000 servers across the World in more than 60 countries. Therefore, it's committed to bypass the Great Firewall of China.
Also, Nord actively monitors connectivity to ensure that there are no new blocks that are emerging, and if they do, then it works, making sure that that everything is in order to bypass the new blocks.
Moreover, NordVPN is very much affordable but still offers the best features. It's also very easy to use, it's faster and capable of knocking down almost any geo-block in its way.
The servers have unlimited bandwidth and block nearly all websites in China, such as Facebook, Google, WhatsApp, and many more with a lightning-fast connection.
It also ensures that you're secure and anonymous thanks to its 256-bit AES encryption that masks your IP address.
You'll also be able to have six simultaneous connections. Also, the presence of an automatic kill switch ensures that it blocks your traffic in case you have problems with the connection.
There's also a strict no-logs policy, and the support is 24/7 live and very much friendly. If at the end of it all you're not satisfied with the provider, you have a 30-day money-back guarantee.
Pros
No-logs policy
Over 5000 servers with over 370 of them near China
Lightning-fast speeds
Obfuscated servers
Automatic kill switch
AES 256-bit encryption
Compatible with multiple devices
Unblocks several websites in China
Affordable
Cons
Some devices require manual setup
4. VyprVPN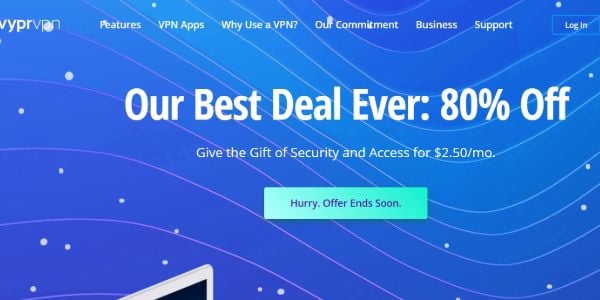 This is one of the few VPNs that actually own their entire network as well as equipment. Therefore, it offers a custom-designed setup suitable for China users as well.
The VPN is compatible with several devices, including macOS, Windows, Routers, Android, iOS, and Smart TVs, among others.
It features lightning-fast connections all the time, and you can connect up to five devices simultaneously.
The VPN has over 700 servers spread across the World, with most of them surrounding China, including Japan, Vietnam, and Malaysia.
What makes VyprVPN even better is its Chameleon technology that ensures that it masks your IP address as you bypass the Firewall of China with ease.
You also have several security protocols to choose from that include Open VPN, L2TP/IPsec as well as PPTP.
The encryption is high-end featuring an automatic kill switch to ensure you have maximum anonymity. Also, it has a strict no-logs policy, ensuring that there're no traces of you left behind.
You'll get a live 24/7 support system, and if not satisfied, there's a 30-day money-back guarantee.
Pros
Compatible with a plethora of devices
Unblocks several websites in China
Owns its servers with excellent speed
Chameleon protocol as well as advanced encryption to avoid the Great Firewall of China with ease
Automatic kill switch
No-logs policy
24/7 support
30-day money-back guarantee
Cons
No Torrenting allowed
Not the best for gaming
5. PureVPN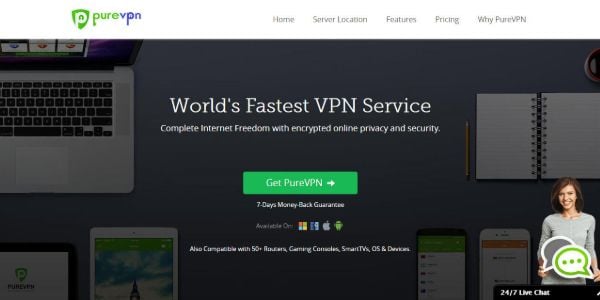 Arguably the best VPN specifically made for China. It has servers in the country, and VPN users outside China can as well use it to get a China IP for Chinese content.
The VPN supports an array of platforms such as Linux, Router, Androids, Mac, Windows, Smart TV, and many others.
It also features servers in more than 500 locations across the globe in over 140 countries. PureVPN speeds are second to none, and you can connect up to 5 simultaneous devices with one subscription.
PureVPN never logs your visit sites and doesn't reveal the files you download. It also features a split-tunneling option with a wide variety of customization options.
Pros
Stealth VPN browser
Affordable
Excellent speeds and stable connections
Up to 5 connections simultaneous
Compatible with several devices
Unblocks several websites in China
A plethora of servers
24/7 live support
Split-tunneling option
Cons
Poor user interface
No free trial
6. Astrill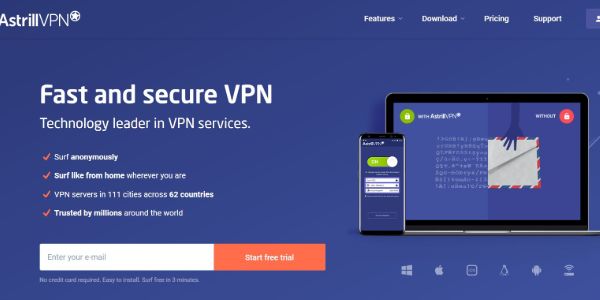 First, Astrill is compatible with various devices like iOS, macOS, Linux, Windows, Routers, and Android, among others.
As like other best China VPNs on the list, the number of websites that this VPN is capable of unblocking is amazing as it unblocks several of them, including Google, Facebook, WhatsApp, Netflix, and many more.
The VPN is reliable as you'll enjoy fast download speeds with added security. It features a stealth Mode that masks your VPN activity; hence you can easily bypass the Great Firewall of China.
The VPN has over 200 servers in over 70 countries such as Taiwan, Japan, Hong Kong, and other countries surrounding China. Therefore, you'll be able to get access to the local sites as well within China.
Also, Astrill has a smart mode feature that automatically activates the VPN when you try to open an international site; therefore, you can bypass the geo-blocks without extra configuration.
An automatic kill switch also prevents further any DNS or IP leaks, meaning you'll be hidden entirely from snoopers.
It also offers a multi-hop feature that you can use to connect at once to several locations for more anonymity.
Another impressive feature is that you have unlimited simultaneous connections, and you have access to P2P sharing on various servers. The 24/7 live chat support is a plus, together with a 7-day free trial.
Pros
An array of servers
Fast speeds
Automatic kill switch
Stealth mode for VPN invisibility
Compatible with several devices
Unblocks several websites including Netflix
Unlimited simultaneous connections
Smart mode for automatic connection of VPN
Free trial and a 30-day money-back guarantee
24-7 live chat support
Cons
Cluttered and unintuitive interface
Some servers are difficult to connect (few took more than expected time for me to connect)
7. PrivateVPN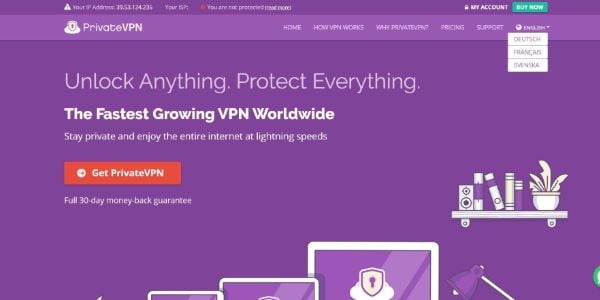 As the name suggests, PrivateVPN is a service that is secured with a customized client that can be connected to six devices at a go.
Its security and privacy features are advanced; hence can help you get access to foreign content or bar the government and your ISP from secretly spying on your browsing habits. Also, its service has no log on VPN
Moreover, it has more than 100 servers across the World in 56 countries, and you can use the most used modes of payments as it might happen in the case of a premium VPN service as also it keeps the anonymity of the payer.
Pros
Offers a secure service
Has a fast connection
Can be connected simultaneously to six devices
Access to foreign content easily
Impressive encryption options
It is cheap
A 7-day free trial
A 30-day money-back guarantee
Cons
Its servers are not in all countries around the World
It noticeably has fewer servers
8. Ivacy VPN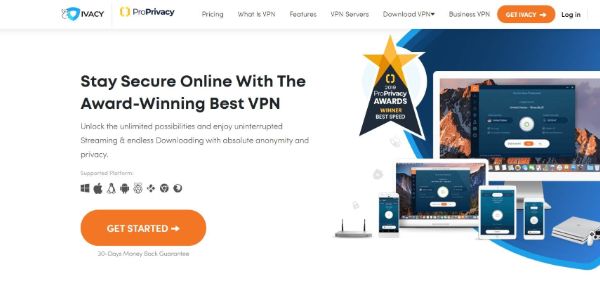 Ivacy VPN has over 200 servers across the World and stretching in over 50 countries. The VPN is compatible with several devices such as Mac, iOS, Windows, Android, and many others.
Also, it unblocks several websites in China, including Google, Facebook, WhatsApp, and other websites that you may want to access.
It offers up to 5 simultaneous connections with 0ne subscription and no data caps. The connections are not only stable but also features fast download speeds.
Interestingly, Ivacy is one of the cheapest VPNs you'll get available for China, and it has a low monthly price.
With Ivacy VPN, you have several encryption protocol options to switch, such as OpenVPN, PPTP, SSTP, AES-256, IKEv2, and L2TP.
Also, it doesn't track or even store the profile data, and with 256-bit encryption, the risk of your data being stolen is minimal. According to their policy page, there's no log or monitoring of your online activities.
Pros
Compatible with almost all devices
Intuitive interface
No logs policy
Unblocks nearly all websites in China with ease
Supports up to 5 simultaneous connections
Simple installation
Cheaply affordable with a low monthly price
Fast speeds
Several servers
A 7-day money-back guarantee
Cons
Inconsistent connection speeds
9. Buffered VPN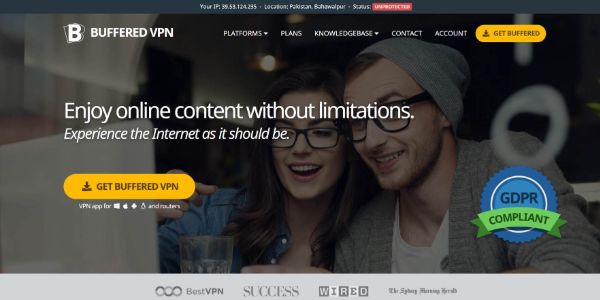 Buffered VPN is a promising VPN reported to perform excellently in China. It has apps available for Mac, Windows, iOS, Linux, Android, and Router, among others.
The VPN allows for up to 5 connections simultaneously, and speeds are second to none thanks to an array of servers spread in over 50 countries across the globe.
Buffered VPN also has 256-bit encryption as well as a standard kill switch, which makes it an excellent option when it comes to bypassing the Great Firewall of China.
The number of websites Buffered VPN is capable of unblocking is an excellent one as it can unblock any website, including Netflix, Facebook, and Google.
The customer service is also exceptional as you'll get what you seek almost instantly. The provider also offers a 30-day money-back guarantee.
Pros
Supports almost all devices
Unblocks several websites
Fast speeds
Easy to install
Allows P2P
Exceptional support
Refunds for up to 10 GB data
A 30-day money-back guarantee
Cons
No free version
No customizable features
Relatively expensive
10. Hotspot Shield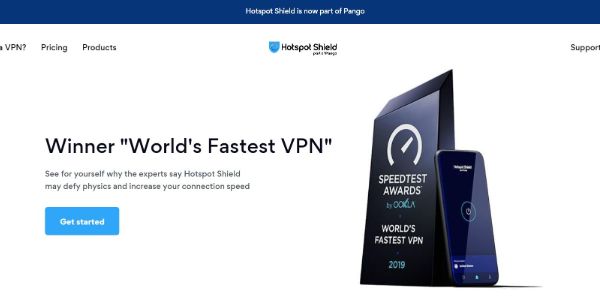 Hotspot Shield is an application designed to protect you from privacy and security threats when using your desktop or mobile phone while connected to either the internet or WIFI hotspots.
Also, it makes it impossible for snoopers to point out single users and spy on what they are browsing.
Recently, some organizations have resulted in using virtual offices, enabling their staff to access any information irrespective of where they are.
Nevertheless, this exposes the organization to hackers who could steal its confidential pieces of information.
On this note, Hotspot shield gives solutions to businesses around the World where their online activities are boosted to be fast, reliable, and secure to the user. Also, it offers freedom of getting into websites that are not within your locality.
Pros
Online security and privacy are guaranteed
Has a fast connection speed
Unlimited connections
It's cheap
Supports several devices like windows, android, Mac
Does not require an expert to configure
Automatic kill switch
Cons
It cannot be subscribed for many years
Can I bypass China's aggressive censorship without a VPN?
One thing is for sure, a VPN is the only tested and true way to bypass the Great Firewall of China.
However, still, there are some ways you can bypass it without a VPN (with limited success).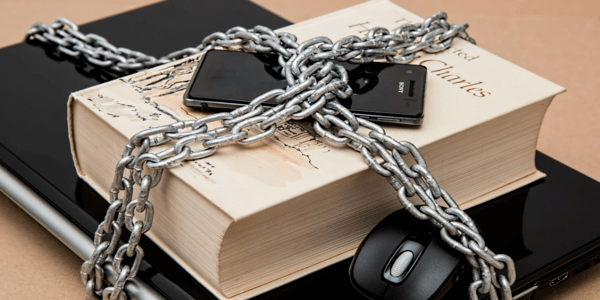 For instance, you can use Lantern, a free P2P internet circumvention software.
Also, Tor can be another solution when the advanced configuration is deployed. Therefore, you need to step up the bridges; otherwise, its exit points are easily identified and blocked by the Great Firewall.
Also, some free web proxies or SOCKS proxy applications can work, such as Shadowsocks. However, they don't provide the best speeds that you may be looking for. Surge for iOS can also work only that it's built for developers hence no intuitive UI.
The most important thing to note is that these other ways may work, but only with limited success as some are later identified and blocked.
The apps and sites blocked in China
China has arguably the strictest policies online as it blocks most foreign websites and apps. Thanks to the VPNs that you can unblock most of the sites.
The websites that are blocked in China include but are not limited to;
Twitter
Instagram
All of the google services such as Gmail, Google Drive, Google Translate, etc
Snapchat
YouTube
Facebook
Skype
WhatsApp
Dropbox
Vimeo
Sound cloud
It's important to note that sometimes the Firewall blocks some sites permanently while others are only blocked temporarily.
Also, some sites can be blocked in a given region and are not blocked in another, meaning that censorship is not uniform across the country.
VPNs that do not work in China
It's evident that the best China VPNs will get you past the Great Firewall of China, but then some VPNs don't work in China.
Some of them may be blocked, or others have issues with connectivity and maybe complex to work within China.
VPNs that work in China with a little hard work
IPVanish VPN – using this VPN in China will require that you connect manually to the servers, which is overwhelming as most IP addresses are blacklisted in China.
HideMyAss – this is another VPN that won't be recommended to use in China as it can't bypass the Great Firewall of China. In fact, they have said it themselves, and most of their servers are not working.
Another VPN that won't be recommended is Shadowsocks, as it requires advanced knowledge that is difficult to acquire.
VPN providers that do not work in China (didn't work during our tests as we rented a server in China to test VPNs)
AirVPN
Avast SecureLine VPN
BTGuard
CactusVPN
Cyberghost
Betternet
FrootVPN
Ironsocket
Mullvad
PandaPow
OneVPN
SurfEasy
VPN Book
Zenmate
Our go-to VPN for China
There are a good number of articles that work in China, but the one that is ahead of the rest is ExpressVPN. They have the easiest software to use in China, and the download speeds are second to none.
The bottom line
With the ever-increasing technology dependency, the internet is where everything seems to be moving.
Unfortunately, in China, you don't have the freedom to access the rich internet platforms due to not only the heavy restrictions on the sites you can access but also the apps you can download.
Therefore, having the best VPN for China, such as ExpressVPN, SurfSharkVPN, and NordVPN, will prove to be a God-sent opportunity to get past the Great Firewall of China.
Consequently, there is no way out for you while in countries like China, it's only with the top China VPN that you'll be able to surf the internet without worrying about the snooping government.
---
Featured Image via Pixabay.
About the author
Douglas Mabiria
Douglas is a freelance writer with over six years of experience in article and blog writing who has written in almost every industry with cybersecurity being his primary interest. Mabiria is an advocate for internet privacy, sustainable development, and a green environment. He is very social and enjoys trying new sports as well as implementing new ideas.