Boxing has fans all around the planet. It's one of the world's most popular sports. However, access to watch the best boxing fights online for free isn't always easy. The most wanted bouts, for instance, tend to be on a pay-per-view commercial model or limited to specific countries.
But we are here to give the boxing fans of the world excellent news: you can still see plenty of awesome fights regardless of your location. This article will tell you all about the best free boxing streaming websites, and we will also tell you about the best VPNs for the job.
Note: Despite being legal and allowed in some countries, these free streaming portals might be illegal in other countries. The videos on some unofficial streaming websites come from original servers hosting sports streams. Always check your country's laws before watching a specific stream, as this could constitute copyright infringement.
Also, as these streaming websites provide free streams, you can expect to see advertisements and pop-ups. We recommend using a VPN and trusted antivirus software when streaming to protect yourself from hackers, website operators, and your internet service provider.
The top 11 sites to watch boxing online today – The quick list
11 best boxing streaming websites for free in 2023 – Detailed list
Boxing matches are often locked behind paywalls. However, in some countries, unofficial sports streaming sites pop up that will allow you to see a stream for free.
Those free streaming platforms are legal in some jurisdictions but not in all of them. Some of those websites embed videos from servers that stream live sporting events. This practice is deemed to break copyright laws, so make sure your chosen stream is allowed in your jurisdiction.
1. Box.Live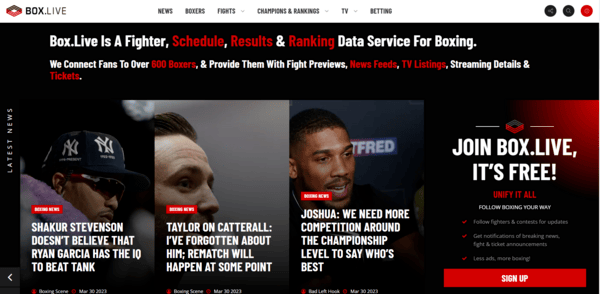 This popular free streaming platform offers excellent live fights, past fights, and matchups selection. The website also airs the most current news in boxing as well as schedules of upcoming events and results of previous matches.
Box.Live also has a dedicated section for championship and ranking where you can sort and view the live ranking of boxers worldwide based on the weight class of fighters. The site also features a gossip section where viewers discuss rumors about players and fights. The platform uses ads to make money, so you will see several ads when watching a boxing match. Fortunately, you can use a VPN with an ad blocker to improve your experience and stay safe online.
---
2. SportRAR.TV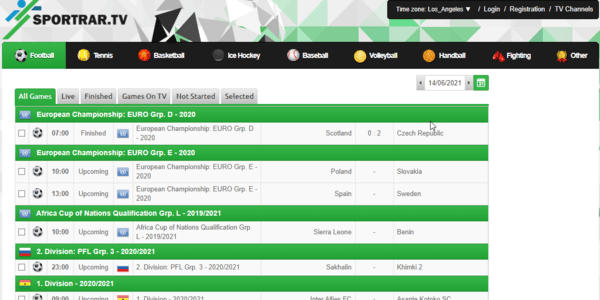 SportsRAR.TV is a free sports streaming website covering all major boxing events, including PPV and World title fights. The website also features archived fights and workouts from the past. It has a sleek, easy-to-use interface, and you can easily navigate and sort the match events of your choice. The website displays live streams from major sports channels with multiple links for each match. Although HD streams are not available, the quality of the videos is decent, and the website makes frequent updates. Expect frequent ad interruptions when using this website, but you can limit the Ads with a VPN.
---
3. Watch Wrestling