MoviesJoy is a popular free video-directory platform that allows you to stream various content. It ranges from the latest blockbusters to old classics to keep you entertained. This diversity of content is what makes this platform a favorite for binge-watchers.
However, unfortunately, almost all the titles are copyrighted. That's why the site is banned in some countries like India. This restriction, as expected, draws consumers' attention to the numerous alternative websites featuring similar content.
But is it safe to stream MoviesJoy, and are there any reliable alternatives to the platform? Read on to find out.
Disclaimer: This is an informational article and does not condone piracy. Also, here at PrivacySavvy, we are not lawyers, so this is not legal advice. In addition, every country has its own copyright laws that may change constantly, so be careful.
Is it illegal to use MoviesJoy?
So, almost everyone knows what MoviesJoy is. Because it's a popular free streaming platform. However, its legality is a big question that has got many confused.
The legality of using MoviesJoy depends on the laws in your country. That is because every country has its stand on piracy. Most countries prohibit downloading (and by extension, streaming) copyrighted content to protect intellectual property. However, some countries permit it entirely or for personal use.
Therefore, you should first check your local laws or consult an expert on the matter before using MoviesJoy to avoid getting into trouble. The table below shows different countries' stand on piracy.
| | |
| --- | --- |
| Countries | View on piracy |
| Spain, Poland, Switzerland | Piracy is legal (for personal use). |
| China, France, Finland, Australia, Germany, Great Britain, Latvia, Italy, Russia, Portugal, United States, South Africa | Piracy is strictly prohibited. |
| Canada, Brazil, Argentina, Denmark, Egypt, Colombia, Czech Republic, Iran, Israel, India, Greece, Philippines, Netherlands, Mexico, Uruguay, Slovakia, Slovenia, Romania, Singapore | Piracy is illegal, but there isn't active prosecution. |
Streaming copyrighted content is almost the same as downloading it. When streaming something online, it first downloads for you to watch it in real-time. The file is then cleared from your cache after leaving the site. However, this doesn't change the fact that you had already downloaded the copyrighted content, which is a grave mistake in some countries.
Consequences of using MoviesJoy
Besides differing piracy rules, countries also administer different punishments to the lawbreakers. For example, you might get a warning in some countries but get hefty fines or even be imprisoned in others if caught downloading copyrighted material. For example, you might get a heavy fine (sometimes it can be expensive) if there is a crackdown on copyright infringement in Germany.
Nonetheless, it is challenging to get prosecuted for streaming copyrighted content because no file will remain on your computer after watching. However, you can easily be tracked through your IP address.
A sigh of relief as most countries don't prosecute people for streaming illegal content. Usually, the authorities target the distributors instead of the individual viewers.
How to stream MoviesJoy securely
If MoviesJoy is banned in your country, we don't encourage you to use it to be on the safe side. However, the site is still allowed in some countries, even for personal use.
Whatever the case, you need protection from malware and prying eyes when streaming online. So, install reliable antivirus software to protect your device and a reputable VPN to safeguard your data and internet traffic.
The best thing about a virtual private network (VPN) is that it will keep you anonymous online. Hence, no one can see that you are using MoviesJoy, but this does not allow you to download or stream copyrighted content. As mentioned earlier, check the local laws or consult an expert to avoid getting into trouble.
Use the following steps to stream MoviesJoy securely with a VPN:
Subscribe to a trustworthy VPN service like ExpressVPN.
Download the fitting app for your device.
Connect to any server location.
Open MoviesJoy and start streaming.
Risks of using MoviesJoy?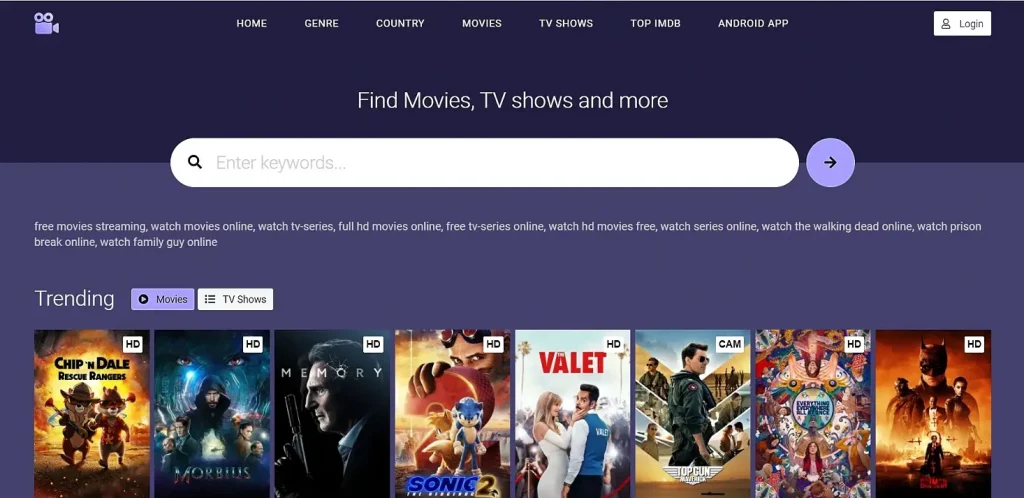 Previously, we have looked at the legality of such sites and the consequences of breaking the copyright laws in different countries. In this section, we will highlight the risks of using MoviesJoy.
Because of its popularity, MoviesJoy has many copies, also known as mirrors. They look the same as the original site and are hosted by third parties, which means zero quality control. The owner of the mirror site can be a malicious actor with intentions to inject malware on your device or track your data.
Be cautious with mirrors
Unfortunately, many mirror sites are associated with MoviesJoy, and it is difficult to identify legitimate ones. Also, it is almost impossible for authorities to control them because they come back online with a different name when taken down. So, the best way to stay safe is by using VPN and antivirus tools or staying away from MoviesJoy or similar sites altogether.
---
Can a VPN keep you safe on MoviesJoy?
As you can see above, using a free movie streaming site risks infecting your device with malware or losing your data. But is there anything you can do to ensure a smooth streaming experience on MoviesJoy?
You can employ the necessary measures to safeguard your devices and networks from invasion. But, as we said before, a VPN is your best bet to keep you safe when streaming on MoviesJoy.
Most premium VPNs use military-grade AES 256-bit encryption, preventing any third party viewing your data. It is a robust algorithm such that anyone that manages to intercept your traffic won't be able to decipher it.
Moreover, some VPN services like NordVPN and Surfshark have effective malware and ad blockers. It is a good thing as you will be able to stream content on MoviesJoy without interruptions. Also, it will block fake streaming sites that host malware.
Another great VPN feature is the kill switch that will help maintain your anonymity online. If the VPN connection drops, it will cut your internet traffic to prevent IP leaks.
So, the combination of an ad blocker and kill switch features will keep you safe when streaming on MoviesJoy or other similar sites. What's more, a VPN will enable you to bypass geo-restrictions of subscription-based streaming services like Netflix.
Can I use a free VPN to watch MoviesJoy?
Yes, but we discourage you from using a free VPN to watch MoviesJoy for several reasons.
First of all, many free VPNs don't employ solid encryption or other essential security features to protect your connections. So, you are likely to get caught if you accidentally download a copyrighted file.
Secondly, free VPNs don't have the resources to operate many servers. So, their servers are usually congested, causing slow speed, which will lead to buffering and lags when streaming on MoviesJoy.
Thirdly, many free VPNs don't have a no-logs policy. That means they will likely store your identifiable information, which may reveal your identity and location. In addition, some providers have been caught stealing and selling users' logs to third parties.
Finally, another way free VPNs make money is by showing ads. So, you will be bombarded with advertisements, which can be highly annoying when streaming.
Therefore, you should use the premium services we have proposed below instead of free VPNs. They offer advanced features and sufficient security measures to keep you safe. Furthermore, their long-term plans are affordable, and you can also take advantage of the 30-day money-back guarantee.
Best VPNs to stream MoviesJoy safely
1. ExpressVPN

Best all-around VPN to stream on MoviesJoy safely. It has blazing-fast servers, military-grade encryption, an automatic kill switch, and more to ensure best-possible privacy while streaming.

3,000 VPN servers scattered in over 90 countries

Solid AES-256-bit encryption

Web leak protection for all browsers

Has torrenting optimized servers

Kill switch

Strict zero-logs policy

Up to 5 simultaneous devices per account

No questions asked, 30-days money-back guarantee
Pros
Fast speeds

Stealthy security

Functional with all major video streaming websites
ExpressVPN is our top recommendation VPN for MoviesJoy. It is famous for its blazing-fast servers that will enable you to watch MoviesJoy buffer-free. There is also unlimited bandwidth and data for smooth streaming.
The service works well with all the major platforms like Windows, Linux, Android, macOS, iOS, and various router brands. Hence, it enables you to stream MoviesJoy on multiple devices like your smartphone, computer, or TV. Thankfully, all the apps are user-friendly, even if it is your first time using a VPN.
It has a decent-sized network of more than 3000 servers in 94 countries spread across 160 locations. In addition, ExpressVPN has impressive unblocking capabilities, so you can evade geo-blocks and access any content you want.
No one will see that you are using MoviesJoy since ExpressVPN uses AES 256-bit encryption. It is a robust algorithm that is almost impenetrable. Also, it has DNS leak protection, a kill switch, and perfect forward secrecy to ensure maximum security.
The provider follows a 100% no-logs policy, so it won't store any information that can disclose your identity or location. Also, it uses TrustedServer technology that prevents the servers from saving your data after ending your sessions.
---
2. NordVPN

Top VPN provider. Ensures keeping you anonymous while streaming on MovieJoy. Also, boasts P2P optimized servers and has an effective kill switch.

5427 servers in more over 60 countries 

Boasts torrenting optimized nodes

Top-notch AES-256-bit encryption

Zero-logging

Has kill switch feature

Allows 6 devices simultaneously

Web protection

Multi-Hop mode (double VPN)

30-days of money-back guarantee
Pros
Admirable streaming speeds

Quick connect feature

Premium features like malware protection, double VPN, ad blocker, and more
Cons
Fewer locations are available compared to other top options
NordVPN is another reputable VPN service for MoviesJoy. Its servers produce sufficient speed to watch MoviesJoy in high definition.
The best part is that the server network is massive, with over 5400 servers in 60 countries. It enables you to get various IP addresses to unblock content in whatever country you want.
Unlike ExpressVPN, NordVPN has an effective ad and malware blocker known as CyberSec. It will come in handy when using free streaming sites like MoviesJoy by blocking the ads and protecting you from malware.
The VPN is also very serious about your security. It uses industry-standard AES 256-bit encryption, kill switch, and DNS leak protection to keep you safe when using MoviesJoy. Also, the double VPN feature will run your connection through two servers for utmost anonymity.
In terms of privacy, the provider adheres to a strict zero-logs policy and does not collect private information like IP addresses. Also, its servers are RAM-based, so they don't save usable files that can compromise your privacy.
Thankfully, it supports all major operating systems like Android, Windows, Linux, iOS, and macOS. It is also compatible with various routers to enable you to connect devices that don't support VPNs like PS consoles.
---
Popular reasons why users use a VPN with MoviesJoy
Avoid throttling
Most internet service providers (ISPs) enforce bandwidth throttling to control data usage, which can cause slow speed. However, a VPN will encrypt your traffic, preventing your ISP from seeing that you are streaming content online. Hence, you will get fast connections and stream videos without buffering.
---
Protection from malicious mirror sites
As mentioned earlier, MoviesJoy has a lot of mirror sites. Some could link back to malicious actors that operate them with intentions to harvest your data or take over your device.
---
Evade geo-restrictions
Some movies may not be accessible in your country. But you can use a VPN to avoid the geo-restrictions by altering your location. Thankfully, most premium VPNs have servers in different countries. When you connect to any server, it will change your IP address to that of the country where the server is located. So, the websites you visit will see your traffic originating from the server and not your device.
---
Block ads
Most free streaming services show ads to earn revenue. Fortunately, you can choose a VPN with an inbuilt adblocker like NordVPN to stop the ads. It will enable you to stream content smoothly without interruptions.
---
Legal MoviesJoy alternatives you can stream
Sadly, most free streaming services peddle copyrighted material that many countries ban. The best way to avoid getting on the wrong side of the law is by using subscription-based streaming services. However, you will have to pay a small fee to access the vast content database.
Below are some of the famous legal alternatives to MoviesJoy.
| | |
| --- | --- |
| Streaming websites | Description |
| Netflix | It is the biggest streaming service regarding the number of users and the content it hosts. Besides original movies, TV series, and documentaries, the platform also broadcasts popular titles from other networks like the Peaky Blinders. It is available worldwide, but you can use a VPN to access other countries' libraries. |
| Hulu | Hulu is an excellent platform for streaming live sporting events like NBA, NFL, MLB, etc. It also hosts popular titles such as Mrs. America, The Killing, Under the Banner of Heaven, etc. However, it is only available in the US, Puerto Rico, and Japan, so you need a VPN if you live elsewhere. |
| Amazon Prime Video | Amazon Prime Video is now available worldwide like Netflix. However, it is cheaper but has a lesser database of content. |
| BBC iPlayer | This streaming service is only available in the UK, so you need a VPN to stream its content from other countries. However, it offers catch-up and live TV of notable BBC channels like BBC One, BBC Two, Radio 1, BBC News, etc. Popular titles include Doctor Who, Death in Paradise, Killing Eve, The Terror, and many more. |
| Disney Plus | Launched in late 2019, it quickly became popular, competing with established services like Netflix. It hosts Disney and Pixar libraries alongside Star War movies, new original TV shows, Marvel films, and National Geographic content. |
| HBO Max | It is a well-designed streaming service that hosts popular movies and TV shows. It has HBO's entire library, every Studio Ghibli film, DC universe titles, Rick and Morty, Friends, Sesame Street, etc. |
| Paramount Plus | It broadcasts live news and sporting events. Besides, the platform hosts on-demand movies and TV shows, including originals. Also, it leans on parent company channels like MTV, CBS, BET, Nickelodeon, Comedy Central, and Paramount Pictures. |
It is important to note that most of the above alternatives apply geo-blocking. It means that you will have to use a VPN to change your location and access them from anywhere.
Conclusion
Free streaming services like MoviesJoy are enticing because they don't require you to pay anything to watch popular titles. However, they come with certain risks that you must know. For example, they host copyrighted content, illegal in most countries. Also, they contain malware that comes in the form of ads which can infect your device or cause a data breach. So, we recommend you use a reliable VPN like ExpressVPN to be on the safer side.
FAQs
It depends on where you use it. Some countries have strict copyright laws, and you can get into trouble if caught using MoviesJoy. Many countries, like India, have also banned the site. 
Yes, the original MoviesJoy site is secure to use. However, it has a lot of mirror sites that may contain malware or are designed to harvest your data. Therefore, we recommend using a VPN to encrypt your traffic when using free streaming services. 
The best way to avoid getting into trouble for streaming copyrighted content is by using a subscription-based website like Netflix. Other popular alternatives include Disney +, Hulu, HBO Max, BBC iPlayer, etc. 
It will also depend on your country's stance on piracy. Some countries strictly prohibit it, while others allow it for personal use. In countries where downloading copyrighted content is not permitted, the consequences range from hefty fines to imprisonment. 
Yes, since the site does not employ sufficient measures to guard against hackers. Also, there are many clone versions of the platform, and opening the wrong one can infect your device with malware.