14 best ad blockers to avoid annoying ads in 2020 (all secure, majority free)
Enough is enough, it is time to say goodbye to all the irritating ads online. How can I do that? With these best ad blockers. Simple.
If you wish to escape being infected by spyware ads, reduce the clutter on sites you visit, and secure your internet privacy, the best ad blockers covered in this post are fruits from heaven for you.
We live in a world where we are constantly bombarded with content, often unwanted.
When you access the vast majority of websites on the internet, you will find a ton of advertising content wherever you go, either in the banner at the top, within the content itself, or in the sidebars.
Just think of all the things you feel in your head while walking through your local city and all you can see are advertisements everywhere, telling you what you should buy or consume.
That all put negative effects on our mental states, especially if the ads one sees are negative ones.
While you can't block the ads you see in real life, you can control the ads you see while on the internet.
Online ads use much more bandwidth than ever, which causes web pages to load much slower, and even cover the content you are trying to see.
Or worse, these days, ads try to trick you into clicking the "fake "download online.
Another concern is the increased privacy and online behavior monitoring.
That is why more and more people use adblocking software.
Advertisements blockers are one of the finest ways to secure your online privacy, reduce website clutter, and avoid malware ads. In this article, we will look at various advertisements blocker options available.
This list of top free ad blockers boasts a mixture of tested (and only highly-effective) tools for Mozilla Firefox, Google Chrome, Safari, and more.
But let me first tell you in detail why you should block online adverts?
Confidentiality: From a confidentiality point of view, online advertising is a nightmare.
Why? I hear you ask.
The short answer is because advertisements are usually delivered via third-party domains and contain complicated tracking.
The ad tracking software creates a unique user profile that includes your interests, location, browsing activity, age, family history, friends, etc.
Depending on your consumer profile, targeted ads will appear to you through the advertising networks of the sites you visit.
In other words, advertisements are like surveillance cameras that continuously violate your confidentiality and privacy.
Performance: Advertisements can compromise the performance of your device by affecting processor consumption and bandwidth usage.
Research has revealed that advertisements can consume up to 79% of your mobile bandwidth.
By using an insubstantial and flexible advertisement blocker, you can dramatically improve page loading speed.
Security: The development of malicious advertisements is truly shocking because your electronic devices can get harmed by merely visiting a website or loading a webpage with advertisements, without even clicking.
Advertisements malware (also known as malvertising) can exploit security holes and can even take control of your devices.
The overview of adblockers' types
Advertising blockers (also called "adblocks") are computer programs that remove ads on the Internet to improve the browsing experience.
Advertisements blockers can prevent malware from infecting your device or browser alongside protecting your privacy. There are different types of advertisement blockers. Below are a few of them:
VPN with dedicated Adblockers

: Several VPN services include apps that defend you from adware. As VPNs can guard you against several types of tracking or monitoring, the adware will also have a tough time collecting data about you.

Extensions

: You can save your browser from adware by selecting one of the trusted third-party browser extensions. There are paid and free apps that work with the majority web browsers.

Browsers

: Many web browsers incorporate adblocking software, which allows you to avoid adware effortlessly. Some are relatively effective, but their functionality is generally limited as compared to a third-party blocker.

Router

: A virtual router can be configured with a DNS filter which automatically blocks requests from servers that deploy tracking services or adware.
You can also combine several types of Adblockers for optimal protection. Generally, Advertising blockers create two types of filters:
A "blacklist" for annoying ads that the user does not want to appear. Such adverts are those that occupy the entire screen and take time to close — or those that mimic other buttons and trick users into clicking by mistake.
A "white list" in which the user can include the ads that he wants to appear during browsing. In this way, you can continue to reward your favorite pages financed through advertising and advertisers who create non-invasive formats.
Adblocker scams to avoid
Thousands of internet users have been tricked into downloading fake adblocking extensions to date, so you should watch out for Adblocker scams before going with any add-on.
On top of the invasion of your privacy, fake Adblockers will secretly collect data about your browsing habits and may even change the behavior of your browser.
They will sometimes try to trick you into using the same or similar name as a reputable Adblocker. Therefore, make sure you are on the correct page before downloading it.
Here are some of the names used by fake extensions in the past:
Adblock Pro
HD for YouTube
Adblock Plus
HD for YouTube
uBlock Plus
Webutation
Superblock Adblocker
AdRemover for Google Chrome
Top 14 best ad blockers
Are you fed up with the advertisements hindering you over the internet?
The good news is that blocking advertisements, which was once an art reserved for the most tech-savvy guys, has become easier.
How? I hear you ask.
All thanks to the top-notch ad blocking extensions and services available today.
Without further ado, here are 15 best ad blockers (most of these are free) to avoid popups, remove ads, and protect your privacy online:
1. Adblock Plus (free)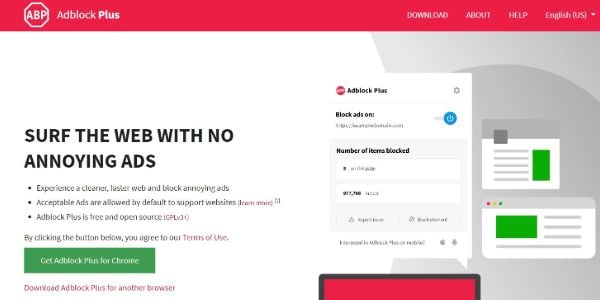 Adblock Plus is the most popular free Adblocker. It blocks only those ads that are considered to be invasive or potentially malicious. This means that you will still come across certain advertisements unless you change the settings.
ADP works on Chrome, Internet Explorer, Firefox, Safari, Opera, Edge (still in beta, though), and Yandex Browser.
2. Adguard AdBlocker (paid, Offers trial)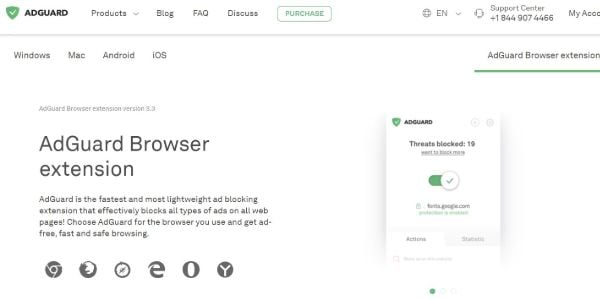 If you used and liked AdBlock Plus to block advertising, Adguard AdBlocker might also do the trick for you.
The user interface of this tool is slightly different, but the adblocking functionality is similarly effective.
This software is currently available for Mac, Android, and Windows; it blocks all types of advertising content that may appear on different websites.
Notably, this is a premium adblocker. However, you get 14 days to try for free so you can get to know if it is worth upgrading.
The premium version of Adguard Adblocker costs around $25 for a year subscription.
3. AdLock (free + paid versions)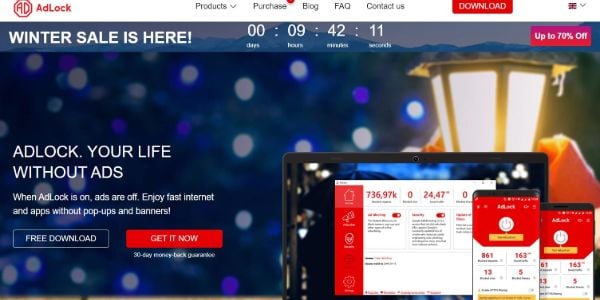 The AdLock extension is a free Chrome ad blocker, which never asks users to donate or purchase against providing them fast and secure web surfing.
Not only Google Chrome, but it is also unconditionally free for Safari as well.
AdLock also works on Android and Windows for blocking ads in all of your applications, but you'd need to purchase it for those devices. Luckily, that costs $7.61 for the whole year.
Understandably, paid versions that work on Android and Windows devices offer more features than the free extensions offered by the company for Chrome and Safari browsers.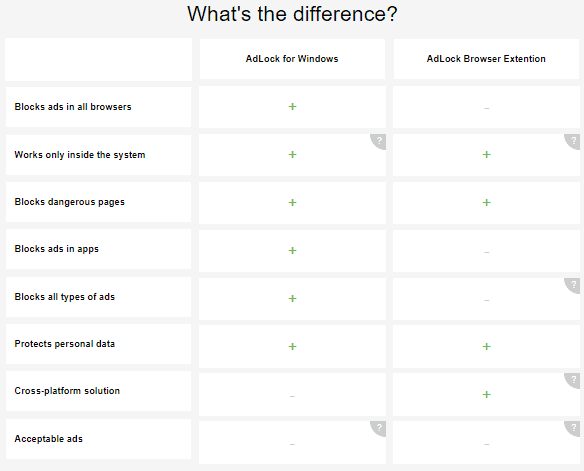 All in all, AdLock is an extremely aggressive and powerful ad-blocking tool that boasts some advanced features, too.
One such advanced feature is, with AdLock you can whitelist a website by going to "Settings -> Whitelist." You can also add some additional filtering parameters if you wish.
4. NoScript (free)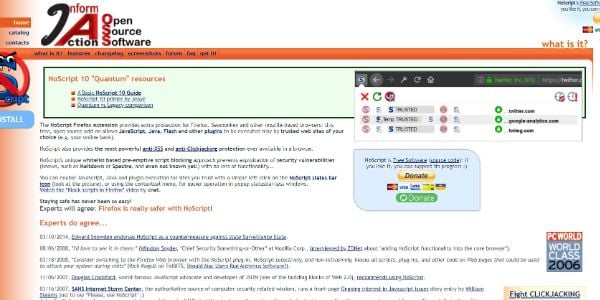 NoScript is a Firefox advertisement blocker that blocks script (as the name suggests).
It helps avoid every type of scripts from loading on the websites you visit: Java, Javascript, Flash, etc.
Also, you can allow some types of scripts for the sites you trust. All in all, if you are a Firefox user, NoScript will make your browser safer to use.
One con that I noticed while testing this free ad blocker is, the service is a bit heavy by default. I was expecting it to be very lightweight, but it is little on the heavy side.
5. Poper Blocker (free)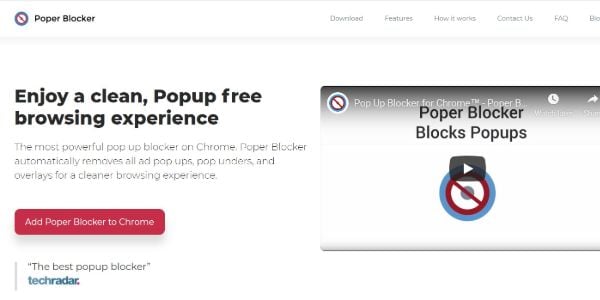 As the name suggests, Poper Blocker blocks pop-ups and common overlays on the sites you visit. With this totally free ad blocker, you only need to right-click on overlays to get rid of them.
Poper Blocker detects the pop-ups on all the websites you visit automatically and blocks them without any work required by you. The addon sends a notification in your browser every time it blocks a pop-up.
The extension also allows you to whitelist any website you wish. For that, you only need to hit the "allow popups" button while visiting your preferred website.
It is available only for Chrome. It turns out that there is a Firefox version of this extension as well, but that's developed by a different company.
Only the name of both extensions is the same. If you are on Firefox, it is safe to try that one too (that also is a good one).
6. Adway (free, open source)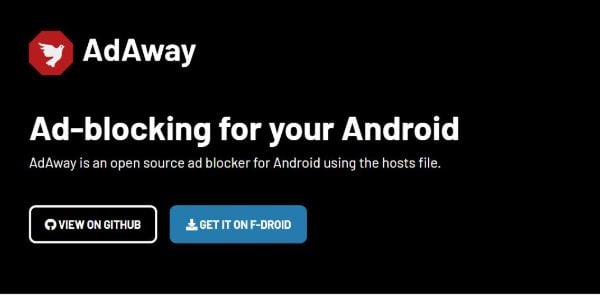 AdAway is a simple Android ad blocker but it only works with rooted devices.
Although it is a simple application, still, it boasts some advanced features. With AdWay Custom Sources you can add your very own sources (of host files). It also allows users to apply custom rules where you can add exceptions to your blocklist, whitelist, and redirection rules.
Everything about this free Android adblocker is great except one thing, it requires users to have their Android device rooted.
That is one thing I would never recommend you to do, so this single point makes AdWay a big no for me.
But I still wanted to list it as it's a cool ad blocker for Android devices and maybe if someone has got their Android rooted already for some other reasons, they might want to use it.
7. Adblock (free)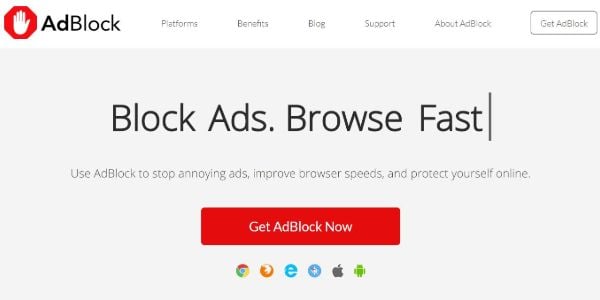 This top-notch ad blocker works on Chrome, Microsoft Edge, Firefox, iOS, and Android devices.
On Google Play and Apple Store, Adblock is currently one of the most downloaded free ad blockers by users — and considered one of the best to block any type of advertisement.
It is worth noting that AdBlock does not have any relationship with AdBlock Plus despite the substantial resemblance to its name.
AdBlock offers a wide range of features, where users can decide from the different options either to use the default filters, subscribe to others, or create their very own, among others.
That all will allow you to restrict the appearance of the ads and surf the internet faster; most importantly, in a much faster way.
Not only this highly-trusted ad-blocking tool allows you to block annoying ads (including pop-ups), it also blocks autoplay video and audio ads that we normally see on YouTube, Twitch, and Facebook.
8. uBlock-Origin (free)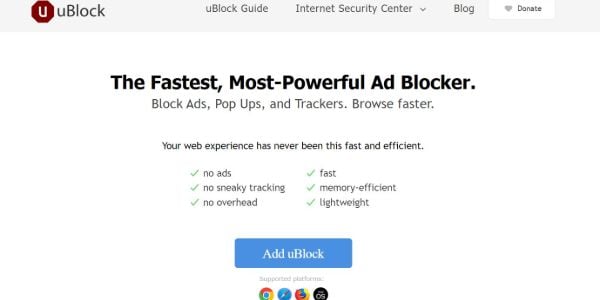 This extension is available for Chrome, Firefox, Safari, and Mac (the iOS) — and is famous as the most lightweight adblocker. Amid my tests, I also agree that it occupies a minimum use of both the processor and the computer memory.
So I do not wonder anymore why it is one of the most downloaded adblocker (all because of its great performance).
uBlock has a large number of filters where you can edit them yourself to block the type of content you want, whether from the banner, video ads, pop-ups, among others.
9. Adblocker Ultimate (free + paid versions)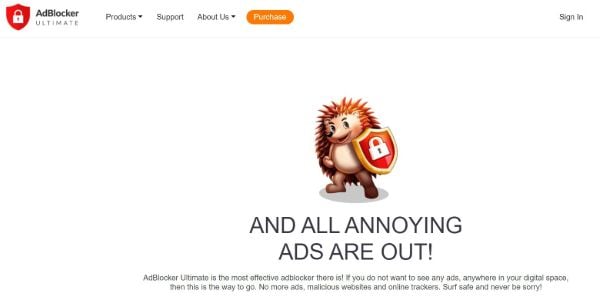 Staying true to its name, Adblocker Ultimate is considered as one of the best and most powerful ad-blocker available today.
It is compatible with virtually all internet browsers and also has strict policies.
As for its functionality, it is one of the strictest (in terms of aggressive ad-blocking technology) and is preferred by most users since it does not allow any type of advertisement to go through.
It ensures that you will not encounter any type of advertising content that can cause your browsing experience to be slower.
With this program, you can also avoid your activities from getting tracked online as it enables users to not keep a browsing history.
That indeed is a good option for those who do not want their movements on the internet to be seen (for any reason).
But, unlike many other blockers, AdBlocker Ultimate does not offer the possibility of allowing certain types of ads to appear as if most of the other programs (of this type) do.
10. Ghostery (free)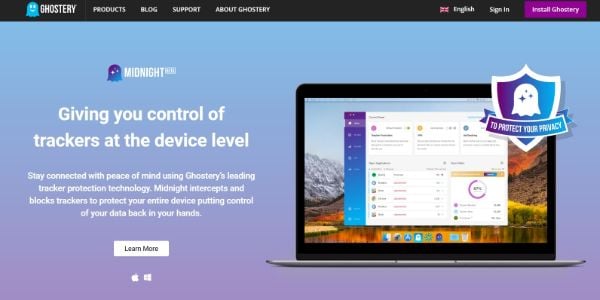 It is yet another extension built with privacy in mind. Ghostery will help you escape (I mean block) any type of ads on the internet including pop-ups, other addons, banners, flash, among others.
Ghostery is was launched in 2017, and since then, it has captured a large percentage of downloads, which is only because of the quality service it offers for free. This extension is available for Edge, Opera, Firefox, Cliqz, and Chrome.
11. Ad Muncher (free)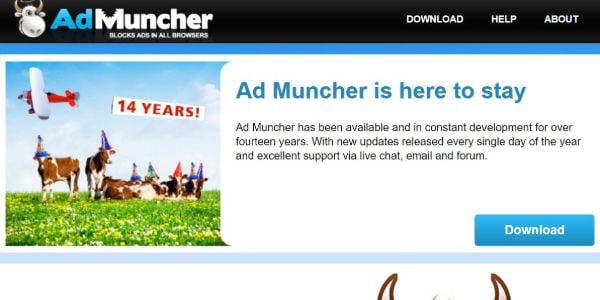 Currently, this ad blocker is competing with giants like AdBlock Plus for the top position as far as the best free ad blockers are concerned.
It allows you to block ads on virtually all the browsers out there. And the best part is, it is free (yet an influence-free ad blocker).
Unlike most of the other advert blockers, Ad Muncher is a software that you need to install directly on the device (it is not an extension but an app).
With Ad Muncher, you can block advertisements in almost all of the web browsers, including Firefox, Internet Explorer, Google Chrome, Opera, Flock, Safari, Netscape, Avant Browser, and Maxthon.
This software has several filters, which you can deploy at your convenience, where you can filter certain addresses, java, background music, plugins, and wallpapers, among other contents of any web page.
12. 1Blocker (free)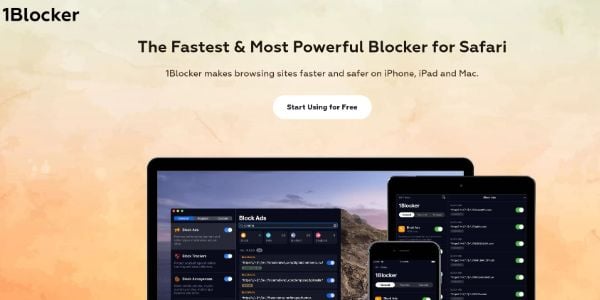 This tool is designed to protect iOS devices from all the nasty advertisements and third-party tracking over the internet.
1Blocker is available only for iOS machines, however, it has been updated and for Mac (Safari 10) recently.
Depending on your Apple device, you can download (and start using) it either from the normal App Store or Mac App Store for completely free.
13. HTTPS-Everywhere (free)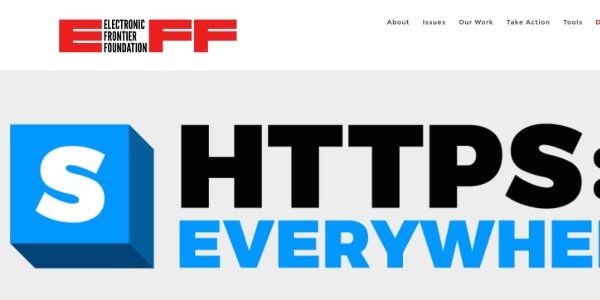 This is another top ad-blocking option that will help you block adverts that appears in different web browsers.
It is open-source and is available for Chrome, Opera, and Firefox.
Staying true to its name, the purpose of HTTPs Anywhere is to force websites into using the HTTPS connection as that is way more secure than using HTTP.
14. Privacy Badger (free)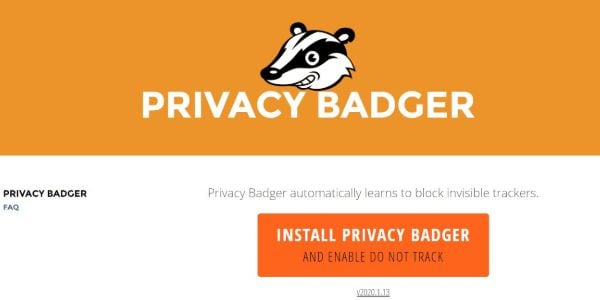 This tool is developed by the very same non-profit parent organization, Electronic Frontier Foundation (EFF), that has built the above-mentioned HTTPS Everywhere extension.
Privacy Badger is considered one of the best tools when it comes to maintaining your privacy as a whole alongside avoiding any type of ads online.
It is available for Firefox, Chrome, Opera, and Android (for that you will need to download Firefox on Android).
On top of enabling you to block unwanted ads, it automatically detects the invisible trackers and blocks them.
Websites' shady adverts quality and adblockers
No matter what browser you use, pop-up ads are one of the biggest inconveniences when you're on the internet.
They can appear when you least expect it, and there are many out there that try to trick you — making you believe that they are part of the website you are visiting.
Usually, pop-up ads seem innocent marketing, but their true intention is malicious. Pop-ups may be responsible, among other things, for:
Deploying spyware or malware
Tracking your activities online
Capturing your data
All this is done without clicking on an ad since malicious content gets installed while the page loads, that is why you should only be visiting the known sites.
The malvertising has increased due to the increase in popularity and frequency of use of laptops, computers, phones, tablets, etc.
The bigger there is userbase, the more aggressive techniques are going to be used by scammers to make most of it. Simple.
In 2017, Google removed 112 million ads that wanted to install malicious software, viruses, and trackers to record users' activities online.
The number and frequency of these ads increase every year, and we are into 2020, you can imagine how dangerous the ads can be now.
In February 2018, Google added its very own advertisement blocker in the Chrome browser to avoid "sub-standard advertisement."
But it made sure that all the Google-sourced advertisement from AdSense is not affected by the tweak in question.
Let's face it, advertisement income is the main source of profit for several websites.
The use of advertisement blockers resulted in an expected loss of 15.8 billion dollars for websites in the last couple of years.
Browsers with built-in ad-block
So, you are on an agreement to install extensions to block ads on your phone and computer? That is good.
But, try the built-in adblocker that is already included in your browser, too. The best part – it is free!
Browsers with built-in ad-blockers (such as Google Chrome) have integrated technology that blocks ads that help you navigate faster.
Such a web browser will help you save time while browsing, as it loads pages up to 40% faster.
On top of avoiding annoying ads, if you have a limited data plan, blocking ads while browsing will allow you to save data.
And when an ad blocker is built-in within a browser already, the surfing speed increases up to 80% compared to other browsers that do not have an adblocker, and up to 45% compared to browsers that have an adblocking extension installed.
Final thoughts
In this age, adblockers have become the consumers' best response to invasive advertisements that spoil their browsing experience and make web surfing complicated.
So much that since 2014, the use of these programs has grown by over 90%.
If you understand what an ad blocker is and the critical role it plays in the panorama and operation of internet browsing, you might already have settled for one that best suits your needs from the best ad blockers listed above.
There is nothing that annoys internet users more than intrusive ads right in front of the content they are consuming. You finally are free from such trouble and ready to say goodbye to all the irritating ads online (once and for all).
For the optimum results and better online privacy, you can try combining multiple top ad blockers (I use Adblock Plus and Privacy Badger together with a VPN).
If you care a little extra about your internet safety, you can also turn to secure browsers so that you stay protected online alongside succeeding in avoiding malicious adware.
FAQs
How do I block an ad?
If you have a quality ad blocker installed (such as Adblocker Ultimate), it will block all the ads on your visited page automatically.
Can I support my favorite portals while surfing or downloading but having adverts blocked on it with a tool?
No. The majority of advertisers have a pay per click system, so if you hide the ads, you stop supporting the website.
What is the best ads blocker for Safari?
AdBlock Plus is the most useful ads blocker software for Safari.
What is the best ads blocker for Firefox?
AdBlock and AdBlock Plus are the best browser adblocking extensions for Firefox.
How to block ads in apps?
You can download NordVPN, AdBlock Plus or AdLock .apk for Android phones and install following the instructions. But in the case of an iPhone there is no way to block in-app ads except using a network advertisement blocking device.
What is the best ads blocker for Opera?
Opera has default advertisement blocking feature so, there's no need for any extension, just switch it on in your browser settings.
How to block advertisements on Youtube?
Download a desktop application or install a browser extension. One free YouTube ads blocker that we can recommend is AdBlock (search on Chrome extensions page).
How to block advertisements on the phone?
Depending on your phone, you can block ads on it either by using an ad blocking software such as AdBlock or by simply tweaking your smartphone's security settings.
How to block advertisements on Facebook?
You can do it with Social Network Adblocker or AdBlock extension easily.
---
Featured Image via Pixabay.
About the author
Ali Qamar
Ali Qamar is a seasoned, versatile writer. He is a geek. He is crazy (and competent) about cybersecurity, online privacy, and technology. Ali is naturally attracted to transforming things.