A Virtual Private Network (VPN) is a valuable tool to maintain your online security and privacy. However, even the most robust VPN can fail at ensuring complete privacy due to WebRTC leaks. That's where you need to disable WebRTC to maintain your online anonymity.
The primary function that a VPN performs to achieve online privacy is hiding your actual IP address. However, websites can take advantage of WebRTC technology to make a direct connection between your browser and their servers. These connections can potentially leak your IP address, thus rendering your VPN useless. Consequently, third parties such as hackers and advertisers can access your location, ISP, and device if they get your IP address.
WebRTC is intended to work on all browsers, so it doesn't matter what you are using. Fortunately, it is effortless to disable it.
Wondering how to do that? Don't worry. This article explains the different ways to deactivate WebRTC so that you can stay private online. Read on also to find out how a trustworthy VPN such as NordVPN will keep you safe.
What is WebRTC?
If your browser has a blatant vulnerability, it may be because of WebRTC. The best way to solve the issue is to deactivate it. However, there are times you would want to undo the process and activate it again. Especially if you need to distribute real-time video/audio through the internet.
WebRTC stands for real-time web communication. It is an HTML5 specification that allows you to add real-time media communications between devices and browsers.
This technology has established itself as Skype's primary competitor. WebRTC's main advantage is that it is compatible with a browser that uses JavaScript programming language. Therefore, you won't need to download or install Skype or other third-party applications for communication.
However, there is a downside you need to know about WebRTC. It can easily expose your IP address even if you have a direct video/audio connection.
WebRTC will put you at risk, provided that it is active on your browser. However, you can minimize the risk by using a reliable VPN like NordVPN. Nonetheless, there might remain some possibilities of IP leaks. So, you should ideally disable WebRTC entirely.
Disable WebRTC on your Chrome desktop browser
Google and its development team have actively promoted WebRTC's open-source code. That is why it's difficult to disable it in the Chrome settings. However, you can still easily remove it with an add-on.
Begin by going to the Chrome web store. To do it, open the link https://chrome.google.com/webstore/ or type the URL in your browser. Then, type 'WebRTC Control' on the search bar, and the browser extension will appear first.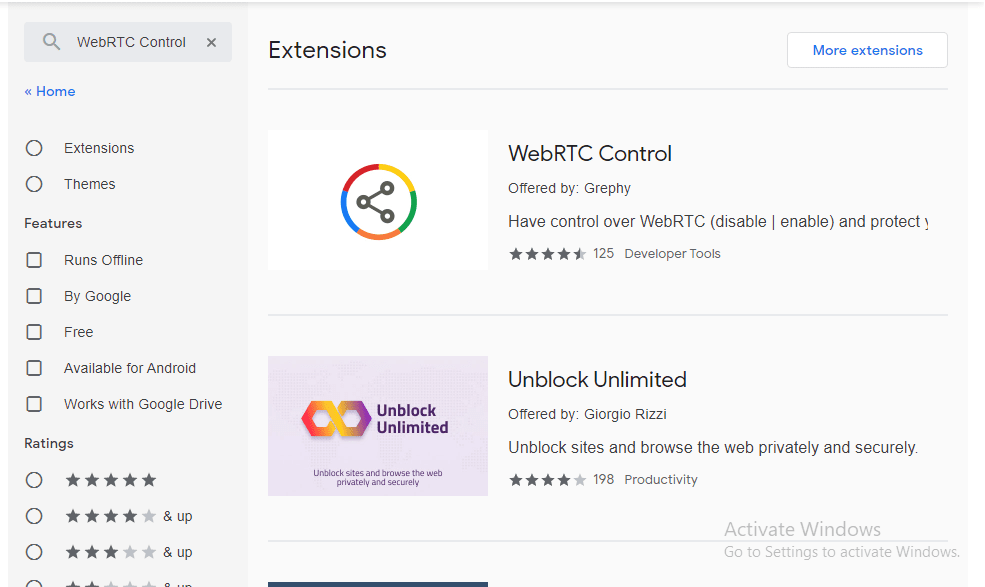 Click on it, then tap on 'Add to Chrome' where a dialogue box will open. When you click 'Add Extension,' the WebRTC control add-on will install on your browser automatically. Then, a new page will open containing information about the browser extension.
You can right-click the add-on icon in the upper-right corner of your screen to change its options. First, however, you should ensure that the icon is enclosed with a blue circle. This indicates that the plugin is active.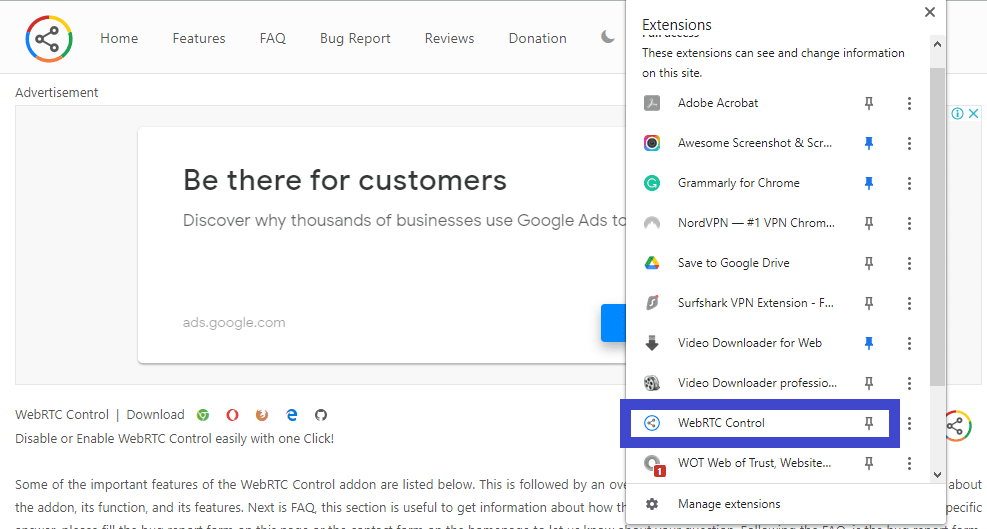 Disabling WebRTC in Chrome mobile
Step 1: In your Android Chrome address bar, type in 'chrome://flags/#disable-webrtc'. The settings page will open.
Step 2: Scroll down to the WebRTC STUN origin header. This is one way of disabling it.