Hulu is among the biggest and best content streaming service providers in the US. It enables subscribers to access over 50 channels to watch on Hulu, including live events, TV shows, movies, and many more.
Statista reports that Hulu has about 43 million subscribers as of August 2021. The rapid growth is partly due to Hulu's Emmy-award-winning TV shows and its vast content provider base.
Unfortunately, the platform's contents are only accessible to US residents – hence the need to unblock Hulu. You may have heard of Hulu, but ask yourself, why can't I watch shows on Hulu? And you probably have seen the Hulu error message shown in the image below: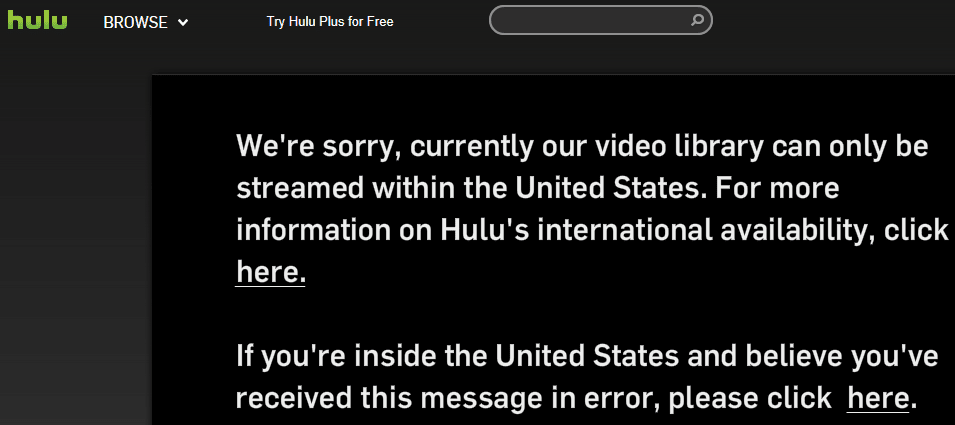 The reason is that Hulu deploys a geo-blocking system, and you can watch shows and other content on Hulu only if you are in the US territory.
If you are worried about your inability to watch Hulu from outside the US, worry no more because this article shows you how to bypass Hulu's geo-blocking quickly. But let's cover some basics first.
How to get Hulu unblocked? The quick guide
We recommend going through the article in full. Still, not a problem if you are in a rush. Below is the step-by-step quick guide on how you can watch Hulu outside the US using a VPN.
While there is another unblock Hulu method (covered later in the article), a VPN is the most reliable option for unblocking geo-restricted content. Below you go:
Subscribe to a quality VPN service that works with Hulu. Our number one recommendation here is NordVPN.
Download and install the VPN app on your platform or system (i.e., Android, Windows, Mac, iOS, Linux, etc.).
Select a US server and connect.
You would now have an American IP address, giving you unlimited access to the US Hulu library.
That is it. Now you are all set to head over to hulu.com and start enjoying your favorite movies online or live stream TV shows. (If you do not have a Hulu account already, you'd need to create one using a US payment method.)
Got some time and want to grasp all the Hulu unblocking details? Good. Keep reading!
How Hulu works
Hulu is an internet application that can allow you to watch films, video clips, television shows, etc., through your web browser in the US. Hulu video service is subscription-based but not available in other countries except the united states.
To access clips, you can go through the URL Hulu.com or one of Hulu's distribution partners. Some of the major distribution partners include MySpace, Yahoo, and AOL.
These sites can allow you to gain access to Hulu's high-resolution videos from over 150 providers. Some video service providers include NBC Universal, Sony Pictures Television, Fox, Disney, Warner Brothers, etc.
NBC Universal and News Corporation jointly launched the fantastic platform on 12 March 2018. Since its launch in 2008, Hulu has continued to add more providers / expand to give viewers more choices. As of 2020, Hulu offers blockbusters, classic shows, and other primetime series, contributing significantly to its popularity.
Viewers can access Hulu's content through a web browser that plays the content through the Adobe Flash system. In addition, you can use various browsers to access Hulu; they include Firefox version 1.5 or higher, Safari version 2.0 or higher, internet explorer 6.0 or higher Chrome, and lots more.
However, your web browser flash player must also be  9.0.115 or higher. Furthermore, your flash player version must be at least 9.0.124.0 or higher to play Hulu's higher-resolution content. (Source.)
Playing clips on Hulu
When you navigate to Hulu.com, you will see a slideshow of the most popular video choices and a search filter option. You would also have access to collections, channels, and categories that you can use to access or browse videos. If you don't find what you are searching for on the home screen, you can type in a keyword and press the enter key.
It would bring up suggestions that can help you find what you want. Hulu deploys Geo-blocking to restrict people outside of the US. To protect intellectual property and avoid copywriting issues.
There is also Hulu's desktop application, enabling you to view content through the desktop application rather than through a web browser.