How to watch Comedy Central outside the US (2 easy methods)
Having problems unblocking and streaming CC from abroad? Follow this guide to know how to watch Comedy Central outside the US the easy way.
Comedy Central, also dubbed as CC, is packed with incredible, original, and entertaining shows. The only unpleasing thing about it is that the US content library is off-limits to people outside the country.
Meaning other countries do not have access to all the great content available on the platform.
You wouldn't be able to stream the US version of Comedy Central as you could back home in the United States whether you're working overseas or on holiday abroad.
But don't worry, this article will teach you how to stream Comedy Central outside of the US by spending only a few bucks a month, or even for free. (In fact, the methods covered in this article work for unblocking all American channels.)
Quick guide to stream Comedy Central outside the US
This article covers two methods on how to unblock Comedy Central outside the US, but this quick guide section features our number one recommended option, VPN.
We go into detail of each of the methods we have to access Comedy Central, but if you cannot stick through right to the end, here is a quick guide for you to watch it using the best method, via a VPN:
Sign up with a fitting VPN provider. A good number of good Comedy Central VPNs are available today (as we're going to cover in our detailed guide section later), but our number one recommendation is ExpressVPN.
Download the VPN application for your device. Install the app and log in.
Select a VPN server within the US and connect. Wait for your connection to get established.
Now, head over to the official Comedy Central website and log in with your cable provider. If you do not have any US cable or satellite subscription, you can use one of the OTT (Over the Top) services offered and pick the Comedy Central live streaming there. Sling TV, Hulu Live TV, Philo, and PSVue are some of the OTT services that have Comedy Central.
That is it! You can now go ahead and start enjoying CC abroad.
If this quick guide does not answer your queries around Comedy Central and its unblocking, then read along as we cover all that stuff in detail.
Why is Comedy Central so popular?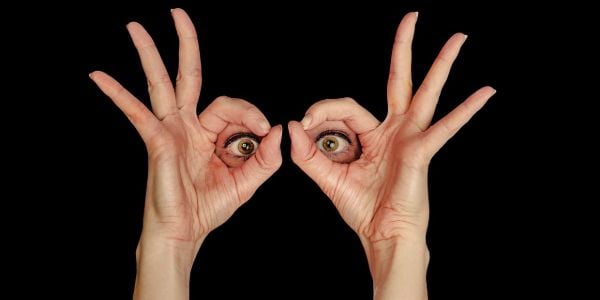 One of the most viewed TV channels in the US is Comedy Central. However, the site also has a great deal of traffic and views.
That's because right now, you can search for many of the most famous series and films on Comedy Central.
The platform also allows you to enjoy Comedy Central live streaming abroad, use an app on multiple devices to enjoy your favorite entertainment, and even offers a free 24-hour trial, so you have lots of good time and see how the system works.
Does CC stream exclusively in the United States?
Similar to some other international streaming services such as Netflix US, Comedy Central also has dedicated versions for some other countries and continents. Below they are:
Africa
Asia
Australia
Belgium
Canada
Czech Republic
Germany
Hungary
Middle East
Poland
New Zealand
Netherlands
Spain
Sweden
UK
Russia
If you're from Europe, you have a designated Comedy Central in the UK at your discretion.
The issue with dedicated versions is that you'll only connect to the Comedy Central library in your country. For example, while in the UK, you would have access to British entertainment but could not enjoy any content from Comedy Central's US library where most of the popular films are.
Why is that happening? Because Comedy Central uses geo-blocks to ensure every user only sees a page from his country. Unless the platform works in your country and, based on your IP address, the website can guide you to the relevant content.
What are geo-blocks?
Geo-blocks are a kind of content management technology deployed by streaming companies such as Comedy Central to guarantee that 'licensed' website users can only view their content.
Here's how the geo-blocking process for Comedy Central works:
Whenever you send connection requests, the website scans your actual IP address. There is information in your IP address that reveals your actual location.
You will either get access to the platform, depending on whether or not the streaming service is available in your country. Or you will get a notification telling you that Comedy Central is not available in your area.
Why platforms like CC deploy geo-blocking?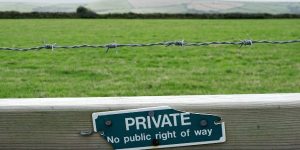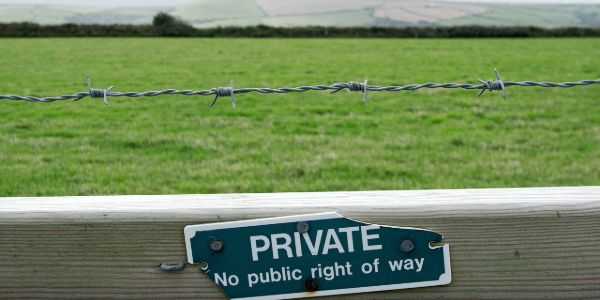 The company doesn't state why expressly, but it's pretty easy to guess. Comedy Central does not own the rights to every show the platform streams.
The streaming company also needs to buy licensing rights through Comedy Central paid programming deals to air films in countries regarding their own content. It's easy to see how it can get costly. Hence, they don't make their content globally available.
However, while those reasons are understandable, only because you are from a different country does not justify that you'll need to face such limitations. Not to mention, if you are a US citizen and go on holiday abroad, you might even have to contend with such restrictions.
Detailed guide: How to watch Comedy Central outside the US
You already know that you cannot access Comedy Central US content while outside of it because the platform will see that you are from a different country. So how can you enjoy it? We hear you ask.
It is simple. All you need to do is trick the platform into thinking that you are accessing it from the US when you are not in reality.
Fortunately, you can achieve that through not only one but two reliable methods. Below we cover both of them in detail, starting with the most reliable one being the use of a VPN::
Option 1. Using a VPN Service
A VPN (Virtual Private Network) lets you circumvent geo-restrictions by hiding your IP address. Since a VPN securely hides your IP address, platforms like Comedy Central fail to determine your real location. And hence, you get to access them.
It is also worth noting that your IP address gets substituted by the VPN server you are connecting to. Meaning when you use a US-based VPN server it ensures that Comedy Central will presume that you are from the United States.
VPNs also secure your web connections, in addition to allowing you access to geo-restricted content, which means they also help keep your information safe from hackers and government surveillance.
One potential drawback of this method is, VPNs can make your internet speed slow. That's because of the encryption involved.
But if you sign-up with a fast VPN that is suitable for streaming services such as Comedy Central, you would hardly notice a decrease in speed with a VPN connection activated.
To save you from hours of research and costly experiments, we finalized the 5 best VPNs keeping speed, security, and reliability in mind. These VPNs are the most suitable providers that you can use to watch Comedy Central while abroad using a VPN.
ExpressVPN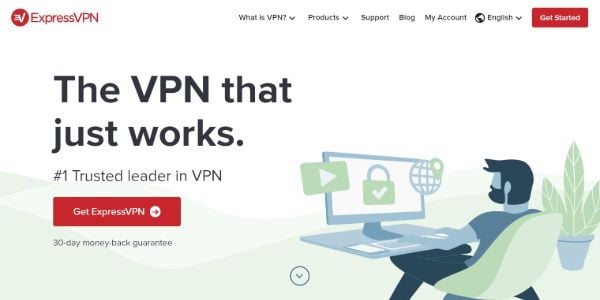 Arguably, ExpressVPN is the most outstanding VPN available today. Overall, compared to all other VPNs, you would not want to miss this if you can spare a few extra bucks a month.
This VPN is a high-speed provider. It regularly tops our VPN speed checks, with download and upload speeds that are blazingly high. It also has a huge pool of servers with multiple suitable servers for Comedy Central.
As hinted in the beginning, ExpressVPN is a little more pricey than the other providers that work well with online streaming services such as Comedy Central. But, it's well worth it if you can afford $8.32 a month. The provider comes with a 30-day money-back guarantee, which we tested and found to be genuinely a no-questions-asked one.
NordVPN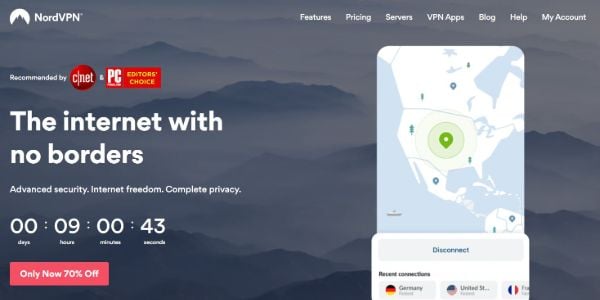 For all things streaming, NordVPN is another crowd favorite. This easy-to-use VPN service is compatible with Android, Amazon Firestick, iOS, Mac, and Windows.
NordVPN also has plenty of IP addresses and servers being a total of 5105. Of these, 2,000 servers are based in the US. That alone makes this provider one of the strongest VPN options to access geo-restricted content.
NordVPN's customer support is also solid. On top of typical email support, they offer 24/7 live chat support — like ExpressVPN. NordVPN also has a technical team that actively monitors performance with streaming platforms. Meaning, their technicians start working immediately when one of their servers gets blacklisted by these streamers.
SurfShark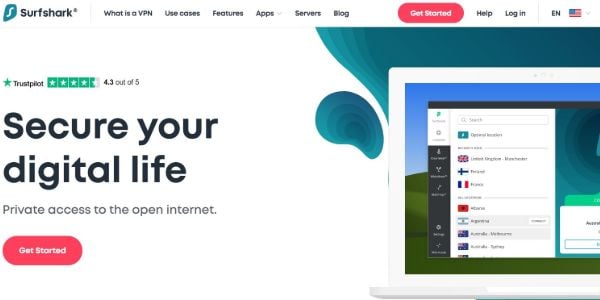 For someone wanting to stream when traveling, SurfShark is yet another reliable option. The provider boasts affordable plans, good added privacy features, and offers unlimited simultaneous connections.
Like our first two options above, this VPN can circumvent aggressive geo-restrictions deployed by the likes of Netflix, Amazon Prime, and BBC's iPlayer. Meaning allowing users to watch Comedy Central outside the US is a child's play for it.
The security traits of this service don't disappoint, either. A reliable kill-switch function, strong encryption, DNS and IPv6 leak protection, and a built-in ad-blocker alongside a malware scanner are some of its key privacy features.
With Surfshark, your anonymity remains intact as it doesn't hold any records about your internet activities. Even for the payments, you can use anonymous payment methods such as Bitcoin, Ripple, or Ethereum if you would like.
The provider also offers live chat alongside the industry-standard email support.
Surfshark has apps for Android, macOS, Windows, iOS, and Debian. You will need to go through its manual guides to setup a VPN on your router and other streaming devices.
CyberGhost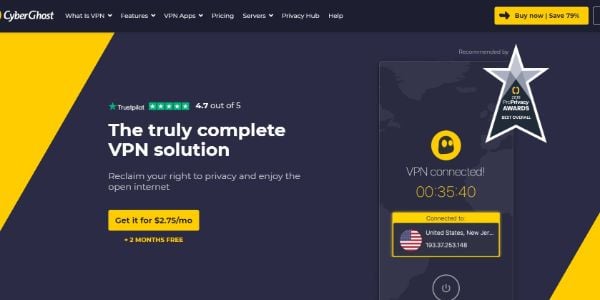 For a specified purpose, CyberGhost enables you to select the right server. Such activities include encrypted searching, secure torrenting, and unblocking streaming platforms such as Comedy Central, Hulu, and Showtime.
CyberGhost can help you stream as frequently as you want, at the best quality possible, with more than 200 quick servers in the US.
This provider strives to make things as simple as possible to remain protected online. It defends against leakage from DNS, IPv6, and port forwarding.
It also restricts advertising and often stops any malware from attacking your device. CyberGhost uses 256-bit encryption, HTTPS automated redirection, and a kill switch, so your data never gets revealed. Also, it does not record any of your personal data.
CyberGhost is available for Android, iOS, macOS, and Windows. It can be installed manually on Linux platforms and some internet routers, too.
IPVanish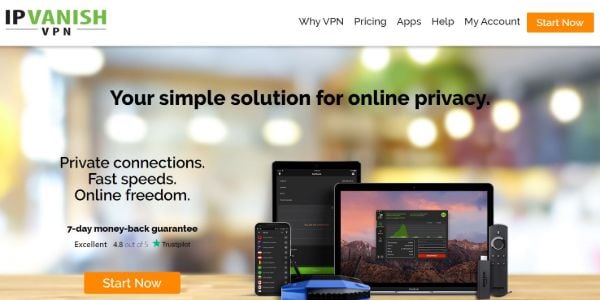 IPVanish delivers above-average speeds. It has servers spread in more than 55 locations worldwide with over 650 servers in the US. As IPVanish operates and manages these servers by itself, and issues can be addressed more rapidly than for several of its rivals.
It can let you access many online platforms, including Comedy Central, Hulu, BBC iPlayer, and CW TV.
The provider uses 256-bit encryption, which means it encrypts your traffic with the best-possible encryption level. It also has a kill switch feature, OpenVPN obfuscation, timed IP address swapping, and features to block local traffic.
Since it's a no-log VPN, no specifics of your online activities are registered by IPVanish. This provider offers unlimited simultaneous connections, enabling users to use VPN on any of their devices with a single subscription.
IPVanish works on Android, Amazon Fire TV, Windows, macOS, iOS, and some VPN-friendly routers.
Some of the supported routers include DD-WRT v3 and v2, Asus-WRT, Tomato, and Merlin. And, for routers, you won't have a VPN app, you'd rather need to follow a manual guide provided by the VPN service provider.
How to use VPN to unblock CC?
Now comes the portion where you crack down walls to geo-restriction and unlock Comedy Core while outside the United States. It's not as complicated as you would imagine. Just go through the steps below, and you're going to be amused.
Step 1. Download and install a VPN
Downloading and installing VPN applications for your computer of choice would be your first move. We consider using a PC or a laptop since watching Comedy Central on a desktop from outside the US is most straightforward. If you prefer, you may use a mobile. But your results might differ.
Start by logging into the website of the VPN provider you signed up with to download VPN software for your device. Install it, open the app, and then enter your login credentials to activate your VPN. As soon as you open the program, most VPNs can connect to the fastest server immediately or suggest you recommended server.
To watch Comedy Central, you have to make sure that you connect to a US VPN server.
Specifically, it doesn't matter where the server is — as long as it's in the United States and delivers fast speeds, you are good to go. Connect to the server in the USA, then wait for a few seconds. Finally, minimize the VPN app and and let it run in the background.
Step 2. Checking your IP address
If this is your first experience using a VPN, you may want to double-check your IP address to make sure it has been changed. Open any of your web browsers and go to ipleak.net with your VPN enabled (through a US server). Wait for the page to load, an IP address request will run; look at the box below, which reads "Your IP address." If you see the US flag there, you're all set to head over to Comedy Central.
Step 3. Start streaming
You are finally ready to enjoy any Comedy Central show with a VPN activate and hooked to an American server. Visit https://www.cc.com, where you can see a selection of the videos you could watch. Generally, new shows are free for you to watch there.
You'll need more than just a VPN if you want to watch Comedy Central international series in 2021 on your browser. In order to view the said content, Comedy Central would require you to have an account with a United States cable provider.
There is no way around this, even with a VPN, sadly. If you do not have a US cable subscription, you can pursue the one-time 24-hour streaming pass free from the streaming service, which is available to all, even without a cable plan.
But if you wish to have access to Comedy Central for more than 24-hour and yet you do not have a US cable account, OTT (Over the Top) services are what you'd need if you live outside the US. Some of such services that have Comedy Central include Sling TV, Philo, Hulu Live TV, AT&T TV Now, fuboTV, and PSVue.
Can I watch Comedy Central using a free VPN?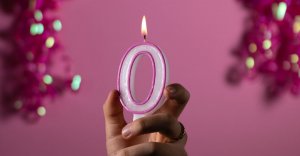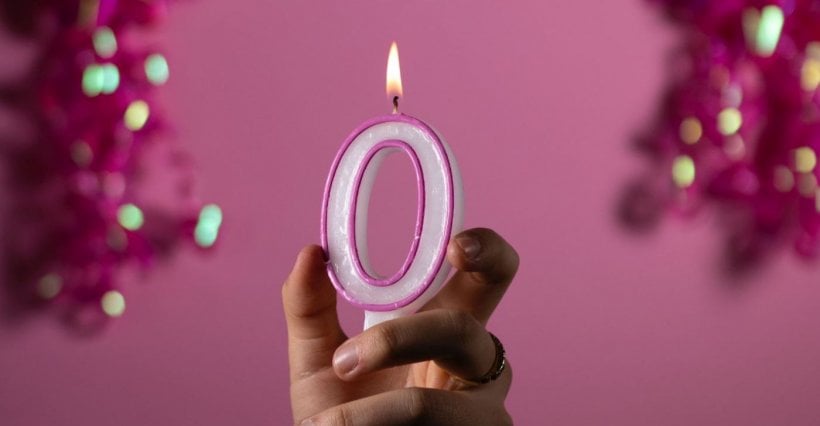 Although there are various free VPN services available out there, we suggest avoiding them.
Free VPNs typically don't provide the same infrastructure as premium providers. This results in slower transfer rates, which in turn contributes to video stuttering and longer buffering periods.
It's also important to note that free VPNs are commercial businesses. They don't charge customers directly. But they do so indirectly one way or the other.
That's simply because they have to earn profits, too. Some inject ads into the sites you view, while others monitor your activities and sell your data to third parties.
Free VPNs unfortunately have a track record of deceptive conduct. Recent research showed that almost 20 percent of free Android VPNs did not encrypt their users' traffic. There also have even been incidents in which free VPN providers introduced malware and sold their customers' bandwidth to be used in botnets.
Can I watch CC through a VPN without being spied on by the government?
Absolutely!
With a VPN connection activated, you remain anonymous when surfing the internet and watching your favorite shows on Comedy Central. While using a VPN, all your communication to the internet becomes confidential.
Thanks to the advanced encryption that top VPN providers use today, you can stream content as Comedy Central shows without any fear of being terrorized or monitored through government surveillance.
Option 2. Using a Smart DNS Service
It is an excellent option if you wish to access the Comedy Central app outside of the United States while also enjoying your original ISP speeds and not having to deal with firewalls.
Unlike VPN, your actual IP address won't be hidden by a smart DNS provider. However, it will mask your ISP-assigned DNS address to fool websites into thinking that you are from a particular whitelisted area (since it uses information that spills your location).
In this case, the system will detect your requests for connection to Comedy Central. Once it does that, the requests that leak your geo-location get replaced with new geo-data pointing to a US location.
Smart DNS service providers also don't use encryption technologies for your connections, unlike a VPN. While that means that your privacy is exposed on the internet, it also translates that your actual ISP speeds will be retained, so you wouldn't have to face potential slowdowns.
Best Smart DNS service for CC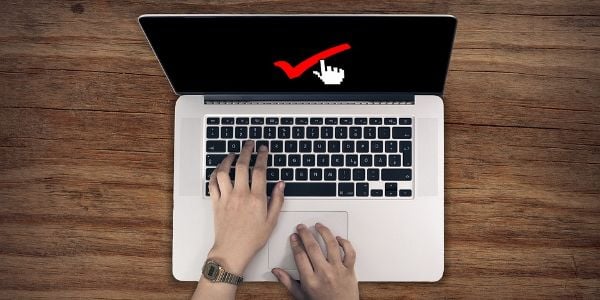 SmartDNS services support nearly all platforms, are quick, and easier than VPNs to get going with. These services can unblock a lot of apps, sports, and video streaming/music streaming services for you than just Comedy Core outside the United States. Below you go with some top Smart DNS choices:
Unblock Us
Unblock-Us provides one of the most extensive channel choices along with simple to follow configuration manuals. Their tutorials include step-by-step instructions that are well explained, and many have videos.
The provider supports a wide variety of devices, including Windows, Android, iOS, Linux, game consoles, smart TVs, video players, cell phones, laptops, and even routers.
OverPlay
OverPlay is a near-perfect alternative to typical SmartDNS services. But here again, anyone that wants a safe connection should use a VPN service. For unblocking restricted content, SmartDNS such as OverPlay is fine.
As a stand-alone program, you can buy Smart DNS from OverPlay or subscribe to their VPN and get a free Smart DNS connection.
In many countries, they deliver VPN servers plus Smart DNS that cover most of the Netflix regions than others. With extremely helpful, step-by-step directions, they provide a generous channel range and well-detailed guides.
To make it easier for you to use their services, the provider has video tutorials and helpful FAQs. OverPlay is compatible with macOS, Windows, Android, gaming consoles, smart TVs, and streaming devices.
UnoTelly
It lets you block a vast number of channels worldwide. Comedy Central and Netflix are two of the most unblocked platforms that its users use.
This SmartDNS supports many devices and operating systems, including laptops, smart devices, gaming consoles, set-top boxes, and routers. Their configuration and channel pages are well crafted and well-structured for users to get started quickly.
UnoTelly has a client named UnoHelper that automates the SmartDNS configuration on Windows. It then minimizes the tray to allow you to check your SmartDNS status quickly. UnoHelper patches the IP modifications via their service automatically. For Android smartphones, they even offer a dedicated smartphone app.
Unlocator
Unlocator has an extensive range of streaming catalog, including Netflix and Comedy Central, which it unblocks. It works with many gadgets, including routers, game consoles, set-top boxes, desktops, handheld devices, and smart TVs.
Besides, for many of the platforms the provider supports, it provides step-by-step configuration guides. There are valuable tips in these manuals to render their operation more user-friendly.
How to use SmartDNS to watch Comedy Central while abroad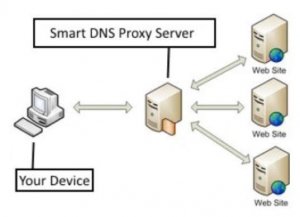 You signed up with SmartDNS, and you're itching to start viewing all the unblocked material you're waiting for. But how to go about it?
SmartDNS setup on the system or devices of your choice is the next move to make. But you might be curious if SmartDNS is simple to use and set up before you do that.
The answer is yes. It, the process indeed is straightforward. And if you pick the right device, it will render setting up SmartDNS much easier.
It just takes a minute to set up SmartDNS on several devices, including a computer. Essentially, you merely need to apply the new DNS addresses your SmartDNS provider gives you within your device's settings. You then have the freedom to access region-restricted content. That is it.
However, when it comes to utilizing media products, it's crucial to first do your homework to get started since the steps differ with each one. It is also interesting that some systems perform better than others, as in any form of the hardware setup.
For starters, with SmartDNS, Apple TVs and other Smart TVs are very fast and simple to set up as they have proven to be very consistent with the service.
Although Rokus are common streaming devices, since they hard-code the secondary DNS to a public server, they involve modifying configurations at the router stage, rendering the configuration process a little more difficult for users with average tech know-how.
Can I watch it using free DNS?
You probably heard the saying, "Nothing is for free." It's logical to say that this phrase continues to be valid, particularly when it comes to essential resources such as a DNS that can influence your digital security.
You can find YouTube videos and blogs when searching online that provide free DNS addresses to be used to unblock content such as Netflix, Hulu, and other streaming sites.
Although it might be enticing to test out these free DNS addresses, it is far from secure to use them. Yeah, those addresses can allow you the power to unblock, but the issue is that you don't know where your traffic is being re-routed.
In essence, you can't and should not trust the free Smart DNS proxy service you are using.
You place your privacy at risk anytime you use a free DNS as you don't know what information is being obtained from you and what they do about it. Everything from your social account logins or even your bank account information is in danger of getting hacked.
Can I watch CC via Smart DNS without being spied on by the government?
You can use Smart DNS for Comedy Central wherever you are, but we have a a word of warning here: Proceed with caution.
Smart DNS can let you stream Comedy Central outside the US, anywhere worldwide. Without any problem.
But a Smart DNS change does not mean that your internet traffic is going to be encrypted, too. All that a Smart DNS service does is changing your country online. It does not add any layer of protection to your connection, which means your ISP and government can still spy on your internet activities.
So we suggest using a VPN if you wish the ISP and the government do not get hold of your online activities.
Where to stream Comedy Central
Comedy Central streaming digitally is incredibly convenient. It requires a device, an internet connection, and a subscription to a premium cable channel, preferably. You'll still need a VPN or SmartDNS if you're outside of the U.S. We discussed that above already; that's how you watch Comedy Central abroad on your favorite devices.
Enjoying CC on PC
Using a web browser on your PC is the most secure and fastest way to stream Comedy Central. To start, visit https://www.cc.com. You can see the key offerings of the network there automatically, along with connections to complete episodes to live stream Comedy Central free online. Pick a show to watch, and Comedy Central will launch the stream if it's publicly available. It's that easy.
Live streams and complete episodes on CC
There are also thousands of on-demand shows, movies, TV seasons, and live television streams you can browse on the platform. All that in addition to some episodes promoted by Comedy Central.
The catch here is that you would need to log in with a cable service's subscription credentials, which ensures that to access this material, you must have an active cable account.
If you do not have a legitimate cable account, Comedy Central provides an option: a 24-hour one-time viewing pass. With it, you will be able to enjoy Comedy Central international content full day at no cost with a single streaming key.
For that, all you have to do is sign up with your Facebook information or create an account with Comedy Central. Here again, you would need a VPN to watch the US version of Comedy Central while in any other country except it.
Comedy Central apps
Comedy Central app is now available on a range of smart platforms, including Linux, iOS, Roku, and Fire TV. This is precisely the same as accessing CC on a PC using its app.
All its apps are free to download. You can select newer shows in the Comedy Central store, but older material, whole seasons, and live broadcasts need a subscription from a cable service that you can use on the apps to watch Comedy Central live stream on the go.
Conclusion
Comedy Central is a top-rated online TV channel and platform where some of the best US entertainment can be found. However, the service is only available in a few countries. And even if it is available in your area, the same content available in the US library will still not be accessible to you.
Why? Pretty much like Netflix and other popular streaming services, due to licensing and other issues, Comedy Central needs to restrict and make sure that their content is not accessible globally.
But, since you've made it this far in this article, you now no longer will have to wonder how to watch Comedy Central outside the US. All you have to do is either use a Smart DNS or a VPN. And then, in seconds, you will have those geo-blocks escaped. Choosing a company such as ExpressVPN that provides access to both (the VPN and SmartDNS) is your best bet.
About the author
Tiziana Piatos
Tiziana is a writer with four years of experience in news and blog writing who always has been digital privacy-conscious. That' why she has joined PrivacySavvy - to make others privacy-oriented, too. In her spare time, Tiziana enjoys testing privacy and security gadgets and tools for fun. She also likes hitting the local food spots in her hometown.