As a regular internet user, you might have come across the term 'encryption' many times. However, most naive internet users are still unaware of this critical term. Nonetheless, given the rising cybersecurity threats, it is essential to encrypt your data everywhere, including internet traffic generated from your devices.
Several prying eyes keep lurking on the internet today. That's why most famous messaging platforms like Viber and WhatsApp use end-to-end encryption technology. Nonetheless, you should also consider hiding your data from your end and boosting your overall cyber defense.
Most internet users consider securing their information on the web only. However, others would like to make sure that their personal information remains safe from potential intruders throughout. Whatever might be the reason, it would help if you protect your internet traffic as much as possible.
The good thing is, it does not require a fortune. All you need to do is use some handy and safe-to-use tools for encrypting your overall internet connection.
So, this post provides you with an in-depth guide to encrypt your entire online journey. Let us help you unravel all that you need to know about how to encrypt internet traffic.
Importance of encrypting internet traffic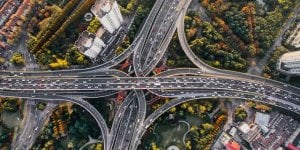 Encryption isn't meant for high-level security agencies only. Rather, it's a usual security practice for everyone. In simple words, encryption is all about protecting your activities and the associated information from possible intruders.
Today, the internet is filled with prying eyes—all on the constant look-up to obtain your private information like bank details, account credentials, and other personal stuff.
Alongside the threat from third parties, you are also subject to surveillance from government agencies that often bypass the internet privacy limits.
Moreover, your Internet Service Provider (ISP) is another entity that constantly tracks your online activities for various reasons.
For example, the United States of America permits the ISPs to sell the users' information, like browsing habits, to advertisers. This is done to ensure that they can deliver highly targeted advertising to even users using encrypted internet browsers.
And, the US is not alone in this regard — many countries keep making such acts legal in this digital age.
Some of the additional reasons to encrypt your internet traffic include:
Covering the browsing tracks
Tracking the browsing history in some cases becomes useful when you wish to obtain suggestions about an improved movie or product suggestions.
However, there might be a time when all such activities appear highly invasive. There are instances in which you would like to enjoy some personal space on the internet. For this reason, it is essential to ensure the encryption of internet-based activities.
---
Staying safe from potential hackers
Do you wonder, "why would a hacker need my personal details?" There are several reasons for it: getting monetary benefits, impersonating and scamming others, and more.