How to encrypt your internet traffic (the 2021 guide)
You do not need to be Edward Snowden to feel the need to encrypt your internet traffic. This post explains why and how to do it (with and without a VPN).
As a regular internet user, you might have come across the term 'encryption' many times. However, most naïve internet users are still unaware of this critical term. It is essential to know the importance of encryption – especially when using the internet and its services matter.
Several prying eyes keep lurking on the internet today. This is one of the primary reasons why most famous messaging platforms like Viber and WhatsApp are known to use end-to-end encryption technology. At the same time, you should also consider hiding your data and boosting your overall cyber defense. Relax, we will let you know how to encrypt your traffic in this guide.
Most of the users consider merely hiding information online. Others would like to make sure that their personal information remains safe from potential intruders. Whatever might be the reason, it would help if you go and make internet traffic as encrypted as possible.
The good thing is, it does not require a fortune. All you need to do is use some handy and safe-to-use virtual resources or tools for encrypting the overall internet traffic.
In this post, we aim at providing an in-depth guide to encrypt your entire internet journey. Cybercrime serves to be rampant in the modern era. Therefore, you would not want to be caught in the given trap. Let us help you unravel all that you need to know about how to encrypt internet traffic.
Importance of encrypting internet traffic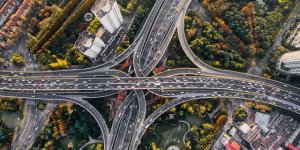 Do you wish to know, "is my Internet traffic encrypted and why is it essential?"
Encryption is all about keeping the ongoing online activities along with the associated information safe from possible intruders.
That is an important thing to do as the internet is filled with several potential hackers and prying eyes. All on the constant look-up to obtain your private information like bank details and other personal information.
In addition to the fraudulent third-party parties, you might also come across government agencies – most of which are anti-privacy decidedly and aim at tracking all your activities on the internet.
To top it all, the leading ISPs (Internet Service Providers) in the United States of America are now permitted to sell the respective users' information like browsing habits to the advertisers. This is done to ensure that they can deliver highly targeted advertising to even users using encrypted internet browsers. And, the US is not alone in this regard — many countries keep making such acts legal in this digital age.
Some of the additional reasons to encrypt your internet traffic are:
Covering the browsing tracks
Tracking the browsing history in some cases becomes useful when you wish to obtain suggestions about an improved movie or product suggestions.
However, there might be a time when all such activities appear highly invasive. There are instances in which you would like to enjoy some personal space on the internet. For this reason, it is essential to ensure the encryption of internet-based activities.
Staying safe from potential hackers
Do you wonder, "why would a hacker need my personal details?" Do not just wonder, take action. There are several reasons why a potential intruder might like to obtain your personal information.
Hackers can observe the internet activities of the users while accessing bank accounts and misusing the available information. Encryption helps in protecting your login credentials from being followed by intruders.
Protecting from the prying eyes of the government
In the modern era, the government likes to pry on the users' internet activities from time to time. You might ponder that the government is just trying to protect you from insecure websites and cultural exploitations.
Still, there is much more to it. Most of the governments out there are not known to value the overall privacy of the users. In specific countries like China, there are strict restrictions on using the internet, especially on social media.
Can encryption be cracked?
If you are using some outdated encrypted cipher featuring a small size (for instance, 64 bits), then a typical brute-force attack can crack it.
However, if you are sticking to modern ciphers, including the AES or large-sized keys (for instance, 128 bits and above), then the internet connection can be safe. It is believed that if Tianhe-2 – the 4th fastest supercomputer in the world, would try cracking a message that has been encrypted with the help of AES-256, it will be taking around 9.63X1052 years to do the job.
How to encrypt internet traffic?
The technology advancement has also made several tools available today to keep the internet traffic hidden safely inside the encryption tunnel. Most of these tools are available for free. On the other hand, others will cost you some bucks. From helping you secure unencrypted WiFi hotspots to protecting your communications online, they come in handy to encrypt all your internet traffic.
Without any further ado, we now cover what you can do to encrypt the internet traffic – both on a public network and at home. Here are some ways that you can consider making use of:
1. Turn on encryption for the WiFi network
If there is one location wherein you should feel safe, it should be your business place or home. You are convinced that there is no one intruding in your personal space. Most people also believe that no one cannot steal their personal information at home or office. However, that all ultimately depends on several factors.
In case you have not set any password for joining the WiFi or home network, then your overall security level will be too weak. It is just going to resemble the security level at some coffee shop featuring public WiFi connections.
With no password set for your WiFi network, you are leaving the entire network open for individuals or other networks to snoop in.
That would allow them to connect as well as monitor the overall online activities on the system. Simultaneously, it also opens doors for the exploitation of the existing vulnerabilities of the given set of connected devices.
In case you have not set a password for the home network, the chances are that you might have left the network administrator password to be the default. This could be even more dangerous.
Upon installing a new WiFi router, you should always remember to implement two vital things.
Firstly, you should go forward with setting a strong password that will be required for joining the given network. This will help in stopping unauthorized parties from connecting & monitoring your internet activities.
Secondly, it is recommended that you should consider changing the default administrator password for the WiFi router. Any potential hacker can easily know about the default password, which can help him take over your entire home network.
The steps involved in changing the administrator password and the WiFi password might differ as per the make & model of the given router.
If you lack the required knowledge for making the given changes, you can check out the official website of your router manufacturer. All router makers have detailed instructions on such common things on their sites. Upon visiting the manufacturer's website, you should also check if there is any update for the router's firmware.
Manufacturers frequently release updates for plugging security loopholes and other issues that could be present in the earlier version of the product. Keep an eye on those releases.
2. Consider using a VPN
A VPN or the Virtual Private Network is regarded as one of the best ways to your entire encrypt internet traffic.
A VPN helps in encasing the internet connection in a separate layer of encryption. That helps in preventing third parties from monitoring any of your online activities.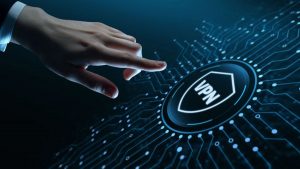 While some parties like your ISPs can acknowledge that you are online, they can still not tell what websites you are browsing and what services you are accessing on the internet.
Encryption provided by VPNs also helps prevent unauthorized parties from entering or stealing the users' login information or other personal data. Whether you are privately visiting the official portal of your bank or credit card provider, or even shopping on leading sites like Amazon – VPN helps in delivering top-notch security at all times.
A VPN is also responsible for adding an extra layer of encrypted protection to otherwise insecure WiFi networks. This will prevent the respective ISP (Internet Service Provider), hackers, and government agencies from tracking and monitoring your online activities.
In addition to the advanced encryption capabilities, a VPN also helps unblock websites and apps restricted in your country or zone. This might include, yet not limited to, audio or video streaming content, along with international gaming servers and any other type of content that could be blocked due to restrictions on geographical licensing.
How can VPN help in accessing geo-restricted content and bypassing censorship?
Suppose you wish to bypass geo-blocking with respect to specific content like audio or video files. In that case, a VPN serves to be one of the most effective ways for safely as well as privately bypassing geo-blocking.
It helps in masking the real IP address while substituting the same with the one that is based in a different country.
Getting a VPN for yourself is quite simple and inexpensive at the same time. Also, most of the VPNs out there tend to be compatible with major platforms including macOS, iOS, Windows, and Android operating systems.
How to get started with a VPN
Pick a VPN of your choice and subscribe to a plan
Download the app for your device respectively
Install the VPN by going through the installation instructions
Select a VPN server in the country where the website or app you want to use is allowed
Connect to the respective server and enjoy browsing on the internet
Once you have installed a VPN, you can easily access the geo-blocked content of any type such as:
News sites
Video streaming websites –including movies, sports, and TV shows
Dating apps and websites
Messaging apps and social media platforms
Other unavailable content based on regions
Accessing geo-restricted streaming websites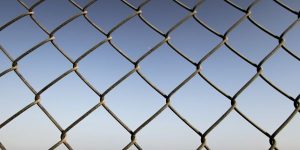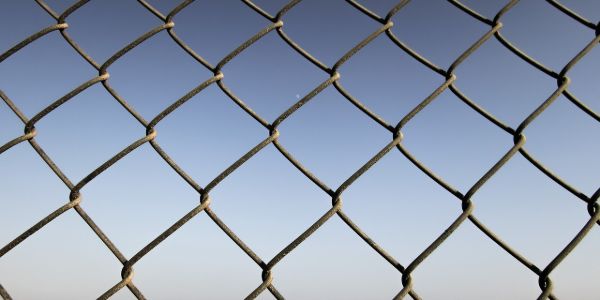 From television to on-demand video platforms like Netflix to sports streaming services such as the BBC iPlayer, a VPN can take care of all the issues.
Let us understand how a VPN works for unblocking restricted streaming sites through an illustration. For example, you wish to go through the new episodes of Survivor (an American version of the international Survivor reality TV competition franchise). And you are not living in the United States of America as well as do not have a cable connection.
In that case, it might become challenging to find ways to watch the latest episode of your favorite TV reality show – unless you are aware of how to connect to the right VPN server.
The leading streaming website globaltv.com offers access to the latest episodes of Survivor. However, the portal is available only within Canadian borders. What can you do? All you need here is to launch the VPN and connect to a Canadian server. Then, you can refresh the page and enjoy your favorite TV series.
When you are using a VPN, the websites assume that you are a different individual. The VPN helps in getting around content restrictions by allowing it to appear that you are connected from another location than your actual one.
When you are connecting to the VPN servers, you are free to select a particular geographical location from where you want to appear coming from.
3. Turn to HTTPS
HTTPS or Hypertext Transfer Protocol Secure is the secure version of Hypertext Transfer Protocol or HTTP. The extra 'S' in a URL means added security.
It is basically helpful for sending data between sites and the browsers of the end-users. So, what is it exactly that makes HTTPS secure? HTTPS undergoes encryption such that the overall security of data transfer remains ensured.
TLS or Transport Layer Security encryption mechanisms come into play of HTTPS connections. Moreover, HTTPS authenticates both the receiver as well as the sender of data at each subsequent end. This ensures that the data transmission has not been misused or breached –thereby ensuring integrity at all costs.
With the additional layer of encryption that HTTPSs boasts, all your passwords, usernames, credit card information, and other types of sensitive information remain protected. How will you know if the website that you are browsing has HTTPS enabled? It is quite simple.
All you are required to do is to observe the URL in the respective browser. You will see that the URL address is starting with HTTPS:// if the website has installed HTTPS. Otherwise, in most of the modern browsers, you will receive the warning message that the site is not secure.
The main issue is that not every website out there is making use of HTTPS. However, luckily, you can enable it with your browser settings and some third-party applications.
Enabling SSL Certificates in Chrome with the Help of Windows:
Head over to your Chrome 'Settings' that you can locate by clicking on the three-dots on top-right.
Look for the 'System' settings under the Advanced section (on the left).
Click on the option "Open your computer's proxy settings."
Now in the 'Advanced' tab of your internet properties, check the box specifying "Use TLS 1.2."
Using HTTPS Everywhere extension
This is yet another secure option (and the easiest one) to let you enable HTTPS encryption for all websites you visit. It is a free extension built by the Electronic Frontier Foundation and is available on Chrome Web Store. Below you go with the steps to get going with HTTPS Everywhere add-on:
Head over to the Chrome Web Store.
Search for "HTTPS Everywhere." Then click on the button "Add to Chrome" available there.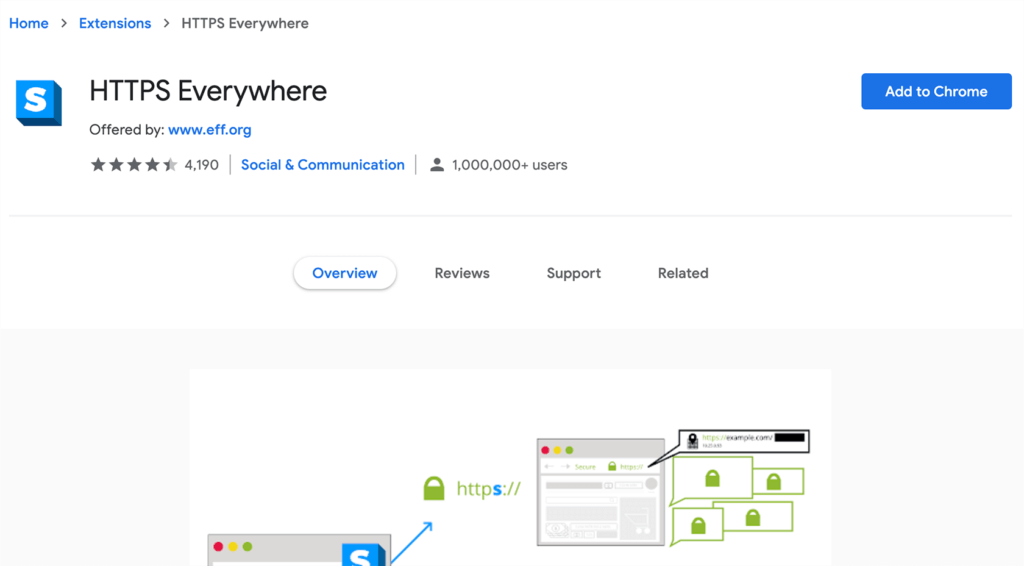 That is it, the extension should get added to your browser in a few seconds (depending on your internet speed).
4. Use Tor
If encryption remains your utmost priority, as it should be, then the Tor browser is one effective tool you would want to consider.
The Tor browser encrypts your internet traffic through three diverse decentralized nodes. Notably, the Tor network boasts an individual supervising every node and eradicating the encryption layer in order to prevent others from snooping on your private date.
Having interrelated volunteers means the possibility of anyone accessing your personal information is almost zero when using the Tor browser.
There is one setback of using Tor, though. Despite all the highlighted pleasing features, the Tor encryption process hampers your internet speed. In addition to this, the Tor browser emphasizes on anonymity and privacy is not its primary focus.
5. Make use of end-to-end encrypted messaging apps
If you wish to send across a message to someone, you just go ahead with typing a text on the smartphone and sending it. Or, you might also be sending the same text via Facebook Messenger.
These methods appear to be highly convenient, indeed. However, they do not aim at providing private, secure connections.
Text messages can leak your private information if companies handling them do not use any encryption technique to secure them. For example, Facebook Messenger has already stated that encrypting messages by default can take years. It implies that Facebook has the right to keep tabs on the conversations amongst its users.
And, that is not it. You should regard the fact that the NSA is capable of collecting millions of text messages. As such, social media or messaging giants like Apple, Skype, and Facebook are all under the respective surveillance program – going by the name of PRISM.
If you are a Facebook user, the best you can do is consider using end-to-end encryption for Facebook Messenger by enabling its Secret Conversation feature.
However, there is an issue. The given feature is not going to encrypt the Facebook group messages, video calls, GIFs, or voice calling capabilities. Moreover, Facebook is an integral part of the surveillance program by the NSA.
What that all means is, you better settle with an alternative messaging application that boasts advanced encryption capabilities. Below you go with a couple:
Yes, Facebook owns WhatsApp now. But it seems the app is still among the safest options to use for messaging.
It is one of the most popular social messaging platforms available out there. The app allows sending, receiving, and sharing images, texts, audio files, and videos conveniently. All that with end-to-end encryption deployed.
WhatsApp security guarantees that only the user and the other party in communication can see the messages exchanged through the medium.
Not even WhatsApp is capable of going through such data. Every message sent through WhatsApp has a unique lock and key mechanism that makes the entire transfer and the network highly secure.
Through the release of its latest version, Viber brought into effect encryption for safeguarding the messages and sensitive information of users.
Viber – going by the name as Rakuten Viber, offers quality messaging and calling services – all of which remain secure with the help of end-to-end encryption.
Apart from WhatsApp and Viber, below are three more encrypted messaging apps worth trying (all work on iOS, Android, macOS, Linux, and Windows):
6. Encrypt your emails
Emails have become an integral part of our daily life. Today, you need an email to set up almost everything including bank details, social security numbers, and workspace passwords.
Keep in mind, hackers are always on the look-up to infiltrate your privacy and steal your private data.
And, your email is the key to your digital room precisely as a key opens up your home that boasts all your personal belongings. So, it is no brainer that encrypting your emails will help achieve your encrypted-internet goal better.
7. Use DNS over HTTPS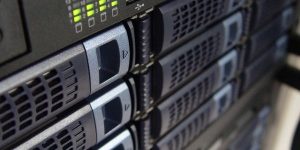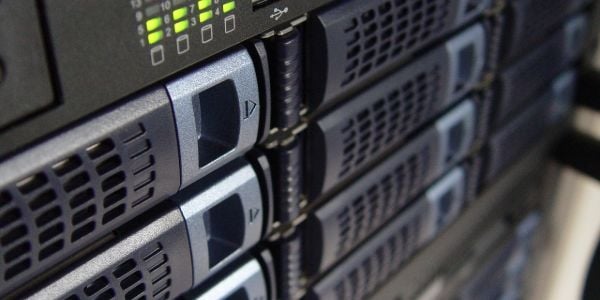 DNS stands for the Domain Name System (it's more like a phone book for sites that matches names with numbers). Its primary role is to translate IP addresses into respective website names & vice versa.
Whenever you connect to the website with its dedicated name, the respective browser will send over a specific DNS query to ISP's DNS server to retrieve the website's IP address.
However, there is one issue with this all – DNS queries do not undergo encryption in most cases. This would open the connection to a host of potential risks, including DNS filtering, ISP spying on the browsing activities, and MITM attacks.
This is the main problem that needs to be fixed, and DNS over HTTPS does exactly that. The given concept uses HTTPS' mechanism for encrypting the queries while making the entire internet connection highly private.
It is still relatively news, but given how it opens the door for faster and more private internet, we see it hit the big time soon. Google Chrome started rolling the upgrade in September 2019, which seems to have been postponed to Chrome 79. Firefox uses it by default already, though.
If you wish to use encrypted DNS that's independent of your web browser, you can try https://1.1.1.1/dns/. There you could find easy instructions to configure your device to use the encrypted DNS of Cloudflare (the very same that Firefox uses).
Conclusion
Encryption is a great start when securing your internet traffic to keep your online activities protected. And the best thing is, it's straightforward for anyone to set up.
At the same time, you should also use firewalls, improved authentication methods, strong passwords, antivirus software programs, and intrusion detection systems to protect your privacy online.
Remember, locking your digital security at its best is more like completing a puzzle — every piece you assemble matters. As technology is advancing day by day – it is both for good as well as the bad.
About the author
Nwachukwu Glory
Nwachukwu Glory is a writer, blogger, and tech nerd. She loves trying new gadgets that make life more fun ( and easier). Glory is passionate about digital security and privacy alongside browsing the World Wide Web without any limitations.