How to watch NFL outside the US with a VPN in 2020/21
Want to stream NFL outside the US? Or maybe you want to avoid NFL blackouts for free. This guide explains how you can stream NFL online using a VPN abroad. You can also save money on NFL Game Pass with a VPN.
Despite all the delays, empty stadiums, and depleted rosters, the 2020/21 NFL season is back with a bang. It genuinely is excellent to see new records getting slated. While the season is one of the most popular sports in the US, it has gained an enormous following abroad.
If you are traveling or live outside the US, you will need a Virtual Private Network (VPN) to watch NFL matches. Besides bypassing the geographic restrictions, it will also safeguard your data, enhance your privacy, and ensure your traffic is not intercepted by your internet service provider (ISP), hackers, or network administrators.
Read on to find out how to watch NFL outside the US with a VPN, why you need a VPN to watch NFL, best VPNs to watch NFL from abroad, and more.
How to unblock NFL Game Pass with a VPN | The quick guide
Using a VPN is an effortless way to unblock a geo-blocked service and works out the box on almost all devices. You only need to follow the steps below to stream NFL from anywhere:
Get your hands on a reputable VPN service. We recommend ExpressVPN because of its fast-speed servers, expansive server network, advanced security features, and no-questions-asked 30-days money-back guarantee.
Download and install the VPN app on your device. Ensure to get a version that is compatible with your device's operating system. If you went with ExpressVPN, you would be at ease no matter what device you want to stream NFL on. The provider has native apps for all major operating systems and even works flawlessly on Smart TVs, Gaming Consoles, and Routers.
Connect to a US server. Make sure to connect to one that's in a different city than where the game is being played. Here again, a provider like ExpressVPN makes your life easier. As per our research, out of its 3000+ servers, the provider has VPN servers installed in more than 20 different US locations.
Now head over to the NFL Game Pass website and sign up. If you want to watch NFL games for free only, then you can try Locast.org. There you can stream NFL games without paying for a paid subscription.
That is it. Sit back and stream any NFL match you like.
Want to take a look at all the best NFL VPNs? Or maybe you want to discover other methods to unblock NFL as you might want to stream it without a VPN? No problem. We have got you covered. Keep reading.
Why do I need a VPN to watch NFL matches?
The entire NFL season is not available on TV due to licensing and broadcasting restrictions.
You will still face blackout and miss out even if your local television stations show most of the games. The NFL's streaming site (Game Pass International) is the best way to watch all 250+ games and playoffs, but it is not available everywhere.
A VPN will help you access the official broadcast no matter where you are from. It will provide you a new IP address and redirect your traffic to trick the streaming provider that you are in a different country than the US. This will enable you to bypass the geo-restrictions and watch whatever game you want.
Did you know? A VPN can also help you get a cheaper Game Pass Pro subscription. We found out that the annual rates are different in every country. For example, we used ExpressVPN to connect to Indian servers and got a discount of $25. Try that.
Best VPNs to unblock NFL Game Pass from anywhere
Key features
3,000+ servers in 95+ countries
30-days money-back guarantee
AES 256-bit encryption
Automatic kill switch
TrustedServer Technology
Unblocks DAZN, ESPN+, Sling TV, YouTube TV, Netflix, Hulu
Compatible with macOS, Windows, Android, Linux, iOS, routers, and browsers
ExpressVPN is our top pick VPN for watching NFL outside the US primarily because of its superior unblocking capabilities and expansive server network.
It has super-speedy servers so that you can watch NFL matches in high definition without interruptions. There is a Smart Location feature to help you automatically connect to the most optimal servers. It measures your latency and distance to give the fastest connection every time.
The VPN offers unlimited data and bandwidth for fast download speeds and high-quality streaming. You can stream an NFL replay while browsing and downloading large files even if you connect to an international server.
ExpressVPN successfully unblocks several sports streaming sites such as NFL Game Pass, Plus4, and ProSieben. With a network of more than 3000 servers in over 95 countries, you will be able to watch NFL games from anywhere.
Fortunately, you can try ExpressVPN services and access NFL season risk-free with its 30-days money-back guarantee, which we tested and found to be truly a no-questions-asked one. This means you will be refunded back your money upon request before the 30-days elapse. We tested this claim and were impressed to get our money within four days.
Pros
Blazing-fast servers
Powerful encryption
24/7 customer support
Cons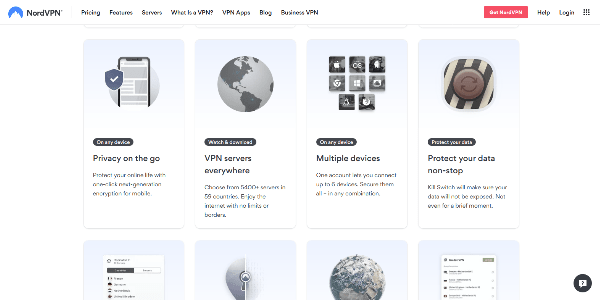 Key features
5,500 servers in 59+ countries
six simultaneous connections
30-days money-back guarantee
SmartPlay feature
Quick Connect feature
Double VPN
CyberSec suite
NordVPN is another excellent VPN for NFL live streaming abroad. It has a massive network of more than 5,500 servers in 59+ countries, so you will always get a reliable connection to stream from anywhere.
Its built-in SmartPlay technology makes it easy to watch NFL games. It is designed to bypass even the most stubborn geo-blocks while keeping you secure. We put it to the test, and we were able to access streaming sites such as DAZN, Fox Sports, beIN Sports, and BT Sports.
This VPN maintains your security and privacy with multiple high-level features. They include AES 256-bit encryption, perfect forward secrecy, automatic kill switch, DNS leak protection, and double VPN. Moreover, there is a WiFi protection feature if you are a frequent WiFi user.
It also comes with an ad blocker, which is an essential feature as that eliminates ads and keeps you safe from malware, trackers, phishing scams, and online profiling. We tested its CyberSec suite for more than 3 hours and didn't experience interruptions on any of the videos we streamed on different platforms.
NordVPN is one of the most affordable premium VPNs on the market, especially if you subscribe to the two-year plan. The best part is, like ExpressVPN, you can this service risk-free with the 30-days money-back guarantee.
Pros
Top-tier encryption protocol
Native apps for all platforms
Optimized servers for streaming
Cons
A bit sluggish desktop app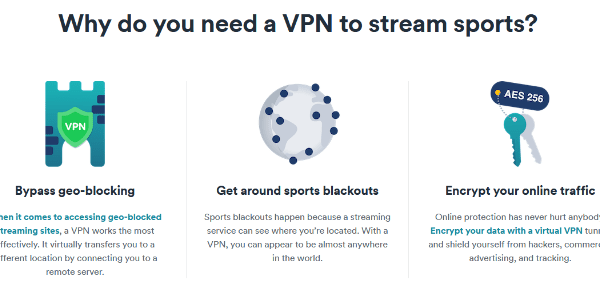 Key features
3,500 servers in 75+countries
30-days money-back guarantee
CleanWeb feature
Camouflage mode
Unlimited simultaneous connections
SmartDNS feature
Surfshark has recently expanded its server network to surpass even the pioneers of the VPN industry like ExpressVPN. We tested it and found that it unblocks several sports streaming platforms, including the NFL Game Pass, from anywhere.
The high-speed servers and unlimited bandwidth mean you will be able to stream NFL games in high definition. You will get an ever smoother streaming experience if you activate the CleanWeb feature to remove the intrusive ads. It also blocks malware and trackers to keep you safe online.
With NordVPN's camouflage mode, you can watch NFL games even in countries that prohibit the use of VPNs, like Russia and China. It will make your VPN activities look like normal traffic so you can remain completely anonymous without anyone knowing.
Surfshark is compatible with all major platforms, including Windows, macOS, Android, iOS, and Linux. The unlimited simultaneous connection feature allows you to use VPN on as many devices as you want with one subscription. You can also use the SmartDNS feature to connect devices that don't support VPN, such as PlayStation and Xbox.
Pros
Does not limit the number of connections
Effective ad blocker and other added security features
Works well with all major operating systems
Cons
Slow connections on some servers
CyberGhost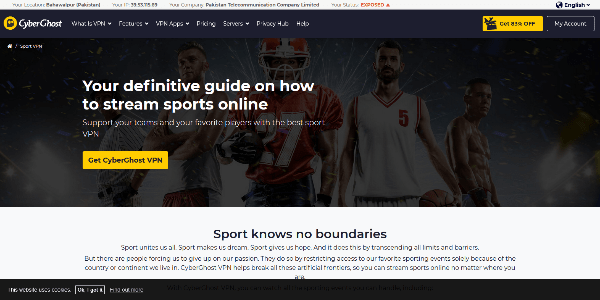 Key features
6,600 servers in 89 countries
45-days money-back guarantee
AES 256-bit encryption
WireGuard protocol
Split tunneling
Tor compatibility
CyberGhost has an extensive network of over 6,600 servers in over 89 countries that will help you watch NFL matches internationally. Such a far-reaching network cannot get overloaded easily, so you get faster speeds and reliable connectivity.
The provider unblocks NFL Game Pass and other significant sports streaming platforms, including ESPN, Fox Sports, NBC Sports, Sling TV, and more. The VPN offers streaming optimized servers for high-quality and buffer-free streams.
You will be impressed with CyberGhost's high speeds, especially if you connect to a nearby server. We were able to watch archived Super Bowls, browse and even stream videos in 4K without any lagging during our test.
This VPN offers a 45-days money-back guarantee so that you can try it risk-free. We signed up to check out whether the generous policy is legitimate and requested a refund. The request was approved, and we got our money within two working days.
Pros
Expansive server network
Unblocks NFL Game Pass
Generous money-back guarantee
Cons
Does not offer an adblocker or other added privacy features like other top VPNs
Why you should avoid free VPNs to watch NFL abroad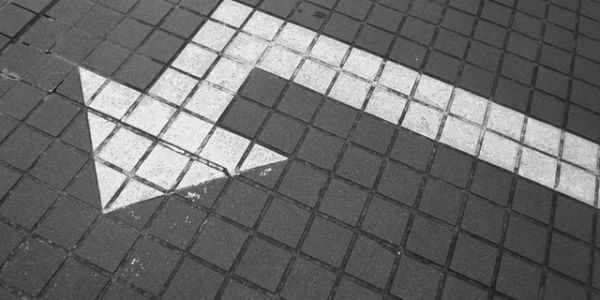 While free VPNs may seem like viable options to stay safe online, we strongly advise you not to use them.
First of all, they are not ideal for streaming due to intermittent connections, low video quality, and buffers. Also, some free VPNs limit the monthly data and throttle speeds. Meaning, with a free VPN, you cannot watch live HD NFL games as you'd like.
Another major issue with free VPN services is server congestion. Since many of them operate a small server network, you will be made to queue before connecting. If you make a connection, you might find the servers severely congested to stream anything.
Besides all these inconveniences, a free VPN is more costly in the long run compared to a premium VPN. Many free VPN vendors make money by gathering and logging users' activities and data, then selling them to the highest bidder. Some also have a reputation for injecting malware, intrusive ads, and tracking cookies into users' browsing sessions.
Where to watch NFL games online
Although the NFL is an American sport, it is famous all over the world. In fact, four NFL international games will be played in London and one in Mexico City. Below is a country-specific guide to enjoying the action-packed NFL seasons.
United States
Fortunately, you can watch the entire NFL fixture live online in the US, although each game will appear on one of the five networks. Just memorize the NFL schedule below to know when to start streaming.
Monday Night Games – ESPN
Thursday Night and Saturday Night Games – NFL Network, Amazon Prime Video, and FOX
AFC Sunday Afternoon Games – CBS
NFC Sunday Afternoon Games – FOX
Sunday Night Games – NBC
It is good to note that if a game is exclusive on ESPN or the NFL Network, it will also broadcast on the local TV station in the areas where the participating teams come from. However, you can only watch the games for free if your cable package includes these channels.
You can also use several other streaming services to watch NFL games if you don't have a cable subscription. Sling TV is the most affordable option, with the Orange and Blue subscription at only $45 per month, allowing you to watch FOX, ESPN, and NBC.
Remember, these channels are usually geo-blocked, so you will need a VPN to watch NFL games abroad.
The United Kingdom
American Football fans in the UK can catch up with the NFL action in a few different ways.
You can watch the live games on Sky Sports if you already have a Sky service subscription. There is also an option to add other sports channels at an extra fee.
Would you like to watch the NFL matches without a cable in the UK? The NFL Game Pass is the easiest way to stream NFL outside the US. It provides you access to the entire regular season, playoffs, Super Bowl.
Now TV allows its subscribers to sign into Sky Sports. Unfortunately, you will only view select games instead of the entire catalog.
While the BBC iPlayer does not show any live NFL games, you can watch the weekly highlights on BBC2 and the Super Bowl.
If you are planning to travel outside the UK, you will need a reliable VPN like ExpressVPN to continue accessing the above services.
France
beIN Sports and TF1 are the official NFL broadcasters in France. While TF1 only shows the Super Bowl, beIN provides access to every fixture live and previous games online. The channel also offers other major sporting events in different languages.
Spain
In Spain, NFL fans can only watch the action on Movistar+, which has the exclusive rights to broadcast in the country. All the NFL matches are available on Movistar Doportes, but you will have to subscribe to both the Movistar broadband and TV package.
Can I use NFL Game Pass to watch NFL games in the US?
NFL Game Pass is a streaming service that allows you to watch a variety of NFL programming from any of your devices. Due to the reasons such as blackouts, the NFL Game Pass is best designed for people living outside the US.
It will allow you to watch all the teams for the entire NFL season, follow up on your favorite team or subscribe to special events such as playoffs, Super Bowl, NFL London, etc.
What's more, watching previous matches becomes a breeze with the NFL Game Pass. It allows you to replay the games you might have missed as well as archived Super Bowls. A live score facility is updated in real-time if you want to keep you up to date with the scoreline.
All these features and options are available on the basic subscription plan, but you can also upgrade to the premium plan. It comes with many added benefits, such as exclusive access to NFL RedZone, condensed NFL games, multiple viewing modes, and picture-picture mode.
Bottom line
While the 2020/21 NFL season started unusually, we are now heading towards the playoffs and later the Super Bowl. Most of the streaming services that show the matches are geo-blocked and cannot be accessed outside the US. That is why you need a VPN to bypass the restrictions and stream all the NFL matches from anywhere.
Our top recommendation is ExpressVPN as it offers high-speed servers to watch sporting events in high-definition. It also has superior privacy and security features to keep your data and activities completely anonymous.
NFL unblocking FAQs
How is the 2020/21 NFL schedule?
How else is a VPN helpful?
Should I buy an NFL Game Pass this season?
Can I watch football matches for free on the NFL Game Pass?
Which devices can I access NFL Game Pass on?
What are the best sites to stream NFL 2020/21 season online?
Can I stream NFL matches online for free?
Can I watch NFL games on free streaming sites?
About the author
Ruheni Mathenge
Tech researcher and writer with a passion for cybersecurity. Alex is a strong advocate of digital freedom and online privacy.