The National Football League has more avid watchers in the US than any other league or sport. And its games are available through several distribution channels, paid and otherwise, so you follow your favorite team's whole season without problems.
But there's a catch. All that NFL content is hosted on free or paid sites that only make the videos available to US viewers. So you need to be in the US to have all this content. Alternatively, you can do the next best thing: Get a US IP address.
Having an IP address identifying you as an internet user in the United States is easy if you have a good VPN. ExpressVPN is the best service when beating geo-blocks is the task at hand.
Top 10 NFL streaming sites – Quick list
In a rush to tune in to NFL? No worries; here are the top NFL streaming sites you can connect to now to get into the game immediately!
The best seventeen NFL streaming websites today
1. FirstRow Sports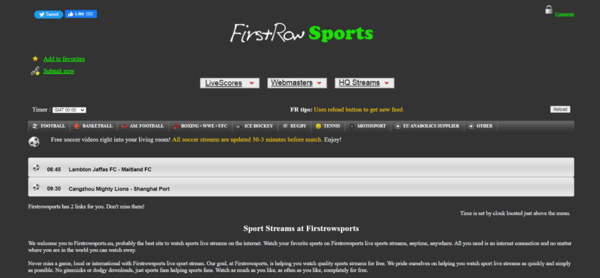 FirstRow Sports is a household name in the sports streaming industry and a great option for watching NFL content. Unlike some popular websites, you don't need to register or download any app to start streaming.
It gathers live streams from outside sources, giving you extensive coverage, although it can be risky. So, you should always use a VPN to cover your tracks.
The website is well organized and has a simple, clean interface to improve your experience. It has a tab for various sports categories like handball, rugby, motorsport, volleyball, hockey, soccer, baseball, and basketball. Besides sports streaming, it offers a wide variety of content, including movies and TV shows, all for free.
Pros
Completely free
Clean and simple interface
Variety of sports content
It doesn't show ads
Cons
Redirections to suspicious websites
Doesn't host its own content
---
2. Hotstar