How to get a US IP outside the US hassle-free in 2021
Learn how to get a US IP address to unblock your favorite websites and enjoy unlimited access to content safely. Find the right USA IP VPN.
Do you think your Netflix subscription gives you access to all the shows? A Netflix subscriber in Norway, for example, can access only about 1/3 of the shows and about ¾ of the movies that are available to Americans. Shows like Criminal Minds, Person of Interest, and The West Wing are only available on Netflix to viewers in the US.
This highlights a tiny fraction of apps and content geo-restricted that users outside of the United States cannot access. Geo-blocking systems block sites and apps from users outside specified locations. Companies apply these restrictions because of many reasons, including security and content licensing agreements. This allows them to provide the content only to desired users.
If you want to enjoy free access to content restricted to the United States, you need to change the IP address to USA. Sign up for a VPN that offers US servers and fast speeds to allow for smooth streaming if you want to watch different content types. Here, we share guidelines on how to get a US IP address anywhere. You can configure different devices, including desktop PC, Android devices, tablets, iPhones, Fire TVs, and many more.
How to change your IP address to the USA
Too busy for a full read? No problem. Below you go with the steps required to to get a US IP address quickly:
Find the right VPN service and sign up. We recommend ExpressVPN for excellent security, privacy, speed, and overall reliability.
Download the app and install it.
Log in to the VPN app and choose a US server.
Connect to a server in a city of your choice.
That is it. You are all set to access different US websites without restrictions.
Why you should use a US IP address generator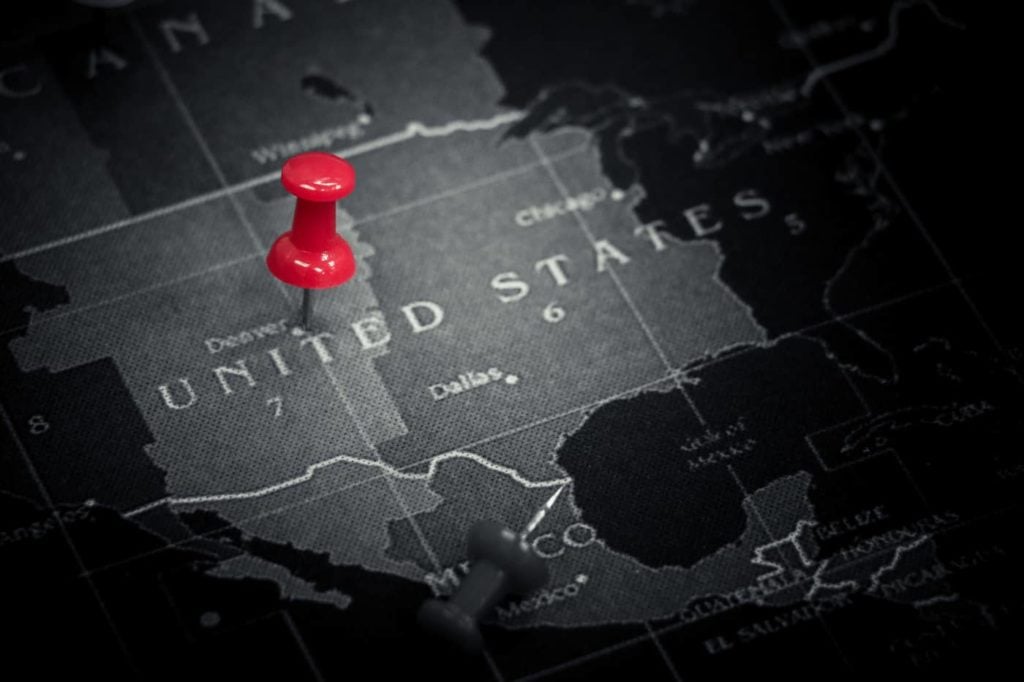 There are many reasons you want to get a USA IP outside America. When traveling abroad, you're locked from a lot of content, even if you have an active subscription. Many US channels are not accessible to users based outside the country because of content licensing agreements.
If you want to watch geo-restricted streaming services like Hulu and Netflix, changing your IP address is the right solution. A VPN helps you stay in touch with the shows you love and live sports like National Football League (NFL) and Major League Baseball (MLB).
Many banks serve only US-based users, so a VPN could help you manage your finances away from home when traveling abroad.
Best VPN to get US IP outside the United States
Securing your online connections begins with finding the right VPN. With many companies on the market promising excellent service, it can be overwhelming to review all VPNs to find the best. You want a VPN that gives you unbreakable encryption, speedy connection to a US server, and other features that increase your protection.
Considering different factors that define overall performance, we found ExpressVPN, SurfShark, and NordVPN as the frontrunners in our research. Let's see why these VPNs are the best choice when you want to get a US IP outside the United States.
ExpressVPN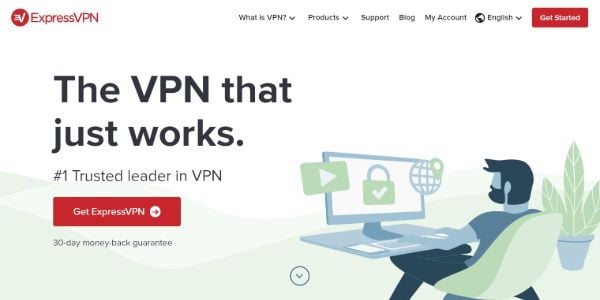 ExpressVPN excels in unblocking geo-locked content, can bypass China's Great Firewall, and offers lightning-fast speeds. The VPN boasts excellent performance for streaming, besides unbreakable encryption technology. It is the go-to option when you need to get a US IP outside the US.
The VPN integrates the Lightway protocol to ensure high speeds, which triples speeds achieved with protocols like Wireguard. While streaming content outside the US, we recommend using the Lightway protocol. Also, users can switch to OpenVPN, which is available on Linux, macOS, Android, Windows, and routers.
With more than 3000 servers in 160 cities in 94 countries, ExpressVPN offers many options for users outside the US who want to get a US IP address. All these servers offer super-fast speeds and guarantee encrypted connections. The VPN runs 256-bit AES encryption, 4096-bit RSA key, and SHA-512 HMAC authentication to protect your data. This means impenetrable encryption, assuring your safety as you browse online. The SHA-512 HMAC encryption, especially, is secure for data transfers.
ExpressVPN runs perfect forward secrecy, a highly advanced feature that customizes your encryption key each time you log on. At the start of each session, the service assigns you a new key, so any previous session data is unrelated to the current session.
An advanced kill switch keeps your traffic and IP address secure, even when the VPN connection drops. The company calls the feature Network Lock. It blocks traffic from your device if there's a connection compromise. The kill switch keeps your data hidden, so ISPs and other spying software cannot detect your online activity. This feature comes on automatically, so you don't have to worry about manual configuration.
ExpressVPN offers split-tunneling to provide additional security. The feature lets you encrypt a part of your traffic on specific browsers, leaving everything else untouched. It helps you browse locally and through the VPN at the same time. You only need to choose which apps should use the VPN.
Pros:
Strict no-logging policy
Split tunneling for private and public networks
Excellent speeds
Responsive customer support 24/7
Strong privacy and security features
Simple interface
Cons:
SurfShark VPN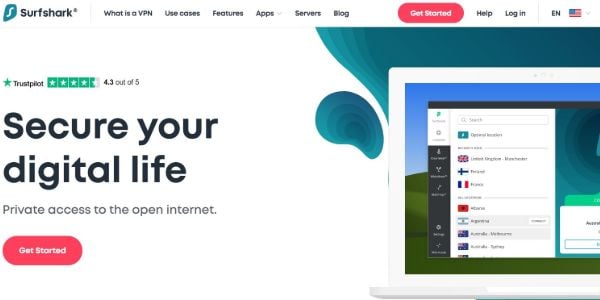 If you're looking for a VPN that can stream HD content and offers great abilities to unblock streaming sites, SurfShark VPN should be top on your list. The VPN provides a stable network and employs military-grade encryption and security features to secure your online activity.
It comes with 3200+ servers spread across 65 countries, including the United States. SurfShark's privacy features include secure protocols – IKEv2, WireGuard, and OpenVPN TCP and UDP. It features AES-256 encryption with a kill switch that blocks internet access when the VPN connection is interrupted, ensuring no data leaks.
Besides, SurfShark runs a private DNS on each server, which reduces the chances of someone spying on your activities. The ability to use a double VPN makes it more difficult for someone to follow your tracks online. Like ExpressVPN, the company registered its services in the British Virgin Islands, a location that does not have laws restricting user privacy. For this reason, they offer a strict no-logging policy, ensuring they don't store any data about your browsing activity.
Other features you want to try on SurfShark are Camouflage Mode and NoBorders Mode. The Camouflage Mode feature hides the fact you're connecting to the internet through a VPN. It makes your internet connection appear like regular traffic, so the government or an ISP does not know what you're doing or detect you're using a VPN. This feature is ideal for getting around firewalls on public WiFi.
NoBorders Mode bypasses internet restrictions in censored regions like Vietnam, UAE, and China. It detects VPN-blocking technologies and automatically gives you the list of servers you can use to bypass the restrictions.
You can install SurfShark VPN on devices running Windows, iOS, macOS, Android, Linux, and routers. The service allows you unlimited connections, and their app is well-designed, ensuring easy navigation.
Pros:
No-logging policy
Split-tunneling and multihop tools
Well-designed interface
Excellent speed test scores
Useful extras – ad blocker, whitelister, NoBorders Mode
Great customer service
Cons:
Could do with improvements on Linux
NordVPN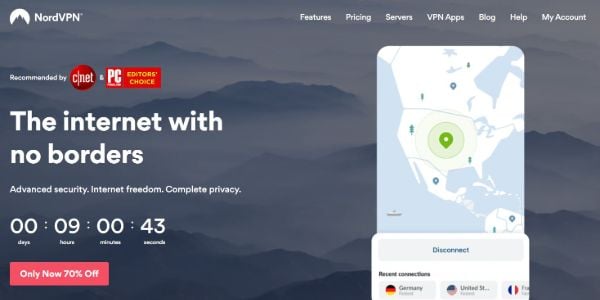 NordVPN helps you to get a US IP address and stay anonymous online effortlessly. It ensures ISPs and spies who collect information for advertisers cannot snoop on your traffic. Unlike many premium VPNs, NordVPN gives a bit of every feature besides its basic protection. It offers a diverse collection of servers, most of them in the United States, and maintains strong security practices.
It's excellent that NordVPN operates from Panama, a country considered privacy-friendly, because it lacks surveillance-sharing agreements with other governments. The company guarantees a no-logging policy, meaning they don't collect any data about your activities, including IP addresses and browsing history.
On protocols, NordVPN uses NordLynx, a WireGuard implementation, which runs by default on its macOS, Android, iOS, and Windows apps. Users can also switch to OpenVPN, which is available on all platforms. IKEv2 is only available for macOS and iOS users. IKEv2 and OpenVPN were the gold standards for VPNs for a while, but WireGuard has become increasingly popular. It uses newer encryption techniques and achieves better speeds.
If you want multiple US servers, NordVPN offers over 5400 servers in 94 countries, many of them in the United States. This means better service as you can find high-quality servers for streaming and accessing your favorite sites and apps in the US.
In addition to helping you change your IP address, NordVPN takes services further with robust encryption technology. It features AES-256-CBC encryption and supports Perfect Forward Secrecy. The service frequently assigns a new encryption key to prevent security compromises. NordVPN offers a kill switch, which ensures network data does not leak when the connection fails. Through this feature, you can select the apps to stop if the VPN connection drops.
Other features include an optional ad blocker and a site filter that blocks out malicious sites. These features are essential in maintaining high speeds, especially if you're streaming content. NordVPN's Double VPN feature enables users to leap across several servers for extra encryption.
Pros:
No data logging
Located in Panama
Up to six simultaneous connections allowed
Strong encryption standards
Numerous server locations
Split-tunneling, multihop, and Tor connections
Cons:
Occasionally cramped interface
What makes a good VPN for US IP?
Before you commit to a VPN, there are several things you need to consider. A good VPN should come with most of these properties:
Speed – This is a paramount aspect of a VPN that separates great products from mediocre ones. You don't want a sluggish connection after switching the VPN on, especially if you're streaming HD content. While reviewing options, look for a VPN that offers versatile speed, whether you're streaming or browsing.
Security – Another property that makes a good VPN is security. While lightning-fast speeds are ideal, it should not be the only priority. A VPN should keep your connection secure and private. It should come with features that guarantee security and privacy, including a no-logging policy, Kill Switch, and impenetrable protection mechanism to keep you safe from hackers and prying eyes.
Accessibility – If the VPN's service reach is limited, it might not be helpful to you. A reliable VPN should help you access blocked content. This is crucial if you travel a lot as some services in your country could apply geo-blocking. With a high-quality VPN, you can access services you subscribe to at home regardless of your location.
Strong Encryption – The level of encryption could make or break a VPN service. Your security and privacy are precious, so a good VPN will use different features to maintain excellent protection. Dependable encryption routes your traffic through several servers, especially when you must maintain a high anonymity level.
Ease of Use – You don't want to be struggling to find features while using a VPN. Its interface should be intuitive with easy navigation to offer the best user experience.
Tech Support – Getting answers to your questions is essential when you face a problem. Reliable VPNs offer responsive customer support, mostly live chat 24/7, and dedicated phone lines or email support.
Can I sign up for a free VPN?
While most VPNs offer premium service, you can get a high-quality free VPN for 30 days. This is suitable if you need to access some geo-restricted services for a short period. But, you need a premium VPN for the long-term. Most companies, including ExpressVPN, SurfShark, and NordVPN, offer a trial period and a 30-day money-back guarantee. You can use it to explore their service for one month and cancel with no questions.
However, don't use free VPNs you find online as you get exposed to vulnerabilities, including selling your data to third parties. A free VPN could also install malware on your device, compromising files and affecting performance.
VPNs you should avoid
You cannot use any VPN to get a US IP outside the United States. Some companies don't offer a fair logging policy, and their system may not be suited for the kind of activities you want to perform. The VPNs below have a history of sharing user data with third parties, which means they don't have a no-logging policy that can protect you. You should avoid them when searching for the best VPN to get a US IP address.
PureVPN
Protecting your data should not mean handing it over to a VPN provider. PureVPN handed over the data of a user to law enforcement. The company collaborated with the FBI after a 24-year-old woman reported falling prey to a blackmailing plot. When traced, the traffic pointed to PureVPN servers. The company logged the user's data and used it to identify the culprit, who turned out to be the woman's roommate, Ryan Lin. But PureVPN argues it never recorded the contents of the communications. Their handing over of the data despite having no-logs policy points to a lack of honesty.
Hola VPN
Hola is an Israel-based VPN service that offers a Chrome extension. The company used its user base for illegal purposes, exposing almost 50 million individuals to a data breach. It turned these users into a botnet in 2015, leveraging their bandwidth to perform Distributed Denial of Service Attacks. The company also distributed copyrighted materials, keeping its users entirely in the dark all the while.
Hotspot Shield
In 2017, a privacy group reported Hotspot Shield for redirecting traffic to the company's partner websites. The claim revealed Hotspot Shield intercepted traffic and sent it to advertising companies. Further, the company was accused of logging connection details, going against their privacy policy. Previously, a research paper had found Hotspot Shield culpable of injecting JavaScript codes that redirected traffic to partnering domains.
What next after downloading the right VPN?
After you create an account at one of the VPNs we recommend, you need to download the client app and install it on your device. The VPNs support different devices, including those running Android, macOS, iOS, and Windows. When you install the software, log in to scroll through a list of servers. Pick a USA location and connect. Locations higher up on the list offer the fastest connection, so choose one of those. Once connected, you can browse securely and anonymously using a US IP address.
If you are looking for fast speeds, connecting to the nearest server will help you get fast connection speeds. That's why it's important to consider the number of servers and server locations a VPN offers before subscribing.
Is an American DNS server necessary?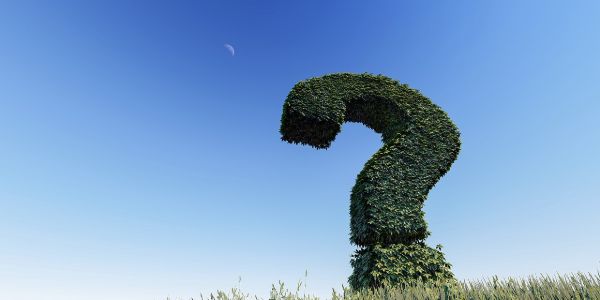 The Domain Name System (DNS) is like a phone book with names (domains) matched with numbers (IP addresses). Many websites check where the connection is dialing from and your phone book's location when accessing geo-locked content. Even with an American IP address, the website can use the DNS scan to block you. So, it's advisable to ensure you use the same DNS as a server in the US.
Many VPNs offer apps that address this challenge. After connecting to the server, the VPN also sends a DNS request through an encrypted tunnel. The VPNs we recommend here offer private DNS servers, ensuring ISPs cannot use your DNS requests to track the websites you visit. This option is available in your VPN settings, and you can turn it on.
You want to avoid below-average VPNs because they send DNS requests through the tunnel using a public service like Google DNS. Google can record the websites you visit, making them less suited for privacy. Some VPNs don't tunnel DNS requests at all, leaving you exposed.
For the best experience, you can configure DNS servers manually on different devices. You can use a service like OpenNIC, which gives you free DNS servers in different countries, including the US. Use your network configuration settings to add primary or secondary DNS servers.
Before you subscribe to a VPN, you need to make sure that it offers DNS and IPv6 leak protection. Some operating systems, including Windows 10, can easily expose you to data leaks as they usually send IPv6 requests outside your VPN tunnel. Hence, if your VPN doesn't implement IPv6 protection, make sure to disable it in your WiFi settings.
Other ways you can get a US IP
You can explore many other options, including using the Tor browser, a free service designed to offer anonymity and encryption. The service is popular with different classes of people, including activists, journalists, and whistleblowers. It helps them to hide their identity online.
If you need a US IP, you can acquire one with Tor. Use this Tor guide to set a specific IP address. The speeds might be sluggish for HD streaming, so ensure you're not handling heavy traffic if this is your option for getting a US IP address.
Using a Proxy Server to get a US IP Address
Essentially, a proxy server is a computer that serves as a hub through which requests are processed. When you connect through the service, the computer sends requests to the server, which returns the information you wanted.
The proxy hides your IP address and only shows the IP you specified on the proxy server. However, this option comes with unclear privacy policies, and you could experience lag while streaming due to download caps.
However, proxy servers could increase your speed and save you bandwidth due to their caching properties. They can send users the most recent saved copy of the website they seek to access, making it fast. You can find the best free proxy sites in our comprehensive guide to safely and anonymously help you unblock geo-locked sites in the US.
You might want to read: Best proxy service providers for businesses
Conclusion
If you want to access geo-restricted content in the US from abroad, you can change your IP address. While other methods like proxies and DNS providers exist, a VPN service is the recommended option.
On top of allowing you to access restricted content, a premium VPN helps you switch your IP address and browse securely and anonymously. We hope you were able to grab a US IP address as you've reached this far. Should you have any questions or want to share your experiences, use the comment box below to let us know.
FAQs around getting an American IP address outside it
Can I get a US IP address anywhere for a specific city?
Is it legal to get a US IP address?
How can I configure a VPN for my network at home?
Can I use an American proxy to hide my IP address?
Can I use an American IP to access online banking services?
Can I get a US IP address from a free VPN?
Can getting a US IP address help to unblock US Netflix?
Does a VPN hide my activity from my ISPs?
About the author
Nicholas Nabakwe
Nicholas Nabakwe is a digital privacy expert with over 7 years of experience testing and reviewing VPNs. He has written cybersecurity guides and tutorials for many leading publications. Nicholas has also published hundreds of trouble-shooting guides to help optimize operating systems for tech websites, including Auslogics Software Pty. He advocates for internet privacy and freedom of the net.
Related Readings:
Last Updated: September 1, 2021 by
Aliu Isa