The video streaming service known as FUBO TV is a trendy one out of the US that offers a wide variety of content, including movies, TV shows, and sports. However, this popular service is rather picky about the users it accepts. So if you're not in Canada, the US, or Spain, Fubo will deny you its assistance. This happens because Fubo TV's streams are restricted, and they can reach only those three countries. This is how Fubo honors the licensing agreements that allow it to broadcast its content.
Are you one of those users whose living place is outside the US, Canada, and Spain, yet you'd like to enjoy Fubo TV? Since you found this article, the chances are that you are, and we're happy to tell you that you arrive in the right place. There is a solution that enables you to bypass Fubo's geo-blocks so you can see its streams regardless of your physical location.
The key is a VPN. Of course, not just any VPN; it has to be a premium VPN service–more on that later. In this text, we will tell you all about the best VPNs in the market so you can watch Fubo TV without any problems. Furthermore, these VPNs will enhance your internet experience in many other ways, especially regarding security and anonymity, and they will also enable you to unblock many other video streaming sites.
How to watch Fubo TV using a VPN – The quick guide
If you're already conversant with VPNs and know how to use one to unblock Fubo TV, we salute you! This is the section for you: we will cover the most essential steps only so you can get started right away. However, those readers who want to know everything in further detail can keep reading the following sections.
So here's what you do:
Open an account with a VPN provider from our list. ExpressVPN is the best option for this task.
Find the apps your VPN provides for the device you intend to watch Fubo TV in Google Play Store or the Apple Store.
Launch your VPN app. Log in using your account's credentials.
Connect to a server in the VPN network. The best country to pick for unblocking Fubo is the US, so make sure the server is based there.
Go to Fubo TV. You can do this via the app or the website. Sign up for a free trial and log in.
That's it! Enjoy your Fubo TV experience.
And why do I need a VPN to watch Fubo?
It's all about legality. Fubo is a legal video streaming service. Being lawful means, it has negotiated with the copyright holders of the content it streams to agree on what right Fubo has to stream those videos. Those agreements tell Fubo how much it has to pay for the content and where it can show it.
In Fubo's case, it has secured all the permissions necessary to stream its videos in the US, Canada, and Spain only. So if you're anywhere else, you can't watch Fubo because it doesn't have any right to show you the content. You can't even open a Fubo account if you're outside the "legal" zone.
So if the problem is that when you connect to Fubo, it denies you the service because it sees you're not within the area it serves, the antidote is clear: make Fubo think you're in the US (or Spain, or Canada). And how do you do that? With a VPN.
A good VPN will show the world an IP address that is not your own. Instead, it will be an IP number from the VPN network that will correspond to the country in which the server you're using is based. And that is why you need a VPN to watch Fubo.
The best five VPNs to watch Fubo TV wherever you are
1. ExpressVPN

Our #1 choice for Fubo TV. 60+ servers in the United States. Works with Netflix, FuboTV, Comedy Central, and more. Boasts no-logs policy and robust encryption. Risk-free no-questions-asked money-back guarantee.

3,200+ servers in more than 92 countries

AES-256-bit encryption

Web leak protection on all popular browsers

P2P optimized servers

Kill switch

Zero-logs policy

5 simultaneous connections per subscription

30-days of money-back guarantee
Pros
Fast speeds across all VPN locations

Reliably unblocks Fubo TV and more

24/7 live chat support
Cons
Bit pricey compared to the industry average
It's not a coincidence that ExpressVPN tops our list of the best VPNs to unblock Fubo TV.
ExpressVPN is a vendor that has been around for a long time in the VPN industry, always offering the best and most advanced service. Hence, it's built a reputation that only a handful of other VPNs can rival.
This provider excels at everything a great VPN should do and then some. The security features are excellent, with military-grade encryption and protection against all types of IP leaks.
It also excels in the privacy department because it keeps no logs whatsoever of user activity. In fact, the company's commitment to this issue is so solid that every server in the network is RAM-only. This means that no information ever gets recorded on a hard disk. Whenever the server is re-booted, any residual logs it could have generated vanish into the digital limbo.
The connections to the network are always solid, persistent, and very fast because ExpressVPN uses the best and most current VPN tunneling protocols.
ExpressVPN also has many exciting extra features that can help enhance your digital experience, but we're not going to touch on that here. So instead, let us concentrate on the use case you are interested in: geo-location unblocking.
Over the last two years, IP spoofing to unblock services such as Fubo TV (also Netflix, HBO Max, and many more) has risen as the new killer application for VPN services. ExpressVPN knows that, and it makes an effort to ensure that its users can count on the service to pull this trick.
As a result, ExpressVPN is the one VPN that can unblock any video streaming platform, including Fubo TV. But it can also help you with NetFlix, HBO Max, Disney +, and many more. As the VPN industry goes, if a video service can be unblocked at all, then ExpressVPN can do it.
This is the VPN that will unblock Fubo TV for you while giving you a lot more value for your money at the same time and opening many other digital opportunities for you in the process.
The only drawback with ExpressVPN is in the price. It's slightly higher than the industry's average. But since its service is also better than the average, the difference makes sense.
---
2. NordVPN

High-speed VPN servers across the US and in 60 countries worldwide. Works with FuboTV and numerious other streaming platforms. Offers strong encryption and easy-to-use apps.

Over 5,400 VPN servers in 60 countries

P2P optimized servers

AES-256-bit encryption

Zero-logging

Kill switch feature

Allows 6 devices simultaneously

Web protection

MultiHop (double encryption) mode

30-days of money-back guarantee
Pros
Speedy servers

Unblocks Fubo TV effortlessly

24/7 customer support
Cons
Some of the devices require manual setup
NordVPN is also one of the very few genuinely excellent VPN networks. If ExpressVPN is our preferred VPN for unblocking Fubo TV, NordVPN is a very close second.
We tried NordVPN on every video streaming service it came to our minds, and it worked every single time.
The speeds in this VPN are among the highest in the industry; the connections are stable, so this VPN can support an HD video stream for long periods without interruptions, re-connections, buffering, or any of the usual problems.
More than 5,400 servers in 60 countries will give you plenty of options for any task you could imagine. In addition, of course, the network within the US is plentiful, which is the relevant fraction of the service for you in terms of using Fubo TV.
NordVPN offers plenty of additional features to improve your internet life. For example, every type of IP address leak is covered; there is a customizable kill switch and many more helpful features.
This VPN operates from Panama, a privacy-friendly jurisdiction with no mandatory data retention legislation. This is one of the reasons for which NordVPN takes user privacy with the utmost seriousness by keeping no logs at all on user activities.
Another advantage of NordVPN is the pricing scheme. It's very reasonable, lower than the previous entry on the list but with a service that can rival it in most ways.
---
3. Surfshark

Best Fubo TV budget VPN. Has no logs policy. Allows using VPN on unlimited with a single subscription. Easy to use apps for all widely-used platforms. Works to access FuboTV, Hulu, Netflix, and more.

More than 3,200 servers spread in over 65 countries

AES-256-bit encryption

Supports P2P sharing

Kill switch mode

Zero-logging

Double VPN

Unlimited simultaneous connections

30-day money-back guarantee
Pros
Secured with military grade encryption

Affordable pricing

All servers unblock Fubo TV
Cons
Slower connections on some of its servers
SurfShark has a short history in the world's VPN market, unlike the previous two services. However, its short life has already left a mark on the industry.
This vendor's business model provides users with a top-notch service almost as advanced as NordVPN or ExpressVPN for a small fraction of the price. This is a premium VPN that fits even the tightest budget.
The speeds in the network are impressive, and the links are stable. In addition, it works with Fubo TV, unlocking it quickly.
SurfShark's network is smaller by comparison. However, it's large enough to suit any user's needs. Three thousand two hundred servers in more than 65 countries. The security features are also among the industry's best; the encryption is military-grade, and it's safe against every type of IP leak. In addition, it includes a kill switch, traffic obfuscation, and many more features.
Another distinctive feature with Surfshark is the limit of concurrent connections to the network –there is none. So you can have as many devices protected by the VPN simultaneously as you can with a single account. So this VPN allows you to have your whole family or office team get the VPN's protection without additional costs.
And you can get all that service for 2.30 USD monthly if you choose the right plan. Does it seem too good to be true? Well, it is, but it isn't. That is why SufrShark is disrupting the VPN market.
---
4. Private Internet Access (PIA)

Boasts fast servers. Works with Amazon Prime, FuboTV, and many more, including Netflix. Connect up to ten devices simultaneously. Has stealthy security features to protect your privacy, including obfuscation and a kill switch.

A whooping 30,000 servers scattered in 70 countries

P2P sharing

AES 128-bit encryption

10 simultaneous connections

Effective kill switch feature

DNS leak protection

30-days of money-back guarantee
Pros
Extensive server network

Unblocks Fubo TV worldwide

User-friendly interface
Cons
A little inconsistent geo-blocking capabilities
PrivateInternetAccess (PIA) is also an outstanding VPN service that can remove the Fubo TV lock easily for you.
PIA's network is the largest by far on our list. The server count is nearly 30,000, scattered all over 70 countries. The sheer network size is impressive, and it shows this is a serious company doing serious business.
PIA is also fast, reliable, and top-notch on security features, with a few extra options that many users will find helpful. Additionally, it's probably the best VPN for new users because it's so easy to use.
However, the issue in which PIA stands above the rest is privacy. This VPN also keeps the same no-logs policy every other option on our list has.
However, this VPN has walked the walk. It's been required to deliver its user logs to the government during two separate criminal procedures (in 2015 and 2017), and while it complied with its legal duties, it had nothing to show.
It simply had no records it could share with law enforcement. So while every VPN in our list is strong on privacy and keeps no logs (otherwise, they wouldn't be on our list), this one was tested twice already and passed with flying colors.
---
5. CyberGhost

Most suitable for beginners. Boasts hundreds of servers to let you watch FuboTV online. Robust security with a strict no-logs policy and 256-bit encryption.

8,000 VPN servers spread in 90 countries

DNS leak protection

AES-256-bit encryption

Has P2P optimized servers

Allows up to 7 devices to connect simultaneously

45-days of the money-back guarantee
Pros
Takes strong security measures

Lets users stream Fubo TV anywhere

Generous money-back guarantee
Cons
Some servers are slow for video streaming
CyberGhost is our last entry. It's also an excellent service with fast speeds and reliable servers. The network is not as extensive as PIA's, but it's still quite impressive, with nearly 8,000 nodes in 90 countries.
One thousand one hundred of those nodes are in the US, which are the ones you will need to unblock Fubo TV. So you'll have plenty of nodes (and cities) to choose from. An additional advantage with that amount of US-based servers is that if something goes wrong on one, you have plenty of others to try again until it works.
This VPN hails from Romania, and it also has some exciting features. For example, it has servers in some exotic countries (exotic regarding the VPN world) like Egypt, China, or Saudi Arabia. In addition, it offers you the option to have a dedicated IP address at your service, an ad blocker, and a password manager.
This VPN is the least well-known among our top five VPNs to unblock Fubo TV from anywhere on the planet, but you can rest assured that it's good enough to deliver the goods.
---
Our methodology for testing VPNs for Fubo TV
It isn't easy to choose a good VPN. The market is overcrowded and testing the options correctly needs time, energy, resources, and expertise. However, it's also fun, and our staff enjoys it. Since privacy is our business, we've tested many VPNs over the years, so we know that there are plenty of dubious ones out there. And it's our job to save you the frustration.
Our staff makes sure that you get only the best VPNs recommended for every task we explore (unblocking Fubo TV with a VPN from anywhere in the world in this case). They ensure this by following a careful testing methodology. First, they will figure out if your IP gets leaked through IPv6, DNS, or WebRTC. Next, they check the encryption and the app each VPN offers.
Then, speeds are crucial. Let's face it, we all want the fastest internet we can get, and even more so when we're dealing with video services. Then we must know if the speed holds for everything: torrenting, gaming, video calls, and web browsing.
And then comes the last but crucial test: does it unblock Fubo TV or not?
Here is what our staff looked at when looking for the best Fubo TV-unblocking services for you:
Solid security and privacy through encryption, IP spoofing without any leaks, and a privacy policy ensure no logs are kept.
Good dedicated apps with plenty of useful features such as a kill switch.
Great customer support. We prefer VPNs that offer help through live chat on a 25/7 basis.
There is a money-back guarantee, and the overall service offers good value for money.
The top content providers you'll find on Fubo TV
The channel collection Fubo TV has is unique in the video streaming niche. Nobody else has such a manifold choice of channels. Moreover, you can find this content on several other platforms but not offered together in the same package, which translates into additional value for money.
For instance, consider Sling TV, which will cost you about 35 USD monthly. In addition, you'll find channels like the NFL Network, Fuse, Fox Sports 1, Comedy Central, Cheddar, Brabo, BET, BBC America, AMC, or A&E. Those are all channels that Fubo TV also has.
Then there's Hulu+, at about 65 USD monthly. Here, Oxygen, NBCSN, ESPN, ESPN2, and some other channels overlap Sling. And again, these are channels you can also have on Fubo TV.
So, as you can see, Fubo TV's content offer is unique in the industry because it can be considered equivalent to having more than one service in terms of content variety.
How do I watch Fubo TV on my device?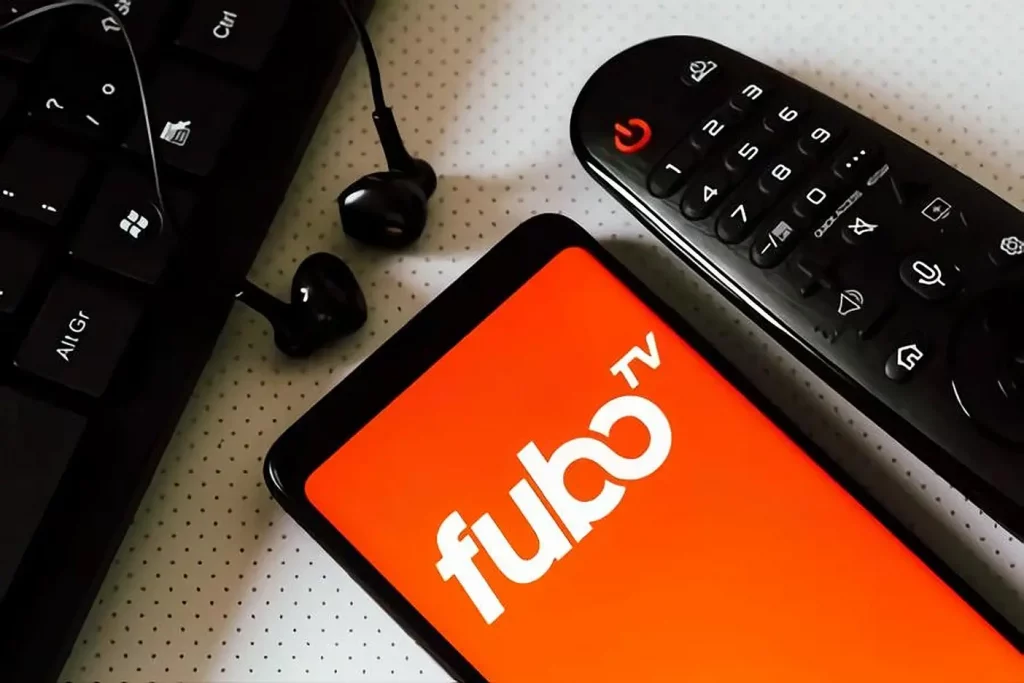 So you have a device. It's an Android or iOS phone, or maybe a computer that could be running on Windows, macOS, or even Linux. For this section's purpose, you could even be talking about a smart TV or an Amazon Firestick device. Whatever toy you choose to watch Fubo TV, there is a way to use your VPN service to change your reported location and unblock Fubo TV wherever you are in the world.
So let us guide you through the procedures that will enable you to log into a US-based server within your VPN's network to connect to Fubo TV and enjoy all its content.
Use a PC to watch Fubo TV
Whether you're a Windows, a macOS, or a windows user, using your VPN to watch Fubo TV is straightforward. You don't even need to get the Fubo TV app on computers. You just need to follow the correct procedure, which is the following:
Pick a premium VPN service from our list. ExpressVPN is the best option, but any of them will do. Open an account with the VPN of your choice.
Download and install the relevant software that your VPN vendor offers for the operating system on your device.
Launch your VPN software. Log in using your account's credentials.
Connect to the VPN network. Pick a server from the US (this is the critical bit).
That's it! You should be ready to see Fubo to your heart's content now!
Suppose you find that you remain blocked by Fubo TV's servers after following the previous procedure, do not worry. Just clear your browser's cookies and cache. Then try the recipe again, and this time it should work smoothly.
---
Use your smartphone to watch Fubo TV
So you want to watch Fubo from your phone and not your computer? No worries. Here's what you do:
Manage your app store's and phone locations. Change your location to the US–this applies to iOS and Android (Google Play).
Download and install the app relevant to your VPN provider. ExpressVPN is the best one, but you can also use NordVPN, SurfShark, PIA or CyberGhost.
Connect to the VPN network by using a US-based server.
If your Apple ID (or Google account) does not have you as located in the US, open a new account where the US is your country of residence.
Search for the Fubo TV app in your app store and install it–remember, you're doing this from within your VPN.
Start streaming Fubo!
---
Use a smart TV to watch Fubo TV
Watching Fubo TV using a smart TV requires you to perform the same trick as with any other device, making the Fubo TV servers think that you are connecting from the US. Achieving this is a bit trickier in smart TVs, but it's not impossible.
You have two possibilities: if you have an Amazon Firestick available to use with your TV, then you can simply choose ExpressVPN as your VPN vendor. It has an app for Firestick devices, so everything is the same as with any other gadget once you have it.
The second choice is more general, and it can work with vendors that include but are not limited to ExpressVPN. It consists of installing your VPN server directly on your home router. Once this is done, every device in your household going online through your router will be protected by your VPN service, and your server will see it.
The correct procedure to install a VPN into your router can vary depending on your specific router model and chosen VPN. It can get a little technical. However, it's not rocket science either. Besides, every VPN we've suggested to you in this article has an excellent customer service department. They can provide you with all the help you will need to do this, and some of them will even get you the configuration files, custom firmware for a selected set of routers, and other resources.
If you're on the smart TV camp, don't be afraid to keep your hands dirty and perform this trick. It will benefit your internet experience because every tablet, computer, and phone at home will be VPN-enabled.
---
Use a streaming device to watch FuboTV
Roku
Roku doesn't like VPN apps, so there's hardly a good one for you to install. So you'll have to install your VPN service into your home router by following these steps:
Sign up for a VPN service that has a lot of US-based servers. PIA is the option with most servers, but ExpressVPN is the best option. Anyway, SurfShark, NordVPN, or Ghost will do.
Download and install the software you need to have your VPN working with your Wi-Fi router.
Login to the VPN network using your account's credentials.
Connect to the network through a US-based server.
Take your Roku and connect it to your smart TV using the HDMI port.
Turn your TV on. Choose Fubo TV on Roku's home screen.
Enjoy!
Kodi
You can't install a VPN app on a Kodi device any more than you can on a Roku. But thanks to Kodi addons, you can make things work for you if you do this:
First, make sure you have OpenVPN installed.
Download and install a VPN that can unblock Fubo TV. ExpressVPN is our choice, but you have four more that will work.
Add your VPN to your Kodi. You can do this by downloading the VPN to your computer, saving it into a thumb drive, and then using that drive on your Kodi.
On your Kodi, open "Settings" then "System Settings." Then choose Add-ons on your menu. Finally, toggle "Unknown sources" on.
Download the VPN software into your Kodi.
Connect to a US-based server.
Turn your TV on, and go to your Kodi's home screen.
Install the Fubo TV add-on.
Enjoy Fubo!
If this seems a bit complicated, don't worry. Install your VPN into your home router instead if you prefer.
Firestick
Everything is easier with Amazon Firestick gadgets and mayraid apps available for them today. There is an Amazon app store for a start, and it includes a few VPN apps for you to download and install into your Firestick. Do this:
On your Amazon Firestick, switch "Unknown sources" on.
Download and install the app for a VPN of your choice that can deal with Fubo TV successfully. ExpressVPN is the way to go if you ask us, but you can pick NordVPN too, or any other option from our list with a Firestick app. If you went with ExpressVPN you won't even need to switch the "Unknown sources" option on as you can download ExpressVPN's app from Amazon AppStore directly.
Install the Fubo TV app on your device (simply search for it in Amazon AppStore).
Login to your account or create a new one.
Enjoy Fubo!
Chromecast
The way to go with Chromecast devices is to perform the WiFi router installation. As the correct procedure depends on your router and your VPN service, we'll refer you to your provider's customer support service. In this article, the VPNs we've offered you have excellent customer service agents who know how to deal with this issue.
Apple TV
Apple TV doesn't support any VPN apps either by default, but there's a solution.
Select a VPN provider whose service includes smart DNS servers. ExpressVPN and NordVPN offer this option.
Find out what your Smart DNS addresses are. Then go to the "Settings" menu on your Apple TV and choose "Network" at the bottom of the page.
Click on the "Wi-Fi" button. Choose your network. Then hit "Configure DNS" and select "Manual Configuration."
Type in your smart DNS addresses. Then restart your Apple TV.
Once your device is restarted, connect to your VPN by choosing an us-based server.
Find, download, and install the Fubo TV app on your Apple TV.
You're done. Start enjoying Fubo TV!
As it happened with several of the previous devices, you can always perform the VPN installed on your router, which will work as well.
Watching Fubo TV's video streams from any place around the globe
Your VPN is your digital teleporter. It doesn't matter where you are; it can get you to the US (virtually) with only a few clicks. Follow these steps:
Choose a VPN service. ExpressVPN is our recommended option.
Find, download, and install the relevant software provided by your VPN vendor.
Use your account's credentials to log into your VPN app. Choose a server from the US.
Once connected to a US-based server, find and install the Fubo TV app.
You're done!
So you have a VPN, but you still can't unblock Fubo?
Yes, it can sometimes happen that you're sure you did everything correctly, yet, the result is not what you wanted or expected. So if you have a VPN, you have installed everything perfectly, and you still can't unblock FuboTV, it's because of one of the following reasons:
You picked a VPN that cannot unblock Fubo TV. Unfortunately, not every VPN in the market can perform this feat. It's not enough to have encryption and IP spoofing to unblock Fubo TV. It takes a little extra, so you should pick one of the five options on our list.
Your provider's servers are on Fubo TV's blocklist.
Fubo TV is getting better at blocking VPN connections, and your VPN is the newest victim.
Your actual IP address is somehow leaking –again, use one of our five options; they are absolutely leak-proof.
The VPN server you chose is not in the US.
So there are some things you can try to improve your situation:
Make sure that your VPN server is in the US.
Choose a different server within your network based in the US.
Reach out to your VPN's customer service, and ask them for advice.
If none of the previous three measures work, you need to pick a better VPN service.
Can I watch Fubo TV for free?
Yes, you can watch Fubo TV for free–during a week. The platform currently offers a seven-day free trial option, so you can try its service for a week without paying any money. This could be a good move if you're still unsure if Fubo TV is your cup of tea. After that, you will need a subscription –which means paying at least 65 USD monthly.
Then there's the issue of having a VPN for free. Don't even think about it. We've written full articles on why nobody should ever use free VPNs on privacy-savvy. Ever.
We're not going to go into full detail about the evils of free VPNs, but we will still give you the basics:
Free VPNs can never match the resources and performance of premium services. The chances are that the free VPN you have in mind will not unblock Fubo or won't have enough data or bandwidth, so support the video stream –in the best-case scenario, support it for 20 minutes.
If the terrible functionality you will get from most free VPNs doesn't dissuade you, then think about this: most free VPNs operate on a business model on which the product on offer is your activity log, no less. In other words: free VPNs are a privacy liability that you do not need.
We will insist on this: there is no valid reason for you to insist on using a free VPN. Even if money is tight for you, SurfShark's fees are so low that anybody can afford them. If you must, then at least try an excellent reputable free VPN. These are the ones that have a "Freemium" model, such as Atlas VPN or ProtonVPN.
And what's so cool about Fubo TV's content, anyway?
We are glad you asked. Fubo TV has something for everybody. TV shows, movies, and live sports. You name it.
Here is a short list of cool things you can watch on Fubo. We start with The Waling Dead on AMC; Killing Eve on BBC America; La Liga soccer matches on bein Sports; The Fresh Prince of Bel-Air on BET; the Bit Ten Conference on its network; The Real Housewives on Bravo; The Daily Show on Comedy Central; Major League Soccer fixtures on Elevn Sports; the English Premier League soccer on ESPN; Glee on Oxygen.
And that's just to point out a few flagship shows and events on a handful of channels, but there's a lot more waiting for you to find it.
Final thoughts
We hope we managed to convey to you the central idea of this article: watching Fubo TV if you're outside the US is a simple problem that admits an equally simple solution –using a premium VPN service to do it.
The trick is to use a US-based VPN server to connect to Fubo. This make
s its servers think you are a US user and will treat you accordingly. However, not every VPN can pull this trick successfully. You must choose a top-notch VPN vendor if you want it to work, so we've given you five such options.
Moreover, the thing about the excellent VPNs on our list is not just that they will unblock Fubo for you. They will provide you with enhanced tools for privacy, anonymity, and security online. Ad blockers obfuscated service and bypassing censorship are just the tip of the iceberg.
Our chosen VPNs give you great value for money, and you can't go wrong choosing any of them. And they will also provide you with the ability to unblock many other video streaming platforms besides Fubo.
VPNs are the digital swiss army knives of the brave new digital world. We encourage every one of our readers to have one because the new realities of the digital experience demand it.
Of course, there's nothing wrong with having a VPN such as ExpressVPN that will expand your entertainment choices. But keep this in mind: it will also serve the goal we try to help every reader achieve: to stay safe!
FAQs
Fubo TV is a legal service. Therefore, it must honor the copyright agreements that allow it to stream content to three countries only. So it has to make every possible effort to make sure that such restrictions are adequate to keep its copyright holders happy.
The most likely scenario, in this case, is that Fubo TV caught your VPN red-handed. You can solve this problem by choosing a better VPN or asking for your VPN's customer service help. Also, make sure that your browser's cookies and cache are thoroughly cleansed, and try again.
The answer to this question depends on the VPN you pick. The five VPNs we suggested for you in this article work with Fubo TB.
Yes, it can, and it keeps trying very hard to block as many VPNs as possible.
Fubo TV is available in Canada and Spain besides the US, so you can say it's international.
The starting plan at Fubo costs 65 USD monthly. But you can also go for the premium package at nearly 80 USD monthly, which will give you about 47 more channels than the starter's package.