Kodi allows you to create a comprehensive home theater by uniting different viewing streams from various sources. It is open-source software that works well with most devices, including laptops, smartphones, tablets, TVs, etc. But to make the best of it, you must use the right add-ons that suit your purpose. With the best Kodi addons, you can combine your entertainment media on a single dashboard, including movies, sports, documentaries, and music.
However, thousands of add-ons are available, making it challenging to find the right one. In addition, during our research, we also discovered that some add-ons being presented to users online had broken links while others did not exist.
So, to help you pick the right resources, we have compiled a list of reliable Kodi add-ons of movies, TV shows, documentaries, sports, and more in this article.
Disclaimer:
Kodi is based on an open-source code, and in this guide, we have highlighted both official and third-party add-ons. Most of them are available publicly and free of charge. Here at Privacysavvy, we are not accountable for how our readers decide to use Kodi software or the extensions. In addition, we don't encourage downloading or sharing copyrighted content. Moreover, PrivacySavvy is not affiliated with Kodi in any way.
Top 10 addons – The quick list
Beware: Protect your privacy
Your ISP (internet service provider) could share and sell details about the videos you stream or download, and the sites you visit. Hence, using a VPN during streaming and all other activities online in recommended. Having such a tool is critical today as it ensures your web activities remain hidden, and cannot be stolen, shared, or sold. Since a VPN encrypts your connection, your internet provider won't have any clue about your online activities. We've tested dozens of VPNs for privacy, speed, and security, and ExpressVPN is our #1 recommendation for Kodi users.
Types of Kodi addons
Generally, add-ons expand Kodi's functionality. Here is their classification.
Official add-ons
These are Kodi add-ons created and supported by the XMBC Foundation. They are called 'Official' because they respect laws, restrictions, and copyrights. In most cases, they will give you access to official streaming services. This means you can access pay-per-view and subscription services within Kodi when you install the app.
---
Third-party add-ons
The Kodi community is very diverse and develops various third-party add-ons. These will help you access virtually any stream and even break the most notorious barriers to present you with desired content. Third-party add-ons act like master keys that unlock closed doors without the owners' permission. That is why they are often taken down. Nonetheless, these add-ons are widespread in the Kodi community, and you can use them to access any content you want for free.
---
Top Kodi addons categories
We have sorted all the best 31 Kodi extensions into the seven categories below to help you quickly find what you want.
Best Kodi add-ons for movies and TV shows
The best Kodi movies and TV shows add-ons should offer a vast content selection.
However, like streaming websites, some add-ons contain content restricted to people living in selected countries. In such cases, you can use a reputable VPN to bypass the restrictions and access whatever you want.
So, without further ado, below are some of the best Kodi add-ons for movies and TV shows:
Exodus Redux
Exodus Redux is a reliable Kodi addon for top-notch TV shows and movies. We spent several days surfing the selection and were impressed with the high-quality content and fast streaming. However, we don't encourage illegal activities, so ensure you do not stream copyrighted material. Moreover, we advise you to use a reliable VPN, especially because Exodus Redux is an unofficial third-party Kodi addon. Fortunately, you will get full HD and playback options if you integrate it with Real-Debrid.
---
Odin
Repository name: Odin Repository
Source URL: http://www.narcacist.com/repo/
Available countries: Worldwide
Odin is a video addon allowing users to stream a wide selection of on-demand content's extensive shows and movies. This one is worth checking out if you're looking for a one-stop shop for your entertainment needs. Moreover, it has a separate section for boxsets, kids' zone, classics, documentaries, etc.
A third party developed Odin. Therefore, we can't assure you of its safety. However, the Virus Total scan of the zip file shows no malicious things in it.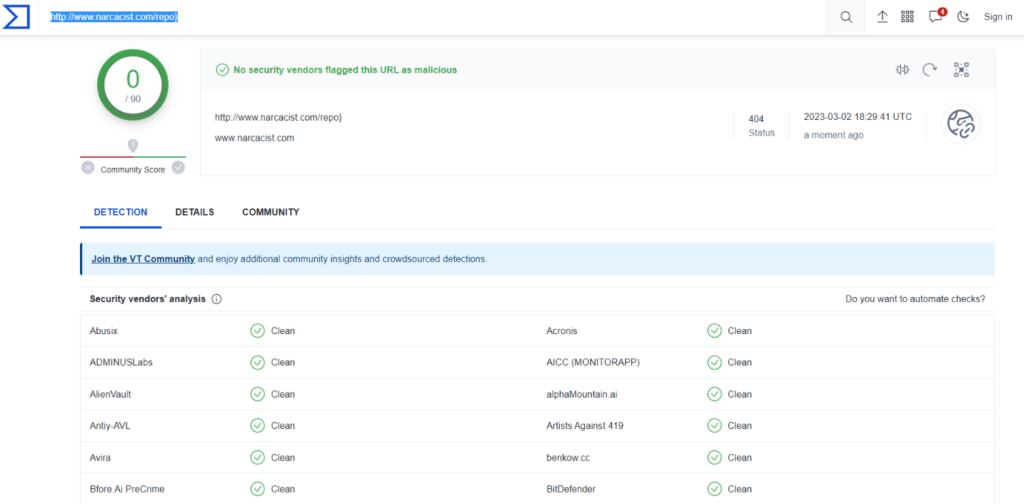 Still, always take extra precautions before considering it or any unknown addon you add. Moreover, the site's legality is also a critical alert. We don't recommend Odin, but you can consider it if you have a top-notch VPN like ExpressVPN, Private Internet Access, or NordVPN.
Using Odin or any Kodi add-on with Real Derbid and Trakt TV is highly recommended. It may cost you a few monthly bucks, but it will keep you safe from potential trouble. Moreover, you can enjoy your favorite content in 4K quality.
---
PopcornFlix
Repository name: Same, available as an official add-on
Source URL: None
Available countries: the US and Canada
It is another popular Kodi addon with many movies and TV shows spanning various genres. It is an official Kodi addon with some of the most famous titles. They include What's Eating Gilbert Grape, The Clearing, Crown Vic, Teenage Mutant Ninja Turtles, etc.
Note: It might not be available to users in some countries. The easiest way to stream Popcornflix content from anywhere is through a VPN with United States and Canada servers.
---
Crackle
Repository name: Same, available as an official add-on
Source URL: None
Available countries: the US
Crackle is an addon with a rich collection of free movies and TV shows. Fortunately, there is no need to create an account – download the addon from the Kodi official repository to start streaming. It offers some of the most popular titles, like StartUp, Snatch, Chosen, etc.
Note: Crackle's US version has the most extensive catalog of movies and TV shows available free of charge. However, you will need a VPN to access the content from overseas. Check out how you can unblock Crackle from anywhere.
---
Netflix
Repository name: CastagnalT
Available countries: Worldwide
Netflix has not yet released an official Kodi add-on. But you can use the CastagnalT add-on. This third-party add-on works well with various Netflix libraries, including Australia, the UK, Japan, and the US. While testing, we could stream HD movies and TV shows with minimal lags.
Currently, there are thousands of unofficial Netflix Kodi add-ons available. However, CastagnalT is the safest option as its developer is respected within the Kodi community. In addition, it is highly secure as it encrypts your Netflix login credentials. Also, it uses HTTPS internet protocol to connect you to Netflix. Thankfully, it deletes your data altogether when you log out.
---
Magic Dragon
Magic Dragon is a Kodi addon for streaming various content, including movies and TV shows. While it has a vast collection of content, you should be cautious with the links you follow. That is because some may contain ad trackers that may compromise your privacy. Therefore, you should consider using a reliable VPN service.
---
Disney+
Repository name: SlyGuy
Source URL: https://k.slyguy.xyz/
Available countries: Canada, Australia, Channel Islands, Austria, Germany, France, Ireland, India, the Netherlands, Italy, Puerto Rico, the Isle of Man, the US, Spain, the UK, and Switzerland.
Similar to Netflix, Disney+ doesn't have an official Kodi addon. However, you can use the unofficial one from the SlyGuy repository, a trusted and well-maintained repository. We tested this Disney+ addon and could watch movies and TV shows in HD quality. One of its exciting features is the Search function which makes finding the content easier.
Unfortunately, the addon is not accessible worldwide and only works where Disney+ is available. However, you can use a VPN to unblock it whenever you want.
---
iPlayer WWW (BBC iPlayer)
Repository name: Same, available as an official addon
Source URL: None
Available countries: The UK
iPlayer WWW is the best Kodi addon to watch BBC iPlayer content. It lets you stream Catchup TV, Radio, and even live shows straight from the official BBC iPlayer site. Nonetheless, it contains popular titles such as Doctor Who, Killing EVE, EastEnders, etc.
Note: Regrettably, this addon is restricted in the UK. So, you'll need a VPN to connect to a UK-based server to get a UK IP address if you're abroad. However, it will let you access iPlayer WWW any time you want, from anywhere. This article here features the best UK VPNs should you need one.
---
Gaia
Gaia is a high-quality and powerful Kodi addon. It is perhaps the best addon on this list, primarily because of the browsing interface. It has various streaming options with all the necessary information on the home screen, making it easy to choose whatever you want to watch. For example, it lists file types, quality, and sources, eliminating the likelihood of getting a bad link.
However, Gaia is optimized for Debrid streaming services like Real Debrid and Premiumize. It means you must subscribe to the Debrid service to get started. Also, setting it up is a bit difficult, and that's why the addon is infamous. Nonetheless, once set up, you can access premium links to stream content in 4K quality.
---
Covenant
Covenant is a great Kodi addon with an impressive list of free TV shows and movies. However, you need to remain extra cautious to avoid downloading illegal material. Fortunately, the addon has a filtering feature that makes it easy to find legitimate content. Protecting yourself with a VPN is also advisable since this is a third-party add-on.
---
Tubi for Kodi
Tubi is a popular free video-on-demand streaming website with a library of more than 50,000 movies and TV shows titles. Unfortunately, like other popular services such as Netflix and Disney Plus, Tubi doesn't have an official Kodi addon.
Nonetheless, you can use a third-party Tubi addon available on the Diamond Wizard Repository, a highly trusted repo in the Kodi community. Luckily, the addon does not show any ads during streaming.
Unless you want to watch R or M-rated content, creating a Tubi account is unnecessary to get started on Kodi. However, you'll need to use a VPN (we recommend ExpressVPN) if you want to stream Tubi outside the US.
---
Luxray Video
Luxray is a trendy addon in the Kodi community. It is elementary to navigate and use with the content sorted into categories such as TV shows, movies, crime, superheroes, animations, etc. In addition, the streaming speed is superb; we can watch Rick and Morty buffer-free.
The standard collection on the addon may be limited to your liking. However, you can get more content if you connect it to Real Debrid. The problem is that Luxray contains some torrenting links, so protecting your connections with a reliable VPN is advisable.
---
Cypher Media
Cypher Media is an all-around Kodi extension containing numerous movies and TV shows. It also gives you access to IPTV, anime, and TV Calendar to stream the latest shows, such as The Tonight Show.
The addon only lagged for a few seconds during our test before streaming impeccably. Unfortunately, some links are from illegal sites, so never download copyrighted material from free sources. Also, you should use a quality VPN service as a precaution against hackers and other malicious actors.
---
Seren
Repository name: Seren Repository
Source URL: https://slyguy.uk/
Available countries: Worldwide
Seren is a popular premium Kodi add-on that works only with Real Derbid. It is well known for providing seamless and high-quality streaming. Moreover, the extension boasts a user-friendly interface and an extensive library of shows and movies. Seren uses premium hosts, like Real Derbid, which help it to provide reliable and fast streaming links and buffer-free streaming.
It also has advanced features such as automatic episode playing and autoplay, making it a viable option for non-stop streaming. With its exciting features, Seren has become a top-notch choice for Kodi users.
Seren also supports a popular service called Trakt which lets you track and synchronize your watchlist across devices. By linking with Trakt, Seren lets you personalize your recommendations based on your watchlist.
However, legality is the main issue when considering add-ons like Seren, as they can be shut down sooner or later. Copyright holders have aggressively chased Kodi developers in recent years, and they regularly remove their add-ons to avoid legal troubles. Seren may work (and be safe to use) for some time after you install it, but there is no guarantee it'll do so for long.
---
FEN
Fully-Featured Entertainment Network (FEN) is an Exodus-based Kodi add-on. It has an easy-to-use interface and an extensive content library. The content includes movies, TV shows, music, and more. Moreover, you can stream movies and TV shows from popular streaming platforms like Dailymotion, Vimeo, and YouTube.
The FEN Kodi add-on is known for its ability to scrape multiple sources for content. That ensures users can access high-quality, fast, and reliable streams. Additionally, the add-on allows filtering and sorting search results, making finding content matching specific criteria quick.
However, it's imperative to note that some of FEN's content may not be legal in all jurisdictions. Hence, you should exercise caution and comply with your local laws. We recommend using a premium VPN like ExpressVPN or NordVPN.
---
Best Kodi addon for cartoons and anime
There are several options if you are looking for kids-friendly Kodi addons. Following are some of the best addons for kids' content available:
Binky TV
Binky TV is a popular Kodi addon for kids. It comes with more than 50 shows specifically designed for young children. The add-on, with a folder for each title, is easy to use and does not require configuration.
Unfortunately, some sections contain only short clips instead of full episodes. However, it is not a big deal as most of the content is for preschoolers. Moreover, there is a sense of balance between entertainment and education-focused content. Some popular classic titles featured include Reading Rainbow, Barney, Postman Pat, and more.
---
CTOON Kodi
CTOON Kodi is a well-known Kodi addon for cartoons and anime. It has a vast selection with one-click playback. The links work well and will provide your kids with fun videos. Its home page is arranged perfectly with main categories such as anime, animated movies, and cartoons. You can also use its search bar to find any specific content quickly.
---
PBS Kids
Repository name: Same, available as an official addon
Source URL: None
Available countries: the US
The PBS Kids Kodi addon has a massive library for children to stay entertained. It has more than 40 titles, each with around four episodes, which will keep your little champs occupied all the time. The good news is that the content is available in HD quality.
This add-on has an easy-to-use interface with the featured titles on a single page. Fortunately, you can choose specific episodes if you click on each title.
Note: PBS Kids is available only in the US. As you might know now, the solution is to use a VPN to avoid geo-restrictions and stream its content from anywhere in the world.
---
FunimationNOW
Repository name: Same, available as an official addon
Source URL: None
Available countries: Canada, Australia, New Zealand, the US, Ireland, and the UK
FunimationNOW is a famous anime Kodi addon worth trying, especially if you like English-themed content rather than the common Japanese audio. Remarkably, the addon is incredibly effortless to use. It has preview screens, quality images, and a filter option. Although it has a free mobile and desktop version, you need a subscription to use this addon.
Note: FunimationNow only works in selected countries. However, with a quality VPN, you can access it from any part of the world.
---
Crunchyroll
Repository name: Same, available as an official addon
Available countries: Worldwide
Crunchyroll has perhaps the most extensive selection of Japanese anime content with English subtitles. However, you'll have to subscribe to Crunchyroll to use this addon.
Most anime titles are licensed in specific regions. Therefore, you must use a Crunchyroll VPN to access content from other countries. For example, when testing, the US library has at least 100 more titles than the UK.
---
Popular live TV and news Kodi addons
These are some of the best add-ons to update you with the latest happenings globally.
Deutsche Welle
Repository name: Same, available as an official addon
Source URL: None
Available countries: Worldwide
The Deutsche Welle (DW) Kodi addon is a great option to stay tuned with current affairs and international news. It is well-arranged with categories such as Close Up, DW News, Conflict Zone, DocFilm, etc. More importantly, you can change the language to German, Arabic, or Spanish apart from English. Thankfully, the addon is free and available in almost every country.
---
USTVNow
Repository name: Same, available as an official addon
Source URL: None
Available Country: Worldwide
USTVNow allows you to watch live TV in the United States. The free version includes popular channels such as CW, ABC, PBS, My Network TV, and CBS. However, you can also get Animal Planet, Comedy Central, ESPN, Bravo, and more if you upgrade to the paid plan. The Kodi addon has worked worldwide since USTVNow was established for the US military and expatriates overseas.
---
XumoTV
Repository name: Same, available as an official addon
Source URL: None
Available countries: France, Canada, Brazil, Italy, Germany, the UK, Spain, the US, and Mexico
Xumo.TV is an incredible addon for your open-source media player software, as it lets you access more than 190 free-to-watch channels worldwide. Although most networks are only available in the US, you'll also get channels from Brazil, Canada, Germany, Mexico, Italy, France, the UK, and Spain.
Note: As noted already, Xumo only works in selected countries. However, if you use a tried and tested VPN like ExpressVPN or NordVPN, you'll be able to access the addon regardless of your location. Just connect to a VPN server where it is available, and you'll be good to go.
---
Top Kodi extensions for sports
The following are the best Kodi addons to watch major sporting activities from around the world if you are a sports fanatic:
ESPN3
Repository name: Same, available as an official addon
Source URL: None
Available countries: Worldwide
The ESPN3 Kodi addon offers replays, highlights, and live sporting events of basketball, football, golf, tennis, cricket, soccer, and more. Unfortunately, the free version allows you to watch only short clips, so you'll need to get a subscription to stream games in total.
---
The Crew
The Crew is an essential addon if you want to watch NBA, NFL, FIFA, UFC, MLB, and more. Unfortunately, although the addon works perfectly, installing it is a little annoying. As per our tests, if you already installed the Indigo addon, The Crew won't install. The best way to solve this issue is to deactivate Indigo before installing The Crew.
---
DAZN
Repository name: Same, available as an official addon
Source URL: None (select Video add-ons and scroll down until you see DAZN during the general add-on installation process you follow)
Available countries: Canada, Germany, Austria, Brazil, Spain, Japan, Italy, the US, and Switzerland
The DAZN addon is available on the official Kodi repository. It will enable you to watch live sports such as basketball, UFC, tennis, and NFL. We found it user-friendly, making it easy to navigate the different sections.
Unfortunately, you'll need a DAZN account to use the add-on. Also, it is geographically restricted in selected countries. So, you'll need a VPN to unblock DAZN content from anywhere.
---
Sport HD
The Sport HD addon is an excellent source for watching live sporting activities. It features various sports types such as basketball, football, handball, motorsport, UFC, NFL, rugby, volleyball, hockey, wrestling, and more. Some categories featured on the main menu include Live Events, Best Leagues, and more. Furthermore, there are feeds from SportHD and other websites presented. In addition, the extension dashboard has a green dot that indicates active live games.
---
The Loop
The Loop is an incredible sports Kodi addon that is actively maintained. With it, you will get countless video-on-demand and live sporting activities. Most channels are from the UK, Canada, and the US. However, there is plenty of other sporting content from different parts of the world, like cricket, F1 racing, soccer, etc. Furthermore, the Fight section contains content such as MMA and wrestling.
---
Rising Tide
Rising Tide is a popular Kodi addon that lets you watch your favorite sporting activities in high quality. It is updated frequently and offers everything from NFL, Football, Golf, Cricket, Boxing, Motorsport, and more. It is a fantastic third-party add-on to enjoy local and international sporting events with a VPN connection.
---
Most-loved Kodi addons to watch videos online
If you like watching videos online, you can install the following add-on.
YouTube
Repository name: Same, available as an official addon
Source URL: None
Available countries: Worldwide
The YouTube add-on allows you to stream videos, music, and other content without ads. On the downside, the installation process is challenging. A recent update requires you to have API keys. Fortunately, the screen has simple instructions on how to install the addon. Also, it works well with various devices, including Amazon Firestick, Windows, Android, Smart TVs, macOS, and iOS.
Note: Although YouTube is available worldwide, some videos are limited to specific countries. It means you need a VPN to bypass these restrictions and stream any YouTube content.
---
Best Kodi addons for watching documentaries
Do you need to watch documentaries but don't know which addons to use on your favorite media player application? Here are some reliable add-ons that solely focus on documentaries.
Seeker
Repository name: Same, available as an official addon
Source URL: None
Available countries: Worldwide
Seeker contains an extensive list of technology, culture, and science documentaries. It is owned by the same company that runs the Discovery Channel, so you should expect to get original and quality content. Regrettably, the addon only shows Seeker's YouTube channel content.
---
National Geographic
Repository name: Same, available as an official addon
Source URL: None
Available: Worldwide
National Geographic started as a magazine in the late 19th century. And now, it is perhaps the biggest documentary channel available, dedicated to promoting knowledge and exploration.
You can try the Kodi add-on option to watch the documentaries free of charge. However, you'll primarily find short clips. Also, finding a video to watch from the many available videos is a bit of work. But, overall, you can watch high-quality documentaries for free.
---
Finest Kodi addon for Bollywood, Indian, and Hindi movies
Are you looking for a way to watch Bollywood, Indian, and Hindi movies through Kodi? Since Einthusa is not available anymore, here is the best alternative.
Disney+ Hotstar
Disney+ Hostar addon should be your top consideration if you want to stream Bollywood, Indian, and Hindi movies on Kodi. As the name suggests, this addon features the entire Disney+ catalog plus much other content. However, you'll need a quality VPN to access most of the content if you are outside India.
---
The addons and repositories to avoid
After thorough testing, we found these add-ons no longer working:
Elementum
Eithusan
Amazon VOD
Genesis and Genesis Reborn
SnagFilms
Planet MMA
UKTurk
Mobdro
Also, you shouldn't download these broken repositories:
Maverick TV
KodilRepo
XcLordKC
Repository
SuperRepo
The problem is that they are still featured in many reviews, but unfortunately, it'll just be a waste of your time.
Do you need a VPN for Kodi Must today?
It is recommended to use a VPN when downloading Kodi addons. That is because some add-ons have malicious codes that can install malware and even steal your information.
Although VPNs cannot prevent viruses, they employ advanced security features to secure internet traffic and data. In addition, some services have ad blockers that also stop malware.
However, not all VPNs work with Kodi, and finding the right one is a big challenge. So, after rigorous research and testing, we have compiled a list of the best Kodi VPNs to help you get exemplary service quickly. But if you want a quick recommendation, we briefly review our top recommendation for Kodi, ExpressVPN, below.
ExpressVPN

A highly suitable VPN for Kodi users due to its fast speeds, incredible security, and valuable additional features.

3,000+ servers in 94 countries

AES-256-bit encryption

DNS/IPv6 leak protection

P2P optimized servers

Network-lock feature

TrustedServer technology

Zero-logs policy

Allows up to 5 simultaneous devices

30-day money back guarantee
Pros
Compatible with a wide range of devices

Unblocks geo-blocked content worldwide

Good speed for streaming
ExpressVPN has dedicated apps for Windows, Android, iOS, macOS, Linux, and other platforms. It also provides custom firmware for specific routers and detailed installation guides for Apple TV, Fire TV, Kindle Fire, PlayStation, Chromebooks, etc. Moreover, there are Firefox and Chrome browser extensions too.
Regarding safety, ExpressVPN uses advanced features such as military-grade AES 256-bit encryption, a kill switch, perfect forward secrecy, TrustedServer technology, and more. Also, the provider has a no-logs policy based in the British Virgin Islands, a privacy-friendly jurisdiction.
The pricing scheme begins with a monthly package at $12.95, slightly higher than the industry standard. However, you can go with the 6-month plan costing $9.99 monthly. The one-year package offers the best value for money, reducing the cost to $8.32 per month plus 3 free months.
ExpressVPN supports various payment methods, including cards, Bitcoin, AliPay, and Yandex Money. Fortunately, it offers a 30-day money-back guarantee, which means you'll get a refund from ExpressVPN within 30 days of subscription if you don't like the VPN for any reason.
It has an extensive network of over 3000 servers in 94 countries and 160 locations worldwide. That gives you various options to choose from when streaming content from Kodi addons. Besides, the VPN has a Smart Location feature that automatically establishes the fastest connection.
Furthermore, the provider has impressive unblocking capabilities and works well with almost all popular streaming services, such as BBC iPlayer, Netflix, Disney+, Voot, CNNGO, etc. The VPN also unblocks Google, YouTube, Facebook, and other websites restricted in workplaces and schools.
---
How to install addons on Kodi
After installing the VPN on your device, follow the below steps to install both official and third-party add-ons:
Installing addons through the official repository
Open Kodi and tap on 'Add-ons.'
Click on the box icon on the left-hand corner of the page.
Choose 'Install from repository' on the list.
Tap on 'Video add-ons.'
From the list, click on the channel you want.
Click 'Install' and wait for verification.
Go back to the home screen.
Start watching your favorite channel on Kodi.
---
Installing addons from a third-party repository
You need to take extra steps to install Kodi extensions through the exterior repository. Here's how you should proceed:
Open Kodi, and on the left side of the page, click on the cog icon to open the Settings menu.
Click on 'File Manager.'
Navigate to 'Add Source' and double-click.
Input the repository URL and click 'OK.'
Enter the repository's name and click 'OK.'
Click on the box icon on the home page.
Tap on 'Install from Zip.'
Look for the file name and click on it.
Navigate back to install from the repository and repeat steps 3-8 above to install the new repository.
---
Why aren't my Kodi addons working?
Informal developers generate most add-ons available on Kodi, so they aren't always up-to-date and malware-free. We have tested all the add-ons listed above and found them working perfectly. However, some Kodi extensions clash with each other sometimes, like after updates.
So, below, we list some common addon issues and how to solve them.
Prevent addons from buffering or freezing on Kodi
Buffering and freezing problems are caused mainly by addon conflicts. Is it a new add-on, or has it been updated recently? If you cannot recognize the issue, disable your hardware acceleration. Here is how to do it:
First, click the gear icon on your home screen.
Go to 'Player Settings.'
Click 'Basic' three times to change it to 'Expert.'
Next, choose the 'Video' tab.
Deactivate 'Allow hardware acceleration VTBDecoder.'
Sometimes, you need to re-install a Kodi addon if the problem persists. Although this may seem drastic, it'll ensure you use the latest addon version. In addition, this will probably end the freezing issue.
---
Prevent the 'Failed to install a dependency error message
Many add-ons depend on other files and programs to function correctly. Usually, these are shown when downloading the addon and will install automatically. However, an error may sometimes arise, so here is an easy fix.
First, start by clearing the Kodi cache to troubleshoot the error. The simplest way to do it is by using the Indigo addon.
Use the following steps to clear your cache:
Install the Fusion repository from https://fusion.tvaddons.co/.
Download the Indigo addon.
Open the Indigo add-on.
Tap on 'Maintenance Tools.'
Click 'Clear Cache' and confirm.
---
Solve the 'Unable to Connect' error message when adding sources
This error usually occurs when the repository isn't working or has shut down. However, you can try the following troubleshooting tips before you give up on the addon:
Double-check whether you have input the repository URL correctly.
Confirm if your internet is working properly.
Use a reliable VPN to prevent your ISP from blocking your connections. It will allow you to access the content you want risk-free. ExpressVPN is an excellent choice as it has high-quality security features to keep you safe alongside excellent unblocking capabilities.
Find an alternative link to the repository or check if the addon is featured in a different repository.
---
Fix the 'Check log for more information error message
The easiest way to check your log is using the Kodi addon log viewer from the official Kodi repository. View your Kodi log by using the following steps:
Click 'Add-ons' from Kodi's home screen.
On the sidebar, tap on the open box icon.
Click 'Install from repository.'
Select the 'Kodi Add-on repository.'
Click 'Program Add-on.'
Tap on 'Log viewer for Kodi' and click 'Install.'
Navigate to the addon in the 'Program add-ons' category.
Read the log file and follow the guidelines to solve the error.
Try to clear your cache if the log doesn't have clear directions.
Even after trying the above instructions, there may be technical difficulties with your IP address if you still get the error message. So, in that case, the best solution is to use a VPN to change your IP address.
---
Latest developments in the Kodi community
Recently, there have been naming suggestions for the next Kodi version. Traditionally, new releases have sci-fi theme names like Leia, Matric, Krypton, etc. Eventually, it was agreed that Kodi 20 would be named 'Nexus,' although it isn't coming as soon as things stand.
Kodi' Matrix' 19.1, which solved a lot of bugs, was introduced in May 2021. Unfortunately, it didn't include any new features from the previous version, and the release press is just a dry read. However, this kind of maintenance is necessary to improve the experience.
The most significant change has to be with the first official Kodi 19. x build released in January 2021. It features multiple updates, especially in the maintenance of installed addons. While many of the changes were technical, one is worth pointing out. The addons you initially installed manually from a URL or zip file will no longer be available. Instead, you must delete the old version to get the latest version.
Keeping up with Kodi addons
Good things in the Kodi community are yet to come. Nonetheless, after several rough years because of the third-party add-ons, the official Kodi is back as an excellent choice software for playing media. So, try to make visiting Kodi's official changelog page frequently a habit to stay updated about the latest changes and improvements on the current version.
Conclusion
Kodi can enable you to stream almost anything you want with the correct add-ons. But most add-ons either don't work or can infect your devices with malware. Fortunately, the Kodi addons featured above work well and are safe, including those from third-party repositories.
However, we recommend using a VPN to protect your connections from potential online dangers. It will also help you bypass geographic restrictions and watch content from anywhere. Our top VPN pick for Kodi is ExpressVPN, which boasts robust security features and unblocks almost all geo-blocks.
FAQs
We check and add add-ons to this article almost daily. After numerous tests spread across multiple days, we found Pluto TV wasn't working on Kodi. That's why we didn't list it.
Yes. Numerous Kodi addons offer a wide range of movies and TV shows libraries for a great streaming experience.
All Kodi add-ons hosted on the official repository are legal to use. However, you can get into trouble using an add-on that hosts illegal content. Unfortunately, it's common with unofficial third-party Kodi addons. The easiest way to avoid such legal issues is to use a VPN. That helps keep Kodi's activities private, and no one can track you.
Some free VPNs work well with Kodi. However, you might encounter serious issues when streaming due to various performance limitations with free VPN services. For example, TunnelBear's free version comes with only 500MB per month – enough for only 30 minutes of HD streaming.
A Kodi addon is a simple application that lets you watch content from a specific source on your device. For example, you can install a Netflix addon to stream your favorite Netflix content on your Kodi device. Conversely, a Kodi repository is like an archive containing various add-ons, including music, program, video, etc. Whereas the Kodi build is a better way of using Kodi. It comes pre-configured with skins, settings, add-ons, and more.
Yes, add-ons can come with viruses and target your device if you are not careful. For example, a man-in-the-middle attack may happen during data transmission, like video streaming online. Usually, add-ons from the official Kodi repository are examined for viruses. However, those from the unofficial repository can contain cryptojackers, malware, and sniffers embedded in their codes.
Kodi is compatible with almost every internet-connected device. This includes Fire TV, Amazon Firestick, Windows, TV boxes, macOS, smartphones, tablets, etc.
You can use Kodi safely without a VPN but only interact with official add-ons. However, besides protecting you when using unofficial add-ons, a VPN will help you access geo-blocked content from anywhere worldwide.
Kodi's code is open source and is distributed under the General Public License (GPL-2.0-or-later). It is governed by the XBMC Foundation, a tax-exempt registered non-profit organization based in the US. In addition, a community of unpaid volunteers develops the software.
You can stream Netflix content on Kodi but must install a third-party Netflix add-on. Remember, you must still use a VPN to protect your connections and unblock Netflix content worldwide.