Today, VPNs no more remain a privacy tool for tech freaks or a veil for hackers. Rather VPNs have become more of a necessity for every internet user. That's why the market is flooded with various good and bad VPN services, including shady or malicious ones.
Amidst them, the CyberGhost VPN exists – a simple VPN service with a freaky name. Given how it works, it surely turns you into a ghost in the online world.
But does that mean you can blindly trust CyberGhost VPN for your privacy?
Well, the VPN does offer numerous impressive features for the users – all without blowing your budget. However, it still has some snags that let the others, like NordVPN, take the lead.
Confused about whether you should give this VPN a try?
Gear up to find answers to all your queries in this detailed and honest CyberGhost review.
CyberGhost VPN overview
CyberGhost VPN isn't a new name in the realm of cybersecurity. The service started back in 2011 in Romania. It then continuously thrived on emerging as one of the mainstream VPNs of today.
In 2017, an Israeli company, Kape Technologies, acquired the VPN. The same also owns other VPNs like Private Internet Access, ZenMate, and some other tech firms. (There is much more to know about the firm, but we'll talk about it later in this CyberGhost review.)
The VPN is based in Romania, Europe; a country with the least legislation regarding data retention. That's what backs the "no-logs" policy of CyberGhost. Some of its team members are in Germany though (a part of 14 Eyes nations). Yet, it doesn't seem to impact its policies significantly.
So, if you're not into any criminal activities, you don't have to worry much about data logging when using CyberGhost.
Besides no data logging, the VPN has also strived to offer premium services to its users. Let's take a look.
Server locations and network coverage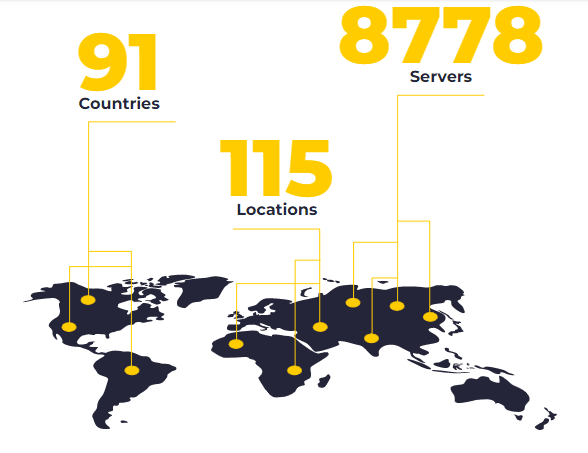 Regarding the servers and network coverage, CyberGhost surpasses many other VPNs of today, including ExpressVPN and NordVPN.
That's because NordVPN has a network of 5400+ servers across 59 countries. However, CyberGhost VPN boasts over 8700 servers across 115 locations in 91 countries. Undoubtedly, this colossal number makes CyberGhost the second-best VPN with the largest server network. Only Private Internet Access has more servers than Cyberghost.
It means you get a seemingly infinite choice of servers to connect to whenever you wish to change your IP location.
This vast network also provides you with IPs from some of the repressive countries or uncommon countries. For instance, you can get server locations from Pakistan, UAE, and Vietnam, where the VPN physically maintains its servers.
Also, this VPN offers you locations for Belarus, Iran, China, Oman, Russia, Saudi Arabia, and Turkey without physical existence within these countries' boundaries. This VPN assures users to easily bypass geo-restrictions with so many servers while enduring all sorts of VPN bans.
As far as you're sure that using VPNs is not entirely illegal in your country, you can easily use CyberGhost to protect your privacy. (Check out this guide to know if VPNs are legal in your region.)