YouTube changed the internet game for everybody when it came online. It allowed us to watch a video without downloading the whole file onto our hard drive beforehand. It turned video streaming into an everyday thing instead of a toy for the geekiest. That's why Google immediately saw the potential in the new video streaming platform and bought it as soon as it could. And the rest, as they say, is history.
Streaming sites and watching video streams have never been more popular than today after the pandemic forced so many people worldwide to stay home without much hope of attending theatres, stadia, or mass entertainment. The Tokyo Olympic games, for instance, have just ended. They will be known as the "streaming games" in history because attendance was forbidden except for the press.
As a result, most enthusiasts followed their favorite Olympic events through YouTube instead of their TVs.
Streaming is here to stay, undoubtedly. It's bigger than ever; it will only keep growing even when the pandemic gets resolved. Even once we're back to normality (if that should ever happen), the millions of new streaming users the industry seduced over the last two years will not forget how convenient it is to get their favorite movies or TV shows delivered to their tablets, phones or desktop computers with only a few clicks.
Nevertheless, there is a tool that improves your streaming experience markedly. It's the virtual private network (VPN). Yes, the point of VPNs is to protect a user's privacy and anonymity when online. But it's also true that streaming through a quality VPN for streaming can help you unlock all the goodness otherwise unavailable to you from your favorite provider — more on that later.
However, not all VPNs are optimal for streaming purposes. Even some of the best VPNs in the industry can't deliver a good streaming experience. That's because each VPN prioritizes a feature over all others. For example, some providers will focus on delivering high transfer speeds without compromising security.
Some others will go for protection all the way, encrypting the traffic in question more than once, routing it through more than one server in the VPN network, and adding other perks that will make the service's security fantastic, but that will cost the user in terms of transfer speeds thus making it impossible to support a video stream.
If you are reading this guide, the chances are that you already know that you need a VPN to enhance your streaming experience and that not just any VPN will do the trick. So, which are the ones that will work? This guide will tell you the six best VPN providers that will give you a perfectly safe and anonymous online presence while also giving you all the features you need to improve how you watch your online entertainment.
The best VPNs for streaming at a glance
If you are in a rush, these are the best VPN services for video streaming, no matter where you are in the world:
Why streaming services block VPN users
Most major streaming services prevent VPN users from accessing their content in other regions. However, being restricted from streaming your favorite content simply because you are traveling in another country may seem unreasonable.
Usually, streaming services divide the world into regions and license content to each region according to its value to maximize profits. Also, the contracts between streaming services and copyright holders restrict users from accessing content outside the licensed regions. So, to get the licenses, the streaming services have to reluctantly comply with the terms set by copyright holders. This means blocking legitimate users who are paying for the service but are located outside a particular region.
What makes these VPNs the best for streaming?
When choosing a VPN for streaming, you should test different VPNs to find the suitable one to unblock the specific service you want. You should know that the ability of a VPN to unblock one streaming service does not necessarily mean that it will work with all other services.
The following qualities make these VPNs stand out.
Speed: A VPN with sufficient speeds can ensure a smooth and enjoyable streaming experience. The ability to provide fast and consistent speeds is important, especially when streaming high-resolution content, to avoid buffering.
Unblocking capability: Another metric of a reliable VPN is the ability to bypass geo-blocks of different platforms like Netflix, BBC iPlayer, and YouTube.
Price: The cost of a VPN service does not always directly correspond to the quality or performance it offers. So, it is important to consider the value and benefits you are receiving in relation to the price you are paying.
Privacy and Security: It is essential to ensure that the VPN service of choice does not collect data or compromise your security. This is especially important if you will be using the VPN for streaming through Kodi add-ons, some of which are risky.
Useful features: When choosing a streaming VPN, you should consider its various features and how they can enhance your streaming experience. For example, SmartDNS can allow you to access geo-restricted media without installing a VPN, while split tunneling can help you manage your VPN connection.
Network Size: If you are interested in accessing content from a specific region or country, it is important to consider the geographical coverage of your VPN provider. A provider with an extensive server network is more likely to allow you to unblock content from local broadcasters, even if it is niche or not widely available.
Why you need a VPN for streaming
A VPN can be used to access content libraries and streaming platforms that may not be available in your location due to geographical restrictions. It allows you to unblock this restricted content and access a wider range of streaming options.
Some streaming services may vary the content they offer based on the user's location, with certain regions having access to a larger or different selection of titles. Thankfully, a VPN will allow you to access any content you want, regardless of your location.
Sometimes, you may find a particular streaming service unavailable in your current location. Whether you are at home or traveling, a streaming VPN will help you watch content from anywhere worldwide. For example, you can access sports matches not normally available in your region or bypass local blackouts to watch games restricted in certain areas, like EPL or NBA. Unfortunately, getting a VPN service that consistently provides access to major streaming websites is becoming a challenge. This is because many streaming services have become proficient at detecting and blocking the IP addresses of VPN servers. Fortunately, the VPNs on this list are up to the task.
Best VPN for streaming in 2023 (the detailed analysis)
1. ExpressVPN

This resilient VPN provider takes pride in offering blazing fast servers and over 100 locations on its network, thus serving as the best streaming VPN.

3,000+ servers in 94 countries

AES-256-bit encryption

IPv6 leak protection

Allows P2P sharing

Implements zero-logs policy

CleanWeb adblocker

Up to 5 simultaneous connections

30-day money back guarantee
Pros
Works good in China and UAE

Excellent blocking capabilities

Strick no-logs policy
Cons
Prices are above from affordable range
ExpressVPN has been a respected name (maybe the most respected one) in the industry for a very long time. Our experts are not alone. Plenty of other reviewers on the web also prefer this service for excellent reasons. In fact, the comments you find on the web about ExpressVPN are so favorable that you wonder if they're too good to be true. They're not; this provider is just that good.
ExpressVPN supports fast connections with complete reliability. In addition, it successfully unblocks websites like Netflix and other streaming platforms without problems, so you can get the premium access you want if you choose a server from the correct country (which is usually the US).
The network is extensive as it spans 94 countries and thousands of nodes. However, the sheer size gives it an edge over the competition because it guarantees every user's high-quality coverage. I would typically state that the number of nodes in a VPN network is not as crucial as each server's bandwidth and computing power. However, ExpressVPN gives you both features in a single package, making it very hard to beat.
One crucial task you need from the best streaming VPN in the market is the ability to unblock Netflix's entire catalog. ExpressVPN delivers this, but it also performs with Amazon Prime, Hulu, and many other streaming platforms on the Internet that are not household names yet.
This provider supports almost every operating system with apps that facilitate your streaming experience. That in itself is great. But when you're thinking about streaming, the network includes the MediaStreamer DNS service, enabling you to see your streams on your Smart TVs.
So ExpressVPN excels as one of the best streaming VPNs in the world. However, the features it offers as a traditional VPN are also top-notch. It's probably not the most advanced platform for being at the VPN technology's cutting edge, but it's effective and efficient like no other competitor.
The VPN is incorporated in the British Virgin Islands, which is a privacy-friendly jurisdiction. This is not just a trivia fact. Suppose you care about your privacy and anonymity. In that case, it's essential to have a service located in a country that will not force your provider to surrender your information at some point in the future. But if that should happen, the next question would be: what kind of information could your VPN give away about you?
Well, if the VPN is ExpressVPN, the answer is almost nothing. That's because this service announces and practices a strict no-logs policy. It only retains as much information as it needs to keep the network going and the user accounts functional, but it doesn't save any information about your online activities. So it can't spill the beans on you, even if it had to.
The service's high quality makes it unlikely that you will need a lot of tech support. But if you should need some, ExpressVPN is among the best in the industry. For example, I couldn't connect to one of the streaming services, so I went to the 24/7 live chat support for help. The personnel diagnosed the problem correctly in a few minutes and helped me set everything back on track.
Last but not least, ExpressVPN includes a 30-day money-back guarantee, so you can try the service to your heart's content for a whole month without risking any money. Then, if you want out, you just let them know, and your fee will be refunded, no questions asked.
ExpressVPN's fees are slightly higher than the market average (around 10 USD monthly), but this is a case in which you pay more for a service that gives you more. The apps are user-friendly, split tunneling is available, and they are independently audited frequently to guarantee its quality.
---
2. Private Internet Access (PIA)

An exceptional VPN provider that offers streaming-specialized servers and reliable speeds for hassle-free and uninterrupted streaming.

A large network of over 25,000 secure VPN servers present in 82+ different countries

Peer to Peer connection supportive servers

Secure connection with dependable encryption; AES 128-bits and 256-bits

Robust protection against malware and adware threats with in-built MACE

Enforces a policy of zero logs

Runs on RAM-only VPN servers (benefits privacy)

The split tunneling feature works as expected

Boasts a feature-rich kill switch

Each account allows connection to ten simultaneous devices

30 days no-questions-asked money-back guarantee
Pros
Has a wide variety of servers

Unlimited simultaneous connections

Strong geo-blocking capabilities
Cons
Lacks optimized servers for torrenting
Private Internet Access is a great choice for video streaming. Its key features include a wide network of servers of over 30,000 in 84 countries, meaning you can easily access geo-blocked content worldwide.
PIA offers a no-logs policy that comes in handy when accessing content across different streaming platforms. This feature ensures that the VPN provider doesn't retain any record of your streaming activities, thus ensuring your privacy and anonymity. Moreover, with strong AES 256-bit encryption, PIA ensures cyber criminals and other parties cannot infringe on your privacy and security when streaming content online.
The VPN supports unlimited device connections, allowing you to connect unlimited devices. This ensures you can stream your favorite movies and TV shows simultaneously on multiple devices, such as PCs, tablets, and smartphones.
Moreover, the kill switch feature adds to PIA's security. When streaming, the feature automatically disconnects you from the internet once it detects a VPN connection drop. Furthermore, OpenVPN and WireGuard VPN protocols are quite beneficial for streaming. These protocols encrypt your online data, thus protecting you from prying eyes such as ISPs and government authorities. In addition, the split tunneling feature allows you to choose which network you wish to route through the VPN and which ones you want to use as normal traffic. This is especially helpful when streaming, as it allows you to access geo-blocked content without affecting your other online activities.
---
3. NordVPN

With thousands of fast-speed servers distributed globally, NordVPN always succeeds in evading the most aggressive VPN blocks by any streaming website.

5,000+ servers spread in 60 countries

Supports P2P traffic

Double encryption

Does not keep logs

Kill switch mode

Up to 6 simultaneous connections

DNS/IPv6 protection

MultiHop feature

30-day money-back guarantee
Pros
One of the fastest VPNs around

24/7 customer service

Easy to use
Cons
Extra features are bit complicated
NordVPN is always our top recommendation for any task needing a VPN. It's earned that excellent reputation by providing great service at a relatively low cost. In fact, NordVPN is the preferred VPN service for most reviewers on the web when it comes to streaming or any other task, so it's very much like ExpressVPN in that regard, only cheaper.
The NordVPN network includes 5,000+ nodes in 60 countries, so you're bound to find a good server near you wherever you are in the world. Furthermore, for streaming purposes, you sometimes need to have a server in the correct country so you can unblock a specific media catalog. In that regard, NordVPN will serve you well, too, because it has nodes everywhere, and all the nodes have the high bandwidth they need to perform as if they were located in close proximity to you.
So, what sites can you unlock with NordVPN? All the major Netflix catalogs, for a start. Also, Hulu, BBC iPlayer, and Amazon Prime are the industry's more prominent players, but you will also be able to use many other streaming services that are not as famous.
Do you want to see your video content on your computer, tablet, or smartphone? Ok, but what about Android TV boxes, Smart TVs, Amazon FireSticks, and Fire TVs? Well, NordVPN will do those tricks for you as well. The Amazon store even features a dedicated app to use a VPN and Fire TV in tandem.
As with the previous options, we also paid attention to the VPN's security features expected from a service like this and not necessarily vital for streaming. NordVPN excels at them as well.
NordVPN is headquartered in Panama, a country as friendly to privacy as the British Virgin Islands (where our two previous VPNs are located). It keeps no logs at all. Every one of the networks' 5,000 servers runs on a dedicated hardware RAM disk, allowing for a fantastic performance in every node.
NordVPN is audited regularly because of its prominent place in the VPN environment, and it always passes with flying colors. Among the most recent audits, the ones held by VerSprite and PWC AG confirm the lack of data collection of any kind by the VPN's servers.
And there's even more. NordVPN offers CyberSec, a software that blocks ads, stops trackers, and protects you from malware-rich websites. A double-VPN server option is also available (which, again, we don't recommend if you want to keep your streaming videos displaying smoothly). In addition, it supports TOR-over-VPN, so you can have all the privacy blessings that come with TOR enhanced by your VPN services. And, as SurfShark, your traffic in NordVPN is obfuscated — made to look like regular HTTPS traffic instead of VPN traffic.
Every option in my best VPN for streaming list supports high streaming speeds. Otherwise, you could not use them for video streaming at all. But NordVPN stands out from the rest, even ExpressVPN, because it has the highest speeds we've found so far in any VPN network.
So, the network's speeds are excellent. NordVPN is also very reliable. Those two features make it an ideal choice for streaming or any other online activity that needs high bandwidth.
The customer support is also excellent. The live 24/7 chat is always ready to answer your questions, and you can access it directly from the website. For example, suppose that you want to know the server that will work best if you're going to stream content from a given website or country. You can open the live chat, ask your question, and have it answered in a matter of minutes.
Last but not least, NordVPN also offers a 30-day money-back guarantee, so you can try out the service for a month before you make up your mind. And since we're talking money, the more extended plans will give you substantial discounts on your monthly costs.
NordVPN is a great option. Undoubtedly, it is one of the best VPNs in the world if you want to unlock video streaming services around the globe safely.
---
4. Surfshark

From a huge server network to fast connection speeds, this new kid in the block has everything you want for non-stop streaming.

3,200+ servers in 65 countries

P2P optimized servers

AES-256-bit encryption

Automatic kill switch

Strict no-logs policy

Camouflage mode

Allows unlimited simultaneous connections

MultiHop mode

24/7 live support

30-day money-back guarantee
Pros
Affordable pricing

Advance security features

Allows torrenting on many servers
Cons
Takes time to connect to some servers
Surfshark is one of the best VPNs for streaming. If you're reading this guide, you've probably already searched the web for the best streaming VPN. If that's the case, you surely notice that the field is thoroughly overcrowded. Lots of new VPNs have popped out of nowhere over the last few years. In this environment, it's tough for any single VPN to stand out from the rest. However, our six top choices do stand apart from the competition, especially SurfShark.
Considering that Surfshark came online only in 2018, it's remarkable how quickly the service has positioned itself as one of the world's best VPNs, competing with brands that have been around for a decade or more. As a result, this new kid on the block's disruptive power has shaken the market.
SurfShark's option stands out because it's very cost-effective while offering almost every feature that the market's premium service will give you. For example, your monthly cost could be 6.49 USD if you choose the 6-month plan and even lower if you go for a more extended plan — how does 2.49 per month sound to you?
3200 servers scattered over 65 countries make for an extensive VPN network that holds the fast speeds you need to support HD video streams. In addition, Surfsharks' WireGuard VPN protocol allows it to perform even better than ExpressVPN (something I rarely find).
With Surfshark, you will gain the ability to unblock twenty regional Netflix catalogs — and the list keeps growing. Of course, Netflix is an important streaming site, but not the only one, so SurfShark wouldn't be such a good option if it didn't work with many other platforms. And it does.
So, the features relevant to streaming like high transfer speeds, site unlocking, and server availability, are great in Surfshark. Still, since it's a VPN, you have to wonder how it performs in the more "traditional" tasks you could expect from a VPN. In this regard, Surfshark gets some of the industry's higher scores in every possible category in several audits carried out independently.
And there are even more perks for you to enjoy with Surfshark. For example, the CleanWeb feature will block annoying ads (the bane of so many streaming services). You can use Double-VPN servers so that your traffic gets two encryption layers for added security and anonymity (though we don't recommend you try this option for streaming as the additional computing power needed will reduce your transfer speeds thus possibly ruining the streaming experience), obfuscation that makes your VPN traffic look as everyday HTTPS traffic, and WireGuard support for mobile and desktop OSs (but not Linux, which is funny as Android is a Linux distro, but that's life).
If all those features have not persuaded you yet, we left a great one for last: Surfshark allows an unlimited number of concurrent connections protected by the network. This is an almost unique feature in the industry as most other services will allow from five to ten connections, not just any number.
---
5. PrivateVPN

A well-maintained and decent option recommended for any type of streaming from the US, UK, and other popular content libraries.

200+ server locations in 63 countries

Double encryption

Supports P2P sharing

Automatic kill switch

DNS/IPv6 leak protection

Allows up to 10 simultaneous devices

30-day money-back guarantee
Pros
Remote control support

Allows torrenting

Zero-logs policy
The best options I've described so far are excellent VPN services built to perform well at any task. They do well as streaming VPNs because they're meant to excel at everything, but streaming is not the core objective of any previous VPNs. This is what makes PrivateVPN different.
The PrivateVPN network includes a hundred servers in 63 countries. That is not too impressive when you think about ExpressVPN or NordVPN, which have thousands of nodes. But PrivateVPN has something you can't find in either of the other two networks: streaming-optimized servers for the most prominent video streaming platforms, including Netflix.
Hulu, Disney+, Amazon Primer, BBC iPlayer, and Netflix are some streaming platforms that this VPN will easily unblock for you. The optimization for streaming is evident because I could have HD streams from servers quite far from me in places like Vietnam or Brazil.
PrivateVPN allows for six simultaneous connections. The servers work fine with Windows, iOS, iPhones, and Android.
Pricing is also an attractive feature in PrivateVPN. You could pay as low as 2 USD monthly if you choose one of the more extended subscription plans.
As it happens with the best providers, PrivateVPN keeps no logs and is privacy-friendly overall.
As I stated earlier, the network is not so extensive, yet the transfer speeds are good enough for streaming.
Maybe the one thing about PrivateVPN that is not on par with the industry's best is customer service. I found it to be inconsistent. On the other hand, the apps and the services are friendly enough to find that you don't need any extra help. But if you do, don't expect too much. Another drawback is the lack of Smart DNS or VPN browser extensions (which are on offer for the other options).
---
6. IPVanish

A privacy-friendly VPN that unblocks almost every streaming site. Its massive server network, thousands of IPs, and stable connections ensure you enjoy lag-free streaming.

2,000+ servers in 75 locations

Allows P2P connections

Automatic kill switch

AES-256-bit encryption

Allows unlimited simultaneous devices

30-day money-back guarantee
Pros
Low prices

Unblock many streaming sites

Router installation guides
IPVanish is a well-known VPN service with much to offer. It's good enough to make my top six best VPNs for streaming, but it's also the one on the list with the most weaknesses that new users shouldn't overlook.
IPVanish is suitable for streaming, especially for Netflix, because most of the network's US servers will unblock the site successfully. But if you're fond of Disney+, Amazon Prime, or BBC iPlayer, the news is not so good as you won't be able to unlock the content.
On the other hand, Kodi, Firestick, or Amazon Fire TV work very well with IPVanish.
IPVanish speeds are excellent when you choose a local server or at least one physically close to you. But even the servers that are not exactly around the corner from you will support speeds high enough for you to watch your video streams comfortably. In addition, speed losses in IPVanish are as low as 10% compared to open traffic, making it one of the best VPNs I've ever seen in this regard.
In addition to the high speeds, the network is stable and reliable, which are necessary conditions for a good streaming experience.
The network spans 75 locations and 2,000 servers. That's big but not great as ExpressVPN or NordVPN have four or five times greater networks. But it has more than 500 servers based in the US alone, which is relevant when streaming is a priority because so many streaming giants are found in that same country.
IPVanish keeps zero logs, which is something I always want in any VPN provider.
The problem with IPVanish is that it's based in the US, which, outside the world's totalitarian states, is probably the most privacy-adverse jurisdiction on the planet. Because the service keeps no logs at all, its location alone is not a deal-breaker in itself, but still something you should keep in mind if your privacy is a top priority.
The features IPVanish offers as a traditional VPN are excellent as well. Encryption is the industry's standard; it's built around the OpenVPN protocol — which is open-source and, hence, very closely monitored and audited by several independent observers.
IPVanish supports macOS, iOS, Android, Linux, Windows, and routers, so there's no toy in the world that you can't use with this VPN. The configuration is easy; you can have as many as ten concurrent connections to the network.
For years, IPVanish has earned a reputation as an excellent VPN service for torrent users. Since streaming and torrenting need so many of the same features, one would think that any VPN that performs one of those tasks well will also be good at the other. Unfortunately, that's not always the case, but IPVanish delivers high performance on both.
The platform includes apps for both iPhones and Android and even SmartTVs.
However, if you need a service that will help you in China or another highly-censored jurisdiction, IPVanish won't be the thing. Users report that the apps don't work there, and the company's domain name is blocked.
---
Using a VPN for streaming
Setting up a VPN for streaming is not rocket science. Follow this step-by-step guide on how to do it:
Select a VPN provider. We recommend NordVPN
Create an Account
Choose a subscription plan
Download and configure the VPN
Open the VPN program and Connect to a server
Enjoy streaming your favorite titles
VPNs that we do not recommend for streaming
Two things define an excellent VPN service: hiding your IP address to the Internet and encrypting all your traffic. Notice that streaming videos is not one of those two things.
Hence, as we stated at the beginning of this article, plenty of good VPN services are not suited for streaming. Conversely, other services will give you a good streaming experience, but that will not unblock geolocations in the servers or protect your privacy.
It's all about priorities. For example, some VPNs want to ensure they get privacy right at any cost, which diminishes their capacity to offer high-speed connections that can support streaming and vice versa.
So if you want to protect your privacy and use streaming services at the same time, these are some of the VPNs you should avoid:
Hotspot Shield, the free version
Free VPNs are to be always avoided at all costs. They do not protect your privacy (on the contrary, they make a buck by tracking your activities and selling your data), and their connection speeds tend to be very low. Hotspot Shield's free VPN service is an exception in that it doesn't add to your privacy worries because Hotspot Shield is one of the industry's top networks.
The problem with the free version is that your data is capped at 500 MB. That amount of data will get you about half an hour of video streams in SD every day. So, if you're into binge-watching, this is not the service for you.
---
TunnelBear, free version
TunnelBear unblocks Hulu. And only Hulu. Also, the free version gives you 500MB monthly. So, unless you are happy with 30 minutes of video per month exclusively from Hulu, you will need a different vendor.
---
CactusVPN
The problem with CactusVPN is not that it doesn't work to see streaming videos. Instead, it only works if you switch that traffic to the unencrypted DNS in the network. Thus you are paying for a service that is supposed to encrypt all your traffic but giving up that feature voluntarily to watch your videos. It's pointless. On top of that, I could not unblock Netflix using this VPN.
---
Is it legal to use a VPN for streaming?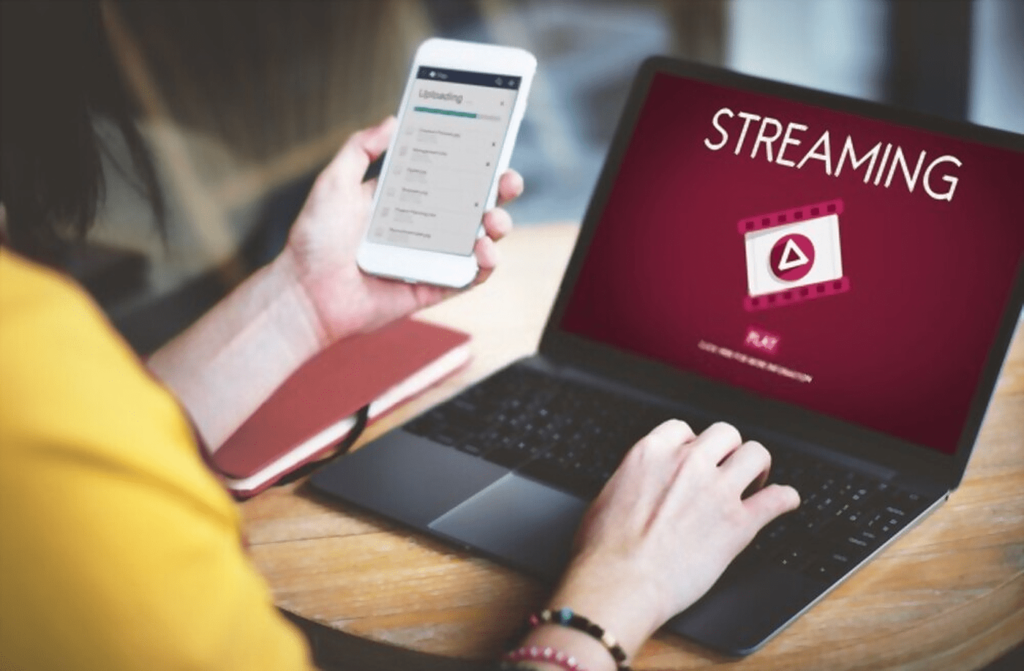 Using a VPN to access international content websites is perfectly legal in the US, UK, and most European countries. You will face no legal liabilities by watching your streams through a VPN.
VPNs, of course, allow users to bypass geolocation restrictions, which seems to be similar to piracy in many users' minds. This is not an issue. Piracy involves accessing copyrighted material without having the right to see it or use it (a right usually acquired by paying for it). If you are using Netflix or any other subscription platform, you are indeed paying for the content you're using, wherever you are. So you're not a pirate.
So, VPNs won't allow you to get free access to otherwise paid content. Instead, they will just unlock some content unavailable to certain countries. While this is undoubtedly against the terms of use of many streaming platforms, it's not illegal at all.
What is the best free VPN for streaming?
The short answer is "none." But keep reading if you want the details.
Most of the free VPNs on the Internet won't work at all with streaming services because they don't have enough bandwidth to support video streams, so even trying is a moot point for the most part.
Few free VPNs that can sustain a video stream have caps on how much data you can use. So even if you can watch a video with those services, you won't be able to see more than 30 minutes daily or even monthly.
Also, most free VPNs are not safe. The primary point of a VPN is to protect your online safety and anonymity — being able to unblock the best streaming websites out there is a nice collateral effect, but not the service's mission. If you've seen the details we've provided about the services we recommend, you've seen that a good VPN needs to have many servers in many countries.
That costs money that paid VPNs gather from their subscription fees. But how can free VPNs afford to keep their networks online without charging you for the service? I will tell you in a moment, but before that, pay attention to another thing: throughout the article, I have insisted on how important it is for a VPN to keep no logs at all about its user activity. And that's another problem with free VPNs.
Free VPNs do keep logs of your activity. Very detailed records that they will never delete. That's how they make their money. They collect all this information about you and the other users they serve and then sell it to their commercial partners, who can make sense of all that information and make it profitable.
In other words: in free VPNs, your privacy protection is not the product on offer. You and your online activities are the product on offer. Consider that if you're still not persuaded you should pay a subscription for a premium VPN.
All that being said, there is a free VPN deemed safe for streaming, which can unblock several platforms. It's Windscribe Free.
What is SmartDNS?
A SmartDNS is a thing that takes your DNS request and sends it to a DNS server overseas. It does not scramble your traffic, and it does not hide your IP address. What it can do for you is to enable you to gain access to websites and services that won't allow traffic from your country or that offer it a different, usually diminished service. That will happen because those websites will think you are coming from the country where the DNS request originated.
Smart DNS is an alternative tool that bypasses geolocation restrictions when you can't use them with a native VPN application. If your VPN supports Smart DNS, you must update your device's DNS settings with those provided by your VPN.
There is no more straightforward way to unlock restricted content in gaming consoles and Smart TVs than Smart DNS. It's quick, it's easy, and it doesn't affect your transfer speeds because there's no encryption involved. However, not every VPN includes SmartDNS among its features. However, two of the options described in this article (ExpressVPN and SurfShark) have Smart DNS, and both unlock the most important streaming services and many others.
But do not forget that using a full VPN to watch your video streams is always the best option. Yes, Smart DNS will unlock the websites for you, but it won't protect your privacy or anonymity. The VPN is always more reliable; it encrypts all your traffic and hides your IP address. And the VPN also beats Smart DNS at its own game. Smart DNS will typically be suitable for US or UK websites only, while a good VPN will allow you to take an IP address from any country in the world where it has a server.
Are there some VPNs that are unsuitable for streaming?
Yes, many.
Most free VPNs are terrible streaming choices. Their speeds are low, and they have a data cap, not to mention the privacy nightmares they involve.
That doesn't mean that every paid VPN service in the market is suitable for video streaming. There are some premium, very advanced VPN services whose sole focus is on enhanced privacy and anonymity. They add extra encryption layers and other features that secure your data beyond your most paranoid dream, but they cost in terms of computing power and transfer speeds, thus slowing things down.
Streaming HD video content through a VPN needs a reliable network and fast speeds at the international level. Unfortunately, building and maintaining a network like that takes a lot of expertise and money, which is why many VPNs that are good enough for many everyday tasks fail when it comes to streaming video.
With all that in mind, it's no surprise that VPNs unsuited to support video streams are more of a rule than a rarity. That is why the better question to ask is, "What are the best VPNs for streaming?" which we answer in this article. Nevertheless, here are a few well-known VPN providers that don't work well for streaming:
Perfect Privacy
Avira Phantom
Trust Zone
TorGuard
AirVPN
TunnelBear
The six options we describe in this article are thoroughly tested and will give you the best possible streaming experience.
What about Kodi? Can I use a VPN to stream with it?
You can, and you probably should.
Kodi is a streaming media player with millions of users worldwide. The Kodi technology includes free add-ons that allow users to watch streams for sports, movies, and TV shows.
Some of those add-ons stream copyrighted material. That can be bad news. Some ISPs will fine Kodi users or block Kodi traffic to prevent copyright infringement. So if you want your ISP to leave you alone with your Kodi, you need a VPN for Kodi that will scramble your traffic so your ISP can't identify it correctly.
Is streaming VPN not working? Troubleshooting tips
Streaming services often block the IP addresses of VPN servers to restrict access and protect their content. This is typically triggered when many users attempt to access the service using the same IP address.
As a result, you'll get a proxy error message saying your connection has been blocked. However, a reliable streaming VPN will try to bypass these blocks and provide access to the content, regardless.
If you are experiencing issues with your streaming VPN, try these troubleshooting steps to resolve the problem:
To determine if your VPN is leaking your DNS requests or IP address, use a VPN leak test. If the test reveals a leak, contact the customer support team for assistance or consider switching to a different VPN service.
Try flushing your DNS cache and clearing your browser's cookies and cache. Restart your streaming service as well.
If the previous troubleshooting steps do not resolve the issue, try connecting to a different VPN server and repeat the previous steps.
Try accessing the streaming service using a different web browser. For example, it may be possible to access the service through Mozilla Firefox if it is not working on Google Chrome.
Turn off location and GPS service from your device and browser
Deactivate IPv6 on your device
Try changing your VPN service if all the above solutions don't work.
What are the best TV streaming services?
A VPN can help you access streaming platforms unavailable in your region. The figure below shows some of the popular streaming services that can be accessed through a VPN.
| Streaming Service | Availability | VPN Streaming Guide |
| --- | --- | --- |
| Netflix | 190+ countries, but library content varies | Best VPNs for Netflix |
| HBO Max | USA and a few other territories | Best VPNs for HBO Max |
| Hulu | USA and Japan | Best VPNs for Hulu |
| Peacock TV | USA | Best VPNs for Peacock TV |
| Sling | USA | How to watch Sling TV |
| Disney+ | 130+ countries, but library content varies | How to watch Disney+ |
Security vs. Convenience with streaming VPNs
When it comes to streaming VPNs, there's a misconception that improved security always means sacrificing convenience.
We were pleased to discover that current VPN versions don't significantly slow down internet speeds as they did before. Premium options like ExpressVPN and NordVPN will never let you down. However, some VPNs are unable to handle mundane activities like accessing online banking or streaming video services. The internet was not designed with security and privacy in mind. We hope this will change in the future to eradicate the need for VPNs. However, people may still want to use VPNs to bypass geo-restrictions and access content unavailable in their region, like Netflix, so VPNs will probably continue to be used for a while.
Conclusion
Entertainment delivered by a streaming platform is a sign of our current times. But, of course, there's nothing wrong with it in itself, and the pandemic has only turbocharged the demand for movies, sports, and TV shows delivered through a data stream instead of a downloaded file or physical media such as a DVD or a BR.
Think about the Tokyo Olympics. They will be remembered as the "streamed games" as so many people worldwide saw them on their phones through YouTube instead of the time-honored tradition of turning a TV.
Streaming video, however, is not the only sign of the times we must accept and deal with. Online privacy and anonymity are also rising priorities. Edward Snowden's revelations played a role in making the public aware of confidentiality. Still, the pandemic has also been influential as we've seen how digital crime has exploded since the COVID-19 virus forced millions of people to stay at home.
Using a VPN to stream your preferred videos on the Internet gives you the best of both worlds, as you can keep enjoying the shows, movies, or matches you want while being perfectly anonymous online.
But there are added perks in the combination of VPN and streaming services. For example, a good VPN will hide your IP address and exchange it for the address of your network server; it enables you to pass for a user living in another country. Your streaming platform will thus offer you the content intended for that particular country instead of what you should be getting otherwise. This is exceedingly useful.
So the advantages of using a VPN when using your favorite streaming service are not only technical or political. It also expands the spectrum of entertainment you can get by allowing you to access content intended for users in other countries.
What is the catch? There is none. Yes, a good experience with a streaming service needs a paid VPN service. But 10 USD a month is not so much, and if you go with one of the six choices we've listed here, you can be sure that the VPNs will only make your streaming experience so much better.
So enjoy your favorite content streaming, and keep safe!
FAQs
In general, it is possible to use a streaming VPN to watch sporting events like NHL, MLB, and NBA All-Star. However, it is important to use a reliable VPN service, as major streaming platforms block low-quality VPNs. Premium VPNs use servers with constantly changing IP addresses to avoid detection and use advanced technology to bypass VPN blocks. This allows you to have unrestricted access to international sports streaming sites.
Android TV runs on Android OS, which means it is compatible with most Google Play Store apps, including VPN clients. Many VPN services usually modify their Android apps to feature a wider screen interface for TVs and make them available in the Play Store. Amazon's Fire TV is similar to Android TV but uses the Amazon app store. So, VPN providers don't make significant changes to their apps to make them work on Fire TV. Using a VPN on Fire TV is effortless, as you simply download and install it from the app store. Unfortunately, Roku, Chromecast, and Apple TV don't have native VPNs, so you have to install and configure the VPN on the router. Similarly, you have to do the same for PlayStation, Xbox, or Switch.
This is done by connecting your PC to the internet through an ethernet cable or Wi-Fi and then connecting your TV to the PC as a network client. It may be a tricky process depending on the operating process, but VPN vendors have clear guidelines about how it should be done.
Streaming online content with a free VPN could compromise your safety and privacy. So, you should spend a few coins to subscribe to a reliable and trustworthy VPN. It will save you from potential threats and keep your online activity anonymous. Additionally, a reliable VPN will unblock content from anywhere worldwide, even on Netflix.
Sometimes you may find that your internet service provider is tampering with your connection speed, trying to slow it down (throttling). This leads to slower internet connections and, therefore, difficulty in streaming which in turn causes buffering. A reliable VPN will help you avoid ISP throttling, thereby improving your speed.
Absolutely no. You don't need to worry about legal liability when using VPN to stream your favorite content in many countries. VPNs allow you to bypass blocked content and spoof locations but do not give you free streaming services. However, it is not the same case everywhere, so you should check the laws in your country.
Most streamers prefer reliable and trustworthy VPNs to access blocked content and spoof their locations. NordVPN and ExpressVPN are the most preferable due to their emphasis on user safety, privacy, and speed.
You need a connection speed of at least 25Mbps to stream a quality 4K video smoothly. Top VPNs such as ExpressVPN and NordVPN guarantee a speed of at least 80Mbps all through if your internet speed is at least 100Mbps. This will provide you with buffer-free consistent streams of quality videos.
NordVPN sits at the top of the fastest VPNs for streaming. However, you can opt for Surfshark if you're looking for a second-best VPN.
Yes. Most premium VPNs are one-size-fits-all when it comes to unblocking geo-restrictions.
Yes. A reliable VPN improves streaming quality by hiding your internet activity and preventing ISP throttling.
The USA is the most preferred location for streaming movies and TV shows. However, you can change the location based on the content you wish to access.