Top 10 best VPN services to use in 2020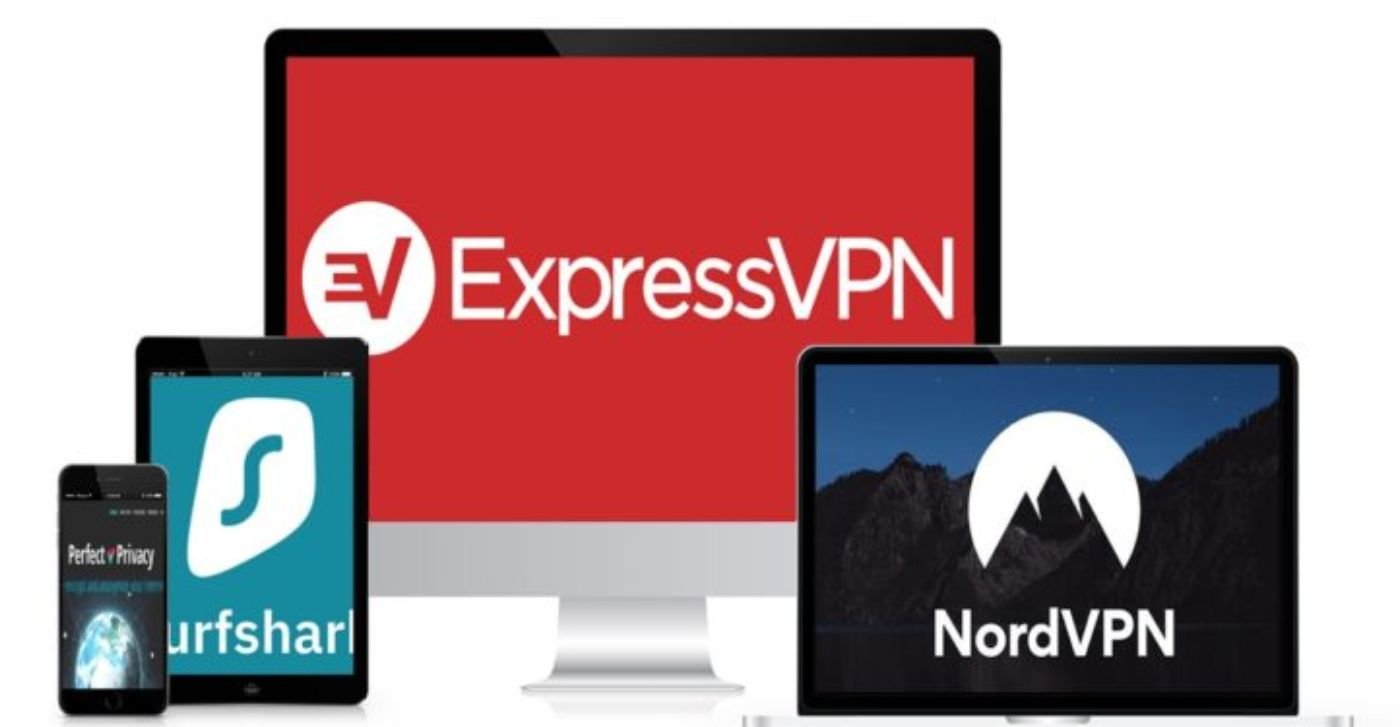 Let's face it; VPN services have become very common and relevant in the internet community. All thanks to the anonymity and other benefits the VPN technology provides.
With a VPN, you can stay under the radar while surfing the net. Moreover, the tool offers many other benefits to users apart from the obvious benefit of staying anonymous online. For that, you can read our detailed post about VPN for beginners.
In our case, the privacy and security a VPN provides is the main reason why we all at PrivacySavvy love surfing the net via a VPN. We don't have to unknowingly give any details about our activities just because we are browsing the internet.
VPN services now are very common and popular. Back in the days, there were only a few of them, and they all usually offered equally great services.
However, the increased numbers of these VPN services over the years have made it very difficult to pick the right one. And the most annoying thing is they will all tell you their service is the best.
We recommend staying thin of companies that over-promote their services. If their services are good, they don't need to exaggerate so many things to make people believe them.
If you've used many VPN services in the past, it would be easier to spot a good one. But if you are like many others who do not know which one to choose, hang in there. I will show you shortly.
First, let's cover some basics about VPNs and what they can do for you. Then we will jump to the list of top 10 best VPNs.
What is a VPN service?
VPN is the short form of Virtual Private Network.
In essence, a VPN is a connected list of computers that provide you a private and secure connection to the internet.
Okay, let me explain.
When you connect to a VPN and access the web, other computers and servers would not be able to see your actual location. It's only the location of the VPN server that would be shown to other machines connected within the same network.
It completely hides your computer's IP address from other computer systems and allows you to surf the web privately.
When on a normal Wi-Fi connection, you are vulnerable to hackers and other cyber attackers. But a VPN uses a secure code and transfers data through encryption. This type of data is much more difficult to break. Please note a VPN does not make you 100% anonymous online. But it helps a lot and is the most secure precaution to take when going online.
Why should I buy or subscribe to a VPN?
There are many benefits to using the VPN to go online. I already explained some of them. But the main reason is the security VPN provides you with.
Multiple methods allow you to change country IP today. Such ways include proxy services, VPNs, and Tor among others. But using the VPN services to hide your IP address is the most safest and secure way of doing it.
When on a VPN connection, hackers would not be able to trace your device as they try to infiltrate. Not only hackers, but no advertising agency also would be able to get your browsing history and bombard you with unnecessary adverts.
Also, you can access content that is restricted to you otherwise. I do not mean here, or encourage, getting your hands on illegal content. But in some cases, you cannot access legally allowed materials because of some geographical restrictions. One fine example of such situations would be having the need to unblock Netflix outside the US or any other country.
The VPN would allow you to surf the web from different locations. With a VPN, you can access the web from anywhere and keep your activities hidden from all the third-parties. It helps you bypass country restrictions and you get to enjoy the content you want even when your region is restricted.
Of course, these are not all, I can keep going and going to list the advantages of having a top-quality VPN. But these are some of the key reasons why you may need a VPN.
Okay, now that we've got the basics out of the way, let's concentrate on the main topic: best VPNs available today.
10 best VPN providers in 2020
I looked at a set of strict criteria to pick these best VPNs. These providers do not keep any record of the files you download or websites you visit. Also, you get to spoof your IP at an affordable price.
Having a wide range of restriction-free servers make a VPN top-notch, too, as that allows you to stream Hulu and Netflix alongside other beloved services across the globe. Torrenting is also an important factor that separates the best VPN from a common VPN. I confirmed all these best VPNs allow P2P (torrents) traffic.
Please note our team of security experts conducted numerous tests over a couple of months to pick these top 10 VPNs. We tested which providers offered the most robust security, best speeds, and reliability.
We browsed websites in different countries, tormented for days, and streamed Netflix alongside other services on end to come up with only the best VPNs.
Without further ado, the following are the 10 best VPNs based on speed, performance, and overall service quality:
1. ExpressVPN
ExpressVPN is arguably the first choice for people who want to remain anonymous and surf the net without risking their details to ISPs, online spies, and hackers.
It's one of the best VPNs for unblocking geo-restricted contact and privacy protection.
The VPN provider has more than 3000 servers and over 30,000 IP addresses in 160 server locations. Meaning it gives you a plethora of choices for a unique IP address and server location. ExpressVPN has three subscription plans:
$8.32 per month if you choose a yearly plan.
$9.99 per month for 6 months plan.
$12.95 per month for those who subscribe for a month.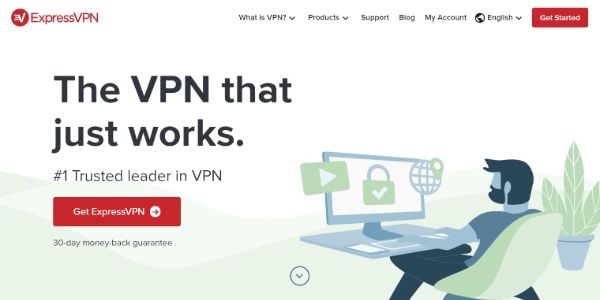 The VPN provider has been recognized in the world as one of the best because of its first-class customer support and top speeds. VPNs are known to reduce the speed of the internet connection. But with this VPN, the speed remains almost the same.
No matter the type of platform, you are going to see a native client. The VPN provides support for Android, iOS, Linux, Windows, and Mac users.
ExpressVPN also has easy-to-follow setup guides for all the popular routers and offers VPN browser extensions. It also boasts custom firmware for some of the most used routers, which makes it an all-round great service provider.
Initially, it supported only three connections. Now the VPN has added two more, which makes it five. The only thing we do not like about the service is it does not offer a free plan or demo version.
Yes, it works as promised as we have tested it thoroughly. And the provider has earned the 'best VPN' awards from different publications. But that might be a problem for some first-timers as it is natural for them to be skeptical. Better yet, ExpressVPN provides a 30-day money-back guarantee, which means you can try it risk-free.
Our Score: 9.8/10
Read More: ExpressVPN Review: Is it Worth the Asking Price?
Tip: You can buy a 12 Months subscription plan at a rate of $8.32 per month with Bitcoin (BTC). Plus, ExpressVPN comes with a one-month money-back guarantee. It all in all is a risk-free option.
2. NordVPN
NordVPN is another top-class VPN service provider that means business. The service supports six simultaneous connections, with 62 server locations and about 5,000 servers.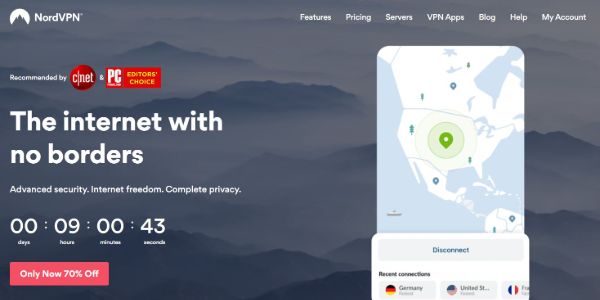 With this VPN, you get strong performance, as well as intuitive clients for both mobile and desktop. Another advantage of this provider is the remarkably large pool of servers to choose from.
Also, it comes with advanced features such as dedicated IP address, Killswitch, and DNS leak protection.
And concerning performance, NordVPN is great. The provider is considered as one of the fastest VPNs in the market. You will hardly notice any delays or a slow connection speed, which is one of the main problems with some VPN service providers. NordVPN is affordable, too, here are its prices:
1 month $11.95/month
12 months $6.99/month
36 months $3.49/month
NordVPN is compatible with almost all the devices out there, and you can use the service on six different devices with one subscription. It is one of the most compatible VPN providers you could have.
When comparing NordVPN vs ExpressVPN, even though the later is a bit more costly it has a slight edge (and hence is the number 1). ExpressVPN boasts a slightly better encryption standard than of NordVPN. It also offers fast IKEv2 for mobile devices, which NordVPN does not.
Our Score: 9.6/10
Read More: NordVPN Review: Offers Good Speed and Security But Has a Minor Snag
Note: NordVPN boasts the highest number of servers in the industry with 5000 VPN servers. There is another icing on the cake for cryptocurrency traders. This VPN allows people to subscribe to the service using cryptocurrency e.g Bitcoin, Ethereum, XRP, etc.
3. Surfshark VPN
Surshark VPN is another popular name in the world of VPN services. The service is operating from the British Virgin Islands but has about 61+ server locations and more than 1040 servers.
It may not have a large number of servers like the ExpressVPN or NordVPN, but the service is exceptional.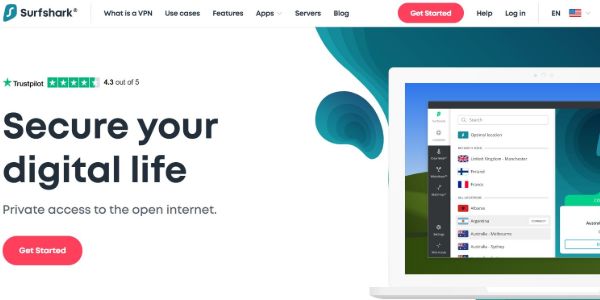 The provider allows unlimited simultaneous connections with one subscription. This is one of the best features because it gives you a plethora of connecting opportunities.
If you want to connect your entire office or home to this VPN, you will not be bothered about the number of devices you can have your VPN on. Pricing of the SurfShark are below:
1 month $11.95/month
12 months $5.99/month
24 months $1.99/month
The service also offers some added privacy tools that are worth praising. They offer tracker blocking, ad blocking, and anti-malware blocking services. With these extra security and safety features, you can securely surf the world wide web.
Surfshark also has a wide range of app support, making it one of the most versatile VPNs around. It offers support for routers, FireTV, Android, iOs, Mac, and Windows.
You can even add other devices such as game consoles through the DNA settings. There is a 'no border' mode that allows users to use Surfshark in restrictive areas.
Like ExpressVPN and NordVPN, Surfshark enables you to stream, Disney+, Amazon Prime Video, Hulu, BBC iPlayer, Netflix, and more.
Overall, this provider is a budget-friendly VPN service with the most affordable monthly price among the top VPN on this list.
Our Score: 9.3/10
Read More: Ultimate Surfshark Review: Affordable But Does It Provide Enough Value?
4. PerfectPrivacy
PerfectPrivacy does exactly what its name says.
The VPN service has been assuring the anonymity and privacy of its customers for the past 12 years. This premium VPN service provider gives users access to 26 VPN country locations.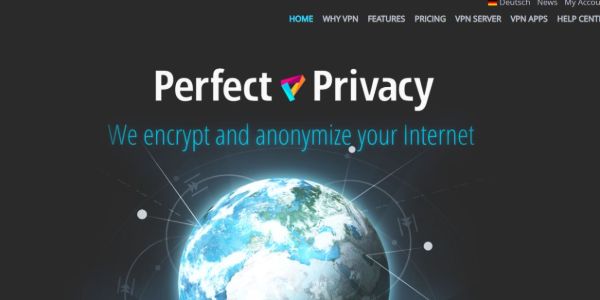 PerfectPrivacy makes use of open-source software and encrypts traffic using high standards. Its supported protocols include IPsec and OpenVPN, which are compatible with almost all types of operating systems. The pricing packages of PerfectPrivacy are:
1 month $12.99/month
12 months $9.99/month
24 months $8.95/month
The VPN service offers good security and protection of customers' privacy. There is up to 1000Mbps bandwidth with responsive customer support.
In essence, PerfectPrivacy is the type of VPN you would want if you wish to have complete privacy online. Like other VPNs on the list, it also enables you to bypass geographical restrictions. But, during our tests, we found PerfectPrivacy to be not effective for unblocking Netflix and BBC iPlayer.
Our Score: 8.9/10
5. IPVanish
IPVanish is one of the fastest VPNs in the world. But the main selling point of this provider is its wide range of exceptional features. Another interesting trait of IPVanish is the number of IP addresses it has.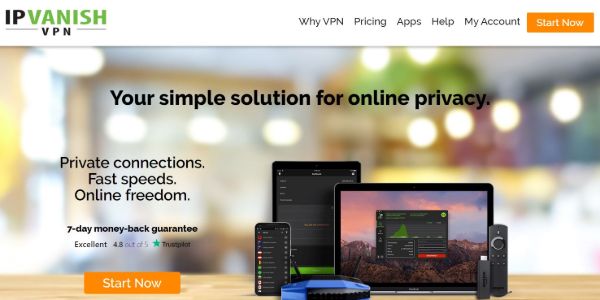 With IPVanish, you get your hands on over 40,000 IP addresses to choose from more than 75 server locations and more than 1300 servers. The VPN is also a great choice for torrenting and P2P.
Their VPN service cost is a bit higher than other services, but you get quality service. If you are looking for a budget-friendly quality VPN then you may have to consider other VPN services such as Surfshark on the list. Below you can take a look at the pricing of IPVanish:
1 month $10/month
3 months $8.99/month
12 months $6.49/month
Nevertheless, if you are interested in top speed, a highly secured network, and an exceptional service, you don't have many options than the IPVanish VPN service. This VPN supports ten devices in one plan.
Like any other product, IPVanish is not perfect, too. We would recommend you not to use it because of the lack of optimized servers. That can cause privacy issues.
Also, the company is based in the US, which is not considered a privacy-friendly jurisdiction.
Our Score: 8.6/10
6. CyberGhost
CyberGhost supports torrents and comes with some advanced features. This VPN service offers support for a maximum of 7 different devices at a time. It has more than 6100 servers and over 60 server locations worldwide.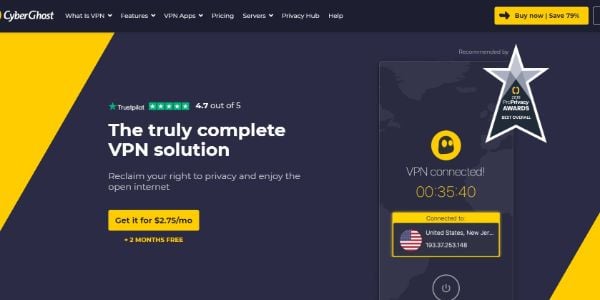 The CyberGhost VPN offers support for Apple and Microsoft operating systems, as well as android and iOs. This gives you a plethora of connecting options on the VPN. However, it may not have the best interface when it comes to navigation, but the VPN is fast and loaded with good qualities.
There is a free plan that comes with a few features. However, for the free plan, there is limited data usage and other restrictions, too. The premium package provides everything you need to stay off the radar while surfing the net. The pricing of the packages are below:
1 month $12.99/month
12 months $5.99/month
24 months $3.69/month
36 months $2.75/month
Our Score: 8.4/10
7. TunnelBear
TunnelBear does not support many devices. But 5 is still a decent number. It may not be quite packed with lots of features, but the very few features it has are standout ones. TunnelBear boasts more than 23 sever location options with more than a thousand servers. It is one of the easiest VPN providers to use.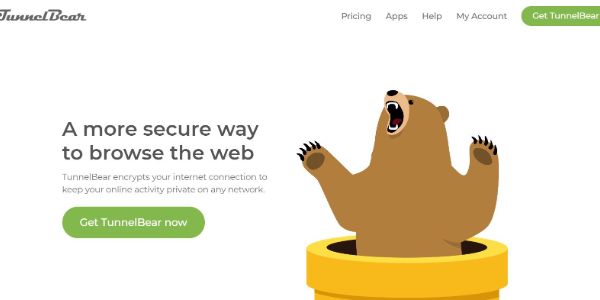 Also, the server comes with a strong privacy policy, a lot of clients, and a good user experience. However, speed can reduce long-distance connections. The standout feature of this VPN server is the user-friendliness. TunnelBear is very cost-effective, here are the details:
Free (Up to 500 MB)
Unlimited Package $4.99/month
Teams Package $5.75/month
Our Score: 8.2/10
8. ProtonVPN
ProtonVPN makes use of ciphers to keep your traffic safe and unique only to you. With their technology, no one would be able to decipher your traffic and snoop over it.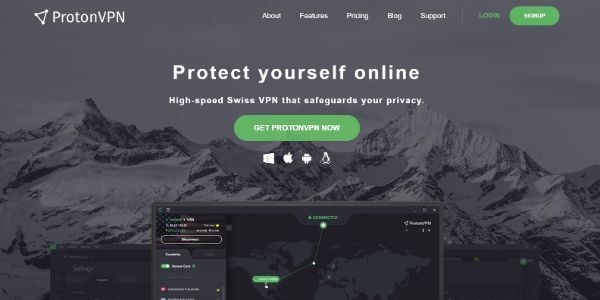 The Switzerland-based company does not record or track your internet activity. And the integration of the Tor network and the ProtonVPN will give you good reasons to smile.
Unlike some other VPN services, this one does not have caches. You get complete control over what you are doing online. The platform is also easy to use, but it offers slower connection speed. Here are the packages ProtonVPN offers to its customers:
Free
Basic 4€ /month
Plus 8€ /month
Visionary 24€ /mo
The platform supports multiple devices, including routers, smartphones, Macs, as well as Pcs.
Our Score: 8.1/10
9. Mullvad
Mullvad is not a new face in the world of VPN. With offerings for a wide range of platforms, you will have a plethora of options.
The company uses WireGuard VPN and OpenVPN protocols to keep their users safe online. It offers complete protection of customer data and personal information. Mullvad has kept things very simple by offering only one package that costs €5/month (about $5.50).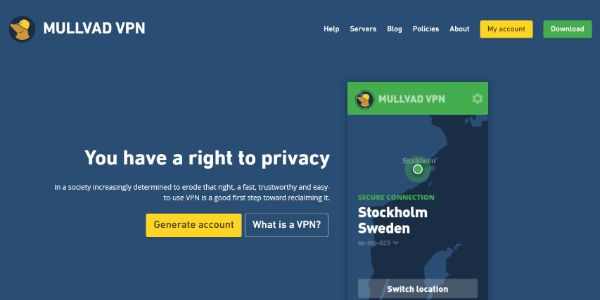 The company was founded in 2009. Right now, Mullvad is one of the most consistent VPN service providers in the world because of its speed and performance.
The provider may not be the best in terms of wider device compatibility. But the servers are very responsive and offer the right level of security you need.
Our Score: 7.8/10
10. Hotspot Shield
Hotspot Shield VPN may be the last on the list here. But it is certainly not the least important. The server offers support for about five devices, including Android, Mac, and Windows version of the computer.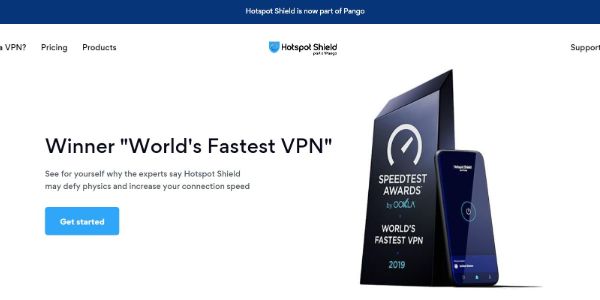 It has more than 2500 servers with more over 70 server locations spread across the world.
With this VPN, you can expect speedy connections, affordable plans, as well as complete security and safety of your data and information.
1 month $12.99/month
12 months $7.99/month
36 months $2.99/month
Overall, the service is one of the best in terms of affordability and speed.
Our Score: 7.5/10
Conclusion
There is no denying VPN services serve us for a bunch of critical things today.
We can go online fearlessly while remaining anonymous for as long as we like. As covered before, different companies from all around the world are offering these services. The ones listed above are the best of the whole pack. So, when you want to use a VPN next for any of your purposes, you now will have a good idea which VPN provider would be best for you.
Our number one pick is ExpressVPN. It offers robust encryption with reliable VPN protection alongside the impressive kill switch protection. You also get the split tunneling protocol feature, which enables you to choose which apps use the encrypted tunnel.
ExpressVPN also provides stable access to Netflix streaming and other content around the world with fast speeds. All thanks to its extensive global VPN server network. I also like how friendly and active (24/7) its customer support is in real. And in the end, the provider supports all the major devices and routers.
Bonus: Some quick FAQs about Best VPNs:
What is a VPN service?
It means Virtual Private Network. It's a private network that gives anonymity and privacy to users.
What is a remote-access VPN?
Remote-Access VPN makes use of a public network such as the internet to offer secure internet access to remote users.
What is a site-to-site VPN?
Site-to-site VPN is a type of VPN that makes use of a gateway device for connecting from one network in one location to another network is a different location. Most of the VPN services that use this connection do not do that through public internet but rather via IPsec.
What is a mobile VPN?
Mobile VPN is the delivery of VPN services to mobile devices. Normal VPN services are usually slower to connect. But with a mobile device, you will see improved speed and connection rate.
Why should I use a VPN?
VPN service can keep others from spying on you and gaining access to your data. They offer protection and security while you surf the net. Also, with a VPN service, you can bypass some geographical content restrictions when using certain websites.
Which is the best VPN service in 2020?
ExpressVPN and NordVPN are two of the best VPNs in the world right now. This is because of their high speeds, robust security, and exceptional service.
About the author
Ali Raza
Experienced in web journalism and marketing, Ali Raza holds a master's degree in finance and enjoys writing about cryptocurrencies and fintech. He is very passionate about the internet privacy. Ali's work has been published in several valuable publications.