ExtremeVPN is one of the fastest VPN services and an excellent option for streaming or torrenting enthusiasts. Our tests show ExtremeVPN is the real deal, given that it's a new entry into the VPN market — the provider has nailed it. It unblocks different streaming platforms and has solid security. This VPN also guarantees privacy, which is audited to provide complete transparency.
What about privacy and other security features if put to the test?
In this review, we'll deeply dive into a recently launched VPN service that is already in the headlines for its excellent value: ExtremeVPN. ExtremeVPN subscriptions start at $3.29 per month, a very reasonable price, but how much protection does it offer? Find out as we take you through our hands-on experience with this VPN.
Let's review the privacy policy, server, connection speeds, security, streaming performance, and more. We also provide additional details about ExtremeVPN to answer any potential questions.
ExtremeVPN overview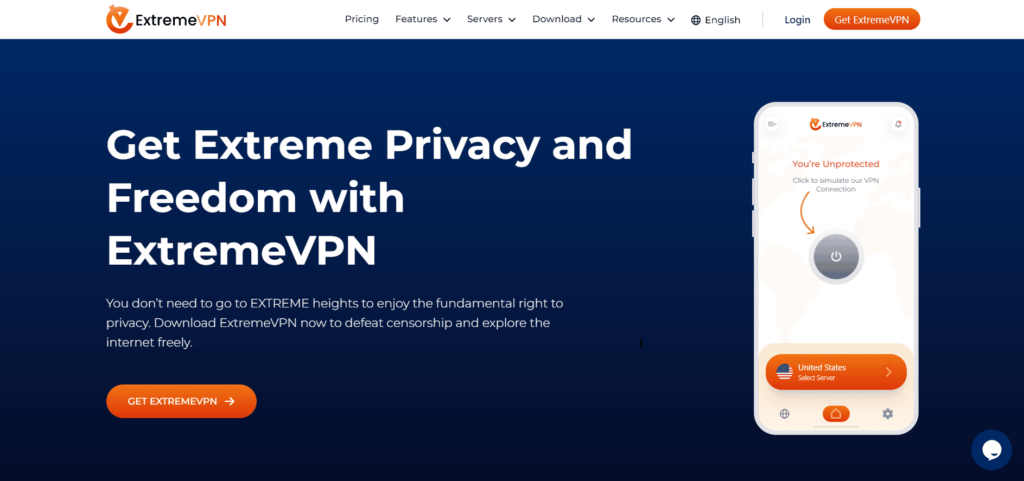 If you do not have enough time on your hands to go through the entire review, we have outlined the key points for ExtremeVPN for your convenience:
Top-notch security and privacy features: From all our tests, we can say, without a doubt, ExtremeVPN is among the best when it comes to security and privacy features. These features include RAM-based servers, a reliable kill switch, a wide range of tunneling protocols, a strict no-logs policy, and AES-256 encryption. These features help create and sustain an entirely safe and private online experience. And that's not all; the VPN is based in the British Virgin Islands, a safe jurisdiction.
Lightning-fast and stable connection: Unlike most other VPNs that struggle with speeds, especially from long-distance servers, ExtremeVPN is consistent and fast no matter how far away you are connecting from.
Quality unblocking and streaming abilities: Regarding unblocking and streaming, there aren't many VPNs as good or as consistent as ExtremeVPN. It is compatible with all major streaming platforms, including Netflix, BBC iPlayer, Disney+, and Hulu. And if your devices don't support VPN use, you have the MediaStreamer feature to sort that out.
Impressively large server network: ExtemeVPN is powered by over 6,500 servers, ideally spread across 78+ countries and 88+ locations. This careful distribution ensures that users can easily access any servers or services wherever they are.
Extensive extra features: Moving away from the standard features and services with an ExtremeVPN subscription, the service also provides a flurry of add-on features. These features also include Split Tunneling. They function to help improve the safety and privacy experience.
Intuitive and user-friendly application interface: ExtremeVPN's client apps are designed with one thing in mind – user convenience. And this is no small feat since ExtremeVPN has client apps for all major devices and operating systems. Each app is unique to the device and OS, but all share an intuitive and user-friendly design that favors newcomers and experts alike.
Costs less than most providers: The monthly subscription for ExtremeVPN is $3.29, which is less than what you would pay for other major brands. Also, you can get in on the 30-day money-back guarantee to use it free of charge for that duration.
Knowledgeable and reliable customer support: Before we get to the astute team of customer support staff, ExtremeVPN has a page dedicated to any FAQs you can find relevant to your situation. But if you have a unique issue and require a more hands-on approach, customer support is available 24/7.
Pros and cons of ExtremeVPN
Pros
Extremely budget-friendly
Lets users bypass geo-restrictions with its stealth browsing feature
The VPN is user-friendly and has a simple and fast installation process
Has a large pool of server network
Supports torrenting
Unblocks Netflix and other streaming platforms
Customer support is available 24/7, knowledgeable, and reliable
Cons
Does not offer Double VPN or dedicated IP
ExtremeVPN features
| | |
| --- | --- |
| Base of Operations | British Virgin Islands |
| Server Count | 6500+ |
| Torrenting Support | Yes |
| Does VPN store logs? | No |
| Kill switch | Yes |
| Customer Support | 24/7 Live Chat, Tickets, Knowledgebase |
| Number of devices per subscription | 10 |
| Money Back Guarantee | 30 Days |
| Lowest Price | $3.29/mo |
Streaming – Does ExtremeVPN unblock all major streaming platforms?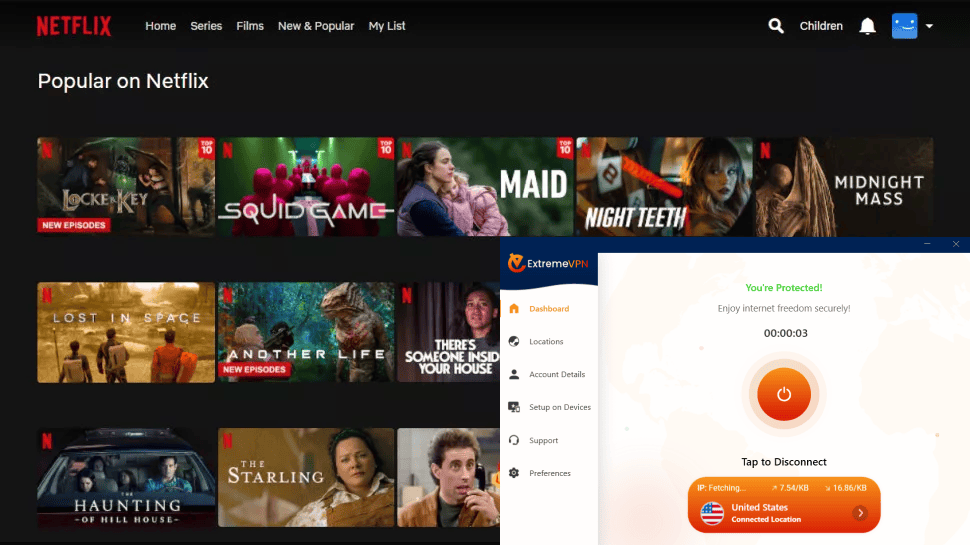 ExtremeVPN offers amazing playback quality and unblocking capabilities when it comes to streaming. We found that the VPN lets you quickly load videos and stream movies without buffering. Additionally, it unblocks popular streaming platforms, including Hulu, Amazon Prime Video, HBO Max, Netflix, BBC iPlayer, Disney+, and more.
You can also access over seven different Netflix libraries, including France, Japan, the UK, Germany, the US, and Australia, which is a lot compared to other VPNs. ExtremeVPN also keeps upgrading IPs for different streaming services and lets you connect to the best servers for that particular service with one click.
Hulu users can breathe a sigh of relief; where most other VPNs struggle with unblocking the streaming platform, ExtremeVPN handles it easily. HBOMax was no different; ExtremeVPN's US server allows users to bypass geo-restrictions.
Furthermore, while Amazon Prime Video arguably has some of the toughest censorships, ExtremeVPN slides through seamlessly and grants you access to US and UK libraries. Additionally, the Manchester server helped us access BBC iPlayer with little to no trouble, as is the trend with ExtremeVPN.
Other platforms that ExtremeVPN unblocks without hassles include:
SlingTV
YouTube
ITV Player
Hotstar
CBS
ESPN+
Crackle
Disney+
Funimation
Speeds – How fast is ExtremeVPN?
ExtremeVPN records impressive speeds on most of its servers. As a result, this VPN service offers users the best server networks for their location, with fast connection speeds. On a standard connection of 100Mbps, you can get download speeds of 303.93Mbps, upload speeds of 329.92Mbps, and a ping of 77ms.
Even in locations as far as Australia, you may only experience a 14% drop in speed. However, you must note that you may experience speed drops if you are far from the server you're using. At the same time, you will get better results as the distance is reduced.
Below is a table showing major locations and their respective server performances:
| Server | Download speed | Upload Speed | Ping |
| --- | --- | --- | --- |
| No VPN | 309.93 Mbps | 329.92 Mbps | 77 ms |
| New York | 133.63 Mbps (57% decrease) | 120.02 Mbps (61% decrease) | 162 ms |
| Toronto | 323.58 Mbps (3% increase) | 89.13 Mbps (62% decrease) | 53 ms |
| Sydney | 266.26 Mbps (14% decrease) | 327.73 Mbps (1% decrease) | 243 ms |
| Houston | 287.98 Mbps (8% decrease) | 311.53 Mbps (5% decrease) | 88 ms |
| São Paulo | 240.12 Mbps (20% decrease) | 221.68 Mbps (27% decrease) | 167 ms |
Our tests showed that pings and the download speeds stayed strong over long distances, but the upload speeds were a bit inconsistent. This isn't entirely a problem, but you may experience a slower upload time when you try to upload a video on TikTok, for example.
Each server provides enough speeds to ensure a buffer-free streaming experience. With ExtremeVPN, you enjoy consistent and high speeds from anywhere.
Does ExtremeVPN provide sufficient speed for hassle-free gaming?
ExtremeVPN works great with gaming on local servers. If you are a gamer and need a VPN to give you maximum speed, access, and protection, then ExtremeVPN is the one you need. For example, you can connect to the nearest server and try League of Legends (we tried it). Gaming with ExtremeVPN is a fast-paced experience, and you will not notice any lags whatsoever.
How extensive ExtremeVPN's server network is?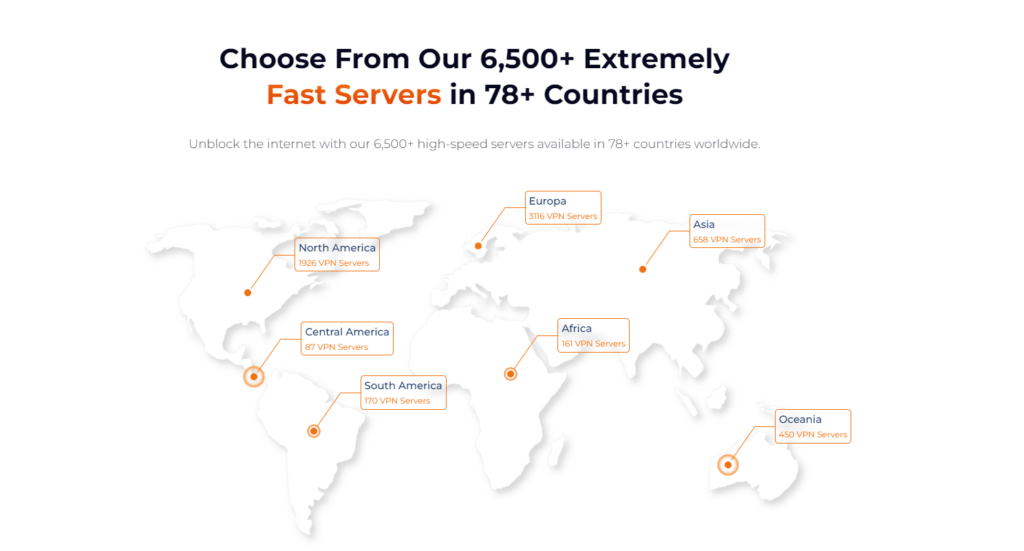 ExtremeVPN has a wide range of server networks in different countries. As a result, it is easy to avoid server overloads, lagging, or geo-restrictions. Any VPN looking to gain users should always have a large and functional server network; ExtremeVPN takes that seriously. We noticed this VPN automatically lets you connect to a different domain address that your ISP has not yet blocked.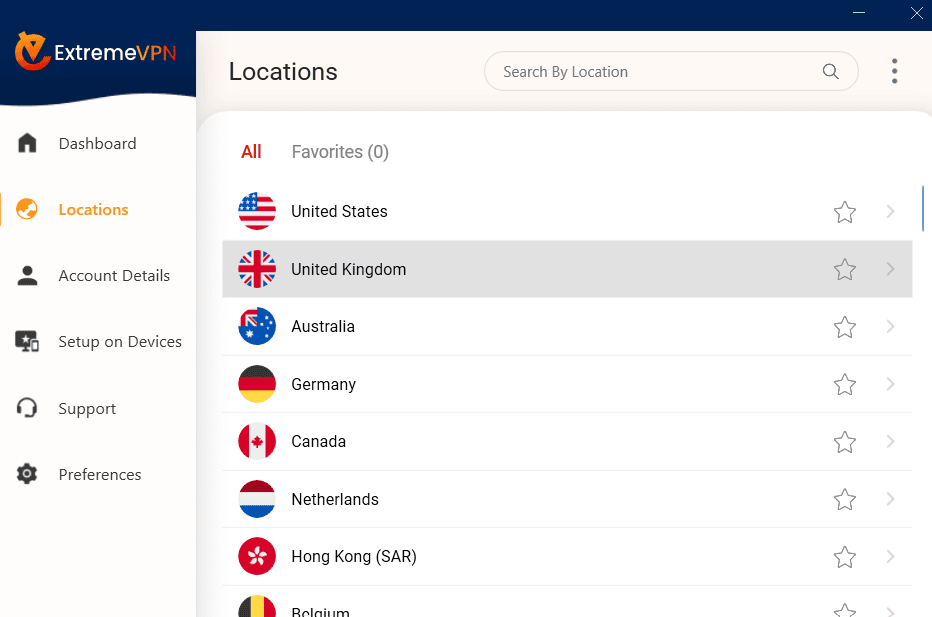 In addition, ExtremeVPN's large server network features virtual servers. The key difference between virtual and physical servers is that the former is located in the country of the same name, while the latter is not. How it works is that the VPN assigns you an IP and reroutes your traffic through servers in another country with stable connections.
You can also access more specified functions in the server list, such as torrenting-optimized servers.
ExtremeVPN takes the ease of use to a whole new level with its recommended server feature and straightforward interface, which lets users use VPN with one tap. Most importantly, ExtremeVPN owns all its servers, which ensures adequate security.
Security – Is ExtremeVPN secure?
With ExtremeVPN, you can expect top-notch security protocols and features. Below is an in-depth review:
Encryption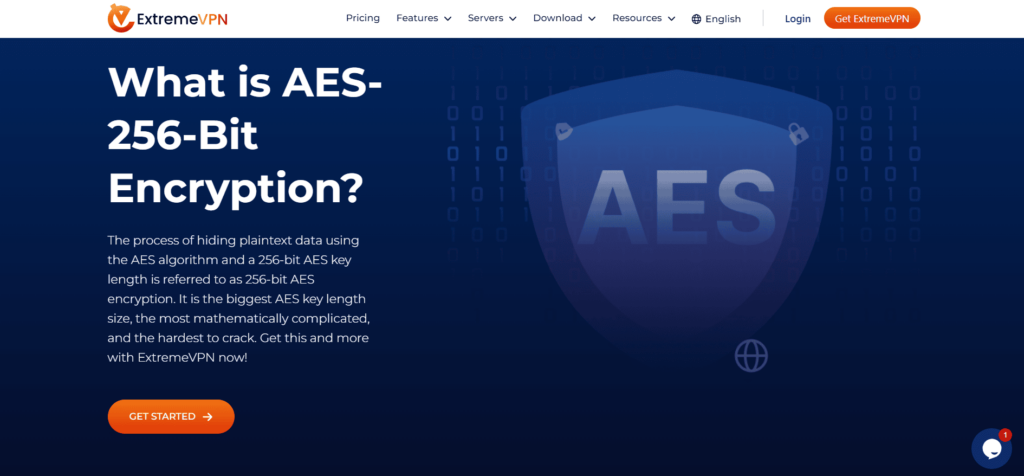 ExtremeVPN uses AES 256-bit encryption, currently the highest level of encryption available, to ensure security and privacy. Its IPv6 leak protection also ensures absolute anonymity from your ISP, trackers, hackers, and other spying bodies.
When you connect to ExtremeVPN, it does not allow you to connect to a second VPN. This is an excellent feature because it won't let any leaks occur while you are connected to it. This VPN also uses Quantum-Resistant Encryption Keys to keep you safe from hackers.
It is necessary to note that the dangers this feature will prevent are yet to be mainstream, but it soon will be. Kudos to ExtremeVPN for improvising, looking to the future, and getting ahead.
---
Protocols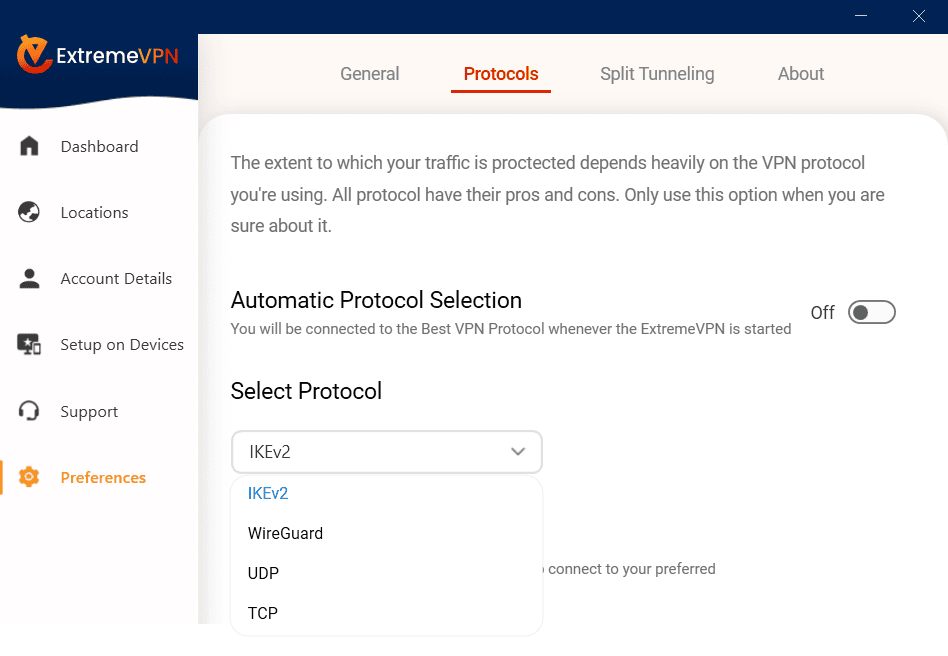 With the native apps, you can choose from three protocols by default, but you also have the option in "Preferences" to manually set up a protocol of your choice. Below are the protocols available to you with ExtremeVPN:
| Protocol | Details |
| --- | --- |
| WireGuard | A superfast VPN protocol is now on major operating systems, allowing you to have the safest and quickest connections possible without having to compromise security. |
| SSTP | A superfast VPN protocol is now on major operating systems, allowing you to have the safest and quickest connections possible without compromising security. |
| OpenVPN | This protocol is easy to configure and is regarded as the industry standard, offering safety and speed. It has two major options: TCP and UDP. TCP is more secure, while UDP is faster. ExtremeVPN's use of OpenVPN also comes with an obfuscation protocol, making your VPN traffic appear like regular traffic to trick ISP/network censors and firewalls more easily. |
| L2TP/IPSec | L2TP is often paired with IPSec to ensure encryption and authentication, but it's less reliable than OpenVPN. |
| IKEv2 | This protocol is popular for its reliability, safety, and versatility. It is a tunneling protocol but sometimes offers better connection speeds than OpenVPN. |
However, the Automatic Protocol Selection is always activated, but you can choose the protocol you want to use instead.
---
Kill switch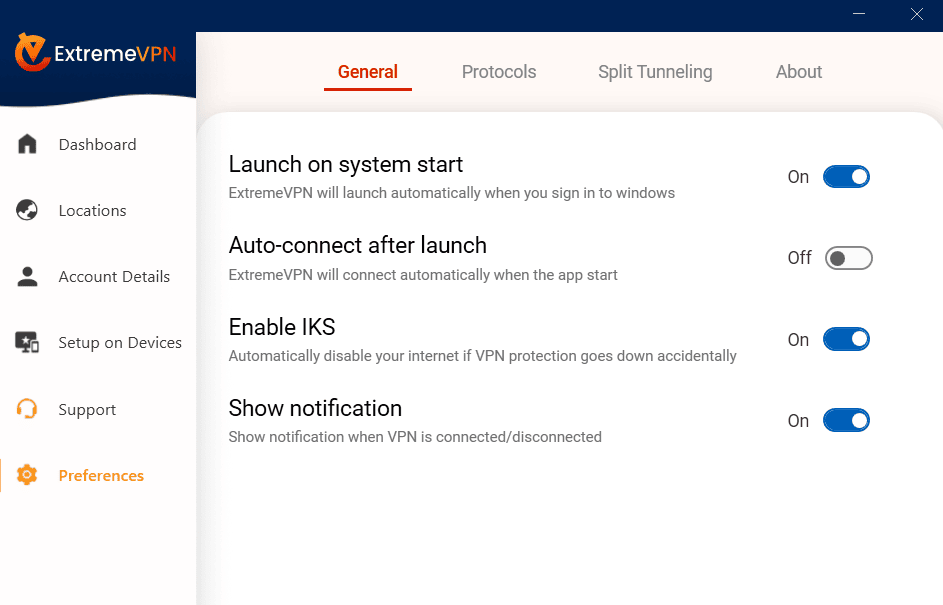 A kill switch helps turn off internet traffic when your VPN connection fails. This protects your device's IP and private data from leaking to your ISP or other spying entities. The ExtremeVPN kill switch (the 'Enable IKS' option) is very active and works as long as you are connected to the VPN.
---
Split tunnelling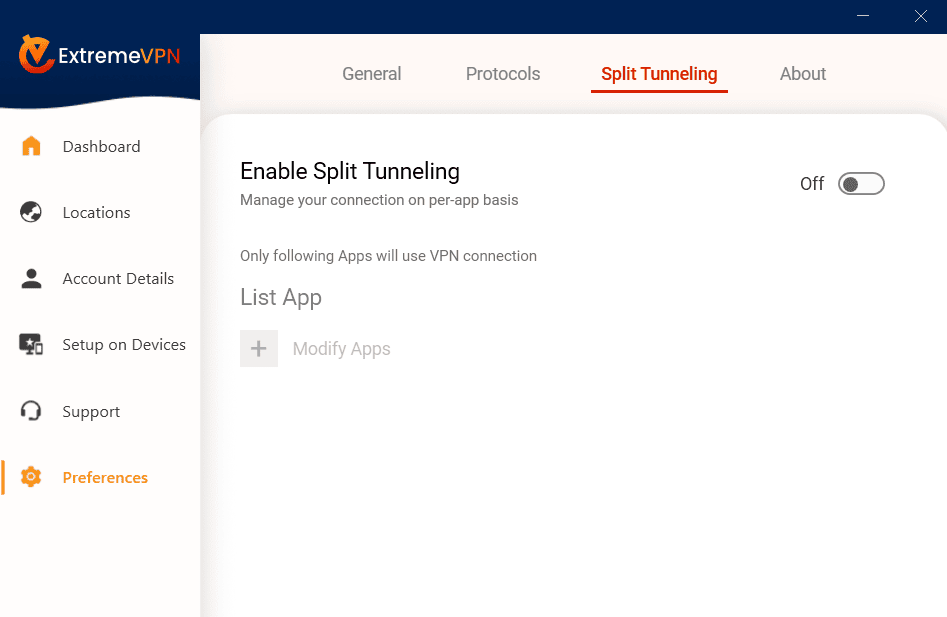 This feature allows you to decide what traffic the VPN is rerouting if you want all of it, or just the traffic from specific apps. For example, you can use your bank application within the ISP's IP while still using ExtremeVPN's IP for other online activities. However, you can only access this feature on Windows and Android apps.
---
IPv6, IP, and WebRTC leak protection
We tested ExtremeVPN for all types of leaks and found none, making the VPN 100% leakproof. This means your traffic gets routed through an encrypted tunnel, and the personal identifiers, such as your IP address, are scrubbed off.
Below are the different types of data leaks that can happen:
WebRTC leaks: The WebRTC technology lets you call without using a plugin or app. The drawback is that it will reveal your IP address to any websites you visit.
DNS leaks: The DNS converts domain names into IP addresses for the sites you visit. If your DNS requests are leaked, your ISP can see what you're doing online.
IP leaks: If the VPN does not hide your main IP, it will be exposed to the websites you visit. When this happens, hackers can find your actual location.
ExtremeVPN generally offers impressive security features with no leaks. This service keeps your DNS requests hidden and changes your IP address from every location you switch to.
Privacy – Is ExtremeVPN private enough?
An excellent jurisdiction in the British Virgin Islands
ExtremeVPN is headquartered in the British Virgin Islands. It is a self-ruling authority known for its strict laws shielding firms and individuals' anonymity.
British Virgin Islands (BVI) offers distinct advantages to VPN services based there. BVI lacks mandatory data retention rules and extensive surveillance initiatives. Its robust privacy and data confidentiality distinguish them from countries in the Five Eyes association, akin to Switzerland.
British Virgin Islands (BVI) companies aren't required to disclose customer records. The country's law system is wholly independent and not subject to any other administration. The BVI itself is a fully autonomous entity despite its historical links to Britain.
Looking at ExtremeVPN doesn't feel like you're in a young player's hand.
The provider has earned its user's trust and allows them to enjoy the VPN experience at its best. For this reason, they have taken measures to beef up their privacy.
---
ExtremeVPN does not keep identifiable logs

We found it to be a true no-log VPN. ExtremeVPN does not store your IP address or browsing history. It also does not collect or store your assigned VPN server IP address, origin IP address, DNS requests, VPN session timestamp, and browsing activities. However, it collects your name and email address, which are all standard for service maintenance.
---
Audits
ExtemeVPN's privacy policy is not only airtight according to the company's statement; two independent audit companies back it up.
The first company is an independent US-based auditor. And according to their analyses, they have certified that ExtremeVPN does not have any "indications that system configurations and/or system/service log files, independently or collectively, could lead to identifying a specific person and/or the person's activity when using the ExtremeVPN service."
Furthermore, if you need a second opinion, KPMG has also conducted its audits on ExtemeVPN's privacy policy and protocols to ensure complete transparency. Their audits stated that ExtremeVPN, as a service, strongly emphasizes its users' privacy. Those are very sound and confident statements from two independent and reputable auditing firms, which should fill anyone with enough faith when they use ExtremeVPN.
We were also impressed seeing that ExtremeVPN got Apple's "Data Not Collected" tag on their App Store listing page. That's the best label an app can get. As privacy experts, we closely monitor Apple labels as we know they are super strict regarding how a company handles user data. We see even the top VPNs like ExpressVPN and NordVPN get "Data Linked to You" tags from Apple, where the App Store indicates the apps in question may collect data, such as contact info and identifiers, and link to your identity.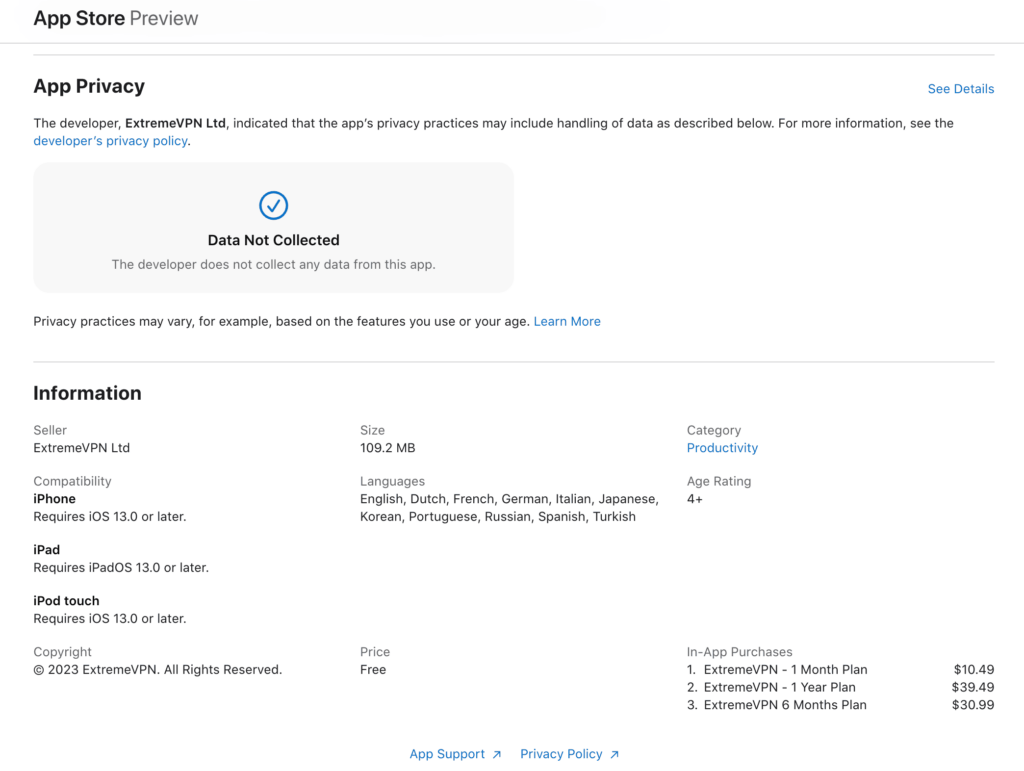 ---
Does ExtremeVPN support Torrenting?
Yes.
ExtremeVPN supports torrenting on over 30 P2P-optimised servers and can be made to work on even more. With ExtremeVPN, we could download a file in less than 15 minutes, the fastest speed recorded in our tests.
From testing other approved servers, ExtremeVPN performed very well for torrenting. Not all its servers are P2P enabled, but they're enough for users not to notice.
Does ExtremeVPN Work in China? Yes, but it requires manual settings
ExtremeVPN works in China, and we have confirmed that its servers can bypass China's great firewall with little resistance. In addition, there are no IP leaks or speed compromises. Thanks to ExtremeVPN's obfuscation server technology, your VPN traffic will appear like regular HTTPS internet traffic, making it difficult to block.
However, it is better to install ExtremeVPN before you take the trip to China, as the government has blocked all services that do not comply with its privacy laws and regulations. All you have to do is install and sign in before entering the country, and you won't have anything to worry about.
Apps and device compatibility

ExtremeVPN is compatible with almost any device type, model, or brand. The primary operating systems have no hassle working with the VPN service, be it iOS, Android, macOS, or Windows. Our tests show a stunning level of compatibility with these devices over various platforms.
Windows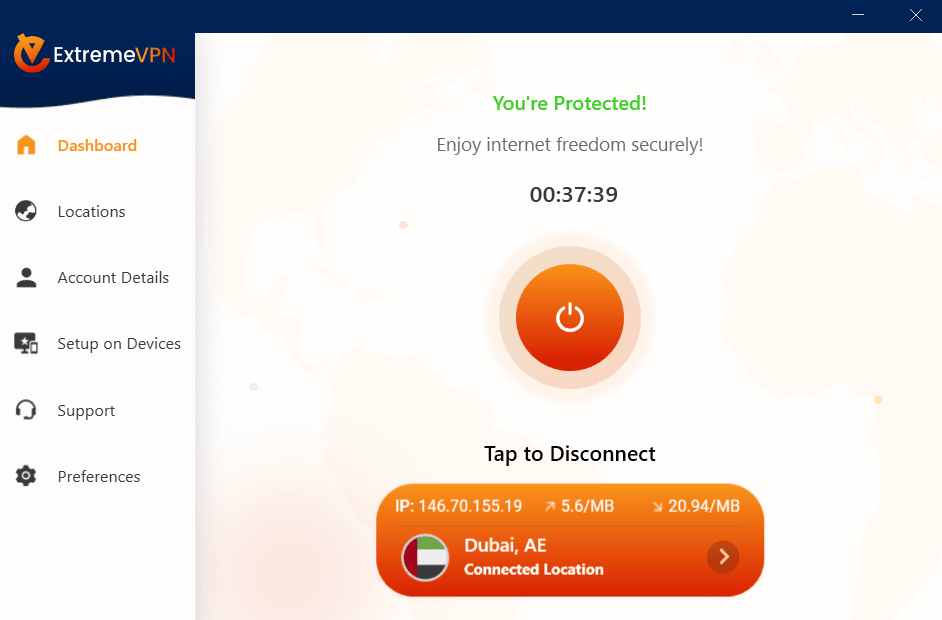 ExtremeVPN supports OpenVPN (UDP and TCP) and IKEv2 tunneling protocols on the Windows native client. You can also select the protocol you wish to use and toggle the kill switch and auto-connection functions off and on. This will be perfect for beginners and users who prefer straightforward apps.
---
macOS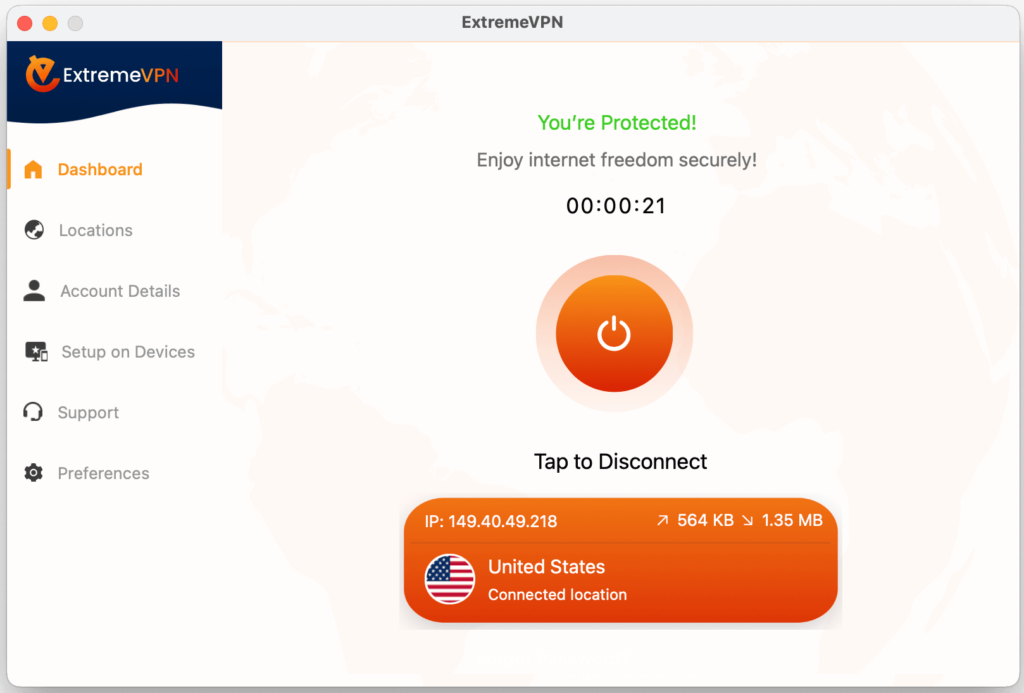 In our tests on the client app for macOS, we discovered that it is similar to the Windows apps. The OS supports L2TP/IPSec, PPTP, and IKEv2 tunneling protocols. However, the difference is that the Mac app does not display pings automatically.
---
Android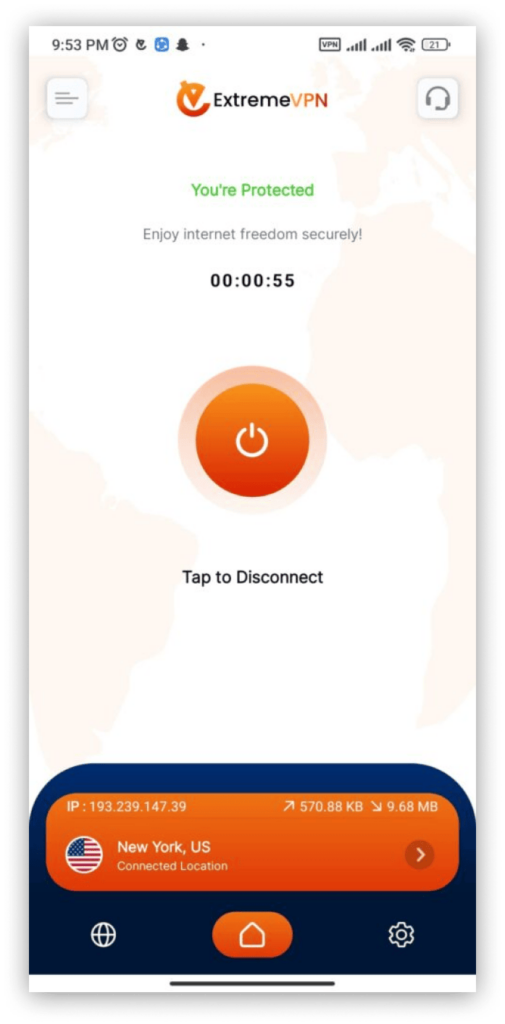 The Android app for ExtremeVPN is not only impressive, it is also packed with features. Android app users can enjoy streaming, internet freedom, file sharing, security, and privacy.
With the Android app, you get a split-tunneling option to choose either a NAT or non-NAT network. You also get the same amount of protocols as the Windows version, which is a plus if you need the whole experience on a portable device.
---
iOS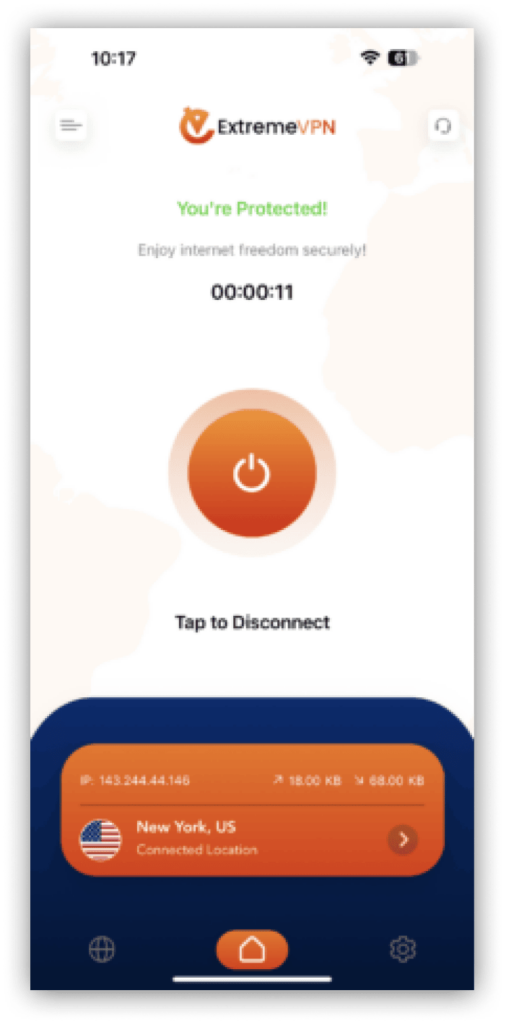 The iOS app is easy-to-use, optimized, and very secure. With the app, users will notice that they can automatically connect and will auto-reconnect if the connection drops.
---
Simultaneous device connections
It is common among VPN users to subscribe to another VPN to protect multiple devices simultaneously. However, ExtremeVPN supports multiple devices and can protect them simultaneously.
With one ExtremeVPN subscription, you can protect up to 10 devices simultaneously. For clarity, this number is the limit of simultaneous connections, not how many separate devices you can protect with one subscription.
With the speed, excellent compatibility, and ease of use, this deal is one you do not want to miss. The chance to simultaneously protect up to 10 devices on one account, ergo your whole network, is great value for money.
ExtremeVPN's pricing and plans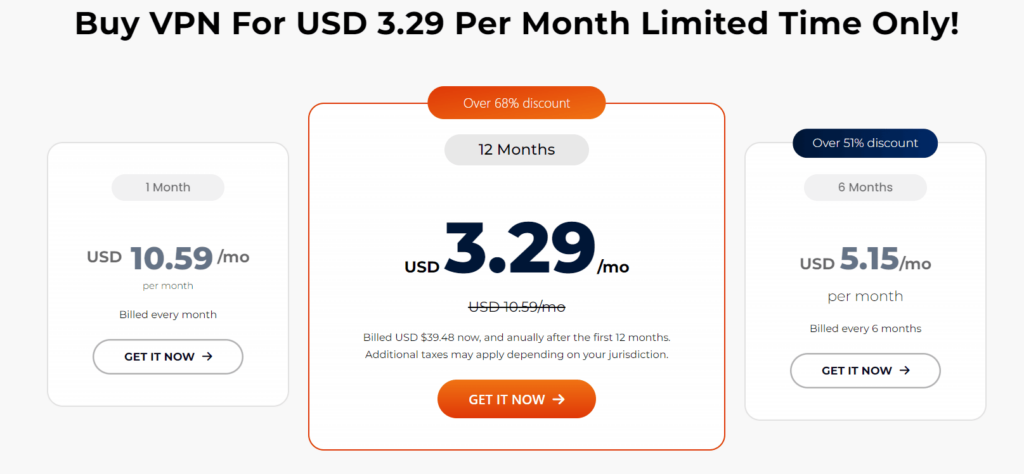 ExtremeVPN has three price tiers:
1 Month: $10.59
6 Months: $5.15
12 Months: $ 3.29 (best deal)
You can enjoy the ease of paying with any payment method that is most convenient for you. ExtremeVPN supports various payment methods, including credit cards and PayPal. The ExtremeVPN payment plans also come with a 30-day, no questions asked, money-back guarantee.
ExtremeVPN is more affordable than most other VPNs. To get the best out of this service, consider the 12-month plan that gives you a discount of 68% at $3.29 a month.
Customer support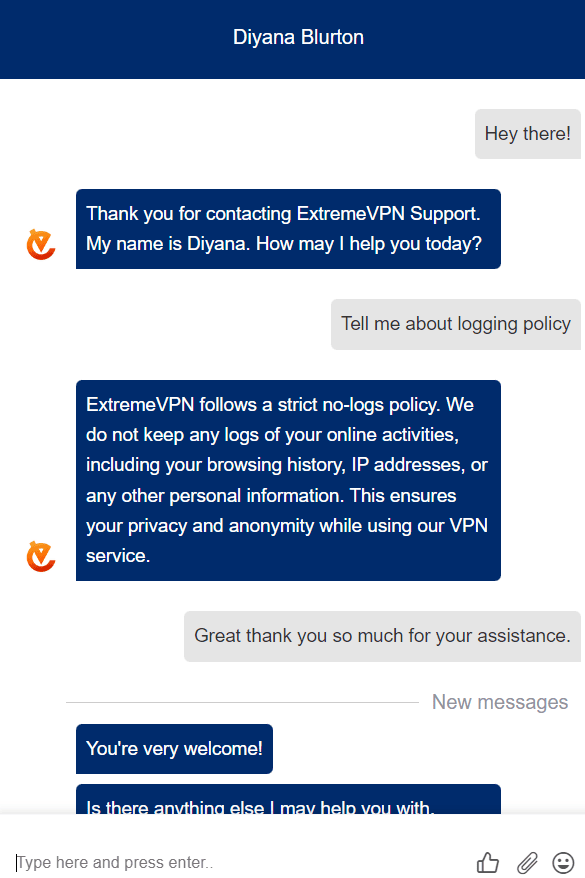 Regarding customer support, ExtremeVPN offers 24/7 friendly live chat support. Although you have to start with a bot, you will quickly get assigned to a human representative; you have to choose "other" when the bot asks what your question is. You can also find helpful articles for your issues on the site.
ExtremeVPN customer service representatives are patient, helpful, and knowledgeable, with a waiting time of under 10 seconds. We discovered a way to get to a human customer representative quicker. When you ask the chatbot a question, and it says welcome, do not close the window; instead, stay a little longer, and a live agent will join the conversation.
Overall, ExtremeVPN has awe-inspiring customer support, and if you have any issues with the service, you can quickly get the help you need. In addition, you can contact them via email to issue a detailed complaint to receive an equally detailed response. Furthermore, ExtremeVPN's extensive FAQ page answers popular questions, and you may not have to contact customer care at all.
ExtremeVPN security add-ons
Most VPN services provide a few add-ons to help with user security and privacy, but being a young player, ExtremeVPN is not yet there. The provider is focused solely on VPN service, which is a good thing for many reasons.
Compare ExtremeVPN with the top alternative VPNs
Look how ExtremeVPN performs in comparison to other VPNs:
| VPN service | Rating |
| --- | --- |
| ExtremeVPN | 9.5/10 |
| CyberGhost | 9.4/10 |
| Private Internet Access | 9.5/10 |
| NordVPN | 9.6/10 |
| ExpressVPN | 9.8/10 |
Conclusion
With over 6,500 server networks in over 88 locations (spread in 78+ countries), ExtremeVPN has impressive features. The speed is reliable for nearby and distant servers for unlimited content access. In addition, there is no issue with unblocking, and you can access the most popular streaming platforms without buffering.
Furthermore, this VPN operates on a no-log policy and keeps no records of your online activities. It is leakproof, and the privacy is dependable and audited. ExtremeVPN also works well on any operating system and device and offers 24/7 live support.
With its multiple VPN protocols available, we know we can use ExtremeVPN and still do everything we usually do on the world wide web, and so can you. We would love to see extra features, such as security add-ons established VPN providers offer today, including an ad blocker and password manager. But, ultimately, we couldn't ask for more from a newcomer. Their well-prepared start suggests the provider will also soon be able to offer such add-ons. We recommend it if you need a fast, safe, and private VPN.
FAQs
Yes, ExtremeVPN is safe to use. It operates with 256-bit encryption and present-day protocols and has a safety switch. It has a credible no-logs policy and is consistently audited to ensure it is up to par since it has recently focused on preserving its users' privacy.
Yes, ExtremeVPN can unblock Netflix in several countries. It's a good alternative for streaming because it provides rapid speeds on many servers. On servers over 10,000 km away, you can broadcast in HD without buffering.
Yes, ExtremeVPN will reduce your bandwidth slightly, depending on which server you connect to. This might be up to 80%. However, when you use servers geographically closer to you, the speeds are good, with more than enough to stream HD movies and games and download large files.
ExtremeVPN is a fantastic service. Most servers, even those on the opposite side of the world, when used with ExtremeVPN, provide lightning-fast speeds. It allows users to stream without interruption and unblocks all major platforms. There are little to no connection troubles with its massive server network, and its apps are available for all major operating systems. Each one is simple to use. Its strong security measures use advanced encryption technology to conceal your true location.
Yes, ExtremeVPN is a reliable service. Its privacy policy indicates that it will not log your data or allow your ISP to monitor your activities. Two reputable third parties have also audited and verified the policy; this indicates that you can trust it to keep your data safe.
ExtremeVPN can not be used for free. We recommend avoiding using free VPNs as they lack security. Free VPNs have restricted features, too. Most are not safe, have fewer servers, and limited bandwidth. Some will even log and sell your data for a profit. However, ExtremeVPN is extremely safe and offers a 30-day money-back guarantee and a complete refund process.
No, ExtremeVPN has a verified no-logs policy, and their infrastructure is also designed to that effect.
Your ISP can tell when you are connected to VPN, but there is little risk attached to them knowing. The VPN keeps you, your online activity, and everything else hidden from prying eyes, so even if the ISP can tell, they can't act on it – especially if VPNs are legal in your location.
Yes, with its Threat Manager feature, ExtremeVPN can, in fact, block malware and malicious links. It is aided by a frequently updated blocklist that helps determine what sites or files pose a risk.
ExtremeVPN comes equipped with a router applet that is easy to install and use. Most other VPNs require some measure of expertise to get them to work with routers, but ExtremeVPN makes it a breeze. Note that the models it works best with are Netgear, Linksys, and Asus router models.
It is very easy to cancel your ExtremeVPN subscription, whether it's an ongoing or recurring subscription. You only need to contact their customer support team via live chat or email. Once you do so, you will receive your money back, but only if you cancel within its 30-day money-back guarantee period. If you cancel a recurring subscription, you will not be auto-charged when the ongoing plan expires.
No, the subscription types available with ExtremeVPN include monthly, six-month, and yearly. The VPN service does not offer a lifetime subscription because of the uncertainty that surrounds the cybersecurity industry and the new threats that may arise and features to combat them. A lifetime subscription can halt any technological advancements to fight new threats.
Since ExtremeVPN essentially removes you from your ISP's control and surveillance, you are also free from any data throttling. But note that ExtremeVPN can stop throttling if you are streaming, torrenting, or gaming.
ExtremeVPN mobile apps for Android and iOS devices are as good as desktop apps. They have identical designs and features. They differ because the iOS mobile app does not have the split tunneling feature. But asides from that, it works just as well as the desktop client app.