We remain exposed to online threats. And hackers constantly develop new, cunning ways to use our online activities for malicious purposes. As a result, our devices must be equipped to handle this challenge. Thankfully, we have VPN services to help us combat these threats.
VPNs are excellent software for protecting your privacy and security. In combination with an antivirus, they make for an excellent protection bundle. Since our online activities can inadvertently expose us to monitoring or data theft, a VPN is the best bet to keep our web surfing private and secure.
However, another major threat you face when using the internet includes harmful files that can attach themselves to your devices and do major damage. Getting an antivirus subscription will fix this problem. But it would mean two separate subscriptions for your VPN and antivirus, which can be expensive.
Luckily, major VPN services have provided a solution where the VPN software comes with an antivirus. This package lets you experience the best of both worlds for just one subscription.
In this article, we answer questions on the perks of using a VPN and antivirus combo and which VPN is best with an antivirus.
Best VPNs with antivirus – Quick list
What is a VPN?
A Virtual Private Network (VPN) is software that protects your network connection when you use the internet. This service is designed to keep your IP address private and hidden, which keeps you entirely anonymous. VPNs channel your internet activities through a private "tunnel." It's a secure connection between your device, the internet, and the VPN's remote server.
In addition, the traffic routed through the secure tunnel remains encrypted. So you don't have to worry about online monitoring or hacking. VPN services also allow you to bypass any firewalls or internet restrictions. With a reliable VPN, you can browse the internet without fear of cyber threats.
What is antivirus software?
An antivirus program is a software to search for, identify and eliminate viruses or malware from your devices or private network. Technically, antiviruses are security software whose chief function is security.
Antiviruses come as part of other security packages and in their separate package. With an antivirus, you can keep your computer stay protected and clean from any cyber-attacks, which can entail the following:
Adware
Phishing attempts
Browser hijackers
Rootkits
Worms
Ransomware attacks
It is necessary to note that no antivirus can offer complete protection from malware since there is a constant upward trend in the evolution of cybercrimes and virus versions.
Why do I need a VPN with an antivirus?
You need a VPN with an antivirus because the antivirus protects you against online threats like malware, while a VPN protects your internet traffic from third parties. Together, they can protect you from all types of threats from all angles.
Below are some other standout reasons why you need to get the VPN-antivirus pair for your device.
Increased performance: The VPN-antivirus pair comes with features that promote improved performance. Together, the two work harmoniously to ensure your device is always running smoothly, without any hindrances.
Keep malware out: Enjoy a much safer experience with a quality antivirus subscription. It offers protection against all malware, just as the VPN keeps your device private.
Excellent unblocking capabilities: With the best antivirus working alongside a VPN, you can bypass any content geo-restrictions.
Stay anonymous: The antivirus-VPN combination will give you absolute anonymity and protection while you surf the internet. Your online activities stay hidden, and your devices will be malware-free.
Stay phishing-free: A VPN with an ad-blocker feature is perfect for blocking access to unsafe websites. While the antivirus scans for potential threats, the ad-blocker maintains protection from any potential phishing threats.
Best VPN-antivirus packages today – Detailed list
1. ExpressVPN

Among the pioneers in the VPN market that boasts blazing-fast speed all around the server locations and stealth protection against online hazards.

Boasts a network of over 3,000 effective VPN servers scattered in 90+ coutries worldwide

TrustedServer technology (for better security)

A reliable and standard encyption AES-256

Strictly follows no-log policy

A split tunneling feature that works fluently

Has Network Lock (kill switch) feature

Supports Tor over VPN on all servers

Allows Peer-to-Peer connections on most servers

Each account can connect up to five devices at once

30-day tested pay-back policy
Pros
Unbeatable encryption and security

Offers enhanced threat protection

24/7 customer service
Cons
Lacks some fancy VPN features like Double VPN
ExpressVPN is our top recommendation because it simply ticks all the boxes. Users of ExpressVPN can expect military-grade encryption and super fast and super secure servers located in multiple major cities around the globe.
With the "Threat Manager" feature, ExpressVPN can protect you from malware or malicious websites. This feature utilizes ExpressVPN's constantly updated database or "blocklist" to scan and identify potential risks, ensuring you never encounter any.
In addition, this VPN service comes equipped with a kill switch, a zero log policy, over 3000 servers, and split tunneling features culminating into the finest VPN service in the market.
Now you can surf the web without worrying about website tracking or mapping out a pattern with your online activities. Furthermore, you do not have to worry about ads with the formidable ad-blocker feature on ExpressVPN.
---
2. Private Internet Access (PIA)

A VPN service provider that protects you from malicious and online threats with effective MACE adware and malware blocks.

Owns thousands of servers available in more than 80 countries

Offers tremendous P2P support

Secure connection with dependable encryption; AES 128-bits and 256-bits

Robust protection against malware and adware threats with in-built MACE

Enforces a policy of zero logs

Runs on RAM-only VPN servers (benefits privacy)

The split tunneling feature works as expected

Boasts a feature-rich kill switch

Each account allows connection to ten simultaneous devices

30 days no-questions-asked money-back guarantee
Pros
Integrated ad-blocking and anti-malware capabilities

A responsive customer support via live chat

Boasts double VPN mode for extra security layer
Cons
Distant servers exhibit high latency
PIA offers its users the chance to get an antivirus add-on with their regular VPN subscription. Once you get the paid package, you can activate the antivirus extension. This VPN service boasts an impressive server count of over 10,000 in more than 80 countries. PIA is also a budget-friendly option, with only $1.50 monthly; you can get a 2-year plan.
The PIA antivirus package contains all the nifty features you should expect from a VPN, such as a DNS-based ad blocker. But it also does much more. For example, it has a prevention engine that improves your device's in-built defense protocols. Likewise, its constantly updated malware-prevention database protects you around the clock.
Although, it lacks the same speeds as other options on our list. It more than makes up for its compatibility with multiple platforms and devices, such as iOS and Android.
---
3. NordVPN

A favorite VPN service with unmatched security and privacy features. It has a tested and proven no-log policy with other exciting features.

A network of more than 5,000 secure VPN servers present in 60 countries

Reliable threat protection (malware, tracking, and ad blocker)

Industry standard, most secure encryption available: AES-256

A user-friendly kill switch feature

Split tunneling feature with high efficiency

Offers multi-hop VPN for double encryption

Provides seamless Onion over VPN functionality

Does not store users' data

Users can connect up to six devices simultaneously with each account

A 30-day money-back guarantee with no questions asked
Pros
Built-in malware blocker for uncompromised protection

Owns unmatched security protocols

Responsive customer support
Cons
Extra features need manual installation
NordVPN is undoubtedly a favorite among users. With its newly added feature that allows you to have protection against malware for no extra charge, it will undoubtedly retain its appeal. The "Threat Protection" feature helps to protect your device from malware by preventing access from or to malicious links. In addition, web trackers are also stopped in their "tracks," ensuring your browsing experience is uninterrupted.
However, we must point out that while "Threat Protection" works similarly to antivirus, it is not considered a complete replacement. For example, its scanning feature is limited, being able only to scan executable files but failing to monitor any core processes for suspicious actions effectively.
On the other hand, its general effectiveness and capacity for protection are still the same, making NordVPN's already impressive security protocols much better. With this feature, you can stay protected from more threats than a regular VPN would even know to check for.
In addition, NordVPN allows you to access torrents, stream, and bypass geo-restrictions safely. If you need more assurances, NordVPN has a "Double VPN" mode that allows you to get double the protection for one payment.
---
4. Surfshark

An extremely easy-to-use VPN service that provides premium features at a very low cost. It has a functional Camouflage Mode for better security.

Has more than 3,200 effective servers present in over 100 countries

Runs on RAM-based servers (best for privacy)

Does not contain users' logs

Robust data AES-256 (industry-grade) encryption

Supports Peer to Peer traffic on most servers

Security-enhancing smart kill switch feature

Functional CleanWeb ad and malware blocking feature

Split tunneling with dependable effectiveness

No limit to the number of connections per account

30 days of no-questions-asked refunds
Pros
Quick streaming capabilities

Robust security and privacy features

Wide range of device compatibility
Cons
It requires manual customization for routers
Surfshark is a wonderful package deal; you get four separate but connected security tools with one paid subscription. These cybersecurity tools include the default VPN, a private search engine, a data leak detection system, and antivirus software, making Surfshark one of the most secure VPN services available today.
It is arguably the most affordable option, and it has easy-to-use apps, which all come with top-notch security features. In addition, you can get the amazing combination package for just $4 per month for their 2-year plan or add the bundle to a regular Surfshark plan for $1.50 per month.
In addition, this VPN service is perfect if you are a streamer and want to catch up on some foreign content. With more than 3200 servers in over 60 countries, you can unlock all major streaming platforms without hassles.
Surfshark protects against malware using the Avira anti-malware SDK, which provides real-time functions and constantly monitors and scans your device to maintain security.
---
Features to consider in a VPN service with an antivirus
As much as it is a stellar idea to combine an antivirus with a VPN, there is much more involved in the said combination. Therefore, you must consider a few considerations before using this protection.
The developers behind creating the pair are tasked with an excellent task. Hence, there is a disparity in the quality from brand to brand.
The following are the specific traits to look out for before subscribing to a VPN with an antivirus.
Adequate security features: Carefully look at the add-on VPN's listed features. Ideally, you must go for ones with adequate server count, WireGuard support, AES-256 encryption, and a kill switch.
VPN data caps: You do not want data caps; trust us. As such, you must ensure the included VPN does not come with this dreaded feature. Some VPNs with antivirus often have this data cap feature to throttle how much you can upload and download, but we suggested ones without it in this article.
Subscription cost: The point of getting a VPN with an antivirus is to save money on two subscriptions, so you must be wary of expensive options. There are a lot of great offerings with affordable pricing just right for your budget.
Malware protection: Your antivirus with a VPN package must do the bare minimum to offer antivirus protection against malware. If the one you intend to get does not cover anti-phishing, real-time scanners, and updated malware detection features, you should not get it.
Extra perks: It is also essential for your VPN and antivirus combo package to have added benefits. These include, most significantly, an unblocking feature that allows you to watch foreign content and a password manager for increased security.
Top-notch antivirus software with VPN services
We've covered our extended list of best Antivirus with VPN here on another page, but below we go with the top options in this article, too.
1. Norton 360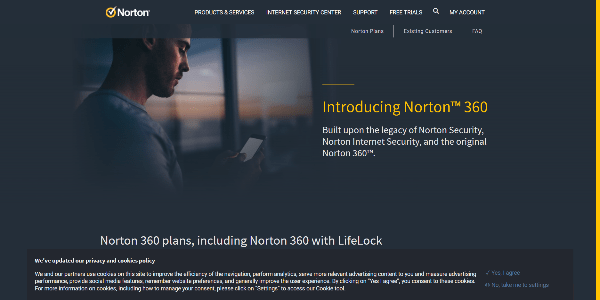 The Norton 360 Deluxe plan incorporates extra security features that ensure you stay safer than ever. These features include the Dark Web Monitoring tool, Social Media Monitoring, a Password Manager, and Identity Restoration Support.
In addition, the Norton antivirus program is a trusted brand powered by AI machine learning; it can protect you from spyware, malware, viruses, and ransomware. It also uses a secure firewall and offers users cloud backup.
The included VPN features are impressive, albeit below par, compared to standard VPN services. However, these features do a decent job of unblocking geo-restricted content, with a strict zero logs policy, split-tunneling support, and a kill switch feature. Norton 360 antivirus-VPN package includes Secure VPN and costs $10 monthly, making it a good deal.
Its limitations include a need for P2P traffic or IP obfuscation features, meaning bypassing formidable censorship or supporting torrents would take a lot of work.
---
2. Avast One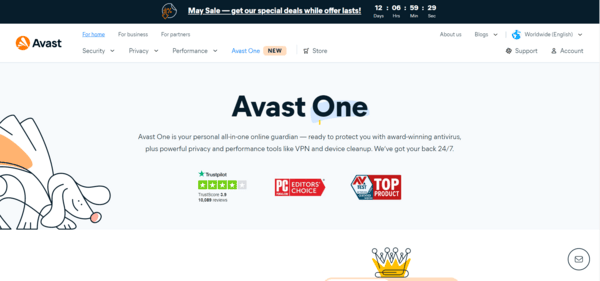 Avast One combines a formidable antivirus, strong firewall, and data breach scanning features. You can access these unique features without a paid subscription with the essential plan.
However, upgrading to the premium plan provides you with more features. This plan includes webcam monitoring, anti-tracking, a powerful disk cleaner, automatic app updates, and a device speed booster tool.
The antivirus portion of the package is also impressive, with its real-time protection and constantly updated scanner. As a result, your documents and files are kept in a constant state of security, with constant scanning and eliminating malware. You can even tweak the scanner to identify specific threats or add your documents and files to the Ransom Shield Protect list.
The Avast SecureLine VPN is built on the HideMyAss technology, a basic VPN service that performs adequately. Unblock restricted content like Amazon Prime and US Netflix, and you also get the standard DNS leak protection and a kill switch.
The VPN server network is less impressive than a standard VPN, but it does excellent work with little. The server network comprises 55 locations in 34 countries. SecureLine VPN supports P2P, keeps minimal logs, and provides stealth protocol to help you get past geo-blocks.
One major drawback, however, is that it has a 5GB weekly data cap, although this is for the free version.
---
3. Bitdefender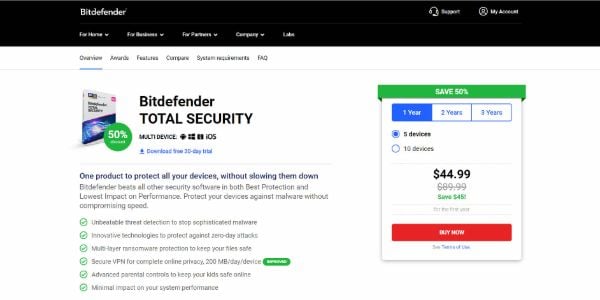 This robust service offers users an amazing bundle equipped with a password manager tool, online banking protection, a good quality VPN and a vulnerability scanner. The Bitdefender VPN and antivirus bundle costs at most $20 a year.
The standout feature of Bitdefender antivirus is that it's user-friendly and makes it increasingly easy for beginners to get started immediately. In addition, experts can utilize familiar security tools such as real-time protection, web attack prevention, anti-fraud, advanced threat defense, and anti-phishing.
Bitdefender VPN provides users with all the essential features, including a kill switch and Hotspot Shield technology. In addition, there is a no-log policy and P2P sharing support.
The drawback is that it struggles with geo-restricted content; it needs a formidable enough capacity for unblocking. But its major drawback is that it has a data cap of 200MB per day, although this is for the free version and can change when you upgrade.
---
4. McAfee Total Protection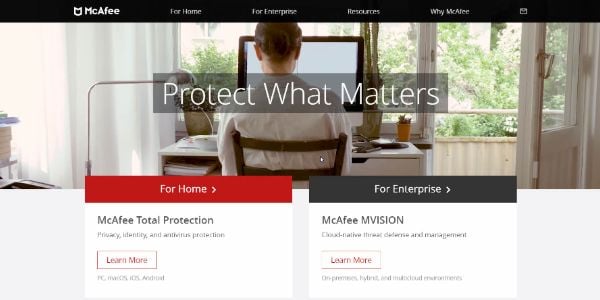 The McAfee Total Protection suite has a highly-ranked antivirus, a secure VPN, a password manager, identity monitoring tools, and an intuitive firewall. This all comes with the free plan; with the premium subscription, you can enjoy parental controls and a Personal Data Cleanup to keep your private data from any data broker websites. In addition, the premium package includes a $1M identity theft convergence and attorney restoration.
The antivirus scan feature is less robust but allows you to carry out quick scans, specifically focused or full device scans. But even with the limited options, you get other nifty security features, such as a device cleaner and file shredder tools. You also can cover up to 5 devices simultaneously with one subscription.
The McAfee VPN is built on TunnelBear technology, with unlimited data and over 50 server locations. There is also a kill switch, as is expected from a basic VPN service. However, despite the many features, McAfee has one major drawback: its pricing structure. The lowest plan costs around $40 a year; the highest range is up to $90/year.
---
How we selected and tested these antiviruses
We have assembled only the best antivirus and VPN packages, and it was not a work of coincidence. There are strict criteria regarding the selection, and we wish to put you in the know and instill the confidence to finish reading this and get one of our recommended options.
Below are the factors we considered as we selected our list of antiviruses:
Threat detection range: In our selection process, we ensured that the antivirus programs we selected could detect every potentially harmful file. We double-checked each one's capacity to do this using independent labs such as AV-Comparatives and AV-Test.
VPN features: We ensured that the VPNs included in the antivirus bundle were not just cheap knock-offs and offered adequate protection. This was ascertained by looking for user-friendliness, security protocols, and reliable privacy features.
Security: The antivirus with a VPN bundle must have a standout security structure. There have to be features that ensure protection against malware, ransomware, and other known or unknown threats. There must also be a firewall and real-time protection.
Overall package quality: It is pertinent that the package is a working combination of a VPN and an antivirus. This also includes the cost; thus, the quality must be maintained without burning a hole in your pocket.
Is there a free VPN with included antivirus?
Naturally, the added-on antivirus/VPN is available only to those who pay for premium packages, but a few have it included in their free packages. However, this inclusion in the free package should always be taken with a pinch of salt, as they tend to be very limited. For example, there are often too few server options, annoying data caps, and insufficient security features.
We recommend a much better solution, and that is a free-trial plan. Most VPN services offer the chance to try out the entirety of their package without paying. That way, you know exactly what you are paying for when you decide to.
VPN and antivirus bundles: Should I get one?
Simply put, this combination of the chief cybersecurity tools in the market is more for the companies than the users. But, of course, the big firms know that users will jump at the chance to have the two software at a lower cost. But is it worth it?
The truth is, frequently, it is not. If the package is an antivirus with a VPN, chances are the VPN will be average at best, while with VPNs that come with antivirus, the antivirus needs to be improved as it lacks its full capabilities.
So, should you get it or not? And which should it be? A strong VPN and weak antivirus combo or a potent antivirus-weak VPN combo?
Well, it solely depends on your needs. If you need an additional layer of security, you should go for the former, but the latter will be great for users who want to use it for torrenting or streaming.
Conclusion
Whether you want to get an antivirus that comes with a VPN or offers additional antivirus features, we advise that you only do it backed by ample research. This article holds a good selection of software options that will be great for you regardless of your needs.
Antivirus software is essential for cybersecurity, and so are VPNs, but they do different tasks. Hence, combining the two to keep your online activities wholly safe and private is inevitable.
FAQs
ExpressVPN offers the best antivirus-VPN combo package. We ascertain this from rigorous tests that showed great detection rates, no data caps, fantastic security features, and lightning speeds.
Absolutely. Most common antivirus-VPN packages often allow users to connect multiple devices. But this offer is usually for pricier plans, so make sure to check before committing.
Interestingly, every antivirus software works excellently with NordVPN; the same goes for any other VPN service. However, we recommend Bitdefender, which works excellent with NordVPN, and our top recommended VPN, ExpressVPN.
No, a VPN cannot identify or erase any viruses or malware. Its primary job is to keep your traffic encrypted, your IP hidden, and your private data safe from nefarious parties. But this does not cover malware, so we advise getting an antivirus.
Absolutely not; a VPN works differently from an antivirus and thus cannot be better. But by combining the two, you can effectively reduce your risk of threats and monitoring to zero. The VPN keeps you private, and the antivirus keeps you healthy. A VPN is not better than an antivirus. However, both tools can complement each other effectively, helping you maximize your security and privacy. For example, a VPN encrypts online traffic to protect private data, whereas an antivirus prevents malware infections.