Surfshark has made a name for itself in the digital security industry in no time at all. The Surfshark VPN service combines the most advanced VPN technologies and high quality with one of the lowest prices in the market. As a result, over the last couple of years, it's become impossible to find a good list of the "top five VPNs for X task" that excludes Surfshark. And this is a company whose history doesn't even span a lustrum.
And now, Surfshark is expanding its business into the digital security market by offering SurfShark One, a cybersecurity suite that includes an antivirus.
The software is lightweight and not packed with features. However, it comes with the SurfShark VPN, one of the best VPNs, a private search engine, and data breach surveillance. There are available versions for Android, Windows, and macOS.
This article will review Surfshark's antivirus in full detail. We will tell you about its features, pricing plans, friendliness, and more.
The Surfshark antivirus: Advantages and disadvantages
Let's see SurfShark's one general panorama regarding pros and cons.
Your Surfshark One license gets you the Surfshark VPN, which is one of the best VPNs in the industry. The VPN supports split tunneling and many other extra features, including NoBorders, the traffic obfuscation technology that allows Surfshark to work correctly even from China.
In addition, the Clean Web feature and a data breach monitoring service will let you know if any of your data has been released on the dark web as part of those infamous security breaches that happen a bit too often. Additionally, SurfShark has incorporated WireGuard as one of its users' active VPN tunneling protocols.
It is a big deal because WireGuard is a new standard that prioritizes efficiency and speed without any loss of security. Only the industry leaders already have WireGuard. The company hails from a privacy-friendly jurisdiction, which is always good, and the customer support is excellent. Then the private search engine prevents Google from feeding on your search history, and you get real-time protection too.
The cons are that the suite doesn't include a firewall, the scans are relatively slow, and you can't perform ID checks in every country.
You're right if you noticed that many pros are closely related to the VPN itself. And that's not a bad thing. The best antivirus packages in the market also offer VPN services and the software they sell. The difference, in this case, is that Surfshark is giving you a top-notch VPN instead of an ad-hoc VPN network that barely works. And this can make a huge difference.
In any case, every user should always have a good antivirus running along with a premium VPN, so how SufrShark's antivirus is so closely interweaved with the VPN is not a problem. On the contrary, it's an advantage that allows you to kill two birds with a single stone.
Surfshark One and safety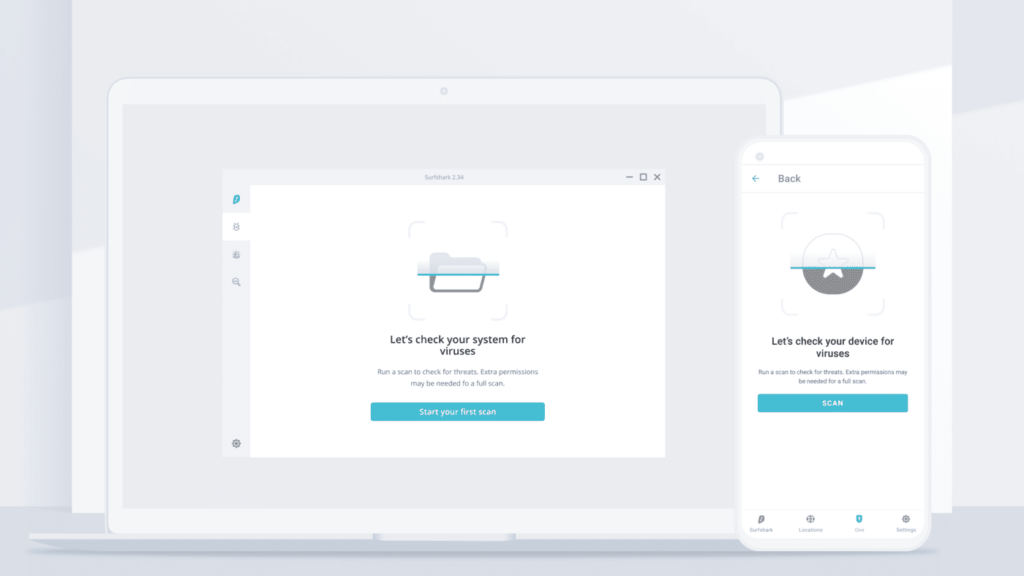 The Surfshark One suite is a good antivirus solution for everybody. It can deal with worms, trojans, virii, and many types of malware on your behalf, so your device remains protected. In addition, it has real-time protection and works in tandem with the VPN's CleanWeb feature, which keeps you away from annoying ads that are not merely a nuisance but a delivery system for even more malware.
We would be remiss if we didn't mention the lack of a firewall and a vulnerability scanner. These are two options frequently present in other antivirus suites that go a long way in preventing malware penetration on any system. That being said, if you're always going to be within the Surfshark VPN, many of those potential threats are already neutralized by your VPN servers.
A very welcomed feature in SurfShark One is how gentle it is on your resources. Antivirus options in the market have absolute reliability but practically take over your computer as soon as they're online, in some cases. On the other hand, Surfshark antivirus is light and won't affect your system's performance even as it runs scans.
The antivirus features
Feature-richness is not the best thing you'll find in SurfShark One. The features are almost only the bare essentials, but they are still everything you need to ensure all-around security in your device. And since they work in tandem with the VPN, the private search engine, and the data breaching monitoring, the result is robust antivirus protection.
The antivirus gives you four scanning options: drag-and-drop, scheduled, quick and full. They are self-explanatory.