Avast will appear among the first results if you do a quick search on the internet for an antivirus. All thanks to its popularity with millions of users and a presence worldwide. In fact, reliable and independent lab tests show Avast stacks up well against competitors. In addition, the antivirus is available on almost all devices, including Android, macOS, Windows, and Windows Server.
However, Avast was involved in a data privacy scandal in late 2020 where it was caught selling user data to third parties. Because of these practices, we do not recommend it. If you are short on time and need a good antivirus recommendation, it would be best for you to check out our list of top 10 antivirus software today.
If you wish to know all about Avast to take a chance that it might be a suitable choice, please continue reading. In this Avast antivirus review, we'll look at many aspects such as features, pricing, independent lab testing, and much more.
Avast antivirus strengths and weaknesses
Here are both Avast antivirus solid points and flaws to get the complete picture.
Pros:
A reliable free version
A long list of impressive features
Effortless to download and navigate
Real-time security against malware
Works smoothly in the background
Cons:
The installation process is lengthy
Expensive business packages
Constant pop-ups
Privacy violations allegations
Also: Here is a comparison between Avast and Windows Defender
Avast free antivirus features
The antivirus offers various plans, including free, premium, business, and Advanced protection, each offering different features.
Avast antivirus for free has all the essential features to protect your device. This means you will get a good protection level without paying a dime. Besides the regular features, the free offering also provides some handy extras, making it even more enticing.
Virus scans
The virus scan on the free version is quick and pretty simple to use. For example, you'll only need to click a button to flag up problems with your machine and fix them. The scan does three things that include;
Checks for viruses and malware.
Pursues out advanced issues.
Bring up-to-date the virus definition to ensure you are not missing anything.
Our malware scan on macOS did not show anything but identified three advanced issues. They include security concerns with our WiFi network, fake websites vulnerability, and ransomware on two folders. However, you'll have to update to premium packages to resolve these advanced problems.
---
WiFi inspector
The free version scans your entire WiFi network and the connected devices to check for vulnerabilities. It helps prevent malicious actors from compromising your privacy or stealing your data through weaknesses in your WiFi network.
---
Malware protection
It is one of the crucial features to look out for when choosing antivirus software. Avast's malware protection has:
Complete malware protection: To stop you from sharing corrupted files and folders with others.
Real-time protection: Operates quietly in the background to obstruct threats that appear harmless yet are dangerous.
Removable drive scans: To examine external drives like USB sticks, DVDs, CDs, etc.
In-depth scans: To check your entire system to root out hidden malware.
Custom scans: On particular folders and files for faster, targeted scans.
Security reports: Give you personalized updates every month.
Scheduled scans: To probe for threats when away from your computer.
---
Compatibility across board
The free version of Avast antivirus is compatible with all major platforms, including Windows, Android, iOS, and macOS. What's more, Avast's site can identify the operating system you're using and modify your results to give you the most relevant information. For example, we did the test on Windows.
After downloading the software, every page on the website redirected us to the Windows version. This ensured that we got all the information specific to the machine we were using.
---
Email security
Avast also offers modest email security on the free version. In fact, it is effective at blocking suspicious downloads, stopping intrusive web tracking, preventing malicious email attachments, and alerting you to unsafe sites. Because email is the most accessible gateway of computer viruses, this is a helpful feature to stop any potential threats.
Read also: Bitdefender vs. Avast antivirus
---
Avast premium features
As you have seen above, the free version provides the basic security features to safeguard you from viruses, malware, and other threats. However, the premium package adds a couple of extra features to keep you more secure.
Ransomware shield
This feature helps you to secure your files, folders, and pictures from ransomware attacks. As a result, no unauthorized person will modify, change or encrypt your data.
---
Real-time WiFi security alerts
The free version gives you WiFi protection. However, the premium package makes it better by giving you real-time alerts to any potential threats. For example, you'll be informed when someone tries to join your network.
Therefore, if you have a snoopy neighbor who slows down your speed by playing online games, it's worth upgrading your package. Then, you'll be kept in the loop when they or any potential hacker access your WiFi network.
---
Avast for business features
Avast's business packages provide various solutions that cater explicitly to businesses. Below is the itemization of the offerings:
Avast's small office plan features
As the name suggests, this plan is ideal for small businesses. The best part is that Avast lets you customize the package to get the protection that suits your business needs. Here are some of the included features:
Multi-OS support: Gives you the freedom to use whichever device you want, including Windows, macOS, Android, and iOS.
Customer support: Is available around the clock. Fortunately, your issues will be addressed by trained engineers through chat, phone, or phone.
Support up to 10 devices: On the small business account.
Ransomware shield: Safeguards your photos, files, or any other sensitive data from ransomware attacks.
Email Shield: Frequently scans for malware on incoming and outgoing emails.
Web Shield: Checks whether certificates and URLs are safe before making a connection.
File Shield: Scans email attachments, URLs, and files to prevent ransomware and malware.
The Real Site: Protects you and your employees from fake sites that might steal your sensitive information.
WiFi inspector: Checks for vulnerabilities in your network that might compromise your security and fixes them.
The customizable firewall: Screens the network traffic to eliminate untrusted connections.
The Sandbox: Offers a secure environment separate from the rest of your PC to test for new programs and files.
Webcam Shield: Makes apps request access to your webcam to prevent unwarranted spying.
The Sensitive Data Shield: Protects your sensitive documents by stopping spyware.
The Phishing Net: Safeguards your business from phishing sites by relying on Avast's cloud database.
Data shredder: Completely wipes off any confidential data that may contain customer or financial information you wouldn't want to be repossessed.
---
Avast businesses features
If the above Small Office plan does not meet your needs, you can opt for the Avast Businesses package. This is an upgrade ideal for businesses with between 11 and 1000 employees. The good news is that you pay per device, which makes it economical.
It has all the Small Office plan features plus few essential additions to protect bigger businesses. They include:
Patch management: Detects and installs crucial security patches to examine ongoing activity from Avast's central cloud management dashboard.
Cloud backup: Protects your files and ensures they are accessible safely from wherever you are.
Secure web gateway: Guards your network by stopping malicious URLs and downloads.
Next-gen endpoint protection in CloudCare: Prevents spyware, ransomware, spyware, and other threats to your business.
---
Avast advanced protection plan for MSSPs and resellers
Avast's all-in-one solution is perfect if you are looking for comprehensive antivirus software for a managed security service provider (MSSP) or a reseller.
The main selling point is CloudCare. It delivers all the security features via the cloud on an easy-to-navigate dashboard. Here is what it can do:
Manages multiple networks: By checking threats, updates, and reports in a central place.
Fills your security gaps: With the essential security layers to shield your business from threats.
Avoid rising costs: By decreasing onsite client visits to save you time and money.
Allow you to grow your MSSP: While amassing your revenue and improving your business. The CloudCare solution enables MSSPs to scale business easily, add new services, and send security remotely to new customers.
---
Is Avast antivirus safe?
Avast went above board to create a free antivirus like no other. For example, the basic virus scan provides more functionality than most of its competitors. Besides searching for malware and viruses, it also checks for malicious browser add-ons, outdated software, network issues, weak passwords, and unprotected sensitive documents.
My first scan did not detect corrupted extensions, network issues, or malware. However, it found vulnerable software, weak passwords, and unprotected documents. The vulnerable software was not a surprise because I have installed many applications, and updating all of them is tedious.
However, the last two results were a little bit concerning. How did Avast identify that my passwords were weak? Moreover, what documents does the antivirus count as sensitive and unprotected?
Apparently, the scan of sensitive documents is very effective. It identifies financial statements, tax records, employment documents, and more that I had forgotten. The antivirus organized these documents into different categories such as payroll, taxes, and employment. Furthermore, there is a button on the entries that indicates their location.
I came to find out that Avast uses Data Loss Prevention (DLP) technology. This is a tool used by large companies to store sensitive customer data like social security numbers and credit cards. It conducts optical character recognition on PDFs and scans word documents to identify any information associated with the sensitive data. As a result, the company knows the sensitive data's location and takes precaution measures to ensure nobody compromises it.
It's good to see that the DLP technology is now available for general consumers. Knowing where your sensitive information is located can be helpful. Unfortunately, you have to subscribe to the premium package to use this feature. There is an option to encrypt your data and store it in a secure digital locker. The program will block access and notify you if a hacker tries to move or delete the files.
On the other hand, the weak protection scan is a disappointment. I thought it'd tell me that my passwords are simple, like '123dog'. Instead, it indicated that I keep my passwords in my browser, which is a common practice although potentially insecure. In fact, the scan even suggested I upgrade to Avast's password management service known as Avast Passwords.
Although this may be helpful, it is not worth taking an annual subscription, especially when you can get a better password manager out there today.
Independent Avast antivirus testing
Like other best antivirus applications, Avast submits its products to independent labs for testing. The most famous one is AV-Comparatives. In the latest real-world protection report done in October 2020, Avast blocked over 99.7% of the reported malicious samples. Although this may seem almost perfect, other antivirus providers score 100%, such as F-Secure and Panda.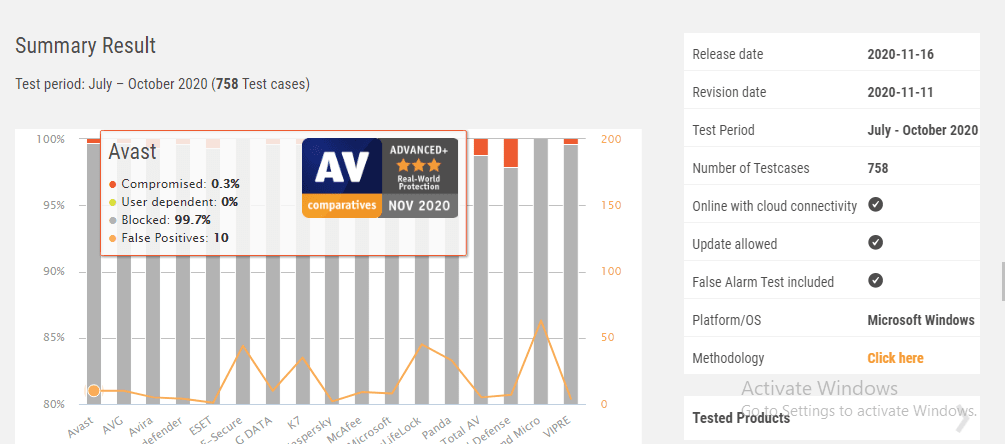 Moreover, the malware protection test found that Avast prevented 99.99% of online threats, 93.4% offline threats, and 1 false alarm.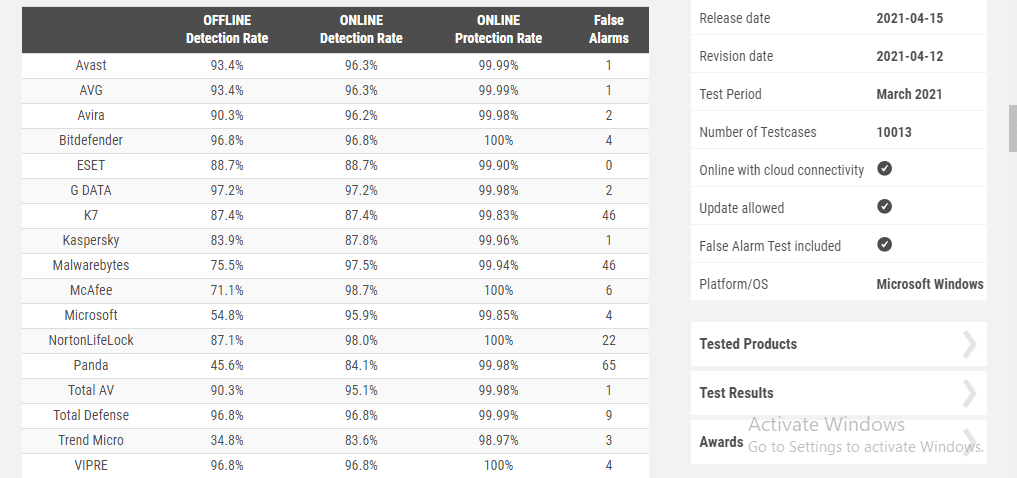 As you can see from the AV-Comparatives tests, Avast isn't as secure as some competitors. However, it is among the feasible antivirus software options available.
How much does Avast antivirus cost?
Avast's pricing scheme is pretty simple. First, it has a free plan that offers basic but necessary security features. Second, the Premium and business versions add extra features if the free package does not suit your needs.
However, it's crucial to indicate that the provider uses regional price discrimination. The prices shown in the screenshot below are only available in the US and not elsewhere. For instance, UK users pay significantly higher fees for the same features.

Note:
The most straightforward way to overcome price discrimination is to use a virtual private network (VPN). It allows you to connect to a server in whichever country you like. It will make you look like you're within a specific country (of your choice). NordVPN is our top recommendation to bypass geographic restrictions.
Pricing for individual accounts
There is the option of a Free version and Premium plan if you are looking for an antivirus solution for your smartphone or PC.
The Free offering offers basic features such as WiFi scanning, malicious website blocking, and real-time malware protection. Upgrading to the Premium package at $39.99 gives you additional features such as a ransomware shield and real-time WiFi security alerts. In addition, you can opt for $49.99 a year to protect ten devices. Finally, Avast has recently introduced an Ultimate plan at $69.99 for 1 PC or $79.99 for ten devices.
---
Pricing for the business plans
Avast offers various security solutions for businesses, depending on the company's size and the number of employees.
---
Small office plan pricing
According to Avast, the Small businesses protection package caters to establishments with between 11 and 100 employees. It includes a basic plan at $43.83, an Advanced plan at $51.83, and a Premium plan at $59.83 per year. Fortunately, all the plans come with a 30-day money-back guarantee.

Pricing for the all-in-one business plan
This security package is for medium and large businesses with between 101 and 1000+ employees. In this case, the cost will depend on the number of users and the operating system. The package includes:
Windows at $56.99 per year
Windows Server at $46.99
Mac at $46.99
Linux at $259.99

Pricing for all-in-one business plan for MSSPs
You'll have to contact Avast to discuss your security requirements if you need a more advanced package for your business. Then, the team will create a pricing plan that caters to your needs.
Avast secure browser
Avast has a secure browser that was available to paid subscribers until 2016 when it started offering it in the free version. As a result, it's effortless to set up and use. In addition, it comes with a list of impressive features that include:
Inbuilt privacy: Enables users to browse, bank, and shop safely online.
Ad-free browsing: Prevents intrusive ads, which can significantly affect the loading times.
Stops online tracking: To block third parties from monitoring your online activity.
Blocks malicious downloads and websites: To safeguard your device.
Monitors your email address: To ensure your login credentials do not leak.
Hides your digital identity: To prevent websites from using your browser profile to identify you.
The secure browser will take you a few seconds to download and install on your PC. Thankfully, it has a minimalist interface that resembles Google Chrome. So, this means that you'll be able to do your searches as efficiently as on Chrome.
Besides, browsing feels quicker and cleaner since it blocks ads that might impede your experience. Additionally, Avast has put a lot of effort into masking user identities. It gives you the peace of mind that you're surfing the web privately.
Ease of use
Avast is one of the most user-friendly antivirus programs available. In fact, it's even easier to get started on the free version. Head over to your browser and search for Avast free. You'll get the information shown in the screenshot below when you click on the first result. Tap on the 'Free download' button, and the software will start to download to your machine automatically. Once it is up and running, you can begin to do the scans.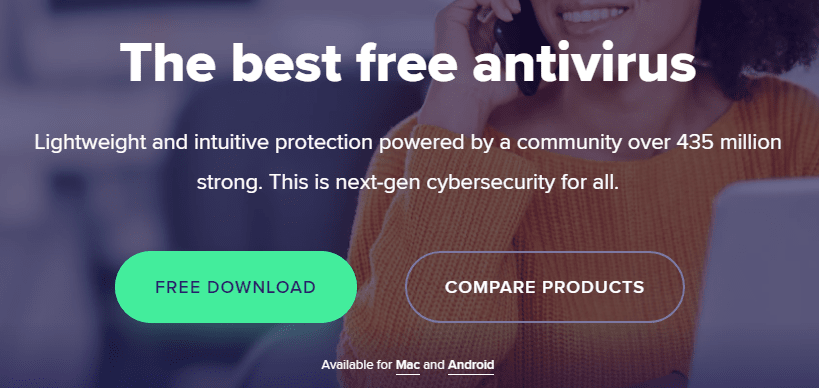 Of course, you'll have to submit your card details if you want to upgrade to the paid packages. Even so, the payment page is easily accessible with a single click on the homepage.
Customer support
On the basic level, Avast offers an extensive FAQ section to address common issues. However, you'll have to subscribe to Avast Care if you need more help. It has more features such as remote spyware and virus removal as well as 24/7 email, phone, and live chat. The package costs $39.99 per year and guarantees to handle any issue you may have.
How to uninstall Avast
In this section, we'll cover how to remove Avast antivirus from your PC. However, there is a unique Self-Defense mode that stops malicious software applications from uninstalling it. So, you've to deactivate this mode before uninstalling the program.
How to disable the Self-Defense mode on Avast
The first step is to access the 'hidden' area of the settings to disable self-defense mode.
Go to the user interface and tap on the "Menu" button at the top right side.

Choose "Settings" from the drop-down menu.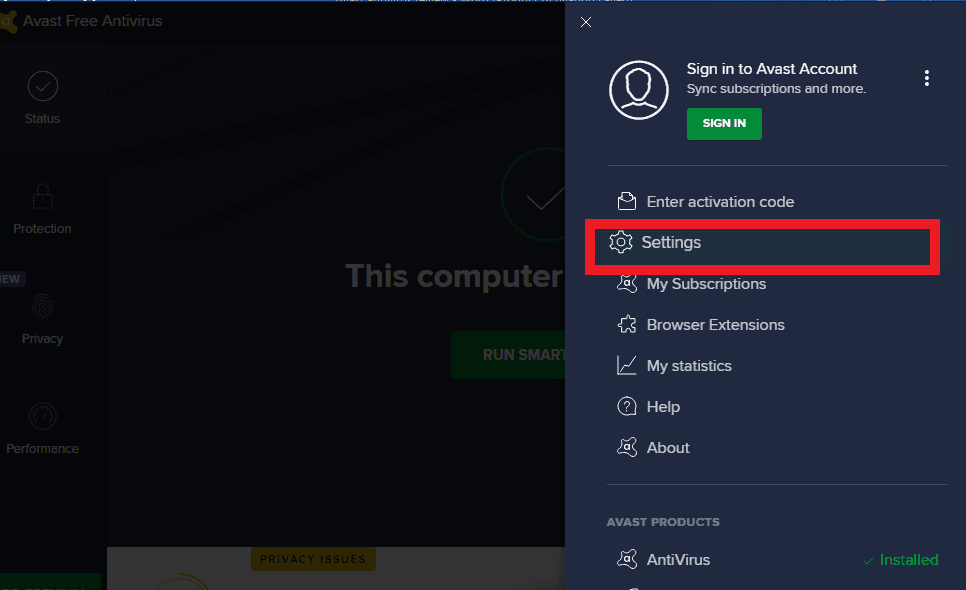 A new Settings window will open. Then, from the left navigation pane, select "General" and then "Troubleshooting" from the sub-menu.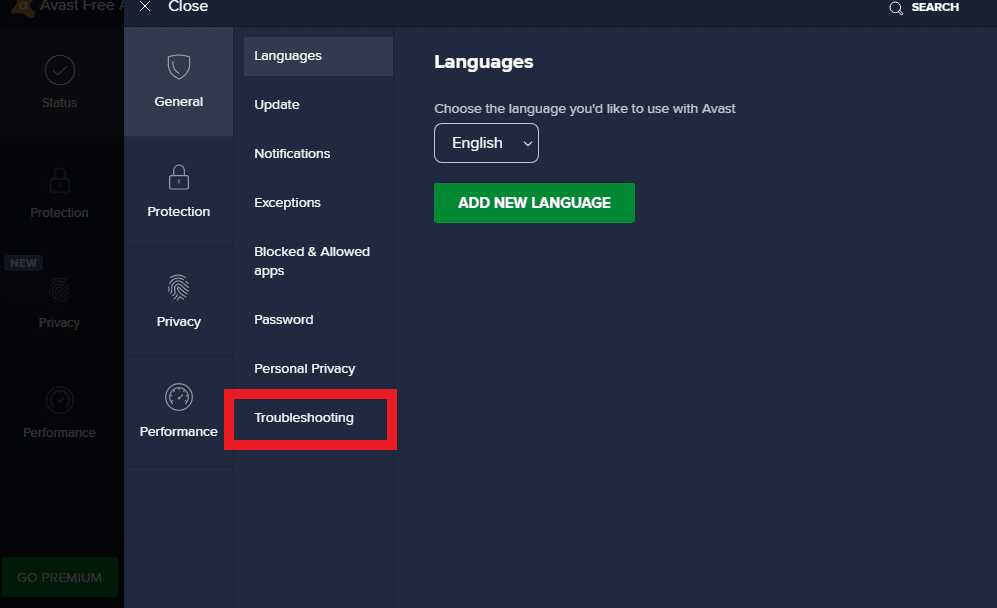 Uncheck the box beside "Enable Self-Defense" to disable the Self-Defense mode.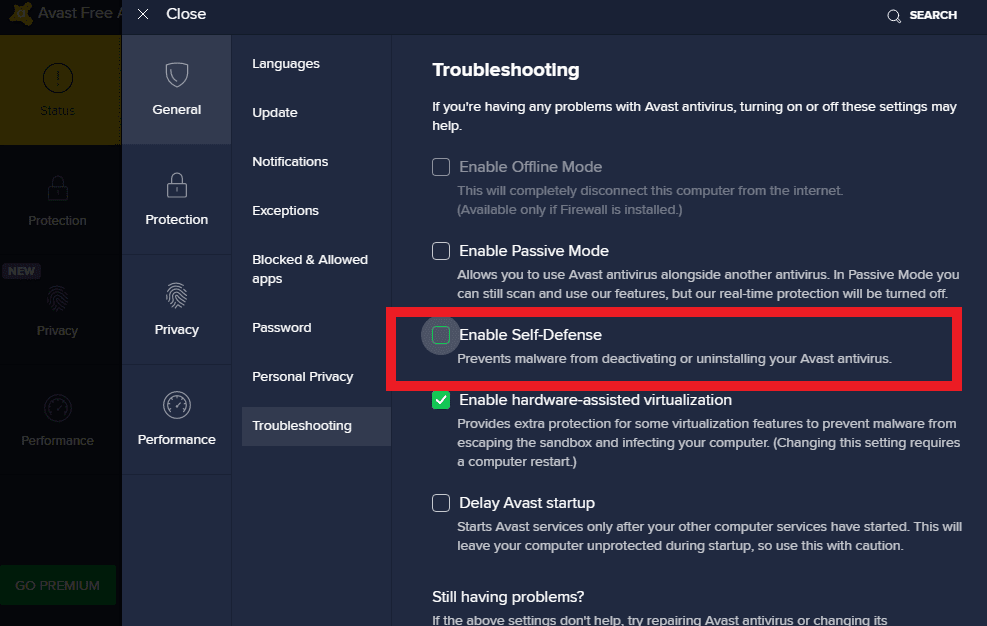 It will open a pop window asking you to confirm. Click "OK" to accept the changes.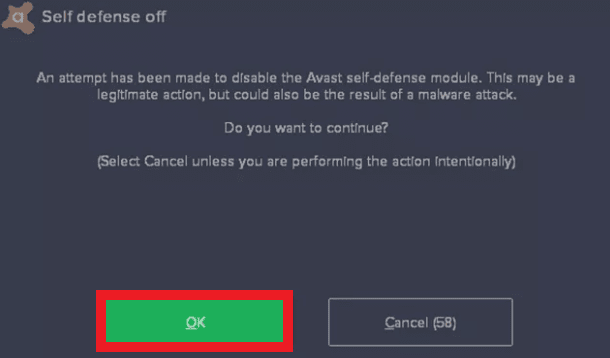 ---
Continue with the Avast uninstall
After disabling the Self-Defense mode, you're ready to uninstall Avast antivirus.
Note: The process is the same whether you use Windows 10, 8, or 7.
Head over to your computer's "Control Panel" and open it.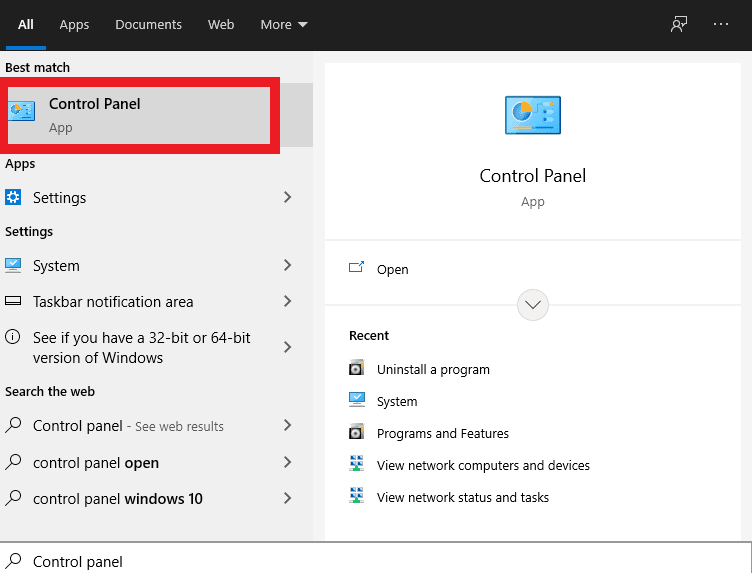 Click "Uninstall a program" under "Programs."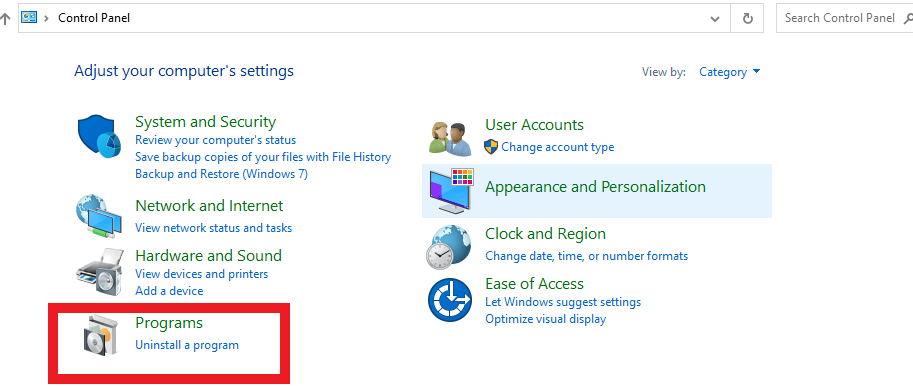 Next, navigate to the Avast Antivirus application and select it. Then, click on "Uninstall" to start the uninstall process.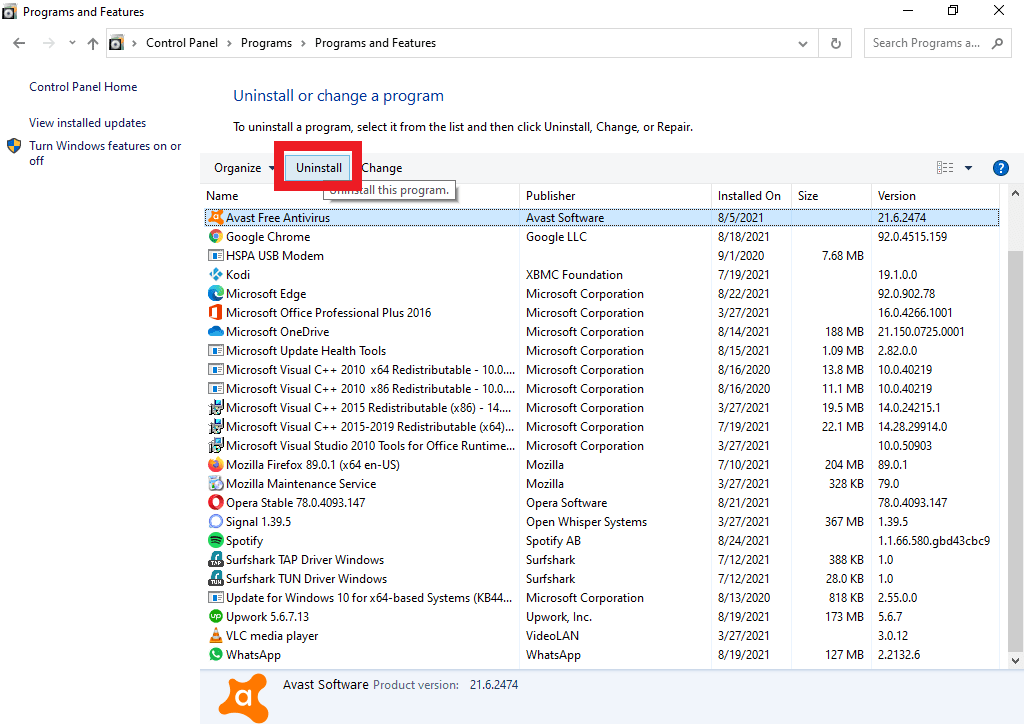 Avast's configuration screen will appear, displaying multiple options to amend the installation. They include the "Repair," "Change," and "Uninstall" buttons at the bottom. Click on "Uninstall" to start the process.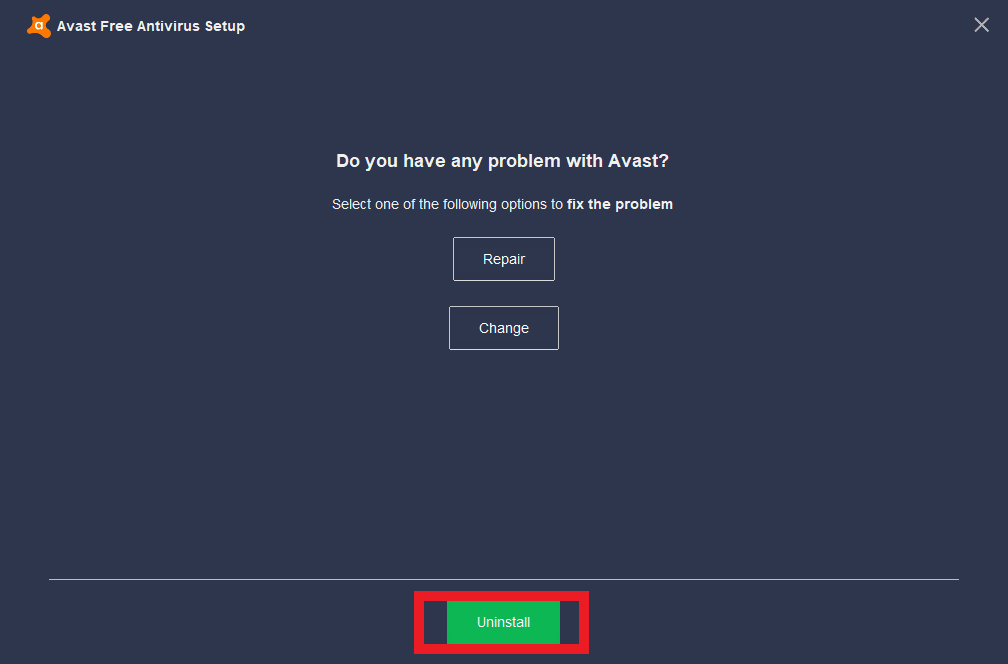 A confirmation window will appear asking if you want to continue. Choose "Yes" to continue.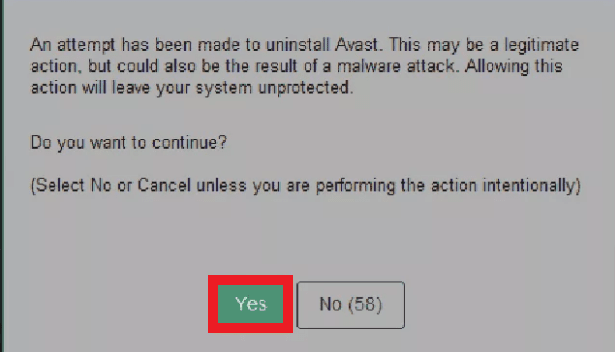 After that, the process will kick start. Note that uninstallation may take several minutes for all the Avast files distributed throughout your device to be deleted.
A new window will open, prompting you to restart your PC to complete the uninstallation process. Click on the "Restart computer" button to finish.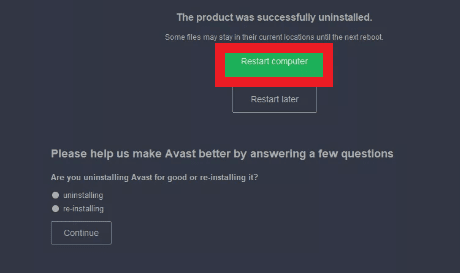 The last step is to restart your computer for the uninstallation process to complete.
---
Install a new antivirus
An antivirus is an essential tool today than ever before. So, if Avast does not meet your needs, you can try out other options, such as these antiviruses with parental control. Also, we recommend you protect your online traffic with a reliable VPN such as NordVPN or Surfshark.
Conclusion
Recent independent lab tests prove that Avast is a reliable option. However, the most attractive thing about it is the free version with advanced features and an effective malware scanner. Moreover, I have been using the antivirus for a few months, and it has managed to detect most malware samples.
To summarize this honest review of Avast antivirus, it'll protect your device from malware and malicious websites. Also, the minimalist interface makes it easy to start the scanning process with just a single click. However, we no longer recommend it due to the recent allegations of selling users' data.
FAQs
After thoroughly testing it, Avast offers dependable security protection. In addition, the free plan has excellent features to keep you safe online. However, it doesn't safeguard against ransomware, so you'll need to upgrade to the Premium plan of the business packages.
The process is straightforward. Go to Avast's official website and click '
.' On the pop window that appears, tap on 'Install,' and the software will automatically download on your computer.
Obviously, like other antiviruses, Avast will also slow down your computer. That is usually manifest when doing a full scan.
Avast doesn't directly scan web-based email accounts such as Gmail or Yahoo. Nonetheless, it has File Shield and Web Shield to protect your computer from the malware that emails could contain. Mail Shield also scans incoming and outgoing emails when using mail management software like Mozilla Thunderbird.
It depends on the version you are using. For example, if you are using Avast 7.x and above, there is no need to remove the previous version as it will update automatically. However, if you have Avast 6.x or below, you must follow the uninstallation process described in this Avast antivirus service review.