Both antivirus software and a virtual private network (VPN) are essential to combat cybersecurity threats. Fortunately, many popular antivirus programs now include a VPN as part of their features.
After all, a VPN will mask your IP address and protect your data from your ISP, government, hackers, and other third parties. Besides, it will also help you circumvent geo-restrictions of popular streaming services such as Netflix, Hulu, Disney+, etc.
Most widely-used antivirus providers boast an included VPN in their packages, but many VPNs that come with antivirus software are not as secure and fast as standalone VPNs. That means you can still be spied on and tracked.
That makes finding an antivirus suite that provides both a stealthy antivirus and a robust VPN difficult. But after testing dozens of antivirus packages available today, we found six antiviruses that offer dependable protection against malware and boast a high-class VPN.
This article will highlight the best antivirus programs, why you need an antivirus and VPN together, and more.
Quick list of the top antivirus with VPN
Why do you need an antivirus with a VPN?
We recommend you use both an antivirus program and a VPN if you want to protect your privacy and devices. That is because an antivirus will secure your device from malicious software such as viruses. On the other hand, a VPN will encrypt your data and hide your online activities.
The best thing about a VPN is that it will protect you from third parties by routing your traffic through a server. This process will change your IP address to make you completely anonymous. In addition, it encrypts your data so that your ISP, hackers, and the government cannot access it.
However, VPNs do not work the same as antivirus programs. An antivirus will identify, analyze and stop potential malware threats from getting to your device. So, as you can see, a VPN is necessary to protect you online, but your device is still vulnerable. This is where an antivirus comes in.
How we selected and tested these antiviruses
Many antivirus services exist, but only a few include a VPN that can compete with reliable providers like ExpressVPN and NordVPN. A great program should guard your privacy and device regardless of where you are, what you browse, or how much bandwidth you use.
These are some of the things we consider when choosing an antivirus and VPN package:
Malware protection: Robust antivirus software should offer an up-to-the-minute defense against threats like ransomware, spyware, phishing attacks, and other malicious malware. We used sample malware to test the antivirus programs on this list to ensure they'll keep you safe.
VPN security: We confirmed that the VPNs on this list use strong protection such as 128 or 256-bit encryption. In addition, we ensured they observed the no-logs policy so that the provider does not retain any data. Also, we looked for other essential security features, such as kill switches and DNS leak protection.
VPN accessibility: The problem with most antivirus providers is that the VPN they offer comes with limited bandwidth. However, we need sufficient data because I am an online professional, streamer, and gamer. Therefore, we did tests on these VPNs to ensure they performed exemplary. Moreover, bypassing geo-restrictions is another essential part of a VPN. So, we also tested servers in different locations to access streaming services such as Netflix.
Usability: I need an antivirus that is simple to install and use. This is the reason why we chose user-friendly programs, which are easy to understand even by novices. Furthermore, all antivirus software on this list has reliable customer support if you face any issues.
Value: Every antivirus package we've featured offers an impressive list of features but at reasonable prices.
Best antivirus with a VPN – The detailed analysis
Several antivirus programs claim to offer a VPN feature, but it's difficult to determine the genuine one. Therefore, after thorough research and testing, we present you with the best antivirus with a VPN included.
1. Surfshark Antivirus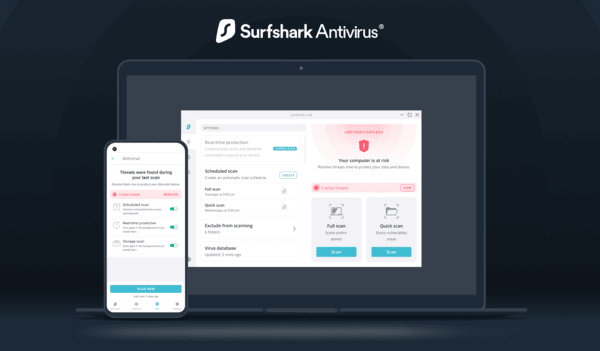 Key features: