The Internet wasn't always inundated with VPN services urging us to give us unbreakable encryption and total anonymity as we go about our daily internet activities. Before Edward Snowden showed the world how much the world's governments care for our privacy, VPNs were scarce, and only the most paranoid among us used them. But, even back then, AirVPN was around, and it was already among the most popular choices.
Well, VPN is still around. It has an excellent reputation for taking privacy seriously.
Despite its long history, I've never used AirVPN before. So I'm inquisitive about doing this review and finding out how AirVPN compares against other well-known VPN networks.
A few questions about a VPN service we all want to be answered: how fast is it? Does AirVPN work with Netflix and other streaming sites? How secure is it? Is it helpful in China? What protocols are supported by the network? Is AirVPN safe? Is AirVPN for free? In this unbiased review of VPN, you will find out the answers to those questions and a few more.
AirVPN's outline
AirVPN came online in Italy in 2010 as a completely free VPN. However, it's evolved to be a paid service that includes over 200 servers in 23 countries. The project's leadership is made of activists and privacy advocates, and those values show in some of its policies. It's passionate about online privacy and personal freedom on the Internet. So it has a strict no-logs policy. It makes it a priority not to gather any more information than it's essential. As a result, speeds are outstanding, and the VPN is feature-rich.
That being said, OpenVPN is the only protocol supported, and the app isn't pretty. In fact, the app could scare the newbie user, but you could use it for nothing more to choose a server and connect.
So AirVPN will do the job for the privacy-aware user, but those who lack expertise could find themselves needing to learn quickly.
My honest, extensive AirVPN review will expand on all those details I mention in this outline and more.
Vital stats for AirVPN
As I used AirVPN, I found speeds to reach 46.7Mbps, it supports streams of 4K resolution, but you won't be able to unblock Netflix or any other streaming service.
There is a kill switch feature, and the encryption is the industry-standard AES256 with perfect forward secrecy. The best news, probably, is that you can use it for a fee as low as 2.75EUR ($3.27), so even with all its limitations, it offers excellent value for money.
Other fine features include good security in servers and apps, split tunneling, support for Linux and routers, Tor browsing over VPN, and many advanced settings.
On the not-so-good side of things, we find that it only supports OpenVPN. In addition, the client is not user-friendly, it's useless with streaming services, and it has no native support for iOS or ChromeOS.
I included the advanced features both as a con and as a pro because some users will find it to their advantage, and some won't. More on that later.
AirVPN's speeds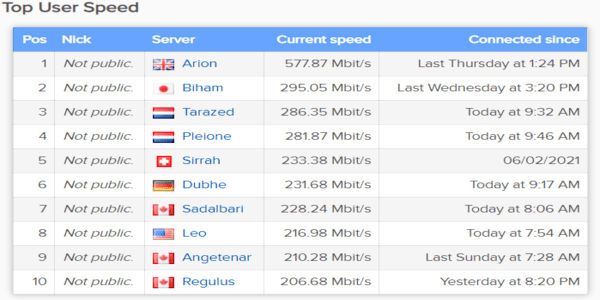 Granted, we use VPNs to protect our privacy and anonymity. But if the cost in terms of speed is too high, it beats the purpose of being online. Yes, every VPN slows down your Internet speeds because encryption and traffic routing increases the load on your traffic. However, if the transfer rate becomes a crawl, you'll just want another VPN.
I tested several AirVPN serves across North America, Europe, and Asia. The average download speed is 46.7 Mbps, which is good enough. Going by each region, I found the following speeds:
North America: 68Mbps
Asia: 34Mbps
Europe: 41Mbps