With the increase in cyberattacks, a leaked password can compromise your safety and put your data at risk. Likewise, you remain vulnerable to online threats like password theft by exposing your IP address that links back to your device. To address both issues, you need to protect your passwords and your IP address at the same time. That's where you need password managers with integrated VPN services.
This article lists the best password manager and VPN combos and highlights their distinctive features.
Best VPN with password manager – Quick list
If you're in a rush to find your best pick, here's a quick review of our top VPNs with password managers.
What is a password manager?
A password manager application helps you store and generate all your passwords in a secure vault. With the increase in data breaches and theft, this application is essential in helping you prevent unauthorized logins to several sites and services.
However, managing many passwords and remembering them all can be a hassle. Why?
Generally, sites require that you use long and unique passwords to prevent hackers from quickly taking a guess and hacking your account. Recalling passwords for several services may be difficult when you have different passwords. And if you use a single password for all your accounts, one hacked account can compromise others.
This is where password managers come in. They help you generate, keep, and autofill your online information on multiple accounts, such as mail, username, and password. With password managers, you can remove the mental burden of recalling multiple passwords because they store all your credentials in a vault that requires one primary password.
Besides, using secret systems to generate a unique password isn't bad. Many secret systems make generic combinations of characters with the name of a service or URL to create a password. For example, it can suggest "g1 n2 d3 k4 m5" as a password for your Gmail account. The downside to this method is that compromising one password makes it easy for the attacker to find your other passwords.
Keep in mind that passwords are often visible to site administrators. So, using secret systems to sign up for a service with a dishonest administrator can make decoding your password on other services simple. Password managers generate hard-to-crack passwords that are unrelated to each other.
What is a VPN?
A Virtual Private Network (VPN) is a service that hides your IP address to make you anonymous and untraceable. It establishes a secure connection between your device and the internet through a private tunnel for your data while on a public network. A VPN protects your privacy online and allows you to access worldwide content anywhere.
How does it work?
Your device exchanges data with other parties online whenever you connect to the internet. Without your realization, you give prying eyes and third-party advertisers access to your browsing history, real IP address (which shows your actual location), device identifier, and operating system information.
A VPN serves as an intermediary between the server and your device. Rather than relying on a browser to encrypt communication between your device and the server, the VPN adds extra encryptions and routes communication using its physical or virtual servers.
This creates a secure tunnel between the internet and your device, giving you an anonymous IP address. You must have heard of the word "tunnel." Well, the idea is that a VPN opens a tunnel between you and the server so third parties can't steal your data.
So, with a VPN, you can hide your online identity and mask your traffic to your internet service provider (ISP), government authorities, hackers, and other third parties.
Remember, when you connect to a VPN, the IP address the server identifies is the VPN's address. This makes it easy for you to unblock restricted content in your region.
---
Can you use password managers with a VPN?
Of course, you can. Many VPN users don't know they can use a VPN with password managers because they assume it's the same as using two antivirus programs simultaneously.
You can get a VPN and password manager bundle to use them simultaneously. Every password manager on our list has a VPN service to encrypt and securely store your login credentials.
Why should I use a password manager with VPN?
Using password managers with VPN is unnecessary. But you need them together if you prioritize online security. The password manager/VPN combo offers value for money because it helps you manage sensitive data without memorizing multiple complex passwords.
With this combo, you'll be protecting yourself on two fronts.
The first is from cyberattacks and data breaches. Password managers store and create unique passwords for all your accounts to offer robust digital security. This means all your work, bank, email, and social media accounts will be difficult to hack or expose.
They also sync your password vaults across numerous devices, making accessing your data from any device easy. When you think of the number of times you've forgotten your email account password, knowing that changing it just gives you another password to forget, a password manager comes in handy.
Second, the password manager/VPN combo safeguards your privacy from government entities, unreliable ISPs, and third-party advertisers. A VPN masks your online identity and prevents the sites you visit from collecting your browsing data. It encrypts your IP address, reducing the chances of getting targeted by online scammers.
Above all, the password manager/VPN combo is excellent in helping you bypass geo-restrictions on movie websites and popular streaming services safely. You can set your location to a particular region and access blocked content.
5 best VPNs with password managers – Detailed analysis
Here is a detailed analysis of our best VPNs with the password manager, highlighting their pros and cons and describing their core features:
1. NordPass/NordVPN Premium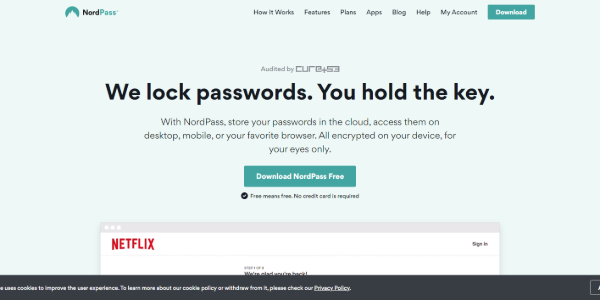 Device compatibility: Windows, Mac, iOS, Android, Linux
Browser compatibility: Google Chrome, Mozilla Firefox, Microsoft Edge, and Opera
Subscription model: Freemium
Pricing plans: Individual: $2.49 per month. 10% discount for Students.
Pros:
Offers password-manager basics
Compatible with multiple devices
Strong encryption
Full-featured free plan
Simple design
Easy to access
Cons:
Relatively expensive
Setup is quite complex
Allows only six simultaneous connection
NordPass/NordVPN Premium is our top recommendation for storing all your information in a secure vault. It's a product of the popular NordVPN in the cybersecurity industry.
This password manager supports desktop applications like Windows, Mac, and Linux and mobile apps for Android and iOS devices. It has browser extensions for Firefox, Edge, Chrome, Opera, Safari, and Brave.
It also offers a feature-rich free plan to store unlimited passwords across all our devices. You also enjoy access to basic features like advanced multi-factor authentication, automatic sync, and a password generator. Unfortunately, the freemium plan doesn't detect weak or reused passwords nor notify you of any data breach. The password manager has a 30-day money-back guarantee when subscribing to its premium plan.
With NordPass's premium plan, it gets better. The service features functions like a data breach scanner, password history, passkey integration, emergency access, and password health reports to give you a seamless experience. It has an XChaCha20 protocol, which assigns two keys of different lengths to ensure your data is unhackable.
However, it's pricey. This password manager costs $60 per year for a single user. This is nearly twice as much as the cost other top VPNs with password managers charge. You can participate in Nord sales to knock the price down to about $20 per year. Another shortcoming is the premium plan only allows for six simultaneous connections.
---
2. Dashlane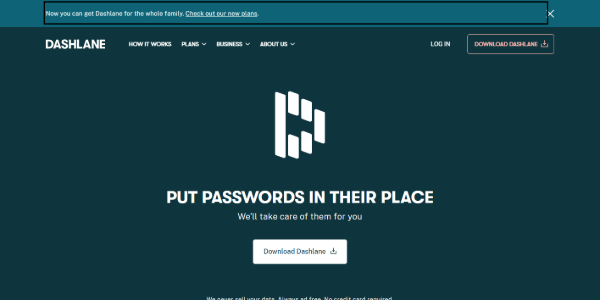 Device compatibility: Windows, macOS, Android, iOS. Supports Linux and Chromebooks via browser extensions, too.
Browser compatibility: Google Chrome, Mozilla Firefox, Apple Safari, Microsoft Edge, Internet Explorer
Subscription model: Freemium
Pricing plans: Individual: $4.99 to $9.99 per month. Family: $7.49 to $14.99 per month.
Pros:
Stealthy security
30-day money-back guarantee
Easy to sync between devices
Reliable customer support
Secure document storage
Intuitive interface across all platforms
Bulk password changer
Cons:
The premium plan is pricey
Limited contact with customer support
Dashlane has an intuitive interface, making storing and managing your passwords securely easy. It has a zero-knowledge infrastructure that makes your password inaccessible to anyone but you.
It's an excellent option for small businesses and companies. With its ability to store unlimited passwords and protect them with multi-factor authentication, you can protect your data from leaks.
This password manager has a "Secure Notes" feature that allows you to save documents, attachments, files, and other important information. It also has end-to-end encryption, meaning you can only decrypt your passwords using your master key. You can also secure numerous accounts with its two-factor authentication (2FA) and biometric login.
What's more? Dashlane has features like auto-fill functionality, password sharing, and password health. Its VPN allows you to route your data through an encrypted tunnel, making your online activities untraceable and unreadable.
The password manager also allows you to share your credentials with family, coworkers, and friends without giving them your password to provide access. Thankfully, Dashlane offers a free version that allows you to save about 50 passwords.
However, you can get more features from this service through its premium plan. This includes functions such as dark web monitoring to keep you abreast of any data breaches that may have affected your accounts. Its premium plan lets you synchronize your credentials across all mobile and desktop devices.
During our tests, we had reservations about its customer support. Although Dashlane customer support is reliable and responds to users' complaints, it's only available from Monday to Friday, 9 am to 6 pm EST. Besides, the service has no direct phone line.
---
3. Bitwarden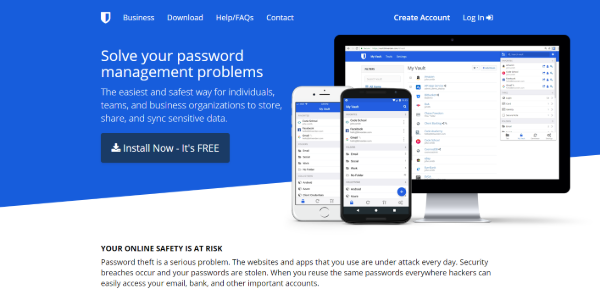 Device compatibility: macOS, Windows, Linux, iOS, Android
Browser compatibility: Google Chrome, Mozilla Firefox, Microsoft Edge, Apple Safari, Opera, Brave, Vivaldi, and Tor Browser
Subscription model: Freemium
Pricing plans: $10/year for personal use and $1/month for family.
Pros:
Unlimited free version
Open source
Sync multiple devices
Affordable premium pricing
Strong data security
30-day money-back guarantee
Password strength advisor
Cons:
Limited customer support options
Some features are complex
Bitwarden is one of the most budget-friendly and easy-to-use password managers with a VPN.
This open-source password manager offers plenty of features that make it suitable for the workplace. Being open source means third-party security firms can contribute to the app's improvement and view the process. This makes Bitwarden a trustworthy password manager because its activities are transparent to users.
You can access unlimited password storage, optional self-hosting, and multi-device synchronization without paying a dime. Its premium plan offers a password quality check, hint section, and account recovery.
Bitwarden has an innovative, secure information-sharing device (Send), which you can use to share passwords between devices securely.
Subscribing to its premium plan offers 1GB of file storage, full vault health reports, and emergency access. You can access this service through the web or its client apps on Windows, Mac, Linux, Android, and iOS. As a password manager/VPN novice, you'll find Bitdefender easy to navigate, thanks to its simple interface.
It has customizable features, which you can use to organize your data and improve your overall experience. Biwarden's price is a steal at $10 per year for individuals and $40 per year for families. Plus, it allows for up to six users.
---
4. Bitdefender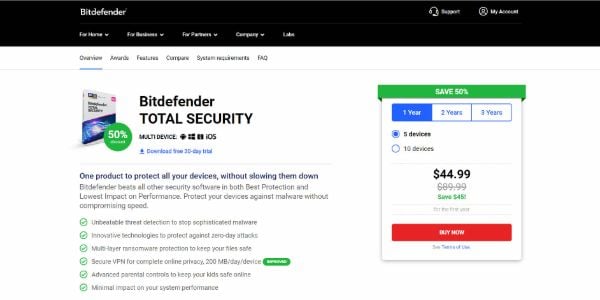 Device compatibility: Windows, Android, iOS, and macOS
Browser compatibility: Chrome, Mozilla Firefox, Safari, and Microsoft Edge
Subscription model: Premium
Pricing plans: $1.67/year and $2.99/month
Pros:
Integrates excellently with Bitdefender
Two levels of recovery
Layered encryption
Cons:
Incompatible with Linux
No free version
Bitdefender password manager has one of the most robust cryptographic algorithms to ensure your online credentials are safe and secure. If you lose or forget your master password, it provides two different account recovery methods.
Bitdefender is equipped with SHA512, HTTPS, AES-256-CCM, BCRYPT, and WSS protocols for data transmission. With the help of a single master password, it auto-saves, manages, and automatically generates your password for all online services and websites.
As a multi-platform service, it runs on Windows, Android, iOS, and macOS and has a browser extension for Edge, Firefox, Chrome, and Safari. Unlike other password managers, it makes importing data and retrieving your passwords easy from multiple file formats like CSV, JSON, XML, 1pif, TXT, and FSK.
Bitdefender includes a password strength check that lets you know when your password requires more complexity. With this service, you can, in fact, improve your shopping experience by auto-filling your payment details and storing them securely to help save time with online orders you complete.
---
5. Avira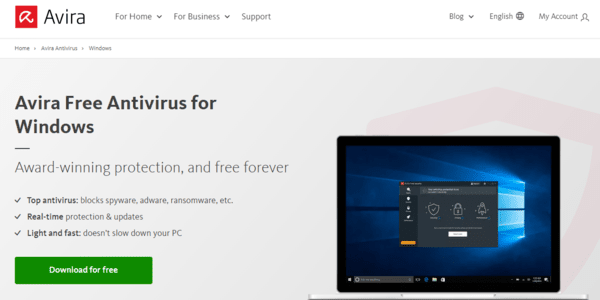 Device compatibility: Windows, Android, iOS, and macOS
Browser compatibility: Chrome, Mozilla Firefox, and Safari
Subscription model: Freemium
Pricing plans: $2.67/month and $59.99/year
Pros:
Secure file storage
Multi-device synchronization
Bank-grade encryption.
Unlimited password storage
Cons:
Unreliable customer support
Difficult to use
Avira password manager has an easy setup process and an intuitive user interface, making it an excellent option for non-technical users. It has a free plan with features like multi-device synchronization, file storage, and unlimited password storage. This service uses "bank-grade" AES 256-bit encryption to store users' data in cloud storage.
This feature distinguishes Avira from other password managers, commonly using AES 256-bit encryption. This service has two-factor authentication (2FA) and biometric login support to secure your password. Avira password manager server also doesn't store users' passwords.
Its mobile app features payment card storage, automatic clipboard clearing, security status password auditing, and secure notes with file storage. Unlike other password managers, it has a 60-day money-back guarantee, allowing you to test its service to determine if it suits you.
Avira offers a range of customer support options, including phone support, a knowledge base (FAQ), email support, and a community forum to assist users. Unfortunately, it doesn't have a live chat option.
Another downside of this service is if you lose your master password, it has no account recovery option.
---
How to choose the best password managers with VPN
Choosing a VPN with a password manager can be tedious, especially in the saturated VPN industry. Hence, we identified five elements to consider when selecting a password manager to help you solve your problems rather than creating new ones.
The following elements make the best password managers suitable for ensuring account security.
1. Compatibility
An ideal password manager should be compatible with your desktop and mobile devices. It should also have an extension for your favorite browsers, such as Chrome, Firefox, Edge, Opera, Brave, and Safari.
This way, you can comfortably generate and store the passwords for your social media, online banking, and shopping accounts.
---
2. Safety and transparency
Using a password manager helps to ensure you have the highest level of protection. It removes the mental challenge of creating near-uncrackable passwords and stores them for you.
Password managers that don't uphold users' security and safety are better off alone. Truly, no service is perfect, and some have had issues. For example, LastPass, a reputable password manager, suffered a security breach that put users' credentials at risk.
The safest password managers usually have zero-knowledge architecture, AES 256-bit encryption, and two-factor authentication. This way, you can be sure your passwords are secure even when someone gains access to the master password. They also feature biometric logins, like facial recognition cameras and fingerprint scanners, to authenticate you as a legitimate user.
---
3. Ease of use
You must consider the ease of use and setup of a password manager with a VPN. You want a service that integrates seamlessly with your device.
The best password managers usually make a transition easy by allowing you to import passwords without fuss. They run instantly with all your apps and auto-fill your usernames and passwords anytime needed.
---
4. Price
Besides the features of a password manager, you must also consider its price. Does it offer value for money? Check the service's functionality and ensure it provides a free version with top-tier features and a 30-day money-back guarantee. The premium plan for most password managers ranges between $15 to $60 yearly.
---
5. Storage capacity
Not all password managers offer an unlimited amount of storage. Ideally, go for one that allows you to store as many passwords for free. Some services with unlimited storage capacity require you to subscribe to their premium plan to enjoy it.
---
Which is the best password manager with VPN?
NordPass is our top recommendation as a password manager.
It has a reliable and trusted VPN service. In addition, it prioritizes security and has biometric login support for desktop apps.
The password manager features cutting-edge XChaCha20 encryption, two-factor authentication, a data breach scanner, secure sharing, and many more to keep your information safe.
Overall, it's the most well-rounded password manager and VPN bundle on our list.
Other password managers may suit you best depending on the individual features you're looking for. If you already have antivirus software and need a password manager, Dashlane is suitable. Avira is probably best for you for ease of use and setup.
Can I use a free VPN with a password manager?
Yes. You can use a free VPN or password manager, but we don't recommend it for several reasons.
Freemium services can be tempting as you don't have to break the bank to use them; at best, you'll get subpar features.
Many free VPNs with password management have problems with connection speed, server network, and security. They also have inadequate privacy functionalities, which puts your personal data at risk of theft. Another red flag is that they limit the number of passwords you can manage and devices you can sync.
Besides, many free services collect your data to share it with third parties for targeted advertising. Worse, some go as far as infecting your device with malware.
If you insist on using a free VPN with password management, consider NordPass/NordVPN Premium. It stores unlimited passwords and secures your account with multi-factor authentication.
When selecting a free service, we advise that you read its privacy policy to safeguard your online credentials.
Can a password manager see my password?
In a way, yes. The best password managers function to encrypt your information locally on your device so your data never becomes unencrypted when you log into your accounts.
So, without your master key, the password manager can't access your credentials. A password manager can only fill out your information by decrypting your master password.
To be sure a password manager can't see your passwords, check its privacy policy. Most services outline how they use customers' data to provide top-notch security. For example, some password managers track users' data to improve customer support.
We advise that you go for password managers with a no-logs policy because they prioritize users' privacy.
Can I use my browser to manage my password?
Of course! It's quite convenient to use the integrated password manager on your browser, such as the one in Safari or Google. However, you stand to gain more with a dedicated password manager.
To begin with, dedicated password managers come with extra functionalities, such as giving your password alias names. This way, you can find them easily.
Second, your browser password manager may be compatible with some of your devices. If you use Safari on your macOS and have an Android phone, by default, the Safari password manager cannot save the credentials associated with the Android. This means you may run two managers concurrently, one for mobile app passwords and the other for website passwords.
Conclusion
Gone are the days when password managers with VPN services were regarded as a luxury. This security and privacy tool is necessary to protect your personal information and improve online security. And with a quality VPN, you can take your online security to the next level. A VPN is also vital for accessing geo-blocked content and protecting your privacy.
If you're unsure about the one to pick, we recommend NordPass for its tight security, unlimited storage space, and easy-to-use interface.
With a robust password manager/VPN combo, you can be safe than sorry.
FAQs
Definitely! Hackers can unlawfully access any computer system, including a password manager. Thankfully all the password managers on our list have outstanding safety records and use industry-standard encryption tools to protect your data.
A secure password should at least be a minimum of eight characters. Ensure it includes symbols, numbers, and upper and lower case letters. You may also generate passphrases that consist of randomly strung-together words. The top list of password managers with a VPN has customizable generators that can help you create random passwords based on your preferences. The more complex a password is, the stronger its security.
Unfortunately, not all password managers are easy to navigate. Some have complex and technical interfaces that make using the service a chore. Thankfully, the best VPNs with password managers on our list are easy to navigate. They include password generation and multiple device synchronization, which help you create secure passwords and access your login information from any device.