Wondering why would you ever need to use VPN for WhatsApp? Well, you may not realize the importance of these tools unless you're in one of the regions that block this app and where you need to learn to unblock WhatsApp.
Love it or hate it, WhatsApp is the world's premier messaging app. It boasted 1.5 billion users during 2018. Facebook bought the app in 2014 for 19 billion USD. Since then, WhatsApp has been the leading player in the chat market thanks to its lack of ads, security features, and overall usefulness.
While Facebook's commitment to user privacy remains a dubious proposition at best, WhatsApp's end-to-end encryption renders it a secure option for chatting and exchanging small files. Subsequently, many countries have banned it as it thwarts governmental efforts to surveil the population.
However, the widespread use of WhatsApp globally makes it imperative for many users to retain the ability to use it even in jurisdictions forbidding the app. But that's not always possible. (And, of course, don't ever go for the WhatsApp replicas as they aren't secure).
Fortunately, whether you are living, visiting, or planning to visit such a country that restricts access to WhatsApp, a VPN will allow you to bypass those restrictions, thus remaining online on WhatsApp.
This article will give you five VPN options that will empower you to use WhatsApp wherever you are on the planet.
Best VPNs to unblock WhatsApp – Quick list
If you are already conversant with VPN lore and are looking only for the essential information to get your WhatsApp going, find the top five choices for the job right here.
WhatsApp limitations throughout the world
Despite Facebook's terrible reputation on privacy matters, WhatsApp is a very secure communication tool. Specifically, all the information exchanged through WhatsApp remains safe with end-to-end encryption.
End-to-end means that the sender's app encrypts the message. Decryption only happens when it reaches its destination at the receiver's app. So while the message is susceptible to interception while it's in transit, it's unintelligible. Hence, any third-party snooper will see nothing but a stream of gibberish. That frustrated snooper could be your ISP, a hacker, or the government.
Besides, even Facebook can't crack your WhatsApp messages because the encryption keys remain with the users only.
WhatsApp's encryption system is powered by Whisper Systems. It is the same encryption software you can find in Signal, the open-source messaging app preferred by the most advanced and privacy-aware users on the internet.
Thus the privacy that WhatsApp affords to its users is excellent. And there are governments in the world who don't like that at all. Some authorities believe that WhatsApp allows activists, journalists, dissidents, criminals, or terrorists to secretly communicate and organize against the status quo and escape official surveillance.
Consequently, 13 countries have labeled WhatsApp illegal or have banned it. China and Saudi Arabia are the most notorious countries on the list. Moreover, Egypt, Ethiopia, Jordan, Kazakhstan, Montenegro, Gambia, Turkey, Uganda, and Zimbabwe have also prohibited using WhatsApp within their borders.
Some other countries allow their citizens to use WhatsApp to exchange messages or files, but not voice calls. However, those governments are also against Skype and any other virtual call software. That's because either they have an economic stake in the local telephone services, or the industry has lobbied them successfully against internet voice calls. Such offenders include Azerbaijan, Bahrain, Morocco, the United Arab Emirates, and Uzbekistan.
The best VPNs for WhatsApp today
A VPN (Virtual Private Network) performs two crucial tasks. First, it re-routes all your traffic through a server in its network, thus hiding your actual IP address and showing one from the network as yours. Second, it must encrypt all your incoming and outgoing traffic to prevent any third party from tracking your online activities. Those third parties include hackers, your ISP, and even your government. These two functionalities are also vital for you to hide your WhatsApp activities.
Besides, a premium VPN service can bypass all the local restrictions against WhatsApp or other censorship measures.
But the question is: what is that excellent VPN that will do the job?
It's a difficult question. Privacy concerns exploded after Edward Snowden's revelations became a mainstream event, and the VPN industry followed suit. Consequently, the number of VPN providers has risen dramatically over the last few years, offering all kinds of services covering different aspects of digital security.
But, no, it's not enough for a VPN to be excellent to become the right tool for WhatsApp. For instance, many VPNs out there prioritize security. They add at least an extra layer of encryption or data routing, thus making traffic unhackable, even theoretically. But the increased security comes at the cost of speeds, thus rendering these excellent services unable to support the kind of data stream during a WhatsApp video call.
So figuring out the VPN that will help you with this issue takes time, energy, and expertise. Furthermore, if you're in one of those countries barring WhatsApp, it's also risky. But, don't worry. We've done all the work so that you don't have to!
How to find the best WhatsApp VPN?
As we keep testing many VPNs on the internet to find the best option for several use cases, we're already aware of those that could do the best job with WhatsApp. Our staff tested many good options to find those that will give you a smooth WhatsApp experience anywhere.
But before moving on to the list, here's a quick word about how to find the best WhatsApp VPNs.
You need to look for VPNs that provide optimal WhatsApp functionality while ensuring user privacy protection. The following criteria guarantee those two goals:
The provider does not reveal your internet activities and keeps no logs.
VPN's encryption is solid.
The VPN is safe against all DNS/IP leaks.
Has mobile apps for the VPN for both iOS and Android devices.
---
1. NordVPN

A long-time favorite powerful and reliable VPN service for all sort of unblocking purposes.

5,300 servers in 59 countries

Supports P2P

Double encryption

Does not keep logs

Kill switch mode

Up to 6 simultaneous connections

DNS/IPv6 protection

MultiHop feature

30-day money-back guarantee
Pros
One of the fastest VPNs around

24/7 customer service

Easy to use
Cons
Extra features are bit complicated
NordVPN works the best as a VPN service for unblocking WhatsApp anywhere. Thanks to its extensive global network, NordVPN gives you plenty of servers to pick. Moreover, it keeps no logs on user activity (a policy certified with external audits). Also, every connection enjoys the unbreakable encryption of AES-256.
The most prudent (or paranoid) users can route their traffic through two VPN servers or Tor over VPN. Every DNS request goes through NordVPN's DNS servers so that no IP leaks are possible because of DNS queries.
The VPN's platform includes mobile apps for Android and iOS, and desktop apps for Windows and macOS.
Your NordVPN account includes six concurrent connections to the network. Hence, you can share it with your family members or use it with several devices.
The network speeds are among the highest in the industry because NordVPN takes the lead in tunneling protocols. It adopted the WireGuard protocol, corrected its problems, and made it a standard feature for its users. And this VPN protocol allows the fastest speeds without sacrificing any security.
Another useful feature in NordVPN is traffic obfuscation. This feature makes your traffic look like HTTPS. Consequently, any external observer will think you're just browsing around the web. But in reality, you will be using your WhatsApp, torrenting, or using any other internet service you fancy. So it adds an extra layer of security to your digital activities without compromising speeds or functionality. Moreover, this critical feature also allows bypassing censorship in the most challenging countries such as China.
NordVPN also gives you many unique additional features, so you will get more service than you are bargaining for. For example, among other perks, this VPN can unblock Netflix, Hulu, and almost every video streaming service online.
---
2. ExpressVPN

Secure, fast, and user-friendly VPN provider for unblocking WhatsApp.

3,500+ servers in 94 countries

AES-256-bit encryption

IPv6 leak protection

Allows P2P sharing

Implements zero-logs policy

Clean-web ad blocker

Up to 5 simultaneous connections

30-day money back guarantee
Pros
Works in China and UAE

Excellent blocking capabilities

Strick no-logs policy
Cons
Prices are slightly above the market average
ExpressVPN probably has the most prominent reputation in the VPN business. That is because this VPN has been around for a long time, always providing one of the best services available.
The security in ExpressVPN is top-notch. It includes the same AES-256 unbreakable encryption as NordVPN (AES is the industry's standard for the most part) and perfect forward secrecy. The company sticks to a strict zero log policy that includes avoiding any records of your source IP address, and is safe against all DNS leaks. Just as NordVPN, ExpressVPN has its own DNS server network so that no unencrypted DNS server will know your address ever.
The VPN's software includes mobile apps on Android and iOS, desktop apps for Windows, macOS, and even Linux. Unfortunately, the Linux version has no GUI, so you have to be a confident terminal user to be comfortable with it. But at least it's there, which is better than most other VPNs, even the best ones.
The network speeds are very high, and the server network spans 94 countries, so you'll never want more options. This VPN will also give you a lot more service than just WhatsApp, as it can deal with the geo-blocks in Hulu, Netflix, and almost every video streaming platform.
Other cool features include split tunneling (you could have your WhatsApp traffic routed through the VPN while everything else on your device goes through your regular ISP connection, although we do not recommend doing this).
The one drawback of ExpressVPN is its price, which is among the highest in the market. However, the service is excellent, and with so many additional features, the subscription is worth the money. Still, other providers will give you similar quality for a fraction of the cost.
---
3. Surfshark

The new kid in town with great unblocking capabilities offering the best deal in the market.

3,200 servers in 63 countries

P2P optimized servers

AES-256-bit encryption

Automatic kill switch

Strict no-logs policy

Camouflage mode

Allows unlimited simultaneous connections

MultiHop mode

24/7 live support

30-day money-back guarantee
Pros
Affordable pricing

Advance security features

Allows torrenting on many servers
Cons
Takes time to connect to some servers
Surfshark is a relatively new VPN making a vast splash lately. It offers nearly as good services as NordVPN or ExpressVPN for a small fraction of the cost. Also, consider that your Surfshark account will grant you an unlimited number of connections into the network at any time, not just five or six.
Surfshark has everything you need to keep active on WhatsApp (video and voice calls included) from any country. It works in China and the UAE.
The encryption is up there with the best, the speeds are good, and the company keeps no logs, which is the key to privacy in a VPN.
This VPN will also unblock many video streaming services; the customer service chat support is alive at all times. The apps include iOS, Windows, macOS, Android, and Amazon Fire TV versions.
Surfshark will give you a cheap service if you're on a tight budget. But it will provide you with almost the same features you will find with the other vendors.
---
4. ProtonVPN
A Swiss-based safe VPN that boasts full-disk encrypted servers alongside strict no-logs policy. Offers 10 simultaneous connections, NetShield feature, and a free plan.

More than 1500 servers in 63 countries

AES 256-bit encryption

10 simultaneous connections

30-days money-back guarantee

Strict no-logs policy

NetShield feature
Pros
Fast speed connectivity with VPN accelerator

Open-source applications

Offers a free version
Cons
Limited features in free version

No live chat support
ProtonVPN is the VPN associated with ProtonMail, the internet's primary secure email service. The company specializes in providing security services of all kinds. Thus, you can expect ProtonVPN to be designed and operated very carefully, and it shows as you use it. So if you need a VPN that will allow you to keep online on WhatsApp from any country, ProtonVPN will do the job.
Every server in the 1200+ node network spanning 55 countries is super-fast, reliable, and secure. In addition, the Securecore protocol sends your traffic through several servers in the network, which enhances your security. It also has perfect forward secrecy.
A rare feature in the ProtonVPN network is its free version that is reliable and protects user privacy. Although, you'll frequently find us advising readers to stay away from free VPNs (more on that later). But, ProtonVPN is exceptional. Its free service is good, protects your privacy, and allows unlimited usage. However, if you want to enjoy all the great features ProtonVPN offers, you'll have to pay for a subscription.
Each account gets you ten concurrent connections. Besides, the apps are very user-friendly and the provider has excellent customer service.
---
5. PrivateVPN

A well-balanced option for WhatsApp that offers everything you need at competitive prices.

100 servers in 63 countries

Double encryption

Supports P2P sharing

Automatic kill switch

DNS/IPv6 leak protection

Allows up to 5 simultaneous devices

30-day money-back guarantee
Pros
Remote control support

Allows torrenting

Zero-logs policy
The surprising thing about PrivateVPN is how it manages to offer a service that looks like the veteran VPNs when it hasn't been around for too long. This VPN works from China and the United Arab Emirates (these two countries are a litmus test for VPNs). The encryption is uncrackable, and the servers keep no logs. Perfect forward secrecy guarantees security even when an encryption key is compromised (it will work on a single session only).
Besides, every app has leak protection hardcoded into the software. The kill switch, however, only works in Windows.
PrivateVPN's versatility is also comparable with the top players as it can deal with Netflix, Hulu, Disney Plus, and many more streaming platforms without blinking.
The network allows for six simultaneous connections. The apps come in iOS, macOS, Android, Windows, and Amazon Fire TV versions.
---
Free WhatsApp VPNs: Keep away from them!
In the ProtonVPN section, we mentioned briefly how we always advocate for our readers to avoid free VPNs. Let us explain to you why in more detail.
First, let's focus on the task at hand: we want VPNs to enable you to use WhatsApp wherever you are. But unfortunately, most free VPNs will not do the trick for many reasons. If you want a VPN to perform this trick, it needs three things: enough bandwidth, reliable connections, and VPN server address that the world's governments do not blocklist.
Unfortunately, most free VPNs will fail with each of those three things. In addition, the bandwidth is usually low, and the data is generally capped. Plus, it can take several minutes to get a server connection, and then it's easily severed because the network is overworked.
Last but not least: keeping your servers' addresses out of the blocklists needs a constant effort on the VPN's part to refresh them constantly. That takes initiatives and resources, and free VPNs have neither. Consequently, the world's censoring governments already know them and have had them utterly blocked for ages. It could be harder to use a free VPN from those countries than WhatsApp itself.
Think about the United Arab Emirates or China, for example. These countries invest a lot of effort and resources into blocking VPNs — including paid ones. Our five VPN picks still work out of those two countries (and many others) because they keep waging war against censorship at all times. They make sure they are a step ahead of the censoring measures in the world's countries. Free VPNs can't afford to put in the effort it takes to do that.
For instance, even if you find a free VPN that unblocks WhatsApp for you, you will still have serious problems. That's because free VPNs are notorious for using defective encryption (which saves them resources), and they don't have their own DNS servers. Consequently, you remain vulnerable to IP leaks through DNS queries, and your traffic could be cracked because it's not AES-256.
And things could get even worse when it comes to business. The most common business model among free VPN companies is to track and log VPN users' activities and then sell them to a commercial partner interested in data mining. Hence your privacy is not only unprotected in these networks, but it's the exact product the company is using for trading.
So the ugly truth about free VPNs is that they are awful services that will not perform as you need, which can cost you your digital privacy. Indeed, ProtonVPN is an exception, but it's limited; you need to subscribe if you want the full Proton power. Still, it's an infrequent exception, not the rule.
Running WhatsApp through a VPN network
OK, let's get to the beef. You are in a country that bans WhatsApp, but you already have a VPN account with one of our five options. So what do you do now?
Download and install the app your VPN provider has for your device.
Launch the app. Connect to the VPN network. Choose a server located in a country where WhatsApp isn't banned.
Once you're online with your VPN, launch your WhatsApp and use it normally.
How we assessed the best VPNs for WhatsApp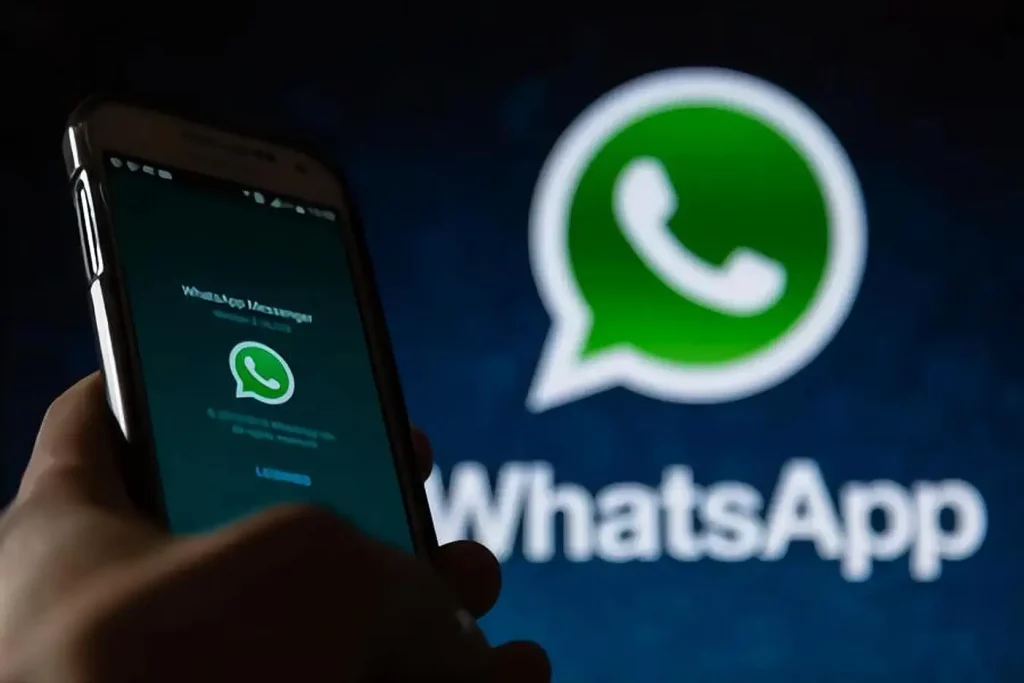 At PrivacySavvy, we are committed to being an authoritative and reliable source on all the technical tools and issues that can help with digital privacy. Our assessment of each VPN is based on the expertise of our staff, real-world experience, security and performance tests, and the company's track record regarding their policies and in the courts of law.
So, when we sought to find out the best VPNs for WhatsApp, we prioritized the following things:
Security. The VPN's encryption must be up to par with the rest of the industry, and it has to be safe against IP number leaks.
Logging policy. Privacy protection in a VPN network has nothing to do with technology and everything to do with policy. It's all about the choices a company makes. So we combed each service's terms of use to ensure that they promise not to collect any personally identifiable information. Some VPNs have walked the walk regarding their zero log policy in legal cases, and others have their policies certified by independent audits.
Speeds. Speeds may not be as critical for WhatsApp as they are for, say, gaming or video streaming. Still, having a good video call on WhatsApp needs a reliable and fast connection. So we tested and measured the speeds in each service, and we found our five picks to be the fastest in the market.
Streaming. We tried each VPN against the video streaming giants (Netflix, Amazon Prime, HBO Max, Paramount +, and others) to see how they do.
Customer service. In the optimal scenario, you'll never need any help from customer service. But some of our chosen providers allow you to install VPN in your router so that all the traffic in and out of your home (in every device) goes through the VPN. Of course, this is a reasonably advanced trick, so most users will need help to do it. In any case, if you ever need help from the experts, it better be quick, friendly, and accurate.
Ability against censorship. Using WhatsApp from a country that bans it is all about evading censorship. So, it's one of the core features our VPNs must have.
WhatsApp blocked on WiFi and other networks
If you've tried to use WhatsApp on a public WiFi network, then you probably already know that many such networks have it blocked. And not just WhatsApp, also Instagram, Facebook, and other social media networks. This is even more common in WiFi networks in an office or a school.
So you see, the block on WhatsApp is not exclusive to repressive countries. It happens in democratic countries as well because the company or the college doesn't want their people wasting their time on social media, and yes, even public WiFi hotspots block them.
The solution in this scenario, again, is to use a VPN. The VPN will unblock any social media you want to use without any problems.
My VPN is connected but WhatsApp remains blocked. How do I fix this?
If you are facing this problem, you are in one of three possible situations:
Your ISP or mobile service has blocked the IP addresses of your VPN's servers on behalf of the local authorities. Hence, you're not online in the VPN at all, and you won't be able to reach it or use it for any task, including WhatsApp unblocking. So, in this case, reach out to your VPN's customer service and ask them about the servers that remain capable of unblocking WhatsApp in your location. Good VPN networks are extensive, and it's implausible that an ISP can block all its servers. So, there will surely be many nodes in the network still working, even in your situation.
You could have a DNS leak. It happens when a DNS request leaves your device outside the VPN's secure tunnel, exposing your actual physical location and real traffic online. Therefore, as your ISP realizes your activities, it blocks you. To overcome this problem, the best VPNs have their own DNS servers. So, in such cases, you need to move to a robust VPN that prevents DNS leaks, like NordVPN, ExpressVPN, or Surfshark.
Your ISP blocks the ports WhatsApp uses typically. You can solve this problem using the port forwarding feature in your VPN (if it has one).
Is a VPN going to patch the WhatsApp backdoor?
No, it won't, but read on. Let's start at the beginning: there's no such thing as a WhatsApp backdoor. However, the app does have a minor vulnerability in its end-to-end encryption implementation. WhatsApp encrypts every message you send before it leaves your phone. Then it travels through the net until it reaches the recipient's WhatsApp. The recipient is the only user with the encryption key, so only he can decrypt it.
But let's say that the recipient has a new phone. In this case, the WhatsApp client in the new phone won't have the key required to decrypt your message. Consequently, the message could go missing and never reach the intended recipient. Realizing this problem, the WhatsApp team developed a fix for it. But unfortunately, it chose to compromise security to retain convenience and functionality. And this choice looks too much like a backdoor to some critics. The fix has the key exchange renegotiated behind the recipient's back.
Then the backlog of messages gets re-sent. Your app can tell you when this happens, but the option is not on by default. A consequence of that strategy is that if a user goes offline for a period, WhatsApp could cheat the system by making the sender's app believe that there's a new phone on the other side. It could force the negotiation of new private keys.
Once the new keys are agreed upon, WhatsApp or Facebook could read the whole messaging history. Please notice that this hack is not the kind of thing that even an expert hacker can exploit alone. Instead, it requires WhatsApp's specific compliance and significant knowledge about the target.
In other words: this weakness is irrelevant for almost every WhatsApp user, as it needs for the company itself to be interested in your activity. However, if you feel like being the target of such surveillance, leave WhatsApp and use a different messaging app. As for a VPN, since this exploit doesn't happen in your VPN server or device but in WhatsApp's servers, using a VPN won't help at this point.
Indonesia and WhatsApp
The volatile political climate in Indonesia saw some riots occur around the country. The authorities then tried to secure the country's law and order by restricting WhatsApp, especially multimedia messages.
It seems that these measures were desperate attempts to bring the political temperature down after the controversial 2019 presidential elections.
Prabowo Subianto, the defeated candidate, challenged the election results calling them "unfair." Riots followed suit in Jakarta, the country's capital. Two hundred people were injured, and six lost their lives.
In the following chaos, social media became the primary means for distributing information about the riots (with a lot of that information being false).
As the authorities realized what was occurring, the minister for legal political and security affairs, Mr. Wiranto, announced that the government would restrict and even disable access to several social media apps. Then, the communications minister, Mr. Rudiantara, told the people to expect lag issues while sharing multimedia content in WhatsApp.
This dramatic situation served as a fantastic example of how helpful VPNs can be when keeping your access to WhatsApp inviolate. In addition, several tech outlets reported at the time that VPNs were bypassing the government's measures efficiently.
Conclusion
The updated terms of use for WhatsApp were highly controversial, and they prompted many users to move away to other apps. Nevertheless, WhatsApp remains the most popular messaging app in the world. That's because it's easy to use, powerful, versatile, and secure. Moreover, it's too convenient to leave behind for most users. Very much like Facebook, even if you disagree with the app's management strategy (especially about privacy), the cost of leaving it is too high in terms of communications with your peers. Thus many users will keep the app on their devices, even grudgingly.
And yes, it's banned in many countries, whether totally or partially. And some ISP will throttle your account if they find you using too much bandwidth for Whatsapp. Nonetheless, you can avoid these problems by using one of the best VPNs for accessing WhatsApp.
This article listed the best five options for that, as well as the detailed instructions you will need to get started. So, share and enjoy! But above all, stay safe!
FAQs
Yes, WhatsApp is banned indeed in many countries, to different degrees. For instance, China, Syria, and North Korea do not allow WhatsApp on their internet. Whereas Brazil, Iran, and Cuba have temporary blocks on the app. So you need to use VPNs for accessing WhatsApp in all these countries until the ban goes away. Similarly, some other countries have not banned the app itself. But they have restricted WhatsApp voice and video calling features, the United Arab Emirates (UAE), Oman, and Qatar. In these countries, text messages will work fine, but you'll need a VPN to call anyone via WhatsApp.
We always recommend not to use free VPNs for any task at all, and WhatsApp unlocking is no exception. Most free VPNs lack the resources to unlock WhatsApp properly. So, even if you tried (which you shouldn't), you would find them unable to handle the job. Although some (rare) free VPNs offer reliable and fast services to unblock WhatsApp, there remains the problem of privacy. Most free VPNs make ends meet by logging user activity and selling them to data miners. Some others distribute malware and trackers in ads. So, using a free VPN will indeed encrypt your traffic and keep you "safe" when you're using it. But in the long run, it creates privacy problems and risks that you should avoid.
The answer depends on your jurisdiction. If you are in a country that considers VPNs explicitly against the law (Iran, the UAE, and others), it is illegal to use a VPN for any purpose, let alone WhatsApp. However, if your jurisdiction considers VPNs legal services, there's nothing wrong with using them to unblock WhatsApp.
Yes. WhatsApp employs the same encryption that the cybersecurity community's favorite app, Signal, uses. Specifically, both apps implement "end-to-end" encryption, where the data gets encrypted by the sender's device, travels encrypted through the internet until reaching the recipient, and then gets decrypted by the recipient's software. Only the sender and the recipient have the encryption keys in this procedure. Thus, nobody else can recover the message's plain text, not even Facebook, because it has no access to the keys. The issues with WhatsApp are not about security but privacy. As mentioned earlier, privacy is a matter of policy, not technology. When it comes to technology and security within WhatsApp encryption, it's simply the best in the industry, along with Signal. But if you're concerned about privacy, WhatsApp isn't as reliable as Signal.
No, it won't, but that has nothing to do with the technology itself. Globally, reports have emerged about people going to jail for the illegal use of WhatsApp. They were involved in defamatory, libelous, or explicit behavior. In some cases, they were planning a coup d'etat. However, note that no hacking happened in any of those cases. For example, WhatsApp didn't give the info to the authorities. Nor did the process require breaking encryption. Every case was about good old-fashioned police work, like a WhatsApp group or private chat member who went to the police with the information. Or the police seized a device and then had the owner unlock it for them. In such instances, like in privacy policies, the human element is everything, and no advanced technology can change it.
No. Voice calls are blocked in Saudi Arabia and many other countries such as Oman, Qatar, the United Arab Emirates, and Libya. Making a voice or a video call with WhatsApp from Saudi Arabia needs a VPN.
It is indeed. The end-to-end encryption scheme is very safe on its own. However, security problems have happened to a few WhatsApp users. So even if WhatsApp is safe on its own, the added security of a top-notch VPN service is never to be despised.