A VPN is crucial for every security and privacy-conscious internet user today. It protects you from hackers, unblocks geo-restricted content, enables torrenting, and gives you online anonymity. Fortunately, there are tons of VPNs in the market to serve you, the most popular being ExpressVPN and NordVPN. Nonetheless, not many know about Ivacy VPN, a serious player deserving a detailed review.
The service, founded in 2007, has 5700+ servers spread across 100 locations. While it sounds impressive, our experience of reviewing dozens of VPNs shows that the count of servers is only a tiny part of the whole picture. That's why we'll get into the nitty-gritty of what Ivacy VPN is all about and what it brings to the table in this detailed and unbiased Ivacy VPN review.
This review will critically analyze its features, subscription information, performance, security, and apps for different devices. We will also share our speed results with you and more. Let's jump in!
Ivacy VPN service background
Ivacy has its base in Singapore, a convenient and trustworthy location for operating a VPN. Furthermore, the country is not a member of the 5 Eyes, 9 Eyes, or 14 Eyes countries. Hence, it is not under any form of surveillance jurisdiction.
But before you celebrate, you should know this; while Singapore may not be under any surveillance jurisdiction, it cooperates with the US government and its Five Eyes members (including Australia, New Zealand, the UK, and Canada) in conducting surveillance.
However, it isn't an issue, as the VPN provides an extra layer of protection and has a strict zero-log policy to protect its customers' privacy.
Besides, Ivacy has decent coverage, featuring over 5700 servers in more than 100 locations worldwide. Although this is hardly a record-breaking feat, it's not a drawback.
Now that we have a bit of foundation, let's dive into the detailed Ivacy VPN service review.
Ivacy VPN at a quick glance
| | |
| --- | --- |
| Servers | 5,700 in 100+ locations |
| No-logs policy | Yes |
| Price | 3.99 USD/month for one year plan |
| Kill switch | Yes |
| Torrenting available | Yes |
| Based in country | Singapore |
| Customer support | 24/7 live chat available |
| Simultaneous connections | Up to 10 devices |
| Money-back guarantee | 30 days |
Pros and cons of Ivacy VPN
Below are Ivacy VPN's strengths and weaknesses in a flash for you:
Pros
Decent privacy and security features
Good server fleets
Supports P2P traffic
Split tunneling
Good reviews on mobile apps
Affordable prices
Accepts payment using cryptocurrencies
24/7 live chat support
Performance is above average
Cons
Lacks kill switch for Apple devices
Does not have a 100% privacy-friendly jurisdiction (as Singapore has been revealed as a Five Eyes spying partner)
Ivacy VPN features
Dedicated IP
Ivacy offers dedicated IPs from seven countries at an extra charge of $1.99 per month. The dedicated IP is assigned to your device alone, and anytime you connect to the internet via a VPN, your device will only use that IP address. This is different from the ordinary VPN connection IP address that is shared among a group of users.
A dedicated IP address has many benefits, like giving you better speeds, preventing website blocks, and avoiding frequent CAPTCHA requests. Additionally, a dedicated IP address is vital when working with platforms that don't allow access from multiple IP addresses, like banks and trading platforms.
---
Split tunneling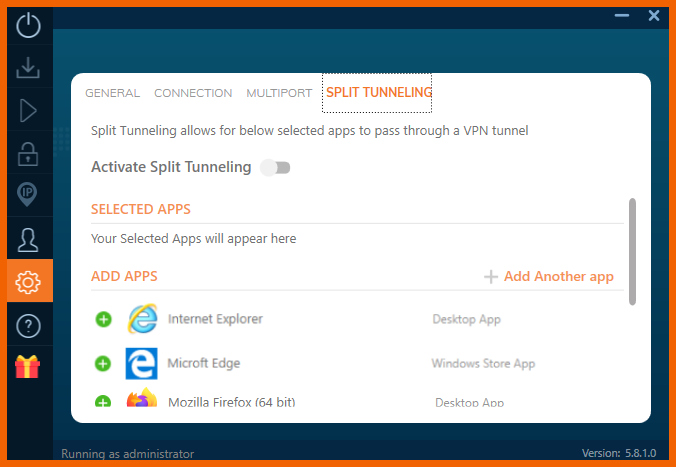 This feature is handy when running some of your internet traffic through the VPN's server. Briefly, split tunneling enables users to select the apps they wish to use with Ivacy. It is also needed when you want to unblock Netflix abroad while also wanting a local connection for lower bandwidth gaming.
Ivacy VPN has split tunneling on both Android and Windows. However, before starting, you may want to consider its mode of operation. Typically, Ivacy VPN requires you to select the apps that will use the VPN tunnel (and not the reverse).
You may have to click multiple times as there is no "Select all" option and no way to exclude some apps. Also, there's no auto-connect feature with the Android version to prevent the failure to establish a connection sometimes.
---
Secure Download
During our Ivacy review, the VPN's focus on ensuring secure downloads with an anti-malware feature was impressive. The VPN functions in real-time, meaning it keeps monitoring and watching for any potentially harmful software. It is a proactive and excellent approach to saving your device in risky situations.
---
Servers and locations
Ivacy has an extensive server network of 5,700 servers in 100 countries. This is a good representation that covers even countries marginalized by other VPNs, like Kenya and Costa Rica.
Thankfully, Ivacy owns all its physical servers and virtual locations, unlike some VPNs that rent servers from third parties. Virtual locations are ideal when you want to access content in countries that have restrictive laws against VPNs, like Russia and India. Typically, they give you an IP address of one country while the physical server is in another country.
| Regions | No. of servers | No. of countries |
| --- | --- | --- |
| North America | 129 servers | 5 countries |
| South America | 79 servers | 3 countries |
| Europe | 303 servers | 20 countries |
| Asia | 149 servers | 15 countries |
| Oceania | 44 servers | 2 countries |
| Africa | 62 servers | 4 countries |
One of the noticeable issues with Ivacy is the time it takes to establish a connection with the VPN client. During our tests, it took more than 10 seconds to connect to a server, regardless of the server's distance. However, browser extensions connect instantly because they are proxies. This is an area Ivacy needs to improve because most premium VPNs connect much faster.
Apart from one server in the Netherlands that refused to connect, we did not encounter other connection problems during our tests. Ivacy has different server categories, which can be confusing to first-time users. Also, it has an intelligent connect feature that automatically connects you to the best server, which is a great feature for beginners. Generally, the provider's server network is impressive, and with a few improvements, it can compete with the best in the industry.
Security: Is Ivacy VPN safe?
Ivacy offers military-grade encryption. It should be sufficient to keep you safe online. However, there have been some concerns about their servers' locations and lack of security features on some platforms.
Kill switch
It is another vital feature of every VPN today. A kill switch disconnects you from the internet when a VPN fails. This keeps your location, IP address, and other information intact.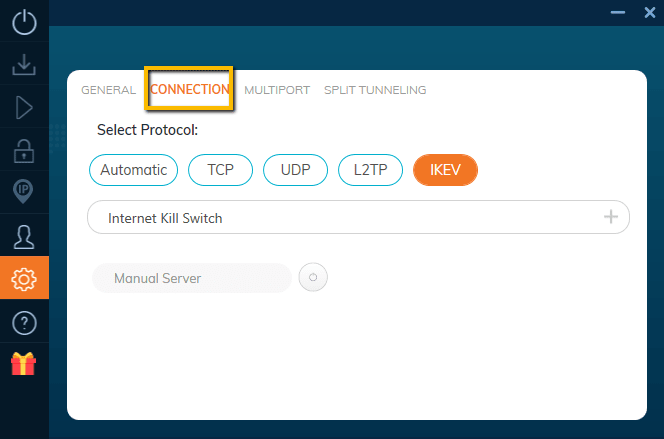 Unfortunately, Ivacy VPN only offers a kill switch for Android and Windows, but not for iOS and Mac. That's a considerable disadvantage that persists for years with no solution.
Moreover, it exhibits glitches even on the platforms where it's available. For instance, although it works on Windows and Android, it sometimes leaves users offline even after the VPN reconnects.
---
Testing Ivacy for DNS leakage
When using a privacy or anonymity service, all traffic originating from your device must get routed through the anonymity network securely; if any traffic leaks outside the private connection to the system, any third-party monitoring your internet traffic could log your activities.
Our Ivacy VPN DNS leak tests for this review demonstrated its stealthy DNS leak protection. The VPN has an IP/DNS Leak protection option in its setting with an unchecked default setting, which is rather strange. But, with that option selected, we could confirm it does not leak DNS, as shown in our screenshot below.

---
The WebRTC leak test
If you use a VPN with web browsers such as Microsoft Edge, Opera, or Firefox, then your WebRTC may leak your IP.
Web Real-Time Communication (WebRTC) is a compilation of standardized technologies that enable web browsers to communicate directly rather than opt for intermediate servers. WebRTC enables file transfers, live streaming, gaming, fast-speed live chats, and more.
Nonetheless, a WebRTC leak boasts significant security and privacy risk, as it can reveal your IP address even when connected to a (vulnerable) VPN.
WebRTC is structured so that any pair of devices communicating with WebRTC needs to know each other's IP addresses. In theory, hackers and websites can access your IP address through WebRTC. It defeats the purpose of using a VPN in the first place (subpar VPNs have this issue).
Fortunately, we discovered no issues when we tested Ivacy for WebRTC leaks.
---
Encryption
Encryption is a method of converting information into secret code to hide the true meaning of information. Some encryption methods are more complex to decipher than others.
With Ivacy, the level of encryption you get depends on the VPN protocol chosen. These protocols range from zero to 256-bit encryption. Specifically, 256-bit AES (short of 256-bit Advanced Encryption Standard) is a modern, widely-used, industry-standard protocol.
Let's look at the VPN protocols that this provider boasts in detail.
---
Tunneling protocols
Like most VPN service providers, Ivacy offers users various protocols. They include:
OpenVPN: This is arguably the most popular protocol in the VPN industry. It has a faster UDP iteration and a more secure and stable TCP option. Open VPN is also an option with this VPN, as it's available on Android and Windows; you will have to install it manually.
IKEv2: This offers a faster connection time and performs better than OpenVPN. However, it only provides support on limited devices. Ivacy has the IKEv2 protocol available on iOS, macOS, and Windows. The VPN calls its IKEV, which can be confusing as there is also an outdated v1 version.
L2TP/IPsec: Although an outdated protocol, many providers still offer it to their customers, and Ivacy VPN is no exception. It provides L2TP support on iOS and Windows.
UDP: This sends datagrams (messages) that do not need virtual circuits for data transfers. The good part is that it requires lesser bandwidth, which eliminates delay. On the downside, some packets may get out of order or lost.
TCP: TCP comprises seven layers that securely transfer data and ensure it reaches the right place. That is done by breaking up the information into smaller packets. TCP is best used with UDP as it provides the data is pieced together in the proper order.
Ivacy also works great with TOR, especially if you are keen on being anonymous online.
---
Privacy – Is Ivacy VPN private?
Ivacy is not the most private VPN owing to its opaque ownership, a logging policy that logs too much user data, and a background of questionable business practices. In addition, the VPN's applications and privacy policies are not independently audited, which raises many questions. While it is great at unblocking streaming platforms and torrenting activities, its reputation is tarnished by past dealings.
Data-logging policy
Ivacy has a fairly private logging policy and does not collect information that can be used to identify you from online activities. The information Ivacy collects is vital for day-to-day operations and performance tracking.
While Ivacy doesn't log identifying user data, the list of the data it keeps can make you uncomfortable or reconsider your choice of a VPN. For example, it tracks bandwidth usage, device information, account activity, and your originating location. The table below summarizes the data logged by Ivacy.
| Data Type | Logged by Ivacy |
| --- | --- |
| Last Connection Date | Yes |
| VPN Server Location | No |
| VPN Server IP | No |
| Account Information | Yes |
| Originating IP address | No |
| Number of simultaneous connections | No |
| ISP | No |
| Individual Connection Timestamps | No |
| Individual Bandwidth Usage | Yes |
| DNS Queries | No |
| Device Information | Yes |
| Browsing Activity | No. |
When looking into Ivacy's privacy, we found some of its servers belonged to PureVPN's parent company, GZ Systems. This raises many questions about the relationship between the two companies and whether GZ systems or PureVPN can access Ivacy's user data.
More disturbingly, a DNS test leak to the Ivacy server in the US came back with PureVPN as the ISP. We then contacted an Ivacy customer support representative, who told us that Ivacy does not use GZ systems infrastructure. This vagueness undermines Ivacy's claims of a 'rock-solid security' VPN.
---
Jurisdiction
Ivacy is registered in Singapore. Generally, Singapore is privacy-friendly and does not have data retention laws. Also, the country is not part of any worldwide surveillance alliance that collects and shares digital intelligence about its citizens.
Therefore, you don't need to worry about government interference that could force Ivacy to hand over your sensitive data to foreign countries.
---
What information does Ivacy collect?
The best VPNs allow you to signup anonymously without providing any personal information. A VPN is a privacy tool, so requesting too much personal information defeats the whole VPN's purpose.
To create an account, Ivacy requires your name, email address, and payment information. We recommend choosing an account name and an email address that cannot be traced back to you. The payment information depends on your preferred method of payment. Luckily, Ivacy can receive payment using Bitcoin. Make your registration process anonymous by using a non-identifying account name and email and making payments through crypto to remain completely anonymous.
---
Speed performance: How fast is Ivacy VPN?
There's no way you can enjoy a slow VPN connection. It will download files slowly, freeze videos when streaming and give you a poor browsing experience. That is why we test the speeds of different VPNs under different circumstances.
Like most VPNs, Ivacy has good speeds when connected to nearby servers and but you may experience significant speed drops in long-distance server connections.
Ivacy speed test results
Our speed test results are from connections made in London, UK. We first recorded our internet speed without a VPN to establish a benchmark for all our connections. This way, we could measure variations and conclude about speed drops in various connections worldwide.
Remember that the speed test results may vary depending on your location and baseline internet speed. The table below summarizes speed test results when connected to various Ivacy servers worldwide.
| Server | Ping (MS) | Upload (Mbps) | Download (Mbps) |
| --- | --- | --- | --- |
| No VPN | 3 | 95.92 | 93.12 |
| UK (London) | 9 | 89.41 | 88.2 |
| Germany (Frankfurt) | 18 | 51.13 | 58.15 |
| Netherlands (Amsterdam) | 20 | 11.21 | 13.42 |
| United States East (New York) | 106 | 10.43 | 27.86 |
| United States West (Los Angeles) | 198 | 12.85 | 11.01 |
| Canada (Montreal) | 105 | 36.41 | 44.44 |
| Brazil (Sao Paulo) | 209 | 22.26 | 49.31 |
| South Africa (Johannesburg) | 172 | 51.92 | 32.08 |
| Japan (Tokyo) | 248 | 47.8 | 48.77 |
| Australia (Sydney) | 349 | 19.2 | 48.47 |
| Dedicated IP (Los Angeles) | 140 | 75.5 | 76.73 |
The table above shows that the best connection speeds are only recorded when connecting to London. Connection to servers outside the UK has resulted in massive speed drops, which are not good for a premium VPN.
Connections to German servers wiped out almost half of our initial speed, while the US and the Netherlands took the biggest hits of almost 80 % speed drops. Connection through a dedicated IP address in the US recorded impressive speeds retaining 70% of baseline speed. This is an encouragement to get a dedicated IP address if you want to improve your connection speeds.
In other countries like Australia, Japan, South Africa, and Brazil, we lost 90% of our baseline speed. Based on the data from the test results, we can say that Ivacy is not one of the fastest VPNs, but getting a dedicated IP address can help.
---
Speed during daily use
Despite Ivacy's massive speed drops, you can perform all online activities with a strong internet connection. For instance, we could play games, download files, and stream videos on Netflix. The speed drops were not noticeable when loading pages, checking emails, or even downloading attachments.
However, there were minor delays when opening videos on Netflix and YouTube. Videos would later play without noticeable lags after opening. Also, we downloaded files at a reasonable speed apart from torrents which recorded a slight drop.
Unfortunately, we encountered speed issues when gaming in servers located in the US, but gaming in UK-based servers worked perfectly. So, we recommend choosing nearby servers while gaming on the Ivacy VPN network.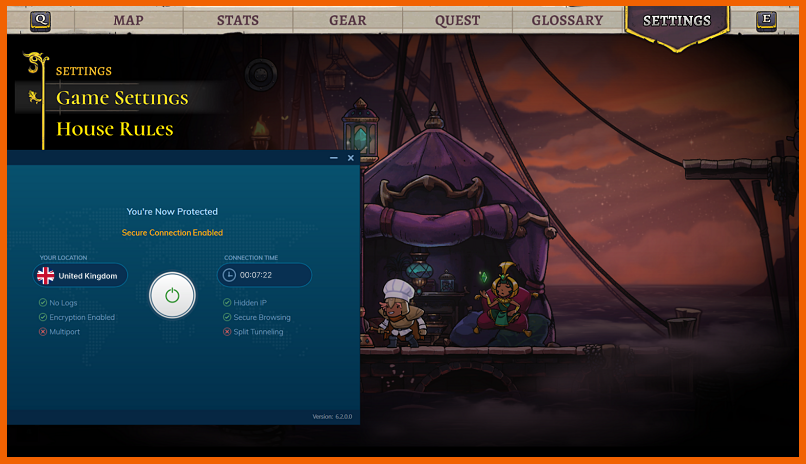 ---
Streaming: Does Ivacy unblock streaming services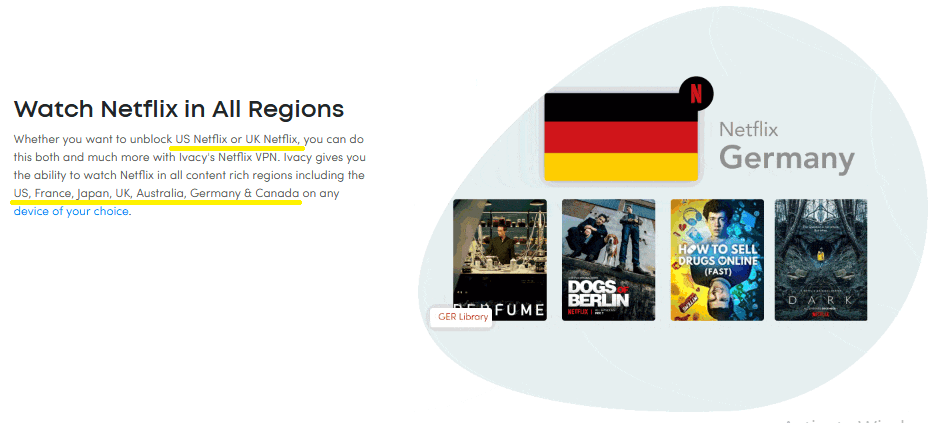 Ivacy has streaming servers that can help you unblock all major streaming platforms. We were able to unblock various streaming platforms and watch HD videos without lagging or buffering. However, the VPN was unable to unblock one streaming platform.
Also, Ivacy was able to unblock some streaming platforms using the browser extension. For example, we successfully unblocked Netflix using the Chrome and Edge browser extension but failed with the Firefox extension. Therefore, you should use streaming servers with browser extensions, but when you are using the applications, normal servers can do.
BBC iPlayer, HBO Max, Amazon Prime Video, Hulu, Disney+, Netflix
We enjoyed 12 different Netflix libraries, buffer-free in the highest quality. Netflix detected some of our connections from servers in Ireland and Brazil and subsequently blocked them. We could only unblock Netflix originals in other regions like Mexico, Iceland, and Netherlands.
Unblocking Disney+ was easy, too, via US servers. The streaming server optimized for Disney+ automatically directs you to Disney Now, from where you can Navigate and log in to Disney+. HBO Max was also hassle-free, and we were able to stream high-quality videos that loaded fast.
We had to use streaming-optimized servers to unblock Amazon Prime because it blocked normal servers. The platform is known for its tough geo-locks, so we were happy that Ivacy could unblock it.
BBC iPlayer worked perfectly without noticeable issues. Videos loaded fast, and we could watch in the highest quality without interruptions. Similarly, we were able to unblock Hulu and ESPN effortlessly.
---
Blocked by DAZN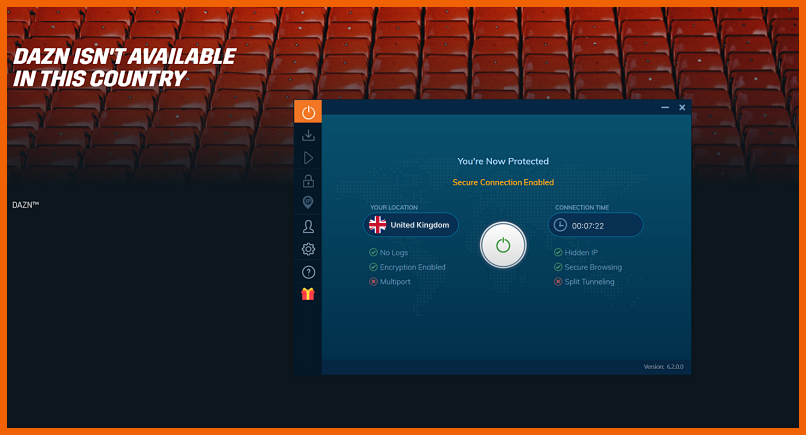 We tried all the techniques but failed to unblock DAZN with Ivacy VPN. It has a reputation for being tough, and even some high-end VPNs have difficulty getting past its geo-blocks.
We were happy with the number of platforms Ivacy could unblock. If the provider can add more high-quality servers and maintain the performance, then it can be one of the leading streaming VPNs.
---
Torrenting: How safe is Ivacy for torrents?
During our Ivacy review, we found this VPN supporting P2P on all its 5,700+ servers. But like torrenting with many other providers, speed can affect how smoothly it operates. For example, when we tested it, we could download at 4.3-5.0 MB/s (35-40 Mbps) with a 300 Mbps baseline connection. Thus, if you have a slower internet connection, you can expect that the speed will worsen.
It would be safe to say that Ivacy VPN offers secure torrenting. Thanks to its water-tight encryption and strict zero-log policy, no one could link your P2P downloads to your online activities. Still, its Secure Download function automatically checks your files for any malware, providing an extra layer of protection.
Unlike many other services, Ivacy VPN offers enough servers in locations believed safe for torrenting. That ensures stress-free legal downloading of torrent files. Plus, the VPN supports all popular torrent clients, such as BitTorrent and uTorrent, and can unblock torrent websites.
You won't get a free SOCKS5 proxy with Ivacy VPN, but it allows split tunneling on Android and Windows. While this is not the most convenient option, it does get the job done.
Ivacy VPN pricing
| | | | |
| --- | --- | --- | --- |
| Subscription Plans | Price (Monthly) $ | Price (Total) $ | Discount (%) |
| One month | 9.95 | 9.95 | 0 |
| One year | 3.99 | 47.76 | 63 |
| Five Years | 1.00 | 60.00 | 90 |
Ivacy VPN's most expensive subscription plan costs $9.95 per month, so it is a cheap VPN. Not only does its monthly subscription cost a few dollars less than others (NordVPN or ExpressVPN, for example), but there's also a whopping 63% discount on its annual plan.
Furthermore, it even offers a five-year subscription plan (dubbed as Ivacy VPN lifetime subscription) at $1.00 per month (costing you $60). It's rare to get a 3-year deal these days, so if you like Ivacy's services, don't think twice, sign up for their long-term plan.
It offers you a 30-day no-questions-asked money-back guarantee; this should be enough time to reconsider should you choose to.
Unfortunately, the provider does not offer a free version. But still, it has a full-day trial that you can use to test drive the service for 24 hours. If you require more time, you can opt for its one-week trial plan for just $0.99. However, be careful, as the service automatically reverts to its annual plan once the weekly plan expires. All Ivacy VPN plans allow ten simultaneous connections.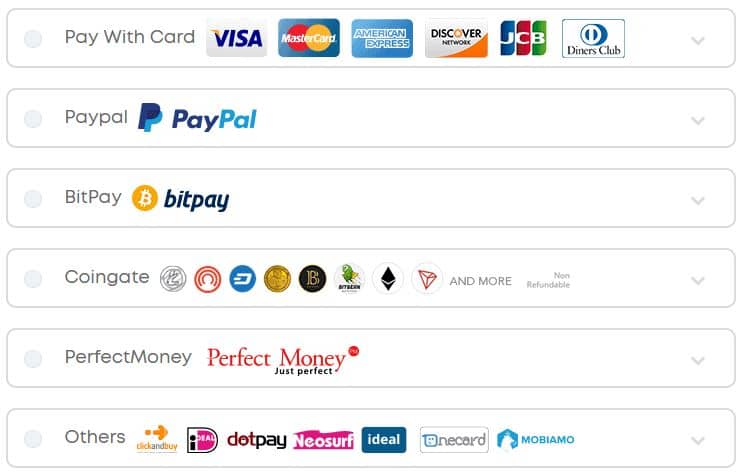 As stated earlier, the VPN allows several payment options, including credit cards, Coingate, BitPay, WebMoney, PayPal, PerfectMoney, and more. But most importantly, you can pay anonymously to hide your VPN payment traces.
Ease of use and interface
Ivacy VPN is compatible with almost all devices, from major platforms to Amazon Fire devices and Android TV. Also, it offers various browser addons for Firefox, Edge, and Chrome. Moreover, the VPN has manual configuration guides for Kodi, routers, and Linux.
Desktop apps (macOS and Windows)
While Ivacy's Windows version has robust features, the Mac version doesn't include advanced features like split tunneling and a kill switch. Although most people would be okay without the former, the latter is critical for your location and IP protection if the VPN fails.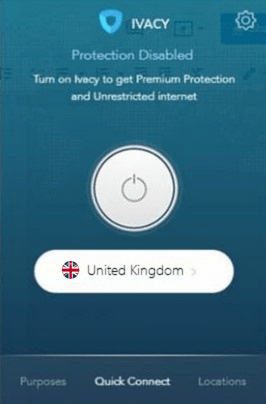 The service allows users to toggle on IP/DNS leak protection. Though, it's surprising as it ideally should always be enabled by default.
Regarding the app interface, Ivacy boasts a medium-sized window with all the options categorized under various tabs on the left sidebar.
For instance, starting from the top, when you click on the second tab, you can turn on Malware Protection to ensure secure downloads. Then, going down will make you find account settings, specialized streaming servers, and more.
Though the app is easy to use, it has room for improvement, looking at the industry standards now. For instance, users must disconnect from a server before changing location. That also applies to any tweaks you want to make to the settings.
---
Mobile applications
Today, most users interact with a VPN through its mobile app. So, we also tested Ivacy VPN mobile apps for this review.
The Ivacy iOS app appears rather uninspiring, offering only two protocols, IKEv2 and (an outdated) L2TP/IPSec. However, regarding general appearance and experience, both VPN clients (Windows and mobile) look similar.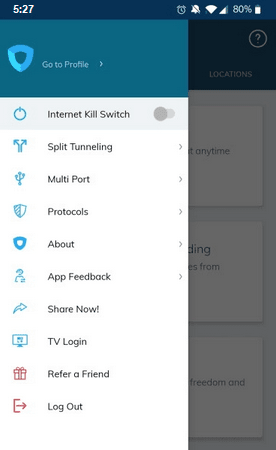 In contrast, its Android app offers numerous features. For instance, you'll find multi-port (an open port scanner), split tunneling, and protocol selection (TCP and UDP). Plus, impressively, it lets you choose dedicated servers, either unblocking, downloading, or streaming.
---
Browser Extensions
The VPN offers browser extensions for Firefox, Edge, and Chrome. These are quick turnarounds for easy IP change while browsing but do nothing more.
When using the extensions for this review, we loved how Ivacy VPN add-ons showed the country flag connecting to; this is informative and convenient.
We were not moved by the fact that its Chrome extension has only been downloaded about 30K+ times and has a current rating of 3/5 stars. Also, its version name (2.2.0) does not look very promising, even though it was last updated in January 2022.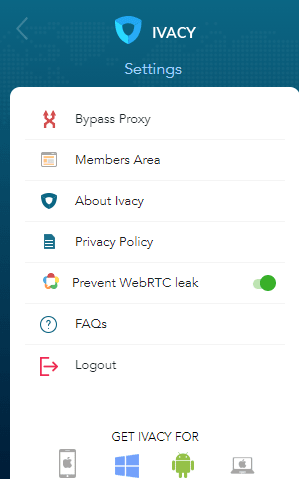 Ivacy's extensions offer only two options, Prevent WebRTC leak and Bypass Proxy. We recommend turning the former on for beginners, as the latter is mainly for tech-savvy users who may want a direct connection to the host to avoid cached data.
---
Manual configuration
Ivacy VPN allows for manual configuration on almost all major devices. It includes Linux, Blackberry, Smart TVs (including Apple TV), routers, and gaming systems (such as PlayStation 4 and Xbox One).
| Device | Easy-to-follow guide for manual configuration on offer |
| --- | --- |
| Apple TV | ✓ |
| Android TV | ✓ |
| Linux | ✓ |
| Xbox One | ✓ |
| PlayStation 4 | ✓ |
| DD-WRT router | ✓ |
| Asus router | ✓ |
| Mikrotik router | ✓ |
| OpenWRT router | ✓ |
| TotoLink router | ✓ |
| Arris router | ✓ |
| Huawei router | ✓ |
| Blackberry | ✓ |
| Chromecast | ✓ |
| Boxee | ✓ |
| Roku | ✓ |
| Raspberry Pi | ✓ |
| Belkin router | ✓ |
| TP-Link router | ✓ |
| D-link router | ✓ |
| Linksys router | ✓ |
| TRENDnet router | ✓ |
| GL iNet router | ✓ |
| Synology router | ✓ |
| pfsense router | ✓ |
| Zyxel router | ✓ |
| Padavan router | ✓ |
---
Does Ivacy VPN bypass web censorship?
Ivacy VPN has a special version called Ivacy Prime, designed for use in China. While the application doesn't have a 100% success rate, it works better than most VPNs inside China. The app is tied to your normal Ivacy subscription, so you don't have to get a separate subscription.
Ivacy Prime only works with Android and Windows and supports OpenVPN protocol only. Despite the huge difference between Ivacy Prime and the regular app, there's no documentation about it on Ivacy's website.
The application also lacks an automatic kill switch, which is risky because your traffic could be exposed in case your VPN connection drops. The choice of connection modes has also been reduced to 'social sites,' 'Streaming,' and 'Smart connect.' Streaming platforms like Amazon Prime and Netflix have dedicated servers, including YouTube TV. However, BBC iPlayer is not on the list. The social sites allow you to unblock YouTube, Spotify, Facebook, Twitter, etc.
Customer support
During our Ivacy VPN review, we were impressed with the VPN's friendly customer support system.
First, Ivacy VPN offers 24/7 live chat assistance. You will immediately find an agent on the other side if you contact them. We found they respond to queries and questions swiftly. But they can take more time to solve complicated connectivity issues. Nonetheless, if you get stuck anywhere, you can quickly get out of the trouble by allowing them to use your device via TeamViewer.
Also, the VPN allows you to submit a ticket. Besides, if you opt for a self-help option, the provider has a Support Center that boasts video tutorials, step-by-step guides, and FAQs to help you out.
The VPN also publicly lists its headquarters address (in Singapore) for those who wish to have a physical conversation or send mail.
How do I start using Ivacy VPN?
Sign up for the VPN's free trial or paid version.
Next, install its app on your Android, iOS, or desktop.
Connect to the server of your choice.
That's it; begin surfing the internet safely!
Ivacy vs. ExpressVPN
| | | |
| --- | --- | --- |
| | Ivacy VPN | ExpressVPN |
| IP Address | Shared IP address with other users. Dedicated IP with extra charge | Share IP address with other users, rotated regularly |
| Data Logging | X | X |
| Kill Switch | ✓ | ✓ |
| Torrenting | ✓ | ✓ |
| Split Tunneling | ✓ | ✓ |
| Netflix | ✓ | ✓ |
ExpressVPN, one of the best VPNs, shares many similarities with Ivacy VPN. However, it wins over Ivacy in several aspects.
For example, Ivacy boasts servers in 100+ locations, whereas ExpressVPN offers more servers in 160 locations worldwide.
Then, Ivacy is based in Singapore, a privacy-friendly jurisdiction, just like ExpressVPN is based in the British Virgin Islands. It seems a tie here as both regions don't belong to international surveillance lobbies.
Also, Ivacy and Express VPN have good privacy policies, and none logs data. Yet, ExpressVPN offers a kill switch feature on iOS and Mac, which puts it ahead of Ivacy.
Besides, both providers enable you to stream Netflix and other streaming platforms alongside large torrenting files. However, while ExpressVPN unblocks all Netflix libraries, Ivacy unblocks only the USA.
Nevertheless, like ExpressVPN, you can get stealthy protection with Ivacy on all devices.
ExpressVPN and Ivacy offer anonymous IPs purposefully shared with other users to make tracing a user's online activities impossible. Ivacy VPN, in addition, offers dedicated IP addresses at additional costs.
Regarding speed, ExpressVPN has proven to be a fast VPN on Windows and Mac. However, Ivacy VPN was also speedy enough during our review, letting us download large files quickly and stream HD videos without buffering.
Since both VPNs offer money-back guarantees, you can check out both and decide which is faster. But, as per our tests, ExpressVPN wins here.
Overall, both are quality VPNs, but ExpressVPN would be our preferred choice. However, the lack of a kill switch on Ivacy and its weak IKEv1 protocol may be too much for Mac users. On the bright side, Ivacy VPN is cheaper than ExpressVPN and other top providers.
Our Ivacy VPN review verdict
Ivacy VPN is undoubtedly a good VPN, but it still has to do some work to top the ranks.
The service uses military-grade (stealthy) encryption and has a strict no-log policy. It also offers multiple handy features and an above-average speed if you are lucky. On the downside, Apple users will miss out on the kill switch; it neither offers WireGuard protocol to anyone.
Also, our comprehensive Ivacy VPN review found the VPN missing out on other libraries than the Netflix US library for streaming lovers. While the VPN might also work with other streaming platforms, watching content in HD is tricky due to its inconsistent performance.
In essence, this VPN has got all the fundamentals right. But it needs to keep improving to match the value offered by established players, given the improvements it has made in the recent past, that looks on the card.
As a whole, it's a feature-rich VPN that keeps stepping its game up. While we recommend Ivacy VPN for Windows users, after extensive review and rigorous testing, we do not think it's a good fit for Mac users. But, again, its low prices give users attractive options of subscribing to the service without much fear. Of course, a 30-day and 7-day money-back guarantee (dependent on your subscription length) will serve well to let you decide on the provider.
FAQs
Ivacy VPN is relatively cheap. Its price starts from $1.00 per month, and you can opt for its monthly or yearly subscription plan. Also, it offers users a 30-day money-back guarantee, and you can choose to pay anonymously.
Ivacy VPN works well in China. It offers the unique Ivacy Prime for Mac, Windows, and Android users. On the other hand, the service is not the best choice because of its inconsistent speeds.
Yes, Ivacy VPN is safe to use. It features military-grade encryption and IP leak protection and does not keep data logs. However, remember that its iOS and Mac version does not have a kill switch feature.
Yes, it is and is one such provider that keeps lifting its game, let it be Netflix's unblocking capabilities, security, privacy, or customer service.
It is not a free service, but the VPN offers a free one-day trial. And as it provides a money-back guarantee, you can risk-free subscribe to any of its plans.