The rise of VPNs in the technology sector, whether good or bad, hints at least one positive thing about internet users. That is, people are concerned about their online security.
Certainly, the flurry of consumers in the VPN market has attracted more tech freaks to join the bandwagon.
But, a problem with newer VPNs is that you can't trust their reliability and longevity unless they prove otherwise. That's why the old VPNs appear more reliable.
One such VPN is PrivateVPN. Despite not being as popular as others, its resilient existence for such a long time has certainly earned it some loyal users. And today, PrivateVPN is one of the trusted VPNs providing robust security to consumers.
But should I really prefer using PrivateVPN instead of other VPNs? We hear you ask.
That's what we will discuss in detail in this PrivateVPN review.
PrivateVPN overview
PrivateVPN is a dedicated VPN from a Swedish firm Privat Global AB. The VPN's terms and conditions precisely mention the company name as "Privat Kommunikation Sverige AB" with a precise Swedish address.
Well, Sweden is a part of the 14-Eyes alliance, so you can naturally expect the software to log your data to some extent. But, PrivateVPN boasts a (generally) no-logs policy. (We'll discuss this in detail later.)
The VPN service started off in 2009, thus becoming one of the oldest VPNs that have endured all anti-VPN measures over the years. Throughout this time, PrivateVPN has managed to offer premium privacy and security features protecting the users. That's how they achieved a credible stance in this realm.
Currently, PrivateVPN boasts a customer base of over 75,000, while it has kept 15000TB of data secured (according to their website).
Let's move on to analyzing the VPN for the basic parameters in this PrivateVPN VPN review.
Servers and network coverage

The first thing that PrivacySavvy looks for in the case of a VPN is its server locations and network coverage.
Given the long period of its existence, we initially expected it to have a huge server network like the other old VPNs. For instance, ExpressVPN has over 3,000 servers, NordVPN has 5,400+, and Private Internet Access (PIA) has 29,000+ servers.
However, in the case of PrivateVPN, we didn't find it to have a huge network. Currently, the VPN list just over 200 servers on its network. That's a bit disappointing.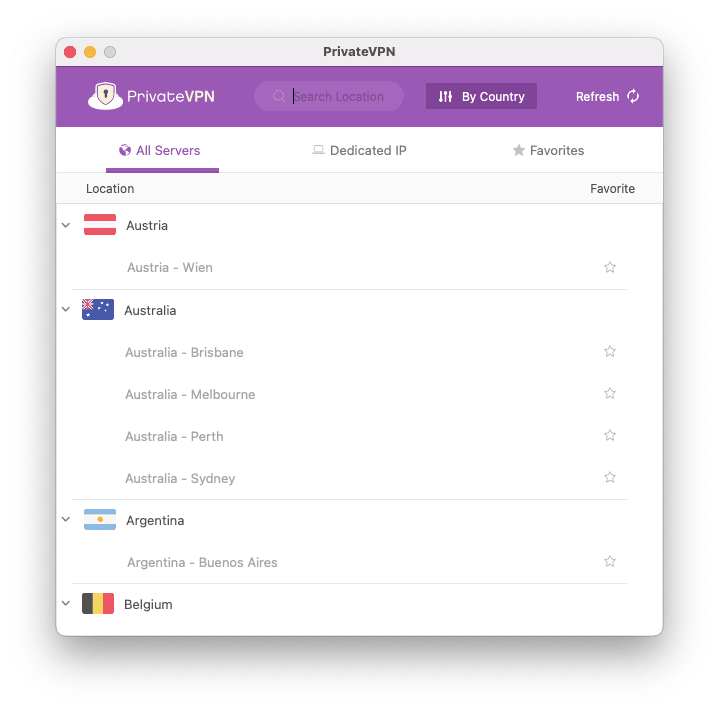 However, what's good with Private VPN is that it still manages to offer a considerable number of locations. Precisely, it lets you connect to locations in 63 different countries.
That's something comparable with Surfshark VPN, which offers 65 country locations with a massive network of 3200+ servers. Nonetheless, you can't get more servers to connect to the exact location with PrivateVPN as you do with Surfshark.