In 2014, Blizzard Entertainment developed World of Warcraft (WoW), a massively multiplayer online role-playing game (MMORPG). Over time, the game became popular and enjoyed by millions of gamers worldwide. But today, many players must use a robust VPN to play World of Warcraft seamlessly.
WoW is set in a fantasy world where players can create their own characters and embark on adventures and quests with other users worldwide. This global interaction is the core attraction of this online game. However, playing it usually comes with several hurdles, including its geo-restriction.
Typically, World of Warcraft is unavailable in some locations. Besides, many schools and employers have blocked access to this game. Another issue is WoW has limited servers worldwide.
Nonetheless, regardless of the matter, a VPN is the solution if you're facing any of these problems. A Virtual Private Network or a VPN masks your location and network identity. It also benefits you by protecting your data and ensuring you enjoy fast speeds while gaming.
To help enhance your gaming experience, this article lists the World of Warcraft's best VPN available.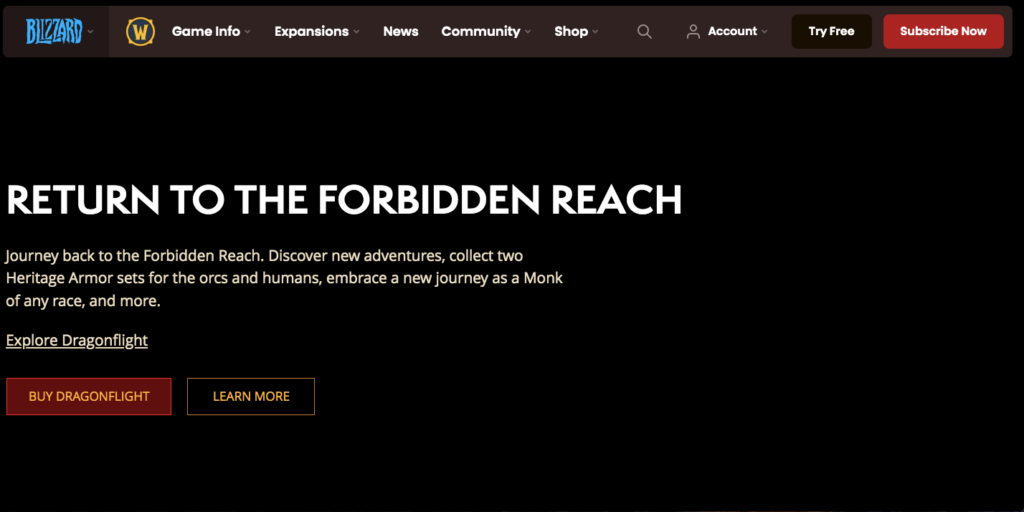 Best VPNs for World of Warcraft – Quick list
How to use a VPN to play World of Warcraft – Quick guide
Here's how to improve your gaming sessions on World of Warcraft with a VPN:
Subscribe to a reliable VPN. We recommend ExpressVPN.
Download and install the VPN app on your device.
Open the app and sign in using your details.
Select a server near the WoW server.
Connect to it from the drop-down list.
Now, you can enjoy your raid and quests.
Why is World of Warcraft blocked?
Surprisingly, many schools and employers block World of Warcraft alongside other games like Fortnite. For some reason, they believe it will cause distractions at work or affect students' ability to study. Another reason you may be unable to access WoW is that the game has limited servers worldwide. This is because of government censorship, copyright issues, or Blizzard's decision not to support players from a particular region.
For example, countries like Iran and China have blocked World of Warcraft. Blizzard cut off Iranian access to World of Warcraft because it had to tighten its procedures to comply with sanctions. While Iranians and Chinese don't constitute a significant portion of WoW players, the game has a dedicated fan base in these places. Needless to say, these fans will need a VPN to access the game.
Can a VPN help me unblock World of Warcraft?
Definitely! A VPN can help you unblock WoW by changing your IP address to bypass geo-blocks. This allows you to access blocked content and servers in your geographical area. VPNs allow you to play WoW from any part of the world.
And the more countries a provider covers, the more nearby servers you have to unblock WoW at work or school. Once a VPN encrypts your internet connection, you'll be safe from online snoopers, like the government, employers, and schools attempting to block it.
Best VPNs for World of Warcraft (WoW) – Detailed list
Quick Overview
VPN Service
ExpressVPN
Private Internet Access
NordVPN
IPVanish
PrivateVPN
Surfshark
CyberGhost
Overall Rating (Gaming)
9.8
9.2
9.0
8.8
8.5
8.2
7.9
Number of Servers
3,000
25,000
5,613
2,000+
200
3,200+
7,500+
Maximum Devices Supported
5
10
6
Unlimited
10
Unlimited
7
Speed
193 Mbps
301.32 Mbps
111 Mbps
191.70 Mbps
250 Mbps
203.963 Mbps
296 Mbps
Compatibility
Linux, Android, iOS, Windows,
Edge, Chromebook Firefox,
routers, Smart TVs
Android, Mac, iOS, Windows, Linux, routers, Chrome,
Opera, Firefox
iOS, macOS, Android, Windows, Linux, Fire TV, Chromebook, Android TV, routers
Android, iOS, Windows, routers, Mac
Android, Windows, iOS, Mac
Android TV, Fire TV, iOS, Windows, routers, MacOS, Linux
PC, Mac, Android, iOS, Linux
IP Locations
160 in 94 countries
84+ countries
59+ countries
75 in 50+ countries
60+ countries
100+ countries
91 countries