An antivirus is a great tool for protection against malware and other computer viruses. Your device faces tons of threats even if you only use it to post on social media or watch funny videos. This is regardless of the fact that many modern operating systems have anti-malware features. That is why you need to install a reliable third-party solution.
There is an option of a free antivirus if you are on a budget. Unfortunately, many free programs have limitations like lack of password managers, parental controls, VPN, real-time protection, etc. So we did extensive research and testing for ease of use, malware detection, and extra cybersecurity features to compile a list of the top providers that actually work.
In this article, we present you with the best free antivirus applications, factors to consider when choosing an antivirus, and much more.
Top free antivirus software – The quick list
How an antivirus works and why I need one?
An antivirus is a necessary tool that you should install on your computer. It acts as a security guard to your entire system by identifying and destroying malicious intruders.
In other words, an antivirus provides real-time defense against malware and other threats. This prevents them from carrying out attacks on your device. Besides the automated protection, there is also an option to run manual scans whenever you want.
Most antivirus programs use 'virus definitions' to identify the invaders. These are like the malware's fingerprint, and if the antivirus spots something with similar prints, it swags into action to protect your device. Another line of defense is known as heuristics, where the antivirus checks for any file or process showing suspicious behavior. As a result, the program can potentially sniff out freshly made malware that isn't yet in its database.
7 best free antivirus programs today – The detailed analysis
1. Avira Free Security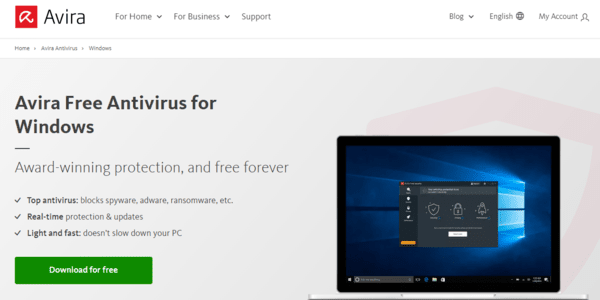 The current Avira free plan is an improvement from the previous version of the Avira security Suite. It still has the successor's features plus a few additions to make the service more competitive and proficient. Although it's a bit basic compared to the paid packages, it will keep your devices secure.
There are many great antivirus programs that you can install on your device regardless of the type. However, compatibility is what distinguishes Avira free antivirus from the rest. It works well with Windows, Android, iOS, and macOS to give you protection across the board.
Many independent tests show Avira has the highest protection on macOS. This is remarkable as the industry disregards Apple users as they have better protection against malware. What's more, this service even offers real-world test data for backup.
Avira also scores high on Windows OS. Therefore, this is a high-quality antivirus, regardless of the system you are using. Thankfully, the installation process is straightforward on all devices. In addition, the antivirus will update automatically to protect you always.
With many free versions, you only get system protection. However, Avira's free plan also comes with ransomware protection, which is very rare. In addition, there is web protection, but it is available through the Browser Safety add-on.
Generally, add-ons such as Safe Shopping and Browser Safety will improve your browsing experience. So, you won't have to worry about intrusive trackers or losing your data. Moreover, Avira also offers a VPN, although it caps it to 500MBs per month.
Pros:
Compatible with all major operating systems
Includes a password manager
Reliable malware removal