An antivirus is a great tool for protection against malware and other computer viruses. Your device faces tons of threats even if you only use it to post on social media or watch funny videos. This is regardless of the fact that many modern operating systems have anti-malware features. That is why you need to install a reliable third-party solution.
There is an option of a free antivirus if you are on a budget. Unfortunately, many free programs have limitations like lack of password managers, parental controls, VPN, real-time protection, etc. So we did extensive research and testing for ease of use, malware detection, and extra cybersecurity features to compile a list of the top providers that actually work.
In this article, we present you with the best free antivirus applications, factors to consider when choosing an antivirus, and much more.
Top free antivirus software – The quick list
How an antivirus works and why I need one?
An antivirus is a necessary tool that you should install on your computer. It acts as a security guard to your entire system by identifying and destroying malicious intruders.
In other words, an antivirus provides real-time defense against malware and other threats. This prevents them from carrying out attacks on your device. Besides the automated protection, there is also an option to run manual scans whenever you want.
Most antivirus programs use 'virus definitions' to identify the invaders. These are like the malware's fingerprint, and if the antivirus spots something with similar prints, it swags into action to protect your device. Another line of defense is known as heuristics, where the antivirus checks for any file or process showing suspicious behavior. As a result, the program can potentially sniff out freshly made malware that isn't yet in its database.
7 best free antivirus programs today – The detailed analysis
1. Avira Free Security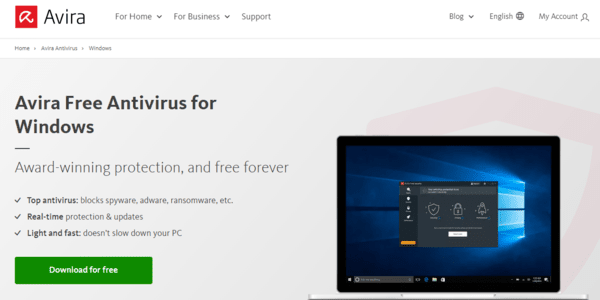 The current Avira free plan is an improvement from the previous version of the Avira security Suite. It still has the successor's features plus a few additions to make the service more competitive and proficient. Although it's a bit basic compared to the paid packages, it will keep your devices secure.
There are many great antivirus programs that you can install on your device regardless of the type. However, compatibility is what distinguishes Avira free antivirus from the rest. It works well with Windows, Android, iOS, and macOS to give you protection across the board.
Many independent tests show Avira has the highest protection on macOS. This is remarkable as the industry disregards Apple users as they have better protection against malware. What's more, this service even offers real-world test data for backup.
Avira also scores high on Windows OS. Therefore, this is a high-quality antivirus, regardless of the system you are using. Thankfully, the installation process is straightforward on all devices. In addition, the antivirus will update automatically to protect you always.
With many free versions, you only get system protection. However, Avira's free plan also comes with ransomware protection, which is very rare. In addition, there is web protection, but it is available through the Browser Safety add-on.
Generally, add-ons such as Safe Shopping and Browser Safety will improve your browsing experience. So, you won't have to worry about intrusive trackers or losing your data. Moreover, Avira also offers a VPN, although it caps it to 500MBs per month.
Pros:
Compatible with all major operating systems
Includes a password manager
Reliable malware removal
Cons:
Prolonged full system scans
---
2. TotalAV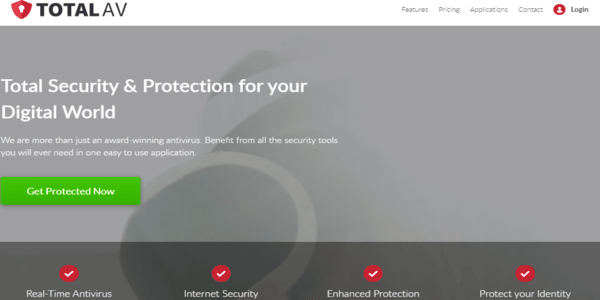 TotalAV may not be as popular as other antivirus options on this list, but it is one of the top choices for personal use. This is because it packs all the essential features in an easy-to-use bundle.
While the real-time scan is only available on the paid packages, you'll get a comprehensive Smart Scan on the free version. Besides scanning for malware, it also checks startup programs, duplicate files, and junk clogging your system. In addition, the scan will even assess your browser's safety.
Furthermore, TotalAV also offers a Safe Site extension for Firefox, Edge, and Chrome browsers. It will stop malicious URLs, preventing malware from appearing on your device. This, in turn, eliminates the need for a real-time scan.
Many independent malware labs praise TotalAV widely. For example, AV-TEST gave it the maximum score on performance.
There is a way you can peek into the paid version with the free edition. Once you install the free version, TotalAV allows you to try the Pro account for free. As a result, you'll unlock valuable features such as ransomware, real-time protection, and more.
Pros:
Safe sites extension for major browsers
Free trial on the Pro version
Smart scan
Cons:
Lacks real-time protection
---
3. Kaspersky Free Antivirus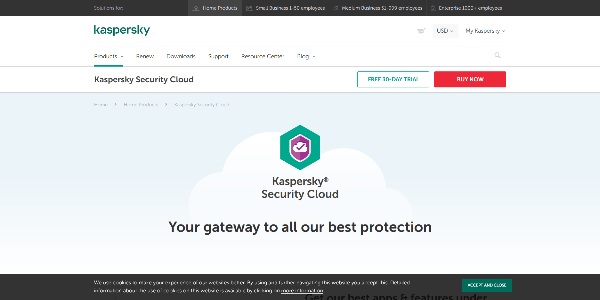 Kaspersky is one of the biggest household names in the antivirus industry. However, you shouldn't expect the free version to have the same features as the premium package.
It comes with the usual basic features such as system scans and adds icing on the cake with additional features. For example, it has a System Watcher that uses artificial intelligence to identify malware. In addition, there is Network Attack Blocker, which notifies you if it identifies a suspicious connection on your LAN.
Threats don't only come with malicious software. Sometimes hackers can take advantage of an unpatched software component on your device. Fortunately, Kaspersky has a vulnerability scan that checks programs that require security patches.
Another notable addition is the password manager. Although it may not be as good as dedicated options, it will secure your credentials with a .txt file. In addition, Kaspersky will automatically install add-ons for Chrome and Firefox. Usually, these add-ons identify malicious URL links when you are surfing the internet. Also, they offer an on-screen keyboard if your system is infected with a keylogger.
Pros:
Protect against ransomware
Includes a password manager
Uses AI to detect malware
Cons:
Limited functionality on iOS
---
4. Sophos Home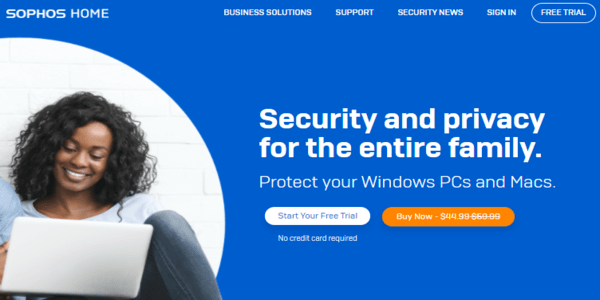 Sophos Home is a top-notch free antivirus program. While it is a bit more limited than the paid version, it allows you to manage three devices remotely from a single dashboard.
The antivirus comes with two main features: Web protection and malware protection. Unfortunately, there isn't real-time monitoring or ransomware protection. So, you have to be cautious when downloading suspicious emails attachments.
Note that malware protection depends on scanning. Unfortunately, there isn't any customization, and you can only do a full scan. Hence, it is not possible to do quick scans on specific parts of your device's storage. So, you'll have to wait for the full scan to complete.
On the other hand, web protection prevents access to malicious URLs, especially phishing sites. If you try to access a questionable webpage, it will issue you with a high-risk blockage warning. Additionally, the Download Protection will come in if the site isn't blocked and the download contains suspicious code.
Sophos Home also offers a parental control tab where you can customize the kind of content to block. This is an excellent option for parents as you can control the antivirus remotely with a second device. To our pleasant surprise, it works well with almost all modern browsers. In summary, Sophos Home is a basic package that will help you protect your family for free.
Pros:
Remote management
Parental control
Lightweight software
Cons:
No customization for scans
---
5. Malwarebytes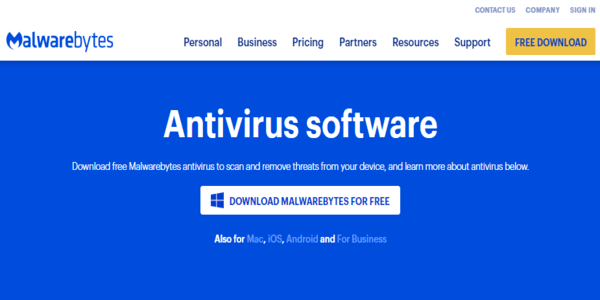 Malwarebytes is an outstanding tool if you are looking for free antivirus protection to clean your device once in a while. The best thing about it is that it eliminates threats that other scanners cannot detect. For example, the program uses a rootkit scanner to examine the system's boot records. This shows that it goes even in the deepest layers of your computer.
However, it sacrifices valuable features such as a password manager, VPN, and firewall protection in favor of efficiency. The software is lightweight by design so it won't eat up your system's resources if you have a weaker or older machine.
On the downside, the antivirus lacks web protection features, so it won't stop dangerous URLs except for email attachments. Therefore, there won't be any resistance to malicious files from other sources, and they'll find their way into your system. This is a major concern if you care about your security.
The good news is that Malwarebytes is compatible with macOS, Windows, Android, ChromeOS, and iOS devices. However, the iOS version provides protection only against malicious URLs.
Upgrading to the premium version is easy, and you can even take advantage of the 14-day money-back guarantee. Upon upgrading you'll get additional features such as anti-phishing measures, ransomware protection, and crypto-jacking solution.
Pros:
Identifies malware in deep layers
Lightweight software
Remarkable labs results
Cons:
Lacks real-time protection
---
6. Bitdefender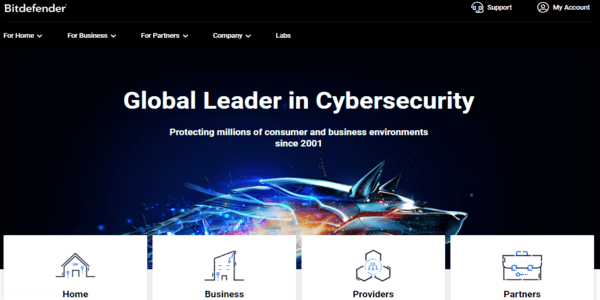 I couldn't miss including Bitdefender on this list. It is a well-known antivirus that offers a solid array of valuable features.
The Windows version has a Bitdefender shield to protect your device from a broad scope of cybersecurity threats. In addition, it will inspect your emails and files in real time without affecting your computer's performance.
Bitdefender will also protect you against phishing websites. So, it will thoroughly check every website you visit for phishing indications to ensure your data isn't stolen.
The provider offers reliable customer support even on the free version. Therefore, you can contact agents through email, phone, and live chat if you encounter any issues. This is a rare sight as not many free antiviruses provide many such options.
Unfortunately, the free package doesn't include macOS but has a separate virus scanner to remove malware. Also, the iOS version has limited features too.
Pros:
Incredible malware protection
Multiple customer support options
Advanced phishing filters
Cons:
Limited features on Apple devices
Read also: Bitdefender vs Avast antivirus
---
7. Panda Free Antivirus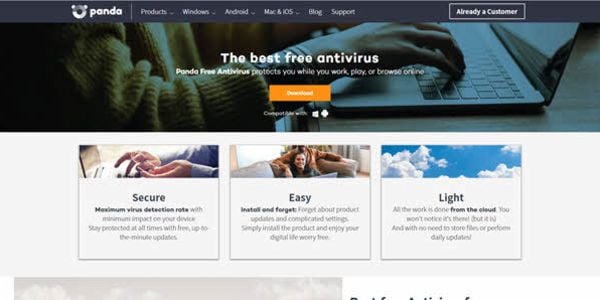 Panda is a capable free antivirus that has a stylish user interface. Sadly, it doesn't support macOS and iOS but only provides apps for Windows and Android.
Fortunately, the Windows app comes with a list of remarkable features you wouldn't find anywhere else. For example, it has real-time protection, stops automatic malware execution from external storage, and allows you to set periodic system scans.
If you are using an Android device, you will get real-time scanning for internal and external storage. One of the common ways Android devices get malware is when you grant permission to malicious apps. However, the Privacy Auditor feature will check which features the apps have access to so you can remove the ones asking permission where they shouldn't. Other helpful features include device tracking and battery optimization.
Pros:
Sleek interface
Protection against infected USB devices
Good malware scanning capability
Cons:
Limited support for iOS and macOS
---
Top free antivirus brands comparison table
| | | | | | | | |
| --- | --- | --- | --- | --- | --- | --- | --- |
| | Avira | TotalAV | Kaspersky | Sophos | Malwarebytes | Bitdefender | Panda |
| On-demand malware scan | ✓ | ✓ | ✓ | ✓ | ✓ | ✓ | ✓ |
| On-access malware scan | ✓ | ✓ | ✓ | ✓ | ✓ | ✓ | ✓ |
| Malicious URL blocking | ✓ | ✓ | ✓ | ✓ | ✓ | ✓ | ✓ |
| Phishing protection | ✓ | ✓ | ✓ | ✓ | ✓ | ✓ | ✓ |
| Behavior-based detection | ✓ | ✓ | ✓ | ✓ | ✓ | ✓ | ✓ |
| Vulnerability scan | ✓ | ✓ | ✓ | – | ✓ | – | ✓ |
| Firewall | – | – | – | – | ✓ | – | – |
How we tested and rated these antivirus programs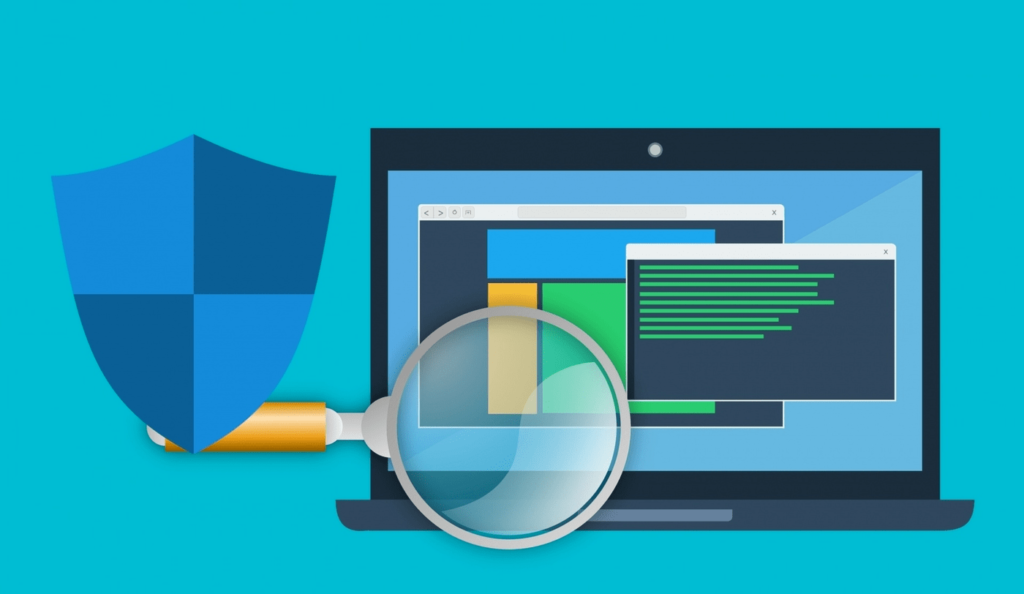 There are a lot of options when it comes to antivirus programs. Here are some of the things I considered when selecting these tools.
Effectiveness in malware detection
The mark of reliable antivirus software is its effectiveness in identifying and eliminating malware. Initially, the most significant danger to computers was viruses. However, there are various threats today, including ransomware, malicious URLs, phishing scams, Trojans, rootkits, etc.
We downloaded different types of malware to see how the antivirus engines would respond. My test involved both a quick and full scan as well as real-time protection. At the end of the test, we only chose the programs that could detect malware successfully.
---
Usability
Windows Defender is effortless to use and is always running in the background for round-the-clock protection. So, we had to check the ease of use of the free antivirus. Also, I looked at whether it offers the same outstanding user experience as Microsoft's product. Fortunately, the scanners on this list can detect malware better than Windows Defender.
---
Extra features
Nowadays, top-notch free antivirus programs have additional features such as a VPN, password manager, anti-phishing protection, etc. We checked these features to see if they really work or are just a marketing ploy.
---
Impact on system resources
An antivirus that slows down your computer can be pretty annoying. So, we checked to ensure the programs on this list have a light system load and cause minimal impact on the device's performance. This is particularly important if you want to install it on your gaming machine.
---
Genuinely free
Many cybersecurity companies will lure you to a premium product by first offering a free trial. However, they'll then force you to subscribe to a paid package to continue using the product. Thankfully, the brands on this list provide free protection as advertised.
---
What's not here? Top brands that didn't to the list
We spent considerable time revising and compiling this list to present you with high-quality options. It is an evolving list as we keep updating after re-checks. But, surprisingly, some top brands are missing out. Here are a few examples and why we left them out.
1. Microsoft Defender antivirus
This is not a free offering but comes as part of the Windows OS. Many free antivirus programs have several layers of malware protection. However, Microsoft Defender Antivirus is just elemental, protecting anyone who isn't concerned to installing third-party antivirus software.
---
2. McAfee
McAfee is a famous brand and has even been featured in many antivirus reviews. It provides excellent web protection, a VPN with unlimited data, and an advanced anti-malware engine. Unfortunately, it doesn't have a free package.
---
3. Avast
Avast free antivirus is one of the most widely used antivirus tools in the world. However, the company's frequent privacy violations are why we didn't include it on this list.
---
4. Norton
Norton is a reliable anti-malware tool with impressive features and should be your top choice if you want a premium option. However, it doesn't offer a free trial, so I did not include it on this list.
---
Is it safe to use a free antivirus?
Free antivirus software is the lowest you can go, and it is better than zero protection. It can be equivalent or better than an inbuilt antivirus solution. That's why you have to be picky and be on the lookout for what you get. Sometimes installing a third-party antivirus may deactivate other built-in options.
However, remember that most free antivirus tools lack real-time protection. As a result, they can only remove existing threats and won't be able to prevent new malware from infecting your system.
Is a free antivirus enough? Free vs. paid antivirus
Like the ones on this list, a reliable free antivirus is a perfect way to protect your computer from harmful malware. In fact, some brands, such as Bitdefender, use advanced technologies on the free offering to improve your protection against malware. The only thing it lacks is the extra features found in the paid packages. For example, Bitdefender's free version is not among the antiviruses with VPN included.
Premium antivirus applications provide additional features above and beyond free options. For example, some include parental controls, a significant advantage for users with kids. Also, others have a dedicated anti-ransomware protection layer to safeguard you from the most dreaded malware.
Conclusion
There is no need to wait until it is too late to safeguard your devices against malware and other threats. Today it's more critical than ever to get protection from viruses, ransomware, and any other emerging threats. A robust antivirus tool will keep you secure from these dangers. The free services highlighted above will give you real-time protection to stay safe when emailing, browsing, and downloading files.
FAQs
Identify a reliable provider and download the app from its official website. However, sometimes you may need to install the app from a dedicated app store like Microsoft Store or Google Play Store. Fortunately, getting started is easy as there is no subscription required.
As long as it's a good service, there is nothing wrong with installing a free antivirus on your computer. Although it is a bit limited compared to the premium options, it's better than no protection.
An older device may have difficulty coping with an antivirus's demand. In addition, the constant background scans can slow down your system, especially when you are engaged in other tasks. However, modern computers have more resources, so there will be minimal impact.
Yes, most free antivirus applications are unreliable. For example, some are created to harvest users' data and sell to large corporations for advertisement. Avast antivirus is a good example that was caught doing the exact thing. That is why you should choose the options on this list.
Windows defender has nothing wrong and is even better than some third-party free antivirus programs. However, it cannot match the best free antivirus apps like Kaspersky and Avira. So, it's good to install dependable software to protect you completely.
Yes, but it will deactivate the built-in virus protection when you install a third-party application. Also, you'll need to enable the Windows defender if you resolve to remove the third-party app.