Video streaming platforms on the internet that can offer a vast catalog of titles (in both movies and TV shows) for free while remaining legal are few and far between. Tubi TV (owned by Fox) is one of those rare services, which is why it's a very sought-after service.
Tubi TV has copyright agreements with Paramount, Lionsgate, and MGM, so it can offer a lot of legal content that is both fresh, interesting, and exclusive. The platform's flagship shows include The LostRoom, Death Note, and Taboo, so this website will surely be your cup of tea if you're a fan.
So it's plain to see why Tubi TV is a desirable website to visit (or app to have on your device). There's a catch, though. Tubi TV is a geo-restricted service that only serves users from the US. So American users can use it freely, but if you're overseas, then you can't.
However, the platform's geo-restrictions are no reason for users abroad to give up on this service. On the contrary, a good VPN service will open the Tubi TV doors for you without problems, and this article will show you which are the best VPNs for that task and how to do it.
A simple, quick guide to watching Tubi TV outside the US
The following simple steps will grant you the access you want to Tubi TV wherever you are around the globe:
Consider your choices in the VPN market, especially the best premium service. Then, choose one (ExpressVPN would be best) and open an account.
Find the apps, download, and install the apps provided by your VPN for the device of your choice.
Launch the VPN app. User your credentials to log in.
Choose a server located in the USA to join the VPN network.
That's it. Head over to tubitv.com and start watching it!
So why do I need a VPN to watch Tubi TV when I'm not in the USA?
Legality is the ultimate reason you can't get access to TubiTV outside the US. Having the legal distribution rights to any given content requires agreeing with the company or individual that owns the rights on how much compensation the owner will get and the geographic regions where the content can be shown.
So Tubi TV has paid MGM, Paramount, and Lionsgate for the right to stream their content. However, the agreement only allows Tubi TV to show its content within the USA. Therefore, the website analyzes the IP addresses of every incoming connection to ensure they are from the US.
This is where the VPN comes in. A good VPN service performs two services for its users: first, it encrypts all the incoming and outgoing traffic from your connected device. Second, it spoofs your IP address.
That means that the VPN network always hides your actual IP address, and the VPN shows the world a different IP address as yours. The new address comes from the VPN server you're using in your VPN network. So, for example, if you choose a US-based server from your VPN network and then connect to the Tubi TV servers, the server will see you as a US-based user–and it will give you the corresponding service.
So a premium VPN will unlock this video platform for you. But a top-notch VPN will also give you many other additional features that will enhance your digital life significantly, so it's a win-win situation for you.
The best five VPNs to watch Tubi TV outside the US
The VPN market is overcrowded. There are too many providers out there, and most are below par. However, telling the wheat from the chaff is not an easy task. It demands time, energy, resources, and expertise, and sometimes it also needs an international collaboration. So how can you tell which are the best VPNs you could use to unlock Tubi TV when you're not inside the US?
We have good news for you. First, you don't need to do the work. Our staff already did all the required research and test to determine the best five VPNs to unlock Tubi TV, and we're about to share our staff's findings with you.
We chose the best VPNs for this task according to the connection speeds and reliability they offer, the number of servers available in the US, and their privacy policy–they are all excellent regarding security.
So these are our winners.
1. ExpressVPN

Our top choice for watching Tubi TV in and outside the USA.

3,200 servers scattered in 90 countries worldwide

Solid AES-256-bit encryption

Offers web leak protection on all browsers

P2P friendly server network

Kill switch

Boasts zero-logs policy

Allows 5 simultaneous connections

30-day for the money-back guarantee
Pros
Several US servers

Cutting-edge security and privacy

Wide choice of locations
Cons
Fewer connections simultaneously
We keep testing lots of VPNs all the time. As we narrowed down our searching criteria to find the best possible VPN to unlock Tubi TV, ExpressVPN came out on top. This didn't come as a surprise for use because this provider keeps showing up at the top of almost every list we prepare for VPNs capable of performing a specific task.
ExpressVPN has the fastest connections in the industry. In addition, they're quick enough to support HD video streams, which is a critical feature when your primary wish is to bypass the geoblocks of a video streaming platform.
The security features in ExpressVPN are top-notch. They include 256-bit encryption, prevention of IP leaks, etc. ExpressVPN will also allow you to watch Adult Swim, Telemundo, and Fox TV outside the continental States.
---
2. NordVPN

An excellent all-around service to unblock Tubi TV from anywhere.

5,200 servers spread across 60 countries

P2P optimized VPN nodes

Military-grade AES-256-bit encryption

Zero-logging

Kill switch feature

Allows up to 6 simultaneous connections per account

Web protection

Multi-Hop (double VPN) mode

30-days of money-back guarantee
Pros
Admirable streaming speeds

Vast server network

Affordable long-term packages
Cons
Manual setup for some devices
NordVPN came as a close second. It's almost as good as ExpressVPN in every respect, but it has a more extensive server network. Five thousand two hundred servers scattered around 59 countries will give you plenty of choices to disguise your location. Of course, the relevant servers in our case are those in the US, but no need to worry–the server network also features plenty of those.
Encryption in NordVPN also follows the industry standard of AES 256-bit. In addition, the servers are sealed against IP leaks of all types; the connections are high-speed and reliable, so the servers in this VPN will also give you a smooth video streaming experience without any problems, even if you like HD.
Other video streamers that will come within your reach with NordVPN include Sling, PBS, and YouTube TV.
NordVPN may not be our first choice for Tubi TV, but you can't go wrong choosing it.
---
3. Private Internet Access (PIA)

User-friendliness and the industry's most extensive server network will give you a great Tubi TV experience.

More than 27,500 servers in 80 countries

Allows P2P (torrenting) on most of its servers

AES 128/256-bit encryption

10 simultaneous connections per subscription

Boasts an effective kill switch

DNS and IP leak protection

30-days of money-back guarantee
Pros
Boast an extensive server network

Fast and effortless installation process

Allows anonymous/crypto payments
Cons
No whitelisting / app exclusion
PrivateInternetAccess (PIA) is an excellent VPN service that is not as popular as others because it's based in the US, which is not a country where the government or the industry prioritizes user privacy.
We can't deny that a VPN's corporate location can be important, but PIA is good enough that we will encourage you to overlook this fact. This VPN has already proven that it takes user privacy seriously in several court cases in 2015 and 2017.
The government asked the VPN to surrender its logs to be relevant for criminal trials. And PIA complied. It delivered everything it had: nothing. They couldn't share any records with the authorities because they didn't keep any.
PIA is a good option for VPN newbies because it's very user-friendly. Additionally, it boasts the largest VPN network in the market, with many US-based servers that will unlock Tubi TV for you without any problem.
---
4. Surfshark

The most budget-friendly VPN; is an excellent option to unblock Tubi TV.

Over 3,200 servers in more than 65 countries 

AES-256-bit encryption

Supports P2P (torrenting) on the majority of servers

Kill switch mode

Zero-logging

Double (multi-hop) VPN

Allows unlimited simultaneous connections on one account

30-day money-back guarantee
Pros
Affordable VPN packages

Unlimited devices per subscription

Unblocks Tubi TV worldwide
Cons
Servers switch feels a bit sluggish
Surfshark doesn't have the reputation of any of our previous three options. That's because it's been around for a relatively short period. However, this VPN has managed to turn the market upside down in that limited time by offering top-notch service at a meager price. Furthermore, this subscription can fit even into the tightest budget, eliminating financial restrictions as a pretext not to have a premium VPN.
Surfshark's server network is not as extensive as our previous entries on the list. However, it's large enough, and it still has plenty of Us-based servers, which is the thing that matters for Tubi TV.
Surfshark keeps no logs on user activity (none of our five choices keep any), encrypts your traffic with AES 256-bit, is safe against all types of IP leaks, and has a few more exciting features such as the "no borders" option and traffic obfuscation.
The speeds are not as high as Nord or Express, but they come close and are good enough for video streaming.
---
5. AtlasVPN

A freemium option that will serve your Tubi TV needs correctly.

750 servers in more than 40 countries 

DNS leak protection

AES-256-bit encryption

Has P2P (torrenting) optimized servers

Unlimited connections with one subscription

30-day money-back guarantee 
Pros
Affordable plans

Bypasses Tubi TV restrictions 

Has a useful server locator
Cons
Relatively small VPN server network
Atlas VPN is a rarity in that it's a premium VPN that also has a free service available.
We usually advise our readers to avoid any free VPN because they have fishy business models. AtlasVPN is an exception. The free service is part of a larger business model in which collecting and selling user data doesn't come into the picture.
The functionality in the freemium AtlasVPN service is as good as the premium package. The main difference is in the 10GB monthly data cap. 10GB monthly will probably not be enough to stream videos frequently, but it's good enough for a digital lifestyle that is not very focused on videos and multimedia.
The premium service is excellent, with fast and reliable connections that are fast enough to support HD video streams.
It's also a friendly service for new users, so if you haven't had a VPN before, AtlasVPN is an excellent way to start, especially since you can try it for free for as long as you want.
---
The selection criteria to choose the best VPNs to access Tubi TV abroad
For transparency, these are the elements we took into account to pick the best VPNs for unlocking Tubi TV.
The VPN has apps that are compatible with many operating systems and devices: Windows, macOS, Android, iOS, Linux, Amazon FireSticks, and Roku.
It can unlock a wide variety of video streaming services, including but not limited to Tubi TV –Amazon Prime, HBO Max, Netflix, Hulu, etc.
The provider has a seven-day free trial for iOS and Android devices, and it also has a 30-day money-back guarantee.
The VPN is aware of the servers in the network that get blocklisted by Netflix and other video streamers. Once they notice, they move quickly to replace the servers.
The company allows for at least five concurrent connections to the network.
Can I use a free VPN to watch Tubi TV outside the US?
Yes, some free VPNs will give you access to Tubi TV that you wish to have. However, unless you're using AtlasVPN's free service, you should stay away from any free VPNs.
Free VPNs are security risks for several reasons. Additionally, most of them have minimal functionality or a server network that is overworked or too small, and the video platforms already ban almost every IP address.
Free VPNs are thoroughly inferior to paid VPNs, for sure. And they are a very far cry from premium services like those we have listed here.
So the complete answer to this question is: unless you have AtlasVPN in mind, the chances are that the free VPN in question won't have the resources to unblock Tubi TV, and if it does, it will still create privacy and security problems for you that you don't need or want.
Watching Tubi TV abroad on different devices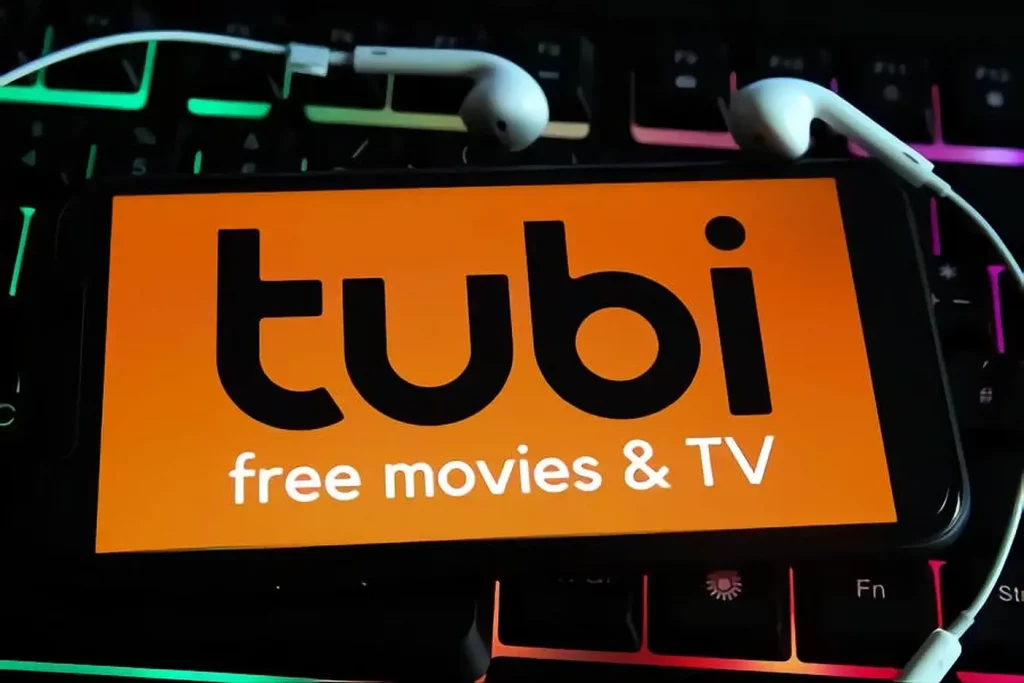 Tubi is available for free on iOS, Android, Apple TV, Roku, Amazon Fire TV, Xbox, Xfinity X1, PlayStation, Sony Smart TVs, Samsung Smart TVs, and the web.
The trick to watching Tubi TV anywhere online regardless of your current location is using a VPN to get a USA IP outside it. To stream your favorite platform, you'll just need to do that and take a few steps depending on a particular device.
Below we will list the quick guides for some of the top devices but the process remains almost identical on any device you might have. Here we go.
Can I use a Roku device to watch Tubi TV outside America?
Yes, you can watch Tubi TV if you're not in the US. You still need to have a VPN account, except that you can't install an app on your Roku.
So what you will do is install your VPN service into your home router instead. This is a more complicated process, but if you need any assistance, the five VPNs on our list have outstanding customer services, so reach out to them and ask them to guide you with this.
Once your router is connected to your VPN network, here's what to do next:
Turn on your Roku.
Reset your device's settings.
Next, search for Tubi on your Roku.
Click the "add channel" button to install.
Done!
---
How to watch Tubi TV on Xbox One
With the Xbox, the trick is to change the DNS settings. And your Xbox VPN will do that. These are the steps you need to follow:
Press the button to open your device's control panel.
Network > Setup > Setting > WAN tab.
Enter the login credentials for your VPN account.
Accept and restart your Xbox One.
Click on the settings menu. Choose your Wi-Fi at home.
Find Tubi on your search bar and start streaming.
---
Watch Tubi TV on your Android TV box
As with the Roku, you need to install your VPN service into your home router. Once that's ready and you are connected to a US-based server, follow these steps:
Turn your TV on.
Look for Tubi TV on your Android TV Box
Download the Tubi TV app.
Launch the app!
---
Installing the Tubi TV app on a mobile phone outside the USA
Subscribe to and download a quality VPN such as ExpressVPN.
Connect to a server in the US.
If you are on Android, Open the Google Play app and enter a Gmail account that is not linked with the store so far.
Open the Google Play app again, search for the Tubi TV app and install it.
If you're in iOS, change your Apple ID region to the US.
Open the Apple Play Store and search Tubi TV.
Install the Tubi TV app and start streaming!
---
How to watch Tubi TV on an Amazon Firestick device
The FireStick family of devices has an app store, and some of the best VPNs provide apps for these devices. The best one is ExpressVPN, so you can connect to your VPN on Firestick using an app, as you would do on any phone or tablet, and from there, you would need to get the Tubi app.
Find, download, and install your VPN app from the Amazon App Store. ExpressVPN is the best option because of the VPN's quality and also because it has the best FireStick app.
Open your VPN app, and log into your VPN account with your credentials.
Connect to a US-based server.
On Amazon Fire TV, customize the settings: Device – Settings – Turn on "Apps from unknown sources."
Install the downloader app from the Amazon AppStore that is already on your phone.
Find the Tubi TV channel, and get started!
---
Can I sign up for Tubi TV outside the US?
Yes, you can, but you need a VPN to do so:
Connect to your VPN, preferably ExpressVPN.
Pick a US-based server.
Point your browser to the Tubi TV website https://tubitv.com/.
Open an account. (You will be asked to provide basic information such as your name and birthday during the registration process at Tubi TV.)
And what am I going to watch on Tubi TV being way from the US, anyway?
TV Shows
There are plenty of exceedingly popular shows that you can find on Tubi TV. These shows are among the main reasons why so many users around the planet are keen to see Tubi TV away from the US. Here are some of the titles you'll find:
QI
The Andy Griffith Show
Teen Titans Go!
Bleach
Dark Shadows
Jojo's Bizarre Adventure
Emmerdale
Naruto
Saint Seiya
Location, location, location
The Restoration Man
Afro Samurai: Resurrection
Dog the bounty hunter
Elfen Lied
Trigun
Masters of Horror
Beast Wars
Haven
Te Lost Room
The Dead Zone
Transformers
3rd rock from the sun
Black books
Spaced
---
Motion pictures
Of course, no good video streaming service is complete without a catalog of exciting movies. So here are the most popular ones on Tubi:
Dial M for Murder
Looper
The girl with the dragon tattoo
Ghost in the shell
Amores Perros (Love's a bitch)
Akira
The big short
Rain man
Let the right one in
Airplane!
Train to Busan
The hunt
Donnie Darko
The untouchables
The usual suspects
Memento
Sling Blade
How to die in Oregon
Housebound
VHS
Sleepaway camp
Ginger snaps
Nightbreed
Sound city
New Jack City
---
Conclusion
Watching Tubi TV if you're not inside the US is an easy problem to solve with a VPN's help, and now you know how to do it yourself!
ExpressVPN is the best option available in the market today, so we advise you to choose it, but any of our other four options will work perfectly with Tubi and many other streaming services.
This article focused almost entirely on the geo-blocking aspect of VPN use. However, we strongly urge you to get a premium VPN service, such as ExpressVPN, whether you're interested in Tubi TV. Good VPNs will enhance your privacy, security, and anonymity. At the same time, the best services give you plenty of additional options that are very useful for your digital life, whatever activities you prefer to practice.
So don't hesitate anymore! Get a VPN and stay safe!
FAQs
Yes, you'll find the commercials on Tubi TV's content at the middle and the start of each item.
Tubi TV is free to have as many devices as you want to stream the platform's content at any given time. And Tubi TV supports almost every type of device.
Yes, Tubbi TV is an entirely legal video streaming platform. That's why it's geo-blocked to the US.
Yes, i's a safe platform. Fox Corporation owns it. And while it runs on revenue, it doesn't push the dangerous ads that you often find on other free streaming websites.
Yes, it is free indeed. Of course, you need to have an account to use it, but you won't have to pay a dime to use it.
None! It's a free service.