5 best VPNs for travel in 2021
Do you want to still stay in touch with your family and local programs while traveling? Check out these secure travel VPN services.
Traveling with a computer, be it a smartphone, tablet, or laptop, enables you to stay connected always. However, although this technology makes your life easier, it exposes you to a lot of risks risks online, too.
Free WiFi is accessible almost everywhere, from airport lounges, coffee shops to hotels. The problem is that these hotspots are infested with hackers, and you can easily lose your credit card numbers and other sensitive data.
That's why it's recommended to get a reliable virtual private network (VPN) when traveling. It will encrypt your connections and mask IP address to maintain your anonymity and security. Moreover, a VPN will help you to bypass geo-restrictions and access whatever you want from anywhere.
In this guide, we'll show you the best VPNs for traveling, how to use a VPN, and much more.
Quick summary of the best VPNs for traveling
Why do you need a VPN when traveling?
Here are some of the reasons why you need to use a VPN when traveling abroad:
Block snooping eyes
Usually, the sites you visit online are constantly trying to retain your information. This may be for diagnostic, business, or sometimes sinister purposes. A VPN will encrypt your internet traffic and change your IP address to make you completely anonymous when using the internet.
It may seem helpful for people who handle sensitive information, like journalists and whistleblowers. However, everyone's privacy is at risk. In fact, anyone can target a wireless network, be it your library's WiFi, coffee shop free hotspot, or any public WiFi connection. A VPN will prevent third parties from seeing what you are doing online.
That's why we advise you always to get a VPN when traveling. You never know who may be creeping around to compromise your privacy.
Stay safe online
Probably, you have dealt with different types of malware at one point or another. Some of the common ones include viruses, ransomware, spyware, keyloggers, Trojans, etc. A reliable VPN should safeguard you from all these. It is a must to have for security while traveling.
There was a time I logged in to a hotel's WiFi without knowing that someone had tampered with the router. After opening the browser window, I was immediately redirected to a malicious website that started to download malware on my laptop.
Popups continued to appear, and my browsing attempts routed to other strange websites even after leaving the hotel. That's when I noticed something was wrong, and my personal information like bank account details and passwords may be at risk. I was forced to factory reset the laptop to start afresh, and in the process, I lost some of my programs and files.
This can also happen to you when you access the internet without a VPN. Some providers will even notify you when a malicious actor tries to install malware on your device.
Save money
Flight ticket prices have increased significantly in 2021. Things become even thicker when you add other factors involved with a vacation, like hotels and meals. So, it's imperative to find ways to save money to improve your traveling experience.
The best way to do it is by using a VPN. It will enable you to change your location to the country with reasonable prices. Besides air tickets and hotels, a VPN will help you cut costs like when buying games and other products online.
Evade censorship
Some countries around the world censor the internet to restrict citizens from accessing certain content and apps. For example, China uses the Great Firewall to block sites like CNN, BBC, Google, Facebook, etc. Other well-known examples with censorship include Iran, Turkey, North Korea, UAE, and Belarus.
In some regions, you cannot watch certain content on streaming services such as Netflix. However, a VPN will help you circumvent these restrictions and access whatever you want from anywhere.
Prevent frozen bank accounts
Nothing can be more frustrating than finding that your bank account has frozen while traveling abroad. Mostly, your bank will likely flag and freeze your account if it notices that you've logged in to a different region. It can be a nightmare being far away from home and cannot access your money. This is why you should use a VPN when doing online banking in a remote location.
Best traveling VPNs today – The detailed list
We have done comprehensive research and testing to compile these top traveler VPN services. Let's review each service so you can select the one that meets your needs.
1. NordVPN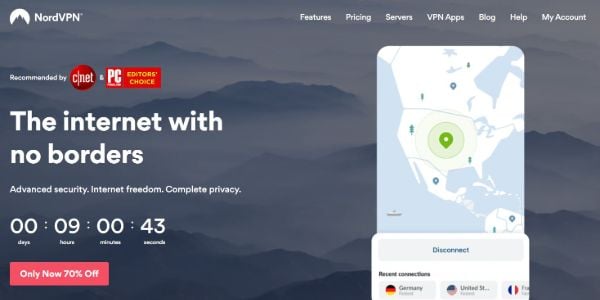 Key features:
5256 servers in 60 countries
Unlimited bandwidth and data
CyberSec suite
Kill switch
No-logs policy
30-day money-back guarantee
NordVPN makes it to the top of our list of best travel VPNs. It doesn't require any special set up or configuration and is very easy to use. In particular, there is a quick connect feature that will give you the fastest server depending on your location.
This service is highly sought-after because of the expansive network. Currently, it's operating more than 5,256 servers in 60 countries spread across almost all continents worldwide. Fortunately, most servers are physical and not virtual, which is a critical consideration when traveling. This is because virtual servers can slow down your speed and cause high ping rates.
The obfuscated servers will be helpful if you travel in a country with strict censorship or restrict VPN usage. These particular servers will obscure your VPN traffic and make it look normal. To start using them, go to settings and change your protocol to OpenVPN TCP. After that, please tap on the obfuscated servers button to activate it.
NordVPN will keep you safe with multiple advanced security features. First, it has AES 256-bit encryption, ensuring nobody can access your data, not even the government. Second, it uses an automatic kill switch and DNS leak protection. These two features prevent your traffic and IP address from leaking even if the VPN connection is somehow compromised. Thirdly, there is the perfect forward secrecy (PFS) that changes your encryption key frequently.
Is NordVPN fast? Yes, this is one of the fastest VPNs on the market. Every VPN is expected to affect your speed by routing your traffic to servers away from your location. However, I didn't notice any changes while testing NordVPN's servers around the world. So, this is an ideal service for regular browsing, streaming, torrenting, and gaming online.
Another notable feature of NordVPN is the CyberSec suite that blocks intrusive ads and prevents malicious trackers and malware. It will come in handy if you like to read blogs, forums, and websites while traveling.
Pros:
Extremely fast
Strong security
Expansive server network
Cons:
Android app lacks a kill switch
2. ExpressVPN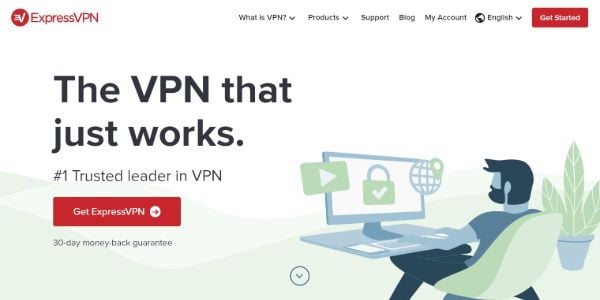 Key features:
3,000 servers in 94 countries
Smart Location
TrustedServer technology
AES 256-bit encryption
Kill switch
30-day money-back guarantee
ExpressVPN is an excellent VPN service to unblock sites on the go. Both the mobile and desktop apps are sleek and user-friendly. There is a big power button in the middle that gives you the fastest connection automatically.
It runs a vast collection of servers worldwide, so you'll protect your online connections whenever you travel. The network has over 3,000 servers in more than 94 countries. Besides the global coverage, the provider has multiple servers within countries. So, for example, if you are planning to travel to the US, there are servers in at least 14 cities.
ExpressVPN will protect your private information with AES 256-bit encryption, SHA-512 HMAC authentication, and 4096-bit RSA key. As a result, your data is virtually unbreakable, and even government agencies cannot access it.
The TrustedServer technology improves your security and privacy by ensuring the servers run on RAM storage, incapable of retaining any data. This means that everything from your previous sessions will be wiped out every time you restart the app.
Most of the servers we tested produced blazing-fast speed. The best part is that it remained consistent on both local and distant servers. So, since it unblocks popular streaming services such as BBC iPlayer, you'll stay in touch with your favorite programs while traveling.
ExpressVPN supports major operating systems and platforms. It has dedicated apps for Windows, Android, macOS, Linux, and iOS. Therefore, you will stay safe while traveling regardless of the device you are using.
This is a trustworthy company that won't retain your identifiable information. According to its privacy policy, it will never record, share or sell users' data. This claim has been verified through an independent audit by PwC and Cure53.
Pros:
Top-notch security
Worldwide server coverage
Unblocks streaming sites
Cons:
Slightly costlier than rivals
3. Surfshark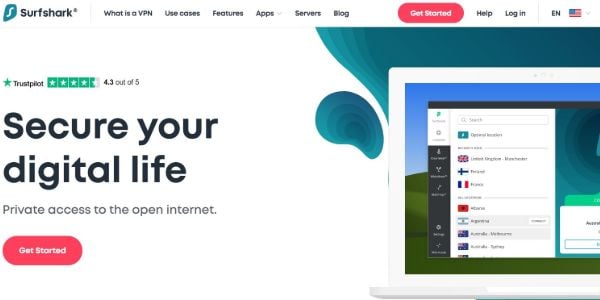 Key features:
3,200 servers in 65 countries
No-logs policy
Unlimited simultaneous connections
Camouflage mode
Cleanweb ad blocker
AES 256-bit encryption
Kill switch
30-day money-back guarantee
Surfshark is an ideal option to stream content from abroad. It has clean and intuitive apps that are super easy to use even by beginners.
There are two quick connect options. First, you can use the 'Fastest Server' button to connect the fastest server on the network. Second, you can try the 'Nearest Country' that connects you to the nearest server. Ideally, closer servers produce better speeds as data packets travel a shorter distance.
At the moment, Surfshark operates 3,200 servers in 65 countries. Most of the servers are placed in the US, but it also has a significant presence in Europe, India, Canada, Asia, and Australia. This will help you to unblock websites and apps while traveling. Thankfully, all the servers are strong, reliable, and provide fast connections.
Surfshark is a highly secure VPN service. It uses military-grade AES 256-bit encryption, which is almost impossible to penetrate. This is combined with perfect forward secrecy, 2048-bit DHE-RSA key exchange, and SHA 512 authentication hash.
The kill switch feature is not set by default like on other VPNs, but Surfshark has made it easily accessible. You should switch it on manually when you start to use the VPN to temporarily deactivate your traffic if your VPN connection goes down unexpectedly.
Surfshark's obfuscation feature is known as camouflage mode. It will hide your traffic to make it look like you aren't using a VPN. So, if you are planning to travel to a country with strict censorship or bans VPN usage, this feature will become really helpful.
Getting bombarded with ads the moment you open a web page can be very frustrating. It's even worse if you are streaming content online. Fortunately, Surshark offers a CleanWeb feature that blocks advertisements, malware, and trackers.
Pros:
Strong focus on security and privacy
Does not retain logs
Kill switch available on all apps
Cons:
Sluggish connections on some servers
4. Private Internet Access (PIA)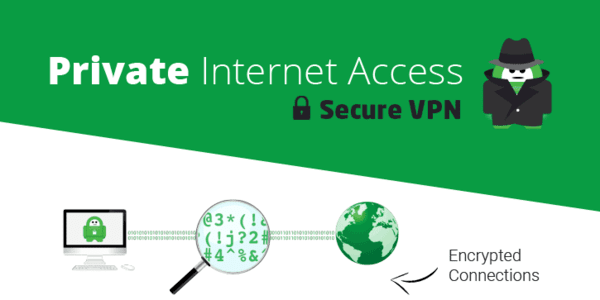 Key features:
30,000 servers in 78 countries
AES 128/256-bit encryption
Zero-logs policy
MACE ad blocker
24/7 live chat
Split tunneling
30-day money-back guarantee
Private Internet Access (PIA) is a dependable VPN when traveling. Although the website looks outdated, it is straightforward to install the app. Once you pick a suitable plan and complete payment, you'll receive an email with your login credentials.
The provider stopped showing the number of servers on the website, but the last we checked, it was around 29,710+ servers. With a presence in more than 78 countries, it will keep you safe while on transit.
Inconsistent speeds can get annoying when doing most online activities like streaming and browsing. Generally, a bigger server network offers better speeds because there is less crowding. However, although we got sufficient speed in some locations, other servers slowed our connections significantly. So, PIA's performance will mainly depend on the servers you use.
Is Private Internet Access secure enough? Yes, the provider employs the necessary features to safeguard your connections when using the internet. For example, it has set AES 128-bit as the default encryption, but you can easily switch to AES 256-bit encryption. Besides, there are also multiple protocols that include OpenVPN UDP/TCP, PPTP, LT2TP/IPSec, and SOCKS5 proxy.
PIA is based in the United States, so it has to comply with all the land laws. Unfortunately, this means that it has to submit relevant user information if requested by the government. Fortunately, the provider has a strict no-logs policy to keep your online activities private.
One of PIA's impressive features is the MACE ad blocker, which you can easily activate in the settings. Apart from preventing ads, it also blocks trackers and malware whenever the VPN is active. Unfortunately, the feature is not available on the iOS app.
Pros:
Massive server network
Easy installation process
Reliable security
Cons:
5. PureVPN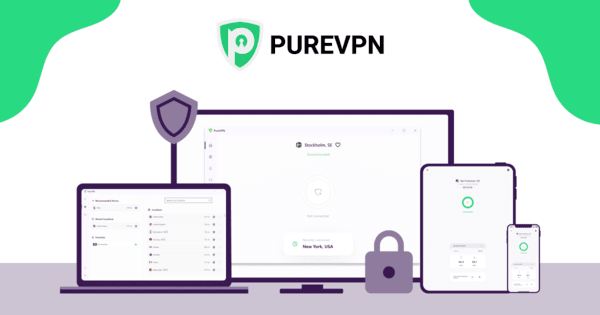 Key feature:
6,500 servers in 140 countries
No-logs policy
AES 256-bit encryption
DNS leak protection
Split tunneling
Kill switch
31-day money-back guarantee
PureVPN is a Hong Kong-based VPN service with a long-standing reputation. It supports various platforms, including Windows, iOS, Android, macOS, Linux, Firefox, and Chrome extensions. Furthermore, it provides easy-to-follow tutorials for Kodi, routers, Android TV, and more.
The VPN can unblock popular streaming sites such as Hulu, HBO Go, Netflix, etc. Although your connection may be sluggish at first, it will stabilize and enable you to watch what you want. Unfortunately, it wasn't able to unblock some Netflix libraries during our tests.
PureVPN employs AES 256-bit encryption to secure your online traffic. In addition, it implements multiple secure tunneling protocols, including OpenVPN UDP/TCP, SSTP, IKEv2, L2TP/IPSec, and PPTP. However, the provider hasn't yet embraced WireGuard protocol, hailed for improved speed and security.
A kill switch is becoming an essential part of a VPN. PureVPN has enabled it by default to disconnect your traffic if the VPN stops working accidentally automatically. This is useful, especially when using public WiFi, to prevent your privacy from getting compromised.
Getting started with PureVPN is easy enough for everyone. After choosing a plan and paying, the website will direct you to download links. A welcome email with the logins credentials will arrive as the client you have selected is downloading.
Pros:
Robust security
Compatible with a variety of devices
Vast selection of protocols
Cons:
It doesn't support WireGuard
How we picked these VPNs
There has been a significant rise in VPN services, making it difficult to choose the right one. Here are some of the things you should consider when selecting a VPN for traveling.
Network strength
VPN providers vary greatly, with some offering thousands of servers while others have a handful selection. However, the general thumb rule is to go for the one with many servers. This is because a network with fewer servers becomes congested easily, leading to slow speeds.
Also, server distribution is an important consideration. You wouldn't want a VPN with a high concentration in some countries while other regions are blacked out. A VPN is helpful to stay in touch with home content when traveling. Therefore, ensure the VPN has server options in the regions you want to bypass restrictions.
Supported platforms
Which devices do you mostly use to access the internet? So, before settling down on a specific provider, check out if it supports your preferred platforms. For example, if you're an Android and Windows user, choose a service that's compatible with both.
Simultaneous connections
If you are traveling in a group like with family and friends, it is reasonable to select a VPN that offers many simultaneous devices. For example, some providers such as Surfshark allow you to connect as many devices as you want at the same time. So, when it comes to cost-sharing, each individual will pay less than a dollar depending on the subscription you choose.
Usability
VPNs services use complicated technology, but that doesn't mean they should be hard to install and use. On the contrary, a good VPN should make it easy to subscribe, install and navigate within the app. Avoid the VPN if the user experience is clunky.
How to set up a VPN when traveling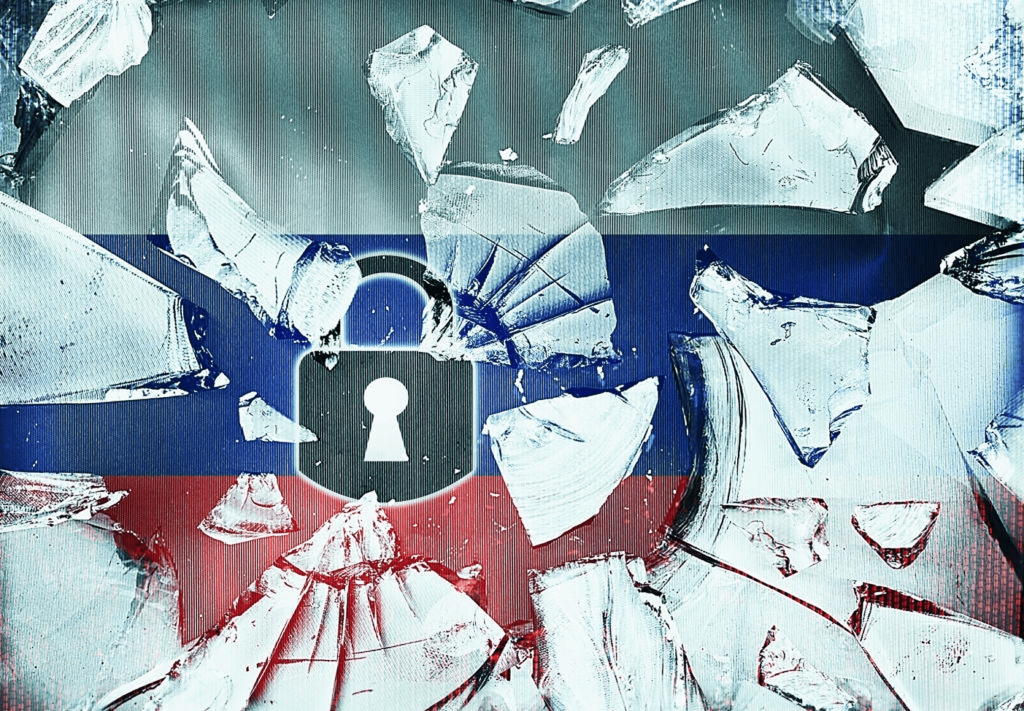 In this section, I'll show you various ways to set up a VPN on your device. These instructions will help you get started with the VPN software without any additional configuration.
Installing from a marketplace
Downloading an app directly from the marketplace is one of the easiest ways to set up a VPN on your device. Use the following steps to do it.
Select a reliable VPN option. Our top recommendation is NordVPN
Open your device's app store and start to download the VPN app
Choose the preferable package and subscribe
Connect to any server you want and start browsing
Note: If you still can't be able to unblock content, clear your device's cookies and cache and try again.
Installing the VPN manually
A manual installation is an alternative method, especially when setting the VPN app on your Mac or desktop. Here is how to do it
Choose a dependable VPN provider – Again, NordVPN tops our list as the best VPN for travel
Go to the official website and download the setup files. This will be in the form of .exe for Windows and .dmg for macOS
Install the VPN software and create an account
Connect to the server you prefer to unblock content, apps, and games
Using a VPN browser extension
There is also a way of using a VPN browser extension on your Mac or desktop PC. In fact, this is a lightweight option, although it will only protect your browser traffic.
Choose a VPN service that offers a trustworthy browser extension. We recommend NordVPN as mentioned earlier
Look for the browser extension files on the VPN provider's website
Download and install the extension
Tap on the extension icon and sign in or create an account
Select the proxy server you prefer and connect
The legality of VPNs around the world
A lot of people wonder if it is illegal to use a VPN. Well, this will mainly depend on where you live. For example, it is prohibited to use a VPN in these countries.
China
Iran
Belarus
Libya
Iraq
Oman
Syria
Russia
Venezuela
United Arab Emirates
Turkey
Furthermore, some countries control the internet by imposing strict censorship laws. While they don't ban VPNs, you can get into trouble if you are caught using one to hide your activities. They include:
Egypt
Bahrain
Myanmar
Cuba
Turkmenistan
North Korea
Regardless of whether VPNs are discouraged or illegal in certain countries, it's still possible to use servers there with the right VPN. For example, some VPN services offer obfuscated servers that will help you access the internet without being detected.
Can I use a free VPN when traveling abroad?
A VPN becomes handy while traveling to help you conduct online financial transactions, use public WiFi hotspots, and unblock entertainment channels. It employs different techniques such as changing your IP address and robust encryption to ensure you get an excellent experience. The services in this article are reliable and trustworthy.
However, the same cannot be said with free VPNs. This is because they don't invest sufficient money in state-of-the-art technology and servers as premium services. So, although it might be possible to connect to a server, you should prepare to get frequent interruptions and malicious ads.
Moreover, most free VPNs have few servers, which are often overloaded due to a high number of users. As a result, they cannot handle data-intensive tasks such as playing online games, streaming movies, and torrenting.
Some dishonest services have been caught engaging in fraudulent activities like collecting and selling users' data, making things even worse. Others infect devices with malware, and one particular provider is reported to use idle bandwidth to build a botnet army.
Moreover, popular streaming services like Disney+ and others restrict their content to specific geographic locations due to copyright and licensing issues. That's why these companies spend considerable resources to block VPN usage and beef up security. Unfortunately, most free VPNs cannot bypass these restrictions, so you won't be able to stream your favorite content.
How to access WhatsApp and other blocked services when traveling
When traveling, you can go to places without individual liberty and internet freedom like in your home country. But, as a result, you might not be able to access ordinary services such as Facebook, Skype, WhatsApp, etc.
In fact, the giant messaging app WhatsApp is blocked in countries such as China, Saudi Arabia, Turkey, Qatar, and UAE. While some of these countries block WhatsApp altogether, others restrict only video and voice calls. While Whatsapp alternatives also exist, you might want to remain in touch with your friends and family back at home using the service you are used to.
However, it's advisable to download and install the VPN app before you leave your country. This is because some countries restrict VPN usage too. Failure to do so means you might not access the VPN website when you arrive at your destination.
Conclusion
We spent considerable time researching and testing hundreds of services to ascertain which offers the best performance and features for traveling. The ones we have highlighted on this list are reliable, speedy, and secure. NordVPN is our top recommendation because of its excellent server coverage and state-of-the-art security features.
FAQs
How can I unblock websites and apps while traveling?
Are VPNs legal in every country?
Will a VPN help to avoid roaming charges?
Does a VPN work everywhere?
Can I trust VPN providers?
About the author
Ruheni Mathenge
Tech researcher and writer with a passion for cybersecurity. Alex is a strong advocate of digital freedom and online privacy.