When traveling abroad, you may need to access your funds through online banking. However, conducting transactions over the internet can be risky. Also, you might be tempted to access your bank account with free public WiFi.
Regardless of what you are doing online, it is advisable to protect yourself with a Virtual Private Network (VPN). It will encrypt your traffic and route it through a private server of your choice. This means nobody can see your activities, and your banking data will be safe from cybercriminals.
Quick summary of best Bank of America VPNs
We'll give more details on each of the VPNs later but check out this summary of the best BofA VPNs if you are short on time:
NordVPN – Our top recommended VPN for BofA because of its blazing-fast servers, kill switch, NordLynx, unlimited bandwidth, no-logs policy, etc.
Surfshark – Great affordable VPN. It comes with unique features, including unlimited simultaneous connections, watertight security, and bypassing geo-restrictions.
ExpressVPN – A popular premium VPN that operates an extensive server network with the biggest coverage in the US.
The Bank of America and other institutions like Wells Fargo and Citigroup are aggressively blocking VPN traffic. So, you'll probably get an error message like "this site cannot be reached" or "www.bankofamerica.com taking too much time to respond" if you try to access such portals with some VPN servers out there.
Furthermore, some of the features, such as checking your balance, transferring to other accounts, etc., may be disabled, too. This can be frustrating, requiring you to disconnect from the VPN. This means you'll have to access the banking site or app over an unsecured connection.
Fortunately, a few reliable VPNs can circumvent these restrictions and enable you to access the Bank of America website seamlessly. Read on to find out why banks block VPNs, the best BofA VPNs, tips for accessing BofA from abroad, and much more.
How to use a VPN to access Bank of America abroad
Accessing Bank of America from anywhere is effortless once you select a VPN that meets your needs from the list above. Here are the simple steps you should use:
Accessing Bank of America from anywhere is effortless once you select a VPN that meets your needs from the list above. Here are the simple steps you should use:
Select and sign up to your favorable VPN provider. My number one recommendation is NordVPN.
Download and install a suitable app for your device. All the VPNs listed in this article support all major devices, including Windows, Android, macOS, iOS, and Linux.
Choose any server in the US and connect. If you went with NordVPN, it has over 15 server locations in the US, allowing you to browse with a US IP address.
That's it, you can now sign in to your Bank of America account and make your transactions as if you are within the US.
If you can't still access your bank account, try to clear your browser's cookies and cache and restart your browser.
Why you need a VPN for BofA and other banks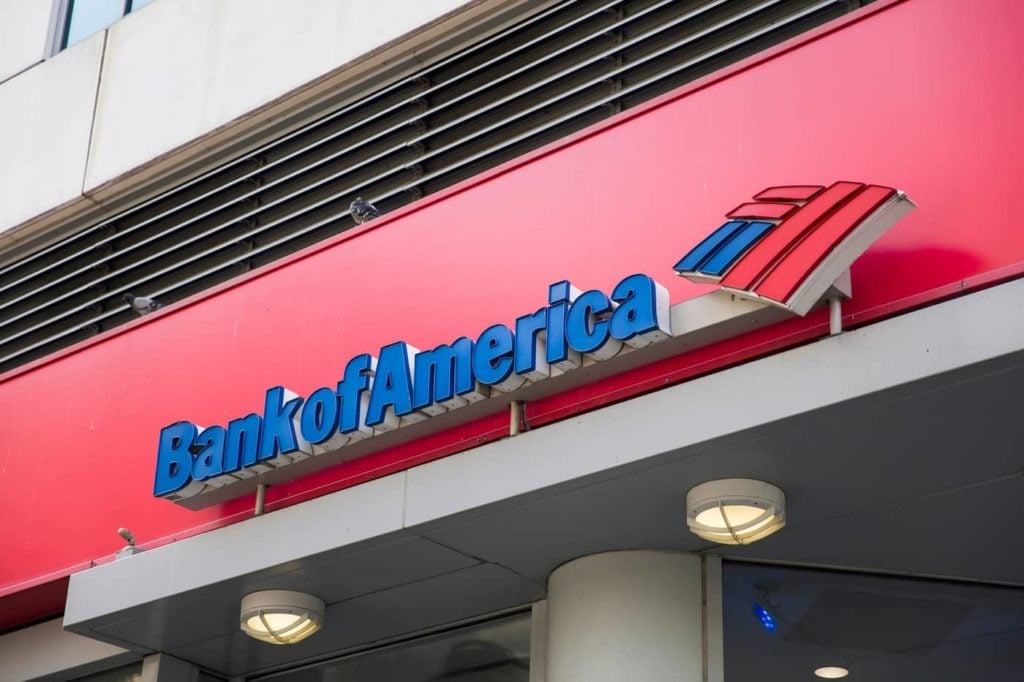 There are many risks you face when you do your banking online. This is how a quality VPN service comes in handy:
Protect your login credentials
Nowadays, malicious actors use spyware and phishing scams to steal the login details of unsuspecting users. For example, some hackers will create a fake interface that completely resembles your banking site to trick you into inputting your account information.
---
Secure your connection on unsecured WiFi
Many public spaces such as libraries, airports, and restaurants provide free WiFi. However, these free hotspots are infiltrated by cybercriminals who can steal your banking information. In fact, they can trick you into installing spyware on your device to give them access to your account.
---
Safeguard your banking apps
Some apps, especially on Android and Windows, are easily hacked through malware and encryption vulnerabilities.
---
Circumvent geo-restrictions
Most banks are restricted to specific geographic locations. Therefore, your bank can issue a fraud alert or freeze your account if it notices you are using a foreign IP address.
A virtual private network (VPN) works by encrypting your traffic and hiding your actual IP address. This will stop cybercriminals from accessing your activities, thus keeping your banking details safe. What's more, masking your location allows you to unblock websites, meaning in this case, you get to bypass Bank of America geo-restrictions, so you access your account from abroad.
---
The best VPNs for accessing Bank of America overseas
I have used the following criteria to compile the best VPNs to access BofA abroad safely:
Extensive server network – A reliable VPN should have servers spread out worldwide to enable you to use banking sites and apps from anywhere. So, for example, it should have plenty of servers in the US to access Bank of America.
Uses the latest encryption and other security features – AES 256-bit is the up-to-date encryption that has become standard in the industry. Additional security features I considered include a kill switch, double encryption, DNS leak protection, perfect forward secrecy, and split tunneling.
Follows a strict no-logs policy – This means the provider does not retain any identifiable data, which helps to keep you completely anonymous.
Speed – The common complaint about using VPNs is the reduction in internet speeds. Of course, you wouldn't want a slow connection, although there are many variables at play.
Reliable customer care – A good VPN should have robust customer support if faced with an issue.
1. NordVPN

Our top recommended VPN for BofA because of its fast-speed and reliable connections, hundreds of US servers, and dedicated security features for secure online banking.

5,000+ servers in 60 countries

P2P optimized servers

Kill switch

Split tunneling

No-logs policy

AES-256-bit encryption

Allows 6 connections simultaneously

Web protection

Double VPN

One month money-back guarantee
Pros
Provides access to Bank of America site

Excellent speeds and dependable connections

Low-budget packages
Cons
The desktop app is slightly tricky to use
NordVPN is an affordable VPN to access your BofA account from anywhere around the world. Its apps are straightforward to install and use. There is even a Quick Connect feature that will connect you to the fastest server available.
This is the most extensive server network on this list. The provider operates more than 5,000 servers in 60 countries, a little drop down from the last time I checked. Notably, it runs over 1970 servers in the US distributed in 15 locations, including Charlotte, where BofA is headquartered.
It is difficult to bypass firewalls in countries with strict censorship because they effectively detect VPN traffic. That is why NordVPN provides obfuscated servers. They are designed to hide your activities to make you look like you are not using a VPN. As a result, you will be able to get around even stronger firewalls to do your online banking.
NordVPN is as secure as it gets by using top-tier security features. First, it has AES 256-bit encryption that is hard to crack, protecting you from all malicious elements. Second, the VPN also offers perfect forward secrecy that will assign you a new encryption key for every session you start.
In terms of security protocol, there are several options available. NordVPN has set NordLynx as the default protocol on all the apps. It is based on the speed-boosting WireGuard protocol platform and combined with NAT to improve security. The VPN also supports OpenVPN UDP/TCP, L2TP/IPsec, IKEv2, and PPTP.
Unlike its competitors, NordVPN offers two kill switch options. First, the internet kill switch will cut your internet access if the VPN connection drops. Second, the app kill switch will let you select the apps to close when the encrypted connection fails. So, for example, you can shut down your banking app and leave everything on your browser open.
---
2. Surfshark

Best budget-friendly premium VPN with watertight security and numerous US servers to access Bank of America safely from wherever you want.

3,200+ servers across 65 countries

AES-256-bit encryption

P2P optimized servers

Kill switch feature

Camouflage Mode

MultiHop mode

Unlimited connections simultaneously

30-day money-back guarantee
Pros
Bypasses BofA geo-restrictions

It does not limit the number of connections

Reliable customer support
Cons
The auto-connect feature needs improvement
Surfshark is the most affordable premium VPN to visit the Bank of America site from overseas. Its app has a minimalist and intuitive layout and functions almost the same across Android, Windows, iOS, and macOS.
One of the most important factors to consider when choosing a VPN is the server network. Surfshark has recently revamped and expanded the network by adding more servers. Currently, it operates more than 3200 servers in 65 countries, including in the US 24 locations. This makes it a great option to unblock BofA sites and other restricted content in the United States.
Surfshark is one of the few VPNs that offer static IP servers. These are servers that provide constant IP addresses instead of a random one like on the other servers. The advantage is that you won't need to complete CAPTCHA checks or verifications every time you visit your online banking site. Fortunately, it has a static server in the US, so you can access Bank of America safely.
Like ExpressVPN, this VPN also has RAM-only servers that automatically delete your entire data after every session. This helps to prevent association with your previous activities and breaches from malicious actors.
Besides, it uses AES 256-bit encryption. This is in conjunction with other valuable security features such as 2048-bit DHE-RSA key exchange, SHA-512 authentication, and perfect forward secrecy. With these features, hackers cannot intercept your online banking traffic.
Surfshark has four protocols to secure your connections. OpenVPN and IKEv2 are standard in the industry, but it is impressive that Surfshark offers the latest protocols like WireGuard and Shadowsocks.
Another helpful feature is the kill switch. It will temporarily halt your internet traffic if the VPN connection is compromised to prevent your information from leaking out. Unfortunately, this feature is disabled, and you'll have to activate it manually. The good news is that Surfshark has made it easier to access the feature on the base connection screen.
Surfshark's CleanWeb feature is an integrated adblocker. I tested it on ad-supported sites such as YouTube and Forbes, and it blocked all the intrusive advertisements. It's also very effective at preventing malware and trackers.
---
3. ExpressVPN

A popular premium VPN with numerous US servers that gives a secure access to your Bank of America's account from anywhere in the world.

3,000+ servers in 94 countries

AES-256-bit encryption

DNS/IPv6 eak protection

Boasts kill switch

Zero-logs policy

Split tunneling feature

Supports P2P

Allows 5 connections simultaneously

30 days money-back guarantee
Pros
Unblocks Bank of America site

Maintains high-level security and privacy

Extensive server network
Cons
Slightly costly than the market average
ExpressVPN is the best VPN to access your Bank of America Bank account from anywhere. It offers easy-to-use apps for all major devices, including Windows, Android, macO, iOS, and Linux.
The VPN has a massive network of more than 3000 servers in 94 countries spread across 160 locations. Fortunately, it operates over 20 servers in 15 US locations, giving you a variety of options to access your BofA account.
ExpressVPN security starts at the servers where it uses TrustedServer technology. This ensures that the servers operate only on Random Access Memory (RAM). Because it is unable to store anything, your activities are entirely wiped out after every session.
On top of that, ExpressVPN uses AES 256-bit encryption as well as 4096-bit RSA key, AES 256-bit cipher, and SHA-512 authentication. The combination of these features is near-impossible to intercept your traffic or steal your banking data.
The VPN also employs perfect forward secrecy (PFS). This is a state-of-the-art feature that provides a new encryption key for every time you log in. So, you'll be starting each session on a clean slate with the current data unrelated to the previous session.
ExpressVPN also has several protocols and will automatically choose the most reliable depending on your connection. It has OpenVPN UDP as the default protocol and supports OpenVPN TCP, L2tp/IPsec, and PPTP.
The encrypted connection can drop even with the best VPN service causing your traffic to leak out. That is why ExpressVPN uses Network Lock (kill switch) to prevent this from happening. Thankfully, the feature is automatically enabled on all the apps, so you won't require configuring it manually.
Split tunneling is a unique feature that allows you to use the VPN and local network simultaneously. What does this mean? For example, you can browse locally and encrypt your banking traffic for safety. However, although the feature gives you flexibility, any app you remove from the VPN won't be encrypted. Therefore, your IP address and activities will be visible to your ISP and other third parties.
ExpressVPN is based in the British Virgin Islands. This is a privacy-friendly territory that does not have an intelligence agreement with any country, including the 14-Eye Alliance. Furthermore, the provider has a zero-logs policy, so it won't collect your connection or activity logs. These non-logging claims have been independently audited by the PricewaterhouseCoopers (PwC) and Cure53.
---
Why banks block VPNs?
Many banks, including the Bank of America, block VPNs, and it is unclear why they do it. However, this seems counter-intuitive as VPNs help encrypt traffic, preventing cybercrimes such as phishing scams and identity theft.
Below are a few theories why banking institutions like BofA and others block VPNs:
One typical school of thought is that cybercriminals use VPNs to hide their identities and carry out crimes anonymously. So, that is why most banks block all VPN traffic to prevent any criminal from getting through their systems.
Another reason is that banks use IP addresses to detect potential fraud. However, since VPNs assign random IP addresses, they can compromise this technique.
Lastly, you'll notice that the connection is only blocked on specific servers. This could be because that individual server is flagged due to suspicious activities, blocking entire traffic from it.
As mentioned earlier, the reasons why banks block VPNs are not straightforward or make sense. However, it is a common practice, and you have to find a way to work around it.
Tips for accessing BofA safely from anywhere in the World
The VPNs I have listed above are reliable and will help you access Bank of America from overseas without any issues. Here are more tips to make your experience even better.
Always use a VPN
When abroad, sometimes you will have to access your BofA account with public WiFi like at the airport or hotel. Unfortunately, public hotspots are prime spaces for hackers to intercept your traffic and steal your data. Therefore, it is crucial to protect your connection with a VPN.
---
Use a USA VPN server address
Based on my testing, using a US VPN server will give you a more stable connection to access the Bank of America website. However, there is a theory that your traffic might be blocked if you login into a location far from where you last used your card.
I got mixed outcomes during my testing. Some US servers worked exemplary, providing consistent connections and incredible speeds. However, at the same time, the BofA site blocked some US servers. Therefore, you have to go through trial and error to find the best server that works.
---
Avoid changing server locations frequently
Understandably, banks are very keen on fraud and put all the necessary measures to prevent it. For example, the bank will probably raise a red flag if your connection is reading Australia in one minute and India in the next. Penalties can include frozen cards and accounts, which is an inconvenience, especially when traveling. So, if you are accessing your BofA account from abroad, ensure you use the exact server location each time.
Pro tip:
All best VPNs today come with a 'favorite servers' feature that allows users to favorite certain servers. You can use that feature to your advantage here. Favorite a US server that worked for you so that you can find it quickly next time.
---
Notify the bank That You Are Traveling
It is good to notify BofA if you intend to access your account with a non-US server while in a foreign country. This won't prevent the bank from blocking a suspicious VPN IP address but will not flag your account.
---
Tips for securing your online banking in general
Besides using a VPN, you can apply the following safety practices to protect your online banking activities.
The first thing you need to look out for when visiting your bank's website is whether it has 'HTTPS.' Usually, it is denoted with a lock icon at the left side of your address bar. If it lacks the icon, it might be a fake page created by hackers to collect your information. So, you should reconsider online banking with your bank if its site does not have HTTPS protocol.
Another commendable practice when using online banking is to use 2-factor authentication and change your password often. But, more importantly, you should use complex and unique passwords on every account. Preferably, create a sentence-like password that you can remember to be on the safer side. Also, don't use the same password for all your accounts.
This is because thieves will have easy access to your accounts if you lose one of your passwords. In addition, extra protection like two-factor authentication (2FA) helps to protect your financial data.
Moreover, it is a good practice to check your accounts for suspicious activities regularly. Therefore, call your bank immediately if you notice a login attempt you haven't initiated, a password change, or a charge you don't recognize. In fact, some banks even allow you to set up an automatic notification to help you stay on the lookout.
Recently, phishing scams have become widespread, luring unsuspecting users into voluntarily giving their credentials to cybercriminals. Usually, they use official-looking emails, phony apps and even mimic the official sites to collect the information. In worst cases, hackers can commit financial fraud using the data they stole from you. So, it is good to contact your bank directly if you receive communication you are unsure about. Updating your device operating system and antivirus software can also help to counteract the risks.
Finally, always protect your device. For example, if you lose your phone or laptop, a facial recognition lock or complex password will prevent thieves from accessing your banking information. In addition, disable settings that remember passwords on your device and log out of your accounts after every session.
Conclusion
A VPN is a valuable tool that will help you access your Bank of America account safely. However, although it will protect your connections, the bank won't know if you are a legitimate user or a fraudster. That is why sometimes your connection will be blocked. Thankfully, all three VPNs we have listed above offer an obfuscation feature that will hide your VPN activities so you will be able to access BoFA anywhere seamlessly. Also, by applying the above tips, you'll be able to access your bank account safely.
FAQs
Although VPNs are associated with illegal activities, they are legal in most countries worldwide. However, there are few exceptions where VPNs are either regulated or banned. They include Iraq, China, Russia, North Korea, UAE, Belarus, etc. So, before you start using a VPN, check out whether it is allowed in your country.
The VPNs I have featured on this list use the latest security features to secure your banking information. First, AES 256-bit encryption will scramble your data, making it impossible to decipher it. Next, when you connect to a server, the VPN will assign you a new IP address. This helps to not only hide your location but also enable you to bypass geo-restrictions. Apart from the encryption, the VPNs also use additional security features such as kill switches, perfect forward secrecy, etc.
Yes, several free VPNs provide a US IP address. However, it would be best to avoid free VPNs for your online banking as they don't have adequate security measures to protect your connections. In fact, some have a reputation for collecting users' data to sell to the highest bidder.
A VPN can come in handy in many ways. Besides protecting your online banking activities, it will also help you access geo-blocked streaming services such as Netflix. In addition, by encrypting your traffic, a VPN will prevent your ISP from throttling your bandwidth. This gives you the freedom to engage in data-intensive activities like torrenting and gaming without interruptions.
Many VPNs are unable to bypass BofA geo-restrictions. However, I have tested the services above, and they all work well with desktop and mobile versions of Bank of America. Fortunately, they have several US servers, so you can try another server if your connection is blocked.