5 best VPNs for UAE in 2021 (tested to work in Dubai and everywhere)
VPN services are helpful everywhere globally, but in the UAE, they're vital because the Internet is so heavily censored there. This article shows you the best VPNs that will make your UAE digital life accessible and secure.
If you are in business, any business, and you enjoy some degree of success with it, the chances are that you will have to end up in Dubai for whatever reason at some point in the future; the sooner, the better. Maybe you're already there, and that's why you are reading this.
And if you become Dubai-based, temporarily or permanently, you will have to use the domestic internet services there – and you'll find them very problematic.
The Internet censorship in the UAE is substantial, and providers like Du and Etisalat do their best to restrict VPN services. Of course, they can't go against them wholeheartedly because they're too important to keep business as usual in the UAE, but it's not for lack of trying. That's why you need a UAE VPN right now that works in Dubai and all over the United Arab Emirates.
The official policies in UAE are very progressive in so many subjects, and yet VoIP is banned. Skype, WhatsApp, and Facetime are banned too. And that's just the tip of the iceberg. The UAE's Internet restrictions are medieval if such an adjective applies to state-of-the-art communications.
If you want to enjoy anything like the Internet freedoms that you have in your own country (almost any government is better than the UAE in this regard), then you'll have to use a good UAE VPN service. And this applies to you even if you're just looking to spend a few days on holiday in the Emirates.
We hope we have persuaded you already: A VPN is an essential tool if you're spending time in the UAE. And in this article, we'll tell you everything you need to know about the best VPN services that will make your stay in Dubai a better experience.
The best five VPNs for UAE – The quick list
Elsewhere in this guide, we will describe each of the best five VPNs to have in Dubai and the UAE, but for the time-challenged reader, here's the gist of it:
Internet restrictions in the UAE
The world's greatest fortunes owe their existence to fossil fuel, and the power their holders have reaches every aspect of our lives constantly – just stop for a second and ask yourself where the richest are enjoying these days.
Of course, the poster boys for petrodollars are the royal families of middle easter countries such as Saudi Arabia, Qatar, and the United Arab Emirates.
However, it's no secret that we are witnessing the last decades (or years) of the oil and gas bonanza that has fueled (no pun intended) the world's economic development over the last century. The UAE government is very aware of this reality.
That is why it has spent a lot of effort in diversifying the country's economy away from oil and has invested a lot of money in creating a whole new world economic hub centered in Dubai.
And they are succeeding. The Fly Emirates is now one of the world's premier airlines after disrupting a market that seemed unassailable. Doing business in Dubai has become de rigueur for many industries. So Telegram is based in Dubai now, and that's also where Roger Federer's headquarter is. All is great about UAE so far. Things change from here.
In most jurisdictions with solid limitations on Internet use, the motivation is political for the most part, not so in the UAE. Here we have a government that owns or controls the local telecom industry, so it traditionally wants the residents to pay for their phone calls. In this regard, voice-over IP calls are unwelcomed competition, and so is everything else that facilitates their use – and that includes VPNs.
Etisalat, a UAE ISP, is particularly keen on blocking VPNs so that its users can't find their way to VoIP calls no matter what. It's become proficient at this art, investing a lot of energy, resources, and knowledge to meet this goal, and it's achieved a high degree of success because many great VPNs won't work for Etisalat users.
The other leading Internet provider in the country, DU, is also of an anti-VPN persuasion, but it's nowhere near as good as Etisalat in blocking them.
Choosing a good VPN is never easy. The market is overcrowded, and there are too many mediocre vendors around. But when you're looking for a VPN to use in the UAE, this task is much more critical, or you could end up using one of those networks that DU or Etisalat know how to neutralize.
The five options we offer in this guide are five VPNs that excel in the features you want in any good VPN, but we have ensured that they also know how to help users in the UAE despite the ongoing efforts by the local ISPs to nullify them.
We want to save you the hard work of testing the best VPNs as UAE options. We've done it for you already, and we've had help from domestic UAE users to ensure that each of our picks will do the trick correctly.
We wanted every VPN to offer the following features:
Solid encryption
Zero log keeping
Strategically placed servers
Security against DNS leaks
Helpful features such as obfuscation
So, as you can see, our criteria are pretty stringent; few of the VPNs in the market can meet our specifications. So, let's see our best five VPN services to use in UAE that passed all the tests.
The five best UAE VPNs today – The detailed list
1. NordVPN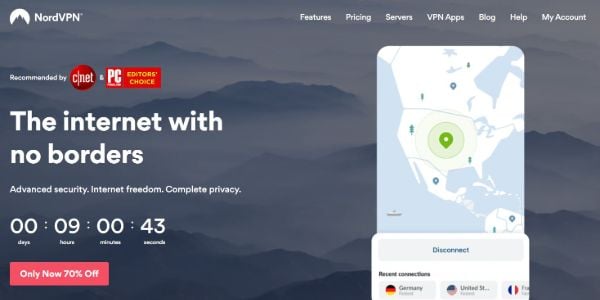 NordVPN is a premium vendor that offers an excellent service at a reasonable price, only slightly above the industry average of about 10 USD monthly – that's one of the reasons that have made it a leading name in the VPN world. UAE users will be particularly pleased with the NordLynx protocol (based on Wireguard).
The protocol obfuscates your VPN traffic (makes it look like standard HTTPS) so that the countermeasures against VPNs implemented by DU and Etisalat can be circumvented.
It offers a 30-day money-back guarantee so you can use the service for a whole month before you decide actually to pay money for it. If anonymity in payments is your cup of tea as well, it accepts cryptocurrency for your fee.
NordVPN doesn't keep any records on your identifiable information, traffic data, bandwidth, or timestamps. This is precisely what we want from a reliable VPN. This vendor claims to have a strict zero-log policy, and it puts its money where its mouth is – it's invited external audits to back up its privacy assurances.
Moreover, the headquarters is in Panama, a jurisdiction far away from the "Eyes" alliances and other jurisdictions keen on collecting intelligence on their citizens. Your traffic gets AES 256-bits encryption, which is the industry standard even in the military and intelligence businesses. It has an automatic kill switch that ensures that your traffic always remains within the secure tunnel, and it's highly customizable.
Unblocking geo-restricted content is quickly becoming the top reason to have a VPN service. And in the UAE, it's the killer application from the start. In this regard, very few VPNs can compete with NordVPN.
It can unblock all video streaming platforms worth unblocking (Amazon Prime, BBC iPlayer, Netflix). In this regard, the SmartPlay feature in NordVPN adds to the video streaming experience, and it's available even for the BlackBerry OS. NordVN even includes a SmartDNS service too, but you need to be aware that this feature itself doesn't encrypt your traffic, so you need to be careful.
Picking and connecting to a server within the NordVPN network (with 5,200+ nodes in 60 countries) is painless and shows that the provider has had the user experience in mind during the development process.
Once you're connected to the network, VoIP calls, the BitTorrent network, streaming, gaming, and everything else is within your reach with reliable and fast connections in most of the servers.
The price is reasonable in NordVPN because it's only slightly above the average, but the quality is much higher than your run-of-the-mill VPN.
NordVPN works well in Linux, macOS, Android, iOS, and Windows. In addition, the platform includes browser extensions for Mozilla Firefox and Google Chrome. A single account will allow you to connect six devices simultaneously to the VPN so that all or most of your most essential toys are VPN-protected at all times.
Other excellent features include multi-hop connections, the CyberSec and malware blocker, split tunneling, and multi-factor authentication. Every single feature will prove helpful for UAE-based users. So NordVPN is our top choice. It's well-rounded, cost-effective, robust, and does everything you need if you're in the UAE.
An additional mention is in order about NordVPN. It's the service most improved from last year. Not that there was anything wrong with it twelve months ago, but the tax it exerted over your speeds to be effective was much higher before.
In the round of tests we performed this year, NordVPN is much faster, so it's right at the top of the industry, providing excellent security without sacrificing any noticeable speeds.
2. SurfShark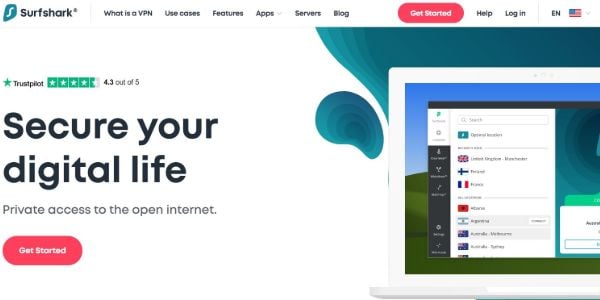 SurfShark is a relatively young VPN vendor with a reputation for disrupting the industry by offering a top-tier service at some of the lowest prices in the market. It's a truly excellent service for any task needing a VPN, and UAE users will find it very helpful too – unless they are with Etisalat, which has seen the way to neutralize Surfshark. DU users, however, won't have that problem.
The fact that SurfShark works only from the DU network within the UAE is not to be sneered at – keep in mind that most VPNs in the market won't work at all with any ISP in the UAE. So yes, it could be a little frustrating to have this particular limitation with this VPN, but if you're in DU, you have nothing to worry about.
In any case, if you are still not sure that SurfShark is the right service for you, you can always try it out for 30 days and get your money back if it doesn't convince you.
We consider that a UAE VPN user needs a set of privacy features that are not negotiable, and SurfShark includes them all. We mean an automatic kill-switch, DNS leak protection, and traffic obfuscation. The operating protocol is OpenVPN which is the best in the industry because it's been heavily audited (successfully).
In addition, the developing open-source community behind it keeps it updated at all times. Finally, the Shadowsocks feature is an encrypted proxy initially designed to bypass the Great Firewall of China, which is why the comparatively mild obstructions in the UAE are not a challenge for it.
SurfShark keeps no logs, which is a policy as essential for user privacy as the technology itself, and independent audits prove this policy.
Because SurfShark's connections are both speedy and robust, it's the ideal network to stream video over the Internet, even in HD quality. But those features would be useless if this VPN didn't unlock the best video streaming services correctly.
Fortunately, it does so if whether if you want to see content from Hulu, Amazon Prime, BBC iPlayer, Netflix, or many others, this is the network that will do the trick for you.
Another fantastic feature in SurfShark is its servers – they are RAM-only, meaning nothing gets recorded into hard drives. As a result, the information of every session is 100% volatile, and it evaporates into oblivion each time the server reboots.
Split tunneling is available for the partially paranoid, and there's an ad and malware blocker included with the service. Also, SurfShark browses the Dark Web, and if any of your personal data, such as full name or email, turns up in any of the leaked databases traded in there, it will let you know immediately.
The tech platform of SurfShark includes a series of apps for every meaningful operating system, and they're all straightforward to use. So it makes no difference if this will be your first VPN provider ever, or if you're more of a seasoned user, you'll have a smooth experience with these apps.
Last but not least, SurfShark doesn't give you three, five, six, or thirty simultaneous connections to the network per account. Instead, it gives you unlimited connections. So every single gadget in your home and your office can enjoy SurfShark's protection at the meager price this vendor requires.
3. ExpressVPN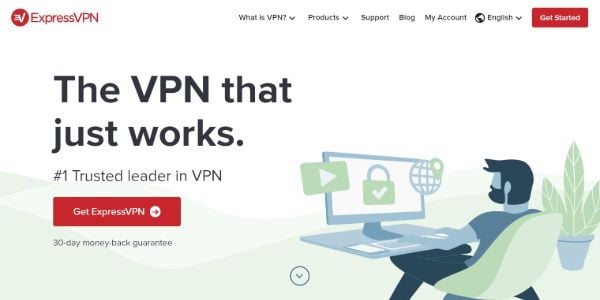 ExpressVPN is a household name in the VPN industry, and it's the darling of most web VPN reviewers. And there are good reasons for both things. First, this is an excellent option from the UAE user's point of view because it works for many Etisalat customers and grants access to every critical VoIP streaming service.
Granted, Kape Technologies acquired ExpressVPN on September 13th, 2021, which has raised issues regarding the continuity of the service's quality and commitment to user privacy. But nothing terrible has happened yet, and it's unlikely that the new owners will ruin a unique brand by diluting the service's quality or privacy features. So let's assume the best and look at it as we've known it so far.
Remaining private and accessing the Internet at large from the UAE requires a bag full of digital tools. ExpressVPN includes all of them and even a few more that increase its value for money.
ExpressVPN is based out of the British Virgin Islands, a privacy-friendly country, and it sticks to a strict no-logs policy. That policy is critical. It means that even if the authorities ask for the VPN's cooperation in an ongoing investigation, the VPN can comply with the request without spilling the beans on any user, simply because it has no beans in-store it can spill.
And in the case of ExpressVPN, the company's adherence to the policy has been proven in the courts. Remember the 2016 assassination of Andrei Korlov in Turkey? The courts of law required ExpressVPN to surrender some of their data. However, the VPN complied with the request without delivering any information on its users because it had no logs to hand out to the authorities.
Many excellent VPNs claim to keep zero records, but few have proven it to the public via audits or courts. ExpressVPN has done both.
ExpressVPN is well worth trying. And you will risk nothing as the 30-day money-back guarantee will afford you plenty of time to experience this VPN to the minimum detail. And if it doesn't meet your expectations, you'll get your money back, no questions asked.
The primary protocol available in ExpressVPN is OpenVPN, the thoroughly audited industry standard on which every truly great VPN is built upon. However, you have more expansive choices if you want them. Lightway is a great example. This protocol is ExpressVPN's own project, developed from the ground up, and it's meant to be every bit as safe as OpenVPN while saving some resource consumption.
As a result, this protocol is noticeably faster than OpenVPN, and it's also more friendly with mobile devices because it allows for longer battery lives.
You won't find an automatic kill switch in this VPN's features because they call it "Network Lock." But, don't worry, it's a kill switch, and it works fine. An encrypted DNS is also available on each server so that no third party can figure out what websites you're trying to reach.
If video streaming is your thing, ExpressVPN will not disappoint you. In fact, it could become your favorite VPN because of that. It unblocks any streaming platform you could ever want to use, will give you access to every domestic or international catalog you want to see, get you ESPN live and anything else you would like.
And let's not forget that VoIP is also a streaming technology, and in this regard, ExpressVPN will serve you well, giving you smooth calls on Skype IMP or any other option.
A unique thing about ExpressVPN and streaming is the MediaStreamer proprietary software that comes with the VPN service.
This wouldn't be a good option for streaming if the speeds weren't good in the network. However, stable connections are also a requirement the VPN meets very well. So you will not want bandwidth with ExpressVPN, and any speed-intensive activity (streaming gaming, torrenting) works well with it.
So, as you can see, this option has everything you need to have a very smooth digital life in the UAE. But there's even more.
Other, more niche features in ExpressVPN include split tunneling, P2P support in every server (for BitTorrent), Tor over VPN, and a router app as well as extensions for Google Chrome, Firefox, Edge, Brave, and Vivaldi. In addition, the SmartLocation feature will help you choose the best server available according to network load, physical distance, and available bandwidth.
Last but not least, the entire ExpressVPN network has consisted of RAM-only servers since 2019, so nothing gets recorded in hard drives, and all the information of every session evaporates when the server reboots – which happens about twice monthly.
ExpressVPN's monthly fee is a little higher than the 10 USD market average. But we're talking about a top-notch service packed with helpful features and, in the UAE case, that works with both primary Internet providers. So the slightly higher price is worth it.
4. PrivateVPN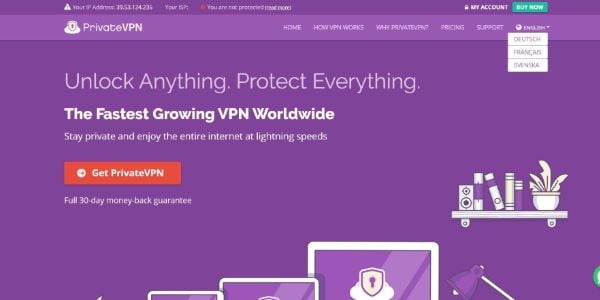 It's the budget option. If you need to stay free, private, and anonymous on the Internet from the UAE at the lowest possible cost, PrivateVPN is the thing for you.
PrivateVPN's philosophy about serving users is different from the options we've given you so far. The network is not as extensive or impressive, and it doesn't include any of the more sophisticated features you can find in SurfShark or NordVPN. The idea for this vendor is to keep the service as simple as possible but at the highest possible quality. But make no mistake. It is still a robust VPN with plenty to offer.
Reliability is a hallmark of PrivateVPN's service. It offers OpenVPN out of the box, and it keeps no logs. Obfuscation is available too, and you can make it worse for your snoopers via TCP if you engage port 443. This feature (traffic obfuscation) will ensure your security because your UAE ISP will think that all your traffic is just regular HTTPS.
But there's something you need to know before you choose PrivateVPN: it only works with DU, so if you're with Etisalat, you're out of luck.
The stability and high bandwidth in PrivateVPN make it easy for you to unblock video streaming services such as BBC iPlayer or Netflix. Zoom or Skype is not a challenge either, so you can keep in touch with all the people you love while you remain in Dubai.
The network includes a bit more than 100 servers in 63 countries. It indeed looks tiny compared to Private Internet Access' 29,650 servers, or even with NordVPN's 5,200 nodes. But don't be deceived. The service in a VPN isn't always about node numbers. The reliability and resources available to each server are more critical in terms of user experience, and PrivateVPN gives you an excellent experience because the servers are exceedingly fast and robust.
PrivateVPN is a VPN that really keeps you private. Encryption is AES 256-bit, the encryption of the champions. To keep your privacy safe, use the OpenVPN protocol (stay away from PPTP). In addition, there are stealth servers available which are the perfect option when you are facing a digital environment with regressive Internet censorship as in the UAE.
There's one thing about PrivateVPN, which is not so cool, however. It's in Sweden. The country is in one of the Eyes alliances, and it has data retention laws in place. But PrivateVPN deals with them by sticking to the no-log policy.
The money-back guarantee for PrivateVPN is not 30-day long but 7-day. Still, one whole week is enough for you to have a go at it and find out if it suits your digital lifestyle.
Your account gives you six concurrent connections to the network.
A singular thing about PrivateVPN is the customer service. For instance, it's not as good as NordVPN's, but you get your help from the developing team directly in this network, which is a very cool thing. They're friendly, helpful, and they answer fast.
5. VyprVPN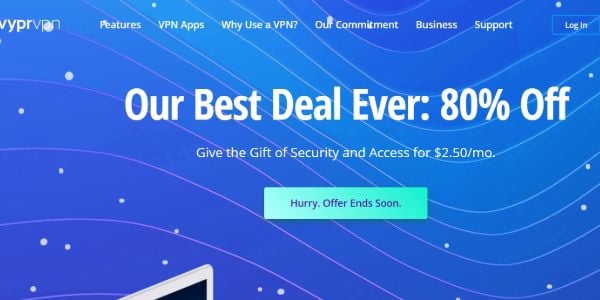 VyprVPN is cost-effective, excellent in its service, has many servers available in the Middle East, and has the Chameleon protocol, which helps its privacy.
It is an option that highly mobile users will find more valuable because it's particularly secure in public WiFi connections, which are unavoidable when you're on the go, whether for holidays or business.
The Chameleon protocol is proprietary to VyprVPN. Generally, we don't like proprietary technologies where encryption is concerned because they are harder to test, the code isn't transparent (or even available), and they can't be audited easily. However, we're ready to admit that Chameleon is a good thing. This protocol plays around with your metadata so that your packets can't be inspected deeply.
That trick prevents the existing VPN bans by the UAE ISPs. It enables VyprVPN users to get full Internet access even from the most restricted jurisdictions.
VyprVPN's commitment to user security is supported by independent audits that confirm the no-logs policy and that the servers in the network never record identifiable data. Also, this VPN hails from Switzerland, where data retention laws do not exist, and the country has a lot of respect for users' rights.
The encryption and DNS protection in Vypr rank with the best in the industry. The protocols on offer include:
OpenVPN (a classic)
WireGuard (a new protocol that's becoming a favorite because of the high speeds it allows)
Chameleon (the house's specialty)
The last option is the best for users in the UAE whose priority is to fight against domestic bans and censorship measures.
The network spans 70 countries and 700 nodes (servers) in total. In addition, VyprVPN owns all the hardware it uses, which is something of a rarity in the VPN world (many vendors rent a portion of the servers in their networks), and that's a good thing for users because it minimizes the chances of outside interference.
This option is as versatile as the best providers we've listed so far. Torrenting, gaming, streaming, or anything else you can fancy, you can do using this VPN in style.
You can connect up to five devices at the same time. The customer support service is always ready to help you too through email and live chat.
And the final great thing about VyprVPN is how simple it is to use. The apps are pretty, obvious, and fully functional in every operating system.
How to get a UAE IP address anywhere
Suppose you are doing business in the UAE. In that case, the inverse scenario will apply to you at some point – being outside the country and needing to get Internet access as if you were inside, for whatever reason. Fortunately, a good VPN service solves this problem too, and here's how you do it.
Choose the VPN vendor that suits you best. NordVPN is great for all kinds of users, and it's the one VPN that can outsmart both ISPs in the UAE
Sign up for an account, pay for it, download and install the software you need for every device you want in the VPN
Launch your VPN application
Choose a server located in the UAE
Point your browser or other software to the UAE-based content you wish to use
If it doesn't work (that happens rarely), don't panic. Clear your browser's cache, cookies, and any other location identifier and try again. This time it will work fine
Why are UAE ISPs so regressive about VPNs?
In an effort to attract business from all over the globe, the UAE ruling powers have adopted very liberal policies in almost every regard, especially when compared to Saudi Arabia, Iraq, and other Islamic countries in the Middle East.
In this context, the hostility towards VPNs looks out of place. But it's there, and if you're going to do business in the UAE, you need to be aware of it and have the tools to deal with it. So why is it like this?
The government has Internet traffic restrictions in place because it wants to ensure that the phone companies (which it owns) have enough business in the form of traditional long-distance calls. However, the Internet has revolutionized phone calls worldwide with Skype, Telegram, WhatsApp, or even Facebook Messenger, among many other options. These are bad for the domestic telecom business, so they're banned.
VPNs, moreover, can get you access to those services even despite the general ban, so they are banned too. As a result, the UAE ISPs are under tremendous pressure to block VPNs. However, they work hard at it and have become quite proficient. Therefore, only the best VPNs in the industry can get around the local ISP's measures against them.
So there's a war going on with the DAE ISP's on one side and the world's VPNs on the other (not unlike a similar conflagration that has Netflix and the other big video streamers fighting against the same VPN industry).
The VPNs are fighting back, of course. At least some of them. All of the options in our list, to be sure. However, they need to put in the hard work and resources to stay one step ahead of DU and Etisalat so that their clients can still get the service they pay for, even inside the UAE. The field is constantly changing as each side keeps making moves, and status fluctuations are expected now and then.
If you find that you can't use your VPN from the UAE anymore, it could be because of many things. But, on the other hand, maybe it's a temporary hiccup that will go away in a matter of minutes or hours.
But it could also be the case that Etisalat or DU finally has the number on your VPN provider. See if you can reach the VPN's webpage and its customer support service. Find out if they can help you restore your service. If they can't, just ask politely for a refund.
Mobile users
If your digital needs line up more at the mobile side of things, we suggest you sign with DU once you're in the UAE. Of course, this applies to residential broadband also. We recommend this to you because DU is not nearly as good as Etisalat at blocking VPNs. This means that you can increase the probability of using a VPN successfully in the UAE just by picking the less hostile ISP.
However, if you are bound to use Etisalat, for whatever reason, there's always NordVPN which works even with that ISP and has a money-back guarantee.
The fastest VPN for the UAE
The primary use case for VPNs in the UAE is not precisely privacy, anonymity, or content unblocking as it often is in the rest of the world. Instead, the particularities about the UAE mean that what most users want is access to VoIP services to make free calls to their families, friends, or business partners overseas.
Audio-only calls don't need a lot of bandwidth. But if you have video calls in your mind, then you'll need access to a fast and reliable VPN.
Most VPNs in the industry are focused on encryption and IP masking, which is only natural. But as a result, they are relatively slow and unfit to support a video stream, gaming, making phone calls, or torrenting. So if you want to do any of those activities, you need to have a VPN that works in the UAE and can give you speeds as high as required.
We already know all that, which is why we have carefully chosen for this guide VPNs that can give you the complete service you need. Each of our picks works at least with DU (NordVPN works with both ISPs), and all of them can get you speeds as high as your local service can support.
Why should I use a VPN in the UAE?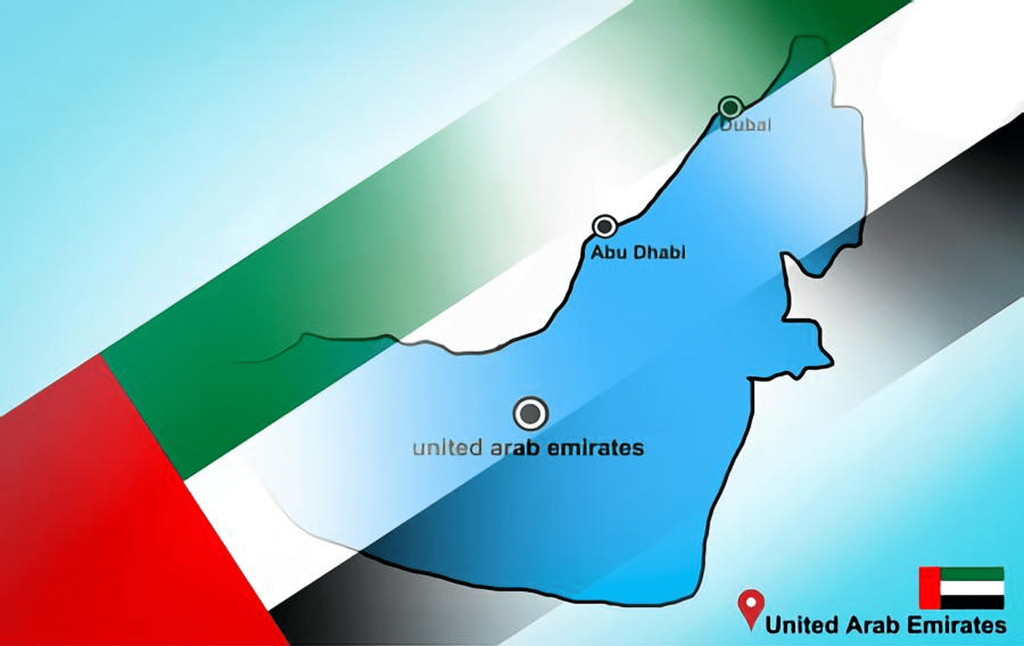 Internet censorship around the world usually comes about because of legal, cultural, religious, and political reasons. There's some of that going on in the UAE for sure, but the primary reason for VPN hostility has to do with VoIP services, as we explained earlier. The UAE rulers don't believe in free phone calls, and it's as simple as that.
VPNs will open up for you every website or service blocked from within the UAE, including voice over IP services. They will also encrypt all your incoming and outgoing traffic so that any third party will see nothing but white noise. This protects you from the prying eyes of the authorities or your ISP, so they can't tell what you are doing online.
That encryption is why a VPN is the only tool that gives you a way around censorship safely. However, because the UAE ISPs work very closely with the authorities, you can find yourself in trouble if they see that your online activities are unwelcome.
But privacy and freedom are not the only advantages in VPNs. They are also convenient. Because while you're on the VPN network, the server shows you to the world as a user whose IP is not your actual one but one provided by the VPN.
So, if you choose a British server, for instance, from the UAE, you'll be able to see all the BBC iPlayer content available exclusively for British users. The same goes for Netflix, Disney+, Amazon Primer, and any other video streaming platform.
What are the specifications a VPN must have to be helpful from the UAE?
Accessing restricted services and web pages in the UAE is not one of your holiday games – it could get you into a legal problem.
In addition, VoIP is unavailable in the country intentionally, which means that just using or trying to use Skype, Facetime, Viber, or any similar software requires that you ensure your privacy beforehand. So if such a common thing as Skype needs professional-level precaution, then you should always be behind a VPN server when online in the UAE.
But what are the features that a good VPN should give you? Here they are:
Robust OpenVPN encryption. Encryption is the thing that mixes up all your data so that it makes no sense without the decryption key. And OpenVPN is the best VPN protocol around. It's safe, and it has the best track record in the industry.
Kill switch. A kill switch feature shuts down all your traffic when it detects that you're no longer inside the VPN's secure tunnel. This ensures that every packet that leaves your device is always encrypted and safe from third-party observation.
Stealth mode. Also known as obfuscation. Encryption is good, but if your ISP thinks everything you're doing is just HTTPS navigation, it's even better. That's what this feature does. It takes whatever you are doing (say, torrenting), and it makes your ISP think that it's an HTTPS transference.
Security against DNS leaks. Your DNS requests give away your activities. Your ISP can figure out everything you're doing from your DNS requests alone. In the UAE, you should disable IPv6 and use IPv5 only. This simple measure will simplify your VPN's task of preventing your DNS from leaking from WebRTC activities.
Is it legal to use a VPN in the UAE?
There's no simple answer to this question. It all depends on the purpose for which you're using the VPN.
Having a VPN installed on your devices is not illegal per se. VPNs are ok in companies, organizations, businesses, and institutions as long as they are integrated into their internal networks. However, using a VPN to manipulate Internet Protocols, engaging in criminal activities, or going against the powers that be is punishable by law.
However, appearances can be against you. The simple use of a VPN could be enough to make others think you have something to hide or that you're browsing around places you shouldn't.
This is why having an obfuscated VPN is so important in the UAE – if you don't use obfuscation, your ISP won't be able to know what you're doing but could figure out that you're connected to a VPN; obfuscation prevents that problem because it will think you're just browsing the web. Hence, an obfuscated VPN will give you total digital freedom without leaving any traces behind.
And you don't want your ISP ever to know you're using a VPN. If you get caught "misusing" such a thing, the consequences are far from trivial. Prosecution, fines, and even prison time are real possibilities.
The last thing you want is to go to jail for using a VPN. We would agree that it's the worst-case scenario. But the fines are no small thing either. For this particular crime, the minimum fine is half a million AED (about 140k USD), and it could also include doing time!
If you're reading this, then the chances are that you'll be a foreigner while in the UAE. As such, you want to stay on the right side of the legal fence. And to be safe, you need a good VPN that has all the features we detailed previously.
A cheaper VPN could have some of those features indeed, but if only one is missing, then your safety is in jeopardy. Your freedom could be at risk – in any case, two of the options we suggest in this guide are exceedingly cheap, so there is no good excuse not to pick one of our five preferred options.
We have researched and tested many VPNs in the market to ensure we give you the best information you can get. The five VPNs on our list are the best if you're in the UAE, and they are the most likely to keep you safe.
Using VPNs in UAE
VPNs can secure data for businesses. That's why these services are not entirely banned in the UAE. So every time you encrypt your traffic with a VPN, you're performing a legal action. But if you are using that encryption to access restricted websites or services, you're a criminal, pure and simple. That's why just using a VPN can make you into a suspect – be discreet about your VPN use while in the UAE.
Downloading your VPN
You should download and install all the VPN software you will need before you arrive in the UAE if that's at all possible. However, remember that most VPN websites are banned once you're inside, so downloading anything you need could be tricky.
However, if you're already in the country and can't perform these tasks, you can subscribe to a VPN and have your provider send you the .config files you will need to make things work from your end.
Using your VPN
We have already explained in detail every essential feature you must use in our VPN while you're in the UAE. So the first thing you need to do once your VPN connection is up and running is to ensure that you're safe.
So do not visit any website with your VPN before you have reviewed your VPN settings, making sure you're using OpenVPN encryption and that the following features are available and active:
Kill switch
DNS leak protection
Stealth mode
Free VPNs in the UAE: Should I use one?
Before we answer this question in full detail, let's make something clear: if you want to ensure your safety, have excellent functionality, and have high speeds, then paid VPN services are the only way to go – especially the five ones we suggest in this guide.
However, we understand that you could be running out of money (life in the UAE is expensive, after all), so using a free VPN instead of a paid one could seem like a good idea. Well, you will have to be exceedingly careful, but hope is not lost.
Some of the best VPN services in the industry have a free plan available for new users. These services are good enough, trustworthy, and accessible – but they're not perfect.
Do not forget that the free plans we are specifically talking about here are nothing but advertising – they're supposed to let you try the goods so that you'll understand why paying for the whole service is a good idea. Consequently, these free VPN trials are restricted.
Your data usage will be capped, your transfer speeds won't be incredible (nothing like what you need to support HD streams), and you will miss all the best things that VPNs can do for you.
However, if you are the kind of user who doesn't traffic big files, doesn't see online videos, has video calls or does anything that's bandwidth-intensive (like just browsing around the web), then a free VPN could be good enough for you. Elsewhere on this website, we have listed the best free VPN services available for that.
Is it safe to use free VPNs in the UAE?
As a general rule, it's never safe to use free VPNs anywhere in the world, let alone in the UAE – except for those free services available from reputable vendors.
Those free VPNs in the market stand alone as services without fees (not the free plan of a paid VPN). Therefore, it would be best if you avoided them at all costs. Unfortunately, these VPN services have to pay their bills too, and they do so by carefully recording all your online activities and then selling them to their commercial partners.
The latter know how to analyze and monetize that information. This is a case of "when you're not paying for something online, then the product is you." This business model makes these VPNs an additional privacy risk for you instead of the opposite thing. Moreover, suppose you are in the UAE.
In that case, some free VPNs are rumored to be honeypots that help the government catch users abusing the UAE hospitality, which makes a considerable security risk even more prominent if you're in the UAE.
For argument's sake, let's say, for now, that the security risks mentioned so far were not so blatant. However, you still shouldn't use free VPNs. The encryption in these services has been proven to be weak at best, and some of them even introduce spyware into your devices. Moreover, we've explained what you should look for in a good VPN so that it's helpful in the UAE.
One of the requirements was speedy connections, and free VPNs have the slowest speeds in the industry, so there's no way they can support video streams for video calls; they're even too small for audio-only calls.
So even if you ignore the risks, you'll find that the free VPNs don't do the job you need to keep your online experience free, private, and anonymous in Dubai.
Also, do not forget that we've offered you options in this guide in which you can have an excellent paid VPN service for 2 USD or less, monthly. Even with ExpressVPN, the priciest option, you can get a considerable discount if you commit to one of the more extended plans.
So when it comes to free VPNs, the bottom line is clear: they're too expensive, even if you don't have to pay for them in money. If you're in the UAE, you could pay for their "services" with time spent in jail.
What are the blocked websites in the UAE?
The Internet in the UAE is considerably more limited than the world's average. Unblocking restricted websites and using VoIP could get you a date with the police – and we don't mean Sting's band. The stakes are high in the UAE, so we carefully explained all the features a VPN needs to keep you safe in the country.
We've done this type of guide for many countries, but we've never been so specific as with the UAE because users based in this jurisdiction are playing for keeps when they pick a VPN, whether they know it or not.
Some of the most popular websites globally are blocked in the UAE; you could be pretty surprised. Here are the types of websites blocked by the UAE authorities so far:
Pornographic websites
LGBTQ websites
Anti-religious websites in general
Anti-Islamic websites
Gambling websites
Anti-government websites
Every Voice over IP website, app, or service
UAE VPNs for Facetime, Whatsapp, Skype, and more
The UAE government is the power behind the domestic telecoms provider, so Skype is taboo, and the government has leaned over the domestic ISPs to support its anti-VoIP position.
But the government's position on these matters does not limit you on your choices. If you subscribe to any of the five top UAE VPNs we've shown in this guide, you'll keep your access to your usual apps in the normal way, just as if you were not in the UAE even as you are in Dubai, Abu Dhabi, or anywhere else in the country.
But keep this in mind: a VoIP app, any VoIP app at all, will only work in the UAE if you use a VPN.
So what about Snapchat or WhatsApp? These are not VoIP services at heart, right? Well, yes, they're not, but they do include some audio and video call capabilities, and those are also blocked in the UAE. However, if your smartphone has a VPN installed, all your messaging apps will work fine, retaining all the features you know and love.
The average monthly VPN price is 10 USD. Of course, you can save a lot of money by purchasing a more extended plan or choosing one of the budget options we've mentioned. But let's say that you will spend 59 USD yearly on your VPN service (the yearly plan price of our #1 recommended provider for UAE, NordVPN). Does that seem a bit pricy? Well, think about it. In the UAE, you'll have to pay for every single long-distance phone call, and the prices aren't exactly low.
However, depending on how many calls you need to make throughout the year, the chances are that your VPN subscription will pay for itself with the money you'll save from the phone bill in international calls.
So with a VPN, you will end up winning money in the long run. And that's not even considering that the VPN will make your digital experience better in terms of entertainment, gaming, torrenting, and almost any other digital activity.
Can a VPN enable me to unblock GeForce Now?
The long-awaited Nvidia streaming platform is online at last. And if you want to use it in the UAE, you need a VPN, period.
As we write this, Nvidia's new platform allows you to play AAA games from a browser, thus obviating the need for a gaming PC. This is quite exciting! The GeForce Now network can turn any old computer into a gaming computer!
Nvidia is very resource-aware. It wants the network to be as efficient as possible, so they want users to be playing on the servers that belong to their own region only – it's all about network optimization, the company says.
The problem with Nvidia's policy for you, the UAE-based user, is that the network has no server in the Middle East yet. So if you were expecting hours of playing in GeForce Now, we're sorry to tell you that all you will get is the message "GeForce now is currently not supported in your region."
No need to despair, though. Your VPN will give you access to GeForce now if you choose a server based in the USA or Europe, and you will be able to enjoy the new gaming network without any problems at all.
Final thoughts about UAE and VPNs
VPNs are pretty popular for tourists and UAE residents for the reasons we've explained already. However, suppose you want your Internet experience to remain free (as in speech) while you visit the Emirate country. In that case, a good VPN is non-negotiable, and the best thing to do is to have it ready before you arrive in the country.
Edward Snowden and Julian Assange have made us alert about the surveillance world in which we live. But, unfortunately, the situation hasn't improved at all – it's now worse if anything.
And if surveillance is terrible in the Western democracies, it's so much worse in the UAE because the motivation is economical, ideological, political, and religious, all mixed into one. And the consequences can be so much more damaging as well.
So choosing a good VPN is crucial in general, but in the UAE, the stakes are higher; the choice is much more consequential enough to be life-changing. And, as we explained, not just any old VPN will meet your needs in the UAE. It has to deliver on some specific departments.
Security issues aside, the use case for VPNs is increasingly in the streaming video industry. Users from different countries get different content from Netflix and others because of licensing deals. This was a trend that was developing slowly for the last few years. But then, the Coronavirus pandemic hit two years ago, and it exploded as the lockdowns became a common thing around the globe.
Every single VPN we've recommended in this guide has everything it needs to perform at the highest level on every task you can ask for it, so you could even choose blindly, and you would still get a good service. But we advise you not to do that. It's always good to double-check things on your own, too.
Your life will be so much easier if your VPN service is already installed and configured in all the devices you intend to use while you're there by the time you arrive in the UAE.
Installing, configuring, and getting used to your new VPN service is unavoidable. But, don't do it under the attentive eyes of the UAE ISPs and authorities, don't complicate your life needlessly.
So now you know. Being in Dubai or anywhere else in the UAE doesn't mean you have to miss anything you know and love about the Internet. There's no access problem you can't solve with the help of a full VPN service. It's easy, it's cheap, and it's incredibly helpful. So go ahead, choose the VPN that better suits your needs or your budget, and, above all, stay safe!
FAQs
Which is the best VPN to use in the UAE for video calls?
I want to unblock WhatsApp for calls, and other VoIP uses. Is it safe to do so with a VPN?
Is it safe to do my shopping with a VPN?
Will a VPN secure my online banking activities within the UAE?
Is Netflix legal in the UAE?
Can somebody track my online activities if I use a VPN in the UAE?
About the author
Ruheni Mathenge
Tech researcher and writer with a passion for cybersecurity. Alex is a strong advocate of digital freedom and online privacy.