WhatsApp has undoubtedly become the world's favorite messaging app. Because of its ubiquitous, it has over 1.5 billion users in 180 countries. But, let's face it, not everyone has that same feeling today.
Since Facebook acquired WhatsApp in 2014, privacy experts and security-conscious users are worried. This is because Facebook and its third-party apps are known to cause mayhem with security breaches. The security issues of social giant have caused thousands of users to get their data exposed, leading to mistrusts from users.
Yet, throughout the years, WhatsApp remained persistent that they will continue to secure their messaging services. But that was about to change. Recently, Facebook announced they are planning to merge three different platforms; Facebook Messenger, Instagram, and WhatsApp.
The intent is to create a messaging system where users interact freely between the platforms. The move includes integrating end-to-end encryption across the three platforms. With past Facebook trends, this will likely make WhatsApp less secure.
WhatsApp's security loopholes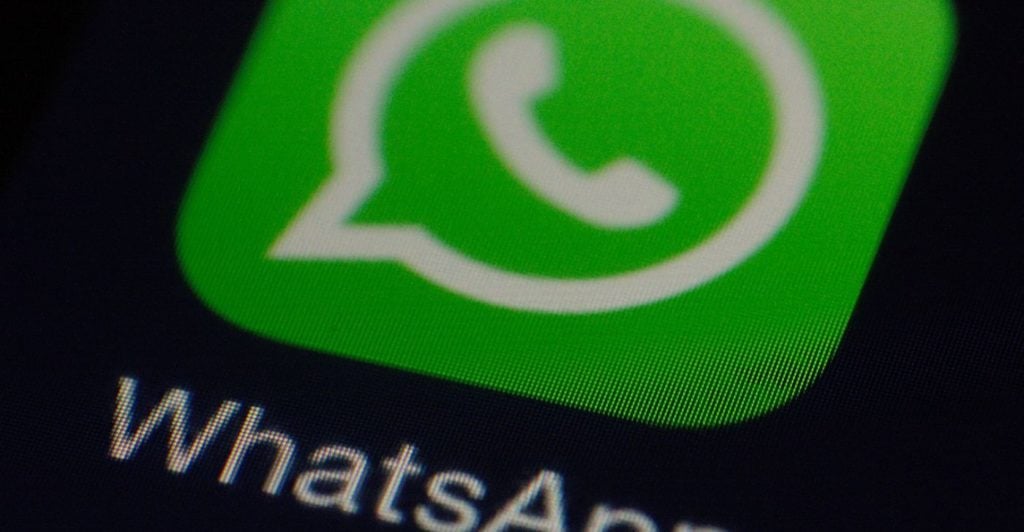 WhatsApp promises end-to-end encryption, an excellent security feature. Nevertheless, there exist many loopholes that require the attention of the provider.
First, WhatsApp recently noted it will receive and share information with its Facebook family of companies. Both WhatsApp and this family of companies use the information received and transferred. The firm claims this helps to operate, improve, customize, support, and market their services and offers.
Again, Facebook and other companies can use the information shared from WhatsApp. The parent firm claims that the goal is to analyze this data and improve customer experience. These include making product suggestions and more.
WhatsApp affirms that the company does not retain users' messages. However, it hosts users' account information, profile picture, name, and status message. This is accurate, provided users include them within their account details.
Generally, this means WhatsApp encrypts user data but still retain them on their private servers. The stored information is where things become messy. WhatsApp can use this information for their own good.
They can mostly use it for marketing purposes, either for company benefits or Facebook family companies. What's more, the government can access this data. Hackers are also another huge concern if they break into WhatsApp servers and access sensitive user data.
SEE ALSO: Best secure and encrypted messaging apps
Best WhatsApp alternatives for better privacy and data security
With all the reasons to turn to WhatsApp alternatives, you need the best chat-apps only. The primary factor to consider is communicating anonymously. The app should encrypt your messages without sharing them with third-parties. That said, here are the 8 best alternatives to WhatsApp;
1. Signal
Signal is a free, well-encrypted, and one of the best WhatsApp alternatives. It is compatible with every mobile platform and user-friendly. Like WhatsApp, it offers both voice and video calling options.
Moreover, Signal comes with the desktop application, making it suitable for computer use. The computer version is much like its cell phone one as it is also easy-to-use. It accompanies strong encryption meaning all your messages remain secure. Only the sender and the receiver can see the messages.
Signal incorporates open-source encryption where experts can test it and suggest fixes to bugs. This makes it even more secure than WhatsApp. All the messages sent and received are entirely unreadable by hackers.
The app enables users to choose when to let messages disappear within a given set timeframe. The deletion hence happens automatically within each interval. Such an option guarantees privacy, even when someone else had access to your device.
Pros
End-to-end encryption
Open-source encryption
Disappearing messages
Available on all major platforms
Cons
---
2. Threema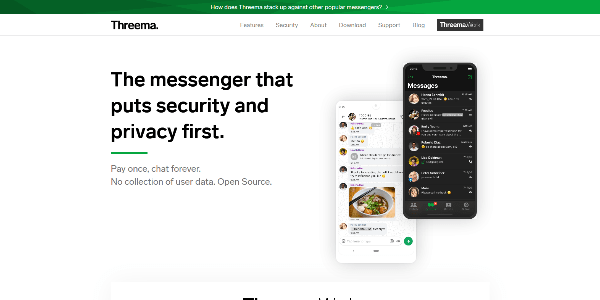 If you need the most private and secure WhatsApp alternative, Threema can be what you need. It offers complete privacy. Unlike other apps similar to WhatsApp, Threema does not store user data in its servers. Instead, it allows you to keep your contact list and group information on your device.
On the other hand, the app deletes the messages once delivered to the recipient. Again, users can connect using an 8-digit Threema ID without using phone numbers. Each user in the platform has a unique QR code, allowing you to verify contacts.
Based in Switzerland, Threema originates from a country with strict pro-privacy laws. It is another reason why Threema promises privacy. It also provides end-to-end encryption for all message types, including calls, share files, and status messages.
Threema is somehow identical to WhatsApp in terms of formatting messages and sending locations. You can use it securely in-browser, hide specific chats and password-protect them. Threema allows users to create polls and even 'like' feeds from different messages.
Pros
Does not require a phone number
Text formatting features
Password protect your chats.
Allows users to verify contacts with QR codes
Cons
---
3.Telegram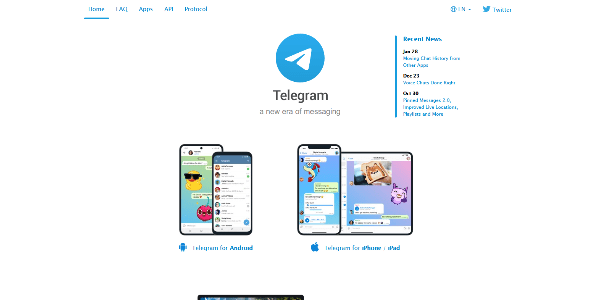 Telegram is among the top alternatives to WhatsApp. The chat-app has over 200 million active users worldwide. It is a cloud-based messaging app that works across different platforms.
The app resembles WhatsApp as it features a double-tick system to see when recipients receive a message. It has a default end-to-end encryption for voice calls and optional message encryption. That ensures no one can listen to your calls or read messages once you activate this function.
Telegram comes with an automated message deletion function like Signal. You can choose the time interval for the deletion. It also supports different multimedia file sharing.
Pros
User-friendly platform
Open-source software
Cloud-based to avoid losing materials
Cons
Messages encryption is not default; hence it requires users to turn it on manually
It creates its own standard encryption, and most people have criticized it
---
4.Wire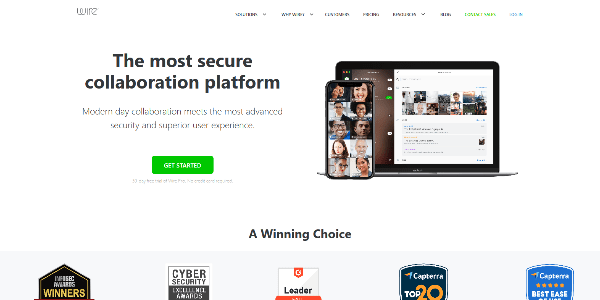 Another excellent alternative to WhatsApp is Wire. This has an end-to-end encrypted messaging app that secures user data. The platform offers free accounts with a paid business plan if you need additional support and features.
Protected by European data retention laws, Wire boasts high-quality and clear voice and video communication. For this reason, it becomes a suitable messaging tool for those who love video and voice calling.
The messaging app provides 1:1 and group screen sharing, unlike most apps. It also offers support for multimedia file sharing and audio filtering. You can sign in and sync up to eight devices and log to any account to message contacts.
Like WhatsApp, you can format texts which include bold and writing in italics. You can also create lists within chats and optimize file sizes for easy sharing. Wire also has the function to set timers that deletes messages automatically and enhance privacy.
Pros
Secure chats
Timed messages
Rich conversations
Ability to sign into 8 devices
Cons
---
5. Riot.IM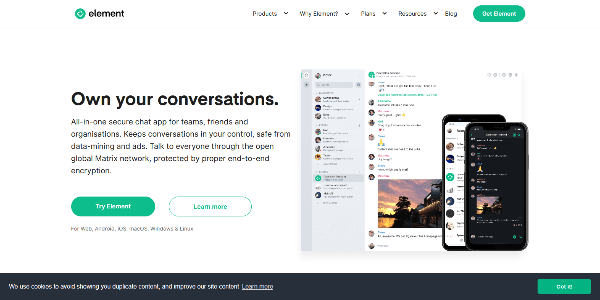 Riot is a great alternative to WhatsApp as it supports VoIP and video calling with robust message encryption. Like Threema, Riot enables its users to chat using a unique ID. This ID substitutes the use of phone numbers, crucial for protecting anonymity.
Besides, it is an excellent open-source alternative to WhatsApp and equipped with a bot. Here, developers have created their functions within this chat-app. Thus, users can interact with the software with ease.
This tends to make Riot more versatile and secure. The open-source feature gives it a desirable function that suits developer teams. However, the innovation tends to be unsuitable for corporate groups.
Riot accompanies conversation rooms where users can join any public chat room. There also exist private rooms where you can join with a link. With this, users can choose whichever option they find fit.
As among the best WhatsApp alternative in India and beyond, Riot has a standards desktop client. The desktop version has a friendly user interface, well-polished, and available in seven languages. Using Riot can help you connect with other applications with ease.
Pros
Uses IDs instead of phone numbers
Clean desktop client
Open-source software
Available in seven languages
Cons
Users need to enable some encryption manually
---
6. SureSpot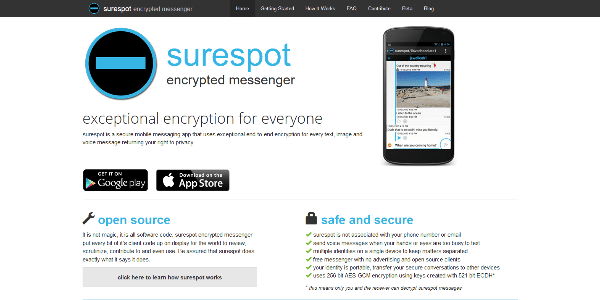 SureSpot is another safest alternative to WhatsApp, which you should consider. It is a message service identical to WhatsApp, though it focuses on safety and privacy. SureSpot involves a valid 256-bit AES-GCM encryption, coupled with end-to-end encryption.
It also includes SSL/TLS protocols, which promises well-encrypted communications. When you use SureSpot, you are completely anonymous online. The messaging app encrypts user chat history stored in the device.
SureSpot neither shares user's data with third parties nor requires phone numbers or contact lists. With all these safety and privacy guarantees, the app has its downsides. First, it is incompatible with most devices but only Android and iOS.
Pros
End-to-end encryption
Guarantees anonymously
Safe messages storage
Reliable encryption
Cons
Limited compatibility
Fewer users
---
7. Bridgefy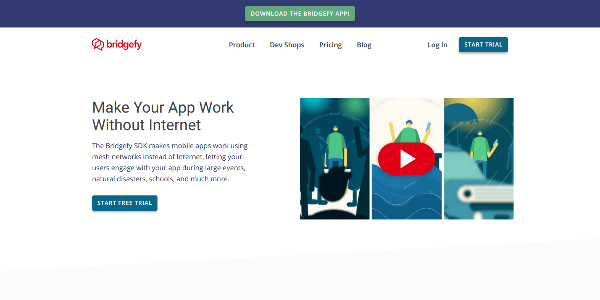 We all acknowledge that whenever we send a message, the device requires a network connection or internet. But what if you are deep in the woods without an internet connection? Bridgefy is an excellent alternative to WhatsApp.
There is no need for a mobile network or internet connection when using this messaging app. The best part is that Bridgefy is suitable for group chats within Bluetooth and Wi-Fi Direct range. You can send messages to personal contacts or groups anonymously.
Bridgefy includes three messaging types; person-to-person, mesh mode, and broadcast mode. You don't need a text messaging app or WhatsApp to transmit your message. It is an excellent tool for communicating during festivals, sports, and other events.
If you need to transmit messages to longer distances, you can use nodes. These notes help users to send messages to long distances. This gives you the privacy and security you need when chatting.
Pros
Best offline WhatsApp alternative
Free chat-app
It does not require an internet or mobile connection
Essential for broadcasting messages to a large group
Cons
---
8. Kik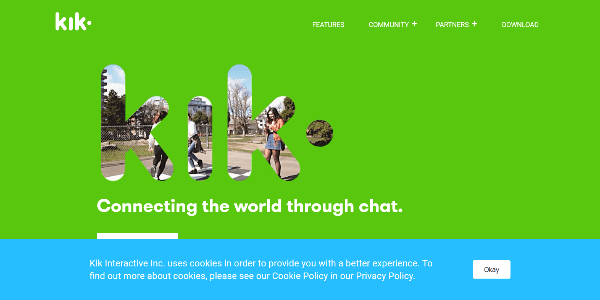 Kik is a complete replica of WhatsApp but guarantees advanced safety and anonymity. However, it does not require users to register with their phone numbers. All you need is an email ID to open an account at Kik.
Once you register, Kik will create a unique username to share with your Kik users. Only this username appears to your contacts instead of your actual name.
The best part is that Kik allows you to retain all your messaging features. Like WhatsApp, you get access to emojis, text messages, photo and video sharing, GIFs, and stickers. Like Riot, Kik has a built-in bot.
The bot helps you find the chat-app exciting by making it versatile. More so, the Kik bot allows users to play quizzes, get the latest news, and more. The chat-app has gained popularity over the years and became the alternative to WhatsApp for the US.
Pros
Compatible with Android and iOS devices
End-to-end encryption
No phone number requires
Contains essential messaging features
Anonymous chatting
Cons
---
WhatsApp alternatives in healthcare
The healthcare sector has got its share of privacy concerns when using WhatsApp. Healthcare professionals use WhatsApp to discuss different patients. The motive is often to share ideas and provide experimental treatments.
However, WhatsApp tends to become unsafe to transmit sensitive patient information. Confidential patient data and photos pose data privacy is essential. But with compromised privacy rules in WhatsApp, the need arises for an alternative WhatsApp app in the UK and globally.
Siilo is a great messaging tool for healthcare professions. The app allows doctors and other medical practitioners to share patient data with privacy safely. Siilo conforms to various international security rules for ease of usage.
The chat-app offers end-to-end encryption and allows anonymized photos. Thus, there exists mutual consultation without concern for the patient's privacy. Siilo also offers one-to-one audio and video calls for enhanced safety.
With Siilo, care providers can work together through a secure messaging platform. Notably, the application seems to prevent them from sending sensitive patient data through a less secure medium. In this case, WhatsApp.
SEE ALSO: Most secure email services today
Make a wise and practical decision
It is evident that people are actively switching to secure WhatsApp alternatives for multiple reasons.
On top of WhatsApp privacy concerns, sometimes, you may consider alternatives due to the service being blocked in your country. The above-mentioned alternatives can come in handy in such cases. However, there are ways to unblock WhatsApp when it's blocked.
A VPN is the safest and quickest way to achieve that.
The VPN assists you to hide your IP address and access WhatsApp. As soon as you connect to a VPN, it changes your country and ultimately tricks the service that you are in a different country. Head over to our detailed VPN guide for beginners to learn in detail about this tool.
Bottom line
Messaging apps have become part of our everyday living. WhatsApp users engaged more than 100 billion messages on New Year's Eve alone. Since its launch, the platform has been used to send billions of messages. A good percentage of these messages are sensitive and demand confidentiality.
But with WhatsApp becoming unreliable, there is a need to consider security risk free alternatives. Any of the alternate choices covered in this article ensures you chat securely about anything you like.
However, if you cannot use WhatsApp because your country has blocked it, all you need is a quality VPN — we recommend NordVPN. You can also use a VPN for the above alternatives if you experience the same problem.
Everyone needs to chat at one point or another, regardless of the topic. We at PrivacySavvy believe that being able to converse safely and anonymously is a fundamental right of everyone. With most people continuing to doubt WhatsApp privacy measures, its alternatives could become more useful to users.
FAQs
WhatsApp shares data with Facebook and other third parties, which is a concern for most users. For example, your phone number and contacts. Again, this messaging app does not encrypt messages on your phone. This makes it easy for strangers to access your messages if your device gets lost.
On top of WhatsApp, there exist other popular chat apps with millions of users. Yet, they are not safer and anonymous than WhatsApp – they are almost the same when it comes to security and privacy. These apps include WeChat, Facebook Messenger, and Viber.
Signal is the safest and most privacy-friendly alternative to WhatsApp. The messaging app focuses on user safety and privacy. It uses advanced and open-source encryption, making it more secure than WhatsApp. Also, it has a message disappearing feature and does not share stored user data with any other party including governments.