Everybody enjoys a good movie or television show. The entertainment industry is so catchy because it dives deep into a story and invites you to join as if you were another character playing an important role.
We all love to be a part of that! But the problem is the enormous catalog of options out there. With so many good movies and TV shows and the immensity of streaming platforms, two things are likely. One, you don't have the money to pay for all, and two, you have the money, but you don't want to give it away like that.
Soap2Day, in a nutshell, is a simple solution to this dilemma; a website where you can stream movies or TV shows for free.
The popularity of Soap2Day responds to an obvious benefit — ease of use. You don't need to create an account or give any information; look for the show you want to stream and click the play button.
From drama to horror; or comedy to sci-fi, you'll find in Soap2Day the delight you need. However, the website is still very new, and some current streaming masterpieces aren't available, yet there are still excellent reasons to try it out.
But one thing you might always wonder is a genuine concern — is Soap2Day safe to use? Let's find out!
Note: PrivacySavvy never encourages or condones piracy or illegal activity online. This article is solely for informational purposes. In addition to respecting intellectual property rights, we encourage our readers to adhere to all applicable laws.
Streaming content on Soap2Day
By this time, the question "what is Soap2Day?" has already been answered; a website without the registration requirement where you can freely watch entertainment content available on some of the most popular streaming platforms.
You don't need to install any app or software on your devices. The only step to remember is to check if the movie or series is available and then play it as you would with a regular streaming service.
If you have tried streaming websites to watch free movies online, you know the main concern is always safety. There are good reasons for this; similar websites are dangerous for inexperienced users who download malware or install apps containing viruses that can completely break their devices.
So if you're wondering about Soap2Day security, consider that a good practice!
Is Soap2Day safe and reliable to stream?
There are always two sides to a story, and that's the case with Soap2Day's security. Most features they show on their website work exactly as they say, but there are others where they fall short of accuracy.
If you go to their website, you'll see these listed features: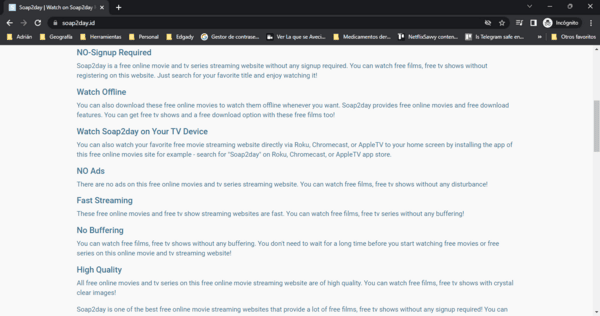 Regarding this, you can be sure Soap2Day privacy is a fact. They promise not to request registration, and that's 100% real. The same goes for watching content offline, with high quality and no buffering.
Where they start failing to be 100% transparent is when they say the place is entirely ad-free. Indeed, you won't get interrupted by an ad in the middle of streaming. However, before streaming, you can find ads and thousands of pop-ups that are difficult to skip or ignore.
Many of these pop-ups might contain viruses or potentially harmful malware. That's where it gets challenging to label Soap2Day as entirely safe.
Make sure you never install or download anything, no matter the compelling text it shows. If you do, you can put your device and data in a compromised position.