When you're online and need to find something, you turn to Google or Bing – search engines.
But what do you do if you are looking for a torrent? Well, you go to the search engine again. But not the usual ones. You go to the specialized torrent search engines. And which one should you use? Are there any outstanding torrent search engines out there currently? Which are they? Keep reading to find out the answers to these questions.
Maybe you've seen our guide about the best torrent websites. The BitTorrent world is such that if you know three of four top torrenting websites, that's all you need to find whatever you want most of the time. But why should you resign to searching one website at a time when you can do it with many more at once? That's what torrent search engines can do for you!
Torrent search engines are convenient and friendly and can help you find the best torrents available for any subject. Our staff tested several search engines to develop a list to ensure you can have only the best.
But before we start, let us remind you something: you should always have a top-notch VPN such as ExpressVPN at your service when delving into the BitTorrent universe. It will keep you safe and anonymous, as you should always be.
Top search engines to find torrents – Quick list
So our staff did their job and came up with a list of the best torrent search engines. Here it is:
Note: This is an educational article that is not in violation of copyright laws in any country. We are against piracy; this page is intended only to provide information. Please ensure that the torrent files you download through these search engines are not copyrighted and are in the public domain. Before downloading anything, learn what your local laws are on P2P.
So why do I need a VPN in torrent search engines?
A VPN applies an encryption algorithm to all your traffic, incoming and outgoing. The result is a stream of data that looks like noise so that hackers, your internet provider, or any other external intruder can't get a clue about what you're doing online. Since your ISP could mark you as a pirate even if you keep torrenting legal files, it's better to remain cautious.
And there's more. VPNs will give you a brand new IP address from a different country so you can access sites and services blocked in your country. So if your ISP blocks any attractive website, the VPN will restore your access. And this is not a rare thing at all.
Finally, keeping your IP number hidden is especially useful when torrenting. Remember that every torrent's swarm exposes the IP numbers of every leech and seed to the rest of the users. Secure VPN tunnel prevents your real IP from being shown to the world.
Best torrent search engines in 2023 – Detailed list
No more wasting time on individual P2P websites. Use a search engine to find files instead. Here is a list of the 17 most reliable ones to use today.
1. TorrentDownload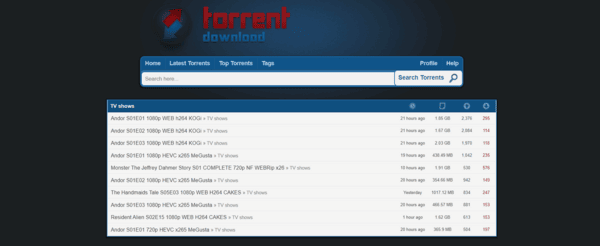 TorrentDownload's simple user interface does the trick in a heartbeat. You can use it the same way as any typical torrent website. First, there's the search bar at the top, as there is on every site. Next, the torrents are grouped in categories if you want to browse the website.
Millions of the best torrents are available here, with results from all your favorite torrent websites like Kickass Torrent, LimeTorrents, RARBG, or Torrentz2. So the search includes those websites that offer verified torrents only, giving your results the highest possible quality. So it's obvious why this search engine is so far above the rest.