Do you think Netflix is the only best streaming platform with US content? There's one more to add – Vudu! However, watching Vudu outside the US can be a chore.
Why?
Vudu is also available in the United States as with any other streaming service. They have their own reason for this restriction. Though the service is so good, it would have matched or even surpassed Netflix had it been available to users globally.
This regional blocking isn't only bad for global users but also causes trouble for anyone traveling outside the US to stay connected to their favorite media.
That's why we thought of bringing a workaround for you to watch Vudu outside the USA.
This guide elaborates on bypassing content blocking and accessing Vudu anywhere in the world.
A quick guide to watching Vudu outside the US
Being impatient to watch Vudu? Check out this quick step-by-step guide to unblocking Vudu anywhere worldwide.
Choose the best VPN service provider: Out top pick for Vudu is ExpressVPN as it has proven resilience against all types of content restrictions.
Connect the right server: After installing the VPN on your device, connect to a fast US server to change your location.
Go to Vudu: You can now easily enjoy the streaming service on your device.
If you wish to know about other VPNs that can unblock Vudu when abroad or learn the steps in detail, scroll down to read our extensive guide.
What is Vudu?
In simple words, Vudu is a streaming service, just like Netflix, an American over-the-top content platform. It features loads of quality content for user entertainment that ranges from movies to TV shows.
The service started off back in 2004 as a hardware-focused business producing the digital media player Vudu Box. Later on, the service shifted its focus from hardware to software business, and in 2010, it has started streaming content via Vudu Apps.
In the same year, Walmart bought Vudu as a step to enter the digital media market. After that, the service expanded its content base and gained popularity. But it is primarily focused on the United States only.
After that, in 2020, Fandango Media acquired Vudu from Walmart, though the latter still collaborates with Vudu regarding promotions and other services.
Currently, Vudu hosts thousands of popular movie titles and TV shows (100,000+ titles, according to their website).
The service has become a user favorite with its 'free' offering as well, through which they let the users watch select movies and TV shows without renting or buying. That's the main attraction with Vudu, which makes it comparable to the market leaders like Netflix.
What can I watch VUDU on?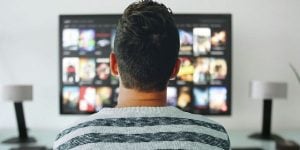 Considering the popularity of its service, Vudu has launched dedicated apps for its customers. Hence, users can download Vudu on Android and iOS devices and their Mac and Windows computers.