YesMovies.to is a popular online movie library. For good reasons, the name is all too familiar to all online movie watchers, compelling them to look for YesMovies alternatives whenever they can't access the platform.
For the longest time, YesMovies earned its popularity and praise for being the most accessible platform to download and watch all the best old or new movies. Once you visit the homepage, you will find a wide range of HD movies.
A significant advantage of this site is that YesMovies is not a subscription-based platform, which makes it all the more exciting to users. However, users also experience difficulty using it because the site may not be able to handle the overwhelming user traffic. As a result, YesMovies may be unavailable, and its servers could even crash.
If you have experienced difficulty streaming movies on YesMovies, or even a "crash," don't be disappointed. Many other alternatives provide the same services as this platform. This guide lists the 13 best websites, like YesMovies, for streaming and downloading movies.
Best YesMovies alternatives – Quick list
A quick guide to accessing YesMovies alternative sites safely
Free YesMovies alternatives are fun to use, literal lifesavers when users hit a brick wall with paid-subscription platforms. This is all good, but these sites are mainly unsafe to use.
Because they are free-to-use alternatives to YesMovies, they are often just "mirrors" of the website. And these mirrors or copycat sites often harbor harmful files hidden behind pop-ups, ads, or file download links. These files can probe your IP address, steal data, or send you malware.
To use these sites safely, and prevent possible malware infection from these free YesMovies alternatives, follow these steps:
Use a paid-subscription VPN; we recommend ExpressVPN.
Ensure you use a premium antivirus; we recommend Norton360.
Open and connect your VPN.
Now visit any of these free YesMovies alternatives.
These easy steps allow you to enjoy safe and harm-free streaming on any website with free movies.
13 best alternatives to YesMovies available today – Detailed list
Below are the top 13 YesMovies alternatives you can use to ensure you never miss out on your movies:
1. Vumoo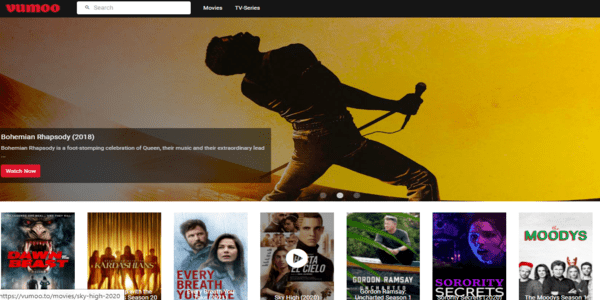 Although this site shares many similarities with YesMovies, Vumoo has a few unique differences. For starters, the site's interface is different, and there are extra features that YesMovies does not have, but it is also a relatively easy site to navigate. Vumoo is perfect for watching movies, your favorite TV series, and all of these in impressive display quality.
With Vumoo, you can access all its features without signing up, helping you reduce the time spent on registration as with other platforms.
Vumoo is a free online platform like YesMovies, but it has the least intrusive ads compared to the many alternatives. As a result, you can watch your content uninterrupted.