Live TV streaming is a great way to stay updated with the latest news, sports, and entertainment. However, many streaming services offer live channels for different viewers. For instance, some are great for general audiences, while others provide specific sports, lifestyle, or entertainment content streams.
Thankfully, all the recommendations in this guide are available across many platforms, such as web browsers, mobile devices, media streaming devices, and gaming consoles. So regardless of the service you select or subscribe to, you may save significantly more than when using cable TV.
This article covers 21 of the finest live TV streaming platforms, ranging from free to paid.
Top websites for online TV streams – Quick list
Are you short on time to go through the entire article? Check out this summary of the 10 best live TV streaming websites before we start looking over all the 21 sites later in this article.
Best sites for live TV streaming online – Detailed list
Like torrent websites and free movie sites, live TV streaming platforms (especially free ones) tend to get shut down and become offline continuously.
But we ensure all websites listed below are working and available for use (with constant content updates). So here are the top websites for online live TV streams, free and paid options.
1. Stream2Watch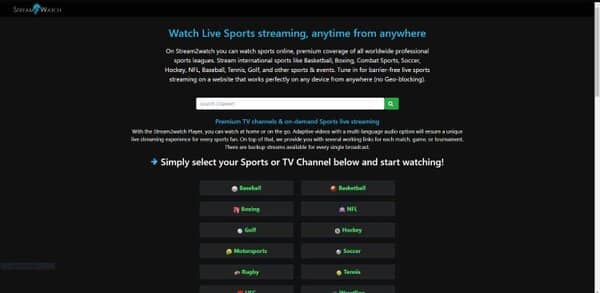 Stream2Watch is a popular live TV streaming site that hosts high-quality links from different sources. It has live TV channels from Canada, the US, Russia, Spain, Italy, the UK, Spain, and other European countries. The website is also among the best sports streaming sites as it allows you to switch to sports streaming channels at will.
However, some of the links may not work consistently as they are from unreliable sources. Also, you may be bombarded with advertisements, but it is a pain worth bearing, given the multitude of free channels you can access. Not to forget, many good ad blockers exist today that you can use to get rid of nasty ads.
---
2. YouTube TV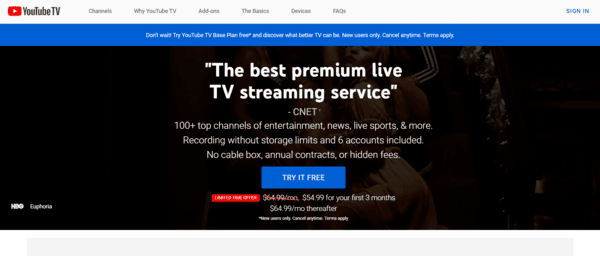 YouTube TV is a subscription-based streaming service that offers over-the-top (OTT) content. It hosts popular channels like CBS, ABC, Fox, The CW, NBC, ESPN, Golf Channel, NESN, FXX, and more, which you can stream directly on your PC or phone. Unfortunately, the site is only accessible in the US, but you can bypass YouTube TV geo-restrictions with a VPN.
While the service offers a free trial, it costs $54.99 for your first 3 months and $64.99 per month thereafter.