Today's world relies on mobile devices more than ever before. You can find smartphones in every social group in every country. So, mobile security gained priority as these toys became more common than wristwatches. Consequently, the demand for the best mobile VPN apps also exploded, giving rise to many VPN vendors, each having something on offer.
If you adopt a VPN service on your phone or tablet (which you should), you must pick the best possible service.
But since testing VPNs takes so much time, effort, and resources, how can you find the right one? Don't worry. We have already done the work for you. So, just read this article and pick a VPN that solves your mobile security problems.
Top 3 mobile phone VPN apps – Quick list
If you don't have the time or the inclination to read our detailed descriptions for the best three VPN mobile apps, here's the gist.
ExpressVPN. An app that combines simplicity and ease of use with many advanced options under the hood for the users.
NordVPN. The best mobile app in the VPN world. It has everything you want in a VPN app and more.
Surfshark. Robust, friendly, and versatile app giving you almost all you can expect from the best VPNs in the market at a meager cost.
The best mobile VPN: What is it made of?
Let's start with reputation. The best choice for you to adopt as your VPN provider must be a vendor with a clean track record. Also, the coolest, most excellent, prettiest VPN app is not worth downloading into your device if it doesn't give you a good service.
Likewise, it should have impressive performance and features, like solid encryption, stable connections (especially in mobile devices where you change networks often), reliable IP masking, and safe against DNS, WebRTC, or IPv6 leaks.
In other words: the app is a delivery system for your VPN vendor's service. If it doesn't protect you, you shouldn't use it, no matter how excellent the app is on its own merits.
NordVPN, our top pick for this task, fits the bill in this regard. It's the industry leader in a very crowded and tight field. NordVPN's mobile app is light, fast, and powerful, affords you the best privacy in the market, and supports HD video streams.
Not enough? NordVPN also offers the kill switch and split tunneling features to keep your work going.
But of course, it isn't the only service provider you can trust for your mobile. Below you'll find more options that are best for protecting mobile devices with VPNs.
5 best smartphone VPN apps today – Detailed list
The five apps described in this section come from some of the best VPN networks on the internet. Yes, they're friendly, neat, and reliable. But most importantly, they afford you a premium VPN when you're on the road. In addition, they will keep you safe and protect your privacy, which is the game's name.
1. ExpressVPN

Has budget-friendly long-term plans, unlimited bandwidth, zero logs policy, and SmartPlay feature.

3,000+ servers spread in 94 Countries

AES 256-bit encryption

Leak protection

Supports P2P traffic

Allows 5 simultaneous connections

30 days money back guarantee

Split tunneling feature

TrustedServer technology
Pros
Fast servers

Allows torrenting

Top-notch security and privacy features
The ExpressVPN mobile app impresses as soon as you launch it. As it loads and takes over your screen, you know this software is utterly professional, done by experts at the top of their powers.
You will first see a big on/off switch connecting you to the best available server. If you're an average user, this is all you need to know about ExpressVPN's app, and you'll never need to see, explore or use any other features.
This mobile app is your door to more than 3,000 servers in the ExpressVPN network. This vast choice of nodes allows you to use this VPN to unblock practically any web video streaming platform. Amazon Prime Video, Peacock, BBC iPlayer, Netflix (the US catalog), or HBO Max; you name it, and ExpressVPN will make it work for you.
Besides, the VPN app bears numerous configuration options for playful souls. For example, you can choose a VPN tunneling protocol, check for DNS leaks, enable or disable your kill switch or activate the split tunneling option (available only in the Android app).
Your ExpressVPN account lets you connect five different devices simultaneously. Since we're dealing with mobile connectivity, five devices should be enough for everybody. But you can install ExpressVPN on your home router if you need more. In that case, the VPN will see your router as a single device, letting you connect as many devices as you want through the router. So if you have 15 devices at home, including desktop computers, laptops, tablets, and phones, all online through the same router, ExpressVPN will recognize a single device.
So ExpressVPN holds a reputation for excellence and offers simple but powerful apps. Also, the company's commitment to user privacy is strong.
Nonetheless, since ExpressVPN is aware of its unique position in the VPN world, it capitalizes on it by issuing some of the highest monthly subscription fees — nothing's perfect. However, with the price significantly higher, this VPN gives you a service better than the average.
---
2. NordVPN

A well-established VPN service provider offering top-notch unblocking capabilities, robust security features, and P2P-optimized servers.

More than 5,100 servers spread in 60 countries

Has P2P optimized servers

Double encryption feature

Offers 6 simultaneous connections

30 days money-back guarantee

Web protection

Double VPN feature

Customizable kill switch

SmartPlay for streaming

Offers Onion Over VPN feature
Pros
Fast speeds

Allows P2P (torrent) traffic

Colossal server coverage
Cons
Desktop application can be tricky to use for some users
After testing many VPNs for different tasks, we found NordVPN to top all tests. It's no coincidence that NordVPN provides the best cell phone VPN.
This VPN's desktop apps are probably the most powerful in the business, and their mobile versions reflect that. Moreover, the portability of these apps doesn't compromise their power.
NordVPN apps keep your data secure when you use public WiFi hotspots. Moreover, these apps offer several features rarely available with mobile apps, for example, Onion over VPN (a service exclusive of NordVPN) and DoubleVPN.
Privacy enthusiasts will be glad to know that NordVPN recently completed an independent audit (the second one) on its servers and privacy policy. According to its policy, the audit supports the VPN's commitment to protecting customer privacy.
The design of the app could be a little better, though. Generally, the map-based interface, where you pick a server to connect to the network, is user-friendly and practical in desktop interfaces (or even in the mobile app if you're using it on a large tablet). However, tapping on the correct country on the map when the screen is small can be tricky. Fortunately, if you swipe up on the map, you'll get the VPN server list. So it won't take more than a minute to set it up and start browsing safely.
NordVPN's mobile app combines functionality with simplicity of use and maximum security. It doesn't get any better than this.
---
3. Surfshark

SmartDNS feature, unlimited simultaneous connections, CleanWeb ad blocker, camouflage mode; everything at an unbelievably affordable cost.

3,200 servers in 65 countries worldwide

AES 256-bit encryption

MultiHop (double VPN) mode

Unlimited simultaneous connections

30-days money-back guarantee

CleanWeb feature

Camouflage mode (obfuscated servers)
Pros
Intuitive user interface

Affordable long-term plans

24/7 live chat support
Cons
Lacks some advanced features
Surfshark is a relatively new VPN to NordVPN or ExpressVPN. However, it quickly acquired a prominent reputation and significantly disrupted the market. Surfshark's strategy is to offer users a top-notch service that won't fall short of industry leaders for a fraction of the cost.
Simplicity is at the core of Surfshark's mobile app. It doesn't have all those settings you can adjust under the hood in ExpressVPN. But do you need them?
The app is nice and friendly. It also connects you to a pre-selected optimal server with a single tap. In addition, it has a kill switch, a selection of VPN tunneling protocols, and the option to auto-connect. So it lacks all the arcane options available in the previously mentioned two apps. However, you need to be a reasonably expert user to miss those features. Otherwise, this app includes everything that most average users need.
Surfshark's mobile app also works well for streaming, as it features stable server connections, high connection speeds, and a vast server selection.
Another noteworthy feature is MultiHop, which sends traffic through two VPN network servers. Undoubtedly, it adds an insanely high level of security to all your activities. But it will slow you down significantly.
The exciting thing about Surfshark is that it lets you connect as many devices as you want to the VPN. And you can have all those perks for about 2.50 USD monthly.
Surfshark can't compete with NordVPN or ExpressVPN if you look at speeds, extra features, and overall performance. However, it's so good that you won't notice the difference except when performing taxing tasks. So, this VPN is an attractive option for users who want to keep their VPN costs to a minimum without sacrificing functionality or security.
---
4. ProtonVPN
A Swedish secure VPN that boasts strict no-logs policy and full-disk encrypted servers, offers NetShield feature, 10 simultaneous connections, and a free VPN version.

More than 1500 servers spread in 63 countries

AES 256-bit encryption

Allows 10 simultaneous connections

30-days money-back guarantee

Boasts strict no-logs policy

NetShield feature
Pros
Fast speed connectivity with VPN accelerator

Open-source applications

Offers a free plan
Cons
Limited features on free version

Does not offer live chat support
ProtonVPN is an excellent service that doesn't get as much love as it deserves. It is the sister service of ProtonMail, the best secure email system for security and privacy lovers. So it comes from a company and a staff with extensive experience and expertise in security issues. That alone gives ProtonVPN some credentials that few other players can match.
The VPN's platform includes mobile apps for every operating system – a noticeable feature. But the most unusual thing about ProtonVPN is its free service that you can use without data caps.
Of course, if you want to unleash all the power in the ProtonVPN network, you'll have to pay for a subscription. But in a world of low-quality or fraudulent free VPN services that pose privacy or security risks, the ProtonVPN free VPN is surprisingly reliable.
ProtonVPN will also deal with Netflix's geographic bans (and other streaming services, but not as many as NordVPN).
However, Proton's VPN app is relatively complicated for mobile apps (and not the VPN itself). So, you could struggle with it if you're a VPN newbie. But that shouldn't be a deal-breaker because the service is excellent.
---
5. IPVanish

Has no-logs policy, multiple encryption protocols, apps for all platforms, DNS leak protection, split tunneling.

2000 servers spread across 75+ locations

AES 256-bit encryption

Unlimited simultaneous connections

30-days money-back guarantee

Boasts P2P-friendly servers

SugarSync cloud storage
Pros
Allows unlimited connections within one subsription

Affordable pricing

Easy to use applications
Cons
Does not unblock all the popular sites
IPVanish is one of the fastest VPNs online. It offers excellent device compatibility with dedicated desktop and mobile VPN clients. However, it's unique because iOS and Android versions of this VPN service are pretty different, unlike other providers offering apps with similar features. So let's describe them separately.
---
IPVanish Android app
The Android IPVanish mobile app is the most impressive software in the VPN's tech platform. It has more features than any other app and bears a fast and intuitive user interface.
The home screen shows you vital digital stats (IP number, target country, and connect button). You can access other menus like settings, account details, and the complete server list from there.
Server selection can go by country or city. But you don't have any traffic data to let you choose the one with the most available resources. So you don't get a favorite list either — it's a pity because it removes some friction from the connection process.
The Android app's selling point is its incredible flexibility and vast features. Kill switch, split tunneling, LAN exemption, everything you can pick or configure.
This app is impressive, functional, and powerful, but you may have to be a seasoned VPN user to enjoy it fully.
IPVanish iOS app
The iOS IPVanish app doesn't look very much like the Android one. But that's not an issue, as it's still quick and intuitive.
The problems are in all the missing features. For instance, you don't have a kill switch in the iOS version, and you have only two additional settings: auto-connect and the choice of your VPN tunneling protocol (IKEv2 and IPSEC are on the menu). IKEV2 is the best protocol to use when you're on the road. That's because it retains server connections when switching between WiFi and mobile networks.
Also, no split tunneling or LAN exemption is available for iOS users.
The app works very well, and the speeds are fast. But the versatility it offers is more underwhelming than any other VPN, and even it is Android sibling.
What are the uses of mobile VPNs?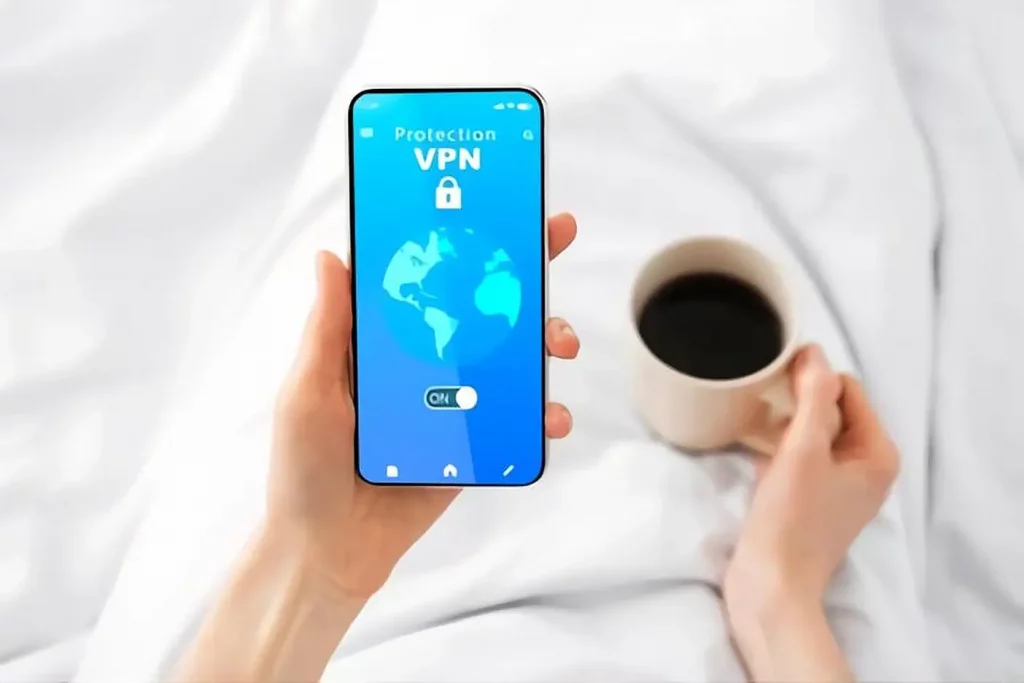 The original use case for VPN services was to protect a user's privacy, security, and anonymity by encrypting all its traffic and hiding its actual IP address. It is still a VPN's essential job, but as the internet has evolved, VPNs have served new purposes, including mobile security.
We currently rely so much on mobile devices that using a mobile VPN is not a luxury but a critical resource.
Hence, a good VPN mobile app should be versatile, intuitive, and satisfy numerous privacy use cases, such as the following.
1. Security in WiFi hotspots
Public WiFi hotspots are popular because they're practical and increase your productivity and connectivity. But they're also where security is weakest for most users.
If you love to get busy in your favorite public WiFi hotspot, consider that hackers love them even more. All that traffic in the air, abundant and unsecured, gives them the best opportunities to have fun at the expense of unaware users. Such an environment gives a hacker everything needed to successfully conduct a man-in-the-middle (MiTM) attack. Thus these incredibly convenient places are also exceedingly detrimental to privacy and security unless your mobile device is on a VPN.
---
2. Bypassing geo-blocks in video streaming platforms
The legal video streaming platform's catalog differs in every country because of the content distribution rights and pays to the copyright owners. So if you want to see the complete Netflix catalog but are not in the US, you're out of luck. Nevertheless, a VPN will spoof your IP address so that Netflix sees you as if you were in the right place, thus giving you VIP treatment.
---
3. Bypassing VoIP bans
In countries like the United Arab Emirates, the government has a stake in domestic telephone companies. Therefore, every other way of calling (voice or video) through the internet is banned and penalized. And this is another example of what a VPN will do for you.
---
4. Bypassing censorship
Many countries in the world practice censorship. It doesn't have to be as widespread or politically oriented as it is famously in China or North Korea. Just consider how many countries won't let you access The Pirate Bay. A VPN will unlock every website in the world for you, regardless of your government's preferences and your ISP's imposed limitations.
---
5. Avoiding throttling
ISPs often monitor your activities and analyze them. If they find that, for example, you spend a lot of time watching streaming videos, they curtail the bandwidth you can use. With a VPN, your ISP will never know what you're doing. Hence it will never throttle your service.
---
6. Anonymous torrenting
If you are a BitTorrent user, you probably already noticed that websites like The Pirate Bay or RARBG have recommended users adopt VPNs to do their torrenting. And that's another thing VPNs can do for you: unleash the power of BitTorrent while avoiding the most prominent legal risks. Just keep in mind that not every VPN is appropriate for torrenting.
So, as you can see, VPNs are the new Swiss army knives of the digital era. Thus, you should always have one ready in your pocket.
---
What features should I seek in a mobile VPN?
It would be best if you always looked for a service that sticks to a strict no-log policy, which means that it keeps no records of any of the activities that are traceable to you. Many VPNs claim to honor the zero-log standard, but only a handful can provide proof. (For example, NordVPN has been audited twice in this regard.)
The no-logs policy ensures your privacy remains protected — remember that privacy and security are not the same.
Then you should always prefer a service with reliable and fast connections. However, this is not negotiable if torrenting or video streams are essential in your digital lifestyle.
Last but not least, it should be easy to use. The smaller screens in mobile devices need an interface that makes things easier to do, so run away from complexity.
How about free mobile VPNs?
This article explained how ProtonVPN has an excellent free program, but that's an exception. Most free VPNs you will find online are services you should never touch.
Here are two main reasons to stay away from free VPNs:
Poor or unimpressive performance. Free VPNs are overworked. So, their connections are unreliable, and it can take several attempts to get a link to a server. Then the speeds are low, and most cap data for daily or monthly use. It's implausible that you will find a free VPN that works as you would like. And even if you do, the inherent limitations in the system will make it a frustrating experience.
Privacy concerns. The previous question explained that zero-log policies are critical when choosing a VPN. Free VPNs must make money, which they often do by harvesting your data and selling the logs to their commercial partners. So free VPNs can create more privacy problems for you than they solve. It's always best to keep away from free VPNs.
Conclusion
Nothing is more convenient than having full internet access when working, traveling, or at home. But, at the same time, there's nothing more dangerous from the security and privacy angle. These are situations where you broadcast all of your digital life for the world to see. Thus, sooner or later, you'll be at the mercy of hackers and other third parties who can intercept your data stream and read it because it's not protected. That is why VPN mobile apps are essential in this day and age.
Edward Snowden made it clear how exposed every internet user is to surveillance in general. So it goes without saying that using the internet on your mobile devices without protection exposes you online. And there's no reason to accept that.
Each of the five VPNs described above has excellent apps and keeps you safe anytime, anywhere. Some are even relatively cheap (ProtonVPN has a free service, too). So, there's no good reason for you to keep serving those who harvest your data.
Remember that staying safe online is your responsibility. Unfortunately, the pertinent laws are either inexistent or inoperant in most of the world. Also, you can't leave it to your mobile carrier or government to do the right thing.
Mobile VPNs are not an optional toy for the ubergeek only in our current context. Instead, they're necessary for every user whose smartphone can connect to the internet. And that includes you.
So please consider picking and using the best mobile VPN app onward. You can even choose one from the five providers listed above. Besides increased security, these VPNs offer many other advantages you like and enjoy.
And above everything else, stay safe!
FAQs
NordVPN is the best mobile VPN for two main reasons; top-notch services and interactive mobile apps. Moreover, the provider has the most extensive network with fast, reliable, and secure servers. Also, the provider managed to turn the state-of-the-art WireGuard protocol into a privacy-compatible tunneling protocol. That's how NordVPN gets an edge over most others regarding speeds. Besides, the app is light, friendly, and packed with features while keeping things simple for the least expert users.
There is no general answer to this question. If you have chosen a good VPN service, it will be good on your phone. If you select an awful service, it will show. The point is that VPN quality depends not on your device but on the service you hire.
ProtonVPN is the best free VPN service that offers mobile apps to use on a tablet or smartphone. Of course, it's a limited service compared to the paid versions of ProtonVPN, but this is the one if you need to use a free VPN. Stay away from the rest.