While in India, it's easy to tune in to SonyLIV and watch any of your favorite channels, from Sinhasan Battisi to LoveBytes. But the story is different when in the USA, Canada, or anywhere else abroad. Unlike having access to your regular shows as you would back home, you can't stream SonyLIV from overseas. Instead, all you get is an error message like this: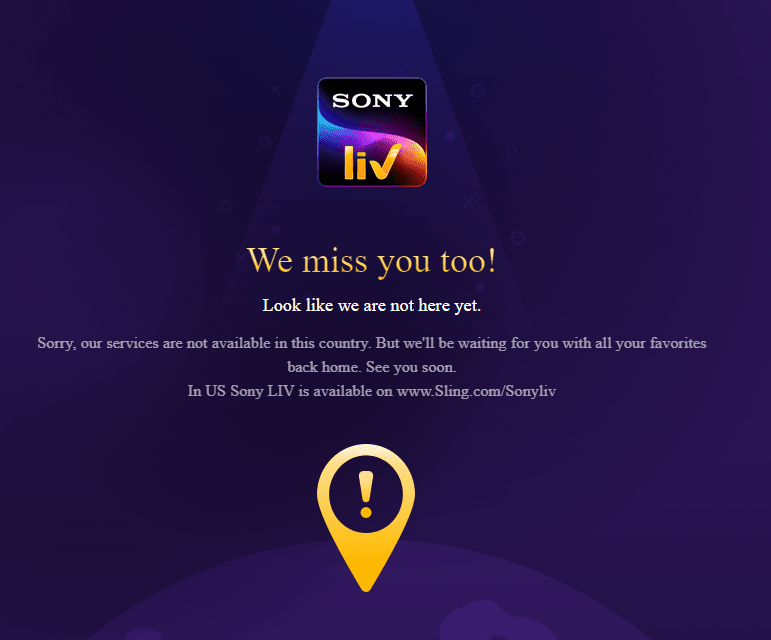 Due to geo-restrictions, you can't stream SonyLIV outside the shores of India, even if you subscribe to a premium account. But does this quench all hopes of you getting to enjoy your favorite Indian content?
Certainly not. With a VPN, you can get past the geo-restrictions and enjoy the shows like you would in India. How does this work? Read on to find out.
How to watch SonyLIV overseas: A quick guide
Are you eager to watch your favorite Indian dramas and other content abroad? Here is how you can stream SonyLIV in USA, UK, or anywhere else outside India.
Discover any good VPN of your choice (ensure it has a reliable server in India). Our number one recommendation is ExpressVPN in this case.
Subscribe to the service.
Download and install the mobile app or the desktop version of the VPN.
Open the app and sign in using your login information.
Select an Indian server from the list and connect to it.
Head over to the SonyLIV website and start streaming your favorite shows!
Why use a VPN to watch SonyLIV in the USA?
If you are outside the shores of India, try streaming SonyLIV. You will discover it didn't go through, and that's because you have been restricted.
Wondering how the Indian OTT (over the top) streaming service can detect your location? Well, what SonyLIV (and other websites applying regional content restrictions) does is that it uses your IP address to determine your current location. If the IP address belongs to somewhere outside India, such as Australia, Canada, or the USA, the service blocks you from streaming its contents.
Thankfully, you can still watch SonyLIV from overseas despite the restriction. For this, you need to create the impression that you are accessing the site from India. For that, you need an Indian IP, this is where a VPN is needed.
A VPN conceals your original IP address by rerouting your traffic through a private server. Thus, the website will only see the VPN's server address rather than your true IP address.
In general, SonyLIV will think you are watching from India; therefore, there will be no restrictions in USA or anywhere else.
A VPN can do more
If you think that's all a VPN is made for, then you will be pleasantly surprised to know that it can do much more.
A VPN can also encrypt your traffic while redirecting it, thereby ensuring safe and secure transfer and receipt of data. Hence, no one will be able to investigate your online activities. This also means that advertising companies and social media outlets won't have access to your data.
That's not all. VPNs also prevent hackers and other mischievous agents from accessing your traffic. This will come in very handy when you use insecure networks in public areas such as public libraries and cafes.
Best VPNs for unblocking SonyLIV abroad
While many VPNs are available out there today, not all of them can actually let you access blocked content. So, I vetted numerous services before recommending these three fantastic VPNs to you. You can choose any of them depending upon your browsing habits and unblock SonyLIV in the USA or anywhere else in the world.
1. ExpressVPN