12 best private search engines to use in 2021
This detailed guide aims to provide you with the best search engines that respect your privacy. It covers why an encrypted search solution is needed in this digital age, genuinely private search engines to use in 2021, and a quick checklist to let you complete your online security puzzle.
While looking at the industry estimates by the Internet Live Stats, we estimated Google handles almost 7 billion searches a day on average. And the number of people using the search giant daily comes to more or less 1.7 billion.
When someone refers to search engines, it is okay to assume they are talking about Google, because it attracts 95.65% of mobile search traffic all around the world.
The laptop/desktop share of Google stands at a slightly lower number being 87.35% but it is still the leading search engine there, too.
And all the top search engines like Google are basically data compilation tools for advertising companies as they help firms to have a go on you with targeted ads.
Unless you use a secure search engine, your information ends up in the hand of a third party, and you (the users) become the product.
To give you an idea below is some of the information that Google and other widely-used search engines gather when you use them:
Search queries
Browser cookies
Location
IP address
In other words, the larger search engines (that are not private) collect data on what ads you click, the videos you watch, your location, cookie data, IP address, and device information.
These popular search engines keep saying they use your information only to 'make adverts relevant,' and do not sell user data to any third-party.
On the contrary, not too long ago, in September 2019, Google was accused of feeding advertisers with the personal data of users.
Do you want to search the web without compromising your privacy? Then you better use one of the privacy-focused search engines that I am going to cover in this article.
But before that, let's uncover some essential basics.
How does a search engine work?
When we speak of a search engine, we usually mean internet search engines.
These are the web applications that enable internet users to search the World Wide Web and to get a list of results matching their search query. The basis of the web search is a database of indexed sites created by the respective provider.
What is a private search engine?
A search engine can disclose your private data like employment status, medical conditions, political beliefs, financial information, and other personal information.
Of course, this data will be gathered, saved, and associated with your data profile. To successfully keep your data private, you need to keep it away from the reach of data collectors.
A secure search engine is a search engine that does not track user data and returns search results with additional protection and data privacy levels.
Secure search engines do not track your steps online or store search queries. They, in fact, boast a range of methods and features for keeping your searches secure.
Why use a privacy-focused search engine
Search engines, like Google, have become indispensable tools in our day to day life as we surf the net looking for our interests.
As highlighted in the beginning, let it be desktop or mobile users, the vast majority of internet users use Google.
Yes, Google is the most popular by far, but it also has its disadvantages, as in everything related to privacy.
The search giant collects information about everything we search using it, which according to the company, serves the purpose of user experience improvement.
Because of that, if two individuals look for the same thing, you might not see the same results or ads.
The feature may be useful for many, but it does not stop bothering those who are most concerned about their privacy.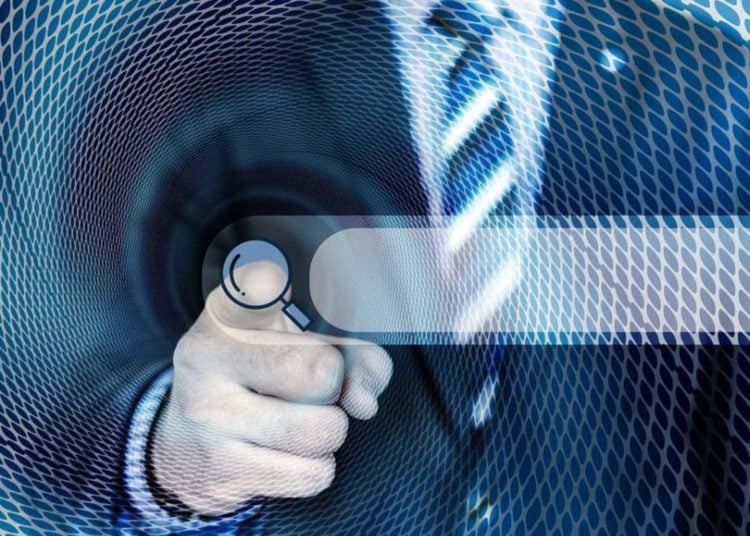 On the other hand, private search engines believe whether you are looking for videos of sleeping kittens, or how the financial market stands; all this reflects your tastes and your personal life, and therefore should be private.
Many internet users do not appreciate that Google does not allow them to remain anonymous.
Through your account and its free tools, Google is constantly seeking to identify you better for the benefit of advertisers who will find it easier to set targets for their advertisements.
That is one of the primary factors that has encouraged more and more internet users in the last couple of years to use secure Google alternatives.
However, it is worth noting that Google is not the only one to store data that you would like to keep with yourself only.
Bing, the second most used search engine in the world does that too. Its relevance, which it derives from its sophisticated algorithm, only makes things tough for the most demanding internet users.
Microsoft owns and operates this search engine, and it has been in much of talks since the Prism affair (surveillance program led by the NSA), which encourages internet users to avoid using it.
What to look for in a privacy-oriented search engine?
When we think of searching anything on the internet, the first thing that comes to mind without a doubt is Google, the biggest search engine with which one can find virtually anything he wants.
Although we cannot deny that Google is accurate and fast in helping us find what we want, it is well known that the privacy of users is at stake when using it as it keeps collecting data and using them for commercial purposes.
Since Google and other popular search engines are known for tracking user data for both their very own use and that of third parties, people keep turning to privacy-focused search engines.
But you must be thinking how do I pick the most secure search engine?
There are some essential things you should take care of to make sure the alternative search engine you are going with is the top search engine for privacy in real.
A genuinely anonymous search engine lives up to the following criteria:
It provides settings for a customized experience.
Boasts an easy-to-use interface.
Delivers appropriate (accurate) search results.
Maintains your privacy (does not track any data).
It does not use tracking cookies.
A trusted team or firm runs it.
Best private search engines for 2020
Finding the top encrypted search engine for your exclusive needs is an individual process (with numerous factors to consider), and there is no particular solution that might suit everyone equally.
Preferably, a search engine should provide accurate results while regarding your privacy.
Luckily, there are several truly high-quality anonymous search engines available out there that have a variety of methods and features to keep your searches safe.
The majority of these secure internet search engines do not have exquisite features but are designed to provide you with a private, safe, and fair way to search for things that are important to you.
Listed below are the fifteen most secure search engines that you can use for your next search online:
1. DuckDuckGo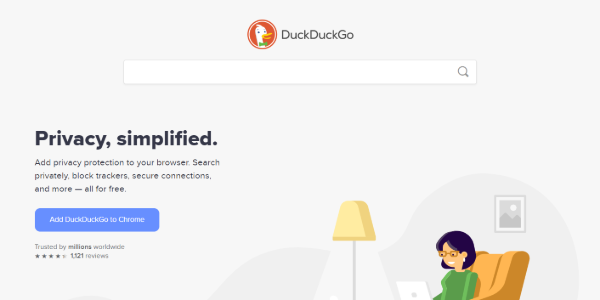 DuckDuckGo, which is also abbreviated as DDG, is a search engine that does not track any of your information, even your IP address.
It is the most widely-used privacy-focused search engine, receiving more than 40 million daily average queries.
Concerning its features, while using DuckDuckGo, you get unpaginated results, which include favicons, symbols on the side that makes it easy to recognize your favorite web spaces.
With DDG you get almost the same experience as with traditional search engines (but in a unique way).
Since the search engine aims to protect your privacy, you might notice it lacks a few functions such as image filtering by license tailored ads (that is a good thing).
DuckDuckGo boasts a mighty metasearch engine that gathers results from more than 400 sources, including Bing, Yahoo, Yandex, and Wikipedia.
The value that DDG provides as a search tool, and the fact that it boasts an extremely transparent and detailed privacy policy is worth appreciation.
However, there are a couple of things that might make someone with 100% anonymity goal uncomfortable.
As per the disclosure available on DDG's site, they save all the search queries of users.
As the search engine does not record your User-agent strings or IP address, the data collected is not in a personally identifiable manner; but still, the very fact can make some people run away from giving it a try.
Another not so cool thing concerning 100% privacy protection with DuckDuckGo is, it is based in the US and runs on the Amazon servers available in the United States.
As the U.S is not considered a country with proper pro-consumer privacy laws, DDG being based in it can be a drawback for this well-known privacy search engine to many users.
2. Hulbee.com/en (now redirected to Swisscows.ch)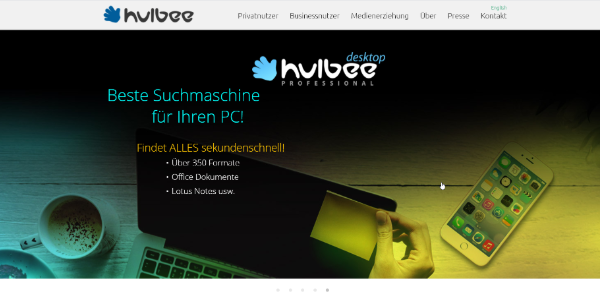 Hulbee offers total privacy regarding both your search and location history while making sure it does not record or store any of the data that can identify you.
The private search solution gets that done using encryption, which prevents information leakage.
It also lets you select a region for more relevant search results while the semantic map of this private search engine enables you to have an interactive search experience.
This private Google alternative is an ideal search engine for the family as its search results never include sexual or pornographic content.
3. Yippy.com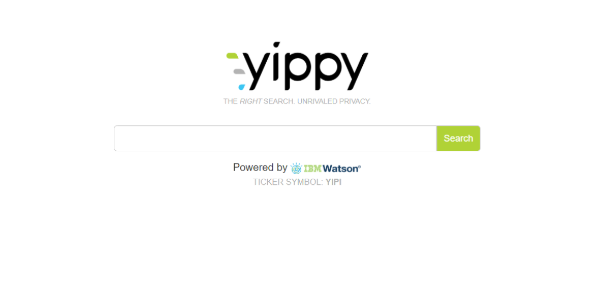 Yippy allows you to filter the results manually according to various categories and mark any result as inappropriate.
Unlike other search engines, with Yippy, you can search the content of a very diverse nature, such as web, news, images, government data, jobs, and blogs, etc.
It neither records your searches nor shows custom ads (that is the reason why it is on this list), however, similarly to Google (in a good way), it does allow users to view the cached pages.
4. StartPage.com
It is a platform that defines itself as the most private search engine in the world, since "it does not register, track or share your personal data."
StartPage makes its users browse through a proxy server for helping them protect from sites tracking their location or IP address.
It is worth noting that in October 219, System1, a US ad-tech firm, acquired Startpage. That makes us wonder is StartPage safe?
However, being a digital ad agency System1 claims that they are focused on providing privacy products, we still cannot vouch for their claim.
So, even though I am happy to list StartPage in my top recommendations for anonymous search engines, I would not recommend you (my readers) to get your hands on it because of the recent developments around it.
The fear for me is, the new owners and board members of the Startpage are more likely in the business of collecting as much personal data of users as possible as they are an ad-tech company.
5. Gibiru.com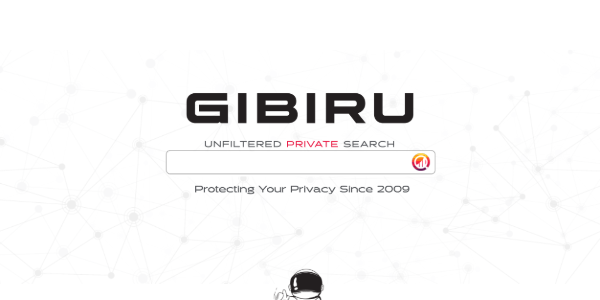 This search engine encrypts user data and prevents it from falling into the hands of third parties.
It works faster than most encrypted search engines because it uses "Google Custom Search" to provide quality service while eliminating all tracking methods that are applied by Google.
So, Gibiru itself is not a custom-built privacy-focused search engine, it is a web tool based on Google but with privacy concerns eliminated from it.
Gibiru was launched in 2009 with a community effort, and the search engine remains so as it has not made the transition towards seeking any external funding.
6. Disconnect Search (search.disconnect.me)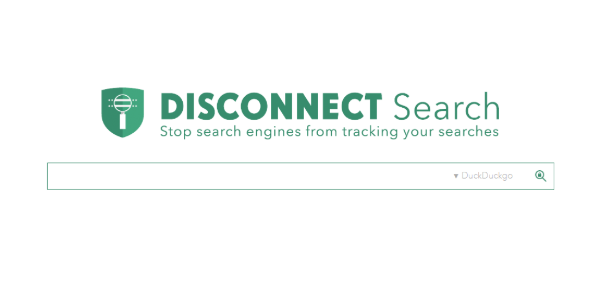 The slogan of this search engine tells it all: "prevent search engines from tracking your device."
Disconnect Search utilizes the content search assistance feature from leading search engines like Bing, Yahoo, and Google but it does not track your internet activities, IP address, or search queries.
This privacy-friendly search engine also offers a premium VPN (that costs $50 for one year) and a privacy browser as part of its privacy products on offer, which is relatively rare among similar search engines.
7. WolframAlpha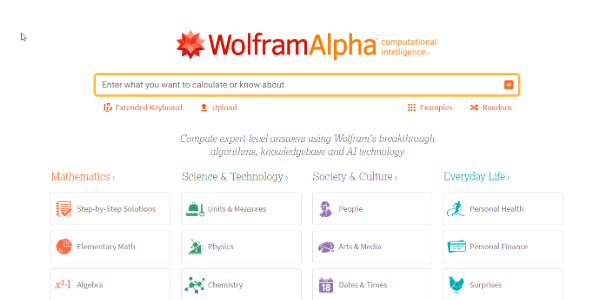 WolframAlpha is an anonymous search engine specially designed for answering queries in specific areas, such as science, literature, engineering, or geography.
It is more similar to an encyclopedia, so it is a go-to privacy-oriented search engine for the knowledge seekers worldwide.
This knowledge-packed secure search engine spits the results by performing dynamic calculations using integrated algorithms.
Like all other search engine features in this article, WolframAlpha does not track or record your search queries.
8. Lukol.com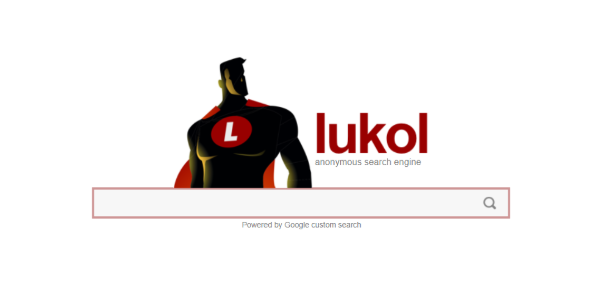 Thanks to its proxy server that the search engine uses, Lukol delivers customized search results from Google by utilizing the enhanced custom search of the search giant.
It ensures your privacy by eliminating any traceability or traceable data.
Lukol is considered as one of the best minimal private search engines to protect personal information online and keep yourself away from landing on inappropriate sites away with misleading advertising.
This anonymous allows searching for web, images, news, and videos.
9. Metager.org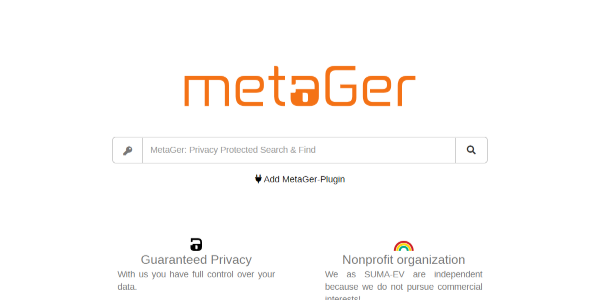 MetaGer allows you to perform confidential non-traceable online searches that leave no traces.
It also integrates a proxy server so you can open any link anonymously from the search results pages and keep your IP address hidden from the destination server.
You can be rest assure of not encountering any annoying or targetted ads, as this privacy search engine does not track the keywords you search for.
A nonprofit organization, which does not pursue any commercial interests, runs this secure alternative to mainstream browsers.
10. Peekier.com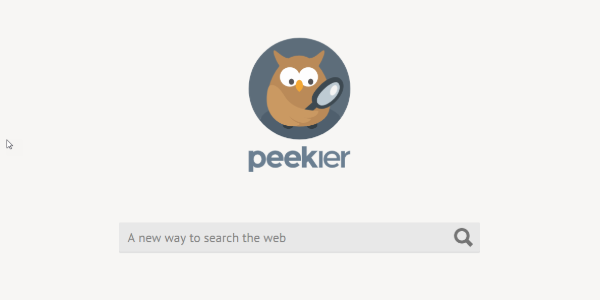 Peekier (pronounced / 'pi • ki • er /) is a new way of searching the web privately.
With this secure search engine, you get to look at the search results quickly and safely in this search engine that respects your privacy.
It functions uniquely compared to not only other private search engines but the commonly used ones, too.
This search engine shows you a preview of all the relevant pages after you search for a query. Clicking on a result enlarges the preview and allows you to scroll through the site.
You can then decide if the information shown on the site interests you or not before clicking on the link.
The mechanism on whom this privacy-oriented search engine works is simple; it allows fewer sites to know the user – mostly the ones a user trusts.
11. Qwant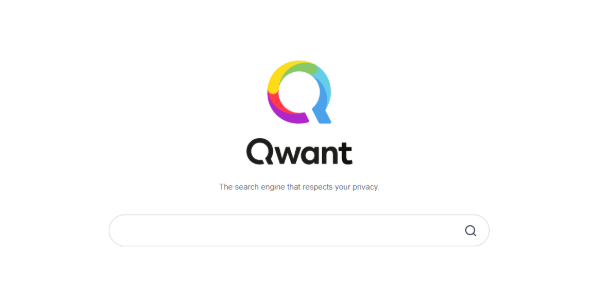 With a design similar to Google, Qwant is presented as an alternative that focuses on data protection.
It is a France-based search engine that does not use cookies, collect personal data, or track users in any way online.
This search engine is committed to good causes, which means whatever money it makes, it spends that on things like charity or planting trees.
Like other best search engines available out there, it allows you to search for news, images, sites, and information on social networks (Twitter only).
Besides, it has different tabs such as Qwant Music or Qwant Boards where consumers can share different multimedia content.
The search engine also boasts a kid's mode where it shows only the protected contents and also promoted the educational content.
12. YaCy.net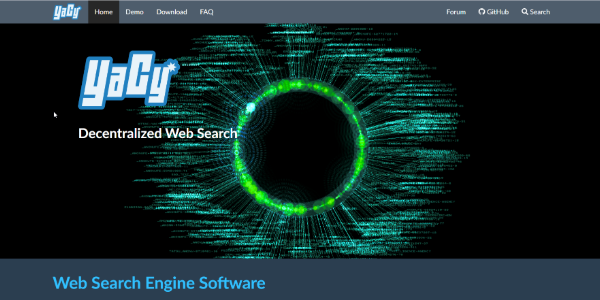 YaCy goes its own way. The search engine runs on its very own software, and instead of relying on central servers like Google and other typical search engines do, YaCy is a peer-to-peer project.
To participate in the search network, all you need to do is download the corresponding open-source software.
The software is available for Windows, Linux, and macOS. The software project is supported by the Institute of Technology from Karlsruf and SUMA eV, an association for free access to knowledge.
VPN for maximizing your online privacy
Even if you have picked a truly secure search engine, it won't be able to keep sites you visit at bay from tracking your information.
All the anonymous search engines have it clearly mention on their terms and policy pages that they cannot protect you once you click on a search result to visit the third-party site.
Today any website you visit online tracks your use through cookies, and some of the larger ones that are built on sophisticated tech can even record your IP address.
Of course, all the sites tend to have a privacy policy page where they mention that they are going to collect some of your information (if they do so).
But who knows your data may already be compromised before you even get to read a website's privacy policy.
In many countries, ISPs (Internet Services Providers) track user activities and sell their collected data to advertisers.
Apart from all that, hackers, corporations, government agencies, and scammers keep tracking you online to launch the attacks of their interests.
The VPN is one such tool that can be your best line of defense for avoiding all the trouble highlighted above.
Thanks to its military-grade encryption, a quality VPN like ExpressVPN disguises where your device is when it contacts with sites.
It also encrypts the data you send or receive over the internet, turning your information to be unreadable to anyone intercepting your traffic including your ISP.
Features such as kill switch, protection from DNS/IPv6 leak, IP cloaking, and ad blockers are essential to protect your location, data, and anonymity online.
Most of the premium and quality VPN services, e.g. ExpressVPN and NordVPN, boast all those features.
That is why even if you are using one of the security-oriented search engines, it is recommended to use a VPN, too, if you desire the maximum-possible privacy online.
In brief, using a VPN can continuously and instantly provide you:
Better privacy.
Top-notch security.
Access to more websites (you get to can unblock any popular streaming service including HBO Go and Netflix.
Almost completely anonymous online experience.
How can I delete my Google history
In case you do not want to keep a record of the pages you have visited with Google, you can delete all or part of your browsing history easily.
Please note if you delete your browsing history, it will take effect on all devices where you are signed in to your Google account and have sync feature turned on.
Clear history
Open Chrome on your computer.
Click on the More (the three verticle dots icon you see in the upper right corner).
Tap on History.
Locate and press Clear browsing data (it should be on the left in a box).
Select the choice of history you wish to delete from the drop-down menu. To clear everything, select ALL.
Click on boxes for the data you wish for Google to clear, as well as Browsing history.
Finally, press Clear data. You are done.
Private browsing: If you do not want Google to save any of your browsing activities in the first place, you can use private mode for private browsing.
Whether you are using a computer, Android, or iPhone, browsing in Google chrome's private mode is a simple three-step process. For that:
Open Chrome
Click on More (the three dots you see in the top right corner)
Check for the Incognito icon and click it (it more likely will be the third option in the new window that you would see after clicking on More). That is it, we are done.
How to set a different default search engine on your web browser
Someone might want to set a different search engine on their browser for various reasons.
One of the primary reasons in such cases is that users tend to switch their browser's default search engine to a security-focused search engine such as DuckDuckGo.
Chrome accounts for more than half of all web traffic worldwide (62.48% to be specific), it is by far the most used internet browser.
So, I will explain the process of setting a different default search engine in a web browser taking Chrome as an example.
The process is almost the same for all the popular web browsers, so you would still get an idea even if you do not use Google's web browser.
Let it be Firefox, Safari, Chrome, or any other web browser, you can use the address bar (omnibox) as a search box.
In Chrome, the address bar automatically searches with Google as it is set as the default engine by default, but you can easily set other search engines as your default search engine following simple steps.
Open Chrome on your computer.
Click on the "More" icon (three verticle dots that you see in the upper right corner).
Go to "Settings."
Then right under "Search engines," tap on the down arrow available next to "Search engines used in the address bar."
Pick a new default search engine of your liking from the list. Done.
Warning: If you've tried setting up a search engine and found it to be ineffective, it means there may be malware on your device.
What if I want to use Google search engine anyway
If you want to use Google search engine despite all the privacy concerns, then at least opt for a VPN service.
It is recommended that you go with a premium VPN like ExpressVPN, but if you do not have any bucks to spend on your online security, you can try some of the best free VPNs, too.
Arguably, the most important feature of any quality virtual private network (VPN) provider is that it prevents your online activities from being discovered by third parties (including law enforcement and your Internet service providers).
Any VPN that cares about your privacy will not keep logs containing information about your digital footprints. If a VPN does track and save information about your online activity, it may bite you later.
When considering using a VPN, be sure to check carefully whether the provider keeps any activity logs.
And again if you ask me, as per my extensive tests and experiences with different top VPNs, we found ExpressVPN to be the most secure one to use.
Conclusion
Finding the best search engine that is tailored to your needs and respects privacy, too, is a subjective process. No single "best secure search engine" can apply to everyone.
You can only find the one that suits you best by researching and testing different options.
If you ask me, among all the private search engines I covered in this article, my personal favorite is DuckDuckGo.
But again, it all comes down to your unique preferences.
It is also worth noting that even if you use the very best anonymous search engine in the world, your online activities can still be tracked.
That is because even the secure alternative search engines listed above only help hide your personal details while you surf on the web.
They do not provide you protection against location tracking or encrypt your web traffic for true security online.
Only VPNs provide you location masking and end-to-end encryption to enable you to have an entirely anonymous experience online.
Gaining full-proof internet security is a myth. It is a puzzle that gets fully solved only if you assemble all the needed parts.
So, if you truly value your privacy, you should consider using a quality VPN alongside switching to one of the security-oriented search engines of your liking.
And yes, as we are talking about completing the puzzle, you may always keep your device's OS updated and have an antivirus installed on your device. Besides, protect your screen alongside covering the webcam (pasting black tape will do). You may also consider using a secure browser and securing all of your devices (not only your mobile or laptop). That pretty much completes our recommended stealthy security and privacy puzzle completion.
Do you know any other secure Google alternative search engines that you think are worth adding to this article? Or maybe you want to report a defunct or questionable anonymous search engine? Feel free to share your thoughts via the comments section below.
---
Images via Pixabay.
About the author
Gannicus Oliver
Gannicus Oliver is an experienced tech journalist (he loves writing on emerging techs and digital privacy issues) and an online business consultant. He boasts over four years of writing experience. In his free time, Gannicus enjoys uncovering thrilling adventures and traveling around the world.