HolaVPN is a service provided by Hola Networks Limited, out of Israel.
If we had any household names in the VPN industry, Hola VPN would probably be among them. It's been around since 2012 and boasts of having served more than 200 million users ever since. It presents itself as the foremost P2P VPN in the industry. Unfortunately, I'm not sure that's the best thing.
This P2P thing doesn't mean you're in the best VPN for torrents. It means that your internet access becomes a P2P resource. Let me explain it further.
A typical premium VPN service charges you a fee, and that's how it pays its bills and stays on business. Free VPNs, on the other hand, collect your online data for sale to data mining companies. Unfortunately, Hola's business model is not exactly either of those. The network is not supported by the members' fees but by imposing dubious practices far from secure for its users.
Let's start at the beginning. In Hola, you have to share your bandwidth with other users in the VPN. So your IP address won't be hidden from the world at all. Instead, it will be shown as somebody else's address – another user in the Hola network, and vice versa, your IP will be reported as somebody else's. That's what a peer-to-peer VPN is.
HolaVPN is very committed to its P2P VPN model. P2P in VPN networks is a novel thing for sure, but does it bring any value to you as a user? Is it just an intelligent managerial move that's good for the company and risky for you?
As I stated earlier, the business model in HolaVPN is unusual. The service is offered as freemium (you don't pay for it with money), but you can sign up for the Plus package and receive additional features. As we keep exploring Hola's features, let's remember something: in the digital world, you are the product for sure whenever you don't have to pay for a product with money. So let's investigate a little deeper.
The P2P VPN thing is the most peculiar thing about HolaVPN by far, but it's not the only thing I don't like about it. For example, one of the most frequent questions I always look to answer about any VPN is: does HolaVPN work with Netflix? Well, it doesn't, and it's not a point in its favor.
So as a HolaVPN user, you have to put up with this ridiculous P2P feature, and you can't use Netflix. So even this early in this honest HolaVPN review, we need to ask if there's anything Hola can do well. Let's keep looking.
HolaVPN key features at a glance
| | |
| --- | --- |
| Servers | 950+ |
| No-logs policy | Yes |
| Torrenting | Yes |
| Kill switch | No |
| Price | 3.89 USD/month for one-year plan |
| Country-based | Israel |
| Simultaneous devices | 10 |
| Customer support | FAQ knowledge base |
| Money-back guarantee | 30 days |
HolaVPN and multimedia streaming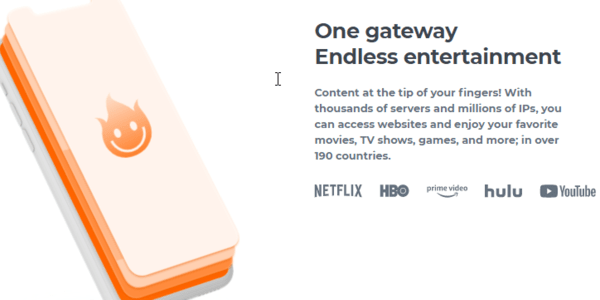 Before Netflix cracked down on VPNs a few years ago, every VPN allowed access to the best Netflix had to offer all around the globe. Unfortunately, Netflix didn't share in that happiness, so it spent a great deal of effort to stop those users by implementing a fairly advanced detection system that stops VPNs, proxies, and other unblocking tools in their tracks.
These days, VPNs that do work with Netflix are not all that common, and those that do use that ability as a selling point. HolaVPN knows this, so it markets its Plus package as the silver bullet that unlocks many geo-restricted streaming platforms, Netflix among them. I tried my luck with some. ITV and BBC iPlayer worked fine, as well as some others. But not Netflix.
In other services, the trick to Netflix lies in choosing the correct server. But in HolaVPN, you don't have a server. Instead, you are connected to the internet through your peers in the network, so you can't just choose another server to solve the problem. And this is where popularity works against you. Most of the IPs available on the network may be already blocklisted by the streaming platforms, so your luck won't improve from within this network.
Please keep in mind that Hola could work for you on occasion because the network is constantly changing, and the environment could, at times, be such that you will get lucky and unblock Netflix. But intermittent good luck is not what I want from any VPN. Besides, Netflix has had an eye on HolaVPN for a while, and it knows well how to deal with it. So if Netflix is your priority, HolaVPN is not the VPN for you. You'd be better off trying a VPN that gets all Netflix libraries unblocked effortlessly, ExpressVPN, for instance.
Speed performance in HolaVPN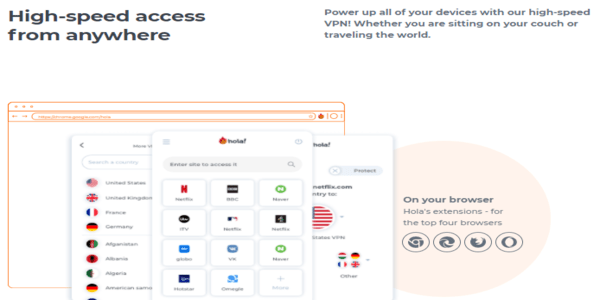 The one thing you must know about HolaVPN is this: it's not a VPN at all. It's a P2P proxy service. I am not splitting hairs; it's just what it is.