Online privacy protection is not only necessary for you as a person. Rather your business also needs such protection. That's where proxy service providers come into play.
In fact, your business needs more protection as compared to your personal online privacy. That's because your personal privacy is about just one person – you. At the same time, your business's online security directly impacts the online security of all the individuals affiliated with it.
Therefore, having a proxy is the best thing you can do to protect your business's integrity swiftly.
However, what's difficult today is picking up the right proxy service from the plethora of proxies available in the market.
Thus, to ease things for you, here we have compiled a list of the best proxy service providers you can choose for your business.
Quick list: Top proxy service providers today
What is a proxy?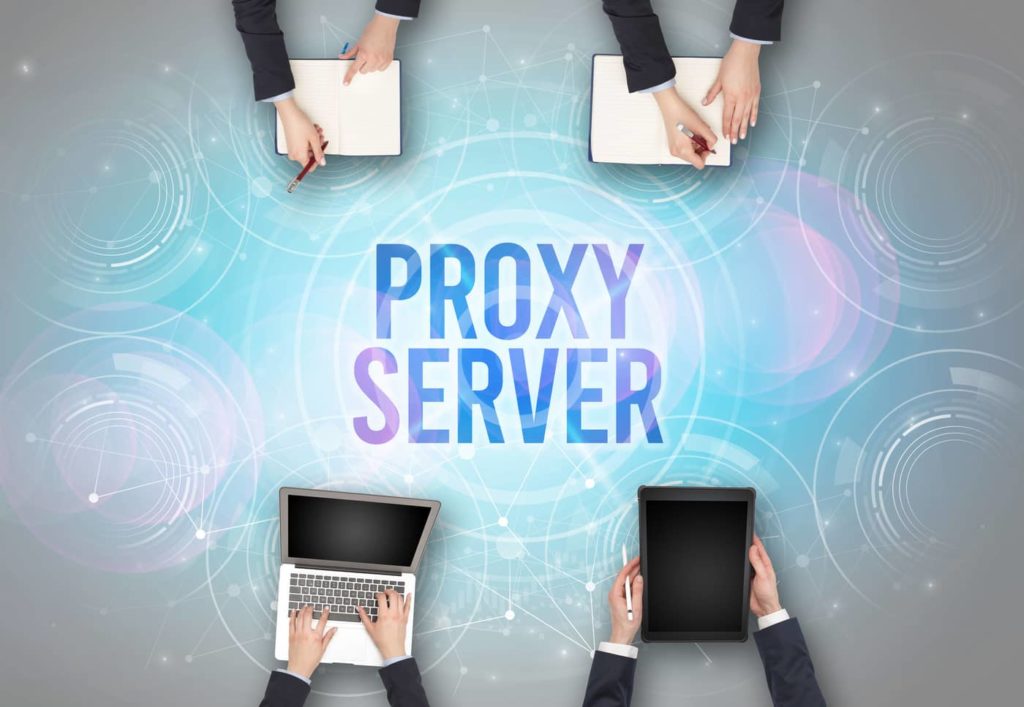 Before moving on to discuss the best proxy service providers, let's take a quick look at what proxy is.
Basically, a proxy is a third-party service that serves as an intermediary entity between you and the internet.
Without a proxy, your data goes directly from your own network to the corresponding website(s) that you wish to visit. In this way, your data remains exposed to the internet. Even if a website employs HTTPS protocol, your data still remains vulnerable to interception, tracking, and hijacking.
That's where a proxy protects you! It serves as a barrier between your real details (such as IP address) and the website. Whereas it also serves as a secure carrier of your data, protecting you from the majority of snoopers, trackers, and hackers.
The proxy works just like a VPN – it masks your IP address by rerouting your traffic through its own servers. In this way, whether you use it for personal use or for your business, your real online details, especially, your IP address, remain protected.
Types of proxy providers
While every proxy's key functionality remains the same, depending on how they work and how they serve the customers, two main types of proxies exist today. These include residential proxies and data center proxies.
---
Residential
A residential proxy provides you with a different legit IP address that physically exists. This IP address actually belongs to an ISP in that region. Due to physical existence, this type of proxies do not exhibit bot-like behavior; rather, they depict organic users.
Data Center
This type of proxy has no physical existence. It means the IP addresses by these proxies do not belong to any ISP. Instead, virtual IP addresses serve as private IP authentication and come from a secondary service.
These proxies serve the users with greater anonymity and quick response time. That's why these proxies are more popular for dedicated business services, such as web hosting and servers, instead of individual users.
How do proxies serve the users?
Now that you know what a proxy is let's move on to how these tools facilitate your online activities.
Anyone can use a proxy service for personal or business use. But, talking specifically about the feasibility of proxies, they appear more suitable for business users.
Wondering how? Let us explain.
For personal use, proxies help the user to get IP addresses from different locations. This consequently helps them in evading location-based content restrictions.
Thus, whenever you wish to see how things are going in the other part of the world, you can use a proxy to spoof your location to that place. Then, you can unblock everything available there that is not available in your country.
Likewise, proxies also facilitate individual users in preventing web tracking. Some premium proxies also provide enhanced security (to some extent) by offering data encryption.
However, when it's about using proxies for business, the uses are even more.
Businesses have to execute numerous activities where they need to have a bulk of IP addresses at hand. That's because their fast-paced jobs often impart spam or bot-like impression to the web. Hence, they frequently suffer IP bans.
For instance, activities such as web scraping, data scraping, email solicitation, and scanning tasks often face hurdles due to IP bans. Such bans happen because these activities involve sending recurring requests to the same website in bulk. Hence, the corresponding websites recognize such regular requests as suspicious activity, thus banning the IPs.
However, if the businesses use proxies, then the proxy service quickly substitutes a banned or blocked IP with a new one. This allows a smooth workflow without any hindrance.
So, whether your business activities require you to perform an extensive market search, competition analysis, or data scraping, with a VPN, you can do it all for your business without compromising on speed and workflow.
Why your company should use proxy servers
Even though proxies are a useful tool, many businesses still remain skeptical about adopting them. It's either because they aren't aware of proxies and their usefulness for business. Or because they aren't sure about how exactly these services would help their business and whether or not do they need one.
If you're also confused about why you use proxy in business activities at all, then don't panic. Here we list the most noteworthy reasons why you should collaborate with proxy service providers for your business.
1. Ensure anonymity while executing your business tasks
The main functionality of proxies is to make yourself anonymous online by masking your network and the web traffic. This anonymity isn't only a fancy privacy feature, rather an excellent business strategy too.
Wondering how?
Well, whether you are running a cybersecurity firm, an IT company, offer marketing services, doing research, or working in any other niche, you need to remain active on the internet generating huge data.
In the absence of a proxy, this data surely attracts all online tracking entities. Thus, you not only face hurdles executing your tasks but also risk your business security.
However, if you use a proxy service, these tracking elements and spies can't easily access your business network. Thus, you can seamlessly execute your activities without the fear of facing blockages or suffering information disclosure.
---
2. Expedite activities by achieving fast speeds and saving up bandwidths
Another significant benefit of using proxy services for your business is that it accelerates your work pace.
In normal circumstances, you often face lags during essential activities due to poor speed. These lags prolong your tasks that, in turn, adversely affect your business.
However, proxies save you from these issues as they apply various strategies to save bandwidth, such as caching web pages, blocking ads, and compressing traffic. So, you can continue to work as aggressively as you want without hassle when you have more bandwidth. This free space also facilitates better collaboration between team members.
---
3. Manage server load
Building a successful business significantly depends on developing a responsive online presence. It means you should make sure that your existing and potential customers can reach out to you at any time.
Often, particularly for successful businesses, ensuring this becomes difficult due to server load during heavy traffic. As a result, your site takes time to load at the visitor's end, which is a big turnoff. The visitors tend to go away from your website and lookup for alternatives. Eventually, what you get at all is nothing but a loss of customers.
That's what proxy service providers address. They save your servers from exhaustion by offering a single access point to a site whilst managing the traffic. In this way, your customers never face trouble in reaching out to you.
---
4. Regulate internet usage by your staff with prompt network administration
One of the most common security threats to businesses is the inappropriate use of the company network by the staff.
That's because due to the wrongdoing of an individual employee, your company may suffer from a huge blow, which includes permanent IP blacklisting as well. Definitely, this creates a halt in your business activities and adds to your maintenance budget, ultimately causing a monetary loss.
Of course, it isn't easy to train hundreds or thousands of employees on cybersecurity. So, does it mean you can never protect your business against such threats?
Of course not!
Thanks to the proxy service providers that you minimize these threats to a greater extent.
With proxies, you can protect your internal networks by controlling users' access to the network. Your firm's network admins can check and review the devices accessing the network and the websites they tend to visit. With this review, you can control which platform to allow or deny on your business network.
For instance, if you wish your employees to not waste your business resources by spending time on social media, you can simply block the sites like Facebook on your network.
---
5. Protect your business against cybersecurity incidents
Last, but the most crucial reason to proxies is ensuring cybersecurity to your business. The best business proxies for companies can certainly assure that.
Wondering how it will happen?
Well, as you now know, your business network is prone to hacking and malware attacks via entities that track you online. Since proxies mask your network by serving as an intermediary between you and the internet, these online trackers do not really succeed in gaining access to your business. Certainly, when the adversaries can't easily locate you, they can't hack your business or breach data.
Though, it isn't a fool-proof cybersecurity strategy. Yet, it certainly helps in alleviating the probabilities of cyber-attacks.
---
5 best proxy service providers for your business
While you can always analyze proxy service providers yourself before subscription, some services are truly the best ones catering to different business requirements.
Therefore, we have listed those best services here to save your time to research. Depending upon your activities and your business requirements, you can pick the service that meets your needs.
1. BrightData (formerly Luminati)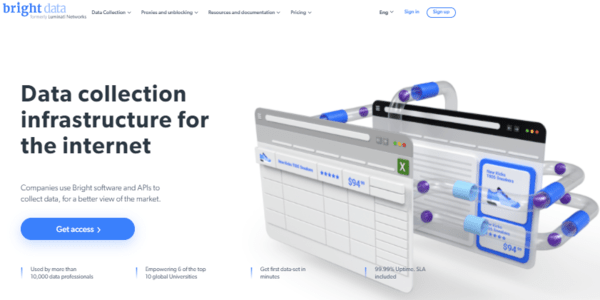 What you get:
IP address: 72+ million
Locations: All countries and cities
The best paid proxy network for businesses is BrightData, overall.
What's great with it is its even larger IP pool than the proxies described above. Formerly known as Luminati, BrightData has a whopping 72+ million proxies on its network spread globally.
This huge number, together with its choice of locations, makes it the best for businesses involved in web scraping, data collection, data analytics, and other similar activities that require generating more requests and huge traffic.
Whereas you can also get targeted proxies through Luminati that you can target via location or ASN (Autonomous System Number).
The other good thing with BrightData is its support for multiple protocols, including the basic HTTP to the secure HTTPS and even SOCKS5 with residential proxies.
Want to know more? You can also get mobile IPs via Luminati that offer better resilience than the residential proxies.
While the service is simply great for business, it isn't affordable for all. In fact, its higher cost seems the only major downside with this service. Otherwise, Luminati is far better than most other proxy service providers of today. If you feel you can manage to spare a lump sum for this service, then Luminati is surely what your business needs. In fact, you can test the providers with its 7-day completely free trial by verifying your business registration.
Pros:
Mobile IPs
Huge IP pool
Offers static proxies as well
Free trial
Cons:
---
2. Smartproxy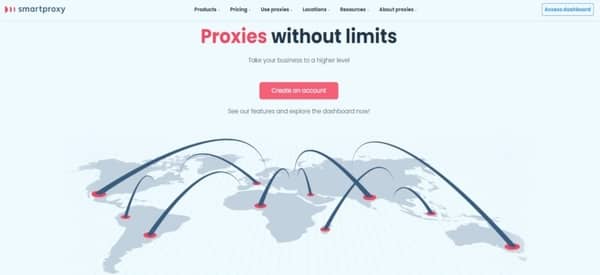 What you get:
IP address: 40+ million
Locations: 195+
Smartproxy offers dedicated business support with a vast number of IP addresses. They provide both residential and data center proxies to cater to your web activities.
Precisely, their IP pool consists of over 40 million addresses belonging to over 195 locations globally. Although, this massive number of IPs may make you tumble during your browsing experience if you get a flagged IP address. Yet, to overcome this issue, the service offers rotating IPs that allow you to go on with your work by quickly switching the IP.
Also, they do not put any limit on the number of IPs. When you subscribe to them, you get access to all the locations. You can then customize the proxies accordingly as per your job requirement.
Besides, Smartproxy also offers browser extensions offering a relatively limited number of locations. So, if you want, you can simply install this extension on your Google Chrome or Mozilla Firefox browser to start browsing safely.
The part is that you can get all of these fantastic services for an affordable price. Even if you're interested in getting residential proxies, you can have them all without burdening your budget.
Pros:
No thread limit
Fast speed
24/7 customer support
Cons:
No dedicated IPs
Capped bandwidth
---
3. Oxylabs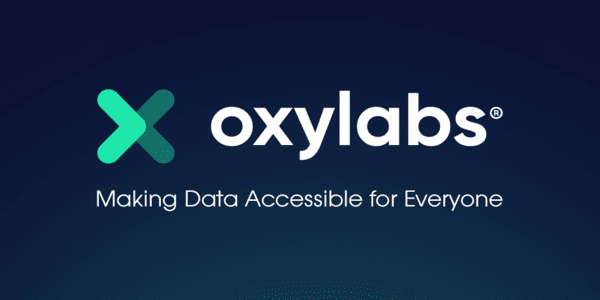 What you get:
IP address: 70+ million
Locations: All countries
If you want a really colossal IP pool that gives you online access to the whole world, Oxylabs is the best choice. This outstanding proxy service has a network of whopping 70+ million IPs. This colossal number suffices to cover almost every major city in all countries of the world.
This global coverage makes Oxylabs one of the best proxy service providers for web scraping businesses.
Also, the service offers targeted proxies via ASN (autonomous system number). However, since Oxylabs offers rotating IPs, that means the targeted residential proxies also use backconnect gateway servers. Therefore, you have to meddle with the configurations manually to fix this feature.
Also, if you want, you can choose to have dedicated (or static) IPs sourced from a separate pool of 2+ million proxies from over 80 countries. These IPs support the SOCKS5 protocol as well to keep yourself secure.
Otherwise, the provision of rotating IPs from such a huge pool ensures that you stay online without facing any lags due to IP blocking.
Pros:
Huge IP pool
Great for web scraping
Prompt customer support
Cons:
Lacks separate mobile IPs
Relatively pricey
---
4. RSocks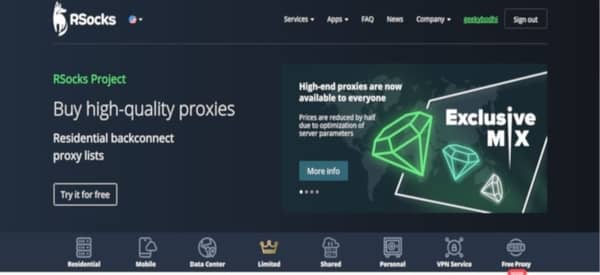 What you get:
IP address: 8 million
Locations: 68 countries for proxy
Continuing with the best proxy service providers for your business, our next pick is RSocks.
This is a relatively new service that started off in 2016. Yet, they have established themselves as a credible proxy service for big and small businesses in a short time.
Through RSocks, you'll likely get your desired proxy type for an affordable price. From mobile IPs to datacenter proxies and residential proxies, you can easily get the dedicated IP pack for your activity.
However, if you're confused about which IP pack you should choose, RSocks is ready to help you round the clock. They have set up vigilant customer support that is available 24/7 for you. Hence, you can reach out to them to select the best proxies in case of any assistance.
Also, they do not apply data capping. Thus, you can freely execute your tasks without worrying about bandwidth.
Plus, RSocks easily supports running 500 simultaneous threads. Though you can run even more threads, the service won't assure the same high-quality.
What's great with RSocks is that this service provider also offers a VPN to the users. It's a modest VPN that offers 26 different locations and comes with an affordable price tag.
Besides everything, RSocks also offers a free trial to first-time users. So, feel free to avail yourself of this offer and evaluate the feasibility of this proxy service for your business.
Pros:
Large IP pool size
Affordable pricing plans
Easy to use
Cons:
Lacks geotargeted proxies
Strict refund policy
---
5. Storm Proxies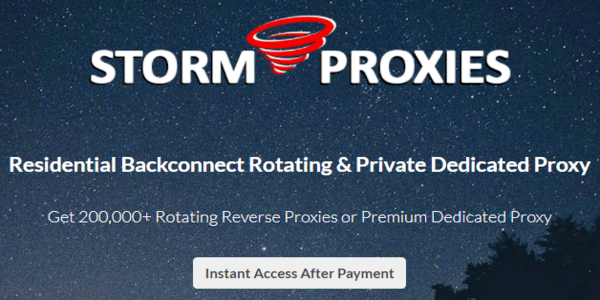 What you get:
IP address: 200,000+
Locations: mainly US and EU
The last in our list of the best proxy service providers for businesses is Storm Proxies.
When compared to the above-listed services, Storm Proxies look a relatively modest service. It's quite affordable for small businesses that are just starting to make a difference. However, it lags behind its competitors with regards to IP pool size and location diversity.
Storm Proxies offers locations mainly from the US, EU, and a mix of US+EU. Although they offer a "worldwide" mix with backconnect rotating proxies, they do not offer the liberty to choose a location.
While that's a limitation, it might not be a problem if your business tasks do not require you to access more locations.
Another good thing with Storm Proxies is that they offer a 24-hour trial with a risk-free money-back guarantee. It means you can easily this service for several hours, and, if not satisfied, can ask the service providers for a refund.
Pros:
Unlimited bandwidth
Affordable pricing plans
High speed
Cons:
Lacks SOCKS5 support
Fewer IPs
---
Any free proxy sites for my business?
After going through the list of the best proxy service providers, you must have noticed that all of them are paid services.
We know you are wondering why isn't there any best free proxy service for businesses, aren't you?
Well, don't panic. In the plethora of proxy services available today, a majority of services are free for users. Or, if not entirely free, then they offer a freemium model, giving the users the liberty to use their services as per their requirements.
However, a common issue with most free proxies (not all) is data security. Secondly, not all free proxies can provide robust online protection to your web traffic as paid ones do. Thus, your business activities may come at a halt in case of any failures or glitches at the proxy's end. And you can neither accuse them nor question, since they didn't charge you for any service.
It doesn't mean that free proxies are entirely useless for all. Of course not. But, they are of limited utility as compared to their paid counterparts.
Nonetheless, some good free (or freemium) proxies do exist that may (or may not) facilitate your business. If you wish to try any free proxy service provider, check out our list of the best free proxy sites to find the best fit for your business.
Free proxy vs. paid proxy service – what's the difference?
In terms of functionality, both free and paid proxies appear the same.
Both of them mask your real online data to a certain extent, offer significant security against immediate cyber threats, and ease your business.
However, if you thoroughly compare a paid proxy for business vs. a free web proxy, you'll see the latter offering little benefits. This lack doesn't specifically reside in how a free proxy works; rather, it affects how the service provider collaborates with you.
Basically, free proxies flaunt the key benefit they offer – no charges to use the service. From individual users to the owners of small-scale firms and startups (and even some large businesses as well), this is the most attractive thing to choose a service.
However, a downside of using the free proxies is that they take no responsibility for your loss.
Like any other technology, proxy services are also vulnerable to developing technical glitches and suffering cyber-attacks. So, while the paid proxies do offer some kind of security to your business information in such events, free proxy services have nothing for you.
Moreover, you can't really trust a free proxy service for your data security.
Although, both free and paid proxies tend to store a certain amount of data about you. But, in the case of free proxies, you have no assurance that the service won't monetize your data.
It means the risk to your data, in the case of free proxies, isn't only accidental but intentional as well. If they sell your data and it reaches some adversary, you and your business may even suffer big losses such as ransomware attacks or identity theft for the customers.
Besides, most free proxy services work temporarily, with little to no plans for a lifetime existence. Certainly, it isn't easy to maintain such a substantial technical infrastructure without charging the users anything. That's why most free services (that merely are websites with scripts mostly) often fail to exist after a few years or go premium.
On the other hand, paid proxy service providers are more inclined to maintaining long-term relationships with their clients.
They tend to engage with their customers via legal documentation, which is a win-win for both parties. While they warrant their services' quality in the contracts, you assure them to remain a loyal customer. And that's how, with some investment in proxy services, your business can achieve tremendous gains.
The best thing with paid proxies for businesses is the provision of dedicated IP addresses. Such IPs let you browse organically without compromising your online security.
For all these reasons, paid proxy services prove to be the best proxies for businesses.
How to choose the suitable proxy
We hope you are now pretty clear about what proxies are and how they serve your business, right?
Great!
Now the question is, from the bunch of proxy service providers available in the market, all claiming to be the best, how to identify and select the right service for your business?
While there's no rule of thumb for that, and no one can advise you on it either, we would like to share a few pointers here. Keeping these in view while subscribing to a proxy service for your business might help you decide better.
Range of IPs offered
This includes the number of IP addresses you can get from a proxy service provider for a certain price. Alongside the numbers, you should also critically observe the IP locations offered by the service.
The higher number of locations you can choose, the better for your business. Yet, if your business typically focuses on a specified region only, then you should go for a proxy service that offers a great number of IP addresses from your desired location. Here, the diversity of the IP pool isn't important.
---
Network speed and success rate
Before subscribing, make sure that your chosen proxy service offers fast-speed IPs. The overall network should have a reliable status with at least or around a 95% success rate. Though, you should never compromise on anything offering less than 90%.
---
Ease of integration
Unlike standalone VPN apps or proxy services intended for personal use that requires little to no user input for installation, business proxy services are often somewhat difficult to integrate on your company network. That's why, before subscription, make sure that you have clearly understood the integration procedures.
Mainly, if you don't have any previous experience of using business proxies, then you should go for the one that is the easiest to install. If that's not possible, then choose a service that explains the integration thing pretty clearly. The best proxy service providers often provide their users with detailed instructions and tutorials.
---
Reliability of services
Lastly, the best business proxies are the ones that are always available to assist them in the time of need. Whether it's about understanding a technical issue, trying the service features, or simply asking for a refund, choose a service that is ready to entertain your requests and satisfy your queries.
---
Proxy vs VPN – Which one suits my business?
Whether it's about personal or business use, the debate of proxy vs. VPN in terms of usefulness still goes on.
These two are frequently compared because both the services are meant to serve the customers by providing online anonymity. However, a feature-by-feature comparison of a proxy service and a VPN often gives VPNs an edge.
In fact, we also have frequently emphasized the use of VPNs over proxies to our privacy-savvy readers.
Then why are you advising on the use of proxies for businesses now, we hear you ask?
Well, as far as online security and anonymity are concerned, VPNs undoubtedly are the best option for personal and business use.
However, when it's about the swift execution of online business activities, then proxies serve better.
Actually, what makes VPNs great for user security is their underlying data encryption. However, the same encryption is the major reason for speed lags with VPNs.
For business activities, you can't afford to work at a snail's pace. What you need is a fast-paced internet connection. Proxies warrant this speed because they lack encryption. Yet, even without encryption, they still serve your business requirement of using a different IP location. In fact, they provide you with tons of IP locations.
Also, you can achieve data encryption without worrying about IP bans if you choose a residential proxy. Now that's something a VPN often fails at – that is, creating legit (organic) IP addresses for the users – something your business needs.
Nonetheless, given the pros of web proxies for business, many good VPN service providers also offer web proxies for the users. However, these proxies are often available via browser extensions only. If you wish to invest in a thorough security plan for your business and your main activities execute from a web browser, you can invest in one such VPN, like ExpressVPN, SurfShark, or NordVPN.
Future of proxies
For now, proxy services serve as a great resource for businesses in executing various tasks. Whether it's about data scraping, analyses, security audit, and scanning, or any other activities that require you to stay online and send recurring requests to websites, proxies streamline all these processes by serving as a middleman. They not only manage your load but also offer their own services, such as IPs, to make your work easier.
But, given the innate downsides of proxies with regards to data security, people are concerned if proxies would continue to exist for long.
Today, we have many faster and secure VPNs that somewhat surpass proxies in every aspect.
So, will these VPNs eliminate proxies for good?
Certainly not!
Proxy service providers have their fingers on the pulse of online businesses. This includes speed and location diversity, through which they defeat VPNs, which are inherently slower and less diverse due to the underlying technology, to serve business consumers.
Therefore, it's pretty clear that proxy services are here to stay.
In fact, you may see a thriving future of proxy service providers. Thanks to the robust Artificial Intelligence and Machine Learning (AI/ML) technologies, it has become way easier to crawl the internet and scrap information publicly without hurdles. By integrating these innovations with proxies, you will observe a marked improvement in your online business operations.
Conclusion
Here we end this extensive guide on the best proxy service providers for businesses.
After reaching this point, you would indeed have developed a sound understanding of how proxies facilitate your business.
Not only do you get more IPs to enjoy internet freedom without blocking, but you also achieve better traffic flow and more online security. Overall, these proxies serve as an inclusive brand security solution without investing a fortune.
If you're concerned about protecting your sensitive business data while conserving your profits, you should consider collaborating with proxy service providers.
Good luck!
FAQs
While rotating proxies are also good for your business, if you wish to achieve an organic presence at a particular location without compromising your privacy, then you should choose a residential proxy for your work.
It depends on your preferences. If you have an adamant approach towards online anonymity for your business, then you choose VPNs. But, if you're confident in the cybersecurity understanding of your staff and don't have strict security requirements, then a proxy may serve you better.
If you have no problem executing your business tasks with a VPN, you don't really need a proxy. If you aren't satisfied with your VPN's performance here, then don't substitute a proxy for your VPN. You can instead temporarily disable your VPN connection and use a proxy to continue with your work.
No. VPNs are pretty robust and resilient tools that seamlessly override the settings of a proxy. So, you get no benefit by using the two together. In fact, you suffer a loss of your resources with this practice. If you want thorough security without compromising on speed, choose a residential proxy for your business.
No. When it's about online security (for both personal and business use), VPNs are the best as they offer thorough data encryption, little to no data logs, and much more.
Yes. While some countries consider VPNs illegal, fortunately, proxies don't suffer from these issues. As far as you subscribe to a legit proxy service and do not execute any grey activities, you can easily use a proxy service for your business.