Formerly known as Luminati, Bright Data aims to position itself as a one-stop proxy provider and data collection leader. And the company seems to be nailing it to a fair extent.
The all-in-one, automated worldwide premium proxy network, known as Luminati Networks, now goes by Bright Data. It's one of the largest proxy networks, with servers in cities and countries all around the planet.
Do you need a residential proxy? Bright Data offers you more than 72 million IP addresses from 195 countries. And this is only the beginning, as those addresses come from user devices. You can have an even better option, with 6,00,000 proxies directly from ISPs.
If you get a mobile IP from Bright Data's servers, it's from an actual mobile device. The vendor has more than seven million of those available, and having this degree of consistency in a proxy provider is rare.
But let's say that you don't need anything so sophisticated. If you're looking for simple solutions, this company gives you outstanding performance at lower prices, thus outshining most of the other vendors in the market. Think 70,000 proxies with more than 3,000 subnets and both country and city levels.
And how much of an expert do you need to be to profit from Bright Data's services? Well, you don't need to be an expert at all. The service's most basic form comes as a Google Chrome extension. No coding is required. It's not much harder than using a good VPN.
And besides the proxy thing, the vendor has some interesting additional products, such as a web scraper.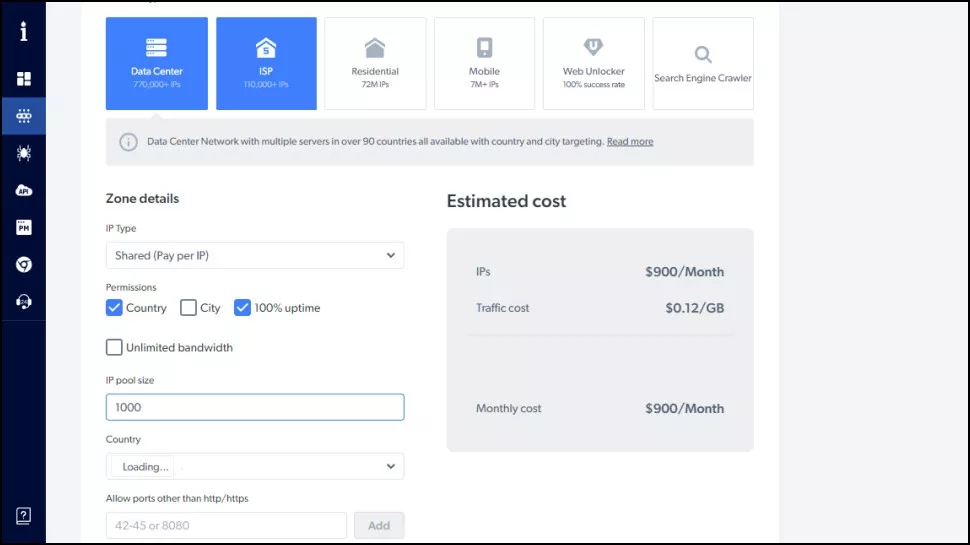 "Web Unblocker" knows how to deal with those annoying captchas and retries automatically, thus achieving a high success rate. "Data Collector" can fetch all data types from your search terms. "Search Engine Crawler" will get you geo-targeted search results for any keyword on every search engine with high accuracy. "Data Collector" and "Web Unlocker" are also web scrapers, like "Search Engine Crawler," but tailored for other purposes.
Whatever task you have in mind, you can expect maximal performance as you will be allowed unlimited simultaneous connections into the network. In addition, Bright Data boasts a 99.99% uptime guarantee for residential proxies. This service is confident about its network, technology, and high quality. And the customer service is active on a 24/7 basis.
Pricing and plans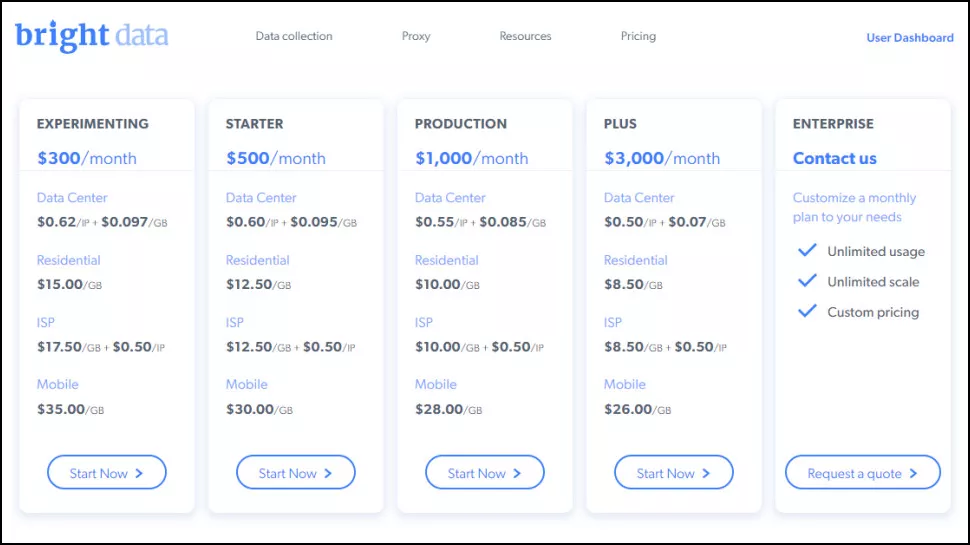 Bright Data has four types of IP addresses on offer: data center, residential, static, and mobile. Each has its price scheme.
You can start with a simple and transparent pay-as-you-go plan. The prices are:
Datacenter: 0.9 USD per IP, 0.12 per GB.
Static residential: 0.50 USD per IP, 29 USD per GB.
Residential: 25 USD per GB.
Mobile: 60 USD per IP.
Choosing a monthly payment, which is a longer commitment, will get you a discount. For example, the residential plan's price per GB goes down to 10 USD. And if you pick a yearly plan, your costs go further down by 10%
Trials are available for some scenarios. But the scenarios are pretty specific, and the rules are rather complex. For example, there is a 7-day free trial for residential proxies, but only if you are willing to have rotating IPs, and if you are signing up for a company, and you can give proof of company registration and ownership, and you will spend more than 500 USD monthly.
If you're familiar with the proxy service market, you probably already noticed that this service is more costly than the industry's average. However, Bright Data's pricing flexibility, the pay-as-you-go plan, and its high quality ultimately justify the costs.
Signing up
The first step in joining Bright Data as a new customer is surrendering your details to create a new account. It takes only seconds. Then, the website takes you to the dashboard.